Many kids are afraid of the dark, for reasons us adults find hard to understand. Whatever it is that drives this fear, it can make bedtime difficult for little ones and parents alike! Night lights for kids have become a popular addition to the family home. You can put one in your child's bedroom to reassure them and brighten the room at nighttime, and even install them around the home to help kids who need to get up in the night.
As parents, we understand the struggle that kids' bedtime can present, so we have rounded up the best nightlights for kids in this handy guide. Read on to find some of the best buys as well as FAQs about choosing cool kids night lights for your family home.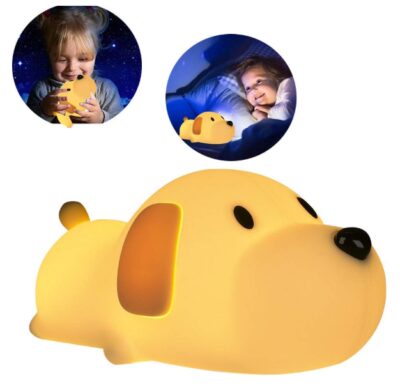 Things to Consider When Buying kids Night Lights
Every parent wants to buy the best item for their kids. However, it can be difficult to do with so much choice available! Night time lights are no different: a quick search will reveal an overwhelming number of choices. Here are the top things to consider when making your purchase.
Power: with so many options available, it can be hard to decide which is best for your application. You can start by deciding how you would prefer to power the light. For example, would you prefer a plug-in light or battery-powered? Both options are available.
Safety: as with any item for children, safety is absolutely paramount. Whether your child will operate the light themselves or whether you will power it up for them, consider a light that is age appropriate and certified safe for kids.
Function: would your child like to use a light for reading in bed, or is one needed simply to reassure your toddler at bedtime? Considering the function before you purchase will help you to select the best light for your family. Look for a light with a timer so it automatically turns off once your child is asleep.
Decor: you may want to choose a kids' light that fits in with your decor style, especially if your child's room has a particular theme. With so many lights on the market, you are sure to find one in our guide to complement your home decor, whether it's minimalist Scandi-style or unicorns!
Top Night Lights for Kids in 2023
1. Cloud B Turtle Soother

This Twilight Ladybug Classic Nightlight Soother from Cloud b is sure to be a big hit with your toddler. This is one of those battery operated night lights for kids so they can cuddle up to it at bedtime to ease their fear of the dark. As well as being a soft and cuddly comfort, the ladybug's shell projects images of a starry night sky with seven constellations. Your little one will love watching the light show on their wall or ceiling as they drift off into a gentle slumber, free from worries. With a 45-minute sleep timer, this cute little bug should help to soothe even the most unsettled sleepers (and their parents!). Yet the automatic power off function ensures your child's sleep will not be disturbed. Three calming colors cycle automatically, and the light is battery-powered so your child can keep it close without power wires getting in the way.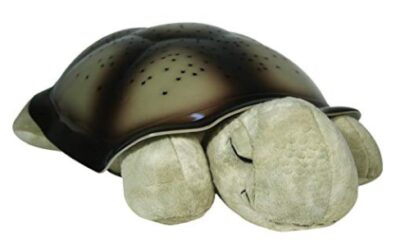 2. LED Moon kids night lights projector with Stars

If your little one is interested in space and stars, this 360 projecting night light could be a great choice. It can be used either in lamp mode, as a normal desk-style light in your child's room, or projection mode at night when extra reassurance is needed. You can change the mode simply by placing a white dome over the lamp to use as a light and removing it to view the star projection. The light has eight HD projection modes and colors, as well as a warm white light option. With 360 degree projection, your little one will love watching the star formation and unicorn lights dancing across their walls and ceiling. The light can be powered with batteries or charged via USB cable, so it is easy to take with you when you head on vacation.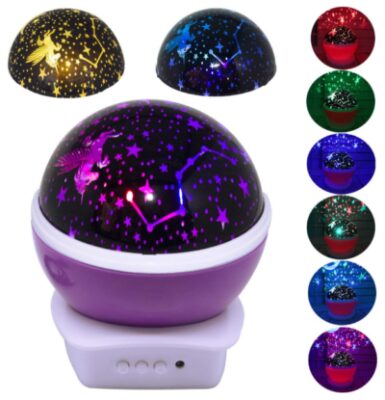 3. Eufy Lumi Dusk to Dawn Sensor

The eufy Lumi plug in light has a sleek design and innovative technological features. It is designed to provide just the right amount of light to guide you and your family around your home, without glare or dazzling. It has a dusk to dawn sensor to ensure it emits exactly the illumination that is required. An inbuilt light sensor automatically detects the amount of ambient lighting and adjusts the brightness accordingly, so you do not need to search about in the dark for a power switch. The light's sleek design is compact and designed for use in the top section of a double power outlet, without obstructing the lower outlet. It is extremely energy efficient and requires less than 30 cents a year to operate. The casing carries the superior V0 rating to guarantee fire safety so you can sleep easily without worrying about your children's safety. What's more, this product comes as a pack of four lights so you can use them around your home wherever you need a little extra illumination.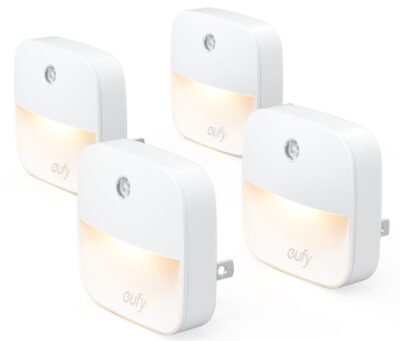 4. Plug-in Night Light 2 Pack

This compact RGB color changing nightlight from LOFTER is ideal for saving space in your home. The light rotates through over eight different colors, offering a rainbow of light for your little one's room. You can also set it to stick on one specific color if your kid has a preference. There are many different options with this item so your child is sure to feel reassured when it is in use. The smart dusk to dawn sensor means the light comes on automatically only when ambient lighting in the setting is less than a specified level, and turns off at dawn or when the light in the room is brighter. This means that you will have a clear path illuminated through your child's room at night. It is also energy efficient due to the LED lightbulbs. It is a good choice for little kids as the colors are gentle and free of glare. The pack of two lights are slim in design and fit against the wall to save space.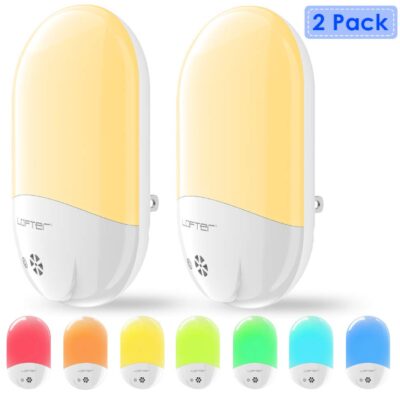 5. Hatch Sound and Light Machine

Technology lovers will love the sound machine and night light from Hatch. The sound, light, and time-to-rise programs are all set remotely from your smart phone. The Rest machine is designed in line with scientifically proven colors for its light emissions. It is aimed to work in line with healthy circadian rhythms and melatonin production, ultimately promoting good sleep habits for all of your family. This technological product is fully customizable according to each family member's needs. It even grows with your family's needs, first emitting soft light to help you meet your baby's nighttime needs, then as your little one develops, you can program it to alert them when it is time to get up.
It is completely programmable, all from your smartphone. Change projection colors, light brightness, and sound volume to help your kid get the best night's sleep. You can even customize Rest to coordinate with your nursery or kid's room by purchasing coverlet accessories.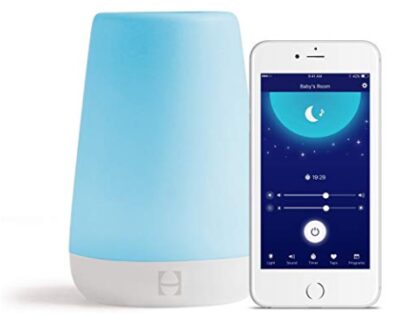 6. LED Owl LumiPets

For your tiny animal lover, the LumiPets owl nursery light will offer comfort and reassurance at nighttime. LumiPets aims to support children to adjust to a bedtime routine, giving tired parents much-needed assistance. The LumiPets night light features eight soothing colors designed to calm your little one during their evening routine. The advanced, built in battery lasts all night and is recharged via USB, so the light is easily portable. Take it on vacation or simply move it around the room to provide the utmost comfort to your child. It is soft and washable so your little one can cuddle up to it at night. Made from high quality, non toxic silicone, it is safe for children to use as it is free of BPA, phthalate and lead. The light is easily operated by tapping the owl's head and the color glow is customized using the remote.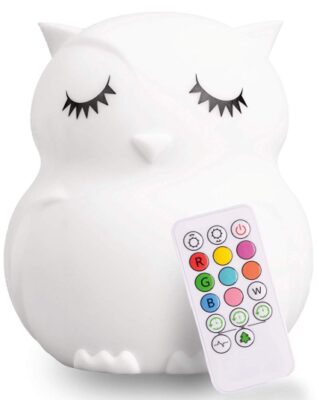 ,

7. Little Hippo Children's Sleep Trainer Clock

Encourage your kid to develop healthy sleep habits with MELLA, the light and alarm clock from LittleHippo. The patented design was very popular during a crowdfunding campaign and has attracted attention from national media outlets due to its innovative design and function. MELLA is designed to give parents a break by encouraging kids to stay in bed for longer. The clock face features colors and facial expressions to show when it is time for bed at night and when it is time to get up in the morning. The light will glow green to indicate that it is time to get up, aiming to keep your little one in bed just a bit longer! MELLA has three sound options and five night light colours to ease your child into a gentle sleep. Older children will enjoy using the three alarm clock sounds, which can also be used for timing activities. Mashable calls it 'a great gift for any parent with young children who constantly looks tired'. This really is an easy to use kids plug in night light.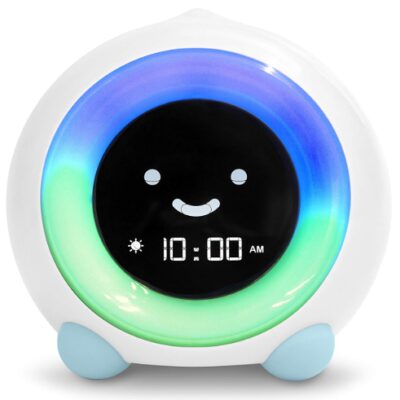 8. Delicacy Ocean Wave Projector

Ease your child into a gentle night's sleep with this ocean wave projector from Delicacy. The unique color changing projection gives the impression of being undersea and watching waves dance on the walls and ceiling. With a sleek and minimalist design, it will complement any room's decor and will look just as good in an adult's bedroom as a child's. Your kid will love to watch the multicolor ocean wave projector while they relax into sleep. You can also connect your smartphone or MP3 player to play calming music through the built in speaker. The light can be programmed using the remote control so you do not need to look for tiny buttons in the dark. The projector light has several built in timer options of one hour, two hours or four hours, or you can leave it to project and turn it off via remote control when you are ready. This light is powered by a plug in adaptor.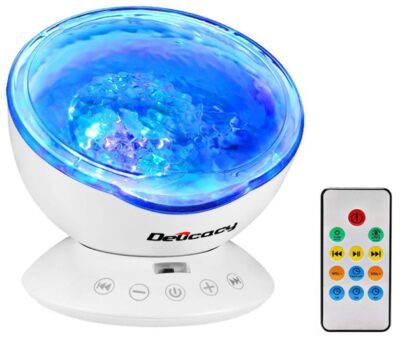 9. LumiPets Cute Bunny LED

The LumiPets bunny night light has a minimalist yet friendly design. Your kid is sure to find comfort in this soft and cute white rabbit. Like the LumiPets owl light we have featured above, this bunny lamp is designed to be safe for babies and children alike. It has a soft body made of high quality, non toxic and washable silicone so your child can cuddle up to it during bedtime. It will not get too hot and is safe for your little one's crib or bed, if age appropriate. The light is soothing and glows in eight gentle colors. The built in rechargeable battery lasts betwen 12 and 20 hours so your light can glow all night long. When it runs low, simply charge it via USB cable. The bunny is lightweight and portable so your child can bring it on family vacations to help them adjust or simply carry it between rooms during their bedtime routine.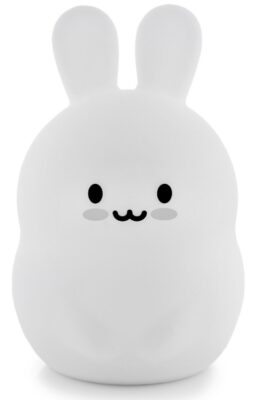 10. 3D Hologram Dinosaur Light

Do you have a little dinosaur lover in your family? Dinosaurs are cool night lights for kids. This impressive 3D triceratops night light will wow them and make them forget nighttime fears! The 3D illusion is made using an etched acrylic pane. When lit up it gives the impression of a 3D dinosaur that your kids will love. Lit with LEDs, this light is energy efficient and avoids glare, glowing gently for your child's room. The low energy consumption means it will not grow hot even after continued use, so is safe for your kid to touch. It is operated by smart touch on the base, making it easy to power on and off in the dark. You can also use the remote control to switch it off when your little one is safely asleep. It features four lighting modes and seven color choices: red, blue, green, yellow, cyan, purple and white. Let your kid choose their favorite for guaranteed enjoyment!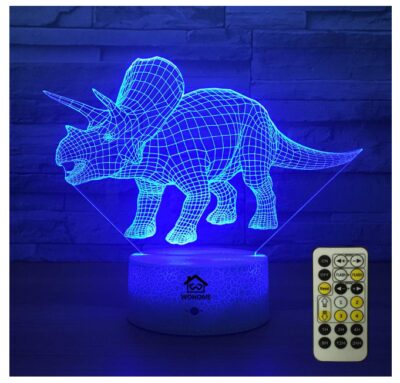 11. Color Change Mushroom Lamp

This LOFTER mushroom night light is designed with safety in mind. It contains an LED light, which will not grow hot even after hours of use. Safer than an exposed bulb, it is ideal for use in a baby or child's bedroom and is even energy efficient. This lamp features a beautiful natural wooden base and soft silicone cover. All materials are eco friendly and are sure to look wonderful anywhere in your family home. The soft warm light is just the right level of brightness to guide you without glaring or dazzling your baby's delicate eyes. The lamp is fully programmable via the remote control and you can choose between four light programs, five brightness settings, and even switch to the RGB light option. This product is powered via USB cable, making it easy to move around the home wherever your little one needs some extra comfort at night.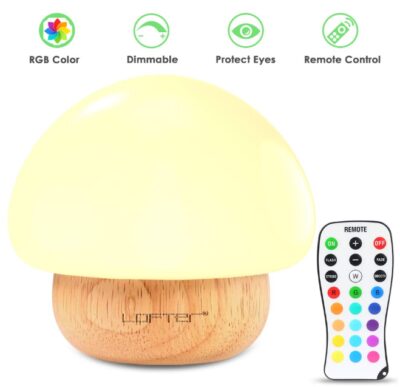 12. Silicone Puppy Lamp

The soft silicone puppy light from Cooper Life is sure to reassure your kid at bedtime! It is not only a night light but also a friend for your little one to cuddle up with when they need some extra comfort. Made from BPA free silicone, it is safe for children to have in their beds and can be washed when needed. The LED bulbs are energy efficient and provide a warm light that will not hurt your kid's developing eyes. The cute minimalist puppy with a sweet face and big ears is sure to delight your little one and help them to forget their fears. Choose between cool light and warm white and adjust the brightness for the right illumination in your child's room. This lamp features a sleep timer that automatically powers the light off after 30 or 60 minutes. Its battery life is up to 15 hours so it is sure to last all night if needed.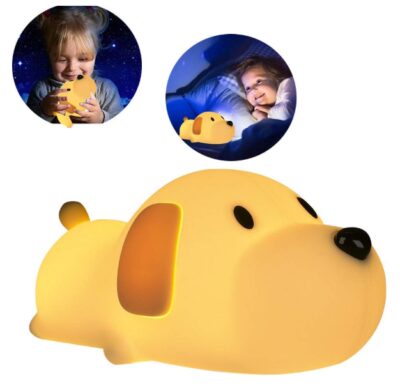 13. Starshine Orion Talking Puppy Nightlight

Puppy dog animal night lights for kids are a favorite with most children. Another superb choice for animal lovers, the Starshine Watchdog puppy toy is designed to lower bedtime resistance, conquer separation anxiety and overcome fear of the dark. Perfect for little kids, this friendly pup has a soft plush blue coat and light up star tummy. Place the connected star lights around your kid's room and they can switch them on remotely by touching the puppy's paw. You can encourage your child to put the star lights where they are needed, even under the bed! If they wake up in the night, they simply press the pup's paw to illuminate the room and hopefully overcome their fears. The lights turn off automatically after one minute, allowing your child to go back to sleep in natural darkness.
The Watchdog also repeats soothing phrases designed to comfort children at nighttime and encourage them back to sleep. This lamp comes with a themed book of bedtime stories with bonus free coloring pages.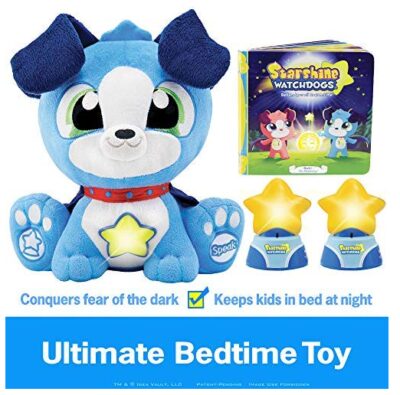 14. Disney Princess Projector

For the princess fan in your life, this Disney princess projector is a perfect gift. It comes with six different projection plates, featuring Belle, Ariel, Cinderella, Rapunzel, and Sleeping Beauty. The light projects a three foot image onto your child's ceiling, so they can admire the princesses as they drift off to sleep. The inbuilt light sensor means that the projector lamp comes on automatically at dusk and turns off at dawn. If you have a little one who wakes in the night, they can be reassured by the image and the light it emits. The long life LEDs mean there are no bulbs to replace and the light will not grow hot to the touch. They are energy efficient and inexpensive to operate. The lamp is UL listed for electrical safety, providing parents with peace of mind. It plugs into an electrical outlet so can be used in any room.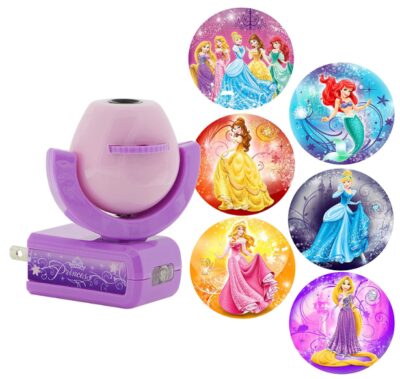 15. Plush Unicorn Projector Light

Unicorn lovers will absolutely adore this cuddly projector and night light from InnoBeta! Unicorn night lights for kids rooms make great choices. Designed for little kids to cuddle up to and ease bedtime fears, it is a plush toy with a built in projector. Cornie the Unicorn projects a starry sky on your child's bedroom ceiling or wall so your kid can drift off peacefully. The cute and fluffy unicorn toy has colorful wings and white plush fur, and of course a shiny horn. The material is high quality and fully compliant with safety standards including CE, RoHS, FCC and ASTM F963. It is easy for kids to turn on and off and has an automatic timer of 50 minutes so it will not disturb sleep. Children will love choosing the different color options and watching the stars light up their bedroom! The unicorn light is powered by AAA batteries.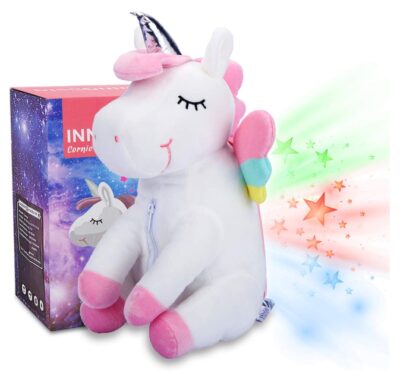 Our Top Pick
Our best buy is the Hatch Sound and Light Machine. It has many advanced features, including changing color, volume, and sounds. Your child can listen to a wide variety of soothing sounds and even music. It offers a choice of colored light, including red which is suggested as the best for bedtime. You can set up your favorite combinations of color, sound, and wake-up time, and save these as programs. And this can all be controlled via your smart phone, with no need to disturb your baby or child. This really is a unique night light for kids and worth every penny.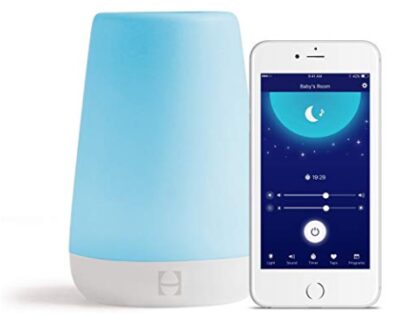 Why Might My Child Need a Night Light?
There are many reasons why parents may want to introduce a night light for their baby or child. With a young baby, you are likely to be feeding and changing in the night and a soft lamp can help you navigate the bedroom without disturbing your little one. Toddlers and older children often have a fear of the dark. If they can control their own light, this can help them to self-soothe, both at bedtime and when waking up in the night. A soft light can even make bedtime easier. Kids can feel more comfortable going to bed when they know they have the option of using a light. Since studies show that children cannot understand the concept of time until around age 8, a light that changes at wake-up time can help them stay in bed longer in the morning.
What is the Best Color of Light for Kids to Use at Night?
Research suggests that it is best to avoid blue light at bedtime, as it can stimulate the brain. This is especially important for little ones, whose brains are often whirring at bedtime! Surprisingly, cool white light also has this effect. Experts tell us that the best colors for babies and children's night lights are red and orange, to mimic a glowing sunset. Red light is also good for adults at bedtime and some studies suggest it can even reduce symptoms of depression.  
What are the Pros and Cons of Using a Nightlight?
As with any purchase for your baby or child, you will want to carefully consider the advantages and disadvantages.
Pros
They can provide comfort to your child

They help you navigate your baby's room at night

They can encourage kids to self-soothe

They can help kids stay in bed longer in the morning
Cons
Blue light can overstimulate your child's brain and make it more difficult to fall asleep

They can be expensive to run and drain power

They can interfere with circadian rhythms and melatonin

Your kid can become dependent on the light and struggle when it is not available
What are the Different Types of Night Light?
The main differences between kids' night lights are:
Light type: incandescent bulbs, halogen bulbs, CFLs and LEDS

Power source: plug in, battery, USB

Traditional lamp style or projector

Variation of colored light

Additional features: sound, auto timer, remote control