Are you wondering what gifts to buy for an 11 year old girl? Trying to find the perfect gift, that's both fun and popular is a challenge sometimes, which is why were are here to help you find an awesome present that she will love!
Girls aged 11 are difficult to buy for there is no doubt. However, in this review of the 50 best gifts for 11 year old girls, you have a massive 50 gift products to compare and without a doubt, by the end, you will be brimming with potential gift ideas.
Looking for a Christmas gift? We got you covered! Maybe you want a cool gift, one that's ideal for girls who are more mature? Yes, we got you covered! Or is your daughter a geek and proud of that and want's some geeky gifts? Yes, we got you covered here too!
The latest and most popular presents can be found in this review and if you still need ideas then maybe check out the gifts for 12 year olds, which might also suit, especially if she is a little more mature than your average girl.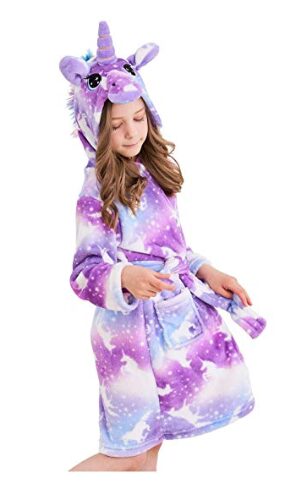 Tips for Buying Good Gifts for 11 Year Old Girls
So what do 11 year old girls actually want in a gift? We might want to buy them something useful, sentimental, modern or creative, but each girl is different and it can be hard to pick the right one. Whether you're a cool aunt, a close family friend or a loving mother, you will want to wow and amaze your little girl with something memorable.
Hobby or Interest Gifts
Every young girl is growing into their own personality. They are exploring their likes and dislikes, learning about their talents and skills and finding out what their passions are.
They might be arty, sporty, musical or into movies, crafts or science. It might be worth considering getting them a gift that appeals to their favorite hobby or interest – it will show a true understanding of them and what makes them tick.
Practical or Useful Gifts
You want to get a cool birthday gift, but you also don't want to buy something that has no use or value to it that ends up lost or forgotten. You also don't want to be the 'boring' auntie or godmother, who buys a gift that is too sensible! Nowadays of course, you can get a birthday gift for a girl that is not only practical but is also fun.
Follow the Current Trends
Gift giving for young girls can go through phases. Trends come and go, and girls are always wanting to keep up with the latest fads and styles, comparing their items with friends and enjoying riding the wave of the latest mermaid designs or similar.
It might not always be in fashion, but if you stick with the current popular gift trend, then your young birthday girl will be very happy with your thoughtful gift.
Sentimental Gifts
If you have a special bond or relationship with the birthday girl, then you might think about buying a unique or personalized gift for their big day, such as jewelry or a keepsake, that can have their name upon it or that is specific to their star sign or their relationship to you.
There are so many choices in this category that what 11 year old girls like for gifts couldn't be made easier, personalized is a great choice.
Top Ideas for Girls
1. Hack – The Coding Computer
More and more young girls are getting into computers and programming nowadays, and it is great to see. You might want to think about this coding computer as a unique gift, as it is suitable for aged eight and upwards and helps kids learn all about computer coding.
It has solid reviews from some high profile parenting magazines and boasts to be safe for children to use while playing lots of games. It comes with six free months of content and after that you can pay for monthly releases. The aspiring computer coder in you life will really enjoy this thoughtful gift.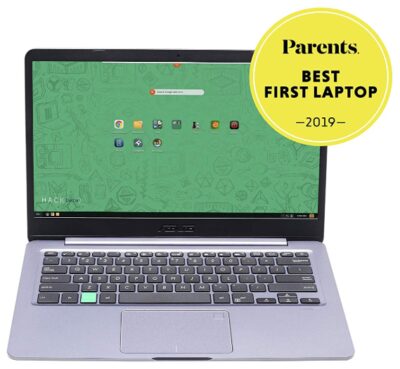 2. Joymoze Fashion Backpack
We all know that young girls want to have the latest, most stylish backpack when going on an outing, to school or even when visiting camp or on vacation, and this backpack is striking and useful in design. It is made of a waterproof anti-scratch soft polyester and is very lightweight, with mesh padded shoulder straps that can be easily adjusted.
It has lots of helpful pockets and areas that allow for quick, easy storage for a laptop, pens, cellphone, wallet and several other handy pockets for other things like snacks and nick-knacks. It comes in a wide range of fifteen colors and designs so there is lots of choice.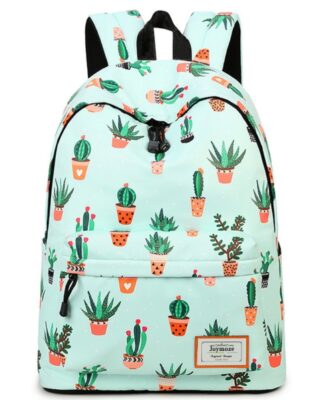 3. Unicorn Hoodie
Unicorns are all the rage, as we know. This hoodie is perfect for an 11 year old, as it has an edgy, more grown up design that moves away from more child-like unicorns for more younger girls. It is 88% polyester and 12% spandex, and has an amazingly bright and colorful saturation of color which creates a bold unicorn motif.
It has a drawstring hood and a front kangaroo pocket, and is perfect for lounging around or relaxing in, or for wearing to dance or sports practice.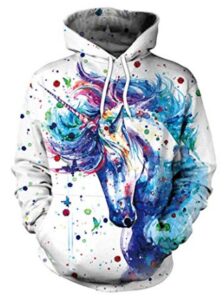 4. Spotted Zebra Pajama Set
Pajamas are always a thoughtful gift, and always appreciated by the recipient, no matter what the occasion. If you want a funky birthday gift, but also want to buy them something practical, then these pajamas are a cute option.
They are 100% cotton and have no strings or buttons, so they are very safe and snug fitting. Easily machine washable, they come in a range of designs, with eye-catching motifs and vibrant colors.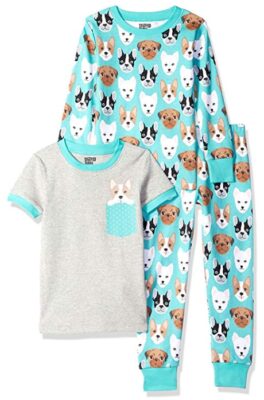 5. Carter's Slip on Unicorn Skate Shoe
More unicorns! Of course. They are a trend that really endures, especially with young girls. This pair of slip on skate shoes are really fun, and will definitely be a talking point at any birthday party when the gifts are being opened.
They are also very quick and easy to pull on and off, with a helpful rubber sole to avoid any slipping or accidents while running or playing with friends. The uppers have elastic to keep them secure and they come in a range of colors and designs that are sweet and pretty.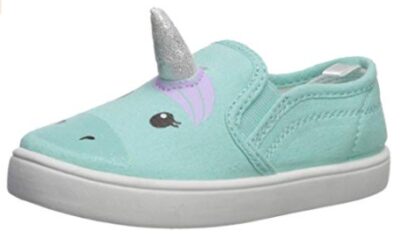 6. Vans Disney Mickey Mouse Sneakers
Disney is eternally popular with kids and adults alike, and if you are buying a gift for a true Disney enthusiast, shoes like these will be a very appropriate choice. Vans of course are a very popular brand and are definitely good quality, so a pair like this are sure to last a long time.
The front straps have a cute 'Mickey Hug' theme and the motif of Mickey Mouse's gloved hands on them are a quirky twist in this design. The shoes are canvas with elastic to secure gently and provide comfort.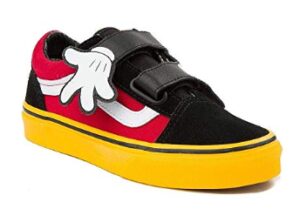 7. The Tween Book
Since the emergence of online shopping, there has never been such awareness and availability of books across a range of titles and topics. Years ago, those at the pre-teen or 'tween' age, rarely had access to any content that helped them to make sense of the changes and issues that affected them in their young lives.
This book is a very unique gift because it offers advice, tips and support for teenagers who are trying to forge their way through life in an increasingly challenging landscape, both personally and publicly. They might not gasp with excitement as they would if you gave them concert tickets, but they might secretly be extremely grateful.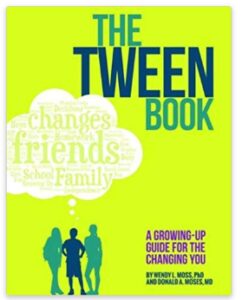 8. Canterwood Crest Stable of Stories
Young girls love to read, and some are also absolutely crazy about horses. If you're keen to offer the young person in your life the opportunity to enjoy some exciting reading can be gifted in the form of the Canterwood Crest series. There are four titles in this box set, Take the Reins, Chasing Blue, Behind the Bit and Triple Fault.
It would definitely be a thoughtful gift for a girl aged 11 ; so they can explore the world of Sasha, the heroine of these stories, as well as her beautiful horse called Charm. Excitement and literary adventure awaits!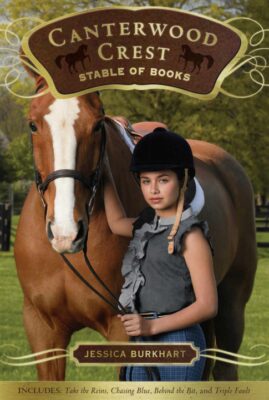 9. Fashion Angels Fashion Design Sketch Book
With an emerging interest in fashion, makeup and style, girls are also keen to be creative and productive. The Fashion Angels Design Sketch Book has over 100 shapes to allow for creativity an designs to abound as she makes and creates as many designs as her heart desires.
It is spiral bound so it easy to use and has specially formatted drawing sheets. You can easily remove and reattach the stencil cards which are made of durable plastic to be reused again and again. Definitely one of the best types of gifts.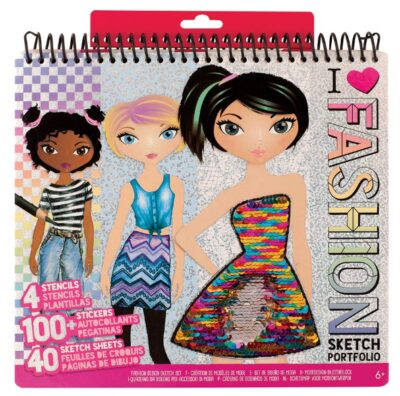 10. Deluxe Art Set
This Art Set is perfect for the budding artist in your family and is one of the popular gifts for 11 year old girls. It really looks impressive, in a handy wooden box with metal handle, so the growing artist can really feel the part.
It has a wealth of art supplies at their disposal, including 24 colored pencils, 24 oil pastels, 24 watercolor cakes, 3 mixing trays, 2 paint brushes, a sharpener, a sanding block and a handy eraser. Everything in this kit is all you need to make a start with letting your creativity out. An added, helpful extra is that it comes with 2 drawing pads, measuring 9 x 12 inches.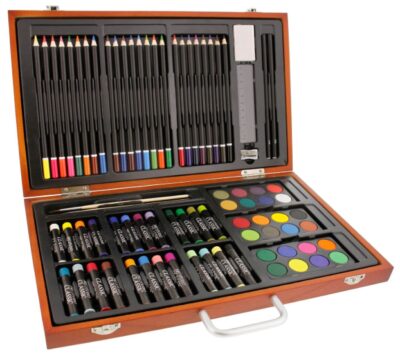 ,

11. LEGO Ideas Ship in a Bottle
Lego, but with a twist! No matter if you are buying for a boy or girl, this Lego Ideas Ship in a Bottle building set will always be a well received choice as a gift. This is a pretty awesome birthday present, and a more advanced LEGO set for an eleven year old.
It has over 900 pieces as well as a special stand to display the finished creation. As always, Lego have included an instruction manual to give the builder independence and advice on how to create their final piece. This is a really good gift for a Lego lover on their birthday.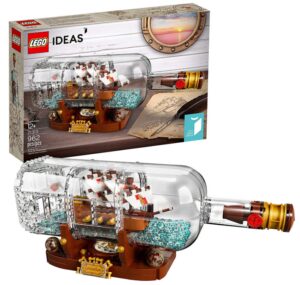 12. Bike Wheel Lights
A really top gift, these bike wheel lights come in a range of bright colors and can be added to any girl's bicycle. Not only are they quirky, unique and stylish, but they are also a practical gift, bearing in mind that they will add an element of safety to your young one's bike when they are cycling at twilight or in the dark.
They can be set to 'constant' or 'flashing' mode and are also a pack of two, one for each wheel and are helpfully waterproof. They are battery operated and can actually be used anywhere, not just on a bike – a young girl could use them around her head board, in her bedroom window, or along a bookcase.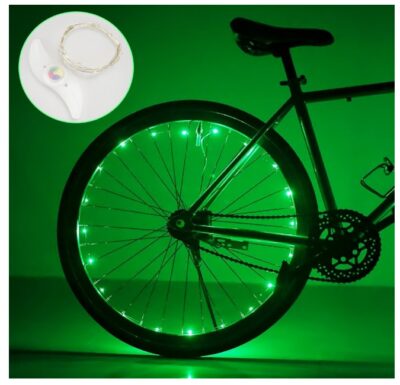 13. Capture the Flag
This is not only a present that harks back to early childhood, but it can be instantly used and enjoyed at a birthday party with all the guests. With a quirky twist, this traditional game of capture the flag comes with 25 light up pieces, with 12 hours of battery life, so there is no worry about the lights running out during your fun and frolics.
Kids nowadays need to get outside and enjoy the fresh air more than ever, so parents will thank you for buying this fun game that finally takes them away from their electronics and screens.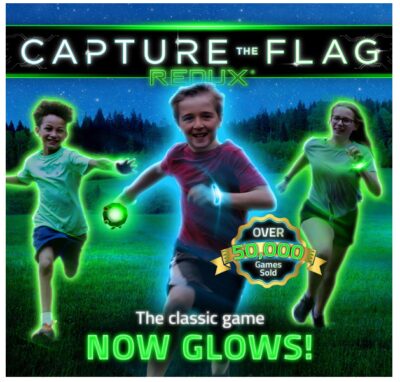 14. Unicorn Bath Bomb
This gift combines a young girl's love of the popular unicorn motif together with a little bit of pampering. It has the element of surprise also, because the bath bomb dissolves in a fragrant fizz at bath time to uncover a rainbow unicorn necklace.
It has gentle ingredients, including olive oil which nourishes and enriches skin. It's extra fun because it is two gifts in one, so it will definitely be a fun birthday gift for the eleven year old in your life.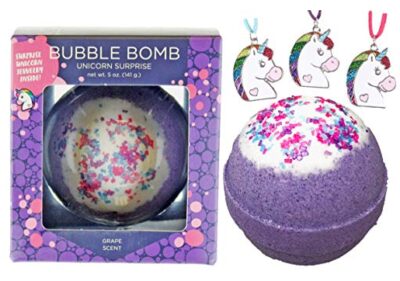 15. Leather Strap Cat Watch
This cute watch is a thoughtful gift for any cat lover, particularly a young girl on her 11th birthday. It's practical and pretty and will hopefully be worn by them for years to come. It's more unusual than a typical girl's watch and keeps precise, reliable time with a Japanese quartz movement.
It has a certain vintage look about it and has a leather strap which is comfortable and stylish and will stand the test of time. Relatively water resistant, it comes in a beautifully presented box and makes an excellent birthday gift. It also has a helpful money back guarantee.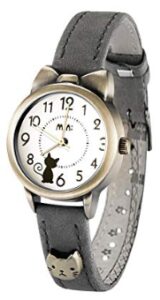 16. Dosoni Cute Cartoon Socks
Socks are probably considered quite a traditional gift, but it doesn't mean they have to be boring. Made of 80% cotton, these socks come in a pack of six and are designed in a range of bright, cute colors in your favorite animal characters.
Young girls love animals and you might want to buy your aspiring vet or zookeeper these pretty socks for their birthday. They come in a range of sizes from US 6 to 10 and will keep little toes very cozy indeed.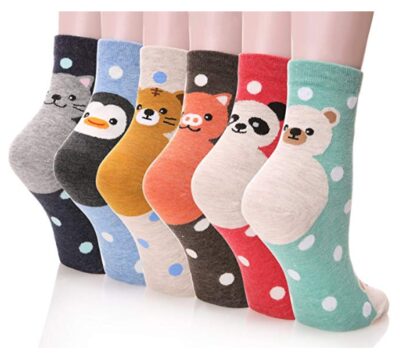 17. Friendship Bracelet Maker
Friendship bracelets are the eternal gift for young girls, and never seem to fall out of favor. This gift is great for an 11th celebration, because not only can the young person enjoy hours of crafting and creating, but they will be making something to give to their friends and family. It includes 20 pre-cut crafting threads in a variety of 10 colors and the design is really clever, allowing for helpful storage so that the threads don't get tangled.
The entire kit is portable, so you can bring it to a friend's house for a party or sleepover or even bring it to school to enjoy during recess. The instructions helpfully come in three languages and the kit has a cleverly designed structure to hold the threads in place as you weave, creating neat, tidy bracelets. This gift is certainly worth considering for any crafty, art-loving girl.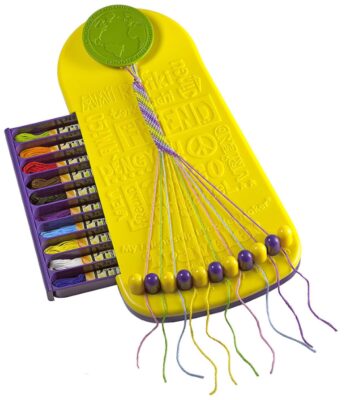 18. Leather Jewelry Kit
This Jewelry Kit has a definite grown up feel and design. It is bursting with accessories and embellishments to help create five pieces of jewelry for yourself or friends, all with leather.
There is cording and beads in bright, eye-catching and stylish colors and there is a helpful manual to guide you while you create some beautiful pieces. You can also make your own designs if that is more your bag! This gift is a thoughtful one, especially if the recipient enjoys fashion, jewelry or crafts of any sort.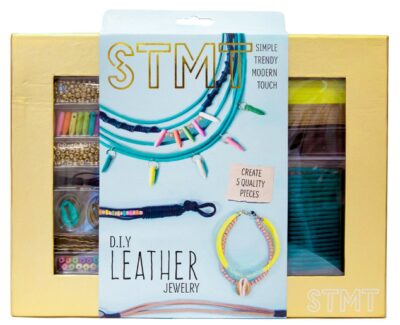 19. Klutz Mini Animals Sewing Kit
The little mini animals that a girl can make from this sewing kit are the cutest ever! This gift is a great way to introduce your young tween to sewing and making. The makers have helpfully included a 48 page book which covers each project and offers useful instructions, so that the tasks are easy and fun.
This product is a popular one, having been awarded a Parent's Choice Award in 2017, as it offers fun, creativity and the opportunity for the young person to learn a new skill. Your little sewer can make more than twelve adorable mini animals, and this will be an especially thoughtful gift if they are an animal lover as well as a crafter. Where could you go wrong?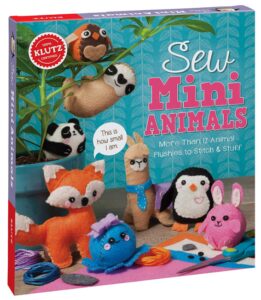 20. Candle Making Kit
This gift is quite a special one. Not only has it got stylish and pretty, girly packaging, making it an impressive gift to unwrap on your birthday, but it is a practical gift that will offer hours of creativity and fun for the recipient. Tweens are becoming increasingly aware and interested in home decor for their bedrooms, and this product is an exciting way to give them some design creativity and ownership of their own 'look'.
Appealing to crafters and creators also, it comes with enough contents to make 8 candles, in either a natural, lavender or green tea scent. All you need is helpfully included, such as tins, wicks, wax, scents and color chips. It also has a 32oz pitcher to assist you with melting wax. This gift is definitely unique and special.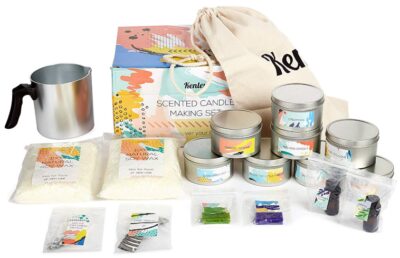 21. The Sleepover Party Game

Move over traditional board games, this gift is sure to delight the birthday girl, because its a great game to enjoy at any party or sleepover. It has a wide range of challenges including performance, activities and tasks and engages everyone involved in good old fashioned, silly fun.
There are all sorts of trivia and games packed into this party game and participants will have the chance to use the 'act it' cards, 'work it' cards and 'party cards' which will offer no end of laughs and giggles. This is worth looking at for a fresh, different take on a birthday surprise. Sleepovers make for fun gifts for 11 year old girls, if they enjoy overnight sleepovers with their friends.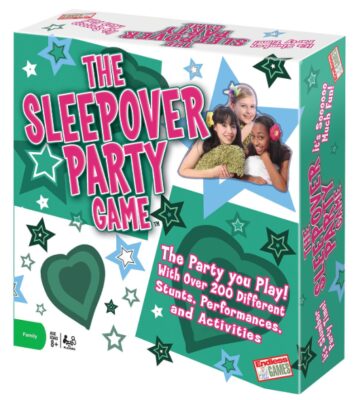 22. It's In The Bag Party Game

The hook with this new, modern party game is that it is all about teamwork. Any tween would be happy to receive this as a gift for their birthday when they turn eleven, because it breaks the ice and gets everyone involved and working together.
It involves quick thinking and responses and depends on great communication with your teammates in order to lead you all to victory. The bonus with this game is a free Ebook, which offers extras and information to enhance your playing experience. This company offers a money back guarantee if you're not happy with your playing experience.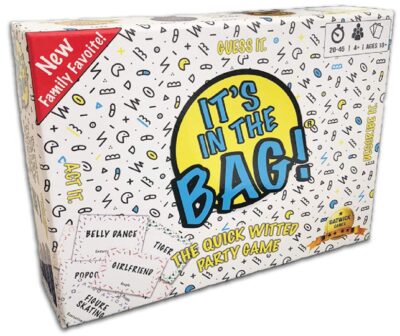 23. Brain Games Animal Sticker By Numbers

Love coloring? Love stickers? Feeling creative? This sticker by numbers animal design book takes coloring in to another level. Any tweenager who is keen on art and creativity would enjoy this as a gift, and it has a range of beginner to advanced designs to enjoy.
It involves creative thinking as you decipher each section of the picture, selecting the appropriate sticker for each section, gradually revealing a beautiful, vivid illustration that you can frame and enjoy always. There are 28 animal images to create and it is spiral bound so it is easy to flip through and work on.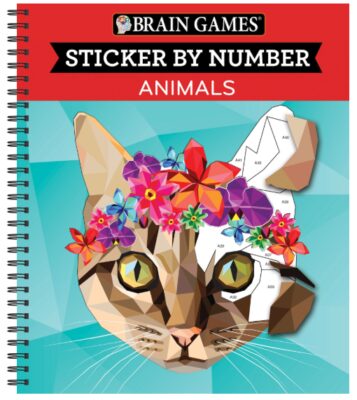 24. Nail Boutique Kit

Striking and pretty as a picture, this sparkly, girly nail boutique kit is a really popular choice. Themed with bulldogs and kittens, it includes 12 press on nails, that have pretty scents and funky styles. There are also water-based nail polishes, a file and a ring to enjoy.
The nail polishes are also scented in delicious cupcake and candy flavors (not to be eaten, though!) and the company promises that they are non-toxic and safe for children to use. Young girls love to copy mum and big sisters, so this is a safe, easy way for them to pamper themselves and enjoy experimenting with makeup and fashion and its also very creative and a great gift for self expression and individuality.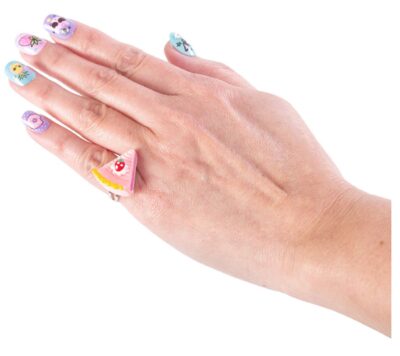 25. Sleepover Mad Libs

Probably the most famous word game of all time, Mad Libs is an eternal favorite among all age groups, and this Sleepover Edition of Mad Libs is one that would be a perfect, funny gift for your daughter, niece or friend.
With the basic rules that you get to insert random, ill-fitting nouns into pre-written sentences, you'll have hilarity for hours on end while the she and her friends play this timeless, fun game. Perfect for a party or particularly for a sleepover, this game will have everyone laughing non-stop.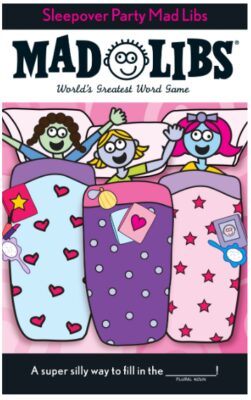 26. Nancy Drew and the Clue Crew Collection

Nancy Drew, every  young girl's favorite female sleuth. You'd be hard pushed to find a woman today who didn't dream of being Nancy Drew when she was young! These books are a timeless favorite read for young girls, and with the advent of tablets and electronics, it is more important than ever to remember the importance of learning to enjoy reading and stories.
This box set is a substantial gift for the young reader and will be able to be appreciated for a long time, while they happily work their way through five fun-filled, vibrantly written mysteries including; Sleepover Sleuths, Scream for Ice Cream, Pony Problems, The Cinderella Ballet Mystery and The Case of the Sneaky Snowman.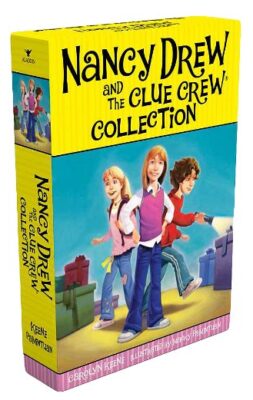 27. String Art Craft Kit

A really simple idea made into a very effective activity,  if your niece or daughter is into crafts and art, this craft kit is excellent to have them busy for hours on end, creating some unique and beautiful pieces with simple string. It comes with 3 foam canvases to work on and patterns for the user to follow to make sure that they create the right designs.
There is a set of helpful push pins to aid in the creation of the designs and there are helpful instructions to keep things on track. An art gift with a twist, this string art craft kit will impress the birthday girl and offer her hours of endless creativity and fun.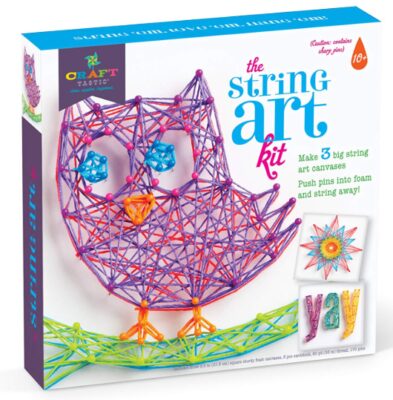 28. Aisuo Night Light with Bluetooth Speaker

Of course, there are many top gifts for 11 year olds that are more modern and electronic. This little delightful cube does lots more than meets the eye. Not only is it a touch control night light, but it doubles up as a Bluetooth speaker and MP3 player and has an alarm clock feature also. What makes it extra fun is that the colors change with the volume of the song or rhythm and it will add atmosphere to any young girl's bedroom.
This speaker connects with Bluetooth up to 10 meters and has great sound quality. The battery is rechargeable which is exactly what you would prefer, no hassle of having to buy extra batteries constantly. It charges with a USB cable and comes with a guarantee and helpful customer service, should you require it. Excellent as a Christmas gift, too.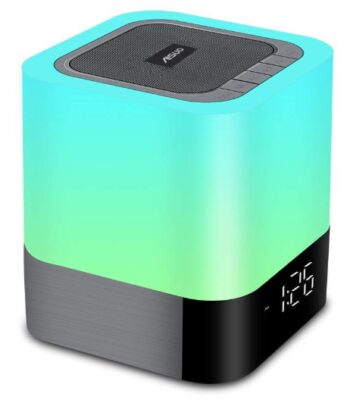 29. Tropical Terrarium Kit

More and more these days, we are focusing on things that are good for the environment and we want our youngsters to have an understanding of nature, so this gift is really good. If you wish to nurture a love of nature in your young person and to teach them to be responsible then being able to learn how to grow your own plants is a great way to begin that journey with them.
This terrarium kit offers everything that might be required including potting mix, a planting dish in a stylish, modern design and also plant seeds, and other decorations including a flamingo and a golden pineapple.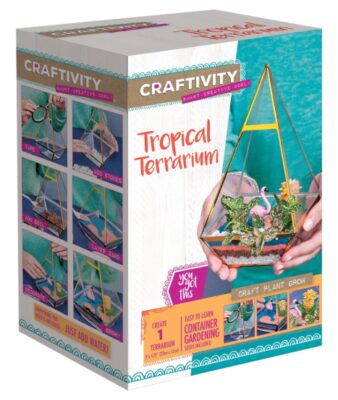 30. 3D Printing Pen

Usually, 3D printing pens are expensive, but this treat is a good Christmas present for girls, and won't break the bank, either. It is a helpful tool to improve spatial thinking and creativity and kids can spend hours of fun times creating lots of amazing three dimensional pieces to delight themselves and their friends and family.
It has important safety features which make it easy to use, including automatic shutoff and a scald free nozzle design, so there is no risk of burning. It comes with a power adapter and holder for safety as well as 6 filaments for a range of colors, so the options for creativity are endless.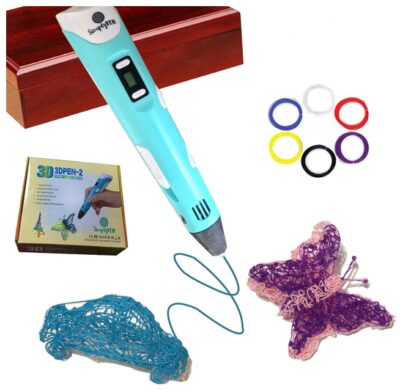 ,

31. Wearable Unicorn Blanket

Wearable blankets are ultra-cozy, warm, snuggly and the perfect Christmas present for a girl. It measures 37 inches by 50 inches, so it is an excellent size and is made of 100% Microfiber Polyester which is very soft to touch and gentle on the skin, when you are cuddling up, all warm and cozy.
It is just right for those rainy days for reading on the couch, for lounging during movie night and for cuddling in when you're feeling unwell. And of course, its a unicorn, so it would really make any little girl happy. And yes, it's machine washable.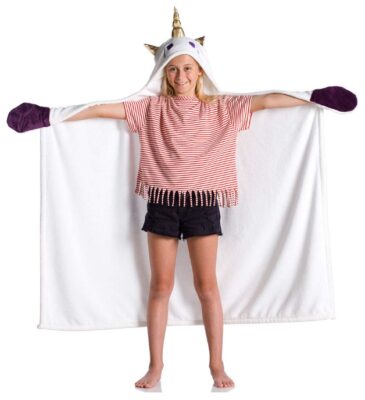 32. Fun Riddles and Trick Questions

This is an excellent girls' stocking filler at Christmas, because it offers hours of interest and entertainment for everyone. It has 300 riddles, brain teasers and challenging puzzles that range in difficulty and is a great ice breaker or conversation starter at a party or sleepover.
It's also a fun book to bring into school to play with your friends during recess or to have fun with at summer camp. It is a fabulous gift, because it challenges the young person to engage their critical thinking skills, all the while having fun with their friends.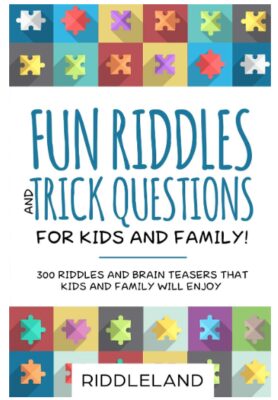 33. 11th Birthday Girl Bracelet

One of the more keepsake and sentimental choices, this top gift for a girl is pretty, delicate and special. This bangle can be worn alone or with accompanying bracelets and can be adapted to suit anyone's taste. It has a pretty pink Swarovski crystal pearl and this is accompanied by beautiful charms that mark the special occasion.
The bangle measures 60mm in diameter and it expands to fit over the hand. This gift is presented beautifully in a plush velvet pouch.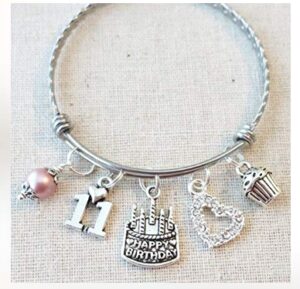 34. Wireless Karaoke Microphone

As gifts for eleven year olds go, this Wireless Karaoke Microphone is pretty awesome. If the recipient is a music lover or an aspiring singer, a gift like this will definitely make them smile. It has a range of speaker functions and comes in a luxury gift package to make it extra special.
It connects using Bluetooth and you can connect to any smart phone wirelessly or using an audio cable. The fun will be endless at any party or even if they prefer to sing alone in their bedroom.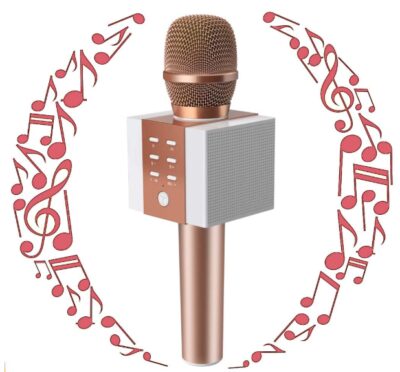 ,

35. Kid Chef Cookbook

A great example of making sure that you buy a gift for the recipient that is in keeping with their interests and hobbies, is this Kid Chef Cookbook. A must for any young person who is keen to learn how to cook, or perhaps has an interest in a future career as a chef.
It has over 75 recipes that are balanced and healthy and offers hints and tips on how to manage a kitchen and the recipe tutorials are easy to follow and educational and fun at the same time.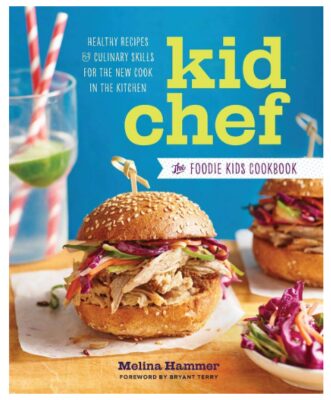 36. Razor A5 Scooter

An excellent sport themed gift, this Razor A5 Scooter is perfect. Allowing for a maximum rider weight of 220lbs, this scooter is great because it can be easily folded up and stored away when not in use, kept in the trunk of a car for visits to the park or vacations, or just simply carried when necessary.
It has extra large 200mm wheels and an aluminum aircraft grade t-tube and deck, meaning that it is strong and durable. This really would make a great Christmas gift for a girl.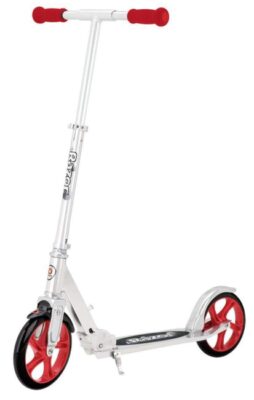 37. Anki Cozmo Robot

Definitely a present for a 21st Century girl, Cozmo is unique. And as unique gifts go, he stands out from the crowd! Almost like a digital pet, he is actually a real-life robot and has a cheerful interface to help young people learn and develop in the world of coding.
Made of very durable materials, he is compatible with any smartphone and is accompanied by a free app for extended activities and challenges. A really fun and quirky idea.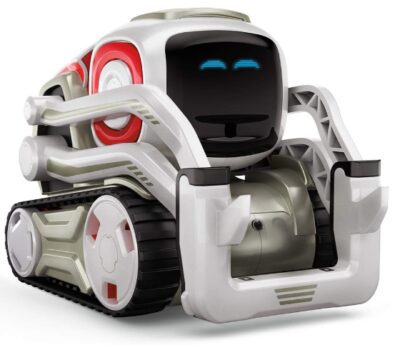 38. Girls Jewelry Box

What girl doesn't just love jewelry? As girls grow into their teenage years, they long to start a collection of pretty pieces of jewelry that they can look after and wear proudly, so why not get them a beautiful jewelry box to keep them all safe?
It keeps all their precious pieces organized, with helpful segments for rings, necklaces or bracelets and the added fun of this gift is that you can decorate the box any way you prefer, to your own style and taste. The lining is plush and pretty and will last a long time.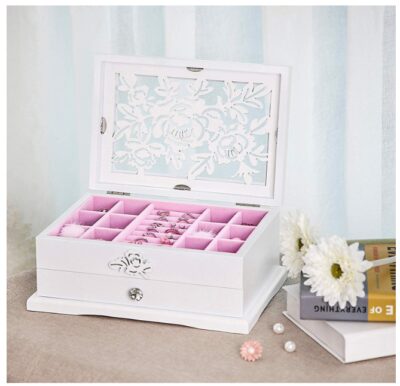 39. Roadmaster 26 Inch Bike

Every growing girl needs a good bicycle. If you're wanting to buy a particularly substantial gift that they can really put to use, a bike can be an excellent choice. It has a steel modern frame so it is strong and will endure all sorts of action and also has front and rear linear pull brakes that are reliable and safe.
What's very clever is that the seat is not only adjustable but is doesn't require any tools at all, so it is easily adapted to the correct height for the rider, between 5″2 and 5″10.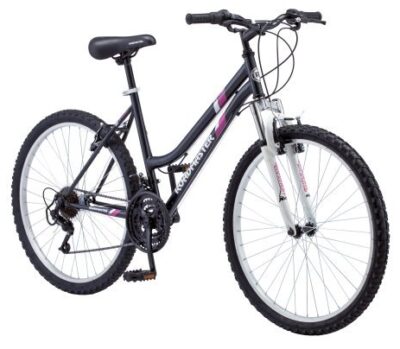 40. Berg Buddy Pedal Kart

This Pedal Kart is really cute and fun, and would make a great Christmas present for a young girl. They will have hours of fun and excitement, not to mention exercise as they race around in this Berg Buddy. It has pretty pink and mint motifs along with stylish black trims and tires which are pneumatic.
There is a BFR system so it will allow for a smooth set off and easy riding. The clever design of the pedals allow the rider to break and also reverse easily. There are many years of fun to be had with this special gift.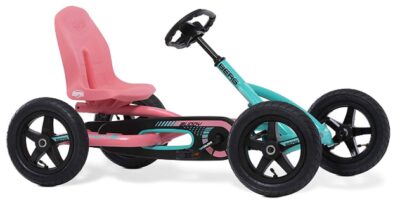 41. Folding Electric Bike
This is a genuinely impressive gift for anyone, as it is not only well designed, but it is made of great quality materials and is a present that will be enjoyed long after the party is over. It goes to a top speed of 12 MPH and has a 36V 6Ah battery, so it is reliable.
Another bonus with this clever design is that it is foldable, has Bluetooth technology and locks with a password for extra safety and theft prevention. The design will still suit the young person as they grow as it is streamlined and stylish so they will get many years use out of it.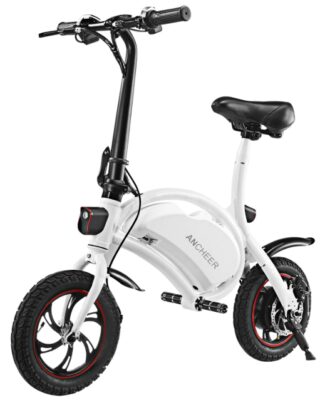 42. Electric Scooter
An even more streamlined style of transport for any girl, this electric scooter has vacuum tires and shock absorption to make for a very comfortable ride. It is portable and folds up to make it easy to store or carry when necessary. Imagine the delight in her face when she gets to ride this to school.
It can support a rider up to 320lbs so she can ride it all the way up to her teenage years. It has a reliable battery and goes up to a speed of 18MPH.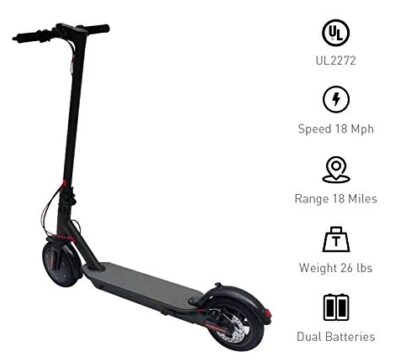 43. Apple iPhone 6S
If your tween is begging you for a cellphone for their birthday, you might feel anxious about buying them a high-end, brand new one. So another idea might be to get a reconditioned handset. This one is great, because it has the safety net of the 90-day Amazon Renewed Guarantee so you can buy with confidence.
It has all the bonuses that cellphones offer and has been checked by experts. It might have the odd scratch but its still bound to raise a squeal of excitement on their birthday. Just to know, this doesn't come with SIM, headphones, or the original packaging. But does that really matter?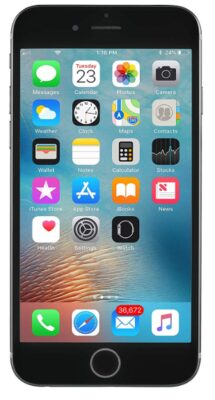 44. GoSports Slammo Game
This product is a completely fresh new take on outdoor games for all the family. The aim is to bounce or spike the ball directly into the net, but you only have three attempts. The kit contains the Slammo target, 2 balls, a training ball and also has a useful carry case and instructions/rule book.
It is a great game for the garden or to take on a day trip or vacation. It has a lifetime replacement warranty so there are no worries when buying. A great gift idea for your outdoorsy/sporty girl.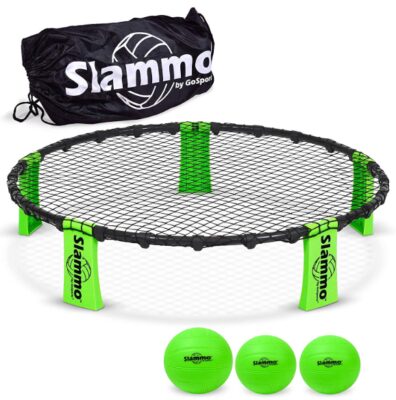 45. Gymnastics Medal Hanger
Your daughter might be a total gymnast champion, so it would be a shame if she couldn't display her success for all to see. It might be a practical gift, but it is a really thoughtful one too. It comes together with all the bits and pieces needed to hang it up and has instructions to help you do so.
It is made from brushed stainless steel, hangs up to 60 medals and will be a real talking point when visitors come and get to see all the amazing medals that your little girl has won. This really is a clever gift for any budding gymnast.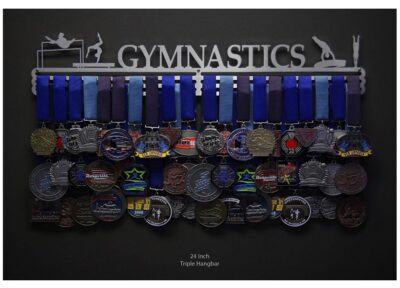 46. Basketball Mini Hoop
Girls love basketball just as much as boys do, and this adjustable height mini basketball hoop is a perfect present for a sporty tween. It even has an electronic score board and clock with announcements when you score a basket to make it extra fun.
There is also a helpful feeding system, and a plexi-glass style backboard to make it just that little bit more like the real thing. It comes with a foam basketball too, so its ready to use as soon as you unwrap it.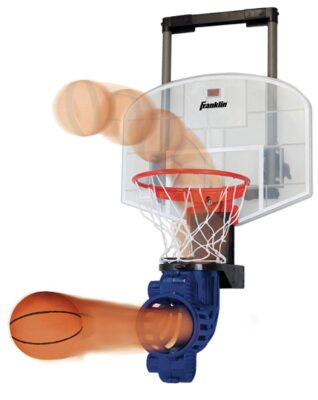 47. Stand Up Paddle Board
For the ocean-lover in your life, this paddle board is a very fitting gift. It is an entire kit, so the price includes everything they might need to get started on the waves. It comes in four colors so there is something to suit all styles and the board is 10″ long with 30″ of deck width – perfect for beginners.
It is inflatable so you can deflate it to pack it away when it isn't in use. The kid includes a coiled ankle cuff, oar pedal, manual pump, a safety leash and patch repair kit. A storage bag is also included so you can keep it all safely together in one place. These make great gifts for 11 year old girls on a birthday or even Christmas.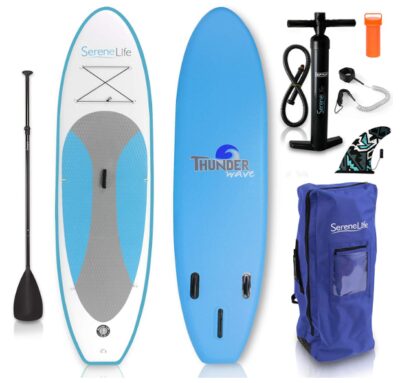 48. Badminton Starter Kit
Badminton is a classic sport that everyone remembers fondly from the summer days of childhood. This set helpfully has everything needed to have a game with friends or family.
It has a pole and net, four rackets, 2 birdies and stakes and ropes to safely secure it to the ground. If you're in the garden, at the beach or in the park, this kit is easily transported and unpacked for hours of summer fun.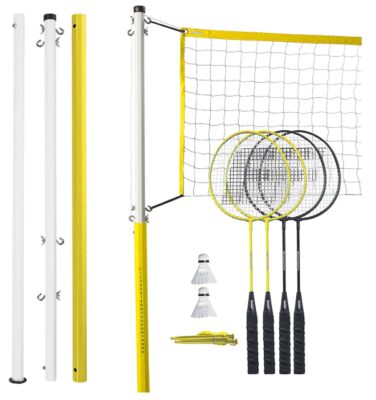 49. Wilson Junior Tennis Racket
Another example of giving a gift that appeals to the hobbies and passions of a young person is understanding their love of tennis. If you're struggling to think of a suitable present then this Wilson Burn Pink Junior tennis racket is a great idea to keep them active and make them happy.
Wilson is a top brand for tennis accessories and equipment and this stylish pink and black racket is a great way for them to get started on their tennis journey. You know they could be the next Wimbledon champion!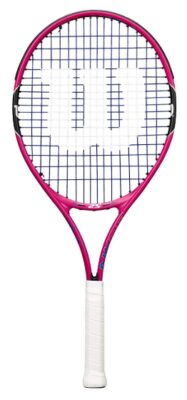 50. Vokul Skate Helmet
You didn't think we would forget the skateboarders, did you? This funky, quirky designed helmet is a great choice for keeping your little skater safe but it is also fashionable.
It has a durable ABS shell and soft liner made of EPS but it is light and easy to wear. The foam inside avoids sweat building up so it is very comfortable also. Of course, it can also be gifted to roller skaters, inline skaters or scooter fans too.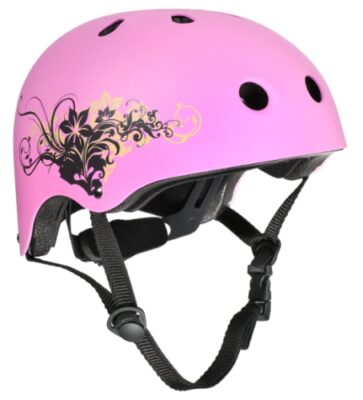 51. Relay: Safe & Fun Kids First Phone
If you've been thinking about the right time to give your daughter her first phone, try starting out with a Relay – it's screen-free, which means no internet, no social media, and no creepy strangers contacting your kid.
She can talk to you through the Relay smartphone app, she can listen to her favorite music, and she can have the independence that a cell phone brigs without any of the dangers.
Relay features parental controls, GPS tracking, and even an SOS button so your tween can walk to her friend's house, hang out on weekends, and you'll still know she's safe.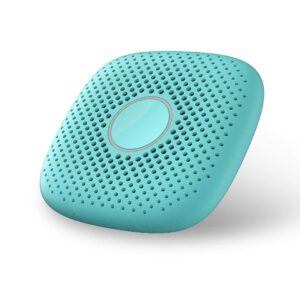 Our Best Buy
Aisuo Night Light with Bluetooth Speaker

There are so many amazing, clever ideas for gifts on this list, but the Aisuo Night Light with Bluetooth Speaker seemed to stand out for us. This really is one of the top gifts for 11 year old girls in this review.
It was quirky and fun, and at the same time useful with its alarm clock feature (that might teach your tween to get themselves up in the morning!) but at the very least it would allow them to enjoy music in their bedroom with the added comfort and enjoyment of the night light color changing feature. Also we felt it was the sort of electronic item that a young teenager could be trusted to look after safely and appreciate.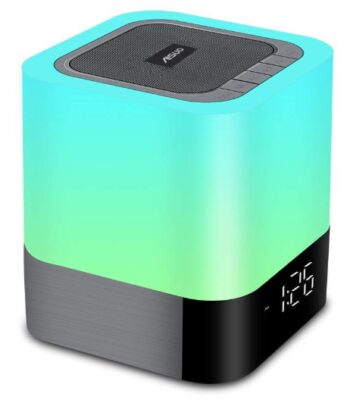 Best Budget Buy
Candle Making Kit
The candle making kit is useful if you are on a budget for the birthday celebrations, because it won't break the bank but it still has a high-end, stylish design and actually has hours of activity and usefulness built in.
It comes with so many accessories and parts that it seems like it is worth more for the money and it has a luxury feel, so the birthday girl will feel she is getting a worthwhile gift. Creative and useful, this one, in our opinion is a great choice if you're on a budget.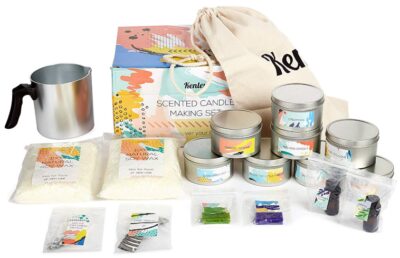 What are the Most Wanted Gifts for 11 Year Old Girls?
What do they want the most? Electronics? Craft kits? Sports gear? Ask a different girl, you'll get a different answer each time so make sure you pay attention to their interests and what sort of personality they have. A gift that appeals to their passions will always be well received.
You might want to consider getting them something like this BR Carry Trunk Makeup Case, which will probably be a hit with any young girl. It is like a real grown-up girl's makeup trunk, and is bursting with eyeshadows, powders, lipsticks and host of other cosmetics. They will have endless fun alone or with friends experimenting with the latest makeup looks.


Fail-safe Birthday Gifts Ideas for Tween Girls
What do we mean by 'fail-safe' birthday gift? Well, it is the sort of present that is perfect for anyone – useful, durable and something that makes life easier, like a watch or a piggy bank, or even like this stylish printed portable water bottle.
Kids these days are perhaps even more conscious that adults about the future of the environment and this lightweight bottle is perfect for school, traveling or sports practice. It is made from 100% BPA free plastic so it is completely safe and reusable. It's also shatterproof so will last them for years and will save hundreds of plastic bottles going to landfill.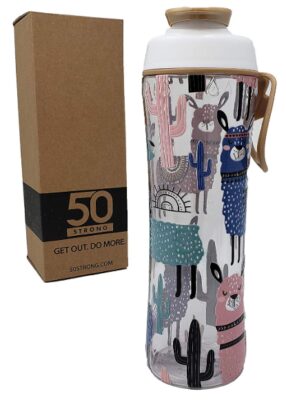 Latest Cool Toys for Girls Aged 11
Sometimes sensible gifts just aren't right for a child, and you want them to enjoy a present simply for pure fun and joy. You might get them prank toys or novelty items or splash out on more high-tech toys like this mini drone. Not only is it in the shape of a pink butterfly but it is fun for fun's sake.
It has one button control so it isn't complicated for them and it is also rechargeable which is really useful. You will definitely get lots of thank you hugs for this type of gift.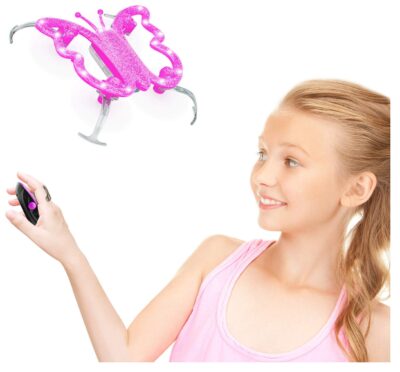 Best Christmas Gifts for 11 Year Old Girls?
Most of the gifts in our list are suitable for birthdays or Christmas, but what if you want to get them something more seasonal when it comes to December? Christmas toys for girls vary widely, and it depends on what you think they would really like.
If you're going more traditional, you could get them a pretty snow globe, an embroidered Christmas stocking with their name, or even a Christmas decoration that is personalized. If they like crafts, there are some amazing cracker making kits or even cookbooks with Christmas recipes for kids. The choice is endless.
Here are some other great gift ideas: