Horse toys have always been a popular toy choice for children. However, in the modern day with toys having to compete with screen time for a child's attention, playing can often be overlooked, especially with our busy lifestyles. Play is a very important aspect of a child's development so time spent playing with toys should be encouraged. By providing exciting and stimulating horse toys, play time can be given a renewed appeal and will be enjoyed by many children. There is a great variety of horse sets available to choose from and these can often be added to with compatible sets to make a unique play set up for your child. This will help attract your child's attention and provide many hours of stimulating play.
Because there are so many different toy horse sets available, with each one offering something different for your child, it can be difficult to decide on the perfect set. There are a number of top quality toy producers that design beautiful horse toys making the decision harder. This article aims to make this process easier for you and to help you choose the perfect option for your child by reviewing popular toy horse sets.
Considerations When Choosing a Toy Horse

When choosing a horse toy for your child there are many considerations to take into account to make sure that you get the right toy. Depending on the age of your child certain horse toys may be more suitable than others for that age range. Each toy will have a recommended minimum age for the safety of your child.
Many toys come as part of a collection so it can be useful to decide whether this toy would be used as a standalone toy or whether it would be used as a base set to extend from in the future. It is also useful to check whether your child has any toys from a collection already, as it may mean that compatible toys could be played with together.
If you child already has a favorite horse character from a television show or book then maybe a character horse toy would be appropriate. Many famous horse characters have been made into horse figures that may be the ideal toy for your child.
Would your child be playing with the toy in one place or would they be taking the toy out with them to a variety of locations. Some horse sets are designed to be fold-able or easy to move, which may be ideal if you are looking for a toy that is easy to transport.
Best Model Horses in 2023
1. Schleich Lipizzaner Care Set
From the popular toy maker Schleich this Lipizzaner Care Set will be a favorite with any horse loving child and will provide many hours of fun filled play. This toy horse set, from the Horse Club series, comes with a Lipizzaner mare, foal and girl figurines. Each toy horse is hand painted with beautiful attention to detail and the girl figurine has movable arms to enhance the child's play experience. This 8 piece set also comes with a selection of accessories including, brush and comb, blanket, halter and a grooming box, enabling the child to care for the toy horses as if they were real horses, providing educational imaginative play. This particular toy horse set can also be combined with other toy sets from the Schleich Horse Club series so you can build up a unique toy horse experience with your child. This toy horse set is not suitable for children under the age of 3 years old but it will be greatly loved by children over this age.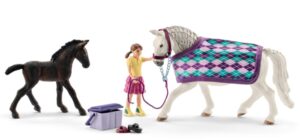 2. Melissa & Doug Take Along Stable
This Melissa and Doug Take Along Show Horse Stable Set complete with 8 toy horses, provides the perfect play horse stable to let your child's imagination run wild. The set also comes with a lovely wooden stable made from quality materials that are designed to last. The stable doors open up for easy access to the 8 stalls and can be latched shut before transporting. This play horse stables is designed to be mobile and easy to transport with a handy carry handle on top of the stable allowing your child to play with this toy anywhere. The recommended age for this toy is 3 years and older. Each toy horse represents a different horse breed and an educational breed guide is included to provide more information on each horse. As a nice extra, this toy can be personalized with name tags allowing your child to name each horse and label each stall. Melissa and Doug have also produced a companion barn set that can be played with alongside the stable set enabling an enhanced play experience if desired.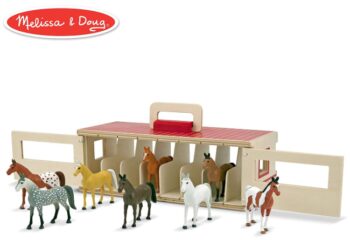 3. Melissa & Doug Feed and Groom Horses
Another lovely horse play set from the experienced toy company Melissa and Doug. This 23 piece feed and groom horse care play set comes with a cuddly plush toy for your child to care for. There are many different feeding and grooming accessories included to enable long lasting interactive play. There is a portable cardstock horse stall provided so that your child can play with this toy at home or out and about, making it an easily transportable toy. This horse toy is suitable for children aged 3 years and older. There is a double sided reusable checklist included in the set which will encourage your child to develop an understanding of responsibility when caring for their horse. Melissa and Doug pride themselves on having toys that meet the gold standard in early childhood play and this toy horse set certainly will not disappoint and is perfect for a child's play time.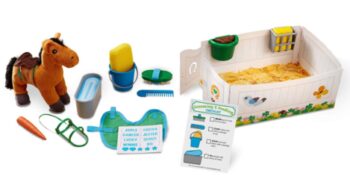 4. Schleich Horse Club
This Schleich Horse Club Play Set Horse Stall is a lovely play horse stable that comes with beautiful hand painted Arab mare and foal figurines. The play horse stable has a stable door that opens and closes and a roof that can be removed for easy access into the stable for fun imaginative play. Inside the stable there is also a water trough and feeding rack which are nice extra details for more realistic play. Also included in this set is a 7 piece connectable fence, a girl figurine and full grooming set with grooming brushes, halter, bandages, medicine and winner ribbons. The girl has movable arms to give realistic play and the stable can personalized with stickers that are provided. This horse toy set is not suitable for children under the age of 3 years old. This play horse stable would make a lovely horse gift for girls either as a standalone set or to be combined with other Schleich Horse Club sets, making it a truly versatile gift.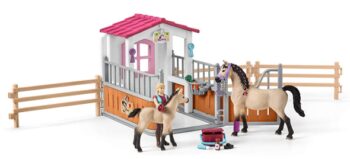 5. Glitter Girls Norwegian Horse
The Glitter Girls Norwegian Horse by Battat is a perfect horse gift for girls. This beautiful 14 inch white horse figurine, with a pink mane and tail is part of the Glitter Girls collection, so is the ideal size to go with the 14 inch doll. The Glitter Girls dolls are not included in this set but can be purchased separately if wished. Within the set there is a nice selection of accessorizes including, saddle and saddle pad, bridle and reins, horse scraper, grooming mitt and a basket of apples, enabling your child to groom and care for the horse. This toy is suitable for ages 3 years and older. The packaging is made from recycled materials and can be transformed into a horse barn for more imaginative play. This is a lovely horse set that is part of a collection that can be combined together for hours of fun filled play.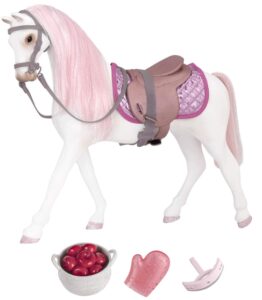 6. Just Play Spirit Figure
The Just Play Spirit Lucky and Spirit Doll is based on the DreamWorks Animation television series Spirit Riding Free, so will definitely be popular with young fans of the series. This set comes with a 7 inch Spirit horse figurine and a 5 inch Lucky figurine. Lucky has movable arms and legs that can be moved into different postures and she can also ride Spirit allowing truly adventurous imaginative play. Spirit also has a lovely thick mane that children will enjoy grooming. This Spirit horse toy is suitable for ages 3 years and above. There are also 2 other horse and doll sets in the Spirit collection that are available separately, so that other characters from the television series can be added to the Lucky and Spirit set. This is lovely horse set, resembling the television series and children will enjoy taking their Lucky and Spirit horse dolls with them on many adventures.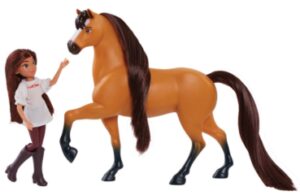 7. Spirit 3 Horse Boxed Set
This Spirit 3 Horse Boxed Set is a 6 piece set that consists of a collection of characters from Spirit Riding Free, a DreamWorks Animation television series. Alongside a Lucky doll and Spirit horse figurine, there is also Abigail and Boomerang and Prudence and Chica Linda included in the set. Each doll is 5 inches tall and each horse stands at 7 inches a perfect size for children to play with. The dolls all have movable arms and legs so they can be put in different postures and can also ride each horse. The horse figurines, Boomerang and Chica Linda also come wearing their bridle and saddle ready to go on many adventures. This horse toy set is suitable for ages 3 years and above. These Spirit horse toys would make a perfect gift and will be a favorite with any young horse lover, providing hours of fun filled imaginative play.


8. Breyer Traditional Triple Crown Winner 
This Breyer 9300 Traditional Justify with Garland Horse Toy Model represents the 2018 Triple Crown Winner. This stunning Breyer horse toy has been lovingly sculptured and finished with beautiful detail. Each model has been hand painted so every individual horse toy is unique, with no two horse toys the same. Justify has been made to a 1:9 scale and stands at 9 inches tall. The attention to detail continues with Justify's garland which contains roses, black-eyed Susan's and carnations all representing his major race wins. This Breyer classic is a horse toy to be treasured by both young children and adults alike. It is suitable for children over the age of 8 years old. As well as making a lovely horse toy that is durable enough for childrens imaginative play, it is also a model that will be favored by collectors too, making it a perfect gift for any horse lover.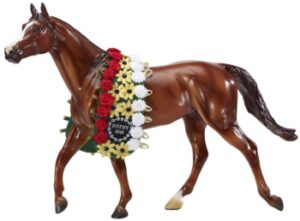 9. Breyer Stablemates Gentle Giants
Stablemates horse set by the popular toy maker Breyer, is another lovely example of the high quality horse models that they produce. This Stablemates horse set comes with 4 draft horse breeds and includes a black Friesian, grey Percheron, sorrel Belgian and a red roan Clydesdale. These horse toys are made to a 1:32 scale and are approximately 3.5 inches tall. Each beautiful horse has been produced to show every individual detail and are all hand painted to produce truly unique models, making them popular with collectors as well as young children. This collection of horses is not suitable for children under the age of 4 years old. These Stablemates horse models may be slightly smaller than the Traditional Breyer collection but they would still be a special gift for any child and are sturdy enough to provide many hours of stimulating play.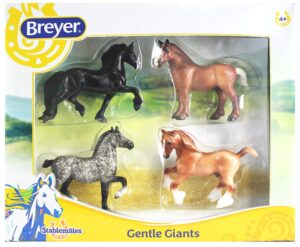 10. Breyer Cascade and Caspian
This Breyer 1818 Traditional Cascade and Caspian unicorn model set offers something special and a little bit different to the usual Breyer horse models, but will still be appealing to both children and adults. This beautiful sea inspired unicorn mare and foal set have been produced with every attention to detail and are each hand painted, so no two models are the same. This Traditional unicorn set has been made to a 1:9 scale. Cascade the unicorn mare has a stunning metallic pearly blue coat while Caspian the unicorn foal has a pearly white coat with a hint of soft blue coloring. Both models have a glittery mane and tail making them appealing to children. This unicorn collection is suitable ages 8 years and older. The Cascade and Caspian set would be make a perfect gift for older girls and would encourage any child to enhance their imaginative play, as well as being a collectible item.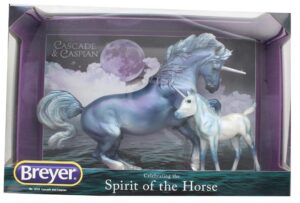 11. Breyer Traditional Horse Barn
This Breyer Traditional Horse Barn is the perfect accompaniment to the Traditional horse toy series. The red barn has 2 stalls that can house 2 horses from the 1:9 scale Traditional collection. Made from natural wood the barn features dutch doors at the back and sliding doors at the front. The roof can also be removed for easy access to the stalls which enhances your child's play experience. This barn is finished with beautiful detailing and is a high quality toy that will be loved for many years. The barn set does not come with any horse toys or any accessories and these would need to be purchased separately but there are many lovely options available to expand this set. This horse barn is probably better suited to children with an existing Breyer collection or given with other Breyer toys due to the lack of accessorizes. The horse barn is not suitable for children under the age of 8 years old but would be a much loved toy for an older child.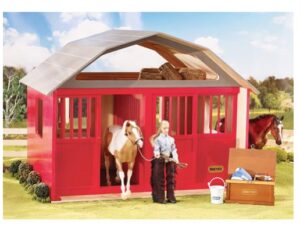 12. Schleich Stable with Accessories 
The Schleich Stable and Accessories set is a beautiful horse stable set, with 4 horse stalls, it will be loved by any young horse lover. It is made from high quality plastic for long lasting, durable play. The set includes a rider and Mustang mare and foal, along with a complete range of accessories consisting of saddle and bridle, horse blanket, stable tools and feed, providing everything your child needs to start on their horsey adventures. The 12 piece paddock fences can be connected in any way to make a unique set up. This horse stable set is also compatible with other Schleich's Horse Club series toys so it can be expanded as your child wishes, providing no limits to the enjoyment of this toy. This horse stable set is however not suitable for children under 3 years of age. The added addition of being able to personalize the stable set provides that extra special touch, and would make it a special gift.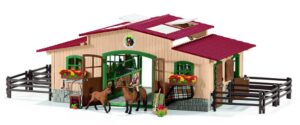 13. Playmobil Horse Farm

This Country Horse Farm Building Set by Playmobil, a popular toy manufacturer, is an ideal horse toy for any child. This horse barn set has 2 stalls with lockable doors, a loft area and outside paddock space providing the perfect set up for hours of imaginative play. The set comes with 2 figures, 2 horses and a foal, cats, squirrels, birds and many stable tools and grooming equipment, so provides everything needed to get started. There are other Playmobil Country sets available including a farm extension set, which can be added to this toy providing endless options for continued stimulated play. This toy is not suitable for children under the age of 3 years old and has been recommended for the ages of 5 to 12 years old. For a personalized touch the horses can be named and the stalls can be labelled. This is a lovely horse farm set that would make an ideal gift for any child.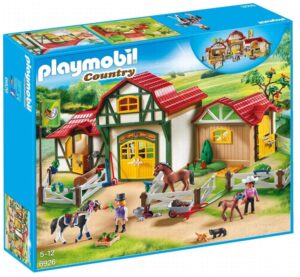 14. Playmobil Horse Transporter

This Playmobil Horse Transporter Set is a great option for children looking for adventurous and stimulating play. This horse transporter set has space for 2 horses with a fold-able side ramp for realistic play. The roof can also be opened to access 2 cots. Through the double back doors there is also storage space for equipment in the back of the transporter. This horse transporter set comes with 1 figure, 1 horse and a small range of accessorizes including saddle, reins and grooming equipment providing a good first Playmobil toy. This horse set is not suitable for children under 3 years of age and is recommended for ages 5 years old to 12 years old. This would make a lovely toy on its own for a young horse lover but it can also be added to other Playmobil sets for enhanced playing options.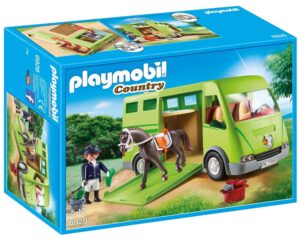 Overall Best Buy
The Schleich Stable and Accessories Set is a good value horse set that is perfect as a first play horse stable or as an additional set to an existing Schleich Horse Club collection. This particular set comes with a stable with connectable paddock fencing, as well as a rider, mare and foal and a good range of accessories, giving your child many different options for play. There is a good range of variety included in this set, ideal for shared play with a friend, enabling the development of social skills through play. Children will love the detail included in the design of the stable making this the perfect all round gift option.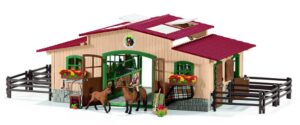 What are the Different Styles of Model Horses? 
Each toy maker will have their own style of model horse, which is often part of a collection. Model horses will vary in size and characteristics depending on the collection that they belong to. Within a collection there is usually a variety of breeds, enabling your child to pick their favorites. Some sets also include rider figures that can interact and may be able to ride the horses, whilst other sets encourage your child to directly interact with the toy horse. Some styles of model horse, while being suitable for play, are also collectible items giving them a lifelong value.
Are Horse Figures Suitable for Boys and Girls?
Yes, horse figures are definitely suitable for both boys and girls. The important role of these horse figures is that they encourage young children to develop through play. Along with the health concerns of children now having access to too much screen time, there is also the worry that children do not spend enough time playing, which is important for development, social interaction and learning. By providing your child with these exciting toy horses then this will encourage them to play and divert them away from any screens, leading to a healthier lifestyle and giving them stimulating play.
At What Age Will My Child Enjoy These Toys?
Most of these horse toys can be enjoyed from the age of 3 years old. It is important for safety reasons to check for your chosen toy the minimum age advised. This is because most of the toy horse sets contain small parts and are a choking risk. Once you child is old enough, then there is no ideal age for your child to gain enjoyment from the horse toy as they will be developing and learning from the onset, meaning that your child can gain enjoyment this toy for many years to come.
What's the Best Way to Start Collecting Model Horses?
There is no right or wrong way to collect model horses. It is important to choose a collection that meets your child's requirements so they will gain long term enjoyment from the toy. If looking for a collection to expand from then it is a good idea to look at the full range available before purchasing. This is so that you know there is variety to pick from when it comes to buying additional sets compatible for your child's existing set. The most important thing is to choose something that your child will enjoy playing with. For more on ideas check out the toys on doodlebuckets.