I don't know about yours, but my kids need very little excuse or encouragement in order to dress up.  It might be a party, it might be Halloween, or it might just be a normal day – I'll regularly find them rummaging through the wardrobe for their favorite costume.  If you've got a few little monkeys who love to dress up, why not get them some great monkey costumes?
In this review, we'll look at some of the best Monkey dress up sets available and include options for all different kinds of budgets.
The Review:  Top 10 Kids Monkey Costume
Meeyou Girls Monkey Costume
This cool monkey jump suit will be a firm favorite with your kids.  It has a hidden zipper, so it is easy to get in and out of, and it also comes with a tail and some foot covers, so your kid will look super stylish in this. 
As you might expect, this costume is a little delicate, and you should only hand wash it cold and hang it up to dry, so no mashing mas=chines or dryers.  It should survive a very cool iron though, if you want.
Overall, this is a great costume that will keep your children very warm on Halloween night.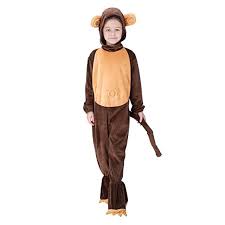 Cheeky Monkey Costume
The perfect Halloween costume for your cheeky little monkeys.  This fuzzy little number will bee really popular with your kids as it will make them look just adorable, and it comes with a cute little plush banana and a velcro tail for them to play with as well. This costume is fully acrylic, so it will keep them nice and warm if they go out trick or treating.
This comes with the added advantage of being fully washable, so even if it does get grubby or smelly (as kids will do), you can wash it so it will be nice and fresh for the next costume party.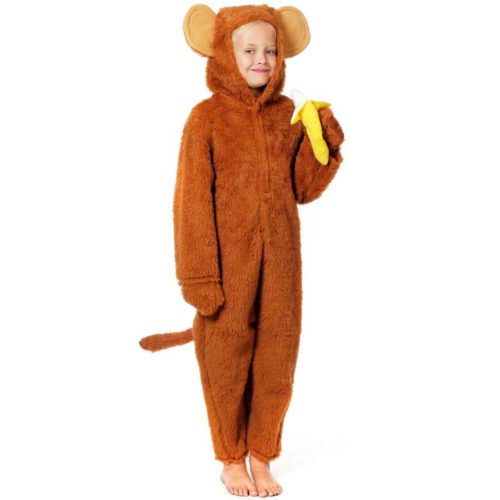 Monkey Jump Suit
This monkey suit not only looks super cute, but it is made in a very loose style which means that it will fit for child for a long time before they grow out of it.  It also means that hey will have a lot of flexibility in the costume for dancing and playing at their Halloween party.  We also love the fact that it comes with pockets, perfect for filling with candy on a trick or treat run.
This suit also has crazy attention to detail, with eyes, teeth, nose and matching tails all looking brilliant.
It is made of Polar Fleece, so it is both war and breathable, and your kids will feel very snug and cozy in it.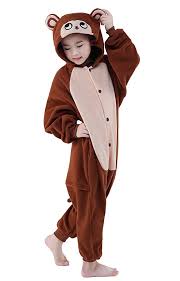 Japanese Monkey Suit
These cool Japanese costumes are great for Halloween parties, pajamas or even just lazing around on a Sunday afternoon in.  They are 100% Fleece, so they are warm and breathable, and it can easily be worn over ordinary clothes, so there's no danger of your kids getting to cold when they go out on Halloween.
Best of all, these are fully machine washable, so you won't have to go to all the effort of having hand wash after it comes home all sweaty and grubby from that costume party your kids went to.
What we really love about these costumes i that they come in lots of different sizes for kids and adults, so you can get a matching set for parents and kids.  Now that will be super cute!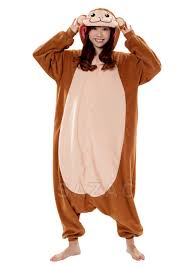 Monkey Costume for Girls
If you are trying to find a cute little monkey dress up set for a little lady, we've got the perfect one for you right here.  This cool little package  will turn your little girl into an adorable monkey princess.
We love that this costume is not only very stunning, but it can be warn over the top of other clothes, so we won't worry about our little girl being freezing cold when she's on the hunt for candy on Halloween night.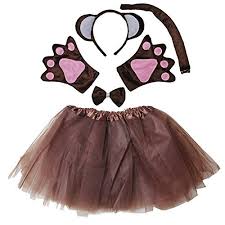 Girls Sock Monkey Costume
Let your little girl transform into a fairly tail monkey girl with this great kids dress up kit.  This cool package includes a dress, petticoat, legwarmers, gloves and a whacky monkey hat that will make her the bell of the Halloween ball.
It is very well made and durable, and best off all, it comes in lots of different sizes, so you can make sure you get the right one for your child.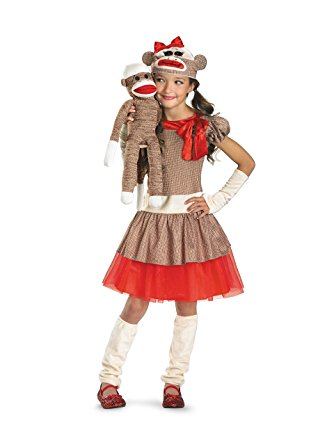 Zombie Money Dress Up Set
If you've got a kid who has a bit of a wild side an rally loves scaring people, we think this crazy zombie monkey set will be ideal for them. This disguise is good for all occasions – esepically Halloween or a fancy dress birthday party.
Sometimes kids wanna be a little bit mad, and this will surely let them.  It is made of high quality polyester, so it is quite durable, and it comes with a mask, jumpsuit and even fake blood and bandages included.  Your little terror will really love scaring their family and friends in this cool suit.
This will make a great Halloween costume for boys.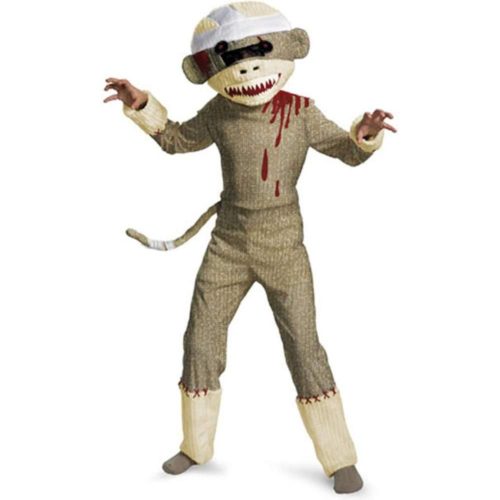 Curious George Costume
Let your child dress up as everyone's favorite monkey in this cool little dress up set.
This costume is made of easy care polyester, so any grime or spills can easily be wiped up on the spot, or the whole thing can be had washed if necessary.  It is also very warm and comfortable, and your child will have no problem getting in or out of it.

This also comes in two different sizes, one for kids, one for toddlers, so if you've got an older child and a toddler, you can get them matching sets if you want.


Kids Money Animal Vest
Perhaps you don't want to go all out on a costume, or maybe you've got some fabric you want to use yourself but just need a little something to tie it all together with.  In that case, we can recommend this cool monkey hoody as part of your kids Halloween dress up.
Best of all, this is so cute and stylish they will want to wear it all year round, not just to costume parties.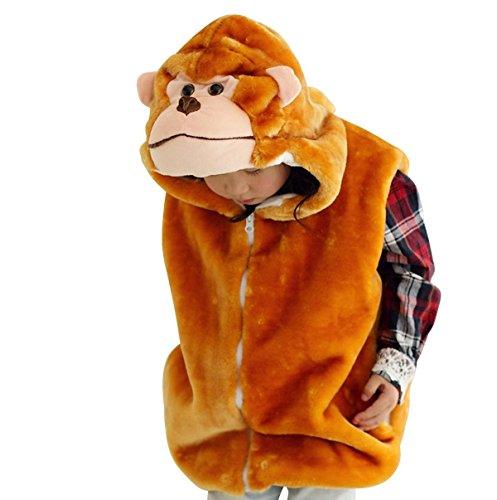 Scary Gorilla Costume
Now this is really terrifying! Help your child transform into a ferocious jungle beast with this crazy gorilla costume.  Your little one will just love roaring and jumping all round the costume party in this great dress up set. The only downside to this is that it is really hot and sweaty for the child inside it.
We really love just how cool and retro looking this costume is.  Your kid will look like something out of a 1960s horror movie in this crazy costume.  It is available in both small and medium sizes.
(p.s. Dear reader, yes we know that gorillas aren't technically monkeys, but we wanted to include this cool costume anyway.)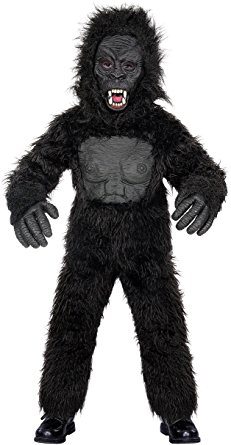 Our Top Pick – Best Money Costume
If you are really looking for something that is warm, well made and super stylish, we recommend that you go with the Japanese Monkey Suit.  These romper suits are just so warm and fuzzy that your kids will love wearing them all the time, not just at Halloween, and they will double up as pyjamas if you want.
We also like the fact that they can easily slip over the kids other clothes, so we can make sure they are bundled up nice and warm if they are going out trick or treating.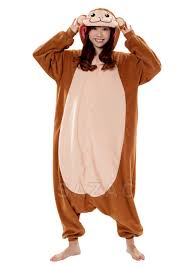 Budget Pick
For parents who are on a bit of a tight budget, we recommend the monkey jump suit.  This costume is still seriously cute, and it is very comfortable and warm for your kids to wear.  Its got a great loose fit that means they can easily play around and dance at their Halloween party, and its got great pockets for stuffing full of candy.