Princess toys can make special gifts for children of all ages and with a wide range of options available your child can develop a unique magical collection of these favorite character toys and dressing-up sets. This article will take you through the top selection of toys to help you choose the best princess gift for your child, so you can be sure that they will love their new toy.
These beautiful girly toys are perfect for encouraging your little girl to live out their dreams through role play and imaginative play, both important for development. All princess gifts and toys are suitable for sharing with friends and will provide hours of fun and entertainment.
Comparison Table:
When you are choosing your perfect gift you should consider the age of the child that the gift is for, as each toy has an ideal age range. This ensures that the child will get maximum enjoyment from the toy and it will be a suitable level for them to complete while also being safe for them to play with. There is a lovely selection of toys to choose from if you are looking for gifts for a 2-year-old princess.
There is a fantastic range of dressing-up gifts to make your little girl feel like a real princess. With the option to pick an outfit that matches all the favorite Disney characters, you need to know which princess is your child's favorite to avoid any disappointment.
There is a great selection of toys, each filled with sparkle and glitter, so your child is sure to love the gift that you choose for them.
Best Disney Princess Toys for Kids
1. Princess Horse and Carriage Ride On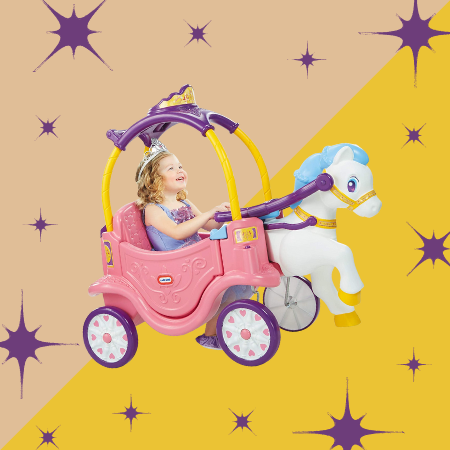 By the popular toy manufacturer Little Tikes, this Horse and Carriage Ride On Toy is everything your own little princess could dream of. With a push and pull handle included your child can ride everywhere in this lovely carriage.
There is a side door that opens for easy access into the carriage. Suitable for young children with the removable floorboard protecting all little feet, this is the best of the princess gifts for 1 year old girls.
These girls themed toys are built to last and with a weight limit of 50lbs it will appeal to even an older child, as with the floorboard removed they can move the carriage independently for added fun.
2. Belle's Gown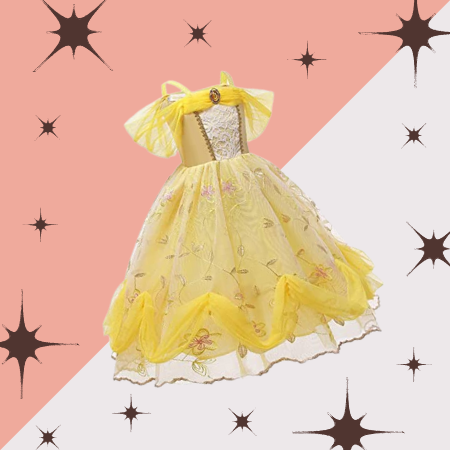 A beautiful dress that is fit for every girl, this Belle's Gown is perfect for imaginative play or for fancy dress. Every young girl will adore this dress set with the fantastic detail of the drop shoulders and the tiered skirt of the dress, along with a stunning tiara, wand and jewelry set. A perfect dress to let your child feel like a real lady with stunning yellow coloring.
This is a high quality dress with a cotton lining that is skin friendly. With multiple sizes available there is a perfect fit for every child. Belle is the princess that every young child wishes to be, so they will love this replica dress in the latest Belle style.
3.  Little Chair Desk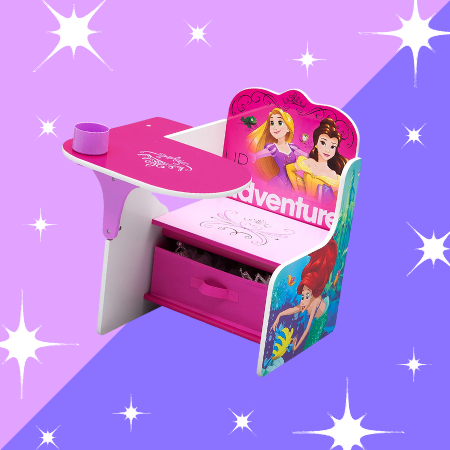 The perfect addition to every princess's room, this Little Disney-themed Chair Desk will be loved by every young girl. Suitable for kids between 3 to 6 years old and with a 50lb weight limit this chair will last years. It has an appealing design that all young girls will love. The matching furniture available means that you can make your little girls room into a palace that will be the envy of all her friends.
A functional chair made from high-quality wood with a handy cup holder to store pens and keep the desk tidy. There is also a handy under the chair storage perfect for keeping all crafts and papers neat. This is one of the top of the range princess gifts for 4 year olds that will be enjoyed by all girls who love princesses.
4.  Disney Princess Outfits and Accessories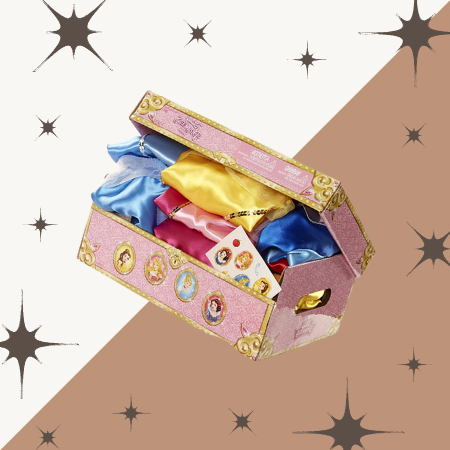 This Disney Outfits and Accessories set is a great fancy dress set that comes with everything your young princess and their friends need for enjoyable role play. Young children can dress up as either Aurora, Snow White, Belle or Cinderella and with exciting accessories to add to the dresses there will be hours of endless fun to be had.
This outfit set comes with a lovely storage trunk to keep all dresses neat while not being used. The dresses cannot be machine washed but can be easily wiped clean to keep them looking as good as new. The size fits between the dress sizes 4 to 6 so is ideal for 3 years olds. These outfits make perfect Disney gifts for every princess-obsessed child.
5. Tiaras and Crowns by
Melissa & Doug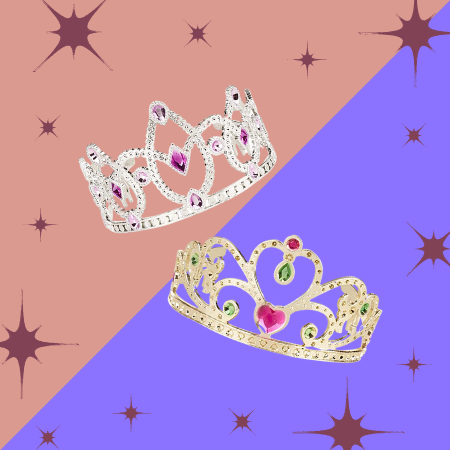 If you are looking for the perfect princess gifts for 5-year-olds then look no further than this Tiaras and Crowns set by Melissa and Doug, who are everyones favorite toy producers. Perfect for all little princesses aged between 3 to 6 years old these tiaras and crowns have been made with comfort in mind and will not pinch or tangle hair.
This 4 pack set has an appealing design with a variety of colors and styles so your child can dress up as their favorite princess character. A great item for encouraging creative play that can be shared with friends.
6.  Disney Deluxe Storage Box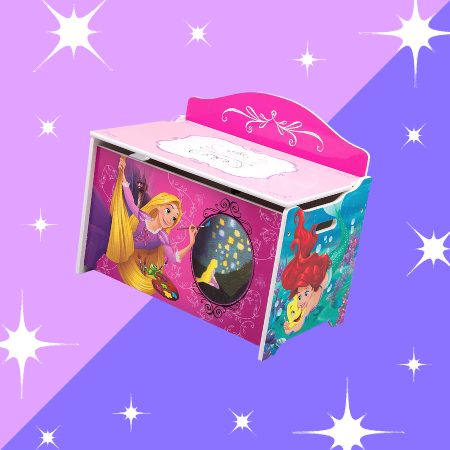 This is the perfect toy box for every little girl, the Disney Deluxe Storage Box with its stunning Disney artwork will be appealing to all young kids. There is a different Disney princess on each side of the storage box so it will be admired from all angles. Beautifully made with rounded edges for safety and a soft close lid to protect little fingers.
It is the perfect size to store all toys, including all princess stuff, enabling you to keep your kid's room tidy. The storage box has handy side handles making it easy to move the box. With matching furniture available you can make your kid's room into their dream palace, where this storage box will be center stage.
7.  All in One Makeup Set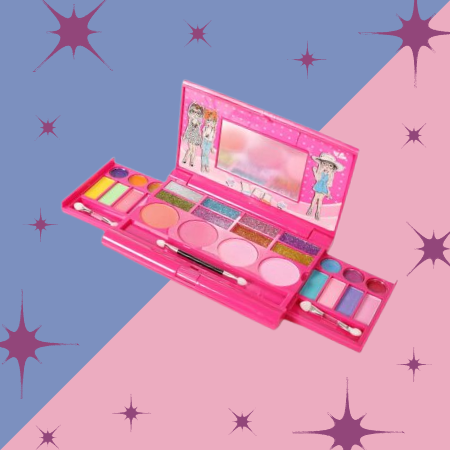 This All in One Makeup Set is the perfect addition to every dressing-up set that every young girl loves playing with. With a lovely collection of different colored eye shadows and lip glosses, it is sure to include your child's favorite colors.
Complete the makeover with the 4 lovely blusher colors. Every kid will enjoy experimenting with the great color collection of this makeup set, which is the perfect addition to every fancy dress outfit. The make-up set comes with a lovely appealing princess box and would make a great gift for every girl that they can use over and over again.
8.  Wooden Castle Dollhouse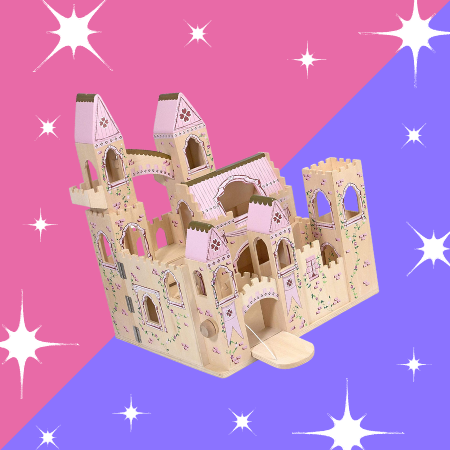 A Wooden Castle Dollhouse is fit for every princess that will provide hours of imaginative play. This beautifully created wooden princess castle with lovely detail has been produced by the well-known toy manufacturer Melissa and Doug.
Every kid will love the working drawbridge and 2 movable turrets with walkways and balconies for the ultimate creative play. For easy storage the castle can be folded away so is a great space saving toy that is also quick to set up in seconds. The castle can be added to with an additional wooden furniture set for endless hours of fun.
9. Disney Princess Jewelry Set

A great creative gift idea, this Disney Jewelry Set will enable your kid to produce fun and appealing necklaces over and over again. This set comes with 5 princess charms, 150 beads and 5 necklaces, so it includes everything needed to start creating these special Disney necklaces.
A great gift set to share with friends that can be used for dressing up play or fancy dress before taking them apart and making them again, providing hours of fun. These princess toys for 3 year olds will be loved by all little girls, who will also enjoy the range of Disney characters that are included in this fantastic Jewelry set.
10. Little Girls Chair and Table Playset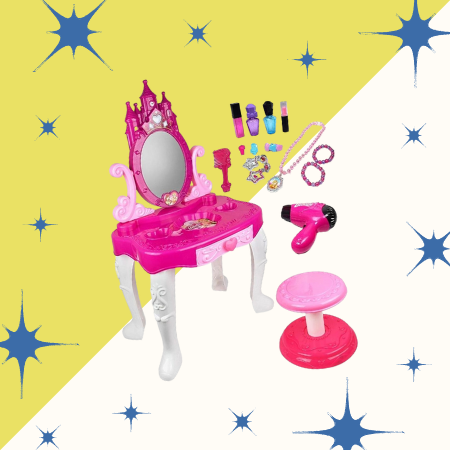 Every young girl will love this Little Girls Chair and Table Playset, which will let them feel like a Disney Princess. Many great accessories are included with this dressing table, which also features a working hairdryer for added excitement. These activity playsets make the perfect princess toys for 4 year olds that will encourage creative play.
All kids will enjoy playing dress-up with the beautiful bracelets, necklaces, earrings, and rings that are included with the set. Everything your young princess needs for hours of fun play is included in this dressing table set, except for batteries for the fantastic mirror lights and hairdryer. With a 7 inch stool and 31-inch high table, this is the perfect size for 2 to 4-year-olds.
11. Princess Elsa Dress and Accessories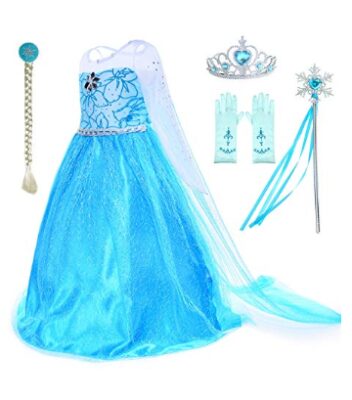 If you are looking for the perfect Disney princess dress set then look no further than this Princess Elsa Dress and Accessories set, one of the best gifts for a 3 year old princess. The lovely sparkly dress with many sequins will be appealing to any young girl and they will love the style, which is a replica of Elsa's dress.
Every Frozen fan will enjoy the hours of imaginative play that this set provides, and the great range of sizes that the dress is available in will fit most kids. Also included in the set is exciting gloves, tiara, wand, and wig accessories to really make your kid feel like a princess.
12. Princess Dress and Crown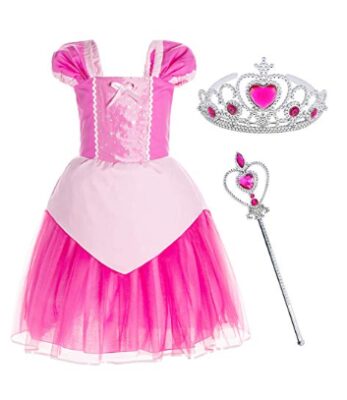 The perfect fancy dress princess set that all young girls will love playing with, these Princess Dress and Crown sets are great replicas of the most popular Disney princess dresses. With a great selection of Disney characters to choose from your child will spend endless hours enjoying role play.
From Aurora to Belle your little girls favorite princess is sure to be included. With a great range of sizes from 18 months to 6 years there will be a size to fit most children, so no one will be disappointed. These great toys for 5 year olds include a wand and crown along with the beautifully designed sleeveless dress, which are perfect for parties.
13.  Princess Dress-up Bundle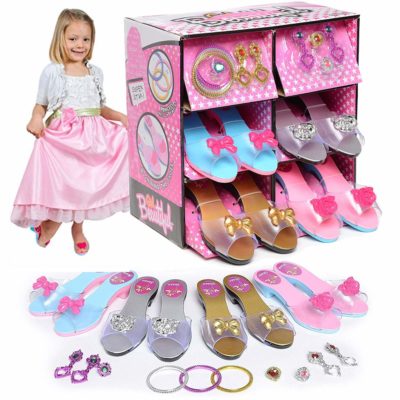 The ultimate princess gift idea for kids is this Princess Dress-up Bundle that comes with everything your young girl will need to become a princess. The dressing up set includes 4 shoes of varying colors and designs and 4 bracelets, 3 rings, and 3 earrings for added excitement.
These princess gifts are durable and high quality for long lasting use and are perfect for 3 to 8 year olds. The set also comes with a lovely storage box, which is great for keeping the shoes tidy. This is the perfect princess set to share with friends and will make great toys for role play.
14.  Peppa Pig's Castle Toy Set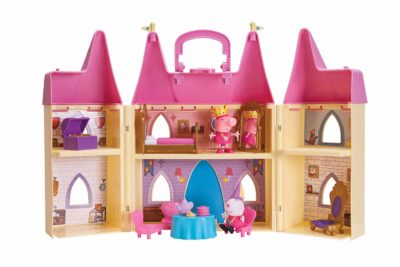 This Peppa Pig's Castle Toy Set is the perfect addition to any Peppa Pig toy collection. A great gift idea for any Peppa Pig fan that will provide hours of entertainment. The castle folds away and stores all items inside for easy tidying and the handy carry handle makes this castle easy to take out and about.
The castle comes with lovely accessories including; a treasure chest, princess bed, dining table with chairs and tea set as well as much more. The figures of princess Peppa and princess Suzy are included so there is everything you need to get started straight away. A lovely castle set with 6 fun rooms that all kids will enjoy playing with.
15.  Princess Belle's Tea Party Building Kit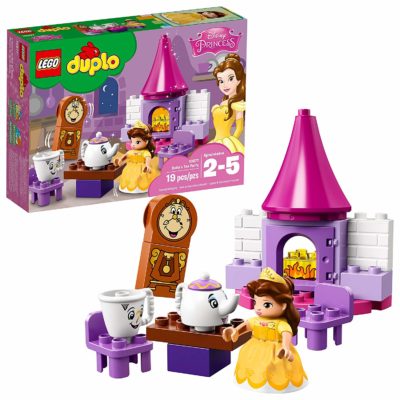 A great Lego Duplo toy, this Princess Belle's Tea Party Building Kit is a lovely first Lego toy for a young girl. Spend quality time with your child helping them build this lovely scene from Beauty and the Beast and host a classic tea party with Belle.
The kit comes with the popular figures; Belle, Cogsworth, Mrs. Potts, and Chip, which will provide many hours of play. These princess toys for 2 year olds are perfect for little hands and makes one of the best princess toys for toddlers. This is the ideal gift idea for a young girl who loves Princesses.
16.  Princess Jewelry Toy Playset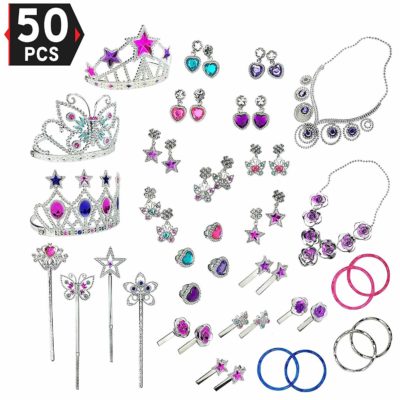 The Princess Jewelry Toy Playset is one of the best princess toys for girls that can be shared with friends while playing dress up and role play. This 50 piece set is suitable for children over 3 years of age and is full of sparkly jewelry that every child will enjoy playing with.
There is a lovely collection of tiaras, wands, earrings, necklaces, and much more included in this set. This set is also ideal for fancy dress parties where your child will stand out with their realistic Princess look. A lovely Jewelry set that can be used over and over again.
17. Little Girls Arts and Crafts Set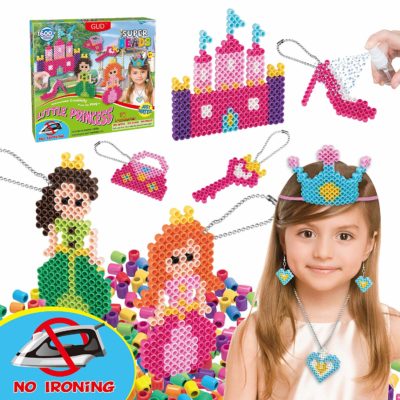 A perfect gift idea that all little girls will love, this Little Girls Arts and Crafts Set will be enjoyed by all that play with it. These great bead games are perfect gifts for 5 year old princess's who love being creative. They can share the set with friends or it is a great activity to occupy your child.
These beads are easy to use, just add water to bind them together, so are much safer than the sets that use the iron. There is 1600 beads included in the set, so there are plenty to go around. Enjoy making keyrings, necklaces, and earrings and there are many other projects included.
18.  Princess Castle Puzzle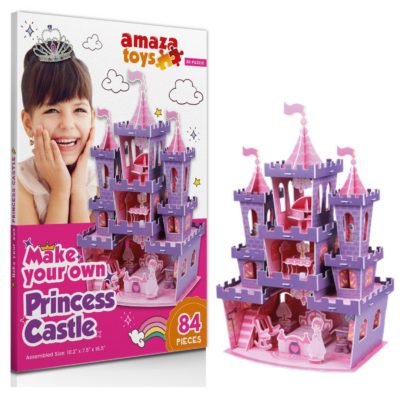 A fantastic unique toy, this Princess Castle Puzzle will be enjoyed by every princess-loving child. The exciting castle comes flat packed and your child has to assemble the castle following picture instructions and matching the numbers, so it is perfect for your child's development. This is the ideal puzzle to spend quality time with your child.
No scissors or glue are required as the pieces are pushed out and slotted together, so everything you need is included in the set. The castle even includes exciting furniture to fill the castle. The ideal puzzle for most children that will provide hours of fun once the castle has been built and is one of the amazing princess gifts for girls.
19. Play-Doh Princess Toy Castle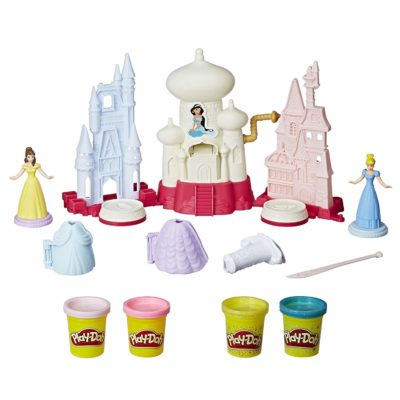 A great princess toy by the much loved Play-Doh brand, this Play-Doh Princess Toy Castle will be enjoyed by all young girls. Your child will love playing with 4 different Play-Doh cans, which include 2 amazing sparkles Play-Doh. There are 3 Disney princesses included in the set; Jasmine, Cinderella, and Belle and there are 3 castles for you to decorate with the Play-Doh molds.
At Jasmine's castle, you can roll out an exciting carpet ready for a princess party. Your child will enjoy making beautiful gowns for each princess, and being able to decorate them with lovely ribbons and accessories. Suitable for children over the age of 3 years old and would be one of the top princess gift ideas.
20. Princess Wooden Craft Kit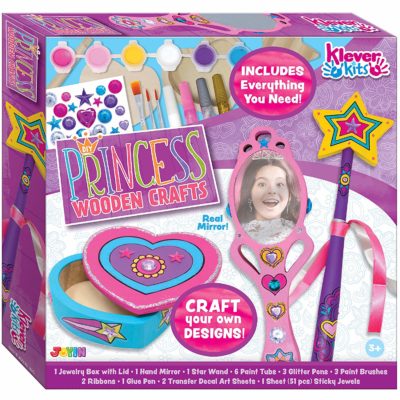 The perfect activity set for any child, this Princess Wooden Craft Kit will occupy your child for hours. A great 71 piece kit that includes everything you need to create many different wooden princesses accessorizes.
There are bright paint colors included along with glitter pens and sparkly jewels to decorate each piece. Suitable for children over the age of 3 years old, every little girl will enjoy creating their own designs, making the perfect princess accessorizes that they can enjoy over and over again. This Wooden Craft Kit would make the ideal gift for any princess loving child.
21.  Princess Cinderella's Castle Building Toy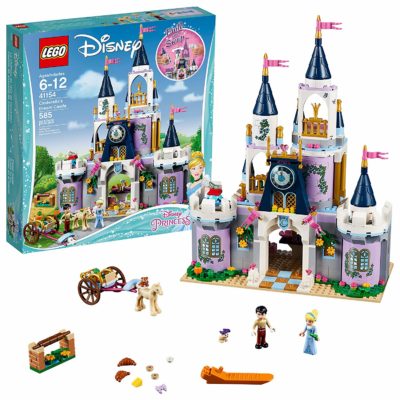 Everyone loves Lego and every child will love this Princess Cinderella's Castle Building Toy. This fantastic Lego set comes with Cinderella and Prince Charming mini toys along with a foal and 2 mice. The amazing castle has many surprises with hidden passageways, a secret bed compartment, and a fireplace with a surprise hiding place, so there are hours of fun to be had with this princess toy.
This Disney Lego set is also compatible with other Lego sets so it can be expanded to create your child's unique dream world. Suitable for older kids between the ages of 6 to 12 years this Cinderella's dream castle will encourage imaginative play and is great for playing with friends.
22. Disney Stackable Playset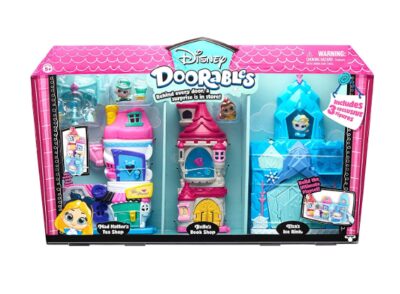 This Disney Stackable Playset is a great toy set that comes with the 3 playsets of Belles bookshop, the Mad Hatter tea shop, and Elsa's ice rink, and they can be stacked in any way to create an exciting Disney world. Discover a secret slide, hidden doors, and skate on the ice rink for hours of fun for any child over 3 years old. There are 3 figures included in the set for added excitement.
The stackable playset world can be expanded with other figures and playsets to make a unique play world. These Disney Stackable Playsets would make the perfect gifts for a 4-year-old princess.
23. Cinderella and Princess Charming Mini Dolls

A great gift for any Disney fan, this Cinderella and Prince Charming Mini Dolls set will provide hours of imaginative play. The set includes the dolls of Cinderella and Prince Charming each with appealing detail and the ability to change posture from standing and sitting for added excitement.
There is a beautiful horse and carriage included with the set which will provide hours of entertainment and Cinderella can be dressed up with a great clip-on dress. These perfect Disney princess gifts for 3-year-olds will be loved by everyone who plays with them.
24. Disney Princess Cartoon Custom Stickers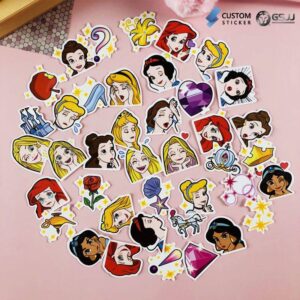 Disney princesses are the favorite anime characters of many girls. These Disney custom stickers are made of great vinyl material, which is waterproof, tears off without residue, and can be attached to books, bottles, and anywhere. Get these Disney princess cartoon custom stickers as gifts for little girls and they'll be delighted.
Best Overall Pick
Our best overall pick is the Princess Horse and Carriage Ride-On toy by Little Tikes, everyone's favorite toymaker. All children will love this exciting ride-on carriage that has a handy handle so parents can push or pull the carriage or it can be adapted to a walker toy so an older child can use their feet to move the carriage.
With a weight limit of 50lb all children will get hours of enjoyment from this great toy. This is one of the top princess gifts for 2-year-olds who will love spending hours playing with this beautiful toy.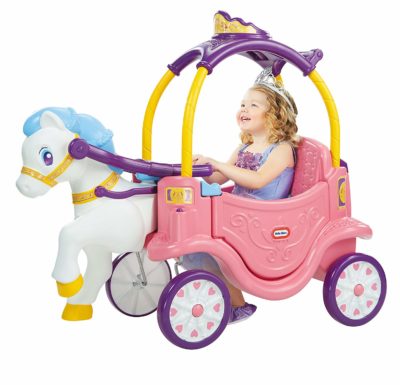 Best Product Buy
Princess Belle's Gown is our best product buy as it is a high quality dress set that comes with a beautiful replica Belle dress that every Disney fan will love.
There is beautiful detail to the dress with a lovely off-the-shoulder design and fantastic tiered look to the bottom of the gown. The set comes with stunning accessorizes so your child can dress up as Belle and feel like a princess. The perfect gift for little girl princess's who love dressing up.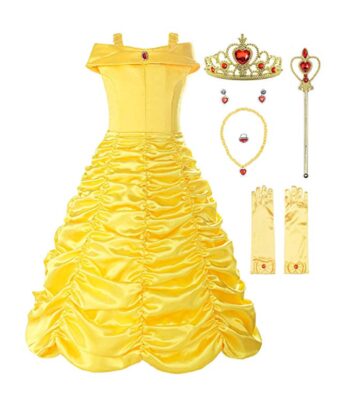 Check out these awesome toys for your little one: