There are many wonderful Disney related gifts that are perfect for all kids, no matter who their favorite characters are or how old they are, as you are certain to find a gift that they will adore. All of the popular Disney movies have a great range of toys and gifts available that will give you plenty of choice when looking for that perfect gift. For young girls there is a selection of special Disney Beauty and the Beast gifts that will let them become a Disney princess or for others there are a number of amazing Frozen toys, while many young boys will love the fantastic Toy Story gift collection. From big Disney gifts through to smaller items there is the ideal gift to suit everyone's budget.
If you are searching for that extra special gift then you should look at the fantastic Disney personalized gifts range that kids will love. Receiving an item that has their name on it will create an everlasting memory and kids will cherish their gift for years to come. Many adults also continue to love Disney so the selection of lovely Disney engagement gifts are perfect for every Disney fan and can make that special occasion even more memorable. If you plan to save big on your next Disney vacation, visit this website. For whichever reason you are looking for that special gift with a Disney theme you are certain to find the ideal gift.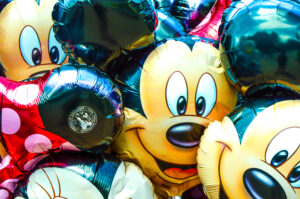 10 Best Disney Gifts and Toys
There is a huge amount of choice when looking for gifts with a Disney theme, so this guide will take you through the top choices for both boys and girls to help you pick the perfect gift.
1. Disney Vacation Gift Set
If you are looking for gifts for someone going to Disney world then this Mickey mouse toys and Minnie Disney World Vacation Gift Set ideas make the perfect choice. This lovely gift set comes with everything needed for every Disney lover to have an amazing experience when at DisneyWorld. Kids will enjoy the official licensed 40 paged autograph book so they can get everlasting memories from their visit. There is even a pair of cute Mickey ears that either kids or adults can wear to really feel the part when at DisneyWorld. Also included in the set is a great 4 colored pen that is ideal for characters to use when signing your autograph book, lanyard for your park passes, Mickey and friends stickers and pressed penny book with coin holders. This lovely gift set makes one of the top gifts for Disney fans.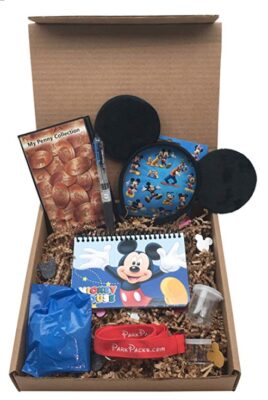 2. Moonlite Disney Projector
Disney Christmas gifts are a popular choice for young kids and this Moonlite Special Edition Disney Storybook Projector will not disappoint. Both kids and parents will love reading the 5 exciting Disney stories with the clever storybook projector for smartphones that will light up Disney pictures to really bring each story to life. The clever projector uses the flashlight on your smartphone to show the images, so it really is simple to use. Kids as young as the age of 1 will enjoy these Disney stories making this a perfect family activity that can used anywhere you have your phone. These Mickey and friends tales will be popular with all young kids and as one of the top Disney gifts for kids it is certain to be enjoyed over and over again.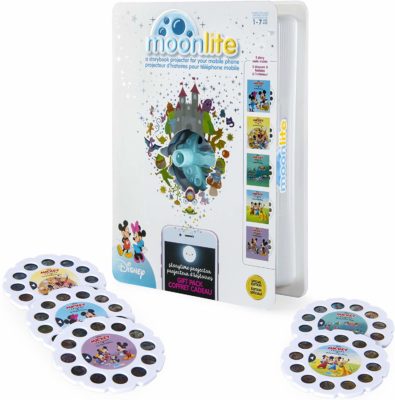 3. Mickey Mouse CZ Earrings
When choosing the perfect gifts for people who love Disney then look no further than these beautiful Twenty Plus Mouse Stud Earrings. Every girl loves receiving jewelry so she will adore these sparkly earrings in the characteristic Disney mouse shape that will allow her to add a touch of Disney magic to every outfit. The stunning mouse shaped earrings are made from white cubic zirconia stones so they have a lovely sparkle similar to every diamond and will catch the light when out and about. Each earring is 9mm by 8mm so is the ideal size for wearing on special occasions to get noticed. These stunning mouse earrings are one of the best Disney gifts for girls that will make them feel special.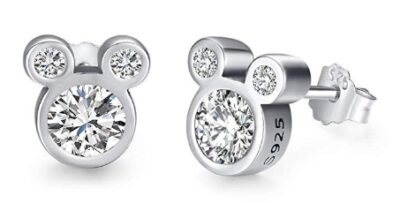 4. LEGO Little Mermaid Set
This Lego Disney Princess Ariel and The Magical Spell Set is one of the top Disney gifts for boys and girls. All kids enjoy playing with Lego so what better gifts for Disney lovers than this Little Mermaid themed Lego set? This 222 piece Lego set allows kids to build Ariel's cave and Ursula's grotto, which provides the perfect set up to enable kids to act out their favorite parts from the film and along with the lovely Ariel and Ursula mini figures there are hours of entertainment to be had from playing with this great Lego set. For added excitement the Ariel mini figure can switch from her mermaid tail to legs, which kids will find appealing. This is a great Disney Lego sets that all boys and girls will enjoy.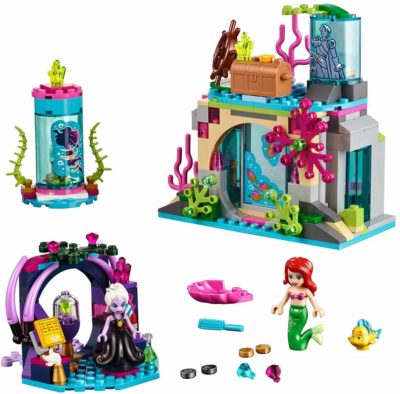 5. Never Girls Book Set
If you are looking for kids Disney thank you gifts or a gift to be given as a special reward then this exciting book set The Never Girls Collection 1 is the perfect option. There are 4 four fantastic books included in this popular book set that has been written by Kiki Thorpe, so it provides many exciting reading adventures for young kids. The books are suitable for kids between 6 to 10 years old so are a great option for helping kids to gain their confidence when reading and kids will enjoy going on fabulous adventures with the 4 best friends who are taken to Never Land. The books that are included in this great collection are In a Blink, The Space Between, A Dandelion Wish and From The Mist, so kids will not be able to wait to read each one. This super book collection is the perfect Disney educational gift idea for all kids.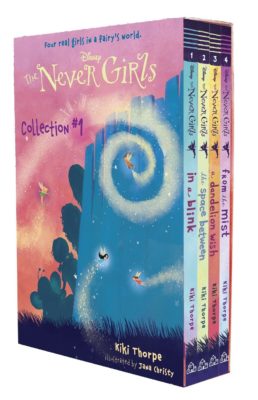 6. Disney Eye Found It Game
There are many great Disney themed gifts that are suitable for kids but this Ravensburger Disney Eye Found It is the perfect family game where adults can also join in. This exciting game comes with an amazing 6 foot game board that is full of your favorite Disney characters and scenes and with over a thousand of your favorite Disney objects to find there is endless fun to be had. The unique large sized board allows all the family to join in with this fabulous 1 to 6 player game that all kids over the age of 4 will enjoy. To win the game then all players need to work as a team, as every player who reaches the castle before midnight wins. This is a lovely gift idea for all kids who adore Disney that can be shared with family and friends for even more fun and enjoyment.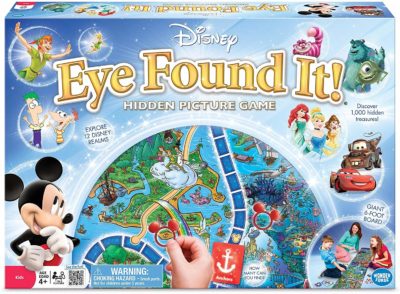 7. Toy Story Shirts
If you are looking for the perfect small Disney gifts that you can give to your kids then these Disney T-Shirts are the ideal option. All kids love Toy Story so they will enjoy all of the 4 iconic t-shirts included in this set. There is an exciting Woody cowboy design, Buzz spacesuit outfit, Slinky dog and Rex the dinosaur, providing a t-shirt option that shows every kids favorite character. Each of the t-shirts are brightly colored and will appeal to all Disney fans with popular recognizable graphics that will ensure that kids want to wear each t-shirt over and over again. This officially licensed t-shirt set also makes fantastic Disney trip gifts for kids who like Toy Story and with a great range of sizes available there is sure to be the perfect size for every kid. This is a great Disney clothing gift option that will appeal to all fans of the movies.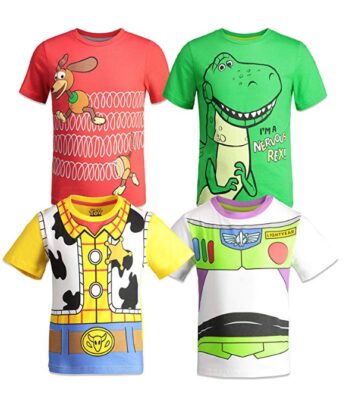 8. Puppy Dog Pals Plush Toys
Puppy Dog Pals is a new Disney Junior show that is quickly gaining popularity with the younger audience, so if you are looking for great Disney toddler gifts then a gift based on this show is going to be appreciated by all boys and girls. This Disney Puppy Dog Pals Plush Set is a lovely gift item that comes with cute Rolly and Bingo plush toys. These officially licensed cuddly toys have lovely detail with glittery detail on the eyes and fantastic embroidery, so each toy will prove to be popular with all kids. Plush toys are always loved by kids so this is the perfect gift for young kids that they will want to take everywhere with them.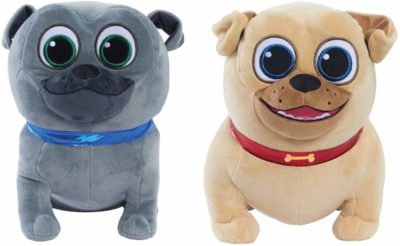 9. Moana Coloring Book
It can be difficult to choose a gift to take to a kids birthday party but this wonderful Disney Moana coloring and activity book set is one of the top Disney birthday gifts so is the perfect option. The set comes with an exciting 192 page coloring and activity book that will provide hours of entertainment. For additional fun the set also includes 16 brightly colored Crayola crayons, a 32 page sticker and activity book with over 40 stickers and 6 hibiscus stamps. This is a great Disney Moana gift that has everything kids need for play that encourages creativity. If you are looking for a Disney toy that is easy to take traveling then this is the perfect vacation activity as it is lightweight and easy to pack away when not in use. All kids will get great enjoyment from this exciting Disney Moana coloring and activity set.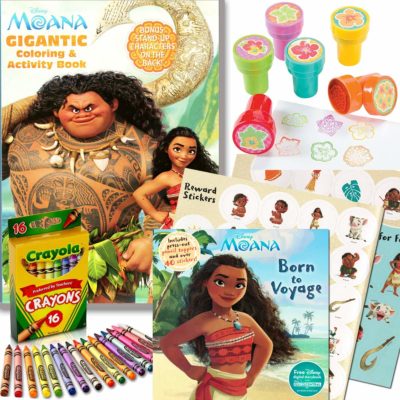 10. Osmo Disney Super Studio
When choosing Disney princess gifts then Frozen has a sought after gift range that all kids will love and this Osmo Super Studio Disney Frozen 2 Game will definitely not disappoint. This top of the range learning game does however require the use of an iPad or Fire Tablet and an Osmo base before the game can be played, which are not included in the set. The set does however include a Super sketch pad, 2 markers, eraser and app and once set up kids will enjoy playing and learning with their favorite Frozen characters. This is the perfect gift for any Disney fan who loves drawing as the game allows kids to save their pictures as they learn handy drawing tips. Osmo have created a great Frozen gift that all creative kids will enjoy.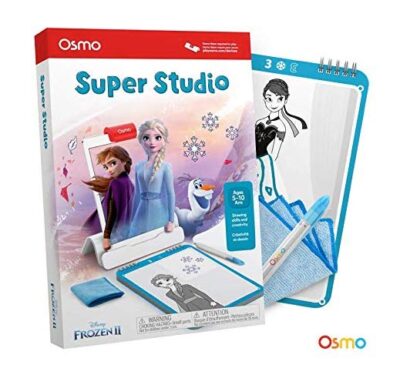 11. Wonder Forge Matching Game
Young kids who love Disney princesses will adore this lovely Disney Princess Matching Game which will provide hours of fun. There are easy and clear instructions included with the game so it is quick to pick up the rules and suitable for kids over the age of 3 years old to play. As 1 or more players can get involved, this is the perfect family game that enables everyone to join in. Kids will enjoy collecting the beautiful pictures of their favorite Disney characters that they will discover while playing this exciting game. This is the perfect game for helping kids to develop their memory and thinking skills while the whole family gets great enjoyment from spending quality time together. As one of the best Disney fans gifts this game is certain to be enjoyed by all younger kids.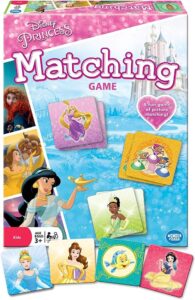 12. Mickey and Minnie Drawstring Backpacks
If you are looking for the perfect Disney world gifts then these Disney Mickey and Minnie Mouse Drawstring Backpacks are the ideal gift. These are official licensed Disney bags that have appealing graphics that all kids will love. The Minnie Mouse backpack comes in a pink color that all young girls will find appealing and the Mickey Mouse backpack comes in a blue color that boys will enjoy. These great looking bags are practical, so are perfect for everyday use, as well as being ideal for a trip to DisneyLand. For added excitement there are 2 lanyards included, each with a matching detachable Mickey and Minnie coin purse, so kids have everything they need to carry their belongings. These great quality backpacks will be enjoyed by all kids who love Disney.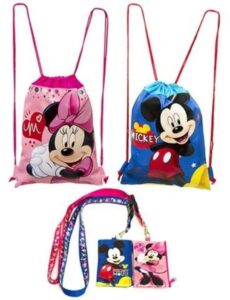 13. Mickey Mouse Night Light
This stunning Cartoon Mickey Mouse 3D Night Light is the best of the unique Disney gifts that all Disney fans of any age will adore. The night light has the characteristic image of Mickey Mouse and the LED light it emits is perfect for use as a night light. The lamp has 7 calming colors for you to choose from or the lights can continually change color if you prefer. The settings are easy to control with a soft touch button on the light, otherwise the remote control can be used to create your perfect settings. This light is ideal for use in the nursery and in your kids rooms, as the LED light creates a soft non-flickering image that will not disturb sleep. This is a wonderful Disney night light that all kids will enjoy.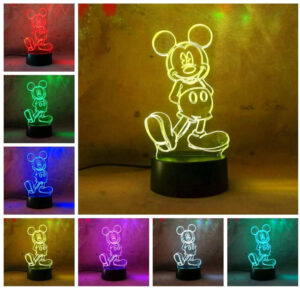 14. Toy Story Duplo Set
There are many great Disney baby gifts for you to choose from but this Lego Duplo Train is the perfect gift that will grow with your baby as they progress into toddlerhood. Kids will love building this simple 21 piece train, which will then provide hours of entertainment and Duplo is always a popular toy with little kids. The train is the ideal size for toddlers at 9 inches long and the Duplo building blocks are also great for little hands. Disney fans will love that this Duplo set has a Toy Story theme so that they can enjoy going on many exciting adventures with the Woody and Buzz figures that are also included with the set. This Duplo train is a wonderful toy for toddlers that will encourage imaginative play and help develop their fine motor skills so it makes the perfect gift idea.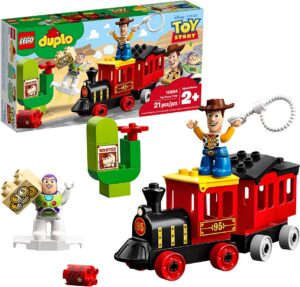 15. Disney Princess Electronic Reader
If you are looking for a Disney gift with an educational theme then this Disney Princess Electronic Reader is the perfect choice. Kids will love reading the 8 different princess books that are included with the set. With exciting adventures from Beauty and the Beast, Aladdin, Tangled, Sleeping Beauty and much more, there are plenty of stories for all kids to enjoy. This electronic reader is perfect for helping kids learn to read as they can select the book they want to read and the reader will read the story along with them. There is no better way for kids to develop their reading independence and for added fun they will love the additional sound effects. This is one of the top gifts for people who like Disney and parents will love that their kids are playing with an educational toy.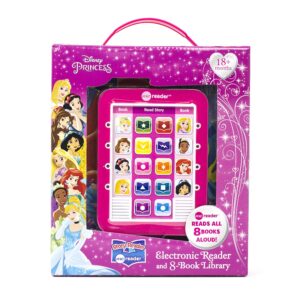 16. Pictopia Trivia Game
This Pictopia Disney Edition Game is the perfect compromise when you are looking for Disney villain gifts or even Disney Goofy gifts, as everyone's favorite characters are included in this great game along with over 1000 exciting Disney questions. With traditional Disney characters included, along with new favorites such as Jack Sparrow and Elsa, this will ensure that this game is the perfect family game and that everyone will enjoy playing along. The game is suitable for kids over the age of 7 years old and 2 to 6 players can join in to provide more exciting Disney fun. For additional Disney magic the Pictopia app can be used for even more quizzing content and fun. This is a great Disney family game that both adults and kids will like playing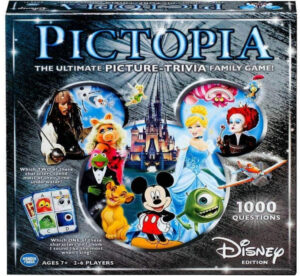 .

17. Tara Toy Disney Princess Beads Kit
For the perfect DIY Disney gifts look no further than this great Disney Princess Necklace Activity Set that will allow kids to make and create necklaces with the charms of their favorite Disney characters. The set includes 5 Disney character charms, 5 necklaces and 150 beads, so there are hours of fun to be had playing with this great set. Once finished with the necklaces can be reused, giving many different design options. This is a lovely necklace set that is perfect for sharing with friends and everyone will enjoy the character charms of Belle from Beauty and Beast, The Little Mermaid, Snow White and many more. The set is suitable for kids over the age of 3 years old and young girls will love receiving this great necklace set as a special gift.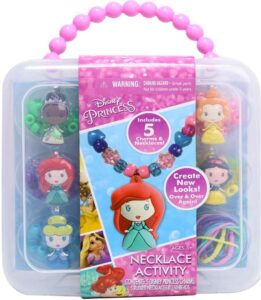 18. Monopoly Lion King
When searching for a gift idea that will match the amazing gifts from Disney Land then you should consider this exciting Monopoly The Lion King Edition Board Game. Monopoly is a classic family friendly board game that everyone loves, so what better gift to get a Disney fan than the fantastic The Lion King version. Players can choose their favorite characters which have been created into lovely playing pieces and they can listen to Pride Rock playing music as they play the game. This exciting Disney version also has some twists on the classic game with destiny cards replacing chance and community chest cards so players can really enjoy The Lion King theme. This is the perfect family game, as 2 to 6 players can join in making it a wonderful way to spend quality family time together. All The Lion King fans will love this Monopoly game and it makes the perfect gift idea for all kids over the age of 8 years old.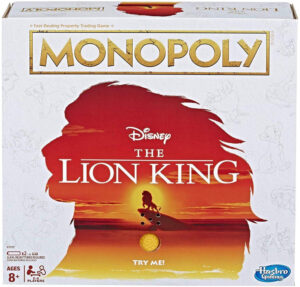 Best Overall Pick
This Ravensburger Disney Eye Found It game is our best overall pick as it is the perfect game for all kids no matter who their favorite Disney characters are. This exciting game is ideal for playing with the whole family as everyone can get round the huge 6 foot game board and with over a thousand popular Disney objects to find everyone will enjoy this game. This is a Disney game with a difference as all players need to work as a team to get back to the castle before midnight, making this a great game for small kids to play. This great 1 to 6 player game will be enjoyed by all kids who are fans of Disney.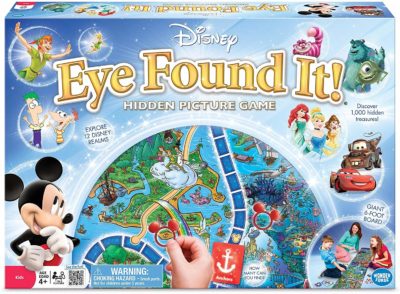 Best Budget Buy
Our best budget buy is the great Mickey and Minnie Disney World Vacation Gift Set as it comes with everything kids need to have a memorable once in a life time trip. Kids will like using the 40 page autograph book and pressed penny book with coin holders, so they can get souvenirs from all of their favorite characters. There is also a 4 colored pen, lanyard for park passes and Mickey and friends stickers included for additional fun. Though kids will decide that the highlight of the gift set are the cute Mickey ears that they will love wearing around Disney World. This is the perfect set to get for every kid who is about to go to Disney World.