Girls of any age can be difficult to buy gifts for. At 5 years old will have started to outgrow their toddler toys, and are probably looking for something a bit more 'grown-up'. There are so many different types of gifts for 5 year old girls. Here, we have chosen lots of different types of gifts, to make finding the perfect present easy.
You'll find toys, craft activities, personalized items and many more – there's sure to be something your little girl will love here. We've also chosen gifts to fit all budgets, whether you are looking for a small, inexpensive gift for a friend's birthday party, or a major gift for your daughter, you'll find it here.
Considerations when choosing a present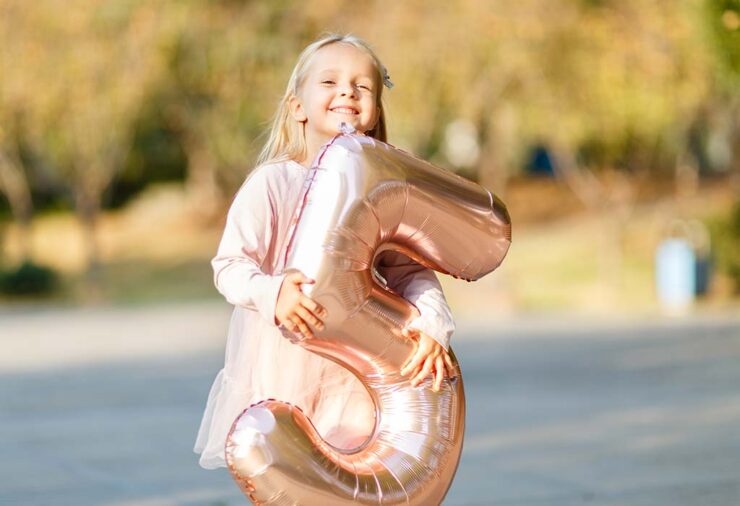 When your little girl is 5 years old, she'll probably be at school, or about to start. It can be a good idea to choose toys and gifts which will help with her education, or help her prepare for school life. You might want to choose something to help her with a particular skill, or an interest which she has. This could be a tech gift, such as a kids programming toy, or a sport-related gift or toy for example.
Finding toys for girls age 5 years old can be challenging and daughters often want to be like their moms, so might enjoy a baby doll to look after, along with accessories to go with it. Often at around the age of five years old, girls will become interested in dollhouses. Therefore, a doll house with a family of dolls and accessories can be an excellent gift for a girl's 5th birthday.
Top Gift Ideas & Toys
1. Disney Princess Dress Up Trunk
Every girl's dream, this Disney Princess Dress Up Trunk comes with all your daughter needs to be any of the four classic princesses – Aurora, Belle, Cinderella or Snow White.
As a deluxe trunk, it boasts over 21 pieces from tops and skirts to bracelets and rings to even a (s
oft) tiara. This is a gift that is guaranteed to keep your girls enchanted for hours.

2. Coding Critters
Winner of the Toy of the Year Award, this gift is perfect for getting girls into coding from a young age. Better yet, for parents worried about early=exposure to technology, this toy teaches coding screen-free.
Instead, coding is taught through a 'code-along' storybook that centres around taking care of them taking care of Scamper, a pet cat. This gift makes learning coding fun and enjoyable.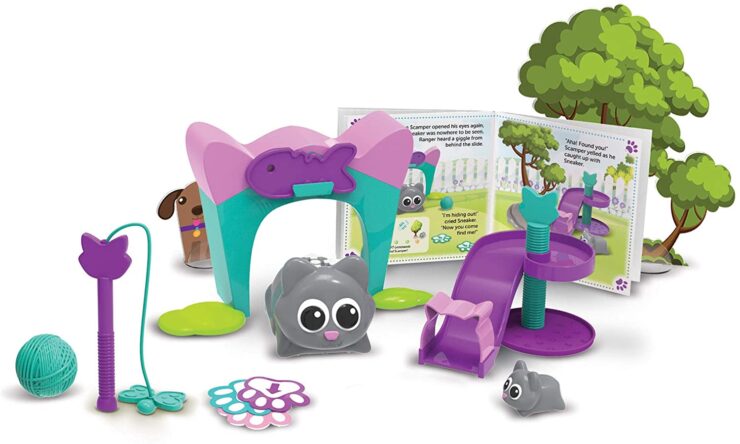 ,

3. FurReal Friends: Ricky, the Trick-Lovin' Interactive Plush Pet Toy
This interactive pet toy is one of the best gifts out their for young girls. It's programmed to perform tricks, move its body like a real-life puppy, make noises and even bark along to songs.
If you're not quite ready to buy a real pet for your little one, then this toy is sure to satisfy their puppy requests.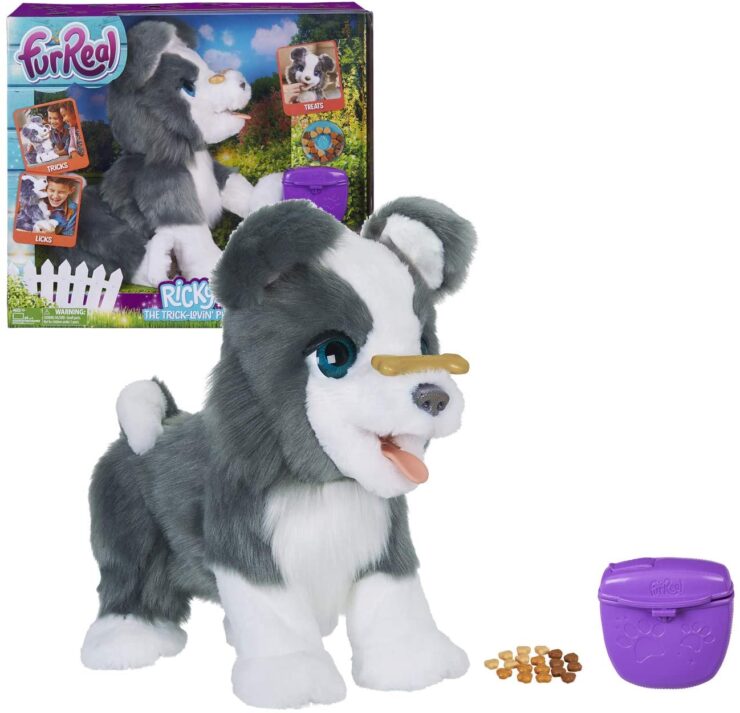 4. LEGO Disney Pixar's Toy Story 4 Carnival Mania
Gone are the days when LEGO was a boys toy. With this building kit, your kids can build a carnival scene-scape complete with their favourite Toy Story characters from Woody to Bo Peep.
Coming packaged with around 230 pieces, there's enough fun to keep your kids occupied for more than thirty minutes while still being simple enough for a 5 year old. We think your 5 year olds will adore this LEGO set.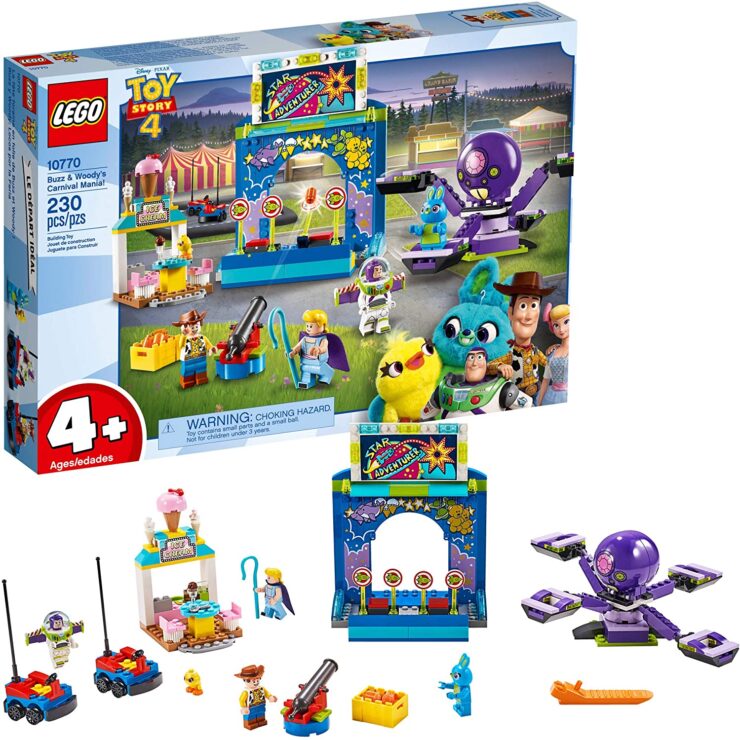 5. Enchanted Fairy Garden Craft Kit
If you're after a more hands-on creative toy, then this Fairy Garden Kit is one of the best gifts.
Equipped with flower pots, gemstones, butterflies and paint, girls can spend their day creating a fairy garden of their imagination.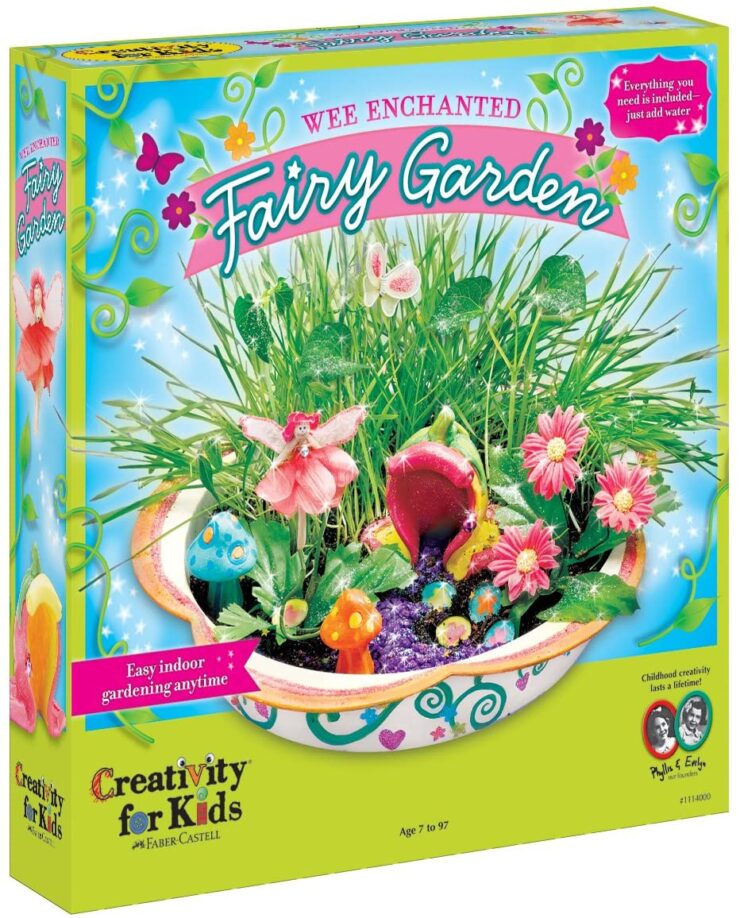 6. New Bounce Pogo Stick
These kid-friendly colourful pogo sticks make fitness for your little girl fun and exciting.
Made from durable foam, this toy is safe and practical for parents peace of mind (especially if your kids are going to use their pogo stick around the house!)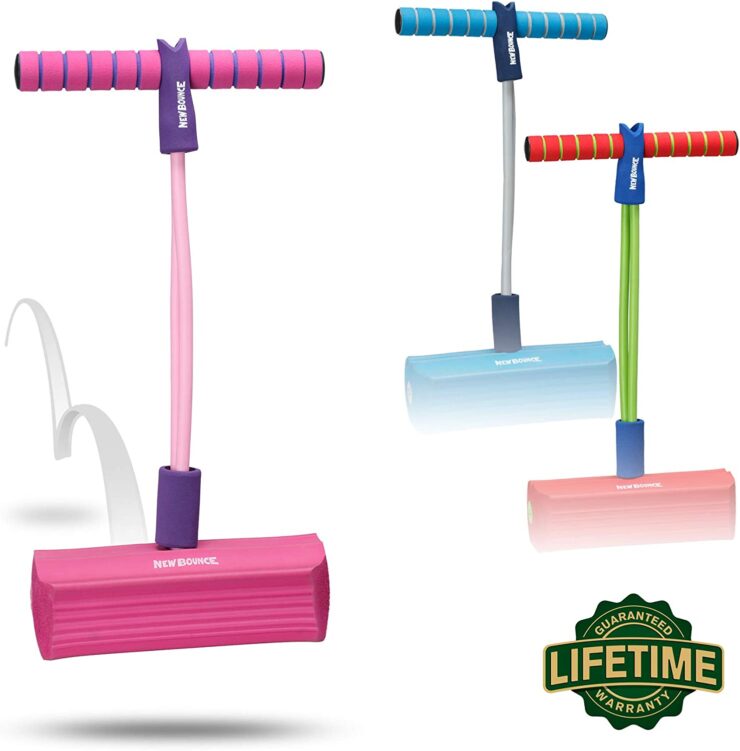 7. Hi-Tech Interactive Robot Dog
The cute girly remote controlled dog would make a great gift for any young dog lover. It has a good range of 50 feet, and is rechargeable, meaning it won't cost a fortune in batteries. The robot dog pet has loads of fun features to keep kids occupied for hours. Its eyes light up and can change shape, depending on the mode being used.
This playful RC dog toy offers several fun modes, including a learning mode. In this mode, letters of the alphabet appear on the eyes. This unusual dog gift for 5 year girl can also sing and dance, and can travel in all directions using the simple remote control.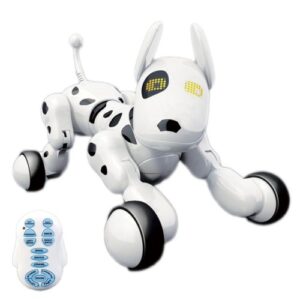 8. VTech Kidizoom Smartwatch
This is one of the best gifts for a 5 year old girl! The kids smartwatch is ideal for children up to 9 years old. It comes in a choice of either blue or purple, as well as 2 Star Wars designs. The watch comes with several activities, games and challenges as well as a motion sensor.
The VTech Kidizoom has a camera which can take photos and videos and voice recordings. It also has fun photo effects for kids to edit their photos. The watch also comes with useful features like an alarm, timer and stopwatch, and well as a calendar and calculator.
The girl's smartwatch can be customized with a choice of over 50 clock face styles. It's splash proof, meaning it's fine for outdoor play, however, should not be used for showering or swimming. The watch can be recharged, and a micro USB is included for transferring photos and videos to a PC.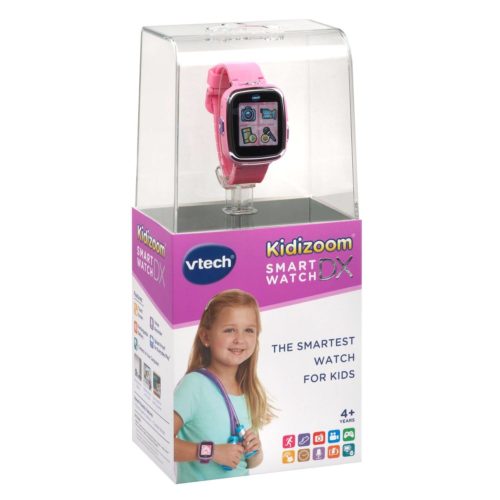 9. Interactive Talking USA Map
This interactive map is an ideal gift idea for 5 yr old girls for teaching your little girl all about US geography. It makes learning really fun – kids will become so enthusiastic about learning after playing with this interactive, talking map. The map can be mounted on a wall, making it great for a classroom or playroom at home.
The interactive wall map gives over 500 fascinating facts about the USA. It also has a quiz mode to test how much you have learned! There's a volume control too, and the sound can be turned off altogether. It's recommended for children over the age of 6, but by giving it as a gift early, you will help your child starting learning about their country sooner. It's also a great activity for parents and children to share together – you can help your child learn in a fun and interactive way.

10. Enchantmints Girls Musical Jewelry Box
This girly sweet musical jewelry box would make the perfect gift for any little princess. It's perfect for keeping jewelry and other little trinkets safe. The ballerina figure inside twirls around, as 'Swan Lake' plays.
The pink girls box measures 6″L x 4″W x 6″H, making it perfect for tiny treasures. The box is beautifully decorated – it is sure to be adored by any young girl. It will look great displayed in her bedroom and will be treasured for years to come.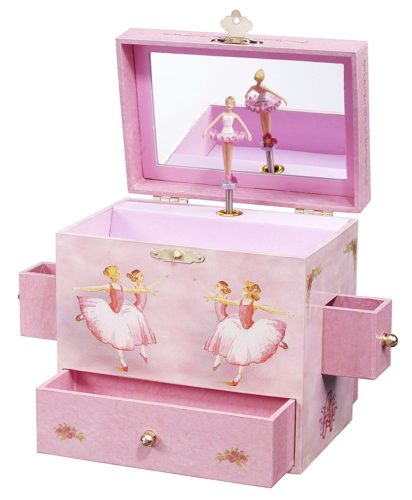 11. Personalized Girls Unicorn Pillowcase
This cute girl's customized pillowcase would make an excellent gift for a young girl who has everything. The pillowcase is made of super soft microfiber, making it extremely comfortable to use. The design on the pillow will last for years – the design is made by dying the fabric itself, rather than screen pressing.
Parents with a five-year-old girl will love how easy the personalized pillowcase is to look after. They can easily be machine washed and tumble dried, and the design will still look great. The pillowcase measures 20″ x 30″, which is perfect for a queen size pillow. The name can be printed in a choice of one of 3 colors and can be up to 20 characters in length.
Overall, this is a great customized gift for any little girl aged five – it will look great in any bedroom.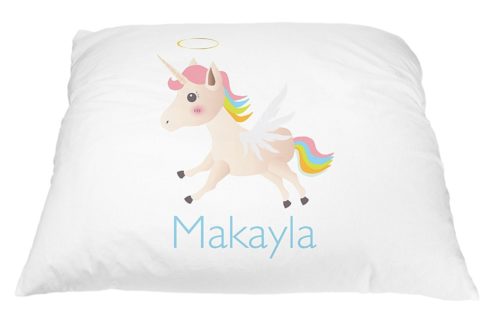 12. Personalized Girls White Rocking Chair
This girly children's rocking chair would make an excellent gift for a little girl who needed her own special place to sit. It would look great in any little princess's bedroom and can be customized with her name.
There are 8 fonts to choose from and 16 different colors. The name can be up to 15 characters, meaning it's suitable for just about anyone. The chair comes in a variety of designs, including elephants, owls, and butterflies – there's sure to be a style to suit all tastes.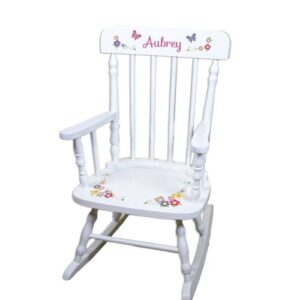 13. Girls Headbands Craft Kit
This fun craft kit for girls can be used to create up to 10 different headbands. It includes everything you'll need to create beautiful hair accessories, including plain headbands, flowers, ribbons and a butterfly. There are 10 satin headbands in different colors, meaning your daughter can make something to match every outfit!
This girls craft kit for 5 year olds is a great way for parents and children to spend quality time together. Parents will be able to help kids with some of the more difficult parts – children will love to have parents helping them with a fun and creative activity. Girls could even make bands share with their friends – it's a great activity to do at a sleep-over!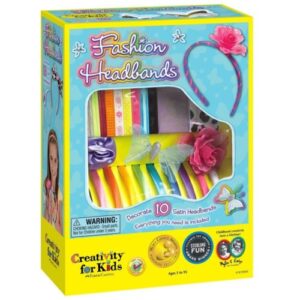 14. Luerme Pink Electric Airbrush Girls Art Set
This girly fun craft activity is great for kids to make and decorate just about anything! The spray paint pen is battery operated and will last for around 40 minutes on a single charge. It comes with 12 different colored washable watercolor markers and 5 templates. These can be used to create letters, birthday and Christmas-themed drawings.
The spray paint pen is really easy for young children to use – simply choose a colored pen and load it into the machine, then press the button to start the spray. The pen comes in a choice of either pink or green, and it includes a USB charger.
Girls around five years old will have years of enjoyment from this art set – it can be used to create cards for just about any occasion.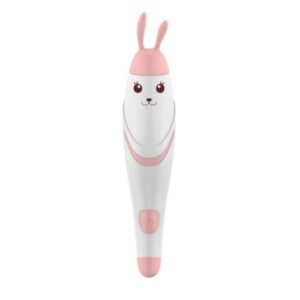 15. Melissa & Doug Girls Wooden Bead Jewelry Set
This wooden lacing beads set is ideal for little girls to create their own necklaces and bracelets. It comes with over 120 wooden beads, and 5 different colors of cords. The beads come with a wooden tray which can be used for handy storage.
This girly activity is ideal for improving kids' fine motor skills and hand-eye coordination, whilst having great fun at the same time. Little girls will love making beautiful jewelry to share with their friends and sisters.
The cords in the set have sturdy eaglets fixed to the ends, meaning the beads easily slide through.  The set also comes with clasps to fasten the necklaces, as well as simple instructions for attaching them. This means that young girls aged 5 years old will likely be able to do the activity alone, learning as they go.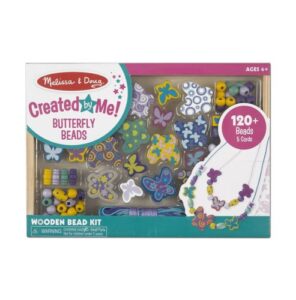 16. Girls Klutz Shrink & Link Jewelry Kit
This jewelry making kit is perfect for any young girl who loves being creative. It comes with everything you need to make all sorts of different pendants and necklaces, including a 50+ page clear instruction book. The set is aimed at older kids, although we feel it would be a great gift for 5 year olds who are eager to learn and have a parent to help out.
The Klutz jewelry kit comes with 5 shrink sheets, a cardboard baking tray, plastic chain, s-hooks, sequins and many more items needed to create amazing jewelry. The unique kit can be used to make traditional shrink art into something three dimensional, and wearable. The kit is a great way for kids to show of their creativity and make their own designs – the pictures need to be traced and colored in before being shrunk.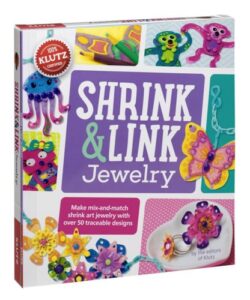 17. KidKraft Sweet Savannah Girls Dollhouse
This is a great toy for 5 year old girls. This large, 3 level dollhouse can be used by dolls up to 12″ tall. This means it's ideal for Barbie and similarly-sized dolls. It comes with 13 pieces of furniture, perfect for finishing off every room of the house.
This is one of the best toys for 5 year old girls who love dolls. It is suitable for children as young as 3 years old, but due to the large size, we feel it is more suited to those around five years old and above. The house is beautifully decorated on the interior and the sides, and it even comes with a balcony and a porch area. The dollhouse is made from sturdy wood which will stand up to years of play.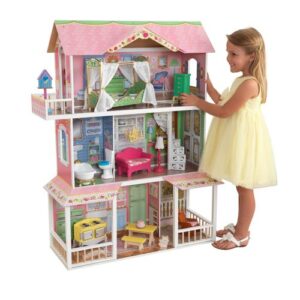 18. Girls Step2 Fantasy Vanity Set
This kids vanity set is great for little girls who want to be just like their mom. The table comes with 3 accessories, a mirror, a light and a stool to sit on. The mirror is perfect for children – it is made from shatterproof plastic. The vanity set also features a small drawer perfect for storing small items such as makeup, brushes or hair accessories.
The girl's vanity set is also ideal for dressing up play. Girls will love to play princess imaginary games using this sweet set. The light has a useful automatic shut-off after 5 minutes, meaning it's perfect for kids who sometimes forget to switch things off. The table will continue to be used for many years – it is the ideal size for girls aged five years old up to around 8 years old. The stool is 11″ high, and the table measures 14 x 28 x 41 inches. It's also light enough to easily move around the house, yet sturdy enough to withstand daily use.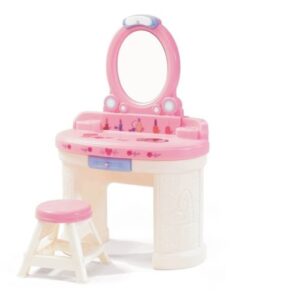 19. LEGO Friends Heartlake Puppy Daycare
This LEGO Friends set is ideal for young girls. It contains over 280 pieces, including 2 mini-doll figures, 2 puppies as well as pet toys and accessories.
This girls LEGO set is for 6 to 12 year olds, although we feel that younger children will enjoy it with a bit of help from parents. It comes with easy to follow instructions, so even girls aged 5 year olds should be able to build some parts alone. After the set is built, it will provide hours of playtime fun which is ideal for young girls who love to play with doll and animal figures.
The LEGO Friends set is compatible with standard size LEGO, making it an excellent addition to any young girl's collection.

20. Neat-Oh! Barbie Full Size Play House
This Barbie Dreamhouse is perfect for young girls who love playing with dolls. The full-size house allows little kids to play inside along with their dolls – it stands at 5′ tall. The house comes with repositionable stickers, for girls to decorate the house in any way they choose.
The large Dreamhouse is made from strong cardboard which is fully printed with stylish Barbie decor. The pieces easily join together, and it can be taken apart for easy, flat storage.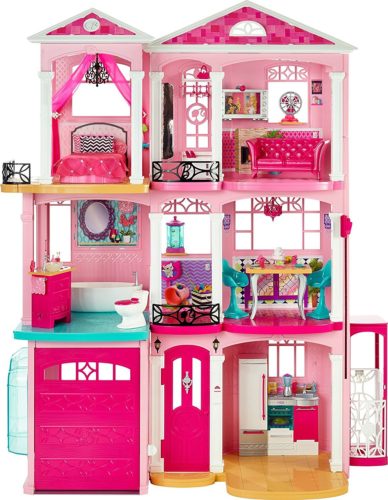 21. Girls Make Up Set
This is a great first make up set for any young girl aged 3+. It includes everything needed for a makeover, such as an eye shadow, lip gloss, glitter powder and a nail filer. Everything comes stored in a 2 compartments, perfect for traveling or taking to a friend's house.
Little girls will love pretending they are a princess with this make up set. It can easily be washed off at the end of the day and is safety tested to ensure it won't cause irritation on the skin. Girls will love to give their friends, sisters or mom a makeover with this fun set. There are so many different items included, it will last for a long time and can be used to create many different looks.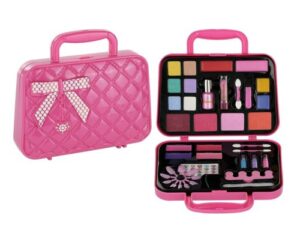 22. DC Super Hero Girls Action Figures
This a great toy for girls aged 5 years old and above. This female superhero doll set is great for little girls who love dolls, but also love superheroes! It combines the best of both – all the fun of playing with dolls but with fun action poses outfits and accessories. Each action figure stands at around 6″ tall, making them the perfect size for combining with many other playsets and figures.
The girl's action figure set includes 9 popular female superheroes, making it the great way to start a collection. Each figure is highly articulated, meaning they can be made into all kinds of different poses. Therefore, they are perfect for imaginative play. The large set is perfect for little girls to share with friends or siblings – there will be no more fighting at playtime with this great collection.


23. Flash Cards – Age 5 Years old +
This flash card set is perfect for children who have just started school. They are great for teaching early reading skills, in a fun and simple way. Parents and children can spend quality time together learning and playing with the cards – a great way to help kids learn more effectively.
The flash cards feature more advanced words than some other sets, including words around 7 to 8 letters long. Each card is double-sided, with the word only on one side and the word and picture on the other side. The words are printed in an easy to read font, along with a clear image. This makes it easier for kids to learn and remember, ideal for young children around 5 years old and above.
The flash cards are a great educational gift for children aged around 5 to 7 years old. They are perfect for those who are just beginning to learn to read.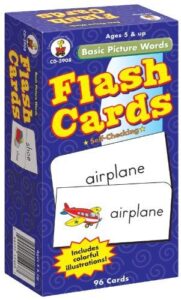 24. Townley Girl Disney Princess Nail Polish Set
This Disney Princess nail polish set is perfect for little girls who want to have a manicure just like mom. The set includes 16 different colored polishes, as well as a few accessories. Each bottle has a favorite Disney Princess on the handle, perfect for any little Princess fan!
The nail polish colors are very vibrant, and there is a great selection of different shades. There's something to go with any outfit in this set! The nail polish does not stain fabrics like 'adult' versions, and it is much easier to remove too. Simply peel the polish off when it is no longer required – no need for removers or chemicals. This is ideal for young children's delicate skin and nails – they won't become damaged by using these nail paints.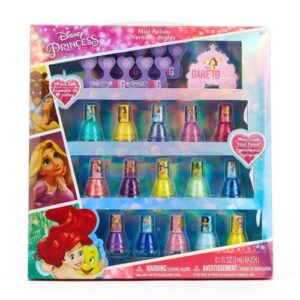 25. Brain Quest Kindergarten
This cool girls quiz card set would make the perfect gift for a young child who is in kindergarten. The cards are used and recommended by teachers, meaning you can trust the quality. The questions are based on the curriculum, meaning they are great for supporting what kids have learned in the classroom.
The Brain Quest Kindergarten cards have 300 questions and answers, meaning hours of quizzing fun. Parents and children will love making question and answer sessions a part of their daily routine. You can choose to do just one card, or several, depending on the attention span of your child or the time you have available.
As your child grows and learns, there are several other difficulty levels which can be used to help their learning and mental development. Kids will never get bored of playing with this fun and educational game.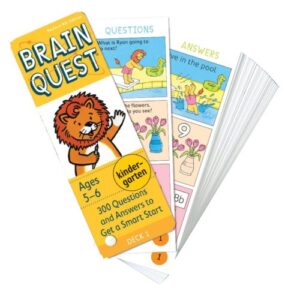 26. World of Disney Eye Found It Board Game
This is a great Disney themed board game for children aged 5 years old and above. It is great for helping kids learn about teamwork – either everyone wins together, or no one wins. This is great for preventing arguments among younger children in particular.
The kids Disney board game features a large, 6′ board making it ideal for playing on the floor as a family. The object of the game is to find hidden treasures on the board (there are over 1000 to ensure the game can be played several times without getting easy), within a time limit. This means the game is great for encouraging observation and attention to detail – ideal for those who have just started school.
The girls' board game is ideal for the whole family to enjoy together at game night. Kids will continue to enjoy it for many years and can play with friends rather than parents as they get a bit older.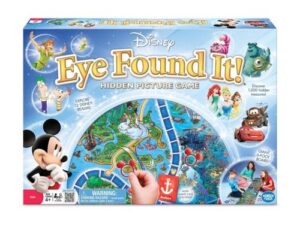 27. Le Petit Girls Tennis Kit
This kids' tennis kit comes with everything you need to set up a tennis court and have a match. There's a net, 2 racquets, an inflatable ball and 3 transitional tennis balls. There is also a carrying bag to keep everything neatly stored after a match.
The tennis set is the ideal size for children aged 3 years old and above. The set is lightweight and portable, meaning it can easily be stored away when finished or taken to the park to play. The net is 5′ long, and the inflatable ball is 6″ – large enough for young kids to be able to hit easily. There's also a pump to quickly inflate the ball. The whole set is really easy to set up means you can have a match straight away.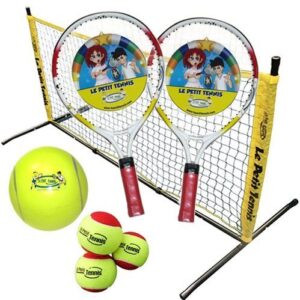 28. Karaoke Microphone with Stand
This Komvox Karaoke Microphone with stand would make a lovely gift for any 5 year old girl and your child will love the additional extras that this microphone set has to offer. The set includes a microphone with a fully adjustable stand and USB charging cable.
Music can be played through the device by using either a Smartphone with Bluetooth or a Micro SD card, providing your child with hours of singing fun. As a nice extra detail the stand has a colorful LED bow light display and also a bubble machine for added performance. There are also sound effects included, so drum sounds or the audience cheering can played while your child sings.
A unique karaoke microphone and stand set that any young girl will enjoy spending hours performing with.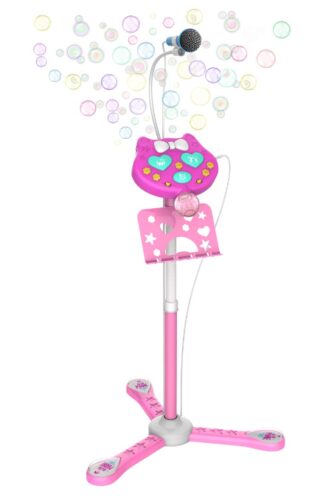 29. Disney Frozen LEGO
A Disney Frozen Lego set that features a lovely ice castle built over 2 exciting levels. This Lego set is based on the popular Disney film Frozen and it would be loved by any Disney fan. The ice castle features a slide, rotating fountain, snowball launcher, ski ramp, a treasure chest that opens and bench and table for added excitement. There are lovely extra details included such as; skis, ice skates, bottle and 2 glasses, polar bear, 2 snowballs and 2 ice crystals that provide exciting imaginative play. The castle stands at over 7 inches tall, 7 inches wide and 5 inches deep making it a good size for children to play with. This 94 piece set is also compatible with any other Lego set so your child can build their own Lego collection. A lovely Frozen Lego set that any young girl will love playing with.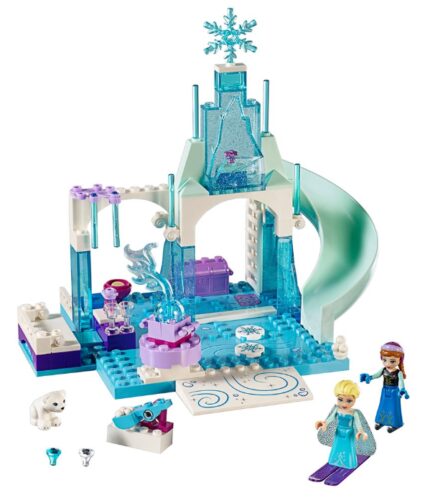 30. Reversible Sequin Pillow
This reversible sequin pillow would make a magical gift for any young girl. The brightly colored pillow has an attractive ice cream design that can be effortlessly changed into a sparkly pattern of rainbow sequins, just by your child running their hand over the sequins. The pillow comes with a pillow insert and a washable removable cover, for easy cleaning. The pillow is 40cm by 40cm making it a good size for your child to use. The reverse side of the pillow is made from a soft purple material making it comfortable for your child to sleep on. This bright and exciting pillow would make a lovely gift for any 5 year old girl.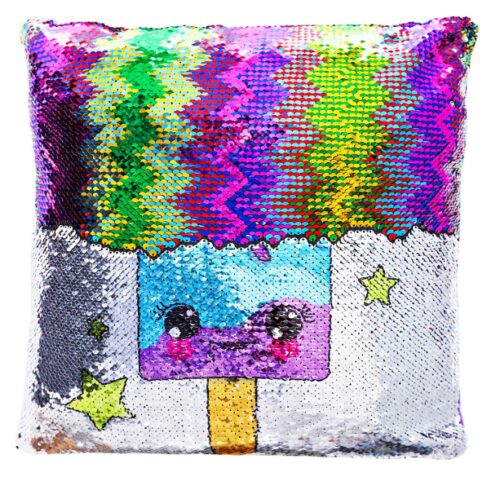 31. Plush Unicorn
A cuddly pink Plush Unicorn gift made by GirlZone that is perfect for any young girl. This toy unicorn is made from only the softest of materials to make it lovely and cuddly so your child will enjoy snuggling with their new friend at bedtime. The unicorn has a fluffy mane and tail, with velvety hooves and a glittery horn making it appealing to any young unicorn fan. This soft toy is 80cm tall and 52cm long making it a good size for your child to play with. This lovely unicorn cuddly toy would make a special gift for any 5 year girl.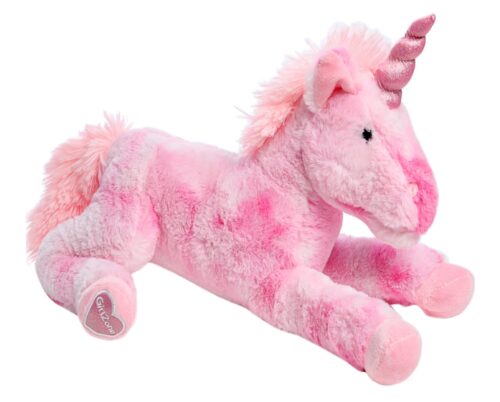 32. Pink and Purple Garden Tools
This Pink and Purple Garden Tool set would make an exciting gift idea for any adventurous child. Gardening can have many health benefits for your child and encourages them to play outside so is the perfect toy for nice sunny days. This set includes a handy tote bag for carrying the tools, a rake, trowel, shovel and watering can, everything your child needs to get started in the garden. The handles of the tools are plastic so are comfortable for little hands to hold and the ends of the tools are made from metal so that they are long lasting. A lovely gardening set that your child will love and can be used during family time to improve your child's development and learning.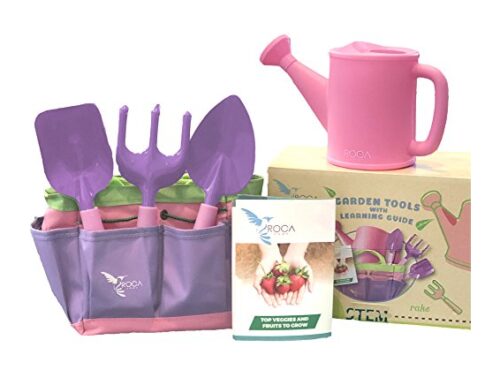 33. Horses and Ponies Sticker Activity Book
This Horses and Ponies Sticker Activity Book is an exciting interactive book that is suitable for any horse loving child. The book is by National Geographic Kids so it provides fun and accurate information and the pages are full of interesting games and activities, providing hours of entertainment for your child. There are 1000 horse stickers, showing a great variety of different horses and ponies, which are included with the book for your child to use. Your child will love the horse facts provided and enjoy the photos included in this lovely book. This sticker book will be very popular with young girls and they will enjoy hours of fun completing this book and playing with the stickers.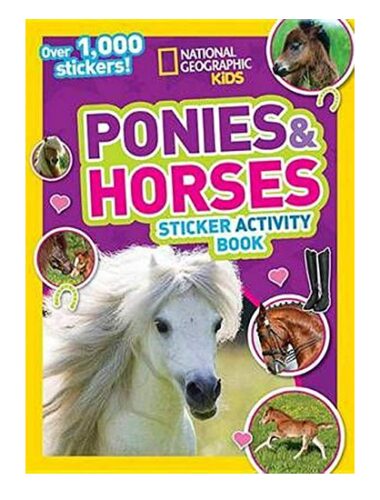 34. Disney Princess Necklace Kit
A Disney Princess Necklace Kit that is a perfect gift for any Disney princess fan. This necklace kit has everything needed for your child to make 5 unique princess necklaces, which can be re-made over and over again. The kit comes with a plastic container with handle for easy storage and making it good for traveling with. There are 5 rubber Disney princess charms included in the set, along with 150 beads and 5 different colored silicone necklaces. The bead and charms are easy to slide onto the necklace and the necklace is easy to fasten, making the kit suitable for young children to use. Any 5 year old girl would love this Disney princess necklace kit that they can use to create exciting necklaces.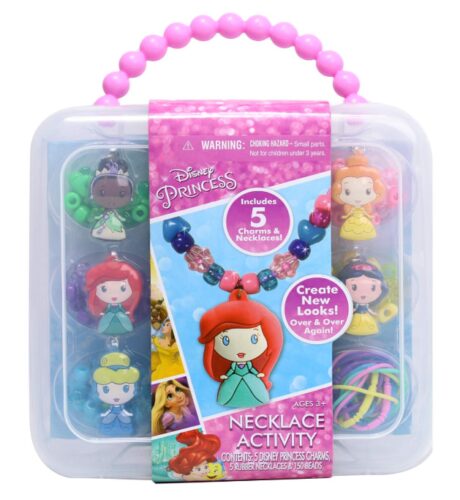 35. KidKraft Cinderella Dream Dollhouse
This KidKraft Cinderella Dream Dollhouse will make your child's dreams come true. A special gift idea for any young girl, your child would truly love this dollhouse. This Cinderella dollhouse has 5 rooms over 4 floors, and with 2 winding staircases and a lovely balcony, it enables magical imaginative play. There are 11 pieces of royal furniture included, along with a glass slipper with pillow and a gold chandelier, everything your child needs for hours of fun filled play. This lovely dollhouse has been made with care from wood for a long lasting toy. The dollhouse will also fit standard dolls that are up to 12 inches tall, for more exciting play. A lovely Cinderella dollhouse that any 5 year old girl would love to play with.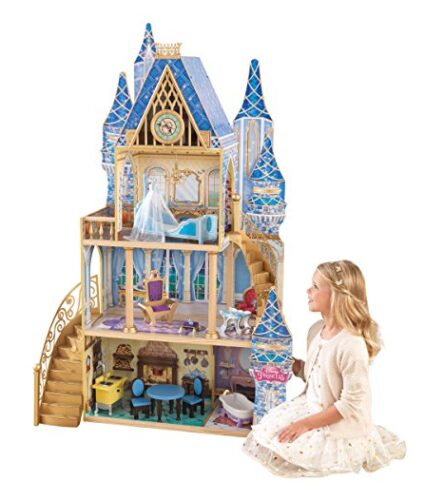 36. Peaceable Kingdom Go Fish Card Game
This Peaceable Kingdom Go Fish Card Game is a fun and exciting card game for young children. This set includes lovely sea creature cards with bright images of lobsters, sharks and seahorses along with others. This is an ideal first card set for your child that is perfect for teaching card games to your child and a great way to spend family time together. The card set includes 48 cards and instructions to enable you to play 3 different versions of the game. This game requires 3 to 6 players so is suitable to be shared with friends. A lovely gift idea for young children that will provide hours of fun.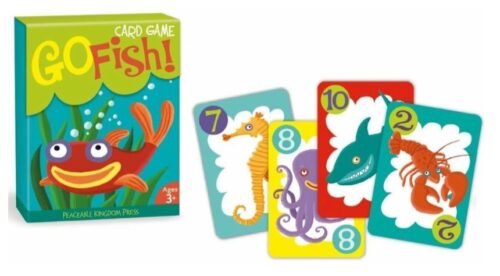 37. Mermaid Island Peaceable Kingdom Board Game
Another lovely game by Peaceful Kingdom, this Mermaid Island Board Game will be enjoyed by any young children. For this game your child has to get the mermaids over to Mermaid Island before the sea witch gets there. This game is for 2 to 6 players so is perfect for your child to share with friends as well as being a lovely game for your child to develop their social and team skills. Included in the set are 3 mermaid tokens and a sea witch token with stands, there are also 4 wand tokens with a spinner and instructions, everything needed to start playing the game as soon as it is unwrapped. A lovely board game that will be enjoyed by any 5 year old girl.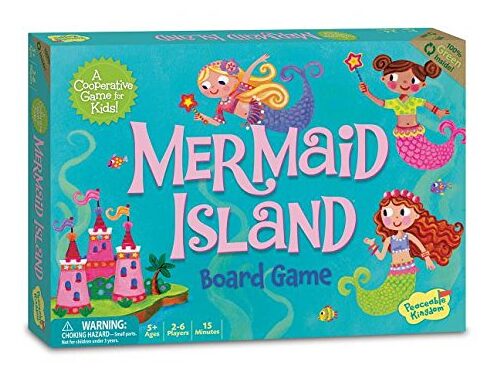 Best Buy Overall 
The Disney Frozen Lego Ice Castle Set is our best buy gift idea. It is a lovely Lego set that your child will enjoy building and afterwards they will spend hours playing with this special castle. There are 2 characters from Frozen included in the set along with a lovely collection of extra pieces for fun and imaginative role play.
This set is also compatible with other Lego sets so there is no limit the fun this set can provide. A lovely gift for a 5 year old girl that is guaranteed to be loved and enjoyed by your child.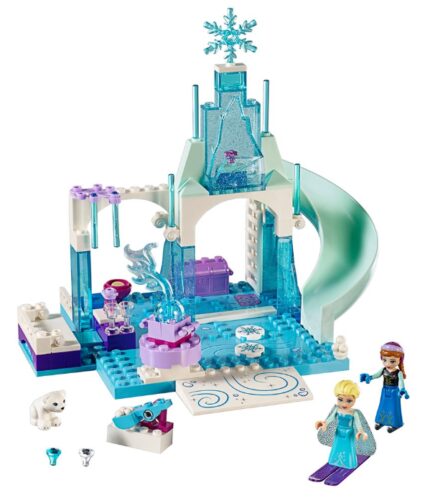 Best Birthday Presents for 5 Year Old Girl
There are plenty of toys available for young girls but when choosing a gift for your child's 5th birthday you want something that is that extra bit special and something that they will love to play with again and again. Your child's birthday is also a special time for you and your family and a time where you want to create memories together that will be cherished forever.
This Grace and Lucille 5th Birthday Dress would be an extra special gift for your child on their birthday as well as being a lovely celebration outfit ideal for providing those special memories. The dress is handmade, so every dress is unique. They are also made from the softest polycotton to keep your child comfortable when wearing the dress and to minimize irritation.
This high quality pink floral sleeveless dress is easy to keep clean and designed for easy removal of stains so the dress will stay looking clean and beautiful wear after wear. This is a special dress that your 5 year old will love wearing and will make her feel like a princess.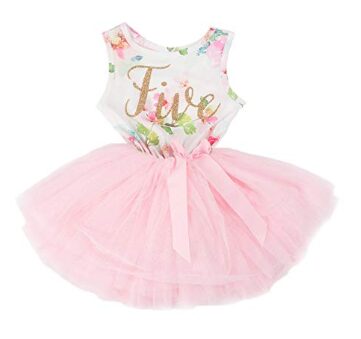 Amazing Christmas Gifts for Girls 
It can be difficult choosing Christmas gifts for young girls, who may change their mind daily on which toys are currently their favorite. It may also be that your child already has many toys and you are unsure on what would be an exciting gift idea for your 5 year old girl. Instead of spending many hours of searching you can look no further than this Jessy Home Unicorn Duvet Cover.
This would brighten up every child's bedroom and they would look forward to snuggling with this lovely duvet set. The lovely unicorn graphic with a bright rainbow and clouds will be loved by every young girl. The duvet set is made from 100% polyester for easy cleaning, and easy stain removal and it has protection against shrinking, so the set will look as good as new wash after wash. Included in this set is 1 duvet cover and 2 standard size pillow cases, everything needed for a good nights sleep. This unicorn duvet set will be enjoyed by any young girl and will be a welcome addition to their room.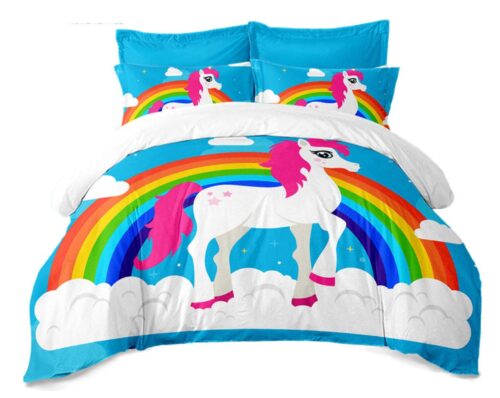 What Gifts are the Most Popular for 5 Year Olds? 
At the age of 5 your child is growing up quickly and developing new skills every day. They love playing and interacting with friends so the most popular gifts for this age range will be toys that they can share and that will grow with them. These toys also often help enhance their new skills so they carry on learning as they play.
One such toy is this Top Bright Colored Wooden Blocks Stacking Game that your child will have hours of fun playing. Each block features a different color and animal with 6 different blocks in total. This set has 51 blocks, an animal dice, 24 cartoon cards and instructions. The blocks are made from hardwood with a non-toxic water-based paint making them child friendly.
A game that encourages the development of your childs motor skills and hand eye coordination allowing them to learn through play. A game for 2 or more players so is ideal for sharing with family or friends. A lovely exciting stacking game with a difference that every young child will enjoy playing with.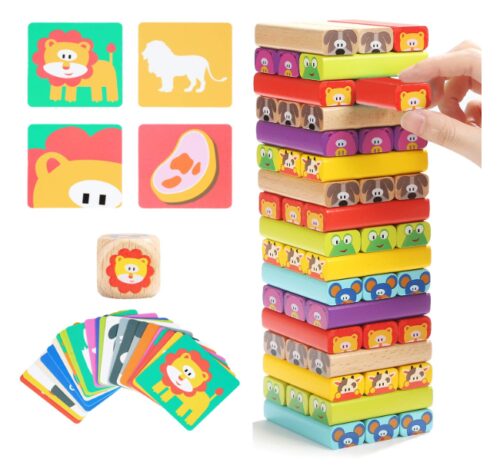 Here are some other ideas:
Take a look at these gifts also: