They say that a dog is not just for Christmas; its for life.  A real pet comes with huge responsibility and expense, but if your child is looking for a fuzzy little companion, why not get them a robot pet?  Part toy, part loving friend, more and more parents are finding out the benefits of getting their child a robotic pet rather than a real one. The level of sophistication on these toys is almost staggering.  Here we are happy to share with you our insights on the best robot pets out there.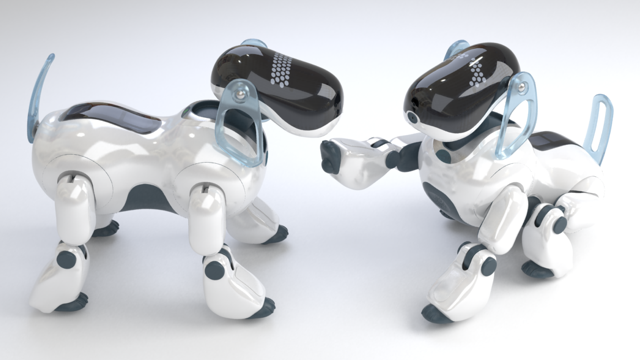 Popular Types of Robot Pets for Kids
There are plenty of variety when it comes to robotic pets.  Here are some of the most popular types.
Realistic pets
These little are almost as adorable as the real thing!  Lovable, furry and very hug-able, these robot pets will be great for smaller children or those looking for a cute little companion to keep their spirits up. These kids of pets are great for 2 to 4 year olds.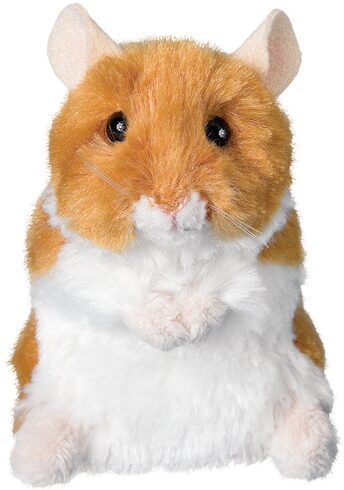 Sci Fi Robots
Will still pretty cute, these pets aren't out to fool anyone; they are robots and proud of it! Definitely a good choice for little scientists in training or children interested in sci fi or space adventure.  These robot toys are brilliant gifts for 4 and 5 year olds.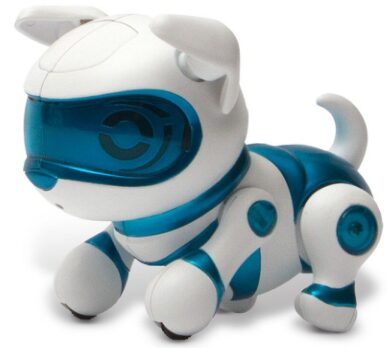 Furby
These furry little critters have been a firm favorite with both parents and children for over 20 years, with over 40 million of them sold worldwide.  They even speak their own language, but thankfully, unlike a real pet, you can turn them of when your child (or more likely their parents) want a little quite time.

Dinosaurs
Has there ever been a time when dinosaurs were not cool?  Whether your child is interested in history or just thinks a T Rex is the most awesome thing ever, a robotic dino might just be the perfect playmate for them.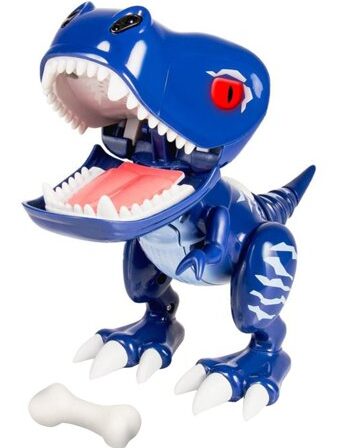 Top Robot Pets
Best for Toddlers
Harry the Electronic Robot Dog
This mini pup is only 7 inches long and 6 inches tall, so would be a great option to consider if you're looking for a smaller electronic dog toy.  Harry is also one of the only electronic pet dogs we found that is made for 2 year olds, so we can recommend this for your toddler.
Even though he is made with younger ones in mind, that doesn't mean that he's not go some great functions.  Harry reacts to your kid touching his different body parts with hilarious phrases.  For example, grab his tail and he shouts 'Oh no stop it'.  Harry also plays children's music, and can even play with them by chasing them around on smooth surfaces.  Harry might not be as sophisticated as some of the other pets, but he was designed specifically for toddlers. A great choice if you want an electronic puppy toy for a younger child.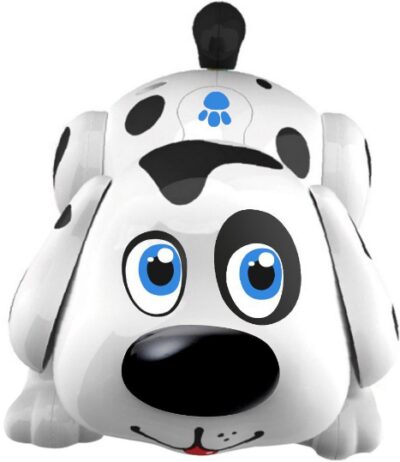 Best for 3 to 6 years old
Teksta Robot Puppy
This mini robot puppy packs in a the amount of enjoyment for such a small size. Part of a new generation of micro pets tat are more interactive and animated than ever before, this robo dog is designed to imitate a real 8 month old puppy. It reacts to both voice and touch, and your 4 year old child will love watching this robot toy express its emotions through its light up eyes and actions.
What is really going to make your 3 year old feel like they have a loyal and loving buddy is the Teksa puppies' cutting edge gesture technology, which enables your child to command the pup to do a number of things, such as sit, sing, beg, and even jump.  Yes, you read correctly; this little robot dog can jump!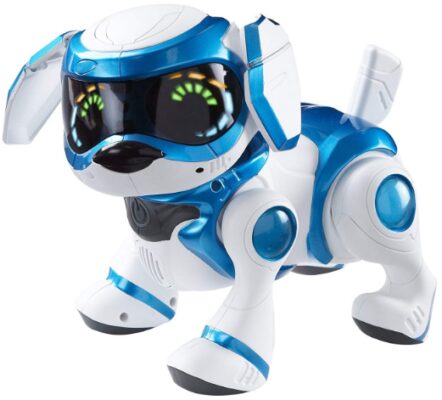 Zoomer Robot Cat
This super cute little robot cat from zoomer will make a brilliant gift for your 5 year old.   It has high tech sensors on all over its body that tell her when she is being petted or stroked, and she acts accordingly; her LED lighted eyes shine with delight when you give her affection.  She also has a number of built in games, such as 'mouse hunt' for your child to play with her, so you can get a little break for a few minutes while your kids chase after this robot cat.
What is really cool, though, is that these cats can interact with each other and other zoomer pets.  If you have more than one, your child will adore watching them play together. Arisa is a great robot cat; it's highly rated at 4 stars on Amazon and we can appreciate why parents and kids love her.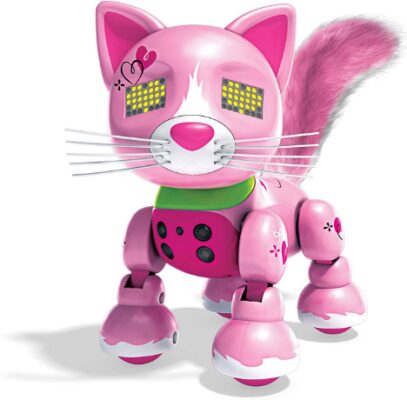 Zoomer Robot Dog
Zoomer is basically the dog version of Arisa.  Like is cat sister, he reacts to the way you treat him and shows his happiness when he is petted and loved.  Zoomer also reacts to dog-like sounds, so your kid will have lots of fun barking at it.  Zoomer comes in a different shapes and colors, and each different version has a unique secret trick to show your child.  Like Arisa, it has built in games and reacts to other mechanical pets made by its developers.  If you're thinking about buying a collection of robot pets for your child, Zoomer is a good pick.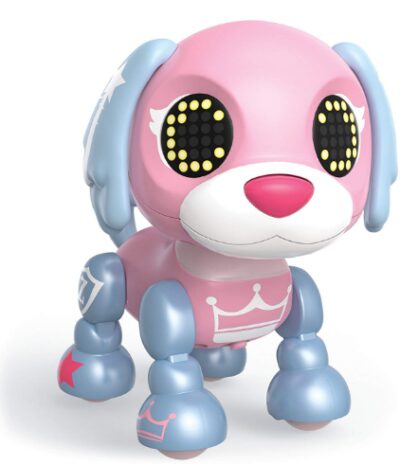 Tekno Newborn Robot Kitty
Do your children adore kittens?  Well the Tekno Kitty might just be the perfect gift for them.  This adorable little robo feline is designed to behave just like an 8 month old kitten.  This little cutie will react to sound, touch and hand-gestures, and it shows its feelings by wagging its tail and ears.
3 year olds will love playing with this robot cat  as it can amazingly follow your around like a real kitten and can even jumps up into their hands.  Cat lovers out their will be absolutely smitten with this robotic kitten, and if your children like the idea of having something cute and vulnerable to take of, the Tekno Kitty is a great choice.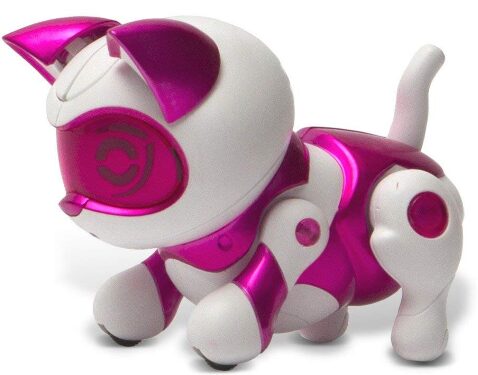 Teksta Robot T Rex
Now this a seriously cool! Dinosaurs have been inspiring kid's imaginations for generations, and if your child wants a snazzy robot dinosaur toy for a pet, the Tekno T Rex has got you covered.  The terrifying T Rex has been reborn as a cute robotic pet, adventurous 6 and 7 year olds will have a blast with this dino bot as it walks and moves just like a real tyrannosaurus and shows his feelings with his light up eyes.
There's no need for a remote control with the Teksta dinosaur, and he responds to your hand gestures and roars when you touch him.  He can even teach your 5 year old some responsibility, as the T Rex can be fed his plastic bone.  Your kid will just love watching him chew and spit it out.  The T Rex will also react to the Teksta kitty and puppy, so he's a great addition to a Teksta collection.  Finally, you can even program the T Rex wirelessly with its handy apps for phone iphone and Android.  All in all, this robot T Rex is a great choice if your child wants something a bit more unique than a puppy or kitten.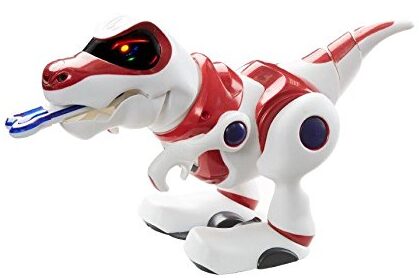 Zoomer Chomplingz Interactive Robot Dinosaur
For the more adventurous children or mini archeologists out there we have Zoomer Dino Chomplingz , a crazy robot dinosaur.  This little mischief maker won't display affection like the others on this list; he is a dinosaur, after all.  However, there's no end the fun that he brings.  Let the little dino loose on a surface and he'll start comping around!
Your five year old will be playing with this interactive dinosaur for a long time due to the huge amount of features he comes with.  He has a range of interactive games built in, even with the ability to he ability to catch his dino bone toy if you throw it at him.  Also, it has a super cool sound warp feature that lets your child warp the sounds he makes.  Your kids won't be hugging and kissing this zoomer T Rex, but they will be getting up to all kinds of crazy capers with him.  The Chomplingz are very highly rated in Amazon customer reviews and have been selling like crazy; if you want one, better get on it soon!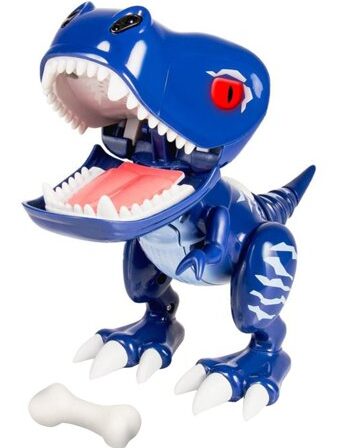 Robot Hamster Toy
This fuzzy little friend isn't nearly as interactive as the other pets on the list.  However, we included him as both kids AND their parent's have been known to fall into fits of laughter with this little guy.  Squeeze his hand, speak to him, and then he repeats everything you say in a hilarious high-pitched voice.  Its pretty simple, but not only will your child fall in love with this cute fuzz ball, they'll have the whole family cracking up.
This is advertised as being for four year old children, but really this is a brilliant comedy gift for anyone over that age, even adult kids.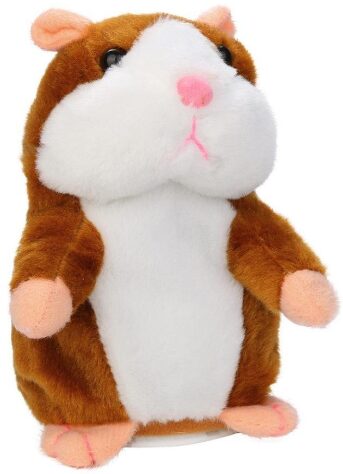 Furreal friends Robotic Snow leopard
Robotic Dogs and hamsters might be a little bit too boring for your child?  Looking for something more exotic?  Why not get them this super baby snow leopard?  It coos and kicks depending on your interactions with it, and will even walk towards your child when it shakes the rattle, and its soft fur is just begging to be cuddled.  It also has a few built in games, like Peek A Boo, and it has around 45 different sounds it can make.
Moreover, as a parent you can buy this safe in the knowledge that it is made from environmentally friendly materials, and is a perfect gift for your 4 year old.  This adorable little snow leopard is an amazon exclusive, so you won't find it anywhere else!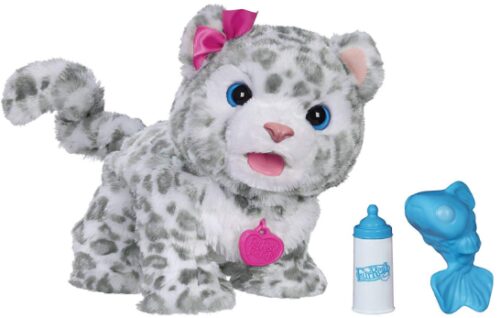 Zoomer Robot Chimp
Perhaps you want a robotic monkey for your little monkeys, could there be a better robotic animal than this chimp?.  The Zoomer Chimp, another great product in the zoomer pets line, will accompany your children in all kids of mischief and play as it responds to voice commands by rolling, flipping and stand up all on his own! Zoomer Chimp also lets them know exactly how he is feeling with his changing face expressions and the changing colors of his eyes. He will be a firm favorite for all the family, not just the kids.
As with all Zommer toy pets, this monkey will interact with other zoomers, making him a great addition to your childs collection.  We also love that he comes with batteries included.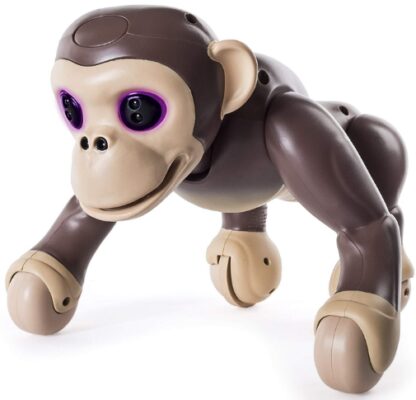 For 7 years old and over
WowWee Chip Robot Dog
We are assuming that you've heard of the chip dog before.  This Robo sensation has been taking the internet by storm, and parents and children all over the world have been falling in love with the Wowwee Robot.  This little rascal is always eager to play, and chip the dog can even react to your child is treating him by barking, giving puppy kisses or even sneezing!  You can even make him dance, sing or chase his tail.  8 and 9 year olds love chips as he's a little more complex than other robot puppies out there and will hold there attention longer.
Best of all, the Wowwee robot puppy has some serious robotics under that cute exterior.   Advanced sensors mean you can set him on guard duty or have him explore the room on his own, giving endless hours of fun for 10 year olds and above. Amazingly, how your children respond to chip will shape his behavior, so no two chip robots will ever been the same. Chip the dog comes with a remote control and is available in a variety of different colors.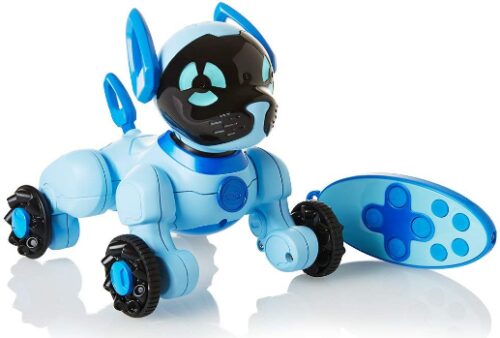 Georgie Robot Dog
Just take one look at this realistic robot dog and you might be mistaken for thinking that he is the real thing!  The Georgie interactive dog is one of the more sophisticated toy pets out there.  This robot puppy has over 100 different interactions programmed in, including high fives and rolling over, and 6 year olds will love playing tug of war with this interactive puppy.
If you want to buy a high-quality robot dog toy that looks and feels more like the real thing, check out Georgie. It can respond to 12 different voice commands, and little hipsters will love that it can even pose for selfies.  The manufacturers really though of almost everything, as its packaging doubles up as a carrier for any kids on the go. Overall, this is just a great mechanical dog toy.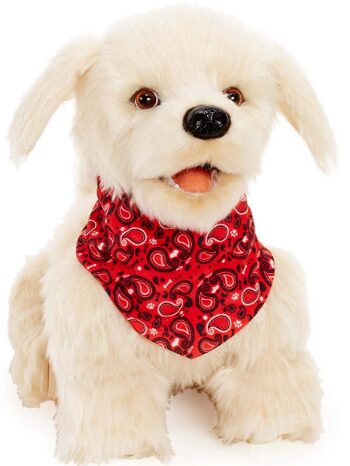 Robot Puppy
This little robotic dog combines all the joys of a robot pet and a remote control toy in one cute package.  This smart dog reacts to you children just like a real dog and it can crawl, lie down, bark, shake its head, wag its tail and more! You can also control it with the wireless controller up to a range of 15 meters.  This puppy also has a built in batter charger, so keeping your child's new best friend charged up has never been easier.
We were also impressed at how much value this robot puppy comes with.  Its wireless remote is included, it has a built in charger, and it comes with a 45-day money back guarantee and an 18 month warranty.  That really sounds like a manufacturer with confidence in their product.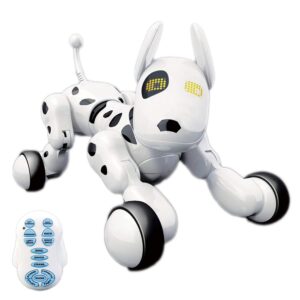 Robot Furby Connect Friend
The classic Furby from Hasbro is back!  While the original furby line of robot pets was so popular that it sold out, it was only a matter of time before a new generation was back on the market.  This Furby Connect has light up eyes which shows how it is feeling, and it speaks to your kid in Furbish, providing hours of entertainment for them.
What really makes the Furby Connect standout, though, it how it works through Furby Connect World app.  This fuzzy toy syncs with a smart phone app, which lets your child watch videos with it, feed it through its app, and even help it raise little furbylings. So, in order to get the best use out of it, you need the app.  That is going to be a big question for a lot of parents out there, and this might not be the best option for parents who want to hold off on getting their kids accustomed to smart phones and tablets.  However, for little technology masters or older children, the Furby makes a great companion.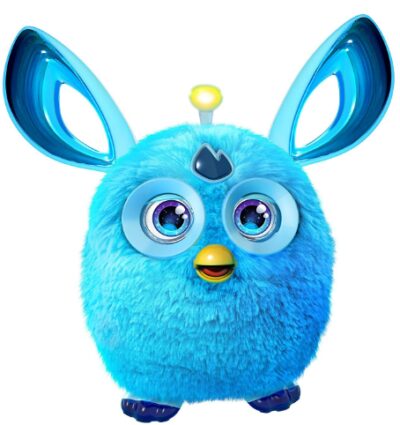 Best overall Robot Pets
Kids do sometimes get bored with even the best of toys.  So we know that versatility is a key consideration.  On that note, the wireless puppy is our top pick for the best robot pet on the market.  This robot puppy not only has the interactive features of all the other pets on the list, but its wireless controls mean that it doubles up as a remote control toy. Thus, hopefully his dual functions gets double the time and enjoyment of other robotic pets. You can also be confident that the quality of this pet is top notch – it's an Amazon best-seller for a reason.  This even beats the popular Wowwee chip robot dog, which is no small achievement.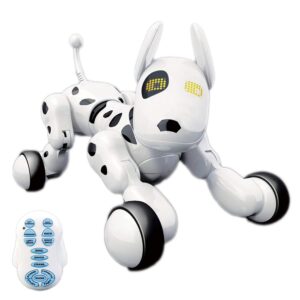 Best Budget pick
For those on a budget, you can't really go wrong with a Zoomer Dog.  This robot puppy is super cute and loves to interact when being petted and stroked, even barking 'I love you' if you pet them enough, so your child will still be getting a high quality robo companion in this smaller package.
Also, we can't stress enough how cool it is too see more than one of these robo pets play with each other.   Therefore, if your child is looking to get a collection of pets, the zoomer puppy is a great place to start a family of zoomer pets.  The zoomer robot dog will be a great companion for your little one.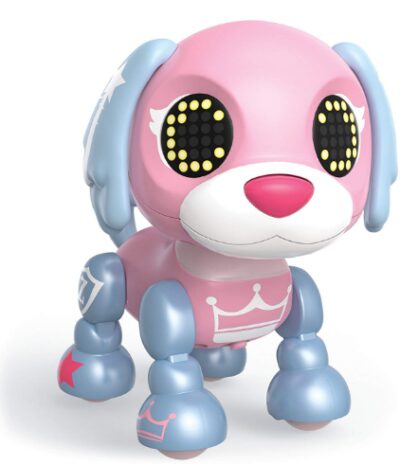 Robotic Pets are the Future of Kids Toys
You may think that a mechanized dog or cat sounds like something of The Jettsons, but these days robot toys are so sophisticated you'd be surprised at just how interactive and reactive they are.  They con respond to voice commands and touch commands, and some will even move of their own accord, using sensors to follow your kids around and play games with them.   If your child is a Star Wars fanatic, check out our list of BB8 robots instead.
Benefits of having Robot Pets for Kids
We all know that you'll never truly replace the love and fellowship a real pet will bring to your family, but for many of us, the realities of caring for a dog or a cat are just to much for our circumstances.  Pets require a lot of time, money and effort, and it would be very cruel to take one on if you can't properly take care of it or your home or community isn't suited to having one.  If your children would like a pet companion, but you don't fancy all the responsibilities that go with it, getting a robotic is a great choice.  Your children will love them more than any other toy, and they can always get a real pet later in life when things have changed.  Plus, robot pets have some great benefits such as:
No Feeding:  Unless you count recharging their batteries as 'feeding', a great pro of a robotic pet is that your child doesn't have to worry about feeding it. A robotic companion doesn't need its water bowl constantly filled up, and it won't sit whining by your side during every meal.  Best of all, you can leave the house confident that a robo pet isn't going to raid your cupboards or drink out of the toilet.
No bad smells or noises:   Even the most beloved of dog owners will have to agree here.  There's nothing worse than coming home from a long day at work to find out that your faithful pooch has left something stinky and gross on the floor.  Not the case with a robot pet! You'll never have to worry about it going to the bathroom in your house, and you'll never have to scrub the carpets to get the stain of that last accident out, and you'll never have to worry about covering up the everyday smells left even the cutest of pets.  Best of all, your whole family can get a goodnight's sleep without being woken up by howling or barking.
No visits to the Vet:  Taking your dog or cat to the vet is never cheap, and no child ever wants to see their beloved companion sick in the Vet's clinic.  Their robot pet, however will never need to even go for a check up, so neither your wallet or your heart will be broken by a robot cat or dog.
No potential for chaos:  Even well-trained animals come sometimes misbehave, and although real animals can be loving members of the family, they can also cause huge disruption and damage to the home by scratching up the furniture, knocking over expensive items or chewing through wires.  Worse still, some poorly trained pets have been known to bite people even their owners.  A robot dog or cat will never worry you in this way.
No cleaning:  Emptying out the cat litter? Cleaning out the fish tank? Vacuuming up tones of shed dog hair? Brushing your cat's teeth?  Bathing that furry rascal who never holds still for one minute?  Your child's robot companion will never trouble you in these ways.
Considerations when buying Robot Pets
With so many pets on the market, its a bit of a chore deciding which one to go with.  In order to help you decide, here's a few things to think about
Level of interactivity:  Different toys are going to have different levels of interactivity.  Some will bark or purr when your child strokes them, while others will respond to voice commands and being able to go on card mode or chase things around the room.  Depending on the age of your child, you'll want to make sure you get one that has the level of responses you want.
Power:  Before committing to a robot pet, its a good idea to check out what kind of power supply it has.  Does it need batteries? Are these included?  Will it take rechargeable batteries?  Does it come with its own power supply and charger?
In-built games:  Some of these pets have built in games or interactive modes.  Some can play tug-of-war, fetch and catch bones in their mouths, while others can be set on guard mode or even play hide and seek.  Not all do though, so if you want something with games make sure to check that they are included.
Surfaces it can be used on:  Also, be sure to find out what kind of surfaces the pet can walk on.  Some walk just like real animals, while some have wheels and can only be used on smooth surfaces.  If you buy one with wheels and your kinds room is carpeted, they may not be able to play with it in their room.
Top Robot Pets Brands
Zoomer are well known for adorable and interactive toy pets out their.  They have many different ranges of robot cats and dogs, such as the zoomer zuppies.  These little guys are known for being colorful, cute, and coming with different game modes to keep your kids occupied.  The really amazing thing about zoomer pets is that they they react to each other! So if your child has a few different zoomer robot dogs or cats, the toy pets can sense each other and will interact, leading to endless hours of fun with these little critters.
Hasbro Furreal friends have been in production since 2002, so they have almost 2 decades of innovation in technology and design behind them.  The fur real pets come in all shapes and sizes, from furreal pandas to dragons, and they are well loved for each toy having lots of different sounds and noises.  The furreal tiger, for instances, has over 100 different combinations of sounds and actions programmed in.  Also, they're not called 'fur real' without a reason.  They are covered in such lovely soft fuzz that children love hugging them.
Wowwee are well known for making excellent robot toys, such as the Minion mip robot, the robosapien robot chimp and the Elmoji.  They are known for making very technical and high-end products, and their toys have very sophistical sensors and components.  Wowwee really exploded into popular culture with their chip robot dog toy,  an intelligent and affectionate robo puppy.
Tekno have taken their love of animals and channeled that through innovative robot technology to great a whole range of fun and interactive robot pets.  Tekno Robotics have all kinds of cool pets, including a scary scorpion, but their most popular pets are in its Tekno Newborns range, which includes adorable little robot puppies and kittens which mimic the behaviour of 3 month old animals.  If your child has strong maternal or paternal instincts and wants a newborn robotic pet to take care of, check out a tekno kitty or puppy.
Little Live Pets is another wonderfully made and very popular line of interactive pets.  This brand includes the mutli-million selling snuggles dream puppy toy, and they specialize in making small, cute, and furry little robot toy pets.  They also make a whole bunch of more exotic animals than other companies, with turtles, birds and mice rather than just robot dogs and robot cats. Little Live Pets also come in lots of different shapes and sizes, from bigger, almost life size robot toys to compact little ones.
Age Guide: how to choose the right robot pets for your child
Toddlers
Most manufacturers advise against any children under 3 years old using their robot pets.  This is due to the fact that they have electronic and mechanical parts to them, which are not the safest for the littler ones.  Also, these robots have so many different parts and gears that could be dangerous if a toddler ripped them off and put them in their mouth. So, unfortunately, it is hard to find something for a toddler.  There might be a few pets that are suitable, but overall you might be better waiting until your toddler is a little older before getting them a toy pet robot.  If you do have a toddler, why not check out our favorite robot toys for toddlers (link).
3 to 6 year olds
The best choices for children who are a little older than toddlers are going to be the simpler robotic pets on the market.  Generally, you want something colorful, with simple shapes and curved layers to avoid hurting your 4 or 5 year old.  However, you really need a robot puppy or kitty that has some basic levels of interaction in order to capture the child's imagination.  At the very least, it should have some different sounds and actions, and respond in some simple way to touch or sound.  Also, look for pets that come with some simply games or different modes programmed into them.  Toy robot cat with a simple 'chase the mouse' mode will be able to generate hours of playtime for your child.  Remember, the robotic pet is not just there to be a time filler.  It should inspire your child to be creative in play and help teach it about actions and reactions.
7 to 11 year olds
While that cute little robot puppy might have been have been perfect for your 3 year old, it'll be too boring for your 8 year old.  So, if you are looking for something for an older child, you want to find something that is a bit more sophisticated.  For starters, you are looking for robot toy with lots of different reactions programmed in, and definitely something that reacts to sound and touch.  Also, while not as important for smaller kids, y should try to buy a robotic animal with many different game modes for your 9 or 10 year old.  However, the great thing about finding something for an older child is that you can get them something really cool and not be worried about them damaging or breaking it (or themselves).  So your options are almost limitless.  In fact, if we tell you the truth, parents love buying robot pets for their older kids because they can buy that cool robot dinosaur they, the parent, really want to play with but are too embarrassed to admit.
12 years old and older
As your child is getting ready for middle school, the sad fact is that they will have outgrown many of their toys toys, and the simpler robo pets just won't cut it for more than a few minutes.  Therefore, if they really want one, you're going to have to get something quite technical, and we recommend looking for something programmable.  Many older children, especially those interested in science and technology, might be better off with a robot building kit than a robot pet, so you can look into those too.