Every child can benefit from a piggy bank, whether it's to collect and store lose change or to save for a special toy or holiday. They make great additions to any kid's bedroom and come in a range of fun and exciting designs! We've put together the ultimate guide to personal banks below and included one for every type of personality out there. From cool dinosaur themed money banks to original pig styles, you'll find the ideal atm piggy bank for your son or daughter below.
Before we dive in and reveal our top kid money bank, here are some handy considerations to keep in mind when choosing the best one for your child (or yourself).
Age
Kids of all ages can make use of a personal bank, however, when choosing the most suitable for your child you'll want to consider their age. Some toy banks can be quite technical and will display the amount of cash inside, while others have a more simplistic design. be sure to select the most age-appropriate bank for your child. For younger children go for something easy to use and pleasing to the eye. If you're buying for an older kid or teen, a digital bank could be the perfect choice!
Personality
Children love to express their personalities in the way that they furnish their bedrooms and with the things that they collect. Why not help your child with their very own personalized piggy bank? This could end up being a themed bank that takes inspiration from their favorite series or may just feature their favorite color. Either way, use the opportunity to really show your child that you acknowledge and appreciate their special personality quirks.
Budget
It seems quite ironic to consider budget, when a pig bank is used to assist with just that. Perhaps you're looking to save on the cash you'll be splashing too and have a lower end budget, if you have a higher budget there are lots of technical , more fancy banks with cool features. The choice is yours when it comes to budget, but it is always worth considering when buying your child any new toy or product.
Now that we've covered the three main considerations when selecting a money bank for your child, it's time to present our list!
Top Kids Piggy Bank in 2023
In our list of top children  banks you'll find many different styles and should hopefully come across the perfect bank for your own son or daughter! Whether you want to encourage your teen son to better manage their money or your little one wants to save for a brand new scooter, whatever the motive, a pig bank can be a great long-term activity.
1. Baseball Piggy Saving Bank
Perhaps you're looking for banks for boys and wondering what cool options there are. We have you covered with this awesome baseball-themed piggy bank. Made using hand-painted ceramics its raised design gives it a real baseball appearance while making it practical for purpose too. This bank measures 5 inches in diameter and comes with a convenient stopper in the bottom to keep collected cash safe at all times. Whether you're looking for a bank for a boy or a girl, any baseball fan is guaranteed to love this unique design!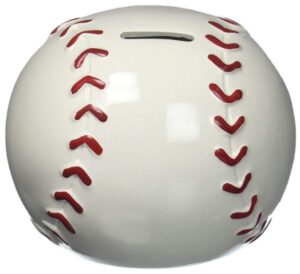 2. Cute Polka Dot Bank
Looking for beautiful, traditional children piggy banks? First in our list is this wonderful glazed polka dot piggy bank that measures at 8 x 7 inches. Made using only the highest quality ceramic dolomite, this bank is sure to provide a long lasting keepsake whilst keeping money safe too! The bank features a 1.5 inch coin slot at the top and a removable rubber stopper which is used to conveniently hold in the coins at the bottom. Children will love the friendly design and will get to learn how to save their money too as they fill up their very own bank. Great for younger children, it's a lovely birthday or Christmas present idea and, is perfect for any baby's nursery or kids room too.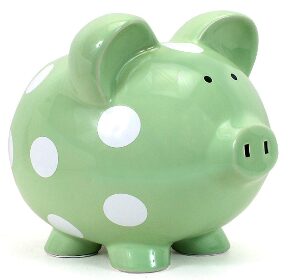 3. Counting Pennies Bank
If you're looking for something a bit more fancy when it comes to piggy banks, how about this super cool digital counting bank? With a simplistic and modern design, it's great for older children or teenagers who want to do some serious saving! This kids money safe is easy to use and will keep all spare coins safe while helping build funds towards a target goal. Your child will love how this bank automatically counts money so they don't have to do the hard work at the end. They'll simply need to fill up the jar and once they've reached their goal, enjoy their well-saved cash.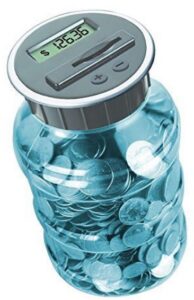 4. Unique Cat Thief Piggy Box
Any cat lovers are going to love this quirky design. If you're on the hunt for money banks that stand out from the crowd, this one is sure to make an impact. The adorable mechanical kitten comes sneakily out of a cardboard box to steal your child's coins while helping to collect money. Children of all ages are guaranteed to fall in love with this one-of-a-kind coin bank. To add even more of a unique touch, the kitty also says the words 'hello' and 'thank you' when taking coins to store them. This product requires 2XAA batteries and does not come with coins included!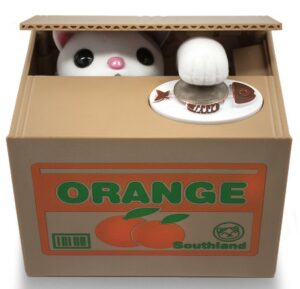 5. Electronic Pokemon Bank
Pokemon fans are in for a treat with this themed bank. Looking for a cool way to help keep your kids money safe? Cuter than ever before, this Pokemon Pikachu piggy bank is large enough to fill with lots of spare coins, and even makes a sound from the series when a coin is placed inside for extra fun… Children will love saving their spare change using this brightly colored and adorable pikachu bank. It makes the perfect Christmas or birthday gift idea for any little fan who is in need of a new accessory for their own personal space.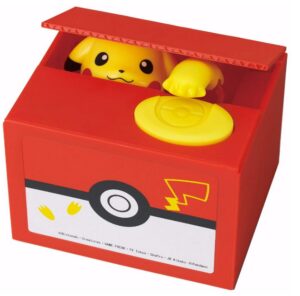 6. Dinosaur Bank
Have you got a little lover of dinosaurs on your hands? This is one of the best large piggy bank for kids and is fantastic for kids of all ages. Made using robust resin, the mini bank takes on a cool green dinosaur shaped style and is still practical for storing coins. Measuring 16 x 10 x 12 inches, the bank is a fantastic gift for any occasion and is sure to bring about plenty of prehistoric inspiration. If you've recently kitted out your child's room with a dinosaur theme, why not add this brilliant final touch while encouraging them to build their savings?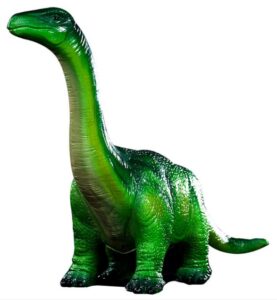 7. Digital Penny Counter
To save the trouble of having to count coins yourself, comes the digital coin counter. Simply place the coins inside the slot and it'll calculate just how much is in the jar! The cute white piggy design is suitable for both boys and girls and is the perfect addition to any nightstand. Happily helping kids to save for a rainy day, this clever pig tallies and displays the amount of coins just deposited, and the running total on the easy-to-read digital display. Children will simply need to drop in the coins using the top slot. When you're ready to spend, the twist-off head allows for easy withdrawals of savings. The cute piggy bank for kids is made from sturdy plastic and measures 5.5″ x 6.25″ x 6″ and takes 2 AA batteries (not included).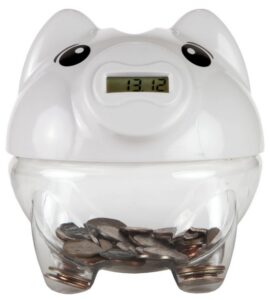 8. Password Enabled Pink Bank
Looking for the best plastic piggy bank for kids? This pretty pink house bank is password enabled for maximum security and, is a lovely accessory for any girl's bedroom. Whether your little girl is saving for a new toy or has something else in mind, this personal kids bank is one of the most unique designs out there.  We love the unicorn graphic detailing on the front and the door which conceals the numbers to enter the password for a cash deposit.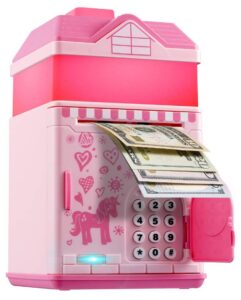 9. Cute Dog Bank
This cute battery operated doggy coin bank is great for either boys or girls and is one of the best kids piggy banks out there. The robotic dog will gladly eat up your spare change and save money for you! Featuring realistic movements and sounds, the bank provides a fun way for little ones to save their extra cash to buy a new toy or gift for themselves. If you're looking for a fun Christmas gift idea, why not consider a personal bank like this one? It's sure to provide lots of fun and positively encourages money management for children of all ages. Available in a number of assorted colors, you can help personalize this gift for your child!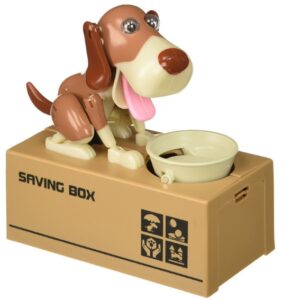 10. Snuggly Elephant Bank
For younger children, this adorable, snugly elephant coin bank is a great idea. Perhaps you're looking to buy a unique gift for a baby or toddler and need some inspiration? Why not place a few coins in this money bank to get started and give it to the child on a special occasion such as a birthday or Christmas? This unique piggy bank for kids make a sweet elegant sounding noise when coins ar dropped in and is designed by award winning Bearington Bears. Great for a baby shower or as a decor piece for a nursery this bank measures 10 inches in height. It also makes cute elephant noise when coin is dropped in.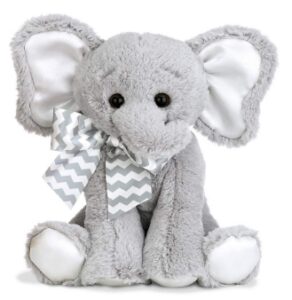 11. Hulk Bank
Marvel fans will love this Hulk themed piggy bank. As one of the best money banks out there it comes highly detailed in the classic green hulk color and is sure to add a great finishing touch to any superhero themed bedroom. The money slot for coins is in the Hulk's back, making it a discreet money holder, keeping thieves away! Kids will love saving their coins with the help of this superhero who is sure to protect their funds until they're ready to spend…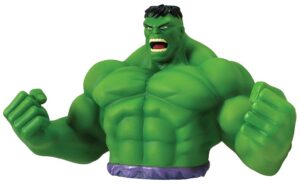 12. Superhero Piggy Bank
This plush super hero bank comes with a soft exterior for maximum safety and unlike the traditional design, is guaranteed not to smash if dropped or knocked! These banks will not break like ceramic options and the super hero twist is a great contemporary take on a classic piggy bank. If you're searching for the coolest piggy banks for kids, add this one to your list. Making a great collector's item for children ages 2 years and above, it's a lovely addition to any child's bedroom and is sure to bring about plenty of smiles. The removable cap on the bottom allows for easy removal of coins. The bank measure 9.5 inches in length for plenty of coin storage space! We love this kids money safe, don't you?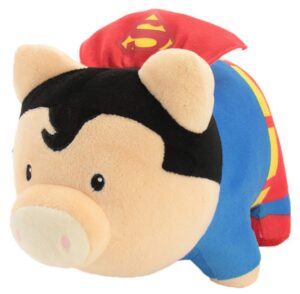 13. Password Enabled Panda Bank
Coin banks for kids don't get much cooler than this. The password enabled panda themed bank, is sure to encourage active money saving and comes fully protected to stop others from claiming the coins inside. Kids can set their very own unique codes to enable access inside the panda who eats the paper money that is 'fed' to him. The bills are pulled into the panda's mouth using a sensor for plenty of money-saving fun! The switch inside the safe door enables a sound that speaks when the password is required for maximum security. Coins are simply inserted into the panda at the top of the money bank. Made g high-quality plastic, the bank is turdy and robust preventing it from breaking easily. To power th piggy bank you'll need 3 AA batteries which don't come included with the product.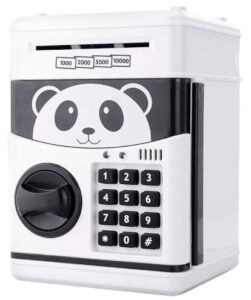 14. Ornamental Piggy Bank
We are huge fans of this beautifully designed cat money bank which stands out from the typical pig bank designs out there. In an eye-catching blue color, its crafted using iron and holds a stunning shape. Great as  gift for an older girl, this delicate money safe is one of the best homemade piggy banks for kids Painting using environmentally-friendly paints, the net design is both decorative and practical. We love the detailed whiskers and ears, that make the cat look super realistic. This special bank will look gorgeous on any nightstand or shelf and is a great gift idea for adults too…Meow!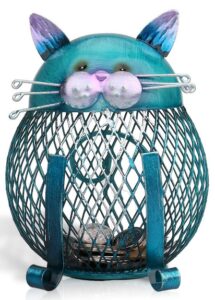 15. Cute Husky Dog Bank
Step away from the traditional pig bank designs with this awesome alternative animal design. We think that this husky personal bank is one not to miss. The adorable saving bank is designed from the best quality plastic that is light weight making it safe even for smaller children. With a rotating head and tail, children will be fascinated by the realistic effects that this bank has to offer! The 8 inch dog figure is crafted with care and this can be seen in its lovely design. With a name tag hanging on its collar too, this bank is just like the real deal! The coin slot is located on the husky's back but the head is easily removed for access to coins…A great Christmas gift for any child, we love this sweet piggy bank!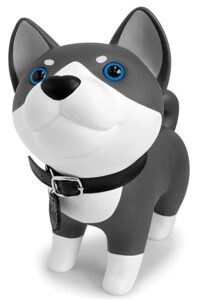 16. Cartoon Dinsoaur Bank
Rooooar! This awesome dinosaur designed pig bank is certainly one of a kind. With a cool cartoon design, it's one of the best piggy banks for boys, who enjoy learning bout the prehistoric creatures that once roamed the planet. Coin banks for kids don't get much more unique than this. Made using highly durable metal, the bank is sturdy meaning it won't break if dropped on the floor. The dinosaur design takes on a vintage style and has a coin slot in the top with a rubber holder in the bottom to release the coins. The piggy bank can take any type of coin and will encourage children to be responsible and save their money. A great gift idea for a birthday or other occasion such as Christmas. Unbreakable piggy banks for kids don't get much more solid than this design…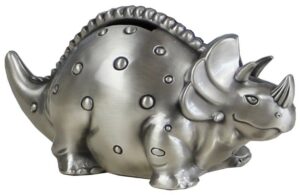 17.Personalized Bank
Our final pig bank is this lovely traditional style which features a delicate satin bow for decoration too. The hand-finished ceramic design is one of the best quality coin banks for kids out there. We love the soft colors which make it perfect for a little girl's nursery or equally so for a boy. Included with this bank is a dry erase pen which allows you to further personalize this pig for your child. perhaps you can add their name, birth date or any other special information to make it unique to them! What special message are going to write for your own little one?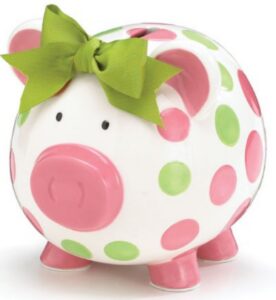 Now that we've presented our list of top banks for kids to you, we've come to the section of our reviews where we present our overall and budget picks. Below you'll find further considerations and selected picks to further assist with your buying.
Best Overall Pick
Our best overall pick is this super cool panda designed piggy bank…Guaranteed to bring about plenty of fun while assisting your child with their saving goals, we love that it's password enabled and features real 'eating' actions when money is inserted.  Great for either a boy or a girl, the bank is entertaining, practical and durable thanks to its quality design.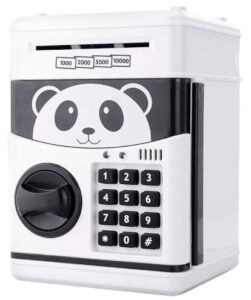 Best Budget Buy
When it comes to selecting a budget buy, we think that this simple, functional kids money bank is a great option for kids of all ages. What's better is that it comes with a digital reader too, making it easy to keep track of savings! Encouraging kids to mindfully save their coins, while learning how to read digital numbers, th pig bank ticks lots of boxes all round and won't require you to splash much cash unlike other similar options out there.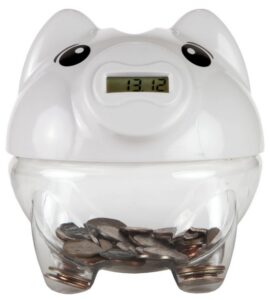 Where to Buy Piggy Banks?
If you're looking to buy piggy money saving banks there are lots of different options in terms of where to buy from. As seen from our list above, Amazon stock plenty of different options in various styles. Buying online is always convenient and it's usually easy to find all the information you'll need including age suitability, dimension and price tags of course!
You can also buy these products across toy stores and some homeware stores too. There are advantages to buying this type of product from a store, this is especially true for ceramics items that may have natural defects which have occurred during the painting or firing process when the pieces are loaded into the kiln.
How Many People Still Use Piggy Banks?
Lots of people still use pig banks today! Though online banking is more accessible than ever, having a coin jar or money bank is still a popular choice especially among younger children. While they won't be capable of storing cash in the long-term, they're great for helping to save towards shorter term goals such as vacations. Younger children will love the insight into money management they gain from their very own little bank to store away their money too.
You may be surprised to find out that plenty of people still use piggy banks today!!
What are Piggy Banks Used For?
Kids and adults alike can use personal money banks for a range of different objectives. Of course, they're all used for storing spare change  and collecting it up to reach a desired goal. Most children will use a piggy bank to save for a special new item that they want such as a toy, video game or even a console if they have a bigger goal in mind.
Pig banks can be used to save money for vacations too and lots of them come with personalization options. Perhaps you could gift your child their very first bank for Christmas or their birthday and write a saving goal on the front using a suitable marker. There are plenty available for ceramic surfaces!
Saving money is great practice for a child of any age. Teens will need to get to grips with money management as they get older and enter adulthood, whereas younger children can benefit in the same ways too. Saving coins helps to create a better understanding of budgeting and what's required for a healthy financial future