Scooters are a fantastic way to encourage your kids to play outside and get some exercise. There are loads of skills that develop while using a scooter like hand-eye coordination, balancing, endurance and confidence.
There are loads of ways to get from A to B and scooters seems to be a great way for kids get around. They enjoy the speed, social aspect, and the challenge of mastering street curbs. Some children start as young as 2 years old and others around 3+, but whatever age you decide to get your kid into scooter riding, if you think they ready then it will be the right time. However, make sure to always check manufacturing guidelines before choosing.
Top Kids Scooters in 2023
Rumble Kids Mini Kick Scooter
The Mini Kick has adjustable handlebars and makes things easily adjusted to suit your kid no matter what stage and height they suddenly find themselves in.
This comes with LED lights both at the front and the rear. This is a particularly cool feature and makes riding around fun, which can stand out and also be easily spotted by yourself from the kitchen window as the sun goes down. The wheels are large enough to absorb a substantial amount of roughage and will keep things stable whilst glowing bright. The wheels are made to be used in all kinds of surfaces, so if kids end up with them in the house they won't mark the wooden floors.
This has a lean-to steer design and this type of mechanism makes learning intuitive for them, which is the same principle for larger motorized vehicles. The hand and eye balancing coordination make the Mini Kick a great all-around scooter, which is easy to learn, ride and develops with them. This 3 wheeled scooter comes recommended for 3 years and older.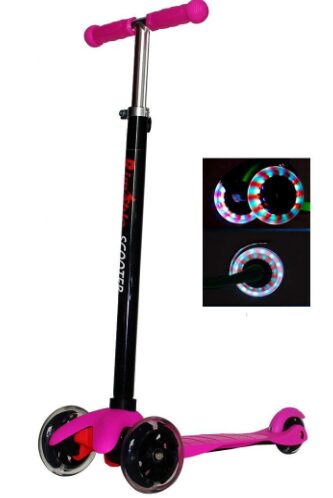 Kids Razor Kick Scooter
The 2 wheeled scooter is the original type of Razor® revolution and is a solid construction design made of aluminum, which is aircraft-graded. The kick scooter is lightweight traditional-type and is a little trickier than the 3 wheeled.
This has 98mm wheels, ABEC bearings and is lined with inline urethane wheels, which make them more nimble for certain riding styles, but less so for stability. The top speed can be reduced quickly with a rear fender stopping mechanism, which brakes quicker than some with the unique patented design. The deck has been designed for speed and less about stability and balance, but this will be music to some kids.
This can handle just under 150 pounds as 143 lbs as a max weight capacity and is recommended for 5 years and older. This has 2 years of a difference than the last in this review and this comes down to the difficulty factor, which is standard when comparing 2 wheels to 3. The handlebars can be adjusted as all can in this comparison and with excellent grips, this is a good contender overall for first place.
Parents often wonder which scooter for 5 years old's is best and you might want to consider this if your child is slightly older because this is harder to learn. However the cool kids down at the skate park will be riding a board like this, but everything has a time and place.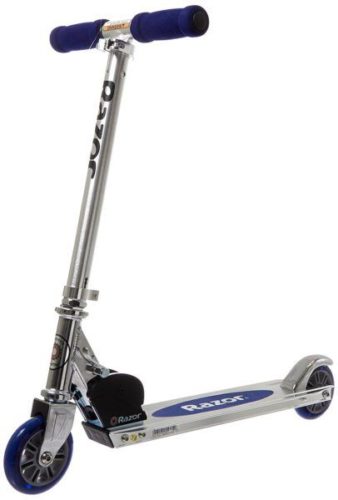 Razor Jr. Lil' Pink Kick Scooter
This is the smallest in the review and the 3 wheel design is great for stability. The more centered on the ground the more overall control, however, this is on for those that are not too large. The low-profile makes scooting super-easy and fun which is why this is a great choice, although m
aybe the color limits it to the girls.
The wide deck makes it easy for 2 feet to be placed on at the same time, which great for balance. This also has good non-slip grip type decking and holds on tight even in wet and windy conditions. The previous 'Kids Razor Kick Scooter' would not be able to have both feet placed next to each other on the deck, which again highlights the difference from 2 to 3 wheels type scooters.
Some frames are better than others and this Padded T-Bar is another solid construction welded to support up to 45 pounds, which is smaller than the last two. This is recommended for 3 years + however if your kid is slightly younger you might think of using this as a starter scooter.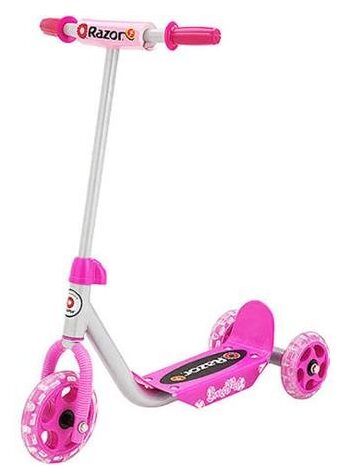 Den Haven Scooter Deluxe
This scooter is a deluxe type and is a low-end priced scooter for those wanting a good bang for their buck.
This is made of nylon composites, metal and is constructed to last the test of time. Some of the others are made of aluminum and cost more because of this, but overall the difference can only be significantly noticed when the rider becomes very skilled and wants to start doing tricks like the Smith Grind or Whip Bar.
The stability and 3 wheel design are unique with no need for a kick stance whilst riding. The easy hop on and off makes this easy for kids to begin and improve their riding capability. The deck is larger than all the previous in this review and makes riding the scooter fun, whilst being that little bit safer.
Wheels that have PU quality design makes an additional level of support and this adds to overall smooth riding. The wheels are large and can absorb the vibrations allowing the bearings to run quietly. The frame is another aluminum construction, which is the better when mixed with carbon alloys adjustable T-bar handlebars. All scooters in this review have adjustable handlebars and this OxGord is no different.
Some have less weight than others and deciding which scooter has less weight is not usually that important, unless the child is very young and not particularly strong, then this OxGord would be a good pick. Deciding what scooter for 3 years old's comes down to weight and size, which is why this again is ideal for younger children.
Breaking with the OxGord Deluxe is via the rear brakes and is easy to access with a quick press, which brings the scooting child to a stop. The reinforced rear brake will stop securely and quickly with a firm press.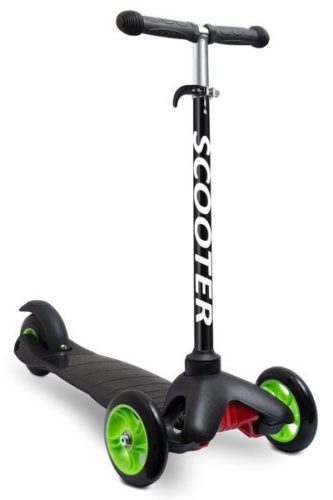 Micro T-Bar Maxi kids Scooter
The Maxi-scooter has been designed with Swiss engineering and is the most expensive out of the bunch, but does have some superior features. kids at school find these an ideal tool for getting to and from, which is like skateboard because of the easily fold-able or handling design, but without being big and bulky.
You will appreciate that each and every part of the scooter can be replaced. This is ideal for your kids long-term use and a number of parents frustrated with a broken part are uncanny. The quick and easy replacement combined with extendable handlebars make this Maxi a great contender in being the best of the bunch.
The wheels are PU and incredibly smooth and are the same as the 'OxGord Scooter Deluxe' with increasingly smooth feel, even over the rough urban and suburban streets. This has lean to steer technology and is great for control, which is heightened with the Swiss-technology. The adjustable height can range from 24 inches to 36 and supports a large range of weights.
Some kids want to know what scooter brand is the best and they usually decide by the latest YouTube sensation, but Micro and Razor are usually two types that keep popping up.

 A5 Razor Lux Scooter
This is a larger Razor design and for those wondering which scooter for 8 years old and older then this is the one for you. The 2 wheel design is for older kids and can make handling a little harder, but for most 8-year-old kids this won't be a problem. The 200mm wheels are made from urethane, which is for taller kids and riders in general. I have even seen adults handle these types and they are made to last with aluminum, which is air-crafted grade.
The deck is slightly smaller than the average in this comparison review, but in general, this is balanced with grip for handling the weather in all its types. However, if the weather does get too wet and windy then they can easily fold-up quickly with the patented design.
These wheels do feel more vibration than the rest reviewed here, so be aware of what kind of turf they will be riding around because too much vibration can put a kid off riding. However, that being said it is lightweight and a good companion if they love getting from A to B in a hurry.
I like the 'Razor A5 Lux' because it answers the question – what scooter is best for tricks. This is fast and furious and can quickly pull off a boardslide and then finish with a nose-pivot.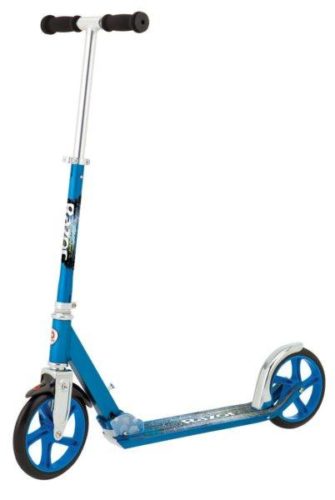 Razor Electric E200 kids Scooter
Some kids want it all and with this electric scooter they can, it's fast with a top speed of 12 mph and will perform all the way until it reaches top-speed with the 24V battery.
The twist and throttle grip is easy to handle and makes riding feel fantastic. Some kids are too young and if you're thinking your 3-year-old is ready for this then make sure to read all the manufacturing guidelines beforehand. That being said this is a smooth ride and can handle loads of varied terrain with the 8-inch wheels that are pneumatic.
The battery charger comes as standard and takes around 12 hours, although recommended 24 hrs, to provide 40 minutes of ride time, so not a huge amount, but those 40 minutes are exhilarating.
The deck has a full frame and easy to ride throughout, but one noticeable difference compared to all the none motorized scooters is the brake which is hand operated and applies rear brake pressure ensures a quick stop. This is needed when the torque is offering a chain driven mechanism for acceleration and compared to a foot this is a pure leisurely ride.
This does need some assemblage and can take up to an hour for those completely hopeless at handy-man type work, like me haha…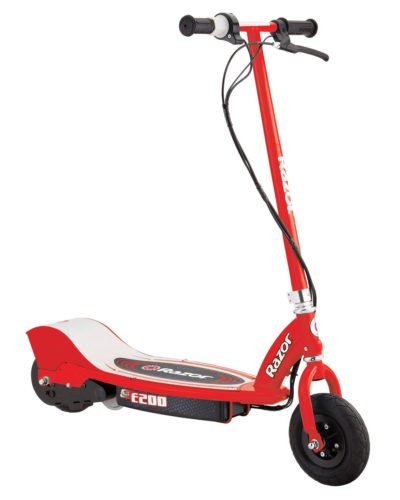 Best Overall Pick
The "Micro T-Bar Maxi kids Scooter" is by far the best Scooter for Kids out of the bunch and is superior in every way, but this also includes a great high price tag. However, this is the best and has a better deck, superior grip, flexibility and the carving effect makes this a superior scooter. You will appreciate the fact that replacing each part can be easily done and although the price is higher than some of the others it will pay off over the long run.

Best Budget Pick
What scooter is the best in terms of price you might be asking yourself, well for me it has to be the "Rumble Kids Mini Kick Scooter" it's a low-budget pick with all the standard features you would want from a good scooter without having to break balance, especially if you have twins for example. These have a unique light up LED wheel feature and the rear and front all light up to highlight a star is in the making. This is easy to use scooter with good grip, large frame, and all-around sturdy design.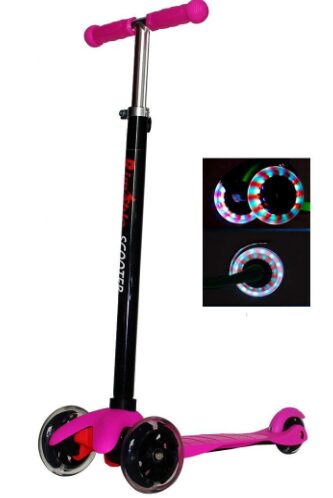 Considerations when choosing a scooter
Type of Scooter – There are increasing adaptations of scooter types and you have probably seen kids riding both 2 wheeled scooters and 3. The 3 wheeled type is significantly easier and will make the riding experience easier without having too many initial falls which sometimes can put off your child from continuing. This is why I always recommend 3 wheels for complete beginners, however, if your child is naturally confident with dexterity and hand-eye coordination in general then this can be overlooked. The older your children become the increase in desire for 2 wheeled types become and this would likely because of the YouTube videos showing 2 wheeled scooter riders doing tricks at the skate park. The 2 wheeled type can be used for tricks like Bunnyhop, Hippy jump, and kick-out, which is becoming increasingly popular with kids.
Some types offer adjustable handlebars and make riding easier for beginners and the 3-year-old can develop as and when nature intends. This is a good feature for a scooter and this helps with diversifying the ability range with practice.
Weight and Height – Some kids weigh more than others and it is important to use a scooter that can handle the child's total weight. Make sure to provide an additional 20 – 20 lbs on top of the max capacity to ensure safety.
Speed – Some scooters are faster than others and there are even electric options which kids are increasingly using, so make sure to choose one that suits their capability and desire. Some smaller motorized scooters are fun and can be switched on to help when hills are approaching, but turned off at a time when it's downhill.
Wheel Size – This is particularly important and your child will be generally safer with large wheels, especially at the front which can absorb larger types of terrain. Small pebbles can cause problems for the child that is not aware of the destabilizing effect. Some scooters that are not as well made can have smaller wheel size, however, some Pro riders prefer smaller wheels for tricks like 180 or AIR.
Stability – Another important factor is the stability and the width of the front wheel whether 1 or 2 can make for easier riding and overall control. The platform is where the center of gravity meets and the child that has good alignment of their frame with the front foot will have a better riding experience. 3 wheeled scooters usually have a larger platform and make things easier.
Brakes – Finally the brakes, which is obviously one of the crucial elements for good control and handling. The most common brake type is the push-down and this is done with the rear fender brake. Some types do not include brakes at all and this is something to be aware of when choosing. I highly recommend choosing a scooter with brakes, because the most common mistake kids have is when they can't stop quick enough and have a minor fall or crash. Most brakes in testing have come back positive with a rear application and are particularly easy to use and work better when needing to stop all of a sudden. Something to note is that the aluminum scooters do not work as well, because of the rain and moisture that decreases the braking mechanism, which is a lack of friction.
Having combined all of this knowledge we have filtered through some of the best and created for you a review of the best the market has to offer. We have combined both 2 and 3 wheel types for those of you feeling confident in your child's ability. The max weight has been specified in the table at the end, but they have a full range and reach up to 150+ pounds, which most kids are under. The adjustable handlebars have been included in some to allow you to get as much use out of them as possible. The 5 scooters below have a wide price-range and allow you also to decide on the right price.
Replaceable components – Some of the scooters can be replaced all the way down to the last nut and bolt, which is ideal for when you're wanting a purchase that will last the test of time.