It is a very special, meaningful gift, and a unique item that is used to store all a person's treasures, to keep them safe and secure, and buying one for someone is very caring thing to do. You might be on the lookout for the Best Jewelry Box for Kids that is for a girl or a boy, because let's face it, boys these days are more into jewelry than ever before and trends are changing. Either way, there are lots of factors to consider.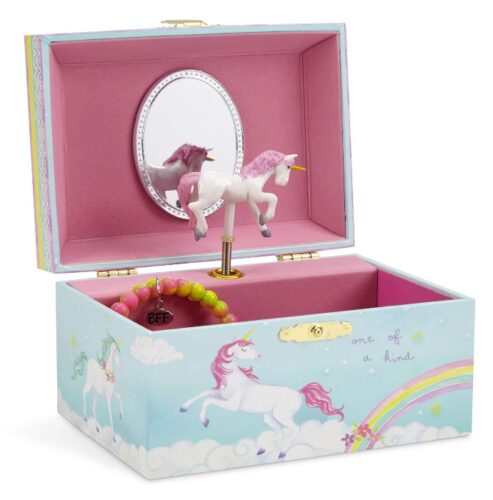 Considerations when choosing kids jewelry boxes
Size
Have a really good think about the size of box you're thinking of buying for someone. If you're buying online as most people are, get a measuring tape or ruler to help you figure out just exactly what size it is going to be once it arrives – you'll need to consider where it is being stored and the person you are buying for because this is affected by the size. You'd rather not buy an enormous one for a toddler and likewise you'll want an adequate sized box for someone with a sizeable jewelry collection.
Use/Function
You might be thinking, well aren't they all for jewelry? But you'd not quite be right. Yes of course many are designed with jewelry in mind, and have special sections that are designed just for necklace or ring storage, but other more multi-functional boxes are simply nice places to keep a range of items, from a healing crystal collection, to marbles, coins or other small memorabilia. Other considerations are that you can get a range of types of jewelry storage, some for the home, some more decorative and others for practical situations, like foreign travel or plane journeys.
Materials
Anything goes nowadays. You can get boxes made of traditional wood, carved with beautiful designs, or you can opt for a mirrored or translucent glass style of box. Other types are enamel or ceramic and you can also get plastic ones too – there is a lot of choice and it's worth considering which materials are not only reliable and durable but safe for the user and the environment. Many are made with lead-free glue, which is a great step forward.
Age and Gender
Of course, the age of the owner is a big factor. There is such a range of boxes on the market that you have a massive choice, and you'll want to make sure that you opt for a jewelry organizer that appeals to the person of the appropriate age. You might be buying for a young toddler who is starting to explore pretend play and wants to keep all their princess items together, or perhaps you have a tween nephew who has piercings and enjoys wearing leather or steel bracelets; either way, you'll need to make sure that the box you buy reflects their age, gender and general interests and personality. Thankfully, our list has lots to offer for all those categories.
Color and Design
There are an amazingly varied amount of designs, styles, colors and sizes when it comes to everything jewelry related, and whether you are buying a first one for a toddler, or perhaps a more specialised personalized jewelry gift set box for little girls, you are bound to find the best right here on our helpful list. There are traditional colors alongside much more modern designs, and there really is something for everyone.
Best Kids Jewelry Box
QIFU's Telephone Jewelry Trinket Box
Move over Princess Jasmine, this exotic phone style box is sumptuous, lavish and luxurious. It just screams flamboyance and beauty. Made of a new zinc alloy it is a sustainable product yet looks very high end and stylish. The enamel is smooth and well-finished and the main body of the box is embellished with pretty diamante rhinestones, that sparkle and catch the eye. It suits as an ornament as well as a practical storage box for jewels, because it is so well designed and eye-catching. It would make a fantastic tween jewelry case, or anyone who is a fan of pretty items to keep around the home. It's a really enjoyable ornament and also has the bonus of being  very useful, functional item. You can buy with reassurance that the company that create this gorgeous piece offer a 100% refund and also have been crafting metal designed products for almost 20 years.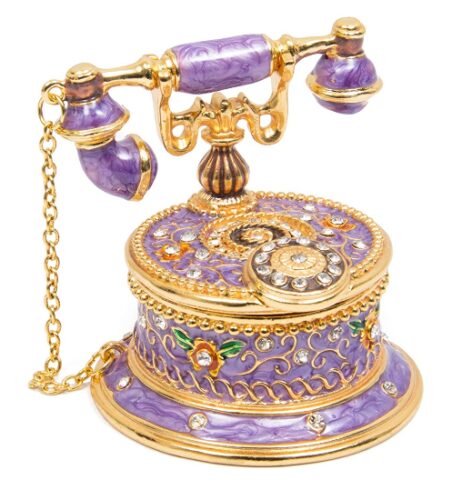 Unicorn Box
Yes of course, we had to include some musical ones, as they are a tradition! What little girl doesn't fondly remember their first musical box that played dreamy tunes each time it was opened? This box comes in four different styles, fairy princess castle, fairy flowers, pink fairy and castle, and pink and white ribbon (with ballet slippers motif), all of which are very pretty indeed. The fairy that comes out of the top lid spins around and dances happily to the 'Dance of the Sugar Plum Fairy', so it is really delightful. It boasts a pretty pink material lining for all your trinkets and treasures, with two sections in the lid and three drawers that pull out for storage of earrings, brooches and any other items you like. There is a really clever necklace carousel on the other side and it measures 9.5 x 7.75 x 9.5 inches. This is a really pretty musical jewelry gift box, one that kids will love.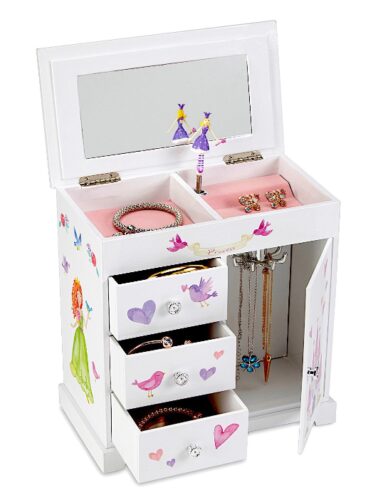 Leather Jewelry Organizer Box
More of a compact, travel option, this pretty pale blue box is reminiscent of the Tiffany's boxes that remind us of lavish and expensive gemstones and jewelry. It doesn't just come in the pale blue, it is offered in a total of six different colors, so you can choose whichever one you prefer. What's great about this box is that is can be used easily when you are travelling on a plane, train or bus – it will be stored easily in your bag and will be secure and closed safely at all times. It has a synthetic leather outer layer (not genuine for those who care) and the lining is made of a soft, plush velvet and flannel, so your jewels will always be cared for while they are stored. There is a helpful zipped closure so everything is kept very safe. This really is a sweet and stylish travel option for anyone who needs to keep their precious items safe while on the move.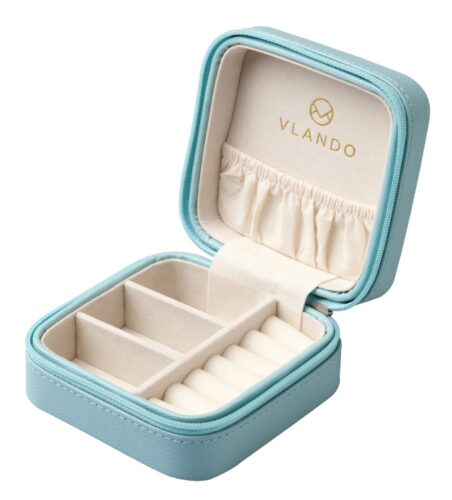 Lockable Jewelry Wooden Box
This box is a beauty. It comes in six beautiful pastel shaded colors and really catches the eye, as a centrepiece on your dresser or bureau, or even on a makeup table. It is made from faux leather with a faux suede interior material and is made of soft, sumptuous yet sustainable materials for you to enjoy. It has many delightful features, such as a lock with a very 'retro', almost vintage style and a range of various useful compartments to store your bits and pieces. There is a decent sized mirror on the inside of the lid to check your reflection when trying on your jewelry, and it has two-tray compartments that are totally removable which helps you store even more items. The sheen of the metal fittings really add sparkle and glamour to this lovely large girls jewelry box. The fact that it locks is a real bonus as you have peace of mind that things are safe but you also have the knowledge that nothing will be disturbed or moved about inside.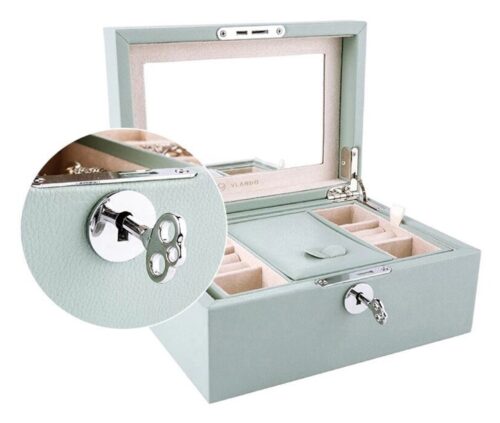 Girls Jewelry Mirrored Box and Storage Case
A really substantial gift for any jewelry lover, this amazing box is made of faux leather and comes in three bright, striking colors; blue, purple and black, so all tastes are catered for. There is a gorgeous velvet lining which will provide a comfortable and safe place to keep all your trinkets. You won't have to worry about items getting scratched, dusty or lost if they are kept in this beautiful case. It boasts a large selection of areas to store your jewelry, including nine separate compartments, ranging in size and also with a ring set, a watch cushion and a drawer so every conceivable type of item can be kept safe. It also has a helpful area for earrings to latch onto. The latch is made of silver so it is excellent quality and comes with two separate keys so you can rest assured that all will be safe. A helpful handle finishes it off. It's a jewelry box organizer kids will love.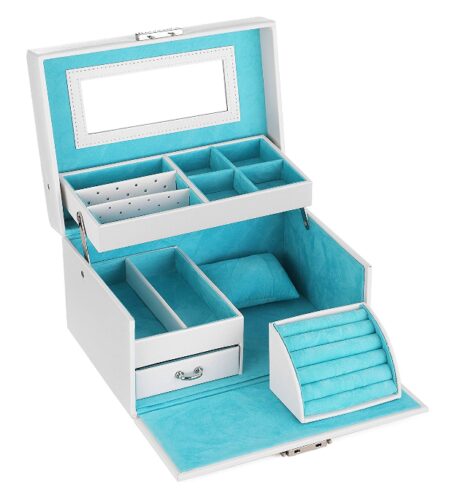 Purple Box Set
This design is a little less traditional in its shape, and comes in five separate styles to choose from. What's clever about it is that it has very helpful dimensions and because it is more streamlined, it could be used and stored in a drawer or cabinet, and won't need to be out on display like other boxes. It is made of fibreboard and is covered all over with soft, luxurious purple delicate lint covering that will provide a safe haven for all your jewelry items. It is very secure also and comes with a key and lock and has a two layer removable option so you can decide how you best want to store your jewelry and trinkets. You can keep many pairs of earrings, special rings, or pretty necklaces and bracelets safe here for as long as you need to. The company also offers a 100% money back refund if you wish for it. This is one of those jewelry boxes children will adore.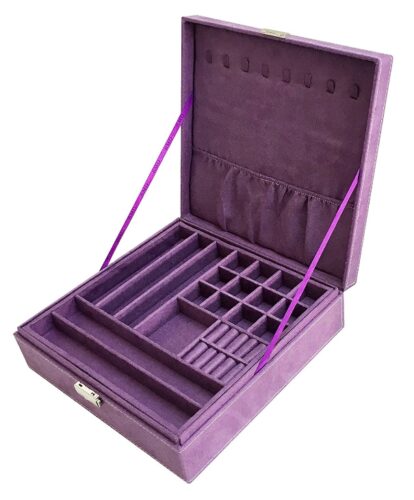 Kids Jewelry Treasure Chest Box
This is every kids dream, isn't it? This has got to be one of the best wooden childrens jewelry storage boxes we've seen. To have their own actual treasure chest, packed to the brim with sumptuous, sparkling gemstones and crystals is a delight that so many children would enjoy. You can just imagine the games and imaginary play they would have with this item, pretending to be pirates and smugglers, swashbucklers and explorers – the possibilities are endless! The box is made of real wood with brass metal fixtures and comes with over 200 plastic 'jewels' that are in a kaleidoscope of colors. It works well as a toy for the home, or for somewhere for your child to keep their treasures inside and also can be used as a fun prop for plays, games or seasonal holidays. It measures six inches long by 4.5 inches wide so its a good size, too.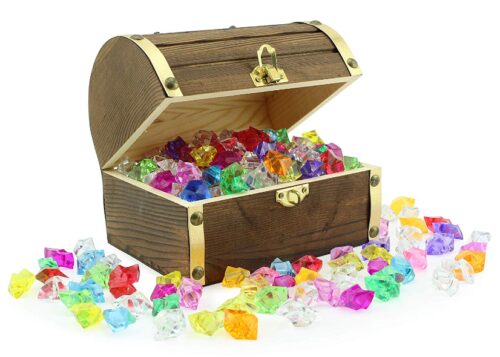 Cute Princess Pink Jewelry Gift Box
As jewelry boxes for little girls go, this one is very cute. It has a vintage vibe to it, and we can almost imagine it being used in the 1950s by the likes of Marilyn Monroe or Elizabeth Taylor. It comes in four pretty colors and as several layers including a useful mirror. It's a compact size, so it is useful for travelling with if you need something to keep your smaller jewelry items safe and secure. You can adapt and change the configuration, by removing or changing around the drawers as you wish. There is also a watch pillow which is great for travelling and a helpful strap to carry it around. You can remove the tray to make the drawer more deep and it is also made using sustainable, environmentally friendly flocking fabric, so you can buy this with confidence. It is made from synthetic leather, with a velvet and flannel lining and interior.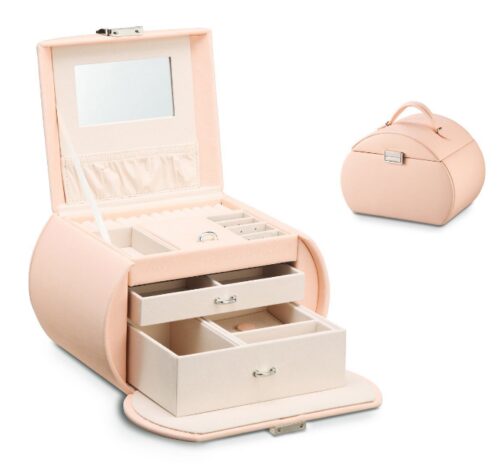 Ballerina Jewelry Case and Box
This delightful case is perfect for the budding dancer in your life, with it's gorgeous embellishments, design and features. The pretty dancer inside spins around to the twinkling sounds of 'Fur Elise', which has become an almost traditional melody for any jewelry case. There are special touches to make it extra sweet, such as cartoon animal drawings, pink bows and flowers around the mirror which really are lovely. This product has two drawer levels and a topmost level also, so it can easily accommodate a range of jewelry items of all shapes and sizes. There is a velvet-style fabric inside that keeps all your jewelry safe and it is made of MDF which means it will be strong and will last a long time as your daughter grows along with her jewelry collection.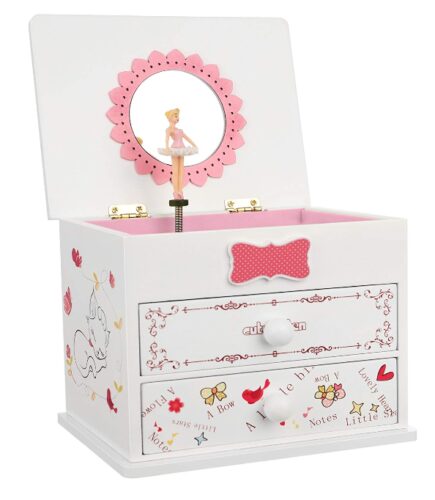 Children's Jewelry Spinning Box with Unicorn
This works well as a toddler jewelry and trinket box because it isn't too large, is durable and solid but also comes in a vast array of colorful and vibrantly cheerful designs – sixteen in fact! This design comes in a unicorn motif, but there are many others; fairies, hearts, princesses, woodlands, stars and many others, so you can purchase one that you know your child will love but that will also fit in well with any decor in their bedroom or playroom. It is lined pleasantly in pink fabric and has a quirky mirror in an oval shape on the inside lid as well as a pretty unicorn that plays music when it is opened. This is a great gift idea because it also comes with a nice gift box, so the birthday girl will be absolutely delighted.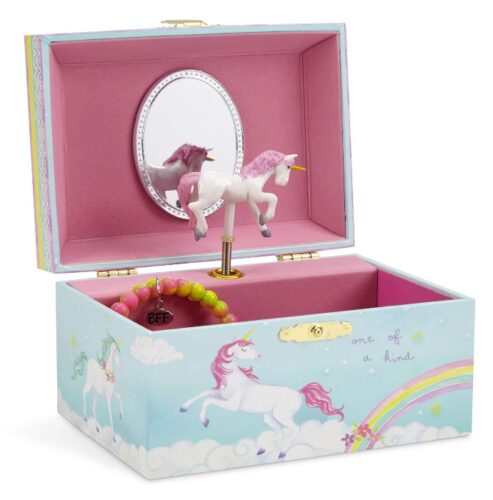 Large Jewelry Brown Box with Lock and Key
This one is a serious contender for largest box in the world! Kidding, but really it is an amazing product that can house a substantial amount of jewelry and accessories. It's more of an organizer as items can helpfully be categorized while they are stored, and there is a useful lock and key to keep everything valuable safe and locked away securely. There are three drawers and two trays and all of them are fully removable so you can play around with what ever configuration you prefer for your storage. Another amazing aspect of this large box is that one particular drawer holds larger items such as watches or brooches or even large hair clips. There is also a section on the left side that has eleven hooks for hanging necklaces and long bracelets on. A really helpful design for a girls large jewelry box.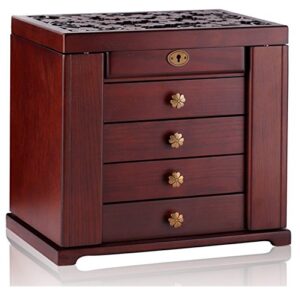 Melissa & Doug Jewelry Craft Kit
We all know and love the Melissa & Doug brand for putting a 'crafty' spin on just about every item known to man, and a kids personalized jewelry set box is just one of those to choose from. It is small and compact, but perfect for younger children to enjoy as they can craft, create and make their own special version using the accessories that come along with the kit. So what exactly comes with this product? The wooden jewelry box, of course, but also you get 38 sparkly foil stickers, 26 gem stickers and also a selection of glitter glue and white glue. There is more than enough extras packed into this product to keep your child busy and happy designing and creating their very own treasure box. Inside, it also boasts a ring holder lined with velvet and a practical safety mirror for them to admire their reflection as they play pretend.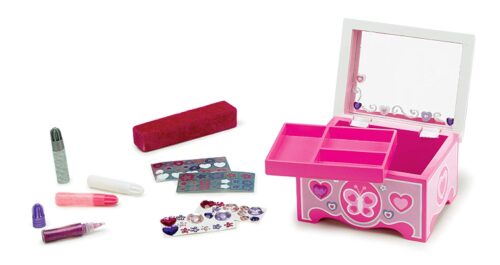 Kids Travel Jewelry Organizer for those always on the move
If you're looking for a travel organizer for kids, this jewelry item is perfect. It is made of strong, durable MDF material and wrapped in embossed faux leather with a gorgeous velvet lining which keeps everything inside safe and sound. It's small, but perfectly formed in an unusual geometric shape so it won't easily be mistaken or mislaid. Inside, you can use the ring roll tray and three other sections to make sure that all your jewelry items are organised and safe as you travel. It is very thoughtfully designed as it even has a small but useful inside mirror also. It comes in a range of colors such as classic white, gray and pale green so it is stylish and modern and would suit a young woman or tween.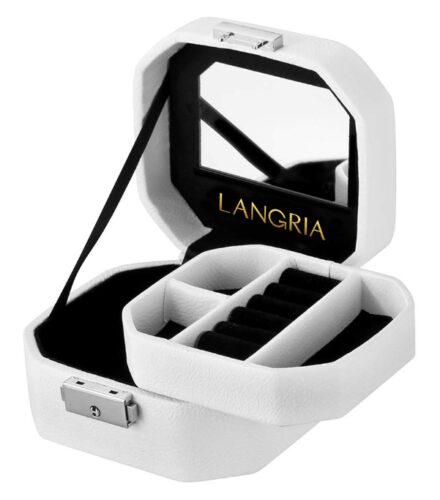 Vintage Jewelry Gift Case for a Special Girl
Made in seven beautiful colors and crafted from reliable, strong MDF, this very large and substantial jewelry container will make sure that you not only have a safe place to store your keepsakes, but it will last for a very long time, so it makes an excellent purchase. It has pull out compartments, lots of necklace hanging storage and also has a range of other compartments to suit the needs of any user, regardless of their jewelry collection. It boasts top-quality materials, including synthetic leather that is easy to keep clean, a velvet lining interior and excellent quality soft flannel. The makers also say that the leather is thicker than any typical design, so it will last longer and stand the test of time. Fashionable, practical and enduring, this box will delight anyone who enjoys jewelry.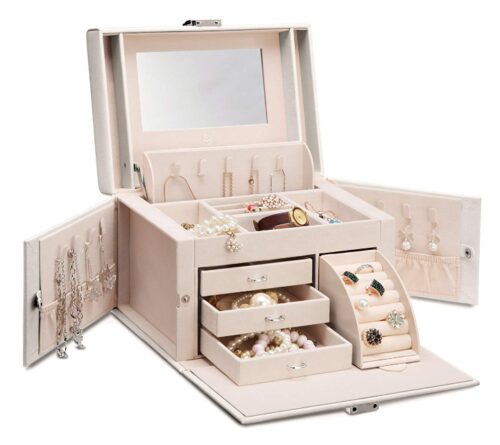 Toy Jewelry Treasure Box
Oh Ar! Me Hearties!! This treasure box or boys trinket box is an excellent container for any little boy to keep their jewelry or keepsakes in. Boys are becoming increasingly interested in fashion and accessories, and the market is responding, with more and more designs and products available for boys to wear and enjoy. Boys can keep their wristbands, watches, earrings and necklaces safe inside this fun wooden treasure chest style box, and even if they aren't interested in jewelry, they can keep any other small items inside, such as marbles, coins, stickers, collectors cards – the possibilities are endless! It comes with a thirty day refund guarantee and is an excellent choice as a boys jewelry box.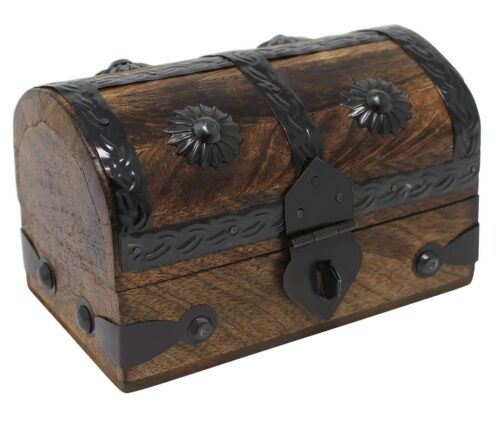 Blue Lint Box for Storing Precious Jewelry
This pretty blue lint lined box is a great choice for keeping jewelry safe. It is made of excellent materials and is lined with a soft, supple lint covering that will keep everything scratch free and secure from harm. There are two separate layers that can be removed as you wish and adapted to suit your jewellery storage needs. You can store any jewelry item you like in this handy case, from earrings and bracelets, to precious rings, sparkling necklaces and even family heirloom brooches – whatever you like. There is a 100% refund warranty and they also will repair the item if it breaks, without any questions. It measures 10.2 x 10.2 x 3.2 inches so it is sleek and well designed, while still being able to fit in lots of storage space.