The little baby girl is almost a toddler and when she turns 1 years old it will be a day to celebrate. She is now beginning to crawl, smile and interact more than she has ever done before. This is an exciting milestone for any parent to reach and whether a first-time parent or a mother of 3 you will want to give your precious little princess a gift she will love.
There are many different types of toys and gifts to choose from in this review. We have chosen 33 gifts that your soon to be turning 1-year-old angel will adore. We have gifts for growth, gifts for developing motor skills, gifts for sending them off to sleep, ones for developing their sense of exploration and finally gift ideas that are just the cutest thing you will have seen all year.
What Types of Gifts are Best for 1 Year Olds?
There are so many great first birthday gifts out there for 1 year old girls. At this age, girls love anything that bright and colorful! Musical toys are an excellent choice and will hold their interest for a long time. Many parents will be looking for smaller toys which can be used to keep their daughter entertained in the car or in the stroller. At this age, she is less likely to sleep when out and about than she was as a baby.
It's a great idea to choose a customized gift to mark a special occasion. There are many t-shirts available with number '1' on them, and you can also add your child's name for a memorable gift to treasure for years to come. One year olds don't understand what birthdays or Christmas is all about, they will probably be happy to help unwrap just about anything.
For this reason, practical items can be great first birthday gifts too! Consider buying clothes, the first pair of shoes for new walkers, or even some diapers. Parents will really appreciate these kinds of gift ideas, as it can save them a lot of money.
One year olds sometimes start to recognize and love characters they see in books and on television. If they already have a favorite, such as Minnie Mouse or Peppa Pig, this can be a great way to find a gift they will love.
Top Gift Ideas in 2023
Here is the review of 33 great types of toys and gifts for 1 year old girls. You are sure to find something here that will make either their first birthday or seasonal gift giving a special occasion.
1. Fisher-Price Smart Stages Puppy
Kids love soft toys, and the Smart Stages Puppy from Fisher-Price is a cute and colorful first birthday gift for your little one. With over 75 songs, sounds, tunes, and phrases, this gift idea will make learning fun and keep your little girl entertained for hours!
The puppy's feet, ears, and light up heart are all responsive, and will encourage your baby to interact with the world around her! This great toy will help your little one to learn her first 100 words, and introduce her to shapes, numbers, and letters. With three learning levels, the Smart Puppy will grow alongside your child, and she's sure to get great use out of it for years to come!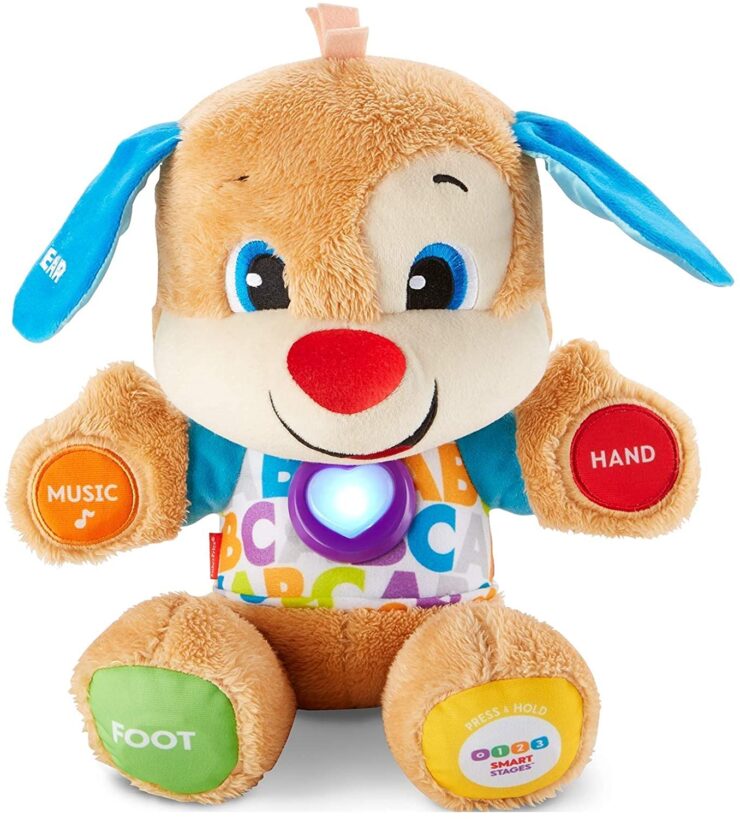 2. VTech Sit-To-Stand Learning Walker
The VTech Sit-To-Stand Learning Walker is an excellent first birthday gift idea, and will help your little girl to develop her walking abilities and have fun, too! The removable play panel has piano keys, spinning rollers, sorters, and light up buttons to keep your baby engaged!
With over 70 sing-along songs and phrases, your little one will have loads of fun while learning about animals, colors, music, and shapes. The pretend telephone set will encourage imaginative play, while the easy-to-spin wheels will help your daughter on her way to walking! This is an ideal gift for any 1 year old girl, and is a great way to make early learning fun!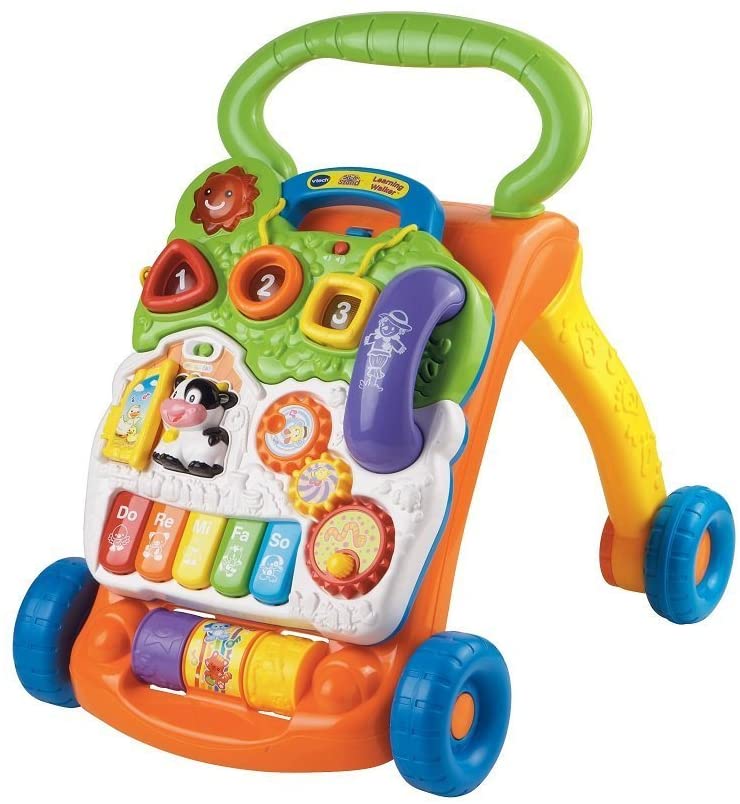 3. LeapFrog Shapes and Sharing Picnic Basket
The LeapFrog Picnic Basket includes cute shape sorters to help develop fine motor skills, and is the perfect imaginative first birthday gift for your little girl. Enjoy a pretend picnic with your daughter, and learn more about food, shapes, and colors. Listen to the friendly picnic basket ask for food, and put the correct items into the sorters for a cheerful response!
This is a great birthday gift idea to help develop your little one's fine motor skills, and will also help her to learn key new vocabulary, too! The picnic basket itself doubles as a handy storage bag for all the shapes, so this is an excellent choice for on-the-go play! Overall, it offers a great way to play fun games with your daughter, and also to teach her new things!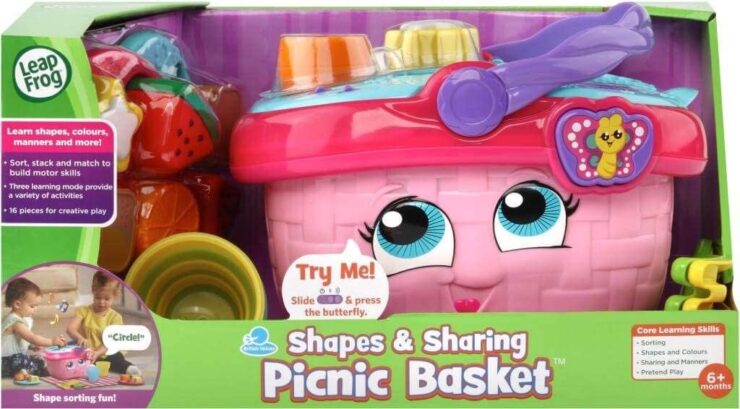 4. Jemima Puddle Duck Pull-Along
A Pull-Along toy is a perfect choice for active baby girls, and is an excellent way to encourage her to develop her walking abilities! Jemima Puddle Duck is a classic children's character, and your little girl is sure to love playing with such a cute toy!
This Pull-Along from Orange Tree Toys is handcrafted from wood, and hand painted with non-toxic paint. The high quality finish is sure to last for years to come, and it's a lovely birthday gift that can be kept and passed down to future grandchildren. The gorgeous pink and white design is sure to interest your baby, and it's the perfect way to encourage your little one's first steps.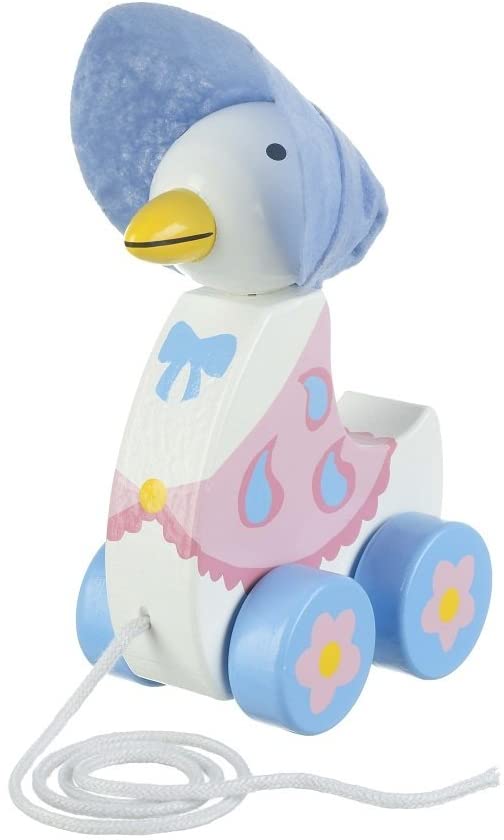 5. The Very Hungry Caterpillar Gift Set
The Very Hungry Caterpillar is a classic story that has been loved by generations of children, so this book and toy gift set is one of the best birthday gifts for introducing your little girl to reading! The set includes a mini hardback version of the story, which is perfect for reading on the go. The soft caterpillar toy adds another dimension to the story, as you can act it out together!
The book has beautiful illustrations that are sure to interest your baby girl, and the funny story is sure to make her laugh, too! It's also a great way to encourage imagination and language development!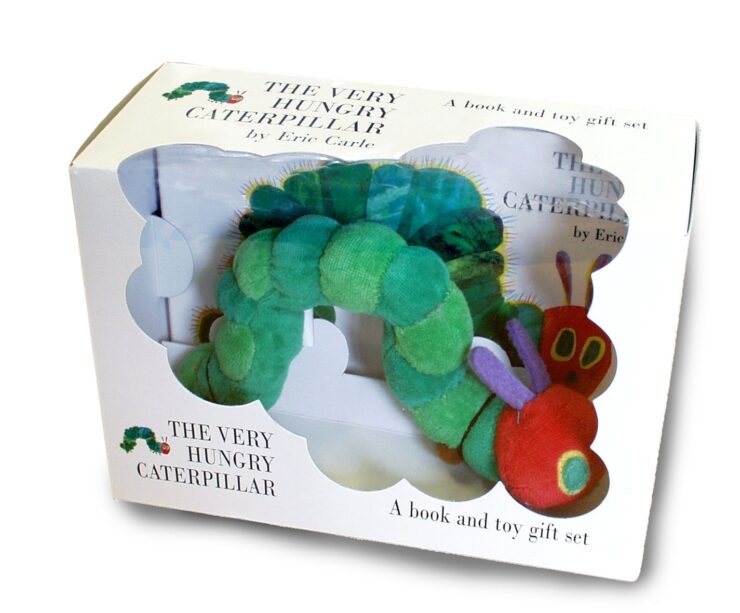 6. Frog Bubble Maker Bath Toy
Everyone loves bubbles, and this fun Frog Bubble Maker is sure to make bath time more entertaining! This cute frog easily sticks to the bathroom wall, and makes great bubbles and sings songs, too. With 12 different classical nursery rhymes included, your little girl will have tons of fun singing along and playing with the bubbles!
The set also includes a cute rubber duck, which is sure to capture your little one's imagination! Making bath time enjoyable is really important, so this is a perfect first birthday gift, and your daughter is sure to love using it for years to come!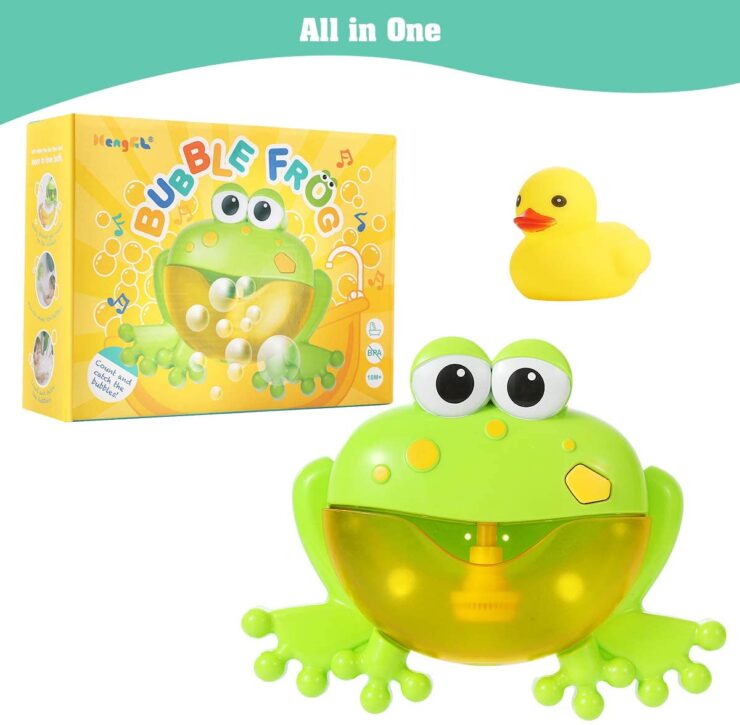 7. Disneys Minnie Mouse Bow-tique
Kids of all ages love Disney and girls especially love characters like Minnie Mouse, she is insightful, colorful and an ideal gift for a birthday girl.
This could be a first learning gift book that lights up and makes a sound for interactive learning and fun. I love the unique design and the way it looks like a Minnie butterfly, it is easy to use too. This has been designed for 1 years old toddlers and older, which is perfect for their 1st birthday party gift.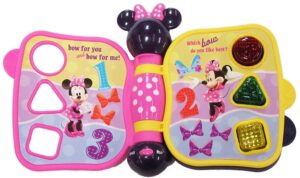 8. Kolylong Owl Development Book
This soft book is oodles of fun and a great gift for the birthday girl, its soft, child-friendly and made for them to enjoy flick through.
The material is polyester and is suitable for children aged 3 months old to 24 months, which is perfect.
Healthy patterns begin early in children and reading is one of the most valuable abilities a child can learn, which is why this gift is one that might seem simple, but packed with wisdom.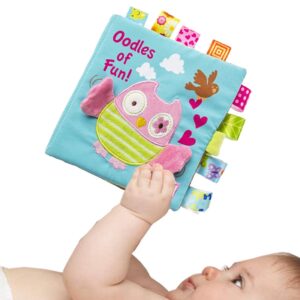 9. Custom Engraved Wooden Block
This is another personalized gift for the little one and for the parents, it looks great, feels unique and will be something that will get stored away for when the little toddler turn into an adult.
The birchwood is well-made and the engraving is done professionally with no bleach or other nasty chemicals that might cause irritation. The natural softwood color is ideal for decorating a child's room or play area and adds a memorable feature to a room that often gets noticed by passing parents.
There are 6 sides and each one has a unique element to it with the child's first initial on one side, middle on another and the child's last name on another. Each has a distinguishing uniqueness to it and stands out regardless what name the block lands on.
I often find this is a gift that family, like grandparents, make as they know how many mounting toy gifts are on their way already on the little one's birthday day, so they try to stand out and have something for years to come and not just for a moment.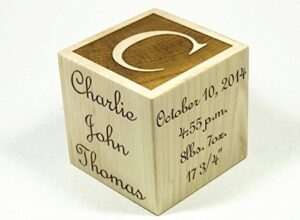 10. Marshmallow Junior Happy Horse Soft Toy
This Happy Horse Soft Toy gift that will get the young ones enthusiastic about learning to ride a horse. This encourages balancing abilities and fine tunes those motor skills, helping them by learning to hold onto the bouncy horse's ears while staying upright.
This provides hours of fun and do not be surprised if they watch their cartoons and Disney programs on it. This is soft and easy to inflate, so as long as there is some adult supervision this inflatable horse is a fantastic gift for any toddler both boy or little girl.
This is a great gift that doesn't make noise that drives the parents crazy, so if you want a soft cuddly toy that is family-friendly then this is the gift to buy. This is recommended for 1 years old children and up to around 3 years old, but with a unique feel and exclusive to bouncy this is a gift they will never forget.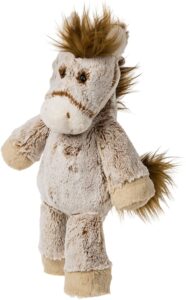 11. Brilliant Baby Blocks
Fisher-Price is another top-end brand in the manufacturing of baby, toddler, children's toys and all the way to teens. This is why I always try to add one of their toys in any review.
This is an educational toy that makes a great gift that promotes the imagination, motor skill development and enhances the hand to eye coordination. Learning to match shapes with blocks is a fundamental skill of problem-solving and recognizing patterns that we all still use today as adults, which is why this is a fantastic gift idea.
There are five shape sorting blocks, each block has a different color and is a perfect size for ages 6 months and older. The handle is easy to carry, light for carrying around and comes with frustration free shipping. The aim of the game be simple, but the learning going on is exponential and will benefit them as they grow from toddlers into adults.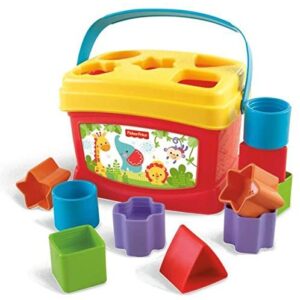 12. Manhattan Winkel Rattle and Teether 
This toy is a spectacle, to say the least, and will mesmerize into awe for a second or two, which soon turns into fun-filled play.
This is a combined toy with teething and helps them get some relief when their mouth is sore. The toys are fun to hold, easy to grasp and can teach through clutching. As a playful experience, however, the rattle inside is a little noisy for those wanting some peace and quiet.
This is an award winning toy and an ideal gift for any birthday occasion. The Oppenheim toy portfolio blue chip award is a prestigious award and exemplifies the Manhattan WInkel. This is designed for children from 0 to 24 months old and can be ideal for those with children close in age. The BPA-free material is safe and the teethable plastic is suitable for children.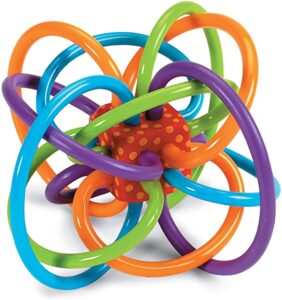 13. B. Toys B. One Two Squeeze Blocks
Every child at some stage of their life loves building blocks and with their colorful, squeezable, floatable, multi-functional design, this makes them a fantastic gift for any occasion.
Parents agree that this is a good blocks version in comparison to others and makes for easy traveling companions, which encourages them in their curiosity for life. This curiosity is also developed when the sounds of the blocks come to life and the squeaking sounds reveal itself for the first time.
These shapes for learning have been well thought-out and the manufacturers made the bag 100% recyclable for making the children's future sustainable. This visually stunning gift idea is a squeeze load of fun and will be used well beyond their special birthday.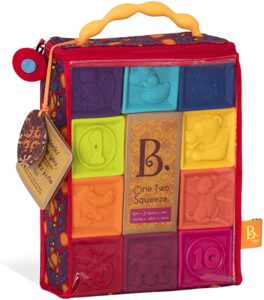 14. Adoric Children's Night Light 
This is a cool gift and one that lights up the room at night when children find themselves needing some soft light to help get to sleep. The 360 rotation with 4 LED bulbs makes this light lamp an ideal gift and reminds me of a starry moon sky night with its projector.
This comes with a USB cable and gives off a warm light that is easily changed with a press of a button with rotary switch and removable dome for allowing a setting to a preferred light. There are 8 modes and you can customize the light to personal preference, whether warm and steady or bright and beautiful.
I like this starlight gift, it decorates the child's room with an atmosphere that makes nighttime come to life, hopefully creating an appreciation of all the beauty that the great outdoors at night has to offer.
This is a perfect gift for toddlers who are scared of the dark, and can help make bedtimes easier. Switching on the projector can become a nice part of your child's bedtime routine. The light will continue to help them as they get older too, as many older kids can be scared of the dark. The night light projector is the perfect way to offer some quiet relaxation time during the day too, for toddlers as well as older children.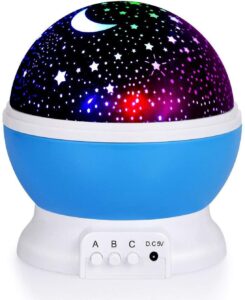 15. Lepapillon Princess Tent 
This pink colorful princes' tent is a fun-filled gift that will be a favorite with any girl that just loves moving around, feeling the colorful balls, developing their motor skills and sense of exploration.
This is recommended for children aged 1 years old + and is a perfect gift for them turning one years old, especially if twins. The material is safe and super-light, so traveling with it is easy and the pop-up design makes this great for those family days out as well.
This is really easy to maintain and clean with removable roof and mesh windows and with a carry bag, this is satisfaction guaranteed. The play tent is a princes' paradise and with the colorful decor, they will feel like the queen of the castle.
Toddler with a sense of adventure will appreciate this gift and be giving them their own space to feel safe and secure can build confidence. This, whether used indoors or out, can be a sure way to have their toddler friends enjoy the day with their birthday girlfriend.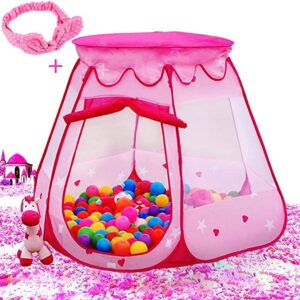 16. Wooden Bead Maze 
Melissa & Doug are a well-established brand and produce great educational toys and this is no exception with its toy with a twist features.
The aim of the game is to get the differently shaped blocks from one side to the other and with the softly coated wires this is a tantalizing experience with its hand-eye coordination at its heart.
The colors are bright and captivating and the textures are nice to the touch. I like the wooden beads and the three plastic rings are easy to slide, unlike some other toys which are similar. The well-made craftsmanship is what sets Melissa & Doug apart and why this is a good gift for fine-tuning their sensory skills as well as motor.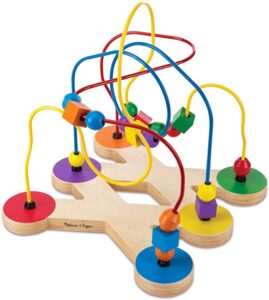 17. Goodnight Personalized Book
Personalizing first birthday gifts for soon turning-toddlers is a unique and special way to make the child become part of the story, which transforms bedtime and sets the imagination off into the world of dreams. The imagination is 1 of the most important areas for children's development and this book can be a thoughtful way to encourage them to use theirs.
The book is made in the USA and the hardcover feels great and with 20 pages this book is a keeper for appreciating later. The personalization is on the front cover, infused throughout the story and illustrations. The lyrics have been chosen to be endearing and imaginative, so they will love this story.
This personalized book is ideal for a girl 1st birthday gift and as they begin to understand words a lot more now it will be perfect for them. The book is once which will be treasured for many years to come, and will make an excellent addition to your baby's memory box as they grow up.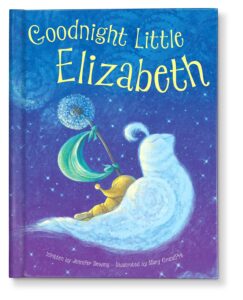 18. Guitar Lullabies 
Bedtime is often a time for settling the nerves of the day and whether musical lullabies in the form of sung songs by mom or gentle bedtime music both have their value and that's why parents with toddlers love guitar lullabies. This combines beautifully composed guitar lullabies for sending them off into the world of sleep so that they can make the most of what the next day has to offer.
There are a total of 19 soothing songs that help settle the little one down and with classic performances, this really is a lovely gift that some parents will really appreciate.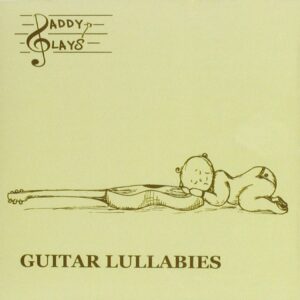 19. Zando Girls Headband 
This stylish toddler headband is super cute and feels snug like a turban, but with bows that are soft, really sweet to look at and helps keeps their little head warm in cooler climates.
The material is designed for little ones and is very soft to the touch, flexible, stretchy and comfortable for almost any head shape and size.
The boutique Zando hairband comes as a pack and means mom can dress her and not worry which color will match. This is a practical gift and some parents will really appreciate the effort, which is both beautiful and sensible. This will be used often and for a long time, especially because the age range goes from baby, toddler and for older kids too.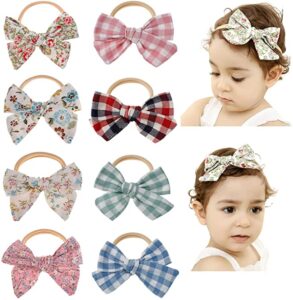 20. Learning Laptop by VTech
Every child will need to learn to use a laptop at some point and a first birthday gift is as good a time as any to slowly introduce them to the world of tech.
This toy laptop is a great toy for using in the car or when out and about. It's portable and durable in case it gets dropped on the floor. The best part is, it will keep your baby entertained for ages!
Learning never stops and it needs to begin early in life for those parents wanting their children to get the best start in life. This is why educational toys with fun interactive, tantalizingly fun are crucial and help toddlers prepare for the technological revolution that is happening all around them, which is why this gift is a good parental choice.
This VTech laptop comes with different shaped keyboard buttons and lights up, which teaches them to concepts that we adults have to know. This is designed for children aged 6 months up to 3 years old and is easy to operate with 2 AA batteries, which come included with this toy gift.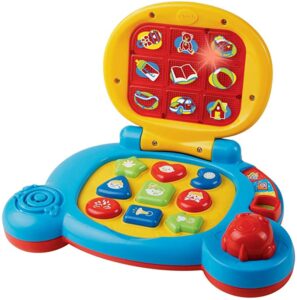 21. LovelySprouts Milestone Age Blocks
This solid wood block is an excellent gift by anyone's standard and the feel is really high quality, stunning finish and is made with safety in mind.
The water based paint and eco-friendly design make this a thoughtful gift with great photo options for highlighting the age of the child, which when number 1 is combined with the word years highlights the special 1st birthday, which is the day she will look back as she grows older with fond memories. Parents will love to receive this unique and thoughtful gift on their child's first birthday and will treasure the photographs taken with the blocks forever.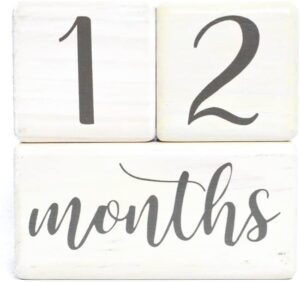 22. Yellow Emoji Bibs
Every toddler loves playing with their food and sometimes the aim of dinner seems to be about how much mess can I make, rather than what is for dinner. This is why the crumb emoji catcher is a mom's savior and a remarkable gift.
The yellow bib is stunning to look at and the wink adds to its appeal, which is why these are popular with parents everywhere. They love the fact this bib is FDA approved, Free of toxic components and BPA free.
The design helps catch food that would often fall to the floor with the innovative silicone design and those who appreciate these kinds of quirky gifts will love this gift for their toddler.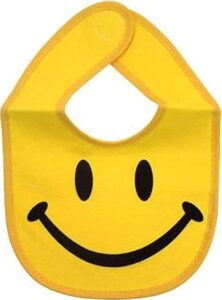 23. FUNERICA Big Duck Bath Toy 
Every child wants some toys to play in the bath which is why this is a perfect gift for children of all ages, but especially toddlers.
I don't know if your child dislikes water over their head like mine did, but with the right toys, their can be a fun game made out of it to encourage their bathing habits.
This is designed for 1-year-old toddlers into 6-year-old kids and with the bright colors, the interactive design will be sure to add some fun into bath time. I think if you combine this with some bubble bath it would make a perfect gift. Educational toys for the bathtub might seem a stretch too far, but learning to build a healthy association with bathing is important. The little water-squirting fish should come with a soft warning stating "parents not wanting to get wet leave the bathroom".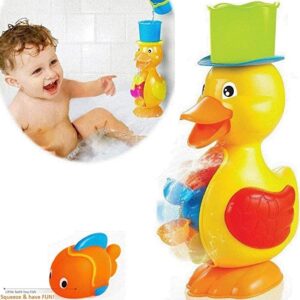 24. Baby Socks For Toddler Girls
As your one-year-old girl begins to walk, it might be a good plan to help her along her path. These baby socks from Tiny Captain will do just that.
Each set comes with 6 pairs of socks, all different colors so that they can match any outfit you put her in. She'll always look like a princess.
The socks not only look good but are soft and comfortable too, important for the delicate skin of a baby. The bottom of the socks have dots made from rubber, allowing for greater grip and reducing the risk of falling down.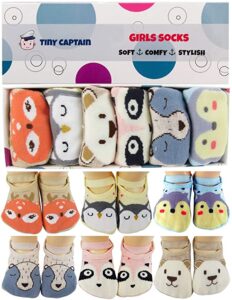 25. LeapFrog My Pal Violet
Every one-year-old girl needs a cute and cuddly Pal. This cute little fella from LeapFrog is exactly that.
What makes this amazing is that you can link it up to your phone and fully customize it. Teach it your child's name, and will say it out loud to them, even encouraging them to spell it as they say each letter. Perfect for playtime, or just before bed as it comes with 50 songs, some of them active some of them gentle lullabies.
Teaching your child colors, animals and numbers is only just the beginning of this amazing gift.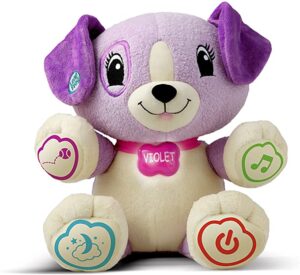 26. Mega Bloks Big Building Bag
Every little girl needs to unleash her creative side, and this gift from megablocks will be perfect for exactly that.
Designed for 1-5-year-olds, there are no parts so small that your daughter would accidentally swallow them. The bag contains 80 pieces in total, more than enough to build a castle fort with.
The great thing about these blocks is that they're compatible with other mega blocks so you can just keep adding to your collection. In this set, you will find a wheel base which can be used to make toy cars and other types of vehicle. The storage bag is durable enough to be used to keep the pieces neatly stored together after each use.
Toddlers will have years of fun with this set. Whilst your one year old might be more interested in knocking the blocks over rather than building with them, you can be sure that she will get into building as time goes on.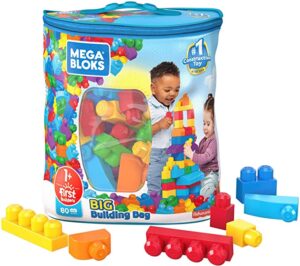 27. Sugar N Spice Doll
This doll is perfect for a little girl who is getting used to sleeping in her own room at night. Not only is it a doll, but it doubles as comfort blanket too.
It can go through all kinds of wear and tear and come out the other side looking great because it's machine washable. We all know kids love to drag their favorite things through everything, so it's a huge bonus and adds value to the doll in terms of longevity.
Your little girl will be carrying this doll around for years and will look back and have lots of fond memories of this doll.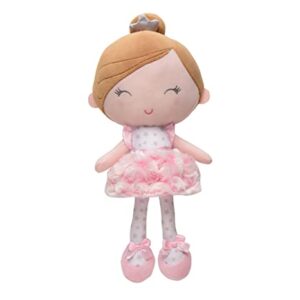 28. Hape Pound and Tap Bench 
Hours of musical fun is to be found in this happy toy. It has a variety of functions and is basically a clever xylophone for your little girl. It is interactive and you can catch the balls that come in and out of the sections along the top and this fun feature will certainly make children giggle and challenge themselves. You can just enjoy it as a simple instrument also, which is just lovely to encourage a love of music and song in your child.
It is made with water based paint and has non-toxic materials so it is safe and sound for your girl. It is definitely a popular choice because it won a Crisbie Award in 2018 for best musical toy. Your child will enjoy hours of fun and music while they engage with this bright, playful xylophone. Suitable toys for 12 month old girl.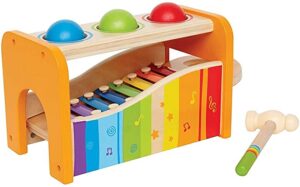 29. VTech Learning Walker
The VTech Learning Walker has long been a favorite with children and parents alike. It doesn't take up much room and is great for helping your little girl to learn how to stand on her own two feet. It has so much interactivity and the various cheerful lights and sounds are exciting for any young child. The play panel can be removed and put into a playpen or cot quite safely to keep your toddler interested and occupied while you make dinner or do some laundry. It has spinning rollers, shape sorters and light up buttons. It is a fantastic choice of toy to improve mobility, hand and eye coordination and to help them learn about shapes and colors. Another lovely feature is the five piano keys that allow your child to play tunes and experiment with sound to their heart's content It has batteries included so it's every parent's dream.  Some of the best gifts for 1 yr old girls are those that help their development, which is why this is a thoughtful gift idea.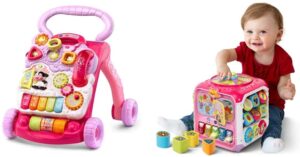 30. Simplay3 Toddler Slide Set
Children will simply love this toy and will find it very exciting, with hours of safe, enjoyable outside play and adventure in their garden. This slide set is perfect for little toddlers, is a suitable size and proportion for young children and it is also very sturdy and will be able to take a decent battering from little children's thumps and rough and tumble. The slide is extra wide and has rails that you can grip easily to ensure a safe journey down the slide. Parents will have peace of mind that this slide set is completely appropriate for the toddler years. The ladder is designed with toddlers in mind, and also has easy grip handles and a large two level platform that is sturdy and safe. There are crawl through sections (we all know how kids love to hide) and a toy steering wheel and dashboard for extra imaginative play. All the edges are safely rounded and the slide set boasts to be weather and UV resistant so it is sure to last for several generations in the family.  This is designed for babies 18 month's and up and is one of the top toys for 1 year old girls.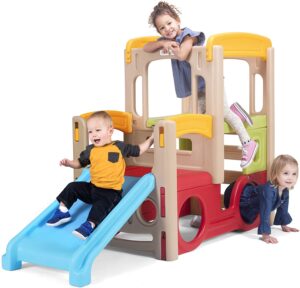 31. LeapFrogMusical Tea Party
All little girls love to host a tea party, don't they? Inviting their friends, siblings or little dolls around to enjoy a make-believe fancy lunch is usually the highlight of their day. This bright, cheerful musical rainbow tea party has ten pieces and has pretty light up areas that will delight and engage your toddler. It shines out in six bright colors and plays songs and there are even some extra sounds to make it fun and exciting. The teapot has clever interactive features, it responds to your movements, when your little one tips it over to 'pour tea' it will light up and play funny, amusing sounds to entertain them. The 'tea' inside will also move according to the tilt of the teapot, which is so much fun for the little ones. It has seven songs and over fifty phrases and sayings to entertain your child as well as playing colors and counting rhymes among others. Tea party sets are fun presents for 1 year old girls who love to play tea party games with their friends.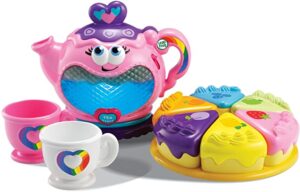 32. Baby Walking Goose Toy 
This is a really quirky child's toy. It is fun, educational and bursting with music and here's the bonus – it walks! It will really entertain and amuse your child and keep them busy and active as they play. This fun goose toy talks, sings and moves and will give your child the chance to learn, develop and grow as they play. The makers say its best used from 18 months upwards as its fun colors and entertaining sounds are absolutely delightful and it will help them learn better coordination, develop an appreciation of animals and enjoy music and color even more. There are helpful volume controls and three styles of music in the hip hop genre which is really modern and entertaining both for children and parents. A really different gift that is a little out of the ordinary and sure to be enjoyed by your child.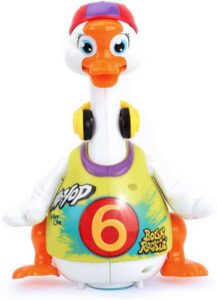 33. Top Bright Activity Cube
These gift ideas for 1 year old baby girls offers literally hours of fun! It is specially designed to educate and develop children's ability to improve hand-eye coordination and to improve cognitive function because it has a range of activities and tasks that cover a range of skills. Bright, vivid design and color along with shapes and textures offer your child a lovely toy that not only entertains but amuses. There are bead mazes, moving gears, pointers, blocks and they are all finished with pretty colors in a safe, non-toxic paint and materials. If you want to have an activity corner in the living room or nursery, this would be a good focal point because it is easy for them to move around and also offers hours of play and discovery. Fun, safe and exciting, this toy will offer years of interest and engagement for your child while at the same time educating them and entertaining them too.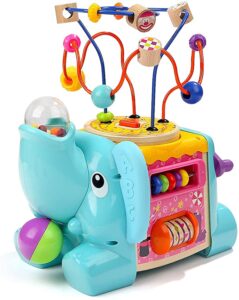 Considerations for Choosing a Gorgeous Gift 
The best toys for 1 yr olds can be actively encouraging areas of development in a toddler and focus specifically on growth, motor skills, getting them to sleep, encourage eating and exploring the world around them. Babies turning into toddlers are fascinated with stacking toys, putting blocks into containers, filling and emptying things and all this is good, it helps fine tune their motor skills, which is why choosing a gift for them can be more than just fun, it can be educational.
Some key areas for helping children develop is by promoting their imagination and emerging creativity through creative and thoughtful gifts. This, when combined with fun play, builds confidence and helps their physicality, social skills, healthy emotions and when combined their intellectual development. This is why choosing a thoughtful gift for the little one is more than first intended and can be something that contributes to their well-being holistically with life-long benefits.
What do you give a one year old for her birthday?
There are loads of different types of gifts and a popular one with moms and dads are animal gifts and something cute a cuddly. Some parents prefer unusual gifts, ones that can be kept until they are older and looked back with a sense of appreciation and nostalgia for those early beginnings. Personally, handmade gifts are one my favorites, but usually, I don't have time to make DIY gifts, as I am always rushed from A to B trying to keep everything running smoothly at home, otherwise I would. The wood made gifts have a lovely feel and are usually well made and sometimes you can find unique and interesting gifts that even have carved initials or names on them.
I like to get inspired, I try to find places that offer some cool gift ideas and inspiration, like Pinterest, and this is where some of the inspiration came for my gift idea selection, which is why I think you'll love what is to come in this review. Gifts to be proud of are a great way to feel awesome and the one gift that stands out at the party doesn't get forgotten, so a little effort goes a long way.
Take a look at these suggestions: