The winter has arrived and you're wondering how to entertain the kids because being stuck indoors playing on the Ipad is getting uncanny and you're debating whether its possible your kids could start turning into robots, so you're thinking out the box and like "time for some outdoor activities maybe?"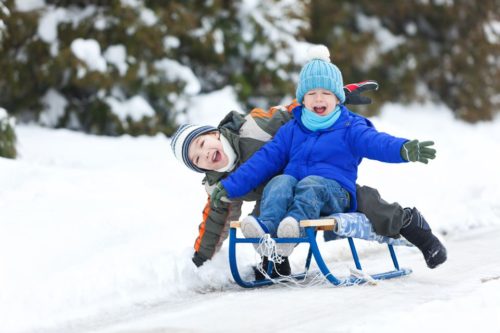 You're clearly a caring figure and want to treat your kids to some awesome fun in a time when most ideas get squashed because there is not the right weather conditions, but fear not O thou wise one, because the winter is a time for sleds, snow, fun toys, laughs and fast-paced adrenaline racing. You like me have maybe done this before and want to share your younger years with your kids now and feel the time is right! Well done…
The Review
Flexible Flyer Snow Screamer
This sled is a little faster than the last one and has a super sleek bottom to help raise additional speeds for those thrill-seeking ones. This sled can hold two kids at the same time and can be twice as fun, cause it takes two tangoes as they say!
These measures a 47 inches long and 21.5 inches wide, so very accommodating for varying kid's weight and sizes, however, I'd say 5 up is appropriate in my view to be left alone on this screamer.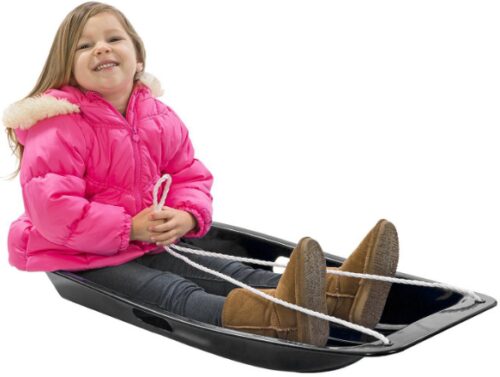 Flexible Flyer Steel Runner Sled
All the previous have been founded on the modern forms of welding and construction, but without the touch of nature's best and most traditional original feature and that is of course wood. This tough wood sled is a serious sled contender and comes out as my most expensive sled, but not without a reason and justified rationale.
Made from birch wood it really is made to last, included are the powder-coated steel runners and the flexible steering bar which supports ultimate control. This kid's sled is built for 5 years and up, its heavier in weight, but can support heavy kids/adults and is easy to assemble.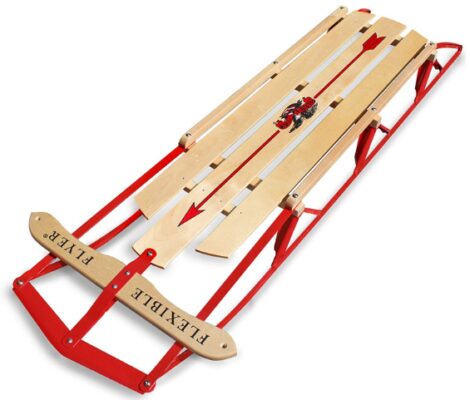 Lucky Bums Plastic Racer Sled
We have no entered the realm of the racing sled and is for the kid that has aspirations to join the national team for sledding. This is still at the lower end of cost but with loads of new additional features like; steering wheel, center ski, and a handbrake.
This evolution is sleds allows for the naturally born racer to feel part of the potential snow battle with like-minded peers. This sled allows includes a pull rope and is great for adding an additional feature which might include a pull by dad if he's feeling up to it. The specifications are 40 inches long, recommended or 6 up and a max capacity of 100 pounds. This is a great sled and a great step up for your little one if you have already used the former two last year!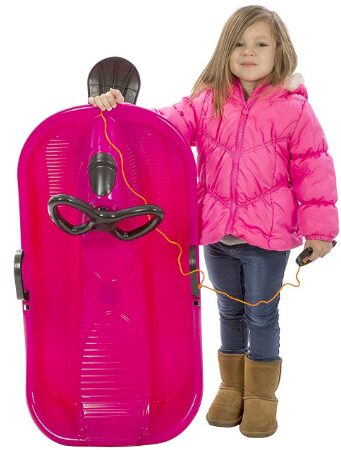 Flying Carpet Sled
The flying carpet sled is as it sounds, fun, fast and super lightweight. The cost of this is
minimal and affordable for everyone, so although it's not as comfortable as some other designs it does offer the basic function of getting from the top to bottom at a fast pace, although without the desirable cushion it can be a little rough at times.
My son Harry liked this sled for its rawness and easy hold. The ability to carry back up to the top again was fun to use and its super lightweight feature is suitable for the kids.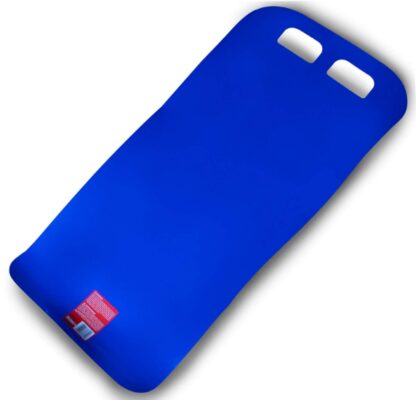 Wham-o Fantom X Sled
This high-performance maneuverability sled is founded on the two pivoting skis which are made from a metal alloy frame and is made for durability and will stand the test of time. This product is not for the faint-hearted and if your kid is a keen beaver and has a thrill-seeking side he will not be disappointed.
This Hi-tech design is made for an aesthetic feel with functionality, so if the kids want to be king of the slope then this product will get them close if not winning the races. With the light-weight mesh and comfort seating then can focus on mastering their technique and skill set. The grip on this product is great and will allow for those high-speed moments to be eased with a tight grip.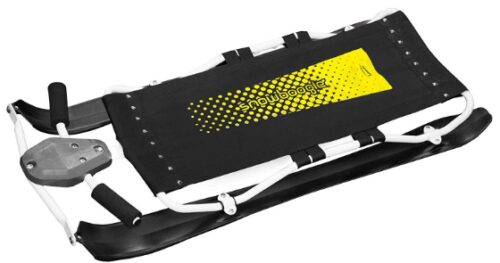 Yukon Charlies Hammer Head Sled
This Powder coated 6063 aluminum frame is a notch up in the sledding world with its polycarbonate front skis and HDPE rear skis can ensure the maneuverability with an uncanny control that allows for keeping control of the slope and any unwanted passer bye's, which might get in the way.
The stainless steel leaf spring steering is awesome and keeps great control, especially with the soft rubber grips, letting control be had like never before. There is even a carry strap to allow for some added safety and will ensure a rest assured self on the slope.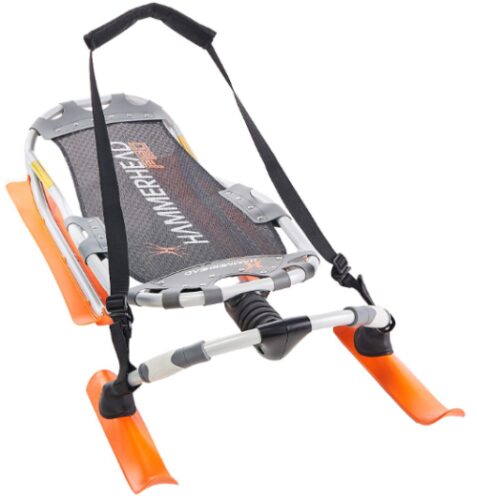 Best Overall Pick
My personal favorite is the Flexible Flyer Steel Runner Sled, 60-inch which reminds me of the good old days, but also its fast-paced design allows for a great day out on the slopes for up to a couple of kids at the same time to enjoy sledding. This sled will last years and unlike others won't make it a sore bum day with its extra features and support. This sled will be one for the whole family and help make Christmas that little bit more special.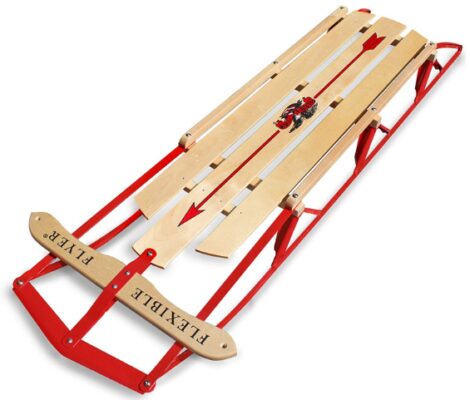 Best Budget Pick
The Flexible Flyer Snow Screamer is best for value for money because its fast accommodates two and looks awesome with its cool design. This can be your kid's introduction to sledding or even just for a fun day out, it's entirely what you make it.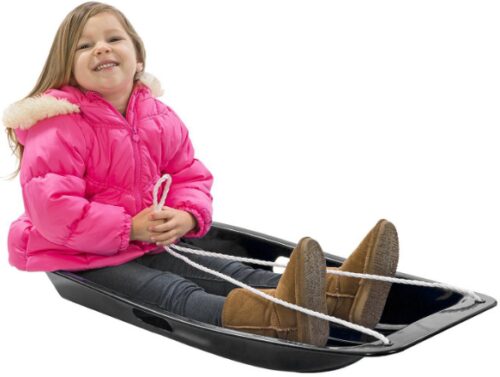 Further Considerations 
So, making sure you choose the right sled is important and getting the right speed vs safety can be crucial, so that your little ones aren't made to feel unsafe or sacred to a point that it ruins their potentially great winter sledding.
Give me one reason not to then? I can think of a few why they should. They get exercise, laugh loads, hang out with friends and socialize, it's an outdoor activity and let's be honest, children indoors these days goes against my natural instincts as a parent, they should be outdoors more.
I remember when my mother and father used to send me outdoors for the day's activities in winter. They would wrap me up warm, make sure I had my gloves and hat on and say "see you at dinner time, don't be late". Times have certainly changed and kids these days seem to only want to play games that exercise their fingers and eyes, which seem sad to me, so help me help you get those kids back to what being a kid is all about.
Basic Skills Needed For Riding A Sled
As we all know that each child develops are their own rate and making sure they have the basics in place is important when riding sleds. This should be guided in alignment with what rolling hill to choose, its back to the speed vs safety idea brought about earlier. The skills required for sleds are grip and a love of the snow, if they haven't got this then it's maybe best you take things slowly and take caution, allowing the development in good time. Kids under 8 I feel need a little more guidance, but my son who is 8 seems not to need any assistance on the sled, but he has grown up a lot this year and is a big kid.