It may have seemed like something you only saw in an episode of the Jetsons a few years ago, but these days robot toys are all the rage for kids. We all know that little boys love to be a bit raucous and make a lot of noise, so if you've got a little rascal in your family, a set of the best fighting robot toys might be just the right gift for them.
Best Choice
Don't Miss
Also Consider
Don't Miss
HEXBUG BattleBots Arena Witch Doctor & Tombstone - Battle Bot with Arena Game Board and Accessories...
Rock 'em Sock 'em Robots Batman v Superman [Amazon Exclusive]
TOMY Battroborg Warrior Battling Robot Arena: Samurai VS Ninja
Air Hogs Smash Bots - Remote Control Battling Robots
Best Choice
HEXBUG BattleBots Arena Witch Doctor & Tombstone - Battle Bot with Arena Game Board and Accessories...
Don't Miss
Rock 'em Sock 'em Robots Batman v Superman [Amazon Exclusive]
Also Consider
TOMY Battroborg Warrior Battling Robot Arena: Samurai VS Ninja
Don't Miss
Air Hogs Smash Bots - Remote Control Battling Robots
Why would you buy fighting toy robots for your kids? Well, younger parents will remember not that long ago when they were kids themselves just how cool and fascinating robots can be.
Robots have been capturing the imagination of youngsters for generations, and playing with them can open young minds to the wonders of technology and science, as inquisitive young minds will want to know how all the different mechanics and electronics work.
Plus, these little fighting figures are great ways for young rascals to let off a bit of steam in a safe and controlled way.  Our family is much happier after we got our mischievous boys a set, as they now spend their time knocking lumps out of the robots instead of each other!
Choosing the right robot fighting toys for your little slugger can be a difficult task, as there are so many different manufacturers making models that seem almost identical. Don't worry though; is here to help you find the best robot warriors out there so your kids can have amazing robot battles.
Considerations when buying Fighting Robots for Kids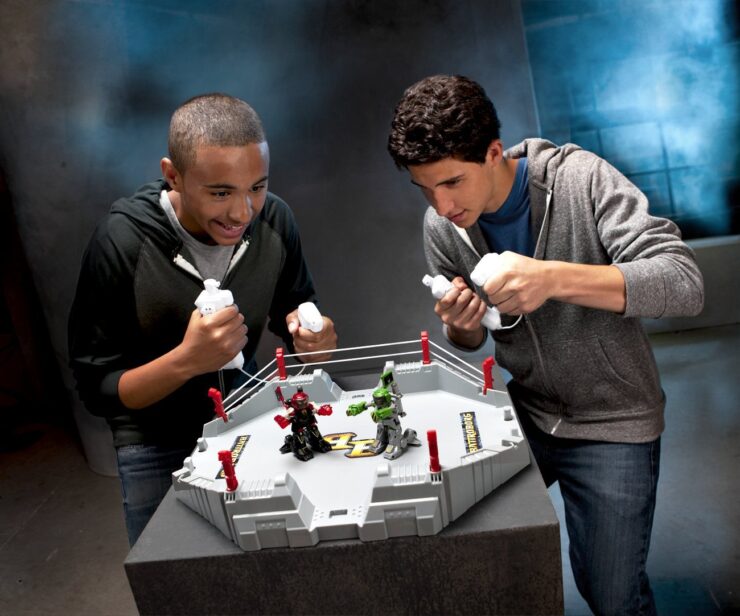 Your Child Interests While your children will most likely enjoy playing with any fighting toy, they'll really appreciate one that ties into their interests and get a lot more use out of it. Whether your son or daughters likes comic books, anime, sci-fi or boxing and martial arts, your sure to be able to find them something that will reflect this interest.
Size Some of these bots are pretty small, whereas some are almost giant robots. So we recommend that you take size into account when choosing your purchase; you don't want to buy something too big for younger children's delicate hands to use. Also, if you are buying a set or something that comes with an arena, make sure you have a flat space that can hold it.
Batteries and Chargers Another key consideration to make when buying fighting toy robots is to see if batteries are required, and, if so, are they included. You can avoid a lot of disappointment comes a delivery day if you order some batteries for robots that do not come with them.
Also, its worth checking whether or not it comes with an inbuilt charger, as that might be another handy purchase to make at the time of buying.  It is also worth remembering that any ~RC fighting robots will probably need two sets of batteries for each one; one for the bot and one for the remote controller.
Durability  As these robots are going to be fighting it out, you should only buy something that you can be sure will last.  That cool new set of battle bots isn't going to be very much fun if it falls apart after a few hours, so we recommend you only buy ones made of durable materials and high quality plastic.
While we're talking about materials, also be sure to check that they are made of child-safe materials, and don't have anything toxic or environmentally unfriendly in them.  Remember, these robots should be trying to hurt each other, not your child's health.
Types of Fighting Robot Toys
Remote Control Fighting Robots  We all know how much kids love playing with almost anything remote controlled, and toys are no exception.  Children will have a seriously amazing time with RC robots, and they'll feel like they are robot pilots from TV shows like Voltron and Power Rangers.   These cool battling bots make a great alternative to a RC tank
Battle Arena Robots  These robots come with their own arena in which to do battle fighting.  Although it means that you'll have to have a nice flat surface, such as a table top, somewhere to but the arena, these toys have the advantage of making sure that action stays in one place and the robots don't get lost or damaged, and your kids will feel like they are champions in a futuristic robot sport.
Boxing Robot Sets Modeled on the pop culture phenomenon that is Rock em Sock em Robots, these cool little sets have stationary battle bots attached to the base, which is usually some kind of ring or cage.  Even though the robots stay in place, don't be fooled into thinking that these are boring.  You'd be surprised at just how crazy these fighting game sets can be!
Top Fighting Robot Brands
Rock Em Sock Em One of the original robot fighting sets, Rock em Sock em robots have been around since the 1960s, and they are still very popular to this day.  They come with a boxing ring and two boxing robots inside.  They punch it out until one of the robots looses its head.
It's a simple concept, but that doesn't stop it from being hilariously fun, and we just love seeing our kids roar with laughter as they play on this.
Hexbug Battlebots Hexbug are a top kids robot manufacturer who make some really cool toys, including some crazy rc spiders.  Their battlebots toys are a great line in fighting arena toys.
Hexbug toys are known for being both very sophisticated and very durable, so older kids will especially love the fun they bring.
Battroborg Made by German toy company Tomy, Battroborgs have some very durable and high quality toys, which range from cool battle arena sets to individual robot control and motion control bots, with lots of different styles from military robots to robo knights and samurais.
The designs of these toys are heavily influenced by Japanese manga and anime, so if your child is a fan of these comics and cartoons, Battroborgs might be the perfect present for them.
The Review: Our Top 12 Picks for Fighting Robot Toys
1. Batman Vs Superman
Your little sluggers couldn't settle the argument over which superhero is cooler until now!  This Rock Em Sock Em robots lite version takes the caped crusader and the man of steel and throws them into an epic boxing match to finally prove who the toughest is.
A great little game for two players, each hero is controlled by a mechanical joystick, with a punch button for each arm, and your kid can move their fighter around the ring with the controls, and they will love hearing the victorious KO sound after landing the final blow.
Unlike the standard Rock em Sock em sets, these robots are not attached to a boxing ring, so they can be stored and used in smaller spaces.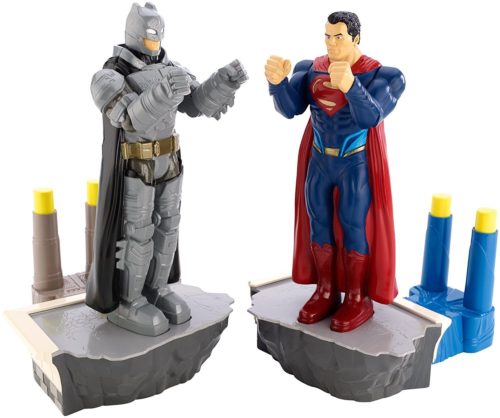 2. Rock Em Sock Em Fighting Robots
Now we have a real classic toy on our hands! The red rocker and the blue bomber have been keeping kids entertained for almost 60 years with their crazy robot boxing antics, and if you have 6 or 7 year old children, they're in for a world of excitement and epic punches with these these great battling robots.
It comes with a cool boxing ring set, and each robot is maneuvered around by a mechanical joystick, and laughter always erupts when one of the robots looses their heads!  These newer versions also have some great electronic sound effects, adding more to the excitement.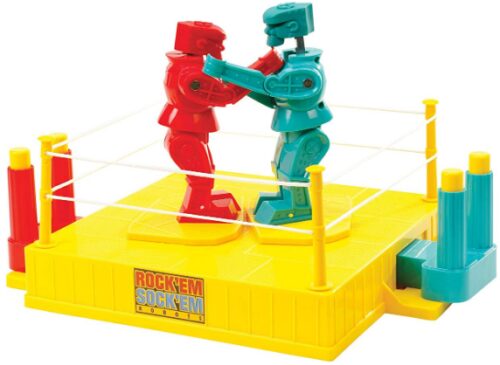 3. Battroborg Battle Arena set
Let you kids take control of the battles of the future with this cool Battroborg robot ninja and samurai.  Let your kid pilot their chosen robot warrior through the arena with these neat katana motion controllers as they wirelessly control the action and try to knock their opponent over.
Little warriors will find it hard to put this awesome set of battling robots down as each figure has interchangeable weapons and armor which can be easily snapped on and off, letting them customize their favorite robo warrior.  Also, these Japanese inspired designs will make this a great gift for anime fans.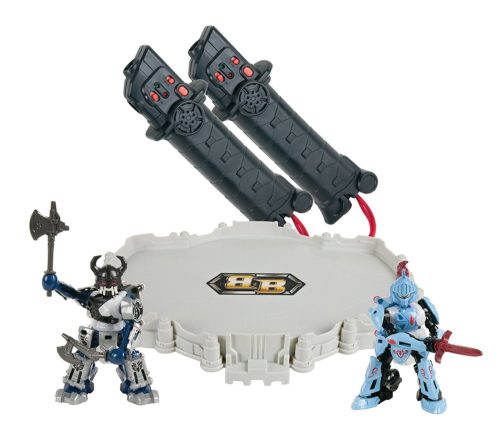 4. Real Steel Battle Set
Bring home the smashing robot action of the hit film Real Steel with this brilliant battle robot kit.  Coming with a cool boxing ring, the robots from the movie get into intense robot boxing matches, just like rock em sock em robots.
This is definitely made for fans of the movie as the ring plays sound effects from the actual film, and it has some cool lighting to give a very cinematic brawl right into your kids room.  Plus, if your kid's favorite robot from the film isn't included in this one, you can buy sets of other Real Steel robots pretty cheap.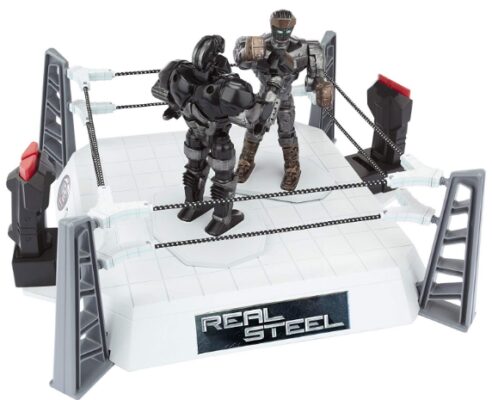 5. Hexbug Battlebot Arena
Modeled after the popular TV show, these sets bring the mechanical roars and spark flying action of the screen right into your kids bedroom, and they'll be enthralled as they compete in deadly matches against their friends or siblings.  Coming with a fold out game board to serve as a war zone and two remote control robot sluggers, this set has everything mini robo pilots will need in order to let of some steam with an epic robot fight.  You can always add to the army by buying more Hexbug Battlebots, so this is great for a kid who wants to start a fighting robot collection.
While any one who has seen the TV show might understandably be concerned with safety, you don't have to worry.  This has been specially tested to make sure it is child safe, and has realistic protective walls around the arena to keep you kids out of harms way.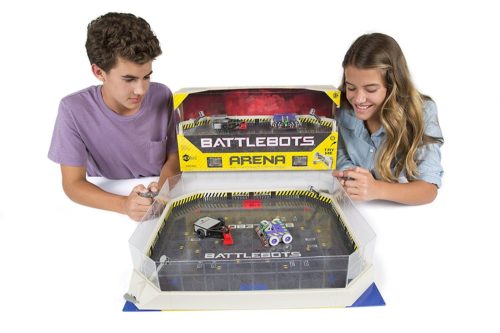 6. Robot Attack RC Battle Robot
Perhaps you're kid is looking for a shooter rather than a puncher.  If so, we've got just the battle bot for him or her! Robot Attack is a cool RC robot, and at almost 15 inches tall, he's almost a giant compared to other toys.  Your little robot fanatic will absolutely love playing ith this, as its chest cannon can be loaded up with its plastic missiles and shot out all through remote control.  By two or more for some epic robot shoot outs, but even one of these is going to make your junior robot pilot very happy.
What's really cool about this RC robot is that it has 10 different functions, from talking to dancing, so its much more than just a fighting robot.  It also comes in both silver and black models.  The only bad thing we can say about this awesome war machine is that it takes a whopping 5 AA batteries to power it.  Definitely a great choice for kids who want an RC battling robot.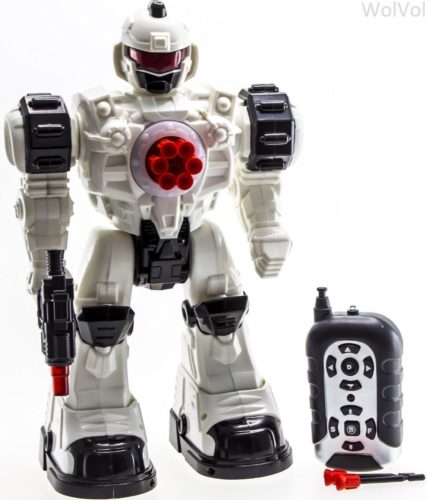 7. Blok Bots Fighting Robot Set
Let your kids play as robot boxing managers with this cool set.  Inside, you'll find two cool robot sluggers that must be built before they can fight, so your children will really enjoy themselves putting the robots together before its time to throw some punches.What's different about these battle bots is that, rather then using remote controls or mechanical switches, each robot has pistons on their arms which the kids activate to make their robot punch.
They might not have all the features and gadgets some of the others have, but they have a really cool chunky feel that is quite different to any other battling robots on the market, and one that more hands on kids will definitely love. And you'll never have to worry about uying batteries for them. Plus, there's lots of other robots in this Mega Bloks line that you can buy if have more than two players desperate to get in on the action.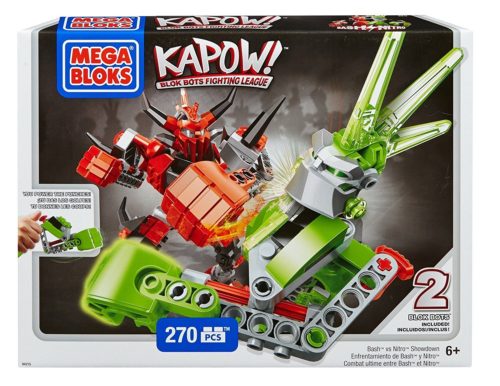 8. Transformers Battlemasters
Just like their name sake, these little battling robots are definitely more than meets the eye.  With these two transformer fighting robots, Optimus Prime and Megatron, your kids will have some great fights proving who the toughest bot in the universe truly is. Each robot comes on a controller with two triggers for punching, and the match is over when one of the robots is knocked off, rock em sock em style!
We also really like the fact that the robots can be detached from the controllers and played with as straight up action figures.  Also, if your children are big transformers fans, you can easily pick up some more battlemaster bots to add to the fun.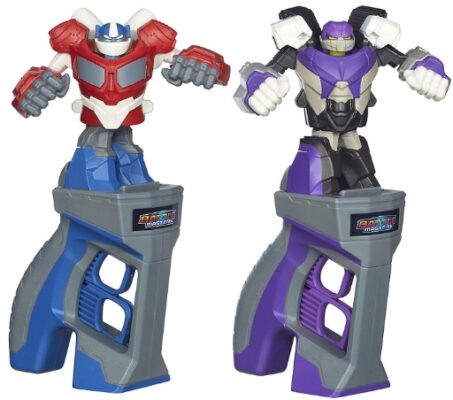 9. Smash Bots RC fighting robots
This set includes 2 awesome battle robots and 4 different weapons that can be used to smash each other up. Kids will really love the way these RC bots spin around in order to whack each other with their deadly weapons.  Your child will really feel the thrill of battle as they crank up the power on the remote to go into turbo spin mode and send their opponent flying!
With all that spinning and punching, you might be concerned that these Smash Bots aren't going to last long.  Luckily, the manufacturers took into account just have crazy these robot fights can get, and these fighting bots are very durable and have been built to withstand a lot of punishment.  The set also comes with a handy battle mat in order to give the robots an nice flat surface to roll around on.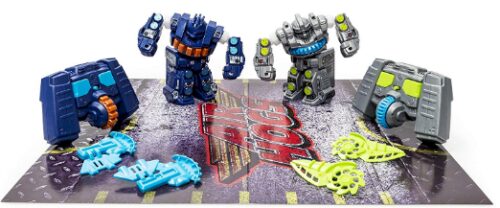 10. Robot Bumper Cars
Perhaps you're looking for something a little less violent?  Well, these cool RC robot bumper cars bring all the fun of this popular fair ground activity right into your child's room. Coming with 2 futuristic bumper cars and remote controllers, the whole family can have great fun with this set by knocking into each other and trying to bump the rider off their car.
This cool little set caught our eye for a few reasons.  For one, its a cool fighting robot set without punching or missiles, giving great fun without being to destructive.  Secondly, it comes with everything you need inside the boss, including batteries.  Finally, its made of Non-Toxic Recyclable ABS Plastic, so you don't have to worry about your kids getting anything toxic from these cool toys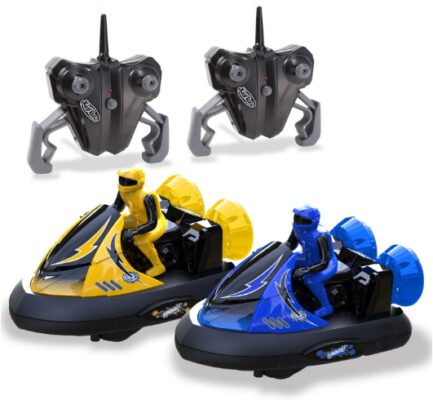 11. Battroborg 3 in 1 Robot Arena
Are your kids ready for some of the most advanced battling robots on the planet?  In this cool arena set, the battroborgs are motion controlled, just like the Nintendo Wii, so your kids actually control them by moving the controllers and make the robots punch by throwing punches of their own.
This makes this awesome battle set not only amazing for having crazy robot boxing matches, but your kids will also be very active while playing with them and get some good exercise too.
We really love how this set is cool super cool for our kids and super.  It comes with a great arena with built in batteries, and even little drones for your kids to train with before a big fight. Motion controllers need batteries though, which are not included.
Its also has an amazing mode where the arena will take control of one robot, allowing it to be played as a single play game if your child wants. All in all, this is one of the most sophisticated and coolest battle sets we've ever seen, and out kids love the motion controls.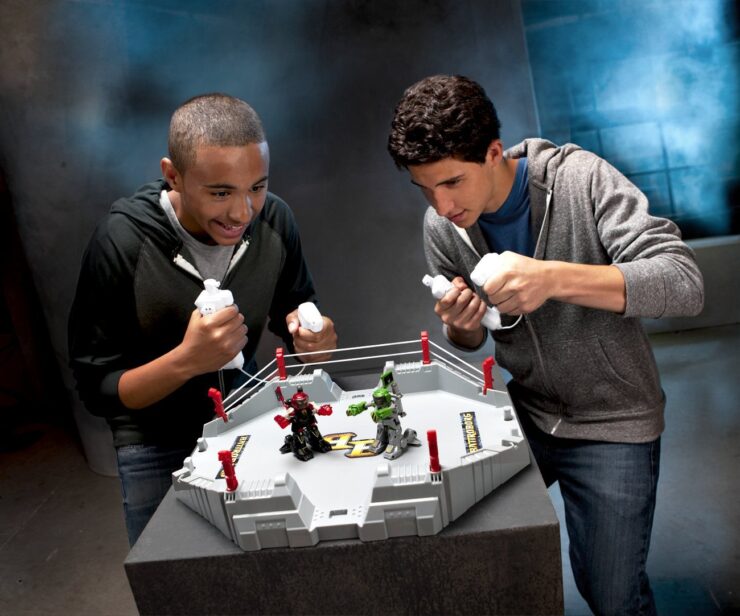 Our Best Overall Fighting Robot
With so many amazing fighting robot toys in our list, it was really hard to knuckle down and choose a favorite.  After much deliberation and discussion at the office, we finally had to go with the Hexbug BattleBots set because of the full robotic fighting experience this set brings.
Its got a crazy arena with moving traps. Its got two awesome RC robot crushers, and you can easily buy more.  Its pretty much got everything your child could ever want in a battling robot set.
Coming from the Hexbug company, we had high expectations for this set, and it did indeed meet them.  It is well made, well designed, durable, and very child safe. This will make a brilliant gift for fans of the TV show or kids into robots in general, and they will just love getting all their friends around for a grand robot battle.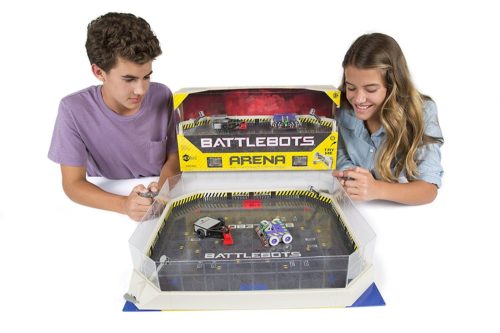 Our Budget Pick
For those on a bit of a budget, we recommend you pick up the Batman Vs Superman Rock em Sock em Robots.  As we've said before, these mechanical robot sluggers might not have the fancy controls, sound effects or flashing lights of some of their more sophisticated rivals, but Rock EM Sock Em Robot toys have been a mainstay in kids toys for over 40 years due to the fact that they're just incredible amounts of fun, plain and simple.
If you get your kids one of these, you can be confident that your getting a true classic toy for them that will keep them entertained for a long time.
Another really cool thing about this particular model is that it doesn't have a ring or an arena, so not only is it much easier to store, it is also fine for your kids to take them on long trips in the car or on holiday.  That is, if you don't mind long trips in the car with superhero battles all the way.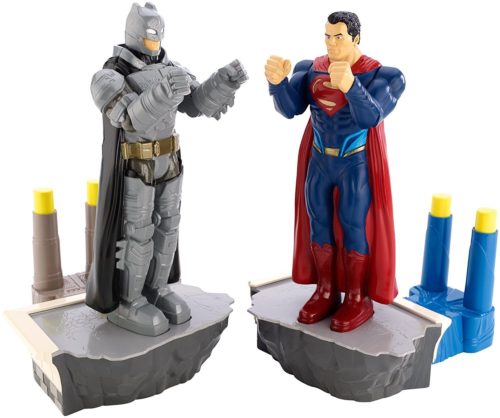 Here are some other great picks that you should check out:
Dulcii RC Battle Boxing Robot/Toys, Remote Control 2.4G Humanoid Fighting Robot, Two Control...
【Boxing Fight Robots】2.4G with two control joysticks. Real games more fun
【Real Time Control No Delay】Using the remote control technology, movement signal can directly transfer to robot body joint. No disappointing delay
【Boxing Movement】One of the biggest failure of other boxing fight Robots is that they can not move and attack viciously.Unlike their boring...
【A Real Game with a Winner】5 Rounds for one champion. When the head o robot is hit,there will be sound prompts. And LED lights behind the head...
【Black fighters / White fighters are available】Package Includes: 1 Black Robot + 1 White Robot. Each Robot Size: 2.76 x 2.56 x 3.74inch
KO Bot - 2 Player RC Boxing Robots Fight To Win! Remote Control Battle Robot Toys For Kids With Cool...
ROBOTS NEED TO FIGHT TO SURVIVE: The RC fighting robots punch each other; the one who complete 5 hits first win a round! Real time infrared wireless...
A THRILLING GIFT FOR ALL OCCASIONS: The package includes 2 battle robots, 2 banners, 2 wireless remote controller sets, 2 USB cords, and an...
MASTER YOUR BOXING ROBOTIC PARTNER TO WIN THE MATCH: Follow the instruction manual to pair each gesture sense controller to its electric robot one at...
EXCITING LIGHT & SOUND EFFECTS: Green light for "Ready To Fight"! The battling robot's head is the hitting target; when it is hit, the light indicator...
3 WAYS TO WIN: Except hitting 5 time to K.O your opponent, there are 2 other ways to win; knock down & out of bounds. Punch your opponent so that...
Cradream RC Robot for Boy Smart Robots Toys ,Programmable Remote Control Robot,Boys Girls Birthday...
【Remote and Hand Gestures Control Robot】You can use the remote or do hand gestures to control this smart robot,it can move forward,backward,turn...
【Programmable actions】This robot toy can be programmed by the remote, so you can record up to 50 moves that this remote control robot can playback...
【Singing and Dancing】The robot is very entertaining as it sings a multitude of songs, dances with its own music and talk with a charming accent....
【Rechargeable Robot Toy】The robot itself charges via USB instead of using batteries, charging time is about one hour, which can offer 1.5-3 hours...
【Educational Functions】: The most acceptable way for kids to develop their creativity and imaginations.
Sale
Ninja Bots 2-Pack, Hilarious Battling Robots (Red/Black) with 6 Weapons and Over 100 Sounds and...
HILARIOUS BATTLING ROBOTS: This set includes 2 Ninja Bots – Red Dragon and Black Tiger! Each Ninja Bot's silly personality comes to life with its...
ARM: Before battle, arm each Ninja Bot! Choose from 6 weapons – boot on a rope, spatula, hammer and more! With weapon recognition, they respond with...
TRAIN: Using simple hand gestures, it's easy to train your Ninja Bots for 1 or 2-player battles! Equipped with IR sensors, Ninja Bots respond to...
BATTLE AND LEVEL UP: As you train and win battles, your Ninja Bots become better fighters! With 4 belt levels, start at white and advance to black! As...
Includes: 2 Ninja Bots, 6 Weapons, 2 Battle Shields, 2 Training Targets, 1 Quick Start Guide, 1 Instruction Sheet
Sale
Think Gizmos RoboShooter Fast Firing Foam Disc RC Robot Toy for Kids Aged 5,6,7,8,9 - Remote Control...
VOICE RECORDING: Looking for that gift for kids with a WOW factor? This fantastic futuristic remote control robot toy for boys and girls is action...
SOFT FOAM DISK FIRING: The awesome Remote Control Dancing Robot - Robo Shooter - will have all the family on the run as foam discs are fired out at...
HOURS OF REMOTE CONTROL FUN: Incredibly easy to control with the included 2.4gHz Remote Control which means a remote is mapped to one robot. Buy...
MULTI-LANGUAGE: Unlike other toy robots for kids this model speaks in 5 different languages: English, French, German, Italian and Spanish. Also comes...
READY TO GO: All required parts for this cool robot toy are provided in the Think Gizmos box, this included the robot, remote and 6xAA Batteries...