Everyone loves that are both cuddly, soft and full of life which is why Mickey and Minnie Mouse toys are great toy gifts for kids aged 2 to 3 years old. Finding a Disney Character toy that your kids loves is important, usually easy because you can then follow up with kids Disney programs and TV shows that are interactive for the kids to enjoy too.
Disney is a favorite past-time of mine as I am sure it is yours. There are so many different Disney characters that its hard not to either have a favorite toy or movie.
Aside from mickey mouse being a great character that has been around for a very long time, and toy primarily being an item of fun for kids, you can equally take advantage of the love your child has for this character by using toys modeled after their favorite characters to teach them some other important things.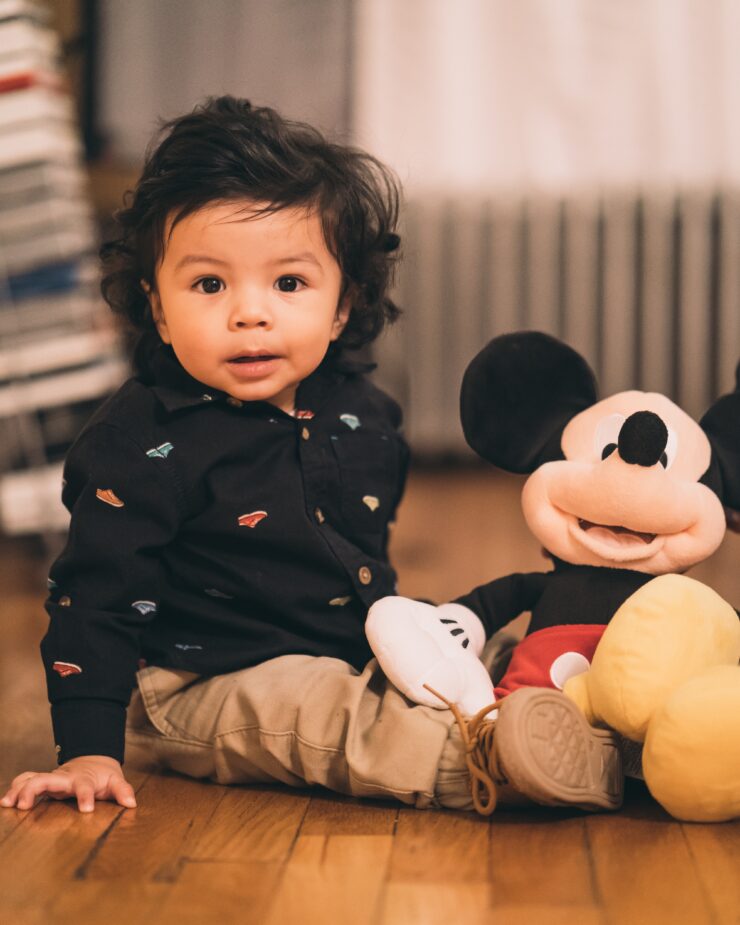 More often than not, it has been noted that children tend to make their first career choice based on the type of shows and toys they're exposed to, earlier in life. It's like killing two birds with a stone. Getting them to have fun with the toys, and also passing a subtle lesson on self-confidence, patience, love, amidst several other things that might help them in making an informed decision in the nearest future.
Considering that kids brain capacity tend to grow at an exponential rate during the first five years of life, with that in mind, the toys reviewed in this article has been carefully selected to achieve the goals of making your child more active, improve their interactive skills and equally help in developing an interest in popular hobbies that might positively impact their thinking ability.
21 Mickey Mouse Toys and Games for Kids Aged 2 to 3 Years Old
1. Disney Mickey Mouse Plush Toy
This is arguably the first item on any list of toys for kids between the ages of two and three that have been to Disneyland or seen the show on TV. It's like buying the character for them, they start to see it as their friend and ultimately care for it every day like a sibling.
The benefit of this plush toy is in two folds; it teaches the child about love, compassion, and attention, and also indirectly improve their communication skills as they try to communicate with their "friend" all day.
The plush toy is stuffed with quality foam materials, making it huggable for kids. As expected, the foam is able to rise back to its normal state after compression. Washing is another factor that has been carefully considered in selecting this product. A good plush toy must be able to withstand the rigor of washing machine and dryer in delicate settings without losing its form.
If you're considering getting your child or grandchild a stuffed toy, and they happen to like mickey mouse as a character, getting them one of this would most definitely mean a lot to them. When making a purchase decision, the size of the plush toy matters a lot. It is best to opt for a size that correlates to the child's age. Size 17 is considered perfect for children between the ages of 2 and 3.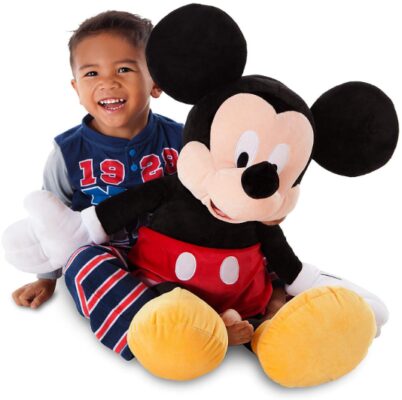 2. Fisher-Price Disney Mickey Mouse Fly N Slide Clubhouse
When children play, they love to act out their favorite scenes all on their own. This is exactly what the slide clubhouse does. It brings one of their favorite scenes from the show to life. It comes with a tunnel and a door that allow the passage of the character from the top through the green tunnel. The clubhouse is where Mickey, Minnie, and his other friends hang out in the show.
This toy is designed to mimic the clubhouse from the show, and it comes with some of the basic items that can be found in the show's clubhouse. It has two major characters in their miniature form; Mickey and Minnie Mouse baby toys, Table, and stools, as well as a telescope and see-saw. It is designed to be portable, and as such can be moved back and forth. This becomes handy on days when you might want to go out the park with your child.
The toy generally promotes the importance of friendship, support, and communication. Personally, I wish the toy had the capability of singing some of the popular clubhouse singalongs, and maybe an additional miniature characters from the show.
Aside from that, it's a good toy, and your child would not mind sharing the fun and excitement with his or her friends as they direct the miniature character from one part of the clubhouse to the other; creating their story just like in the regular show.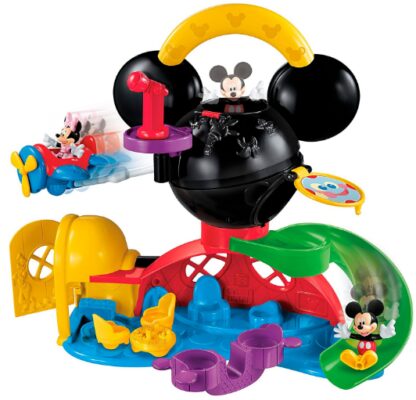 3. Disney First Act Mickey Mouse Mini Guitar Ukulele
Children with an aptitude for the art of music would appreciate this toy the most. It will not only serve as a tool of fun to them but also as an avenue to learn about what interests them the most. If as a parent, you play guitar, it's no doubt that your child will want one for themselves when they see you play as well.
Aside from that, if you noticed your child has an aptitude for music, then getting them the mini guitar ukulele is a win-win for both parties.
It should be noted that this item is a toy, it does not work like the actual guitar, although it can be tuned slightly to adjust the sound. It's a very basic toy. However, it does, imbibe the love of guitar in the mind of your child, and as they grow, you might have to get them the actual guitar for proper training. This toy will at the very basic put them in posture and keep them aware of the possibility of being an excellent guitarist in the future.
The graphics on the body of the guitar is that of Mickey Mouse, making it more appealing to children. They simply want to play all the time, because it has the picture of their favorite character on it, and also the toy makes some noise. If you're used to children, then you can relate to how much of a noise maker they are.
The toy is generally praised for being able to withstand the expected abuse from toddlers. As a benefit, you don't have to worry about buying a new mickey mouse ukulele every now and then because it doesn't get spoilt easily.
It's a great toy item for children of age 2 and above.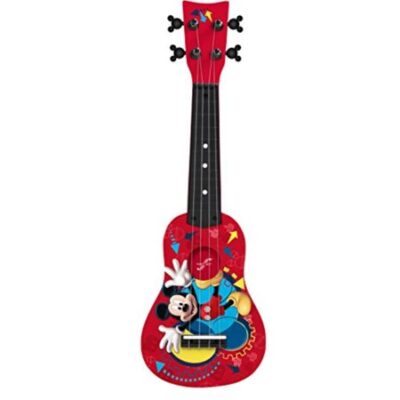 4. Crayola CW Overwrap Mickey Mouse Toy
Everybody likes coloring, and children are not exempted from this as well. The Crayola overwrap is filled with drawings from the popular Mickey mouse clubhouse. It comes with a specially made marker for coloring this drawing. Because coloring is a fun activity to do, children are always excited to pick the book up and get the pages filled up with colors.
One spectacular feature of the Crayola overwrap is that; the marker does not stain other materials; such as the cloth and furniture. This is a good thing, in that it eliminates the fear of kids staining everywhere with the ink from the marker. The product comes in 18pages of drawing from the clubhouse and 5 coloring markers of different colors.
Some of the obvious benefits of this toy include color learning, precision, creativity, and imagination, which are all very vital to children mental growth.
If your child is a huge mickey mouse fan, a good surprise is to buy him one of this, and see as he brings the character to life with the markers, exactly like they appear on the show.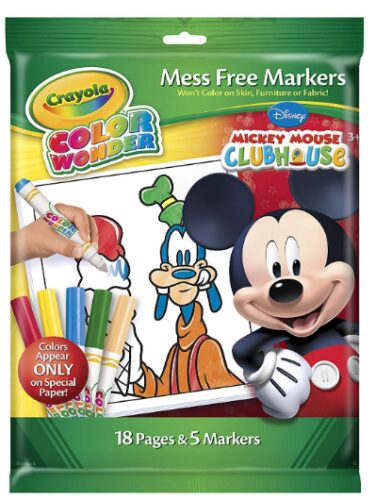 5.  Clubhouse Mickey & Minnie Birthday Parade
Lego is a very common toy, it has been credited with improving the ability of kids to think and make something out of their imagination. It typically helps children to construct something meaningful out of different tiles. Giving them the mental confidence of building something from the ground up with the Mickey Mouse and Friends Club characters.
Now imagine the enormous fun kids will get from building scenes from their favorite show. This lego is built with various elements from the mickey mouse clubhouse. And it also comes with Mickey and Minnie miniature, making it a perfect piece for mickey mouse lovers.
It comes in 24 different pieces that could be arranged as birthday parade train. A side benefit is that it connects with other Duplo products. So If your child has a Duplo train, they can easily combine the tiles from this Disney character to make a longer one.
The pieces are strong and sturdy, hence it is deemed durable. A good time to buy this as a gift for your child will be during their birthday. If you're planning a Mickey mouse themed birthday, this should definitely be on the top of the list of things to get.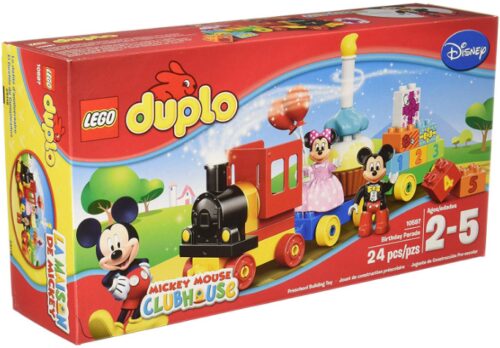 6. Mickey Mouse & Friends Magnet Toy
This is a great toy set for the refrigerator. The product comes with two wooden boxes, each filled with 52 alphabet letters and various mickey mouse characters. Kids can tell a story with the items in the boxes. Once your child starts learning the English alphabet, the can practice their skills, form words and get creative with the 52 alphabets that come in one of the boxes.
They can equally get creative and create a storyline with their favorite characters from mickey mouse. This toy is considered ideal for children between the ages of 2 and 3 as it contains small letters and characters that younger kids may mistakenly swallow.
A fun way to get the best out of this product is to encourage kids to pass their message to the whole family by using the alphabets and characters on the refrigerator door. Once they're done playing with it, you can easily pack them in the wooden box and store it for future use.
Considering that kids are notorious for misplacing things, there are tendencies of the alphabet getting lost as time goes on, sadly there are no replacements for missing alphabets. This is one of the mickey mouse toys for 2 year olds that help kids learn while they play games.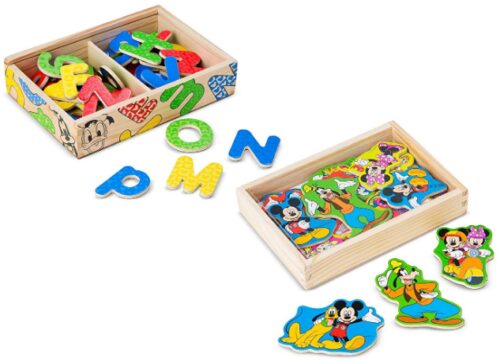 7. Mickey Mouse Ride On Plane Light & Sound Activity
Being on a ride with captain Mickey is something most kids would consider very exciting. This is exactly what the activity ride-on toy is all about. It comes with varieties of Mickey Mouse march songs. The propeller also spins once the song begins to play, making it a delightful experience for kids.
Mickey mouse miniature in the front moves in rhythm to the song and sound of the plane, making it as lively as it could get. The toy is ideal for kids below the age of 4, as it is built with younger kids in mind, it might not be able to withstand the weight of older kids.
If you have a child that happens to be a big fan of mickey mouse, and they seem to be interested in planes or automobile in general, this is an ideal toy to get them. It does not only get them active, it also mimics the idea of being a co-captain with mickey mouse.
It's a very colorful toy that appeals to most kids.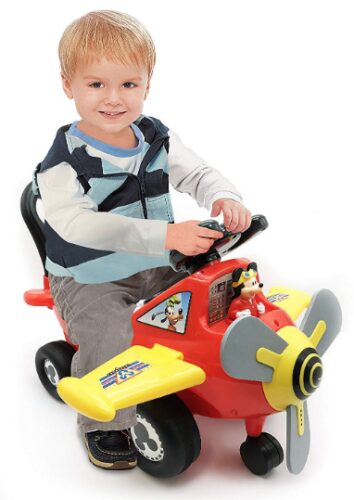 8. Mickey Mouse Wooden Tool Kit
This toy wooden tool box mimics a regular adult toolbox, it has a hammer, nuts, screwdriver, nail as well as different logs, for the child to play with. They can construct various items from the piece that comes with the box, thus engaging their creativity and imagination at the same time.
Creativity can be imbibed in a child's early days. This can be easily achieved with a toy like this. The kit is made of fifteen pieces, all of which can be joined together to make different items. If you have a child with a great affinity for tools and he is equally a fan of mickey mouse, getting this wooden tool kit for them is a great way to stimulate their passion towards the use of tools.
They're designed to be very sturdy to withstand abuse from kids over time. It is equally very colorful and as such, it would always get the kid's attention all day. The clubhouse design on the box makes it more attractive to fans of the show.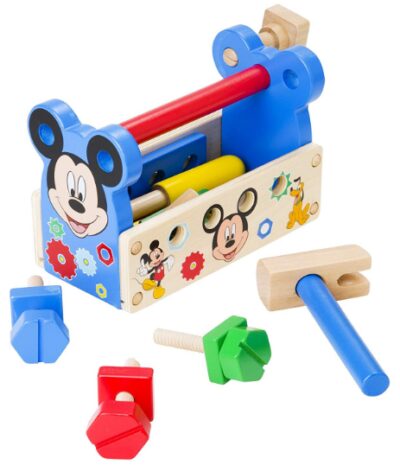 9.  Disney Baby Mickey Mouse On the Go Pull Down Activity Toy
This is suitable for kids below 3 years of age. Because they would most probably chew and do all sort of things with it, it is important to note that this toy is made of BPA free material, so it does not pose any health risk for your child.
The major component is the mickey mouse character, which most kids will consider a buddy once they get attached to having it around. The toy does not lose it's plush feelings or colors when subjected to the rigors of washing machines. It's equally durable and provides an avenue for toddlers to learn about colors and shapes at a very young stage.
This colorful plush toy is designed with consideration for teething babies in mind. The get to chew and bite the teethers that come with the package and also play around with the chimes. It is perfectly portable and can be attached to other kid's items such as cribs and strollers.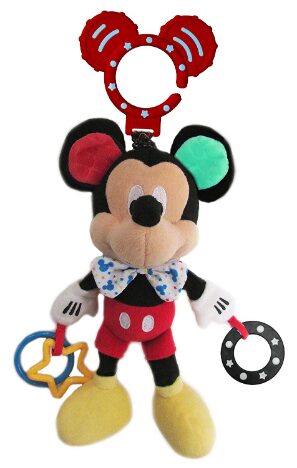 10. Disney Baby Shoot and Store
Professional basketball players, as well as surgeons, are few examples of people that depend on accurate eyes and hands coordination on daily basis. This skills can be developed at an early stage of life, and this is exactly why I have added this toy to this list. It mimics a basketball setting where you have to shoot floatable balls into the net.
It's suitable for bathroom bath time as suggested by the manufacturer. You don't have to worry about drilling a hole in the wall to have the net fixed, as it has a suction that allows it to stick to the wall easily. This Walt Disney Mickey Mouse comes with three floatable walls and a net with a thick rim at the top.
A typical play session with the toy will be before or after bath time, where you have the child target the net with the floatable balls at a very close range. The net also serves as storage for the balls when they're not in use.
Overall, it helps in developing the coordination of hands and eye in toddlers, and could also serve as encouragement in getting them to look forward to each bathing session.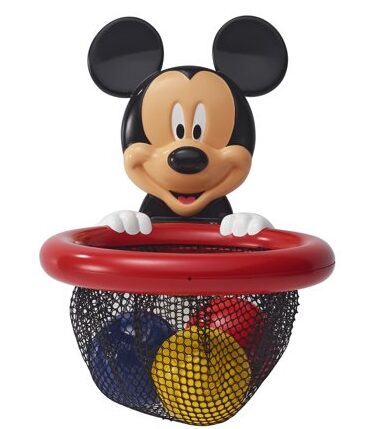 11. Disney Baby Mickey Mouse Mini Jingler Plush Toy
This is one of the mickey mouse jingler collection, the particular piece is perfect for younger kids, in that it produces smooth jingle sound from the belly. This sound can be of great benefit during bedtime.
It is of small dimension as compared to other members of the collection, but this size makes it very portable and equally easy to hold and maneuver for kids. The portability makes it easy to carry along in cars, attach to cribs and strollers, or just about anything you have on the go.
Made of plush material, making it a good companions for kids as they can sleep with it, hug it and bite on it as they play around. Because of the jingling songs mechanics embedded in the tummy, it is not advisable to wash in machines to avoid damaging the sound producing part.
Older kids can easily stuff this in their pocket, and have it around them on the go as well. Plush toys are known to give children a sense of safety, having the mindset that they're not alone. The size of the product is 6'5. It's important to have this in mind when making your purchase if you're interested in something bigger, then you would have to check other items in the collection. This is a mickey mouse toys for 1 year olds and above who love a cuddle with a soft toy.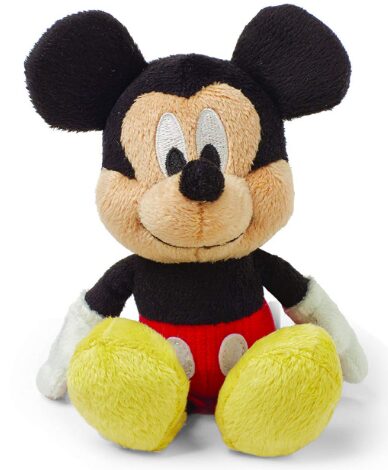 12. Fisher-Price Disney's Mickey's Fire Truck
Groom your little fireman kid with this toy. It comes with a mickey mouse miniature in a fireman costume. Together with the miniature, your child can embark on a fun mission of saving the day with his fire truck. This toy is a good way of teaching kids about fire and equally getting them to understand basic things about safety.
For the fun part, it comes with various sounds from mickey mouse, as well as a siren sound that automatically comes up once the truck is moving. The product comes with a 2v factory installed battery that could last for months before you have to change it.
One of the downsides of this toy is that the sound does not have a switch button, and it will keep making the siren sound whenever it is in motion unless you remove the battery. Aside from that, it helps your child to engage his or her imagination in coming up with various scenarios that need an intervention of a fireman. This can greatly help their thinking ability and creativity in resolving issues when there is an impending danger.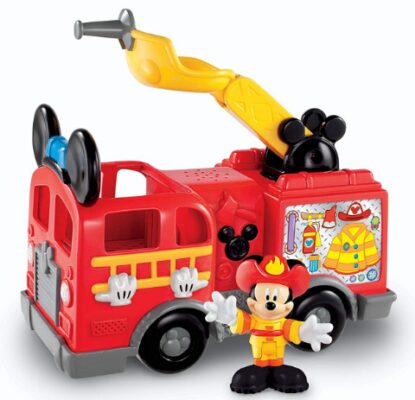 13. Mickey Mouse Club House Happy Hauler Ride On
This is the second ride-on featured on the list, the first one cannot bear much weight as compared to this, it is also bigger and more comfy for the targeted age. This is designed to be used by kids up to six (6) years of age, so it's sturdier. It has the mickey mouse signature name inscribed on the front, and a picture of the favorite character on the side of the ride on.
The tire is also covered by graphics the depicts the famous character shadow in yellow and black color. Just like the first ride-on, the happy hauler has an inbuilt sound that easily comes to live at the push of a button. In contrast to the first recommended ride on, install this product is a little bit different and takes more time, but it does worth it in the end.
Another awesome feature is the ability to open up the seat in other to access a mini storage located underneath. Toddlers can keep their stuff under the seat while they have fun around the house on the ride on. It can also be converted into a wagon, when the seat is turned in the opposite direction of 180 degrees, thus allowing kids to put their plush toys in the wagon trunk and drag them along.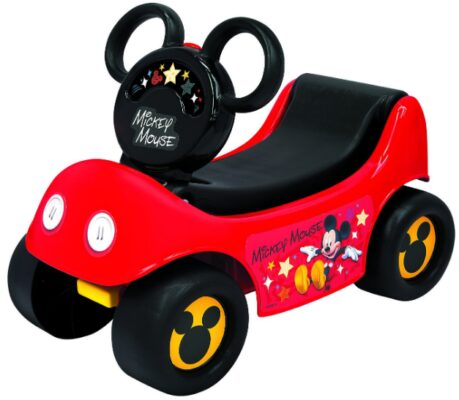 14.  Mickey Mouse Guitar
Maneuvering a guitar and making a sound out of it takes a lot of focus, coordination and proper use of the fingers. This is exactly what this toy would help your child develop over time as they have fun with it. It comes with a button that produces sound when pressed. Children can also play alongside the music by toying around with the strings attached.
It's a basic guitar and the functionality portrays that, in that, you cannot adjust the tone or do much being a basic guitar toy. But it does help in teaching kids about hands and finger coordination. Being an electronic toy, it requires a battery to function properly. This battery is included in the package, but there might be a need for replacement as time goes on. The toy comes in flashy colors that easily appeal to kids.
On the negative side, most buyers consider the toy a bit smaller than expected and also not pleased that it plays just one song. It would have been good if each button could play different music. If your child is familiar with the hot dog song from Mickey's clubhouse, then your child would fall in love with the toy almost immediately.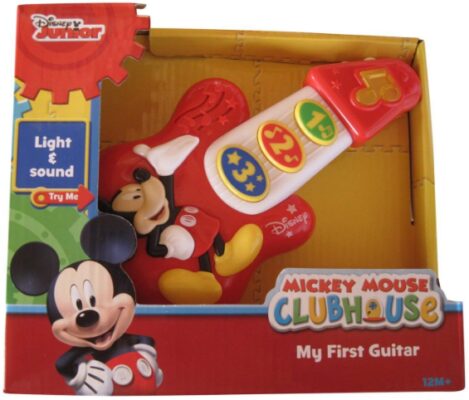 15. Playhut Mickey Mouse Train
The playhut mickey mouse train is a play structure tunnel that can be detached into three different pieces. Each part is connected such that kids can crawl from one part to the other.
This toy is best enjoyed with friends thus promoting the necessity of friendship. The train has various mickey mouse characters painted on the exterior, giving kids the idea that they're enjoying the train ride with the characters.
It comes with small balls for kids to play with as they travel through the tunnel, this toy encourages activity and thus promote good health in kids.
Another good thing about the toy is that it is easily foldable when not in use, so it does not occupy excessive space. On the negative end though, the tunnel does not have floor cover, which means it cannot be used outdoors without the kid's cloth getting stained with dirt.
Since it is rarely used indoor, there would be no need to wash from time to time. In summary, it allows kids to get involved in outdoor activities of playing seek, while still indoor, this is beneficial especially in seasons when playing outdoor might be unsafe.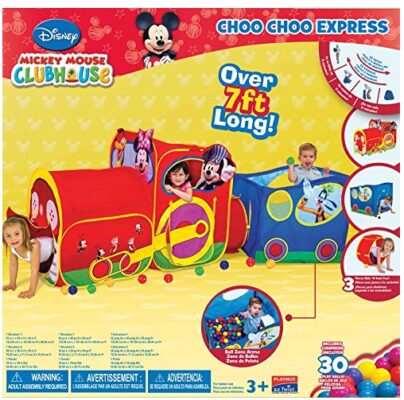 16.  Jada Toys Disney Mickey Mouse RC Vehicle
Even adults find RC vehicle fascinating. Imagine how excited your child will be to have an R/C vehicle themed alongside his favorite show character. This toy has mickey mouse all over it, from the miniature sitting by the driver side to the remove having an antenna that ends with the shape of mickey mouse at the tip. The flat part of the remote also has the mickey mouse sticker in-between the control buttons.
The mental skills that this toy helps in building ranges from hands, eyes coordination to, and an improved sense of direction. The use of a remote in controlling the toy vehicle would give room to learn about technology and basic technology works.
The RC vehicle runs smoothly on rough, tiled and carpet floor, so kids can to some extent enjoy forward, reverse as well as a spinning movement both indoor and outdoor. The toy requires a battery to operate smoothly, but the toy does not come with a battery, you would have to buy the appropriate battery alongside. Another feature that could have made the toy more appealing is a sound, but since it runs on battery, having a sound installed would increase the battery consumption.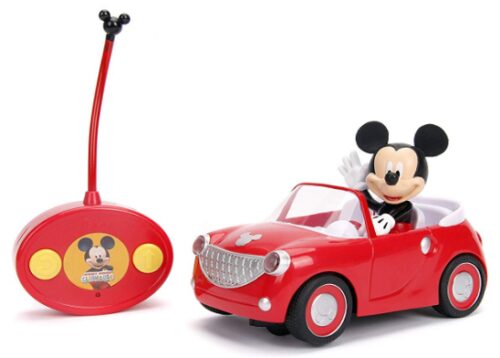 17. Play-Doh Mickey Mouse Set
This toy is unique in the sense that it inspires creativity. With play-doh, scissors, a roller and mickey mouse stamp, the list of what can be made is almost endless. The creativity, and dexterity of skills required to make something out of this material make it different from other toys reviewed so far.
The scissors that comes with the toy set is not sharp and can only cut the play-doh and nothing else, making it safe for the kid. They also get to imprint the face of their favorite character on the play-doh. A major drawback with this clubhouse set is that it does not come with enough play-doh, although you can order for additional play-doh on Amazon, most of which come in different colors.
The toy is considered ideal for kids of three years and beyond.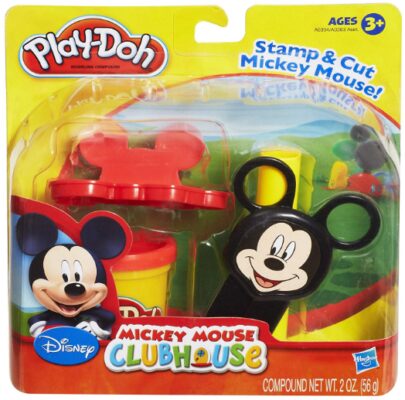 18. Melissa & Doug Disney Wooden Shape Sorting Clock
This toy is highly educative. Designed to be a toy for fun, but in the real sense of it, it has numerous educational benefits. The toy is designed such that the first two numbers of the roman numerals are arranged in a clockwise manner. The number is imprinted on different shapes and colors. The obvious benefits include; learning about shapes, color as well as the Roman numeral.
Aside from that, older kids can also learn about the time in seconds, hours and minutes from manipulation of mickey hands placed in the center of the sorting clock. To teach time with this toy, all you have to do is sure them how to turn the hands and tell them what time it is as you move from one end of the clock to the other.
You can also use the toy to teach kids about shapes as the sorting clock has twelve different shapes; ranging from square to rectangle, diamond, circle etc… They also come in varying colors making it a helpful tool for learning.
The toy is entirely made of wood, thus preventing your child from possible exposure to BPA.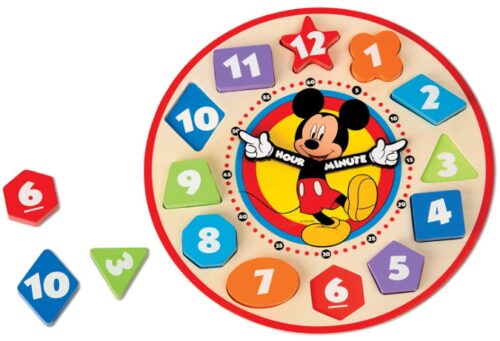 19. Mickey Mouse Microphone
This is for toddlers that love music and mickey mouse at the same time. The microphone is designed such that it encourages kids to single along to the common mickey clubhouse song such as the hot dogs show song.
Operating the toy for kids require extreme attention to details, this will boost their concentration and learning skills as they spend time figuring out the microphone features. The microphone requires 3AAA battery, and wouldn't last long unless you buy a supplementary battery when making your purchase.
The microphone comes with varying sound effects (up to nine) that automatically tune the user's voice to an option selected in preference based on the button pressed by the user.
This microphone is a good way to encourage kids in performing their favorite show songs. It does not only build their self-confidence, it can help with the development of vocal cord with constant practice, over time.
Some parents complained that the microphone does not amplify the sound enough, if you're interested in something very loud, this might not be the product of choice, but when you consider the amount of mickey mouse songs preinstalled in the toy, it's a lot to pass on. It comes in varying colors and the shape is designed to mimic a typical microphone.

20. Paw Patrol Erasable Activity Table Set with 3 Markers
This is a multi-purpose table set with attractive colors themed towards the mickey mouse TV show. The set comes with two chairs with great stability and a table.
The table set can be used both for indoor and outdoor activities; such as painting, drawing, eating and writing. The toy set is best enjoyed with friends. Most often, it can be used as a play arena for mini toying activities, such as lego arrangement and mickey mouse train.
Aside from the table and chairs, it also comes with three different markers that can be used in writing on the table set. This marker does not leave permanent inks on the item and could be cleaned once the child is done using the table. Long-term users can only say good things about the durability and sturdiness of the product.
If you have a kid and they have a spot for drawing or painting, getting them a matching table set with their favorite character on it will go a long way in encouraging them. The vinyl top from which it is made makes it extremely easy to clean.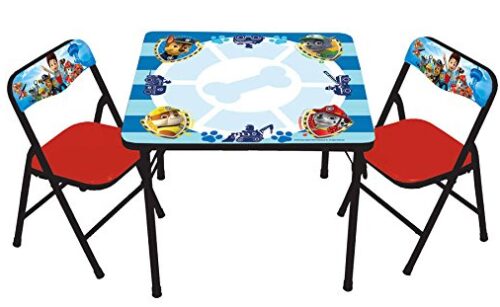 21. Disney Junior – Mickey Mouse Clubhouse – Water Swimmer
If your kids are too young to swim, or you're worried about putting them in a pool, for now, that doesn't stop you from getting them one of these water swimmers. Basically, it's a miniature of Mickey mouse with moving arms in the water. This toy can be used in encouraging kids during bath time. They can also come handy during regular outdoor water sports activity.
It should be noted that they're small in size, and as such, they're ideal for younger kids. Some parents complained about the movement of the toy in water, being limited by foam. The good thing is that you don't have to spend on battery as it does not use one. All you have to do is wind it up and let it float on water.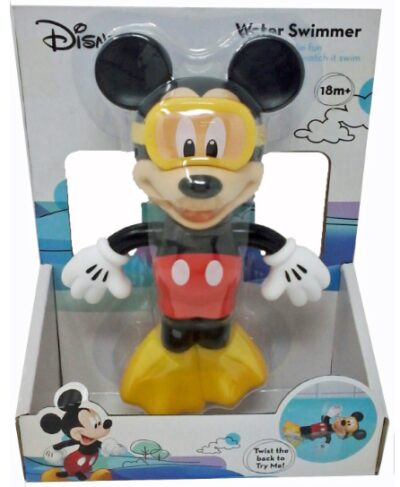 Considerations When Selecting Mickey Mouse Toys For Toddlers
Purpose: Toys are considered to be an instrument of fun for kids, and in most cases this is true. But modern toys are made with some other purpose in mind. A good toy must serve two major purposes. It must keep the child busy and entertained, it must also help them in developing one or two different skills.
These skills can be as simple as motor skills, hands, and eye coordination, or passion development, especially in kids with an aptitude for a certain type of activity.
Materials: Aside from the fun part, the toy must be made of materials that are considered safe for kids. Kids are known to bite and chew on almost anything. Since they will be having this toy around them most of the time, it's important to ensure that the toy is made of BPA free materials. I've considered this in selecting the items reviewed in this article.
Durability: Toddlers are notorious for abusing toys by throwing it back and forth, flinging it away and doing all sort of stuff no them. No matter how much they like the toy, this will happen every once in a while. It's important to get toys that can withstand this rigor, lest you end up buying a new piece of to every now and then.
Age: The targeted age in is from three years and below. While some of the toys listed can be used by older kids, the idea age is three years or younger.
Cost: Spending excessively on toy isn't advisable, especially when kids are too young to understand what expensive means. Toys are meant to be a playing instrument, sooner than later, it would eventually be abused by the child. So I have carefully scouted for good toys within a reasonable price.
Best Overall Mickey Mouse Toy
Of all the toys listed above, I have considered the ones with the most benefit in making a decision on the best overall mickey mouse toy for 2 and 3 years old kids.
I consider Disney Mickey Mouse Clubhouse Mickey & Minnie Birthday Parade best overall, in that it encourages the child to engage their creative mind, to build something from available resources, learn about colors, and most importantly, they learn about team building and importance of friendship as they get the most fun out of the experience when they build with their friend.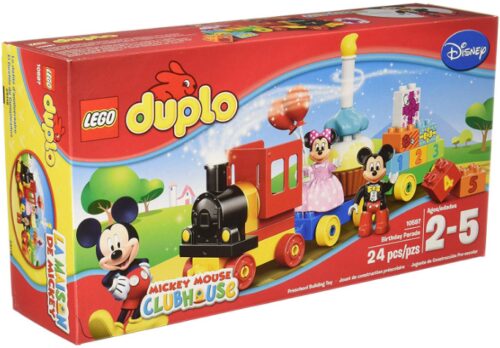 Best Budget Pick
Cost is still an important factor, even though all the toys listed in this article are reasonably priced, the best pick when you're trying to spend within budget is Disney Mickey Mouse Plush Toy. This toy literally grows with the kid. They enjoy it's companion as a buddy once they get used to having it around, it also helps in developing their sense of care and compassion as they tend to see the toy as a friend and would treat them accordingly. Aside from that, the plush toy also gives the toddler a sense of safety and security. For the price tag, it's a great buy.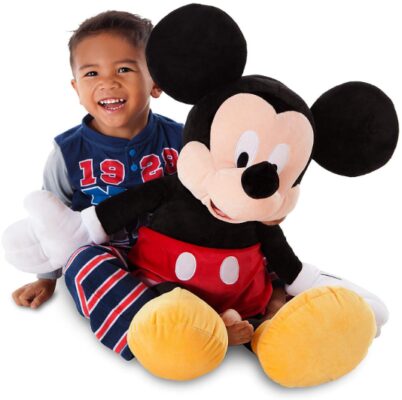 Take a look at the Mickey Mouse toys available on today's market: