From most of the top characters of Disney World, there is one cute character who is simply lovable – Minnie Mouse. From Donald Duck, Mickey Mouse & his loyal Pluto, to Goofy, the clown from them all, girls love one special female cartoon character Minnie Mouse.
This article is for those tiny tots who are simply excited over the adorable little Minnie. Here are the top 10 and Best Minnie Mouse Baby Toys 2018 for the tiny tots. As you scroll down to the last item the innovative Minnie toys & dolls or Minnie Toy Kits will amuse you & your tiny Minnie's fan. Some of them are also great usage items along with fun. So check the review of various toys you can gift your little angel.
1. My First Minnie Ride On
This is the top Minnie baby toy for your Disney princess – Kiddie land My First Minnie Ride On toy is an amazing present. The stickers of Minnie and the voices will fascinate her as she uses her legs to roll the best toddler ride-on toy. The make-believe clock introduces her to time and teaches her to be punctual on time. It comes with the steering wheel, 4 wheels, and a surprise peek a boo window. Your tiny tot will enjoy driving her little Minnie Mouse car with interactive signal lights, realistic horn, and a Dicky underneath the seat to store her toys.  She would definitely love her new little car toy that plays music.  This makes one of the top Minnie Mouse toys for the young Minnie fan.
Pros:
Encourages physical activity.
Promotes motor skills and coordination.
A realistic car-like experience with a steering wheel, wheels and a horn.
The make to live clock with movable hands initiates time and punctuality in the kid.
Cons:
Minnie Mouse stickers many more stickers tend to come off easily
The toy car needs batteries for the honking,  interactive signals, etc.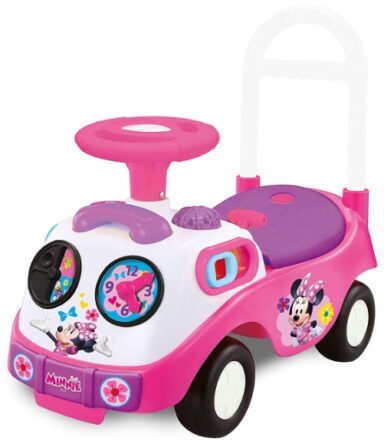 2. Disney Minnie Mouse Toddler Saucer Chair
This toddler toy is more of a utility with Minnie Mouse picture on it. Your tiny tot will love sitting on the chair and carry it around into the backyard or anywhere in the house. It is small and suits her size with a seat cushion for a comfortable seating. Polyester fiber is used for this small chair that can be folded and comes with a little plastic pouch for storage and portability. Whenever the toddler gets tired she can sink into the chair of her favorite cartoon character comfortably.
Pros:
Comfortable plastic pouch so you can carry it to a friends house.
Foldable option to store it and keep it away or for portability.
Framing is done in metal work which ensures durability.
Soft polyester cushion seat for comfortable use.
Cons:
Suitable for toddlers starting from 3 years of age.
Although foldable, a bigger person may need to fold the chair.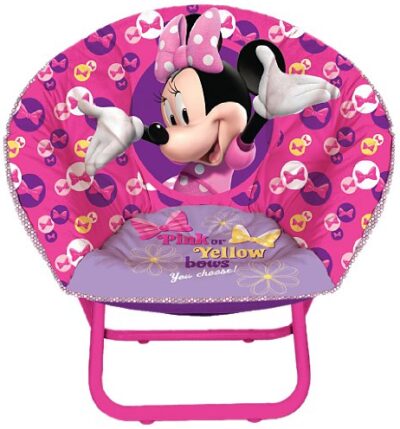 3. Disney Plush Minnie Mouse
This makes an amazing gift for your tiny Minnie Mouse fan. The stuffed toy is specially designed for toddlers using super soft material that is 100% polyester and is safe for kids. The Minnie Mouse soft toy comes with a cute bow. The babies will love the soft feel of Minnie as it gives tactile simulation. Also, the growing brain needs auditory stimulation that is given by the sounds made by the  Minnie Mouse soft toy.
Pros:
Disney Plush Minnie Mouse soft toy is 14 inches making it big enough for your baby to hug.
Minnie Mouse character encourages imaginative side in your growing baby.
Cons:
Color selected while making too soft toy or not very bright.
There are some noise-making parts in the soft toy.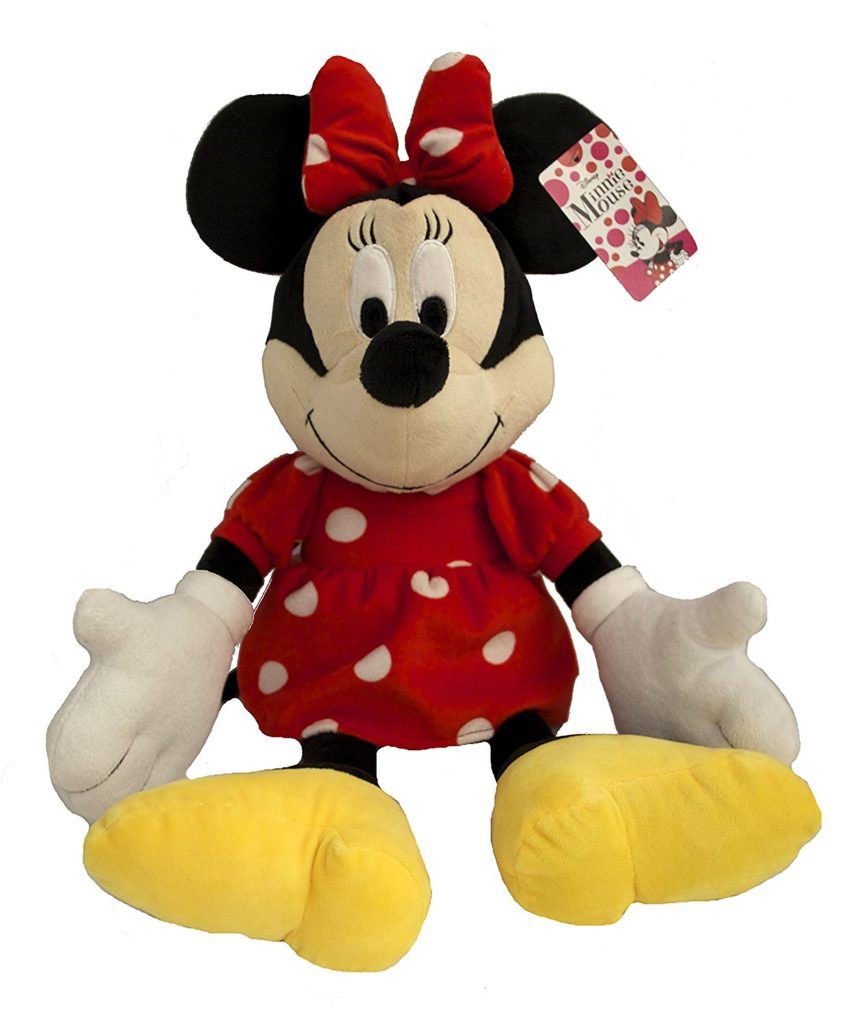 4. Mickey and Minnie Mouse Birthday Parade
This is one of the best gifts that you can give to your toddler who is the son of the Disney character Minnie and Mickey. Lego Duplo Disney Mickey Mouse Clubhouse toy set consists of building and construction playset. It improves the problem-solving ability of kids aged 2 to 5 years. It would also help in character recognition and teach different colors to the growing toddlers. It comes with large building blocks that are interchangeable. The Mickey Mouse and Minnie Mouse Birthday Parade set is a valuable gift to enhance capabilities and keep them happy at the same time.
Pros:
Encourages pretend play, imaginary skills, and social roles.
Colorful enlarge building blocks designs for small hands.
Bricks or building blocks are interchangeable.
Kit includes a fun train for Disney characters ride.
Ideal for a birthday as it comes with 3 birthday blocks resembling gifts.
Cons:
There is a limited number of building blocks in the construction set.
Toy set assembling instructions are not included in the kit.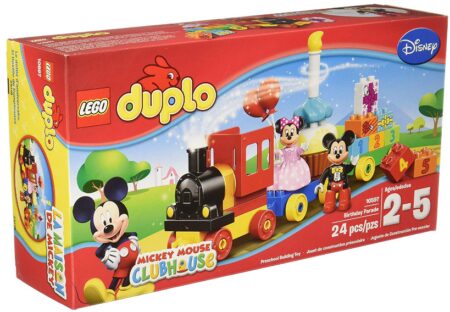 5. Disney Minnie Mouse Cooking Play Set
If your growing toddler is a Minnie Mouse fan this is one of the best gifts you can give her. The Disney Minnie Mouse Cooking Play Set comes with enlightening colors for your little baby girl. It comes with complete cooking kit teaching your child to arrange several tools at a time and using imaginary skills to set up her small kitchen anywhere she wants. This durable kitchen kit contains pots, pans, cups and serving spoons. This cooking set will surely be loved by your child.
Pros:
The kit is very durable.
Encourages pretend play and imaginative skills.
Toddler will learn to arrange entire kitchen set.
Promotes tool holding skills.
Cons:
Only limited number of pots and pans. Other toys available in the same price range with more tools.
Available in one color set only.
Suitable only for kids with 3 + age group.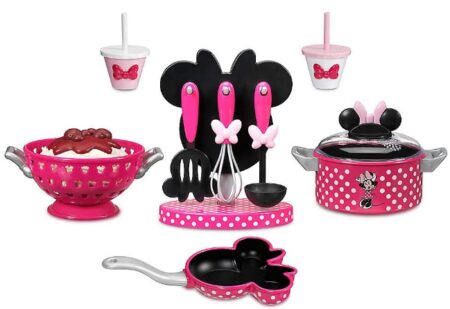 6. Minnie Me Toddler Bike Helmet
This Minnie Mouse toy cum accessory will definitely make your toddler kid happy especially if she rides a tricycle, bicycle, or Minnie Mouse toy car. Disney Minnie toddler helmet features 3D fabric Minnie's Ears and Minnie's Bow. This little Minnie signature helmet is made of nongrip durable material and complies with US Consumer Product Safety Commission requirements. Your Disney fan child will definitely enjoy riding around the neighborhood flashing Minnie Mouse helmet.
Pros:
Glittery pink wrap that is attractive to toddlers and young kids.
Minnie helmet features the Disney character's signature over the back of it.
It encourages the habit of wearing travel safety gear in your child at an early age.
Features fabric three dimensional Minnie's Ears and Minnie's Bow.
Cons:
For best fit or size wearing helmet requires adult supervision.
General sizes are for the smaller sizes.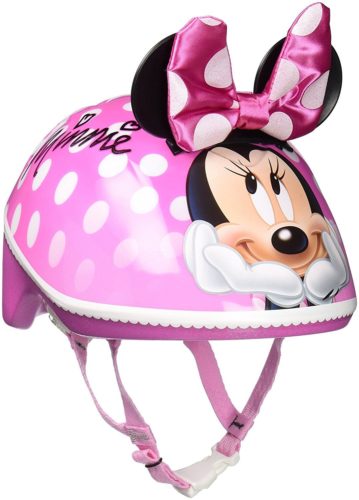 7. Minnie Mouse Shopping Mall
Disney Minnie Mouse Fabulous Shopping Mall is an amazing colorful toy kit for your growing toddler. The make believes shopping and malls' activities of her favorite Disney character improves imaginary and pretend play skills in your child. It is a complete two floors shopping heaven with revolving doors and a working escalator. It also has characters including Daisy and Figaro while she shops and snacks at the mall's café. Shop for fabulous footwear or take Figaro for spa treatment at the pet section.
Pros:
Play characters are 3 inches long.
Additional characters like Daisy and Figaro are included in the kit.
Escalators move up,  magic carousel spins,  and doors revolve – an exciting play experience.
Best pretend play that stimulates imaginative skills in the child.
Complete shopping mall kit with additional Disney characters and her favorite Minnie Mouse.
Cons:
Too many different pieces in the shopping mall kit.
The small parts or toys may be a choking hazard.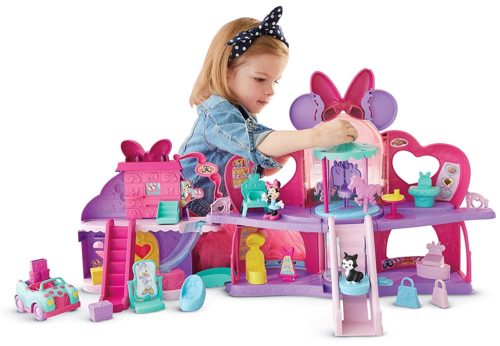 8. Minnie Rainbow Dazzle Doll
Rainbow fashionable princess Minnie Mouse is a doll that your growing child will enjoy. This dazzling toy lights up in rainbow colors enticing your child's creative side. Minnie Mouse also prompts the kid using various fashion phrases. All the dazzling Disney doll requires is your child's touch to light up in beautiful colors. Holding Minnie's hand starts the music from the inbuilt music player playing the exclusive True Colors only. There's a tiny camera accessory for the kid's use to see Minnie's magical fashion transformation. It makes an amazing stand-out Doll in your young Minnie fan's Disney collection.
Pros:
The Dazzling Lights Minnie Mouse toy is 10 inches long.
The inbuilt music player plays true colors which are exclusive to Minnie Mouse.
Teaches to kid about fashion trends and improves creativity.
The dazzling lights and colors give a fun-filled thrilling experience.
Cons:
The Minnie Mouse toy requires batteries to run.
There is no volume control on the music player.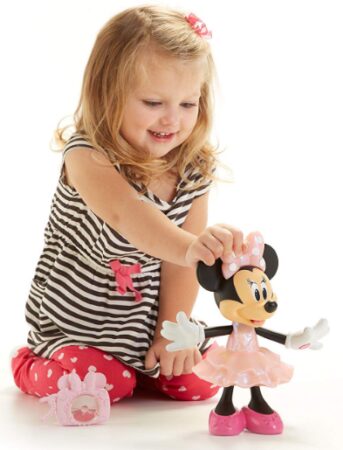 9. Minnie Mouse Snug Blanky
This Snug Blanky is more than one of the Best Minnie Mouse Baby Toys but makes a great utility. It is the best comfort toy character to put your baby to sleep and keep her warm. This cuddly soft snug blanky is the perfect companion for your sleeping baby. It is specially designed using Ultra Soft Fabric Material which is completely safe for kids. Your baby's sensitive skin will not get harmed. It promotes tactile sensory development and visual stimulation due to the Polka Dots and Ultra Soft texture.
Pros
Stimulates visual and sensory skills.
Comfy Blankie Is Made From Washable  Materials.
Makes A Great Comfort Toy For The Toddler
It's The Perfect Usage Cum Toy Combo for your baby's nap time.
Cons
The Minnie Mouse blanky toy is slightly small in size so suitable for babies
Ears and nose have crinkle materials
Create a crinkle type of noise.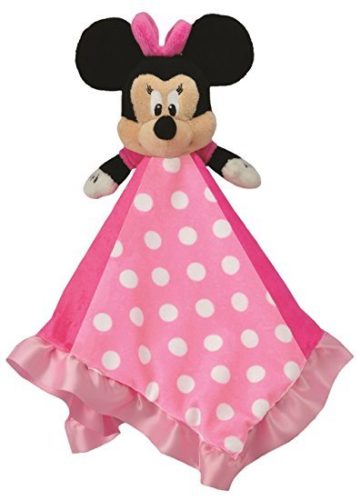 10. Minnie's Walk & Play Puppy Feature Plush
This is one of the fascinating Minnie Mouse gifts that your kid will enjoy. Minnie goes for a walk as she holds her dog Snowpuff on a leash. The wired lease is detachable and fixable. They can walk together with the leash as the pooch runs ahead of Minnie.  There are two directions with the buttons on Minnie's hands and Snowpuff spins around. She is dressed in signature attire and the leash is in a shining color. Snowpuff is cute, adorable white Pooch. It can make a great gift for your kid who is a Disney fan on her birthday. Also, can be gifted to small kids at their birthday parties. Watch your kid enjoy the playtime while she walks her dog and takes him for a spin!
Pros
A wired leash is attractive and detachable
Lotus is very curly and small.
there are two directions and two buttons on Minnie's hands.
a slope of can spin around by itself without a leash.
Cons
Few customer reviews state that Minnie Mouse Falls over does not walk
Requires 5 batteries
Required adult supervision before the kid uses it the first time
Have to read the directions very carefully for best functions.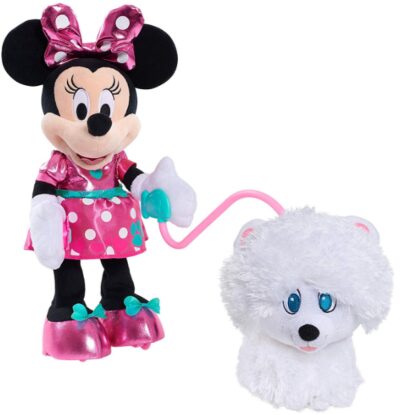 Toddlers fascinate on cartoon characters and Disney characters in their early childhood ages. During this stage, they are super imaginary thoughts going on within the kid. Development is high rate & fast paced and the child needs so much involvement to make it happen. It is best to indulge the child in the imaginary skills and toys are the best way to do it.
Disney characters are creative and fantasy. These help build the creative, imaginary, visual and motor sensory functions in the early childhood. These toys like Minnie's Toy Car Ride On would help her to move the legs and coordinate steering too. It is also a great way to introduce time to the kid early. The Minnie snug blanky is a great way to keep the baby warm and have a Disney companion together.
Minnie Shopping Mall Kit makes a great imaginary pretend play time for the kid. Minnie's Vanity Bath is a great way to encourage the child to take a bath if she does not like. It makes the bath exciting and happy so she will not fuss again. These Best Minnie Mouse Baby Toys are amazing Disney character toys useful for play and to develop the kid.