Who says Valentine's Day is just for couples, when there is so many valentine ideas for toddlers and kids? Aren't toddlers valentine gifts a great idea too? Take this as the perfect chance to treat everyone in your life, from your significant other to your colleagues, parents and, why not, children!
If you are looking for heart shaped Valentine's gift ideas for preschoolers and kindergarten, you have come to the right place. Whether you are looking for Valentines gifts for your toddlers, kids, nephews, students or colleague's children, the items in this list are suitable for everyone.
Are you as a family planning Valentine's Day gift ideas for the kids? Spend some time with your kids and design the cutest cards and crafts, bake some delicious heart shaped waffles and play some Valentine's Day games for kids: there are plenty of activities and projects to choose from, just take your pick!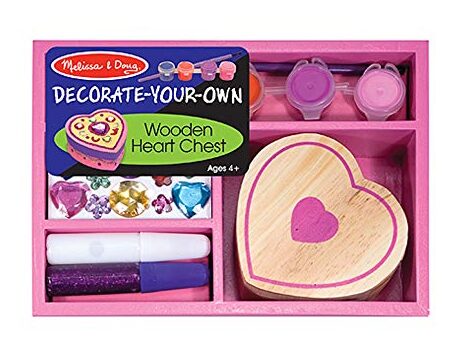 Considerations When Shopping for the Best Valentine's Gifts
Safety: as some of these gift ideas involve DIY crafts and projects, some might contain small parts or materials that are unsafe for younger children. It is always best to keep your kids' safety in mind when choosing the perfect gift for a little girl.
Material: Valentine's gifts ideas come in different shapes and sizes, and you will find a variety of gift ideas and materials in this list, from Valentine's cards for kids to movies, crafts and books, just to mention a few.
Price: most of the Valentine's Day gift ideas for kids in this list are easily affordable, but it is always a great idea to set yourself a budget, in order to avoid overspending. You do not need to spend too much money to find the perfect gift for your kid.
Age: some of the picks in this list are more suitable for younger children, whilst other gift ideas require skills that not all kids have developed yet, so always keep in mind the age of the kids you are buying the gifts for, check out more gift ideas of all ages.
Function: whether you are looking for some arts and crafts projects for your kids, a simple Valentine's decoration or a good book to read together, you will find a good variety of gift options that will suit your kid's needs.
Gender: some of the Valentine gifts in this list are more suitable for girls, others for boys, and others are suitable for both genders. Whether you are buying a gift for your daughter, your nephew or a group of kids, there is a gift idea for everyone, but if you want something specifically for a boy then there are loads of gift ideas for boys here.
1. Paper Heart Gift Tags
These paper gift tags are perfect for every occasion, but the heart shape makes them the ideal pick for Valentine's Day. The set contains 100 pieces of heart shaped paper tags with pre-punched holes, and 100 feet of brown twine, specifically designed for craft projects. Get creative with your kids, add a personal twist to every gift and help them craft some cute bonbonnieres to give to their friends and crushes! This is one of those fun creative valentine gifts for 2 year olds that engages them and increases creativity.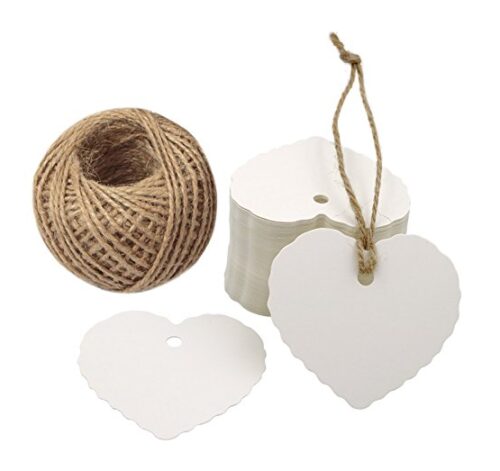 2. Llama Llama I Love You Book
Are you looking for a sweet, creative way to introduce your babies and toddlers to the tradition of Valentine's Day? Llama Llama I Love You by Anna Dewdney is exactly what you are searching for! This short story is a beautiful combination of rhymes, colorful drawings and the sweetest of plots. It is the ideal choice if you are looking for an easy read, you are trying to teach your baby the meaning of Valentine's and the celebration of love, or you just want the perfect addition to a collection of Llama Llama books and Valentine's books for kids.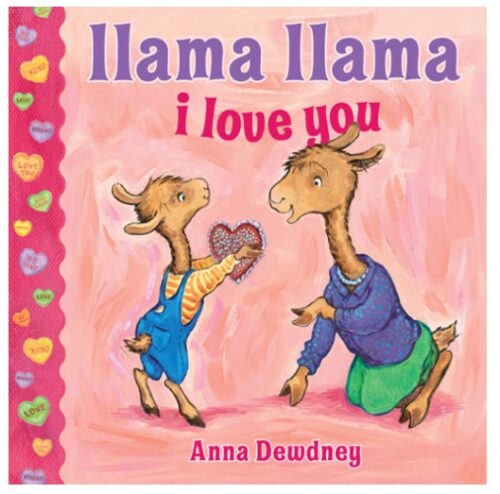 3. Love from The Very Hungry Caterpillar
Anyone who is familiar with Eric Carle knows that his short stories are small masterpieces, and Love from The Very Hungry Caterpillar is just another proof of Carle's incredible talent. This sweet tale teaches children about love, and features the recurring character of The Very Hungry Caterpillar. It is an easy, quick read, perfect for children ages 3-5, and it is another perfect introduction to the concept of Valentine's Day.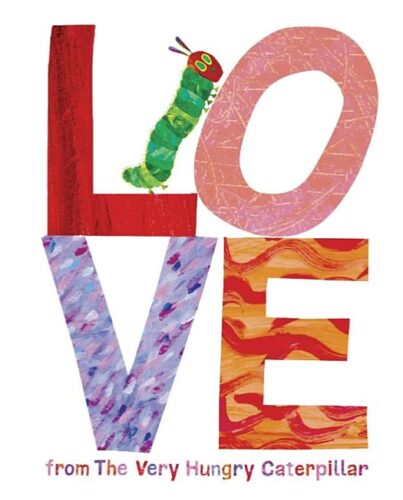 4. Pete the Cat: Valentine's Day is Cool
Are your kids a bit skeptical about Valentine's? Well, according to James Dean, they're not the only ones! In this funny short story, Pete the Cat is thoroughly convinced that Valentine's is not cool at all. Once he realizes how fun this day is, Pete the Cat decides to make valentine cards for his family and friends… forgetting one very important cat! This book comes with funny illustrations, a poster, stickers and twelve punch-out Valentine's card. It is another great read for younger kids, ages 4-8, and it is the perfect pick for a seasonal book club.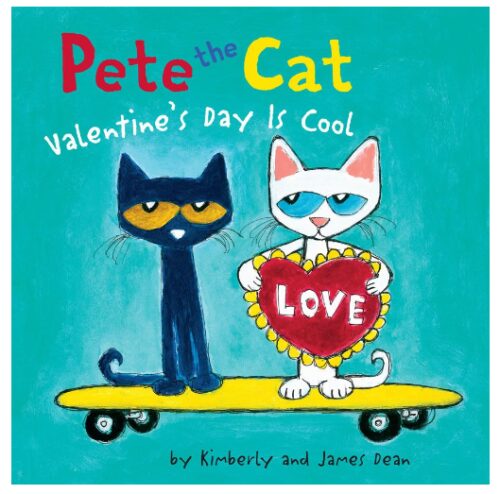 5. Bubblegum Heart Necklace & Bracelet Set
If your kid is a little diva, a fashion lover or has a romantic soul, any form of jewelry will make her happy. This beautiful, vibrant and sparkly pink necklace and bracelet set, complete with a heart shaped pendant, is the perfect pick for a sweet Valentine gift for your daughters. It comes in three different shades of bubblegum pink, and with a choice of the pink or white gift box.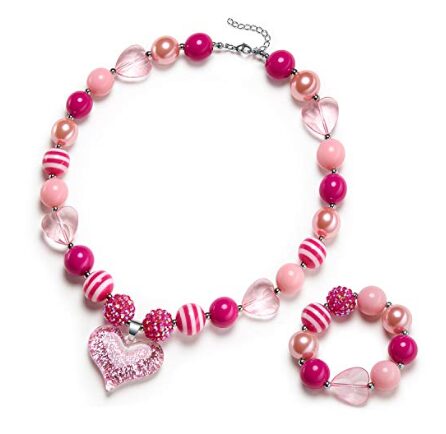 6. Wooden Heart Bead Kit
Are you looking for Valentine's Day projects for kids? This fun set gives you and your children the chance to create your own jewelry, customizing them to your liking. The size of the charms and beads is suitable for the youngest of kids, and it allows them to express their creativity, develop an interest in arts and crafts, improve their motor and cognitive skills and promotes hand to eye coordination. It is also the ideal choice if you want to save money on children's accessories, as this will give your kids the chance to make their own jewelry and change it according to their moods and trends. This set includes 120+ beads, 5 color coordinated cords and a handy wooden tray (perfect for storing and organizing the beads).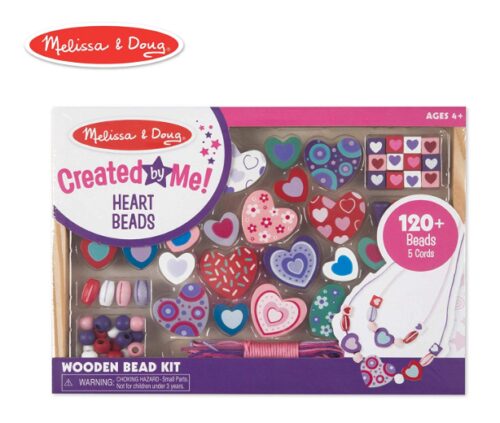 7. Always Remember Dog Tag Pendant
The sweetest expressions of love come in different forms, and there is nothing better than showing your affection through a cute pendant. This specific necklace is the best way to remind your kids that they are "braver than they believe, stronger than they seem, smarter than they think and loved more than they think". The back of this pendant can be engraved with any message you want, and a personalized quote is the best way to complement a motivational message for your kids. Use this as the perfect chance to boost your child's confidence, demonstrate the affection and give them a physical proof of the love that you share. This pendant is perfect both for boys and girls.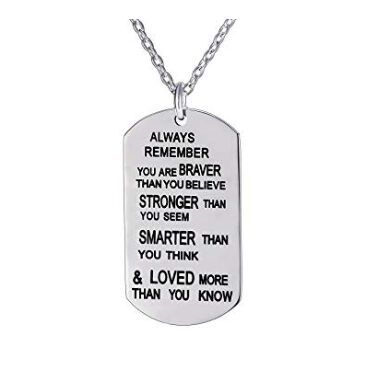 8. Decorate a Wooden Heart Chest
Yet another beautiful pick for arts and crafts, this wooden heart chest set is the ideal gift for any crafty kid. Spend Valentine's Day with your kids and get your creativity flowing and personalize this cute box with the set of colors and decorations. This set contains a heart shaped wooden box, glitter glue, white glue, colorful gems, 4 pots of paint and a brush, and it is perfect for kids ages 4 years old +. Whether you are looking for Valentine's Day crafts for kids, or original projects that they can gift to their friends and crush, this set is the ideal choice to stimulate their creativity and imagination, as well as their manual skills.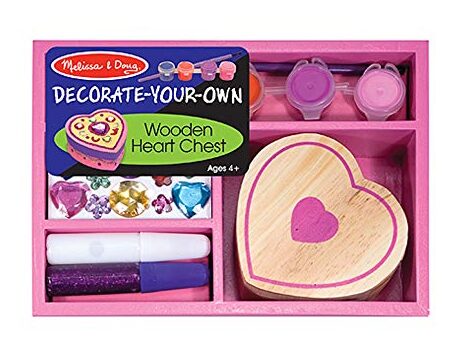 9. Eternal Rose
Red roses are a classic Valentine's Day gift, but this gift idea elevates roses to a new level. Demonstrate your eternal love through this beautiful, real Eternal Rose, perfect for a teenager or little nature lover. This stunning flower is preserved underneath a thin glass dome, topped with a heart shaped glass decoration, and it is placed on top of a gypsophila décor over a wooden base. It comes in a beautiful package, which makes it ready to be given away to your loved ones. This real, fresh rose can be preserved for 3 to 5 years, it does not need to be watered or cared for, and it is the perfect item to decorate a room.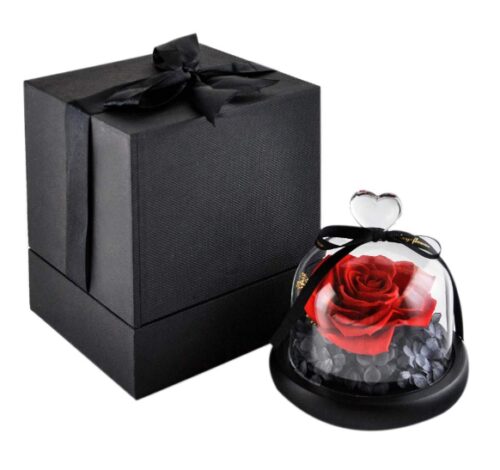 10. Heart Shaped Waffle Maker
This is a very special waffle maker, and it will make your Valentine's breakfast extra special! Is there a better way to start this love filled day than enjoying some heart waffles? Wake up your kids and indulge in some sweet, early morning baking together! The romantic shape of these waffles will brighten up your day, and it will set a happy and romantic mood whenever you decide to bake with your children!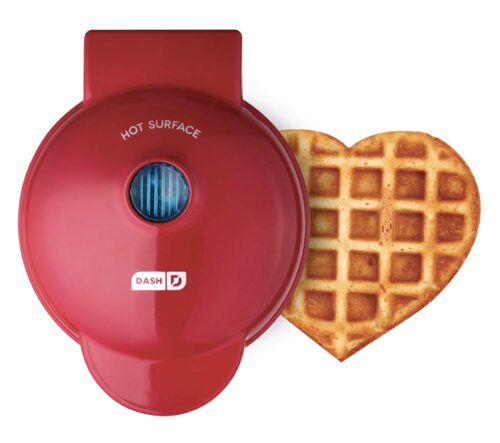 11. Himalayan Salt Lamp – Heart Design
Are you looking for a gift to set a beautiful, romantic, soothing atmosphere in your kid's room? This Himalayan Salt Lamp is exactly what you are looking for! Made from 100% natural pink salt found in the Himalayan Mountains, this beautiful lamp will bring warmth and will set a romantic mood wherever you light it. This natural salt composition has a relaxing amber glow to it, and the metallic heart décor makes it the perfect pick for a Valentine's Day gift for your kids. Light it up during a romantic Day dinner with your family, or keep it as a beutiful night lamp in your children's bedroom.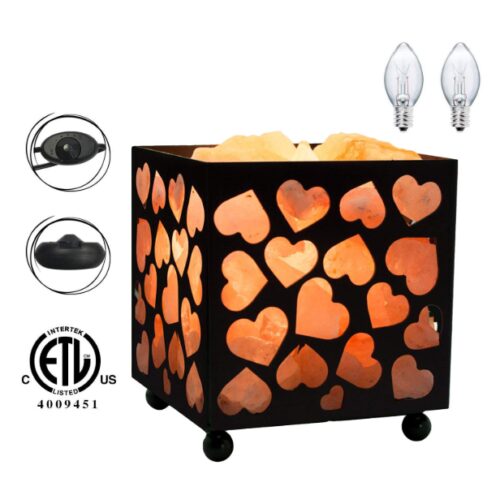 12. Hot and Cold Buckwheat Pillow
Anything shaped like a heart can qualify as a good Valentine gift, and this hot and cold heart shaped pillow will literally warm up your kid's heart. This buckwheat filled pillow is designed to soothe your body through hot and cold therapy, and it is comfortable enough to hold at night. The therapeutic function makes it the perfect comforting item, as it will allow your child to calm down when anxious and sleep better. Just put it in the microwave to warm it up in the winter, or put it in the fridge for a cooling effect during the summer.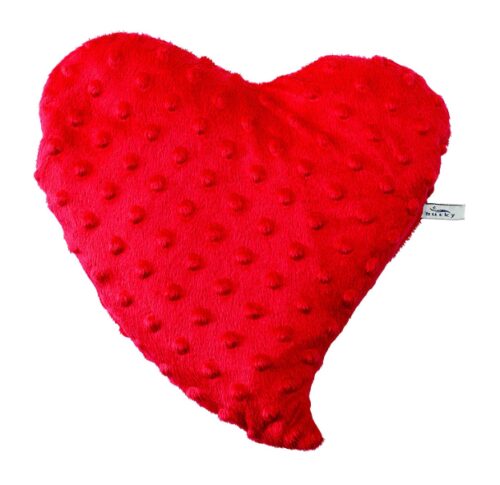 13. Six Piece Heart Gemstones
These genuine gemstones are cut from six different stones and crystals: rose quartz, blood jasper, Unakite, golden sands, black sands and synthetic opal. They are heart shaped, smoothly crafted, and they make for the perfect gift for any kid who has a passion for minerals, is interested in the power of crystals or admires these colorful decorations. These natural crystals are also believed to influence the spiritual energy and aura of whoever holds them, and they have the power to balance your chakras for a better life. They can be used in arts and crafts projects, placed in a cute bowl to create a relaxing atmosphere in a room, or they can be carried around in their beautiful velvet bag.

14. Attatoy Heart Plush
This Valentine's Day gift takes the concept of "heart shaped plush" quite literally, as it is shaped as a realistic heart. It is an original gift idea, and it shifts from the canonic, overly romanticized items that are usually received on Valentine's, and it gives your kids a fun chance to learn about human anatomy. The details on the plush are accurate enough to allow an easy explanation of the heart's anatomy, and the size of this item makes it easily huggable. Give your heart away on Valentine's!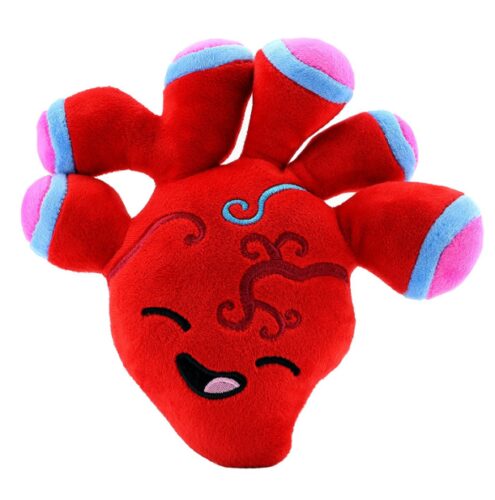 15. Multicolor Heart Mug
Made from the finest bone China, this light coffee mug is decorated with colorful hearts and makes for a cute and useful Valentine's gift. The design of this mug is simple, and it is suitable for boys and girls. It comes in a cute gift box, and it is ready to be given to your loved ones. Fill it up with hot chocolate, bake some cookies and spend an afternoon with your family watching Valentine's Day movies for kids!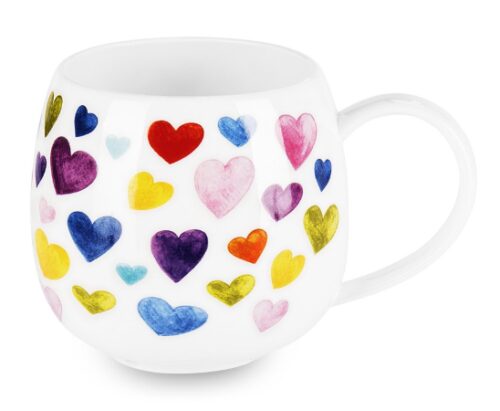 Best Overall Pick
This is the most original gift idea for Valentine's Day: it is versatile, and can be personalized by your kids. Whether they decide to keep the decorated Wooden Heart to themselves or give it to their Valentine, they will have the satisfaction of designing their own original present.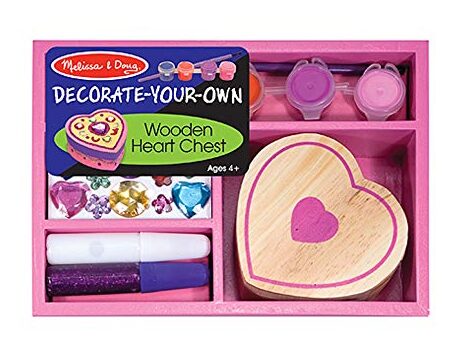 Best Budget Buy
The message conveyed by this necklace might be priceless, but this high quality pendant is affordable. Although it is not as versatile as some other items in this list, this necklace is beautifully made and it will brighten up your kid's day.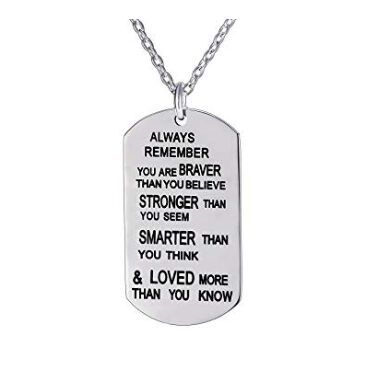 When is Valentine's Day?
Valentine's is celebrated on February 14th every year and it represents the most romantic holiday of the year, as it celebrates romance and romantic love. This holiday originates from the legend of Saint Valentine, a martyr who was believed to gift roses and flowers to everyone who walked through his garden. Throughout his life, newly formed couples would show up in his garden, looking to receive flowers from the Saint, and this act would grant them good luck with their union. Saint Valentine died on February 14th, 269. Nowadays, Valentine's is a commercial holiday celebrated all around the world. It is, however, not only dedicated to couples: many use this as the chance to celebrate all forms of love, from romantic love to friendships. It is also the perfect occasion to spend some time with your family, although there is not a history of valentine's day for kids.
What to do with kids on Valentine's Day?
Whether you decide to spend this day with your significant other, a bunch of friends, your children or on your own, there are plenty of fun, romantic activities to partake in this special Day. When it comes to the perfect Valentine gift, it is not just a matter of choosing a cute gift: pick something that has a deep meaning, choose it carefully and try to convey a sweet, romantic message. The trick, here, is to think this through beforehand, and not just picking a last minute gift, if your aim is to impress your significant other or your kids. Once you pick the perfect gift, you can plan a romantic, intimate dinner at home. You can showcase your cooking and baking skills or order takeaway food; either way, there is no sweeter way to treat your family and spend some quality time with them! You can also take them out for dinner in a romantic restaurant, or watch the newest romantic Disney movie at the cinema. If you live near the seaside, you could also go for a walk on the beach, or have a picnic in a park. If you would rather not leave the house, you could build a pillow fort, light some candles and enjoy a romantic movie together. If you, your significant other and your children love art and culture, or you are looking for the perfect chance to visit some of the most romantic cities in the world, use this as a chance to spend a couple of days as tourists.
What to do with Kids on Valentine's Day?
Valentine's is considered the feast of love, but it can also be interpreted as the celebration of all kinds of affection. There are so many ways you could spend the day with your children, and many are the couples who have decided to plan activities with their kids and have a less traditional February 14th. It is the perfect occasion to teach your children the true meaning of love and involve them in the romantic atmosphere from a very young age. If you have the chance to spend most of this day at home, you can prepare a romantic heart shaped cake with your kids, involve your children in the preparation of a romantic dinner, watch a classic, romantic movie or take a day off and plan a family trip. It is not necessary to go out of town: you can have a romantic picnic on the beach or in a park, or have a romantic meal in a restaurant or grab ice cream and churros together. If your kids are arts and crafts lovers, you can help them prepare Valentine cards, decorate their craft projects, and create their own Valentine gifts for their friends or their first love.
How to Draw Valentine's Day Things for Kids
As we have mentioned before, Day can be dedicated to arts and crafts, and there is no better time to make gifts for (and with) your kids. Some of the items of this list are specifically designed to create your own original gifts, and they allow you and your kids to demonstrate your affection without spending too much money. Coloring is one of the most appreciated activities and pastimes for children, so you could take this as a chance to print off drawings to color with your children, or help them draw love inspired drawings. If you plan to have a family dinner, you can decorate the room with the drawings, or set up a small exhibition with your kids' masterpieces! This will help you plan a cheaper version Valentine's Day, and it will help you avoid the unpleasant consumistic feeling that this celebration has adopted in the past few years.