Celebrating Valentine's Day isn't as easy when children are involved, and you might have to make different plans compared to the days before children. But, with so many great Valentines gifts for girls out there, it's possible to have a great day as a family and make your little girl feel part of the celebrations too. Here we have picked out a range of 20 of the best gifts to give to girls on February 14th, to show them how much you care.
Considerations Choosing Valentines Gift Ideas
There are a few things which should be kept in mind in order to choose the best gift which your child will love. First, it might be nice to pick something with a Valentine's theme, to show them how much you love them! Also, think about how much you want to spend on the gift. Don't go over budget, especially if you are also planning to have a special day out to celebrate. The child's age is another important consideration – it's always important to ensure a gift is age-appropriate so the child enjoys it and gets the most out of it.
Top Valentine's Day Gifts for Girls

We will now look at 20 of the best gift ideas to give to girls on February 14th. There's sure to be something here to suit your little one, no matter how old she is or what she is interested in!
1. My First Valentine Outfit

Our final pick of Valentine's day gifts for little girls is this adorable outfit which is perfect for wearing on their first Valentine's. The three-piece set comes with a tutu skirt, a romper, and a headband with a bow. The pieces are made from top-quality materials and are comfortable to wear. Your baby girl is sure to look adorable on this special day!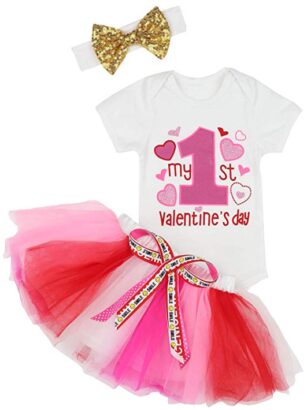 2. Gold-Dipped Rose

A rose is always a good valentines day gifts for girlfriend, and they can also be great for younger girls. This one is a real rose dipped in 24K gold, so it can be kept forever so your girl is always reminded of how much she is loved. The rose comes in a gift box so it can easily be given on the special occasion, and it also comes with a stand for easy displaying, so it can always be seen. There are different color options to choose from so you can pick your girl's favorite.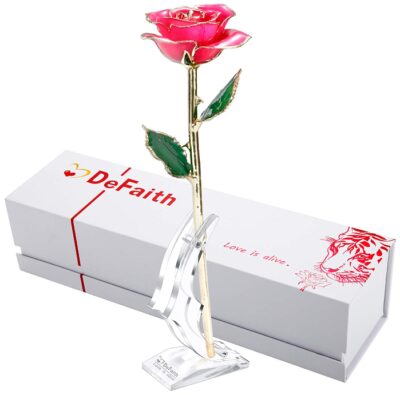 3. Lady Colour Bracelet

Jewelry is one of the best valentines gift ideas for daughter as it is something she can use and enjoy for many years to come. This bracelet is made using Swarovski crystals in various shapes, which are wonderfully light-catching. The bracelet is 7 inches long and has a chain extender of 2 inches, so it fits most sizes comfortably. The beads are stunning and look great with any style – girls are sure to love wearing it all the time.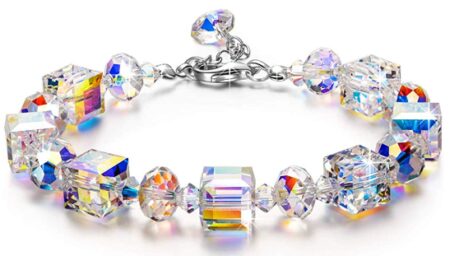 4. Leather Wrap Bracelet

If you're still wondering what to buy a girl for valentine's day, we have another nice jewelry pick lined up for you. It features the Tree of Life design which is symbolic of infinite love – perfect for this occasion. The bracelet is made from leather with a magnetic buckle closure and there are four different color options to choose from. There is a nice message etched onto one of the bracelets which is sure to make your girl feel loved.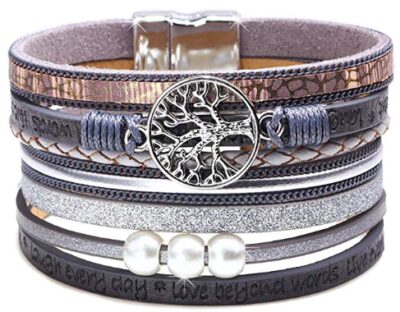 5. Mom and Sisters Necklaces

We've seen above how jewelry makes good gifts for girls, and these ones are extra special. There are different options available with necklaces for mom, big sisters, little sisters, and middle sisters. There are also various colors to choose from, so you can tailor this gift to suit the girl's tastes as well as the family size. The heart-shaped necklace is covered in sparkly rhinestones, sure to appeal to girls of all ages. The necklaces are presented in a box with a lovely message about being a sister to make this gift extra-special.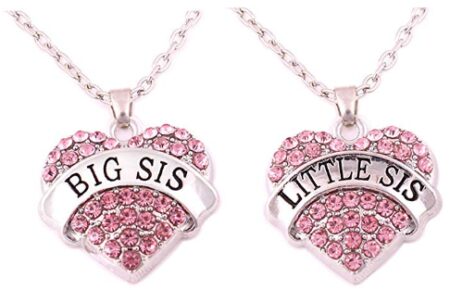 6. Melissa & Doug Stamps

Melissa & Doug have some great Valentine gifts for daughters, and this stamp set is perfect for creating Valentine's themed cards or artworks. The set contains eight wooden stamps with cute heart and butterfly designs, as well as an ink pad with both pink and purple ink – perfect colors for Valentine's! These are great gifts for those aged 4 and over, and is high-quality and sure to last for many years.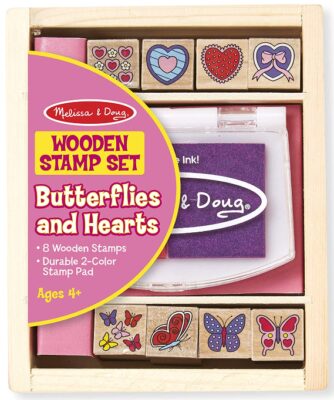 7. Kissing Mugs Set

Our next Valentine day gift is this set of two adorable kissing mugs with spoons. They are simply perfect for giving on this day thanks to the sweet design and of course the red and white color scheme. The two mugs fit perfectly together in a kissing pose, and coordinating spoons are also included – these can be held in the handle of the mugs. They are microwave and dishwasher safe and are perfect for parents and kids, or for siblings.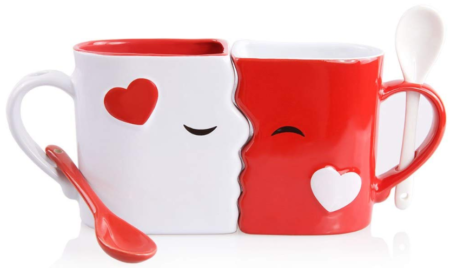 8. Melissa & Doug Heart Beads

We've already seen some great Valentines gifts for daughter from Melissa & Doug, and here we have another excellent choice. This set comes with lovely heart-shaped beads in various designs and sizes, as well as color-coordinating cords to lace them on to, to make jewelry. This set is ideal for kids in the 4 – 8 age range, and will keep them busy for a few hours. They'll love to wear and show off their designs afterward, too!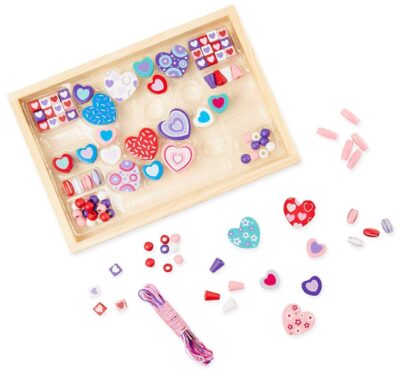 9. Holiday Bibs

If you're looking for a Valentines gift for girl celebrating her first Valentine's, this holiday bib set is an excellent pick. They are made from cotton and polyester and are machine washable for easy cleaning. They have hook and loop closure so it's easy to put them on and take them off. All of the bibs pictured are included, so there is one for every holiday throughout the year!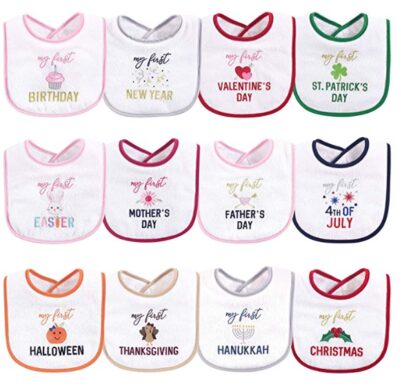 10. Adventure Photo Album

A photo album makes a lovely Valentines gift for girls, as it can be filled with photos of the wonderful memories you have made together as a family. It has 80 pages and can hold up to 160 photos, so she'll have hours of fun looking through photographs and deciding which ones to include. The book measures around 11.5″ x 7.5″. It is excellent for fans of the movie Up, as it comes with postcards and cut-outs featuring the characters. Girls will love to create their very own, personalized Adventure Book!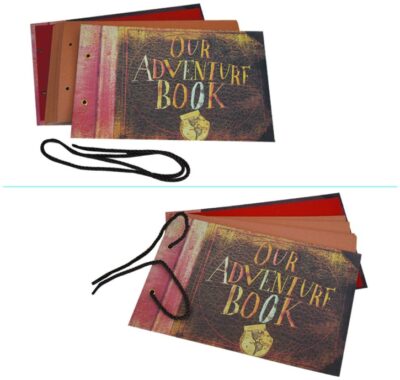 11. Compass Necklace

Here we have another nice jewelry Valentine gift for girl, this time it's a compass necklace. It comes in a gift box which reads 'I'd be lost without you', so it's a great way to show girls how much they are loved. The necklace is made from 925 Sterling silver so it won't cause skin irritation. The chain length is 18″ and can be adjusted to various lengths to fit younger girls better too.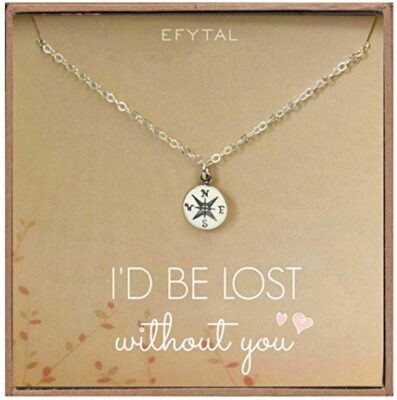 12. Decorate Your Own Box

A craft activity is a good Valentine gift for girls and will keep them entertained for a while on the special day. This kit is ideal for children aged 4 and above. It comes with a wooden box, gem stickers, paint, a paintbrush and glue and glitter glue to decorate the box with. Arts and crafts is always a popular activity with girls, and they will really love making something they can make use of afterward. The finished box is great for keeping special treasures.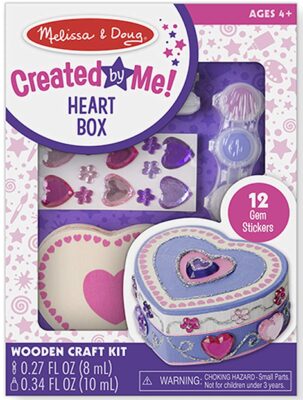 13. Hallmark Class Valentine's Cards

If you are looking for the best Valentine gifts for girl to share with her friends, this classroom card set is excellent. It comes with 32 cards and 1 teacher card, as well as a box and stickers to decorate the box or the cards with. There are four different girly designs included, each with a different character and message. This set is ideal for a classroom card exchange, and the box is good for posting the cards secretly.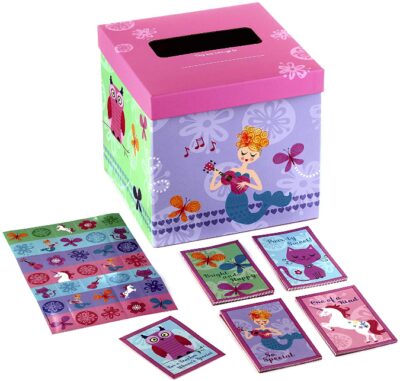 14. Kate Lynn Pendant

When it comes to the perfect Valentine's day gift for daughter, you can't go wrong with a special piece of jewelry. This pendant features a stunning blue Swarovski crystal as well as smaller clear crystals in a heart-shaped design. The necklace is fitted to a 17″ chain with a 2″ extender to make it a good fit for most girls and young women. It also comes in a beautiful purple color if this will be preferable.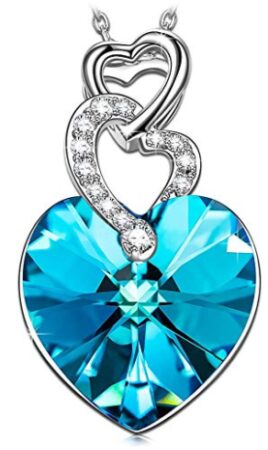 15. My Valentine Book

If you need Valentine gifts for little girls, this board book is perfect for babies and toddlers. It tells a cute story about Valentine's featuring sweet animals – kids will love the illustrations of these characters. The book is heart-shaped and has glossy edges, so it's durable for younger children to read and play with over and over again.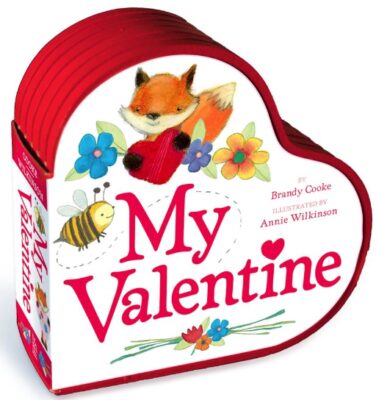 16. Barnett's Chocolate Cookies

Chocolate is probably one of the best Valentine gifts for daughter in college – it's sure to keep her in good spirits! There are 20 sandwich cookies covered in chocolate and decorated with different designs – five different flavors and designs in total. They come in a gift box and can be personalized with a message and the recipient's name to make this an even more special gift.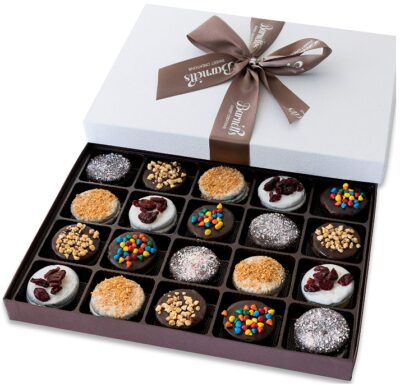 17. Moon Light

This stunning light gives off a warm glow and will make your child's room a cozy place for them to relax. It has three different light levels and there are also three different frame options. To adjust the light level, simply touch the surface of the lamp – it's really easy to switch on and off. The lamp is powered using a USB cable, and it features a sculpture of two people cuddling under the moonlight – it is perfect for February 14th!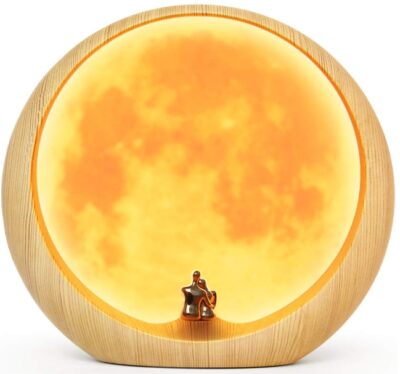 18. Joyin Stationary Pack

If you need some Valentine gift ideas for daughter to share with her classmates or friends, this pack of stationery sets is a good choice. There are 56 packs included, so there are plenty to go around! There are two different package designs with different Valentine's messages on each. Inside, each set comes with two pencils, two erasers, a stamper, stickers, a ruler, and a greetings card.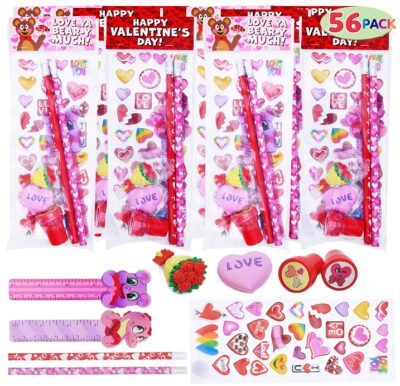 19. Joyin Cards & Stampers

Here we have another nice set of cards for kids to share out with all their classmates. There are 36 cards in this set, as well as 36 stampers. There are four different designs of cards to choose from, each with a nice Valentine's message and space to write who the card is to and from, if you wish! The designs on the cards are unisex, so they are ideal for sharing with the class. The stampers are fun to decorate the cards with as well as for making arts and crafts afterward.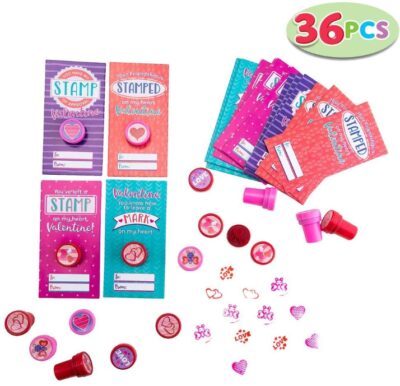 20. Valentines Plush Pusheen
Our first girl valentines gift is this adorable plush Pusheen, who is holding a cupcake! The plush is 10.5″ tall and is super-soft and cuddly. It is safe for children aged 1 year old and above, so it's a great gift for all little girls. There are different options available if the cupcake doesn't take your fancy – Pusheen can also come holding a cookie or an ice cream cone, without the hat, if preferred. This popular, lovable character is sure to bring a smile to your girl's face!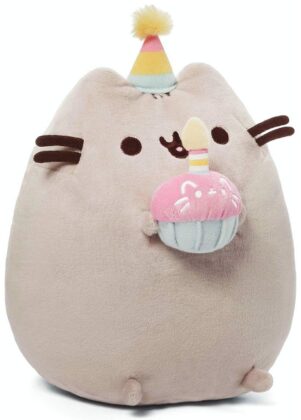 Best Gift Overall
After considering many great options, the one which stands out as the best of all is the heart-shaped pendant. It is made using beautiful Swarovski crystals and is just the right size for most girls. The will love the sparkly stones and the sweet, heart design, and are sure to treasure this for years to come.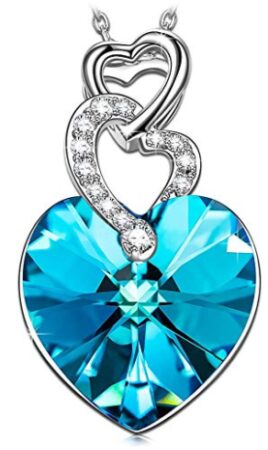 Best Budget Gift
If you want to spend a little less on your gift but still choose something she will love, we recommend going with the heart-shaped bead set. Girls will pass many hours building their own jewelry, and will love to wear it on Feb 14th! The designs are cute and sure to appeal to girls, and threading the beads is great for their fine motor skills and hand-eye coordination too. It's made by one of the leading toy manufacturers so you can trust it is of the highest quality.