Remember when I made the giant newspaper article for Rex's room? Well, ever since then I've wanted to do a Subway art version, using the Mother Teresa quote I love.
Believe it or not, this giant 2'x3′ art cost less than $7. Sweet, huh? Well, let me walk you through it so you can make it yourself.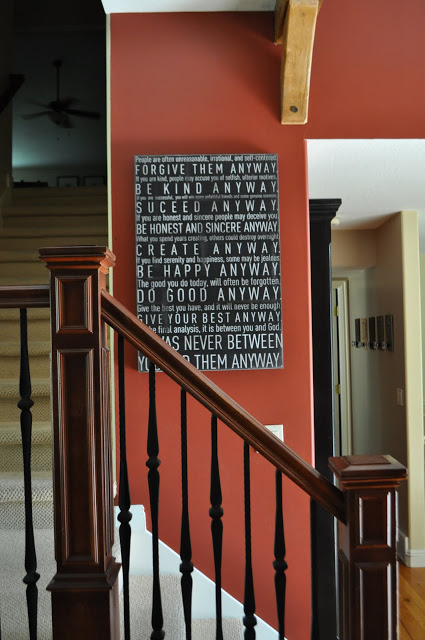 First of all I got on Picnik and created my jpeg file. You'll want to start with a pretty high-resolution photo. You want to make sure to crop it as a 4″x6″ because the ratio is the same when you print it as a 2'x3′. I spent a fair amount of time getting the quote just right.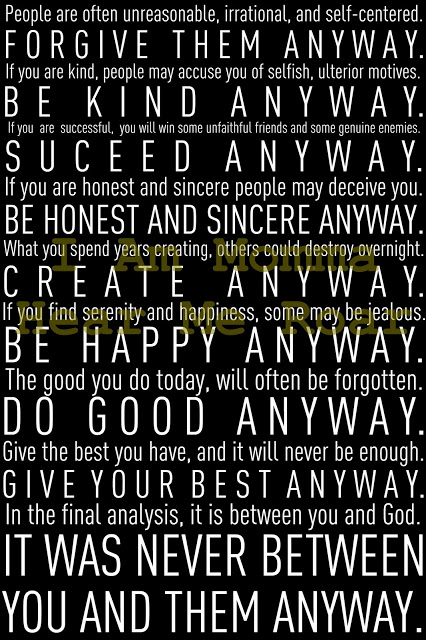 Next, you print it at Staples as an "engineer blueprint." This is important. Why? Because it will only cost you $2.99 to print it this way. The only downside is that it's black and white, so if you're looking to do something colored this won't work. I wanted mine black and white, like original subway art.
(Staples website often has uploading problems when ordering online, so I recommend bringing your file in on a zip drive or calling the store to get their email address to send it to rather than uploading it to their site.)
This picture is of a different one I made for my sister. The big blob is me blocking out her current address.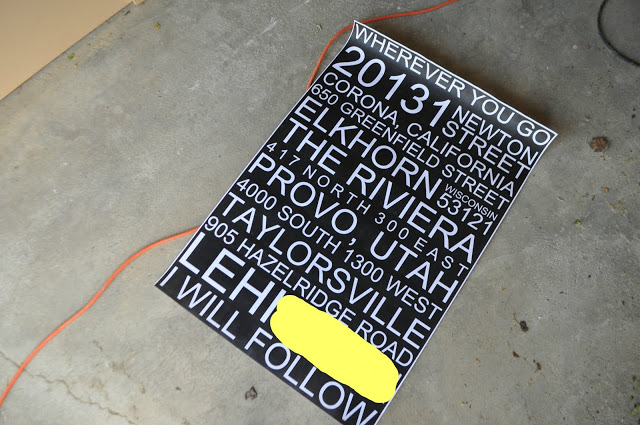 Okay, next step. At Home Depot they have a really large sheet of super-thin MDF for under $4. The MDF sheet won't be the exact same size as your printed art, which means you can either cut the MDF yourself OR ask them to do it. They usually cut things for free. WARNING: Print your art FIRST, then measure it, then ask them to cut it to that measurement.
Why? Because the artwork doesn't print all the way to the edge, which means it's not exactly 2'x3′. You don't want the wood to be larger them the paper. You can kind of see the border along the edges in the picture above.
Next, you glue the paper onto the wood. I have used a couple of different types of spray glue for this and the one that worked the best for me was Elmer's. Since you want to get the paper positioned perfectly, let me show you a trick my dad taught me.
Place the paper exactly where you want it. Have someone hold one end in place and roll up the other end. Spray your glue like crazy and then roll that half down. I don't have a brayer. (I think that's way it's called.)
Instead, I used a dust broom to smooth the paper down all over (starting in the middle first). Then roll up the other half and do the same. Make sure to get a lot of glue on the edges.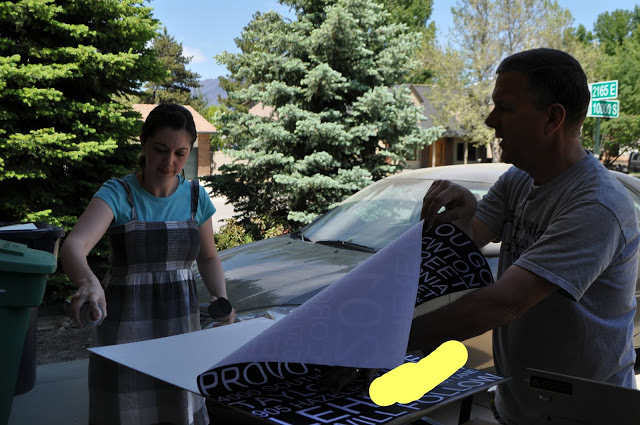 If your paper isn't exactly flush with the wood you can fix that as you sand it. It will start to wear it down until it's easy to rip off.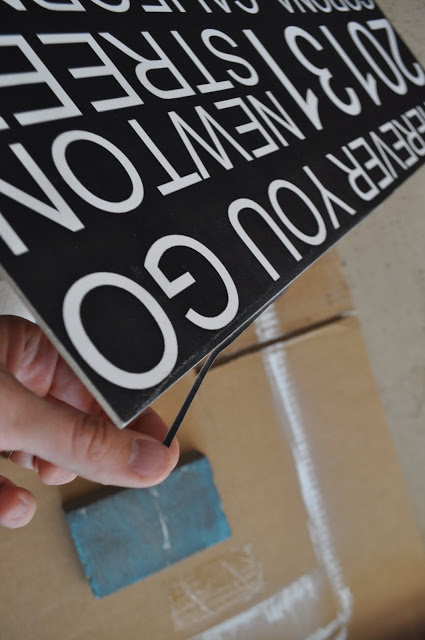 I sanded mine a lot on the edges and some on the inside because I wanted mine to look really aged.
You can sand the paper itself and the toner will start to wear off. It works well (though you'll get a bit dirty and you'll have to dust off the board when you're done).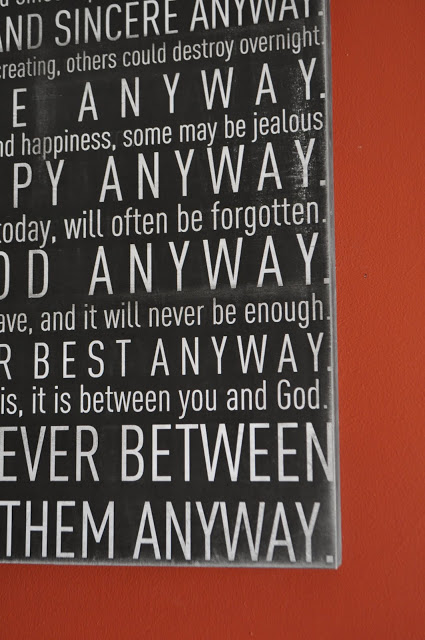 Once your paper is on, you may choose to mod podge the top. I didn't. When I did Rex's sign I felt like it made the edges ripple a bit, so I didn't do it this time. I've had it on my wall for a couple of weeks now and it seems to be just fine without.
My dad was kind enough to pull out some scrap wood from the garage and put a frame along the edges, making it look like one thick board. He did this before I glued on the paper, so that he could use a nail gun to attach the boards easily.
Then the paper concealed the nails. I also painted the edges black before adding the paper. My dad built a regular frame around the one I made my sister, which was pretty as well. (Sorry, no picture yet.)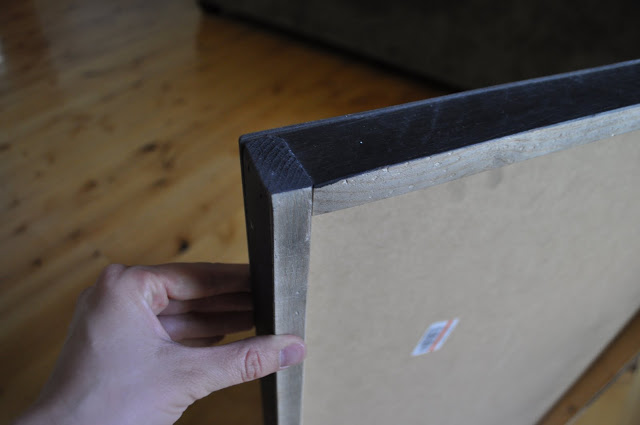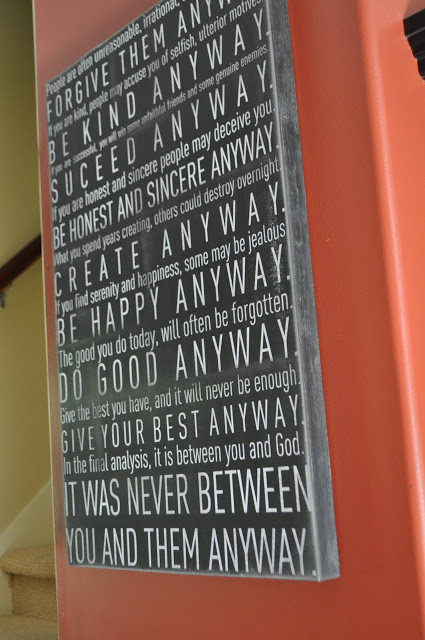 If you don't want to add a frame, you hang it as is. I would drill a small hole through the board and nail it right to through to a stud.
It's too thin to hammer those little hanging strips into. OR, you could skip the MDF altogether and buy a poster frame for the art.
I am really excited to finally have this quote up in my home. I love it.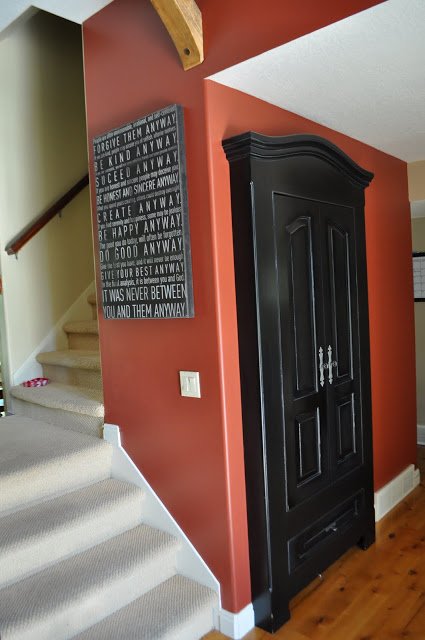 Thanks for dropping in. See you tomorrow.