Wondering what to buy a boy for valentines day? Many children enjoy celebrating Valentine's Day and it's great to include them into the celebrations. So, to make sure they don't feel left out, it might be a nice idea to pick them a special gift. Here, we have picked out 20 young boy Valentines gift ideas, which are sure to make them feel loved as well as keeping them busy for a while. With Valentines ideas for here ranging from toys to craft activities, there is sure to be something to appeal to everyone.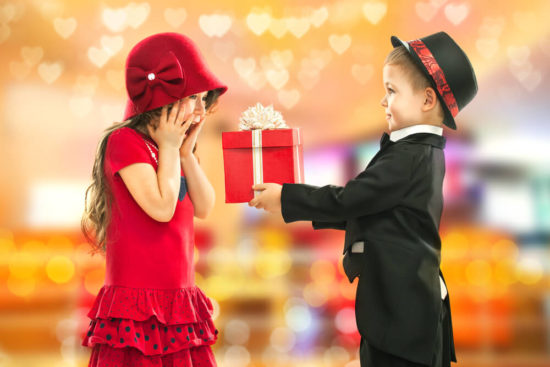 Considerations When Choosing Valentine's Gifts for Boys
There are a few things worth keeping in mind when searching for Valentines for boys. Their age will probably influence which gift you should choose – we have tried to pick items here which appeal to a range of ages, but be sure to check with the manufacturer if in doubt. Also, think about what he is interested in. There are many different types of gifts for boys which can be given on this occasion, so be sure to pick something which matches his interests so he will enjoy using it.
Budget: Another important factor is setting the budget for the gift (budget gifts), particularly if you also have plans for the day. Plan out how much your activities, dinner, and gifts are likely to cost so you don't go over budget on just one item. Most of the gift suggestions we have given below are quite inexpensive items, so they won't break the bank.
Age: Looking to find valentine gifts for 2 year old boys will be slightly different from boys aged 4 to 5 years old.
Popular valentines gifts: There are some popular gifts like; toddler boy valentines day shirts and make great gifts!
Themed valentines Party: There are loads valentines day ideas for kids to consider and check out here for more.
20 Top Gifts for Boys on Valentine's Day
Now we know a little more about picking out the best Valentine presents for boys, let's take a look at 20 of the best on offer. With everything ranging from socks to craft activities and toys to books, there is sure to be something that will appeal to him here.
1. Valentine's Cootie Catchers

Kids love making cootie catchers, but it's not always easy to think of unique ideas to fill them with. These templates are prefolded and come in four different styles, so they just need folded up and they are ready to play. There are 28 of the cards and envelopes included, so they are perfect for giving out to friends to spread the love! There are designs to appeal to both boys and girls, such as monsters, unicorns and pets. The paper the cards are printed on is thick and good-quality, so the game can easily be played without worrying about tearing them.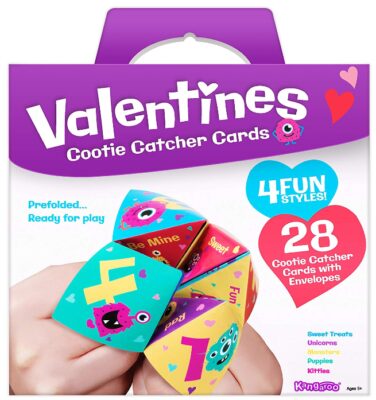 2. LEGO Valentine's Dog

LEGO is always a popular toy with boys, and this one is simply perfect for giving on Febrary 14th! It is ideal for boys aged 7 years old and above, and it has 150 pieces to build. Once built, the cute dog figure stands at 3 inches tall and is fully posable, including moving arms, legs, ears and tail, as well as a head which rotates. It also wears a bow tie and comes with a bow and arrow and holds a heart. Building the model will keep boys busy for a while and it will look great as a decoration on the special day too.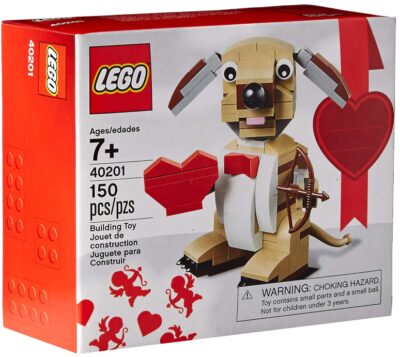 3. Valentine's Superhero Bracelet Pack

If your boy loves superheroes, then these slap-on bracelets are sure to go down a treat this Valentine's! There are three different designs included, and each comes attached to a card for writing a message. They have cool comic book designs and words, sure to appeal to boys of all ages! The bracelets can easily fit most sizes thanks to the slap-on design. There are 28 bracelets in the pack, so they are perfect for sharing out with the entire class!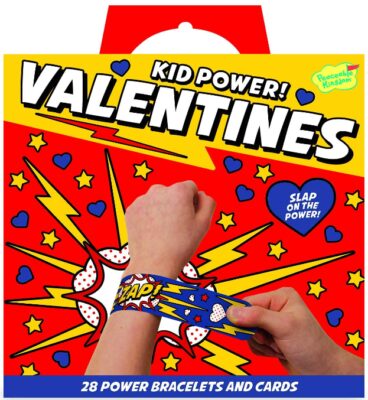 4. Joyin Foam Airplanes

Here we have another Valentines Day idea for him to share with his classmates. This time, it's a pack of 28 foam airplanes made by Joyin. There are seven different designs of airplanes, as well as four different cards to attach them to. The models are easy to assemble and no glue or adhesives are necessary. Kids will have so much fun building these models and even more fun sharing them out with their friends.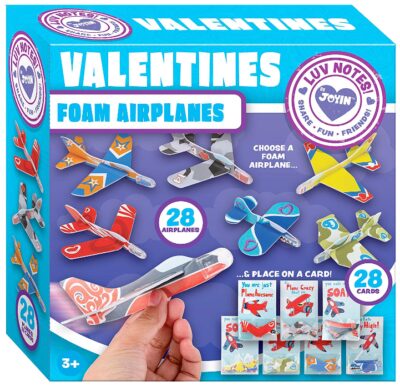 5. Puzzle Box Maze

If you are planning to give your kid money as a gift, this puzzle box is a great way to make it more exciting and thoughtful. It is much more fun for kids than receiving money in an envelope and gives them something to keep themselves occupied with, too. Kids have to solve the maze using the marble to unlock the box and release the money. Afterwards, it can be used as a piggy bank so they can continue to make use of it every day. It's great for giving their brain a workout!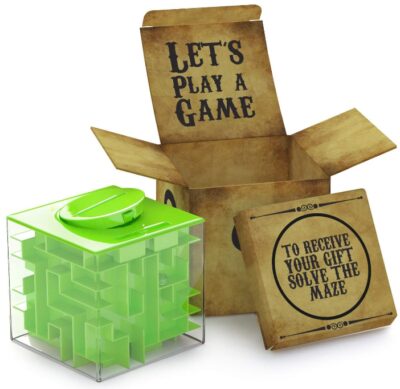 6. I'm Not Just a Scribble

This book is all about being kind to others and including them, which is why it is so appropriate for Valentine's. The main character in this book looks different from the others, but throughout the book, he teaches them to accept him, and everyone, for who they are, rather than how they look. The book also comes with 100 stickers for kids to create their own art based on the characters in the book. It's great for helping kids learn about emotions and even using colors to express emotions.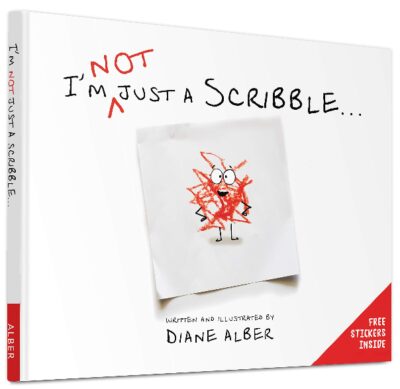 7. Valentine's Day is Cool – Pete the Cat

Next on our list of boys valentines ideas is another book, this time it's from Pete the Cat. The book comes with loads of fun additional extras – a poster and cards and stickers to share out with friends and family. The story is about when Pete makes Valentine's cards for his friends and family, and everyone else who is important in his life, but forgets about someone special. This is a great book for helping kids think about everyone who is important to them. This book is ideal for children aged between 4 – 8 years old.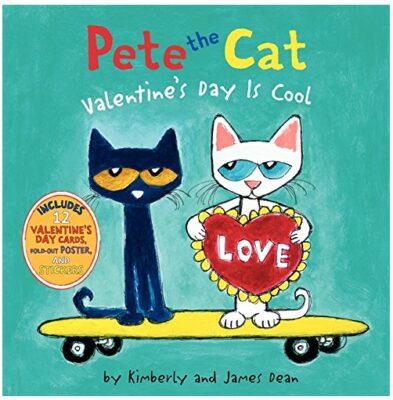 8. Melissa & Doug Scratch Bookmarks 
Here we have a fun and easy craft activity which can be enjoyed by the whole family on Valentine's. The set includes 12 bookmarks as well as 12 wooden sticks to scratch the surfaces off to reveal the hidden colors underneath. Kids can draw or write anything they like on their bookmarks, and they are ideal for giving as gifts to friends or family when they are finished. Parents will love this activity too, because it doesn't make a mess or require much cleanup!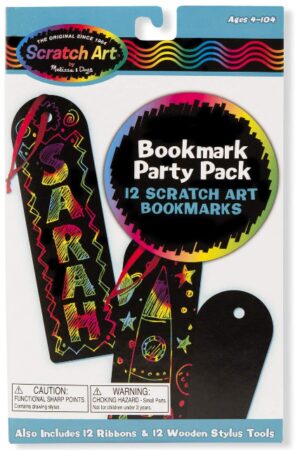 9. Emoji Keychains

Most kids love emojis, so they are sure to love these assorted keychains to help them express their mood! They come in a large pack of almost 50 pieces, so they are ideal for kids to give as Valentine's to their friends, or for using as party favors if they will be having a party on this day. At just two inches tall, they are perfect for decorating bags, jacket zippers and of course, for holding keys together. Boys will love looking through the assorted designs and picking out which they like best, and the pack also comes with hearts, a face with heart eyes, and a face blowing a kiss, which are all perfect for 14th February!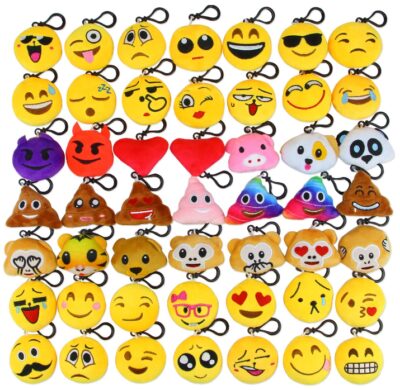 10. Gaming Socks

Socks are the ideal gift for any occassion throughout the year, but it can be difficult to make them exciting for kids. However, these ones are sure to go down a treat with boys who love gaming! On the soles, you can find the text 'Do not disturb, I'm gaming' made from non-slip material for practicality. They are made from cotton, polyester and spandex and are designed to be moisture-wicking keeping the feet clean and dry, as well as odor-free throughout the day. The socks are designed to fit most sizes from 6 – 12, so they are ideal for older boys.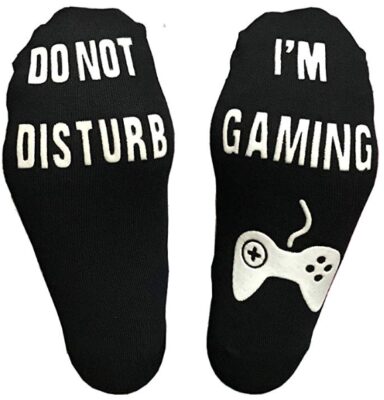 11. Talking Hamster

If your boy loves silly and funny toys, he is sure to love this cute plush hamster, which repeats what is said to it in a funny voice! It also moves its head in a dance when it is speaking, or when it is patted. It's easy to use, so even young kids will be able to have fun with it. It doesn't matter which language is spoken, it will be able to repeat the phrases regardless. The toy requires 3 AAA batteries for operation.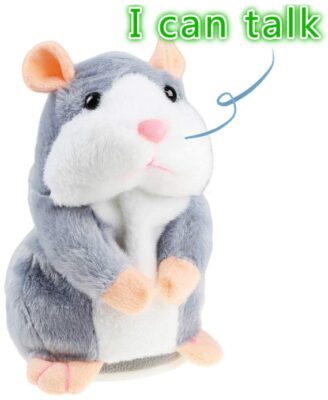 12. Bluetooth Hat

Our next Valentine for boys is this awesome Bluetooth music hat, which allows them to listen to their favorite songs without wearing headphones! It has an awesome battery life of up to 20 hours continuous running time, so boys never have to be without their favorite songs. It comes in a choice of two different colors, and is sized to fit most. Inside the hat, the HD speakers offer excellent sound quality, and it is thick and cozy to keep the head warm when wearing it, too. The Bluetooth connectivity is strong, and there are buttons to easily change between tracks or stop the music.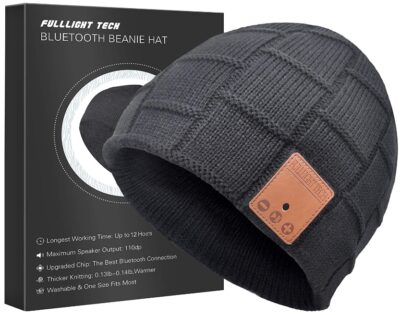 13. Classroom Valentine's Cards

This kit comes with everything necessary to share Valentine's with the whole class of up to 32 students, and one teacher. It comes with 32 kids cards as well as one for the teacher, some stickers and a box for the cards to be posted in. There are two themes available – the games and sports option shown below, or an emoji version. The cards are printed on good-quality paper and are sure to bring joy to the whole class.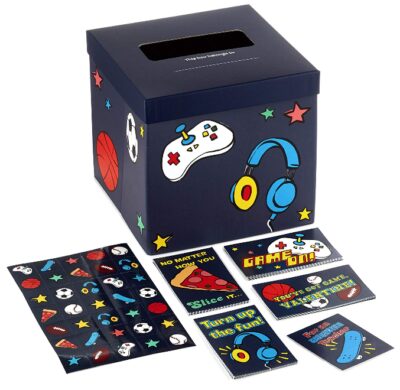 14. Joyin Race Cars

These race cards are another great gift idea for boys to share out with friends and classmates, as there are 28 in the pack. There are seven different designs in different colors, as well as seven cards to attach them to for gifting to friends. The cards have sweet messages fitting with the car theme such as 'you drive me wild' and 'I never tire of you'. The cars can be attached to the cards using twist ties, so kids can mix and match which cars to pair with each card. The cars are fun to play with, as they can really roll around on their moving wheels.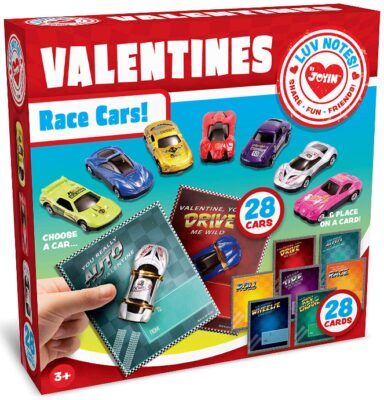 15. Peaceable Kingdom Valentine's Tattoos

Kids absolutely love wearing fake tattoos, so they are sure to have loads of fun with these shiny foil ones. They come as a pack of almost 30 tattoos, as well as cards to attach them to for giving to friends. There are four different designs of tattoo, all red and silver and with Valentine's-themed designs. The set also comes with envelopes, so the tattoos can be kept as a surprise until opening. They are easy to put on, and kids willl love to show them off!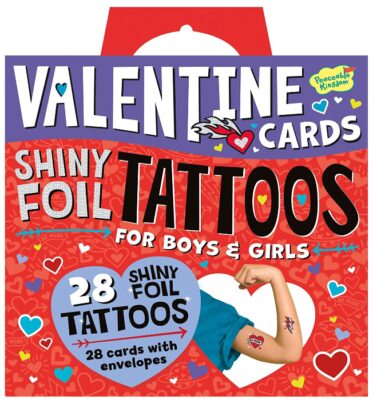 16. Joyin Sea Creatures Gifts

Next up, we have another gift set for boys to share with their classmates. This time, they are cute sea creature toys which come in seven assorted designs, with 28 figures included in total. There are also seven types of cards included, each with a message coordinating with the sea creature which can be attached to it, such as 'you are crabulous!' or 'you're my lobster, Valentine!'.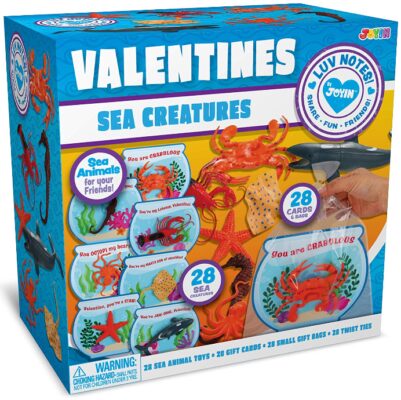 17. Peaceable Kingdom Valentine's Jokes

If you're still wondering what to get a boy for Valentines Day, these jokes are sure to be a good choice – what boy doesn't love silly jokes?! Again, these are ideal for giving to classmates or friends, as there are 28 joke cards and envelopes. There are three different cheesy jokes about Valentine's on the cards, and to add to the fun, a mirror must be used to reveal the punchline!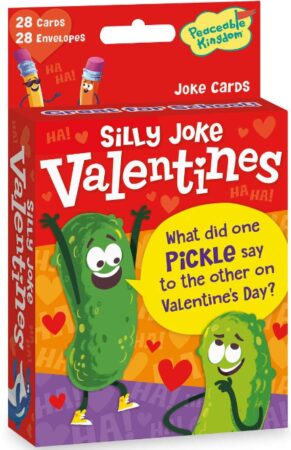 18. Valentine's Wristbands

Nearing the end of our list of Valentine ideas for teen boys we have these rubber wristbands, which come as a pack of over 50, so they're ideal for sharing out or using as party favors. There are four different designs with messages such as 'BFF' and 'You Rock', so they are perfect for sharing the love with friends! The size should fit most adults and children – the diameter is over 2.5 inches.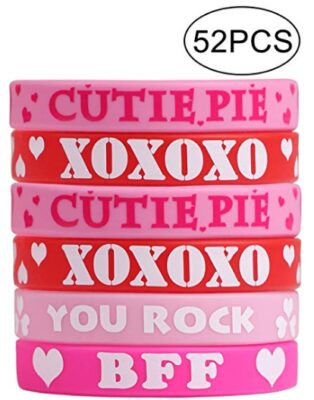 19. Best Boyfriend Ever Book

If you're looking for a Valentines idea for guys, this memory book is perfect – it is super cute and can be personalized to make it extra special and one-of-a-kind. There are loads of pages in the book with beautiful illustrations, and spaces to customize the book to fill it with special memories of your times together. There are stickers included for decorating as well as spaces to add photos, and the book also comes with coupons to use together.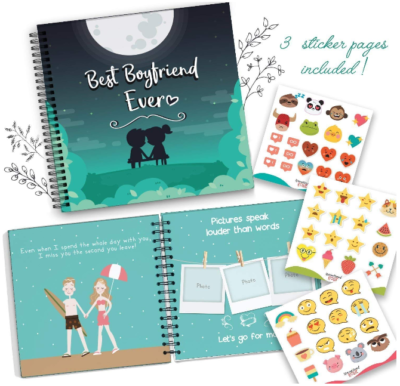 20. Joyin Googly Eye Rings

If you are still wondering what do boys like for Valentines Day, we have one more pick for you. For our final gift idea, we have these cute and funny googly eye rings. Like some of our previous picks, they come as a set with 28, making them excellent for giving out in class. There are four different colors and designs to choose from, and each comes on a card, so when they are assembled together, they look like monsters! Each card has funny text on it which is sure to bring a smile to your boy's face.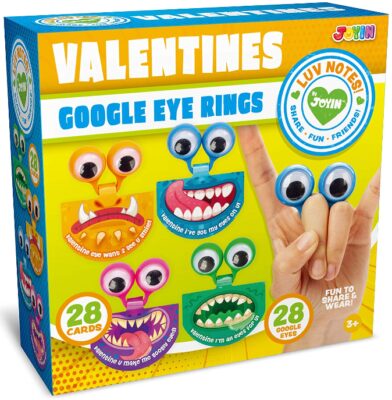 Best Gift Overall
After looking at 20 excellent boy Valentines gift ideas, it's time to decide which is the best overall. The LEGO dog figure takes that spot this time, for a couple of reasons. First of all, it is perfect for Valentine's because of the love theme. It will also keep your boy entertained for a while, because it has a good number of pieces and assembling them offers a reasonable challenge. The finished figure will look cute as a decoration for February 14th, or any other day for that matter!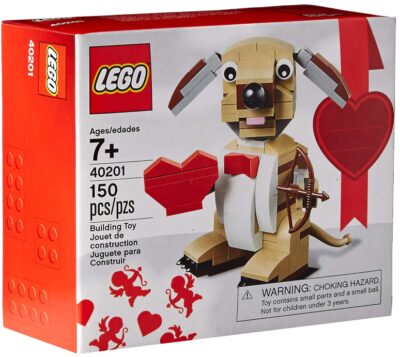 Best Budget Gift
If you are looking to buy a smaller, cheaper gift item, fear not, as we have another great pick lined up. Of all the boy Valentine gifts, the Pete the Cat book is one of the best if you don't want to spend much. It has a great message as well as sweet illustrations of your boy's favorite characters from the series. He's sure to love reading it at bedtime throughout the year, not just on Valentine's!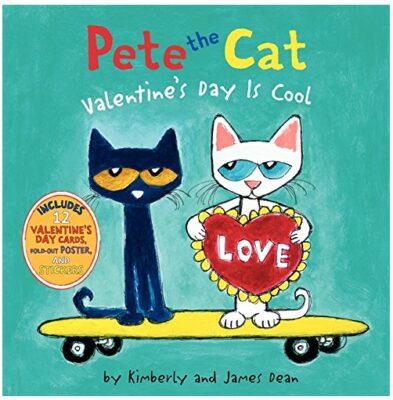 What to do With Kids on Valentine's Day?
Whilst a romantic date night might be out of the question if you have young kids and no babysitter, it can be great fun to get the kids involved and have a special day out as a family instead. There are many possibilities as to what you can do on February 14th, perhaps even ask the kids what they would like to do. It might be nice to head to their favorite attraction whether it's the zoo, museum, cinema, bowling, or anything else they enjoy. And instead of dinner at a fancy restaurant, take them for ice cream or to their favorite place to eat afterwards.
It might even be nice to have a day together at home enjoying some quality time together watching movies, doing crafts, or anything else that the kids love to do. The whole family will enjoy spending some quality time together regardless of what activies are being done. After all, this day is all about sharing the love!
How to Make a Cool Boys' Valentine's Day Box?

If you can't choose between the gifts we have suggested above and want to choose a few of them, making a hamper or box filled with gifts is a great idea. You can start with a plain box and decorate it with his favorite characters or some Valentine's-themed designs, or choose a box which is ready to use. Then, fill it with some of the cool gift ideas from above, as well as perhaps some of his favorite snacks or candies and of course a nice card with a sweet message about how much you love him.