Backyard water slides are a great way to keep the kids entertained this summer when the weather is hot. Much more fun than a kiddie pool and cheaper in the long run than taking the whole family to the local water park, kids will spend hours playing on a water slide during the summer break.
Also, they are great for using at family gatherings such as summer barbecues, birthday parties or simply if your kids have their friends from the neighborhood over to visit. So without any more hesitation, let's look at the best water slides for kids for home use.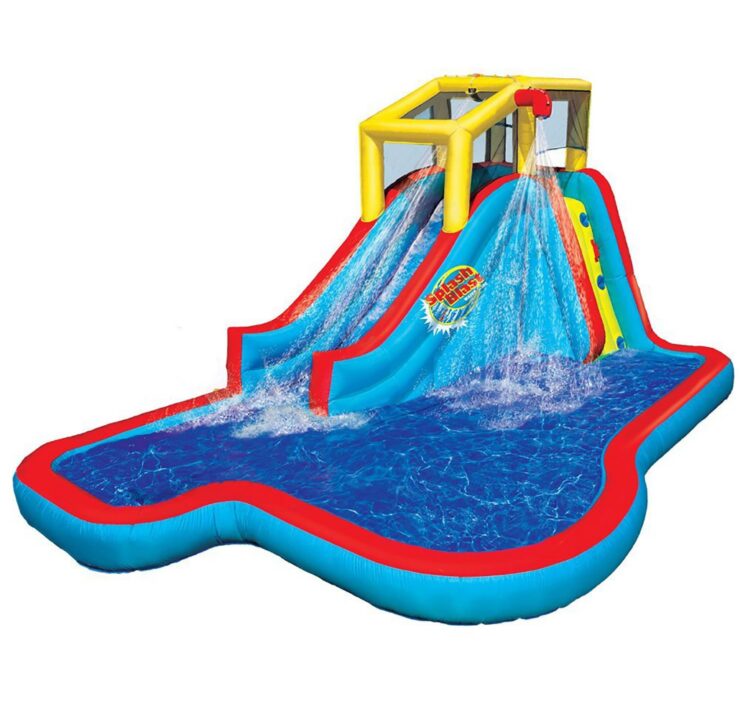 How to Pick Inflatable Kids Water Slides
Before purchasing a slide, there are a few important questions to answer in order to find your perfect pick. Here are some of the main considerations:
Age: Your child's age will be one of the main factors to consider when it comes to choosing the best backyard water park. There are smaller slides for toddlers and much bigger ones for older kids and teens. So, be sure to check the manufacturer's guidelines and your child's abilities to ensure they can have fun and stay safe when using their new slide.
Features: Home water slides come with loads of different features, so think about what your child is likely to enjoy and choose a slide according to their preferences. If your child loves water pistols, you might like to choose a slide that has water sprayers on it. Some kids love to climb, so if this is the case you can choose a slide which also features a climbing wall. There really is something to suit all tastes and preferences.
Size: The physical size of the slide is really important to consider too – make sure your yard is big enough to set it up with enough space around it. Some of the slides here really are huge, so it might be best to measure your available space if in doubt.
Budget: Water slides come at a variety of price points, so set a budget to ensure you don't overspend. Some of the large slides with lots of features can cost hundreds of dollars, whereas at the other end of the scale you can find a simple slip n slide at a much more affordable price.
Durability: When you spend a lot of money on a product, you want to be sure it is built to last. Many of these slides are inflatable which unfortunately comes with the risk of punctures. Some come a repair kit just in case, but many of the better slides have reinforced seams which are designed to help prevent the occurrence of leaks and holes.
Best Picks Reviewed in 2023
Now, let's take a look at 15 of the best inflatable water slides for kids available for purchase in 2023. There's something for all ages and budgets, so take your pick!
1. Pogo Inflatable Slide
This blow up slip and slide has an impressive height of 12 feet tall, making it a great pick for older kids. It's also 21 feet long, so many kids can play on this one at the same time. The slide inflates in an impressive time of just a few minutes, so kids can get playing straight away. The maximum weight capacity on this slide is an impressive 500 pounds, meaning kids can have years of fun, summer after summer.
This is one of the best giant water slides for sale as it is easy to set up and it's a great size for kids of all ages. The materials used to make this slide are top quality, as you would expect for the price it comes in at. It's made from industrial-strength PVC vinyl, and some areas have extra reinforcement and stronger seams. The seams are also designed in such a way to prevent any water from getting in, which helps prevent mold from building up.
Parents will love this slide because it has safety netting at the top as well as high sides to prevent accidents. It also comes with 8 anchors to keep it safely on the ground even when kids are jumping around full of energy! Finally, the slide can be used dry as well as wet, so it is versatile enough to be used for just about any occasion.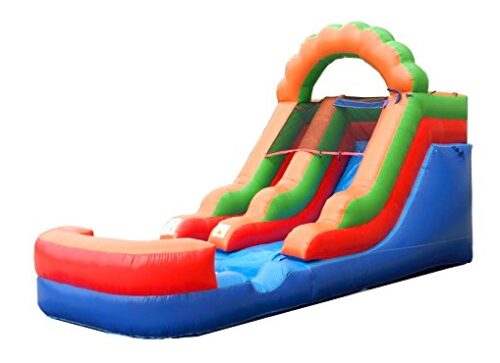 2. 18 Foot Retro Inflatable Slide

This kids blow up water slide is somewhat similar to product #1 above, but even bigger! Standing at an impressive 18′ high, 15′ wide and 35′ long, this is definitely one for those with a huge backyard! The slide is made from the best quality materials, as it is commercial grade. The vinyl is puncture and flame resistant, so parents can rest assured their kids are safe and the slide won't get broken when in use.
The included blower will help get the slide up and running in no time, as it is also commercial-grade. The back and sides of the slide are high, and there is a safety mesh at the top to prevent kids from standing and falling. At the bottom, the sides are also enclosed to ensure a safe landing every time! It's recommended that no more than 2 kids use the slide at the same time, however it can be used by all ages. In fact, it's even strong enough to hold adults, so the whole family can have a blast!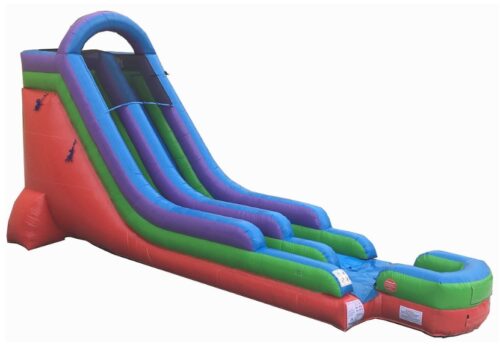 3. Little Tikes Slam n Curve

The Little Tikes inflatable slide is designed in such a way that parents can keep an eye on their kids at all times. This is great for safety, and also means parents don't miss out on any of the fun! The landing pool is a good size, and also allows kids to play in the water if they get tired from climbing up the slide. When kids are enjoying the pool, they can also practice their skills with the included basketball hoop and inflatable ball.
The Little Tikes water slide comes with ground anchors, as well as a blower which is run continuously to keep the slide inflated. Up to 3 kids can enjoy playing on this slide together, up to a maximum total weight of 350 pounds. The slide is recommended for kids over the age of 5, and up to the age of 10.
However, with careful supervision we recon this slide is great for younger kids too. In fact, many parents say their 3 year old children can use it without help, whilst kids as young as 1 can enjoy it with help from parents or siblings.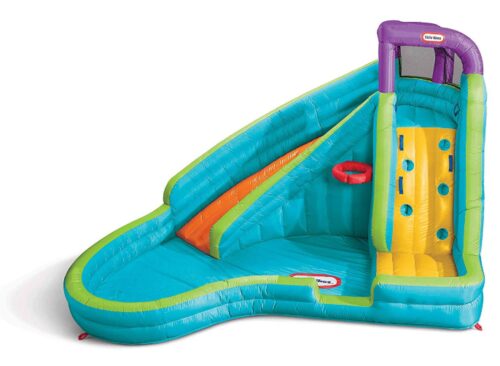 4. Water Slide Park with Two Slides and Pool

This inflatable water slide for kids is great for loads of kids to use at the same time, making it a great choice for birthday parties or simply inviting the neighborhood kids around for a playdate. The climbing wall is designed to make reaching the top of the slide not too difficult, and kids can then have fun racing each other down to the bottom.
For added fun, there is a water cannon at the bottom, which parents can connect to a water hose to soak kids as they slide! The slide stands at just under 8′ high, and the manufacturer recommends a minimum age of 3 years old. Older kids can still enjoy this slide too, as it is safe to carry a maximum weight of 350 pounds.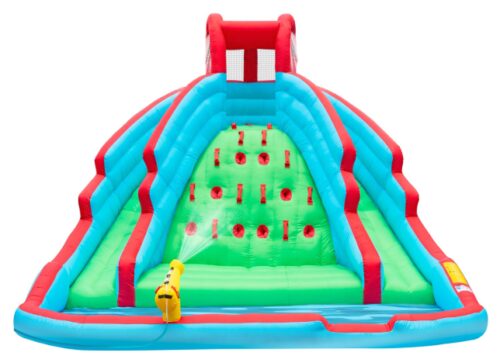 5. Wow Super Slide 25 Foot

There are loads of great slip and slides for sale, and this one is a great pick because it measures an impressive 25′ long. If you want something even larger, it's possible to connect more of these slides together, depending on the space you have available. Kids will love the sprinklers which are attached to the sides, which keep the mat slippery and will help them cool off as they slide!
The water slide toy comes with two inflatable mats with handles on either side, for kids to use to slide on their fronts. So, two kids can race together at the same time, but if you buy another slip n slide to link up, you'll get two more mats for even more fun!
There's even a pump included in the box, to blow the mats up, so everything you need to get started is included in the box. The best part about this product is the sidewalls, which ensure the water stays on the run keeping it slippery, rather than running off the sides.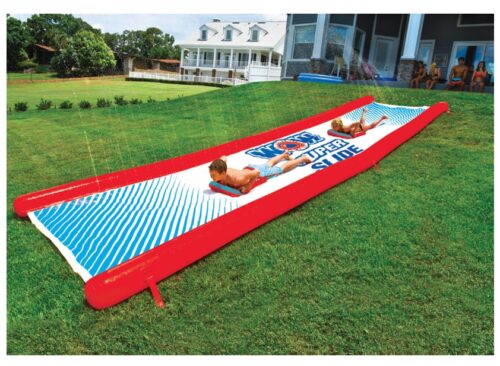 6. Banzai Big Blast Water Park

This blow up water park inflates in just two minutes and is packed full of fun features to keep kids happy all summer. It's cushioned to ensure kids are comfortable when playing, and comes with a sprinkler and a cannon to ensure kids can keep cool on a hot summer's day. The pool also comes with a basketball hoop and a blow up ball, so kids can take a break from sliding.
Kids between the ages of 5 – 12 years old can use this water inflatable, so it is sure to provide great value for money. The splash pool is large on this slide, so it's perfect for many children to play together at the same time.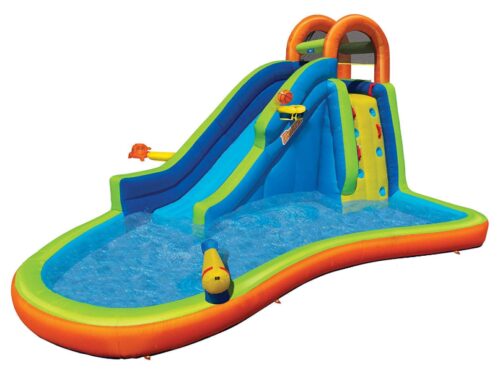 7. Blast Zone Tropical Splash

This is a great water slide for toddlers, as it is somewhat smaller than many of the other slides on offer here. Standing at 5.5′ tall and 12.5′ long, this slide from Blast Zone can hold a weight of up to 75 pounds. It comes with a nicely sized splash pool for landing, which is also ideal for young kids to play in. There's also all the usual accessories, including a blower, stakes and a carry bag.
The kids inflatable slide can be inflated in just one minute, and it weighs 40 pounds making it easy for a single adult to handle. The slide is made from great-quality materials to ensure it is durable enough to withstand many years of play.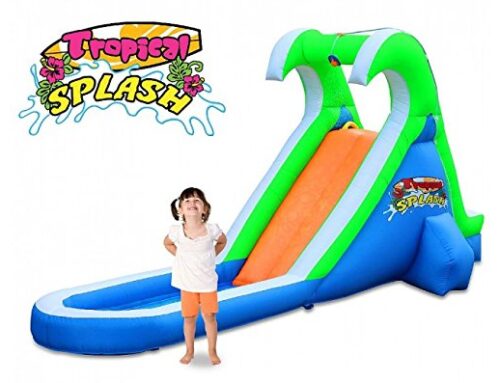 8. Pogo Pink Castle Bounce House Slide

This lawn water slide is an excellent choice for girly girls thanks to its beautiful pink castle design! It's a great size, and is made from premium materials to ensure it is long-lasting and durable. In fact, it can hold up to 500 pounds so mom and dad can take a turn too!
There's a safety net at the top of the slide, and a blower is included to set it up straight away. The features of this slide are similar to that of Pogo's other lawn water slide featured here, product #1 on our list.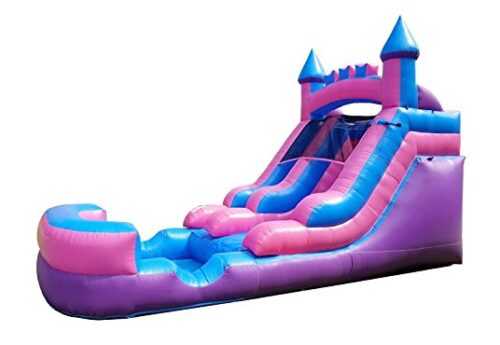 9. Kahuna Mega Blast Inflatable Kiddie Pool and Slide

The design of this blow up slip n slide makes it perfect for several kids to race each other, which really adds to the fun! There are also 3 water cannons, two at the bottom and one at the top, so kids can have a water fight too! The cannons are powered using a garden hose, which is easy to set up.
The slide is super safe, as there are handles to help kids climb to the top and a safety net around the top of the slide area. Parents will also love how the slide inflates in 3 minutes, so kids won't have long to wait when they are desperate to get playing!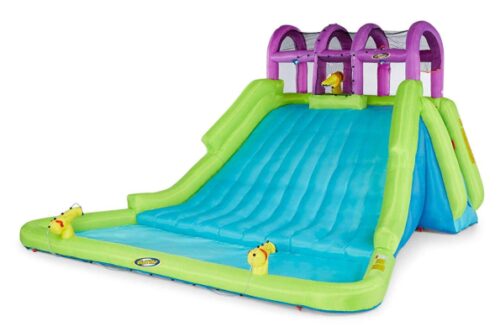 10. Blast Zone Crocodile Isle

This is possibly the best inflatable pool for families with kids of different ages. It's suitable for kids as young as 3, and can hold 5 or more kids at the same time! There are two slides for kids to race one another, and the splash pool is huge! The dimensions of the water park are 14′ long, 22′ wide and 8′, so you'll need a decent space to set this one up.
The water park inflates in two minutes and folds to the size of a sleeping bag for storage, and it comes with straps to carry it rather than having to squeeze it into a storage bag. The slide uses commercial grade materials with seams which is quadruple stitched in places for maximum strength and durability.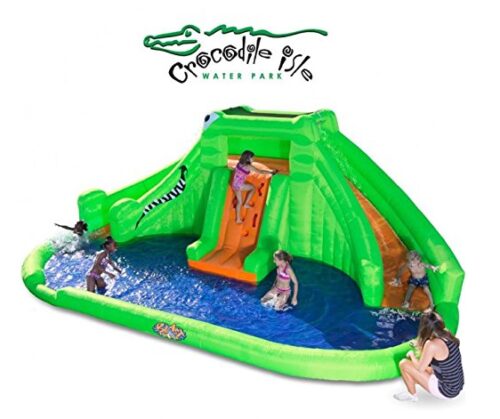 11. Little Tikes Rocky Mountain River Race

This Little Tikes pool with slide comes in two designs, the traditional one pictured here and an LOL Surprise version too! It has racing slides with water sprayers to keep them slippery, a climbing wall and a good-sized splash pool for kids to land and play in. There's even a dump bucket at the top of the climbing wall, which is sure to add a fun surprise element!
There are anchor stakes included, and up to 4 kids can play on this slide at the same time. The total maximum weight is 350 pounds – it's recommended for kids aged 5 – 10, but it's actually a good size for toddlers too.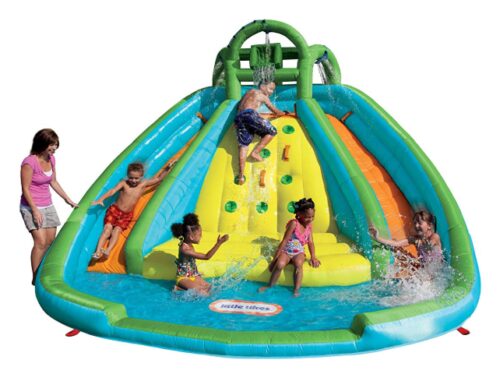 12. Sunny & Fun Bounce House and Water Park

This lawn water slide has everything you need to keep all the kids entertained for hours next time you have a summer party! There's a bounce house, a large slide, two water cannons and a landing pool which is large enough for kids to play in. You could even add ball pit balls to the bounce house or splash pool to make this even more fun!
The blow up water slide measures around 11′ x 18′ x 7.5′, so be sure you have enough space to safely set it up before purchasing. The water park is made from premium-quality materials so you can use it year after year without worrying about it getting damaged or wearing out.
There's even reinforced stitching for added strength. The inflatable is rated to hold up to 350 pounds, and more kids can also play in the pool if the bounce house or slide are getting overcrowded. An excellent pick for birthday parties filled with friends.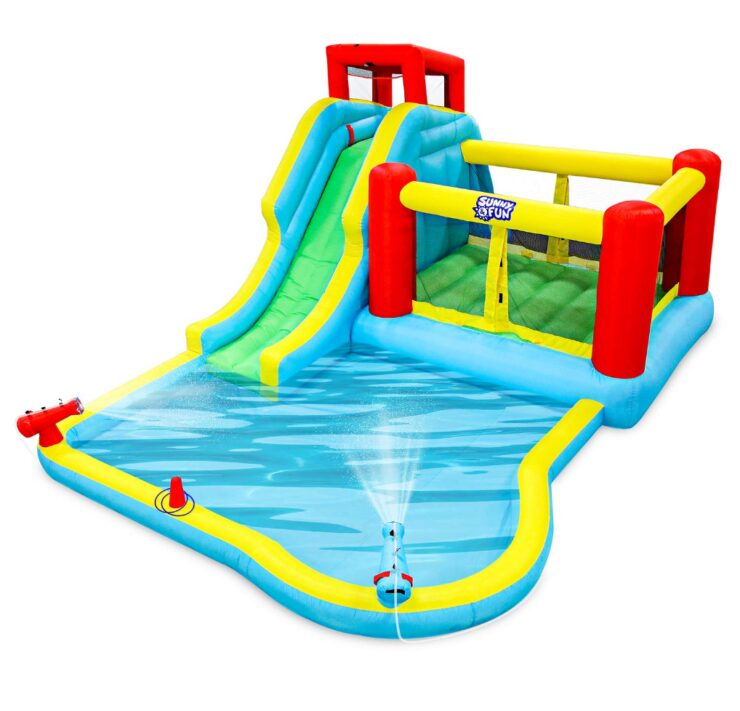 13. H2OGO Hurricane Tunnel

This kids inflatable water park has loads of fun features which are sure to keep the kids entertained all summer. It can be set up in just two minutes using the included blower. This slide is easy to climb even when it gets wet – there are foot holes and easy to grab handles.
At the bottom of the slide is a tunnel which has sprayers so kids can have fun even when they've reached the end of the slide. There's also a mister at the top which keeps the slide wet, ensure it's always slippery and fast!
This kids inflatable slide is made from PVC coated polyester, which is designed to be soft and comfortable on kids' skin, yet also durable enough to be used summer after summer. It's a great size, yet not as large as some of the others on offer, so it's ideal for those who don't have a huge backyard.
Perhaps one of the most fun features on this children's pool with slide is the water sprayer cannon. Kids will love to soak their friends with it, and it's a perfect way to cool off on a hot summer's day!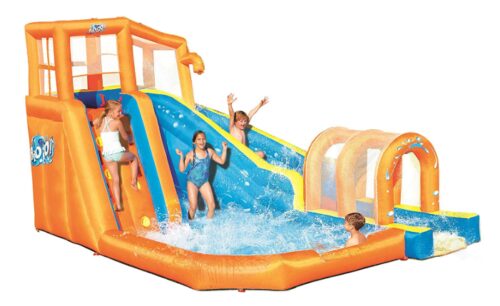 14. Deluxe Inflatable Water Slide Park

This might be one of the best blow up swimming pools with slides for those looking for something simple and effective and which doesn't require too much space. Measuring 6.3′ x 15′ x 7.3′, this slide is a great pick for families with kids of all ages.
It's possible for multiple kids to use this slide at the same time – one can climb the climbing wall, one can use the slide whilst a third can play in the splash pool at the bottom or spray their friends with the cannon as they slide down!
This inflatable slide can easily be set up with the included pump in a matter of minutes. When the fun is over, the slide can be folded into the included storage bag to keep it in good working order. There are a few other useful accessories packaged with this slide – stakes for both the slide and the blower as well as four repair patches in case of emergencies.
Overall, this slide offers excellent value for money – if you are considering renting a slide for a child's birthday party, you might be cheaper buying one such as this instead.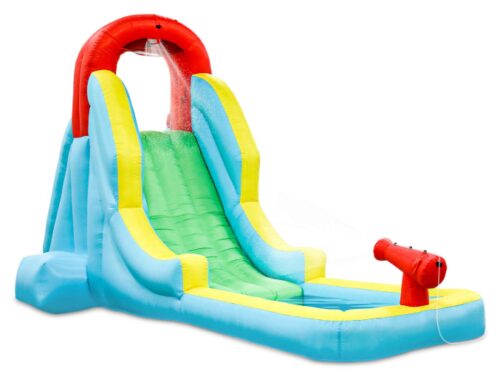 15. Banzai Slide n Soak

This inflatable pool with slide is a great size – loads of kids can play in this one at the same time! It's a great pick for families who frequently find themselves with every kid in the neighborhood in their backyard, and it's also fantastic for birthday parties or summer barbecues.
The slide is not too high, and it has easy to use handles to help them climb. There's a water sprayer at the top of the slide which helps keep it wet to ensure every slide is as fun as the last one.
As well as the sprinkler at the top of the slide, there is another for kids to stand under, somewhat resembling a shower. This is great for cooling off if your child is brave enough! The slide inflates within minutes using the included blower, so impatient kids don't have to wait long before they can start splashing!
Children aged 5 years old and above can use this slide, and it is sure to provide years and years of fun. Even if they get a little rough, there's no need to worry as repairing patches are included. There are also unique anchor bags, instead of stakes, which keep the slide secure without damaging the lawn.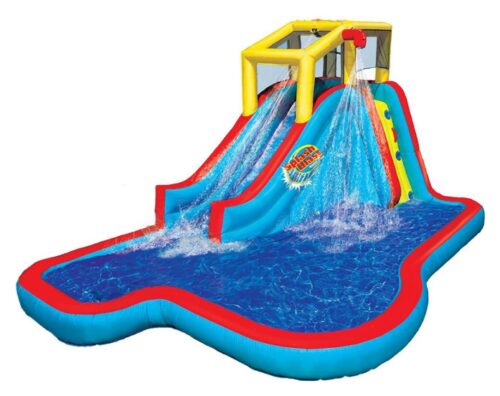 Read Also: Best Water Shoes for Kids
Overall Best Buy
The best water slide reviewed here has to be Blast Zone's Crocodile Isle water park. It has all the features you could possibly want, and is ideal for all ages and a large number of kids at once. This is the ultimate blow up water park for home use and will provide endless hours of fun every year until it is eventually outgrown.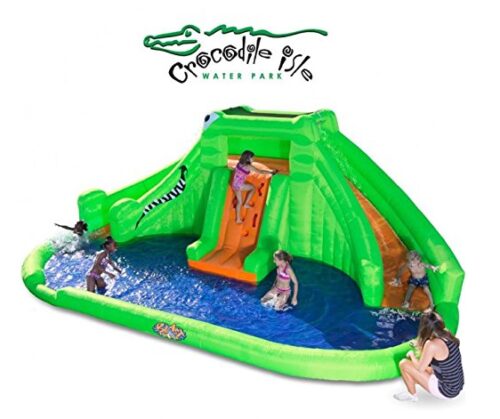 Best Budget Pick
If you are looking for cheap water slides for sale, you can't go wrong with this Deluxe Inflatable Water Slide. It's affordable, easy to set up and has two water sprayers for extra fun. There's also a small splash pool which is perfect for one or two children to enjoy cooling off in when they get tired of sliding! A great buy for those on a budget or with limited space available.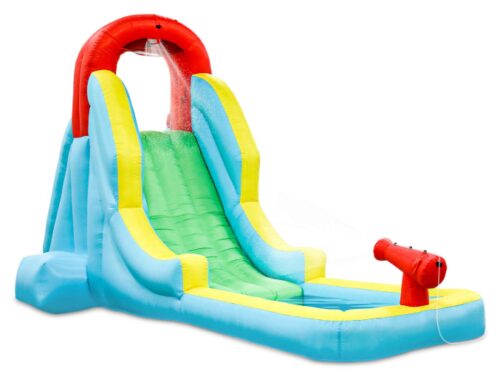 FAQ
What are the Different Types of Water Slide?
Most water slides are inflatable and have steps to climb up to the top. Others have a climbing wall to help kids reach the top. Some of these slides come with additional features such as a splash pool, water cannons and basketball hoops.
Inflatable slides generally come with an included air blower, and some also feature ground stakes to keep it securely anchored as well as a storage bag to keep everything clean when not in use.
Another popular style is the slip n slide, which is essentially a large mat which kids slide down on their tummies! These can be a lot of fun and are usually less costly than slides.
What Age are These Slides Suitable For?
Each product comes with its own suggested age from the manufacturer. However, it does depend on your child's physical ability and size as well as their confidence in the water. Most of the larger slides are suitable for kids aged around 5 or 6 years old and above and can be used for many years, until they reach the age of 10 – 12 years old.
Safety Tips for These Slides
Special care has to be taken when playing in water. These slides can get very slippery when wet, and it can be hard to get over-excited kids to listen but it's important they follow your rules in order to stay safe. Try to ensure they don't run, and make sure there aren't too many kids using the equipment at one time.
It's also important to make sure there is enough space around the slide so kids can get around it without bumping into anything. If you are using a slip and slide, be sure there is space at the end in case the kids come sliding straight off the end of it!
It's a good idea to regularly check your outdoor play equipment for signs of wear and tear and damage. This is especially important if the slide has been stored away over the winter and not been used for a few months. Ensure there are no punctures before use, and make sure the air blower is fully functioning.
Before you go, take a look at these options: