Having a pool in the backyard is the perfect way for kids to cool off during the hot summer months. However, there are so many different styles to choose from, it's not always easy to know which is the best. Here, we have reviewed some of the best backyard pools, whether you are looking for a small inflatable pool or a larger rectangle pool kids can swim around in, you are sure to find the perfect pool for your family's needs here. We also have some helpful tips and advice about choosing between different models as well as keeping your child safe when they are playing in the water.
Considerations When Choosing a Kid's Pool

Size – Think about where the pool will be located and be sure to measure the space to make sure it will fit with enough space around for climbing in and out safely. Also make sure the pool is the right size for your child – younger kids will be fine with something smaller, and of course they should not be in water which is beyond their depth.
Materials – Pools come in a variety of styles – some are made of rigid plastic, others are inflatable. Inflatable pools are ideal as they can be packed away more easily over the winter. However, they are not as sturdy as hard plastic pools. Also think about how you will empty the pool – hard pools tend to hold a lot of water, which will need to be emptied away when the summer fun is over.
Extras – Some pools come with useful extras. This could be a blower to help inflate it faster, a cover to keep out dirt and leaves, or even a sun shade. Think about what you might need to go with your pool and choose a bundle if it makes things easier.
Best in Pools for Kids in 2023
Here, you will find our reviews of the best pools for kids this summer – there is something to suit all ages and every back yard!
1. Intex Family Swim Center
This Intex inflatable pool is somewhat basic, but is large enough for kids of all ages to enjoy. It measures 120 x 72 x 22 inches, and holds over 260 gallons of water. There's a drainage plug with this pool, so emptying it out is easy. There is no pump included, nor are there any other accessories. The pool is recommended for ages 6 years old and above. Despite the lack of pump, inflating and deflating the pool is quick and easy, so it's easy to pack away when it's not being used.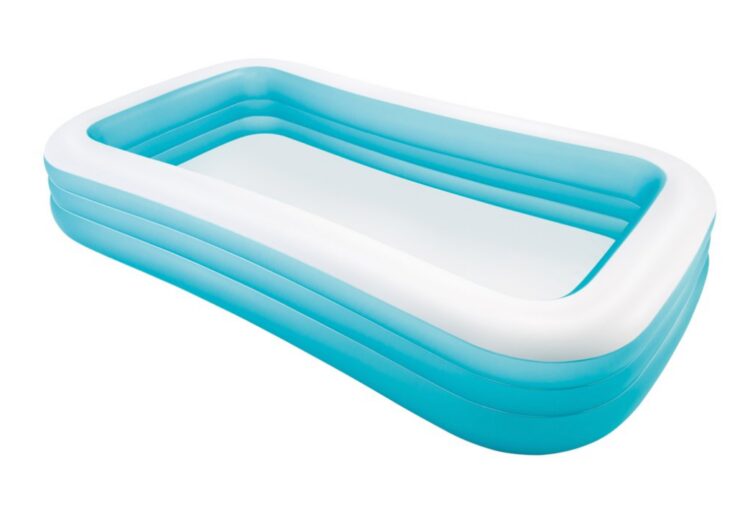 2. Intex Lounge Pool
This blow up pool is perfect for lounging and relaxing, which means it might be a hit with older kids and teenagers. This is also perfect for younger children, as adults can sit on the bench with their feet in the water, giving their children close supervision at the same time. The pool features a drainage plug and also a repair patch to help stop any leaks that might occur if the pool gets a puncture. The pool holds a total of just under 170 gallons of water. This is a great choice for families who are looking for a smaller pool at an excellent price. It even comes with cup holders on either side!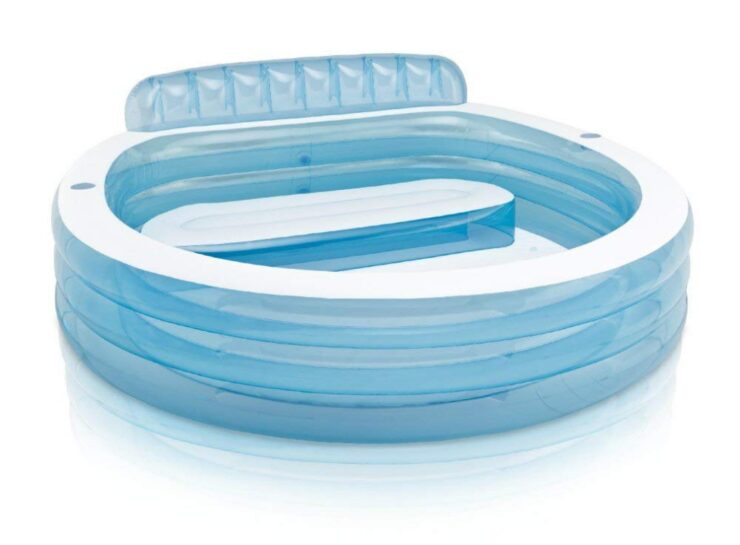 3. Intex Sun Shade Pool
This backyard pool is excellent for younger kids who need a place to cool off during the hot summer months. It comes with a very useful sun shade to keep little ones safe as they paddle and splash. The pool holds around 70 gallons and measures 62 x 62 x 48 inches, meaning it can fit in any backyard with ease.
The plastic wading pool comes with a repair patch in case your tot is a little rough! There's also a drain plug to easily let the water out after use. The pool is recommended for kids aged 2 years old and above, but it's large enough they will enjoy it for many years after this. It's even big enough for an adult to sit in, so younger babies can safely sit on mom or dads lap to enjoy the water.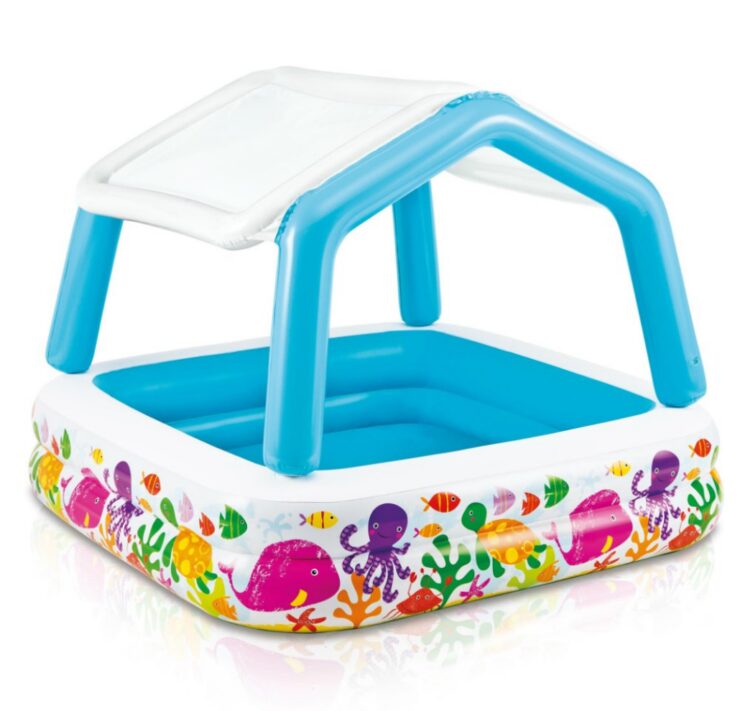 4. Intex 8 Foot Pool
This inflatable swimming pool comes with a filter pump to ensure the water is always clean and ready for swimming in. It's suggested for kids aged 6 plus, and it measures 8 feet wide and 30 inches deep. The pool can be set up in just 10 minutes, the top ring must be inflated before filling the pool with water, so kids can jump in straight away.
This pool is strong and durable, with laminated PVC sides meaning it won't get damaged easily. There's a drain plug which can be connected to a hose, allowing water to be used elsewhere. The pool holds an impressive 600+ gallons, and can be used by up to 4 people at the same time.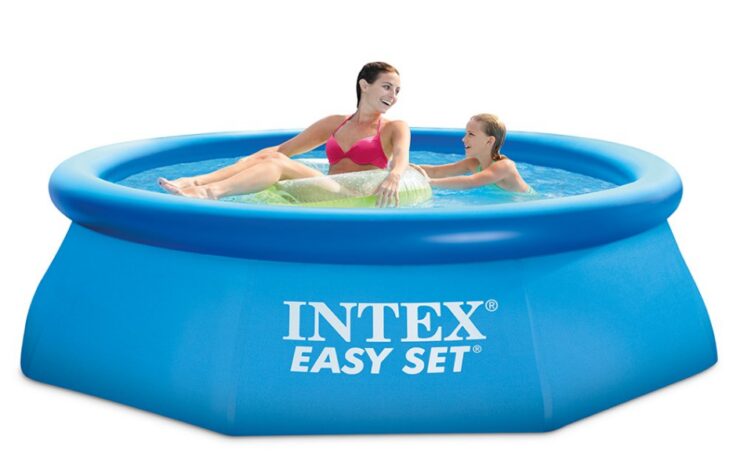 5. Dinosaur Water Play Center
This kiddie pool has loads of fun features which will keep youngsters entertained, and cool, for hours! There's a palm tree which sprays water as well as a waterfall feature which can be controlled with a valve to regulate the water flow. There are also plastic balls included which can be fed to the dinosaur! Kids will love using the small slide to splash into the water too. The base of the pool is padded for comfort, and it holds just under 60 gallons in total. There's also a repair patch in case of accidents! The pool is best for those aged 2 years old and above and it's perfect for sharing with friends.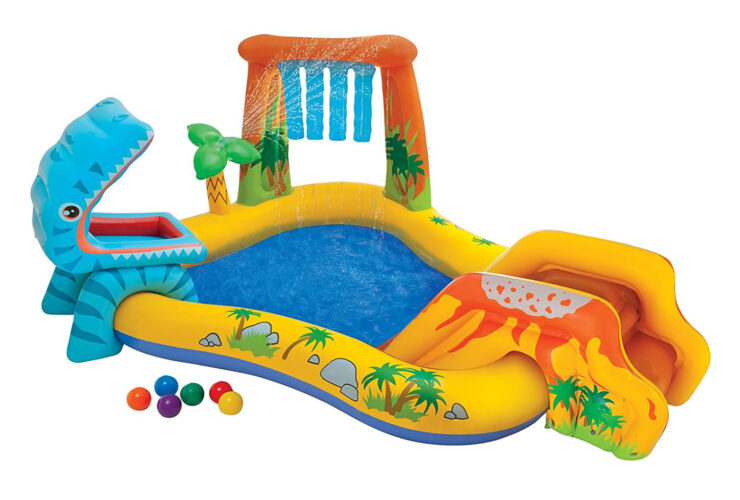 6. Splash in Shade Pool
This hard plastic kiddie pool is really sturdy and comes with a UV protective canopy to keep kids safe from the sun when they are playing in it. It also comes with DVD instructions showing how to set up and use the pool properly. The poles are made from steel for strength, whilst the pool walls are made from durable PVC plastic which is tear-resistant. The steel is resistant to corrosion, meaning the pool can be enjoyed for many years. Assembly is easy so kids can get splashing straight away! There's also a mist sprayer included which is perfect for cooling off even more and makes the pool more fun for kids.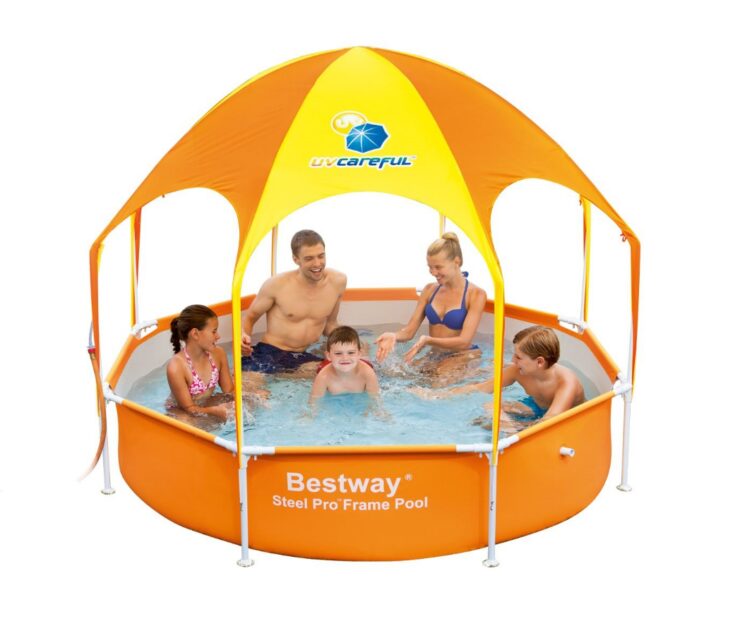 7. Banzai Splish Splash Water Park
This baby pool has loads of fun features to keep little ones happy and cool when the weather is hot. It has an inflatable dolphin for kids to sit on, a small slide and a ring toss game. There is also the option the option to connect a hose to allow water to spray out from the sides of the pool. The pool is not very deep, making it ideal for younger children. It's made from thick material, but a puncture patch is included just in case. The splash park can be inflated without using a pump, however it will be of course be quicker if one is used.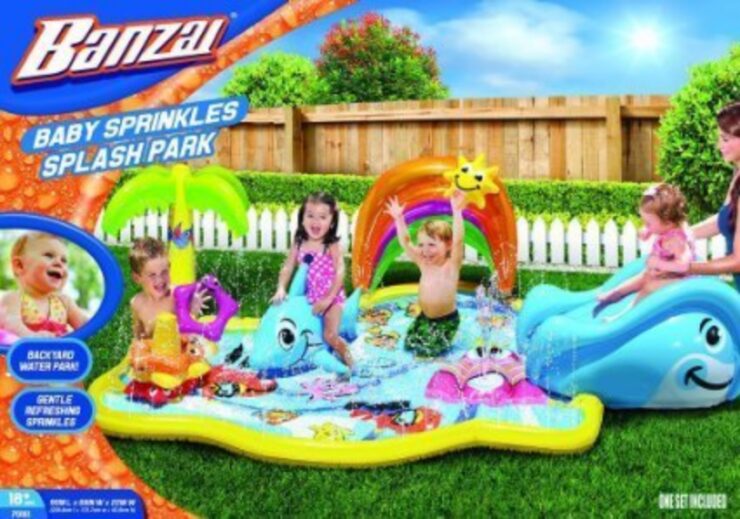 8. Banzai Wild Waves Water Park
Banzai make some great kiddie pools and this one is no exception. The pool measures 88 x 54 x 50, and comes with a slide, ring toss game and a basketball hoop for even more fun. It's made from strong and durable PVC to help reduce the risk of puncturing. Kids will love to slide under the arch which sprinkles water – an excellent way to keep cool! If your child doesn't like the water spraying, this part can be switched off or removed. The water park pool is ideal for younger children around the age of 2 years old – the slide is quite small so not suitable for older kids.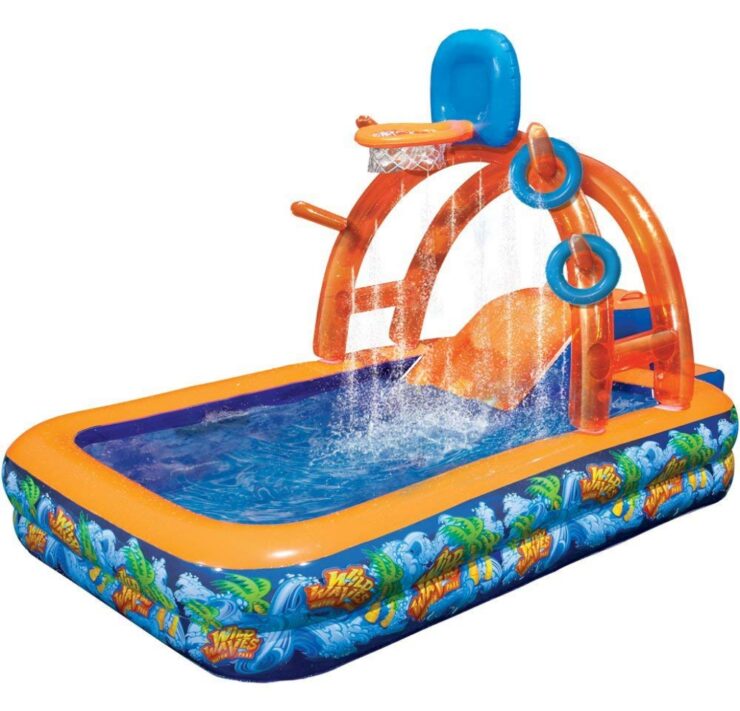 9. Intex Above Ground Rectangular Pool
This kids swimming pool is a great size – perfect for larger areas. It measures 86 x 59 x 23 inches, and can be assembled ready for filling in around 30 minutes. The sides of the pool are supported with steel bars which are rust-resistant to ensure it lasts for many years. The pool walls are also laminated to ensure they are durable. Because this pool holds a lot of water, it's ideal that the drain plug can be hooked up to a garden hose, allowing the water to be drained away from the house or grass. Kids will love having their friends over to play in the pool – it can hold around 6 people, even more if they are small children!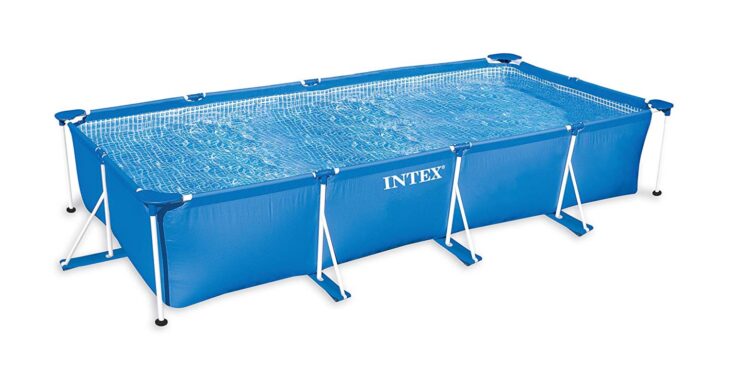 10. Blast Zone Pirate Water Park
This inflatable pool slide is ideal for large families or for enjoying with friends. It's suitable for kids over the age of 3, and they are sure to have many years of fun with it. You'll need a big space to set this pool up, as it measures 20 x 12 x 8 feet. However, it doesn't require as much water as some of the other pools despite its size. There's a bouncer with safety netting, a large slide which also has netting around the top, water cannons and a tunnel to crawl through. This water park is quite simple to set up, and a blower with a 25 feet long cable is included too. There are also ground stakes included to keep the pool safely anchored.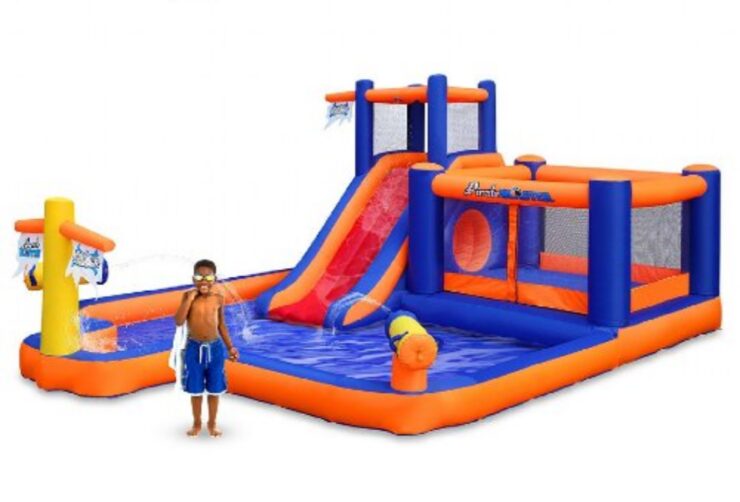 11. Banzai Slide n Soak Inflatable Water Park
We have already looked at some Banzai pool slides but this one is bigger and better! It's ideal for slightly older kids thanks to its size – it is recommended for children over the age of 5. The pool is perfect for impatient kids as it can be inflated in just 2 minutes! The air blower is included too, so there's no need to purchase anything else. Kids will love to splash and play in the sprinklers and sprayers, and these water features also help make sure the slide stays slippery. There's padding on the pool to ensure it is comfortable to play in, and there's also a repair kit included in the event of a puncture. The pool is a little difficult to dry out between uses, which is really the only downside – otherwise it is a fantastic choice.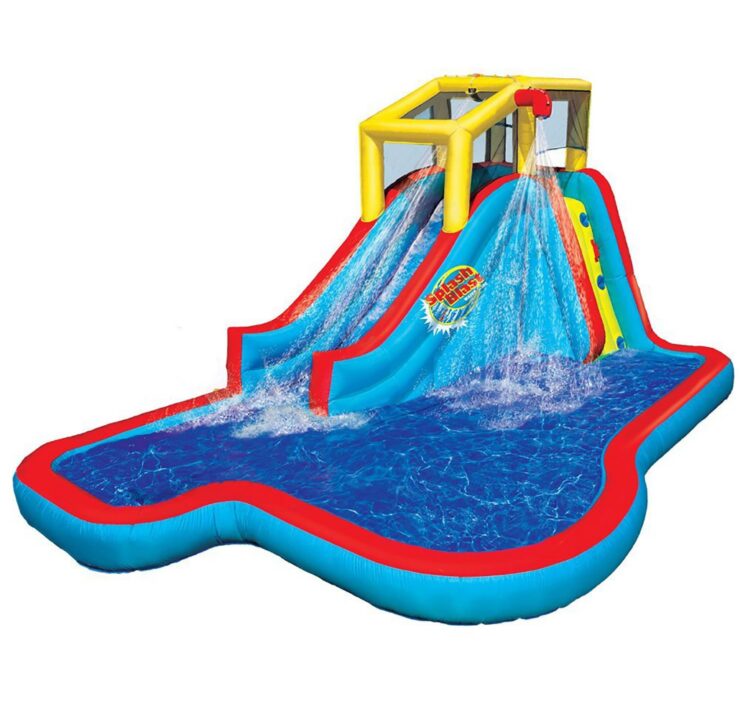 12. Banzai Hydro Blast Park
This kiddy pool offers something for everyone and is certain to keep the kids entertained all summer. It features three slides in two different styles, a climbing wall, water cannons and a basketball hoop. It measures 16 x 16 x 10 feet, so be sure you have plenty of space before purchasing this water slide. The blower comes with the slide, and it can be inflated in a very impressive 3 minutes time. Kids aged 5 years old and above can make use of this water park, and it is suitable for kids up to 150 pounds each. Many kids can use the slide at the same time, so it's perfect for using at parties, playdates or if you have a larger family.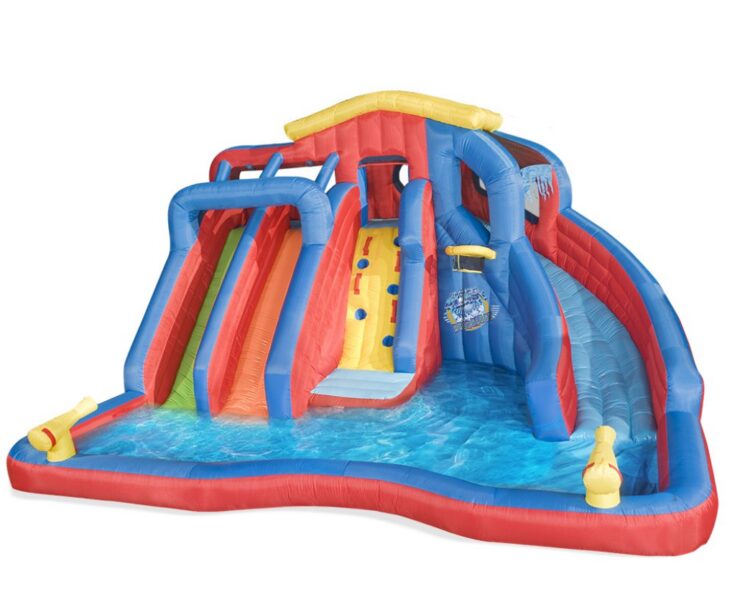 13. Summer Waves Above Ground Pool
This plastic kiddie pool is basic yet effective, and great for playing pool games in. The diameter of the pool is 12 feet, and it's over 2.5 feet deep. So, it holds around 1900 gallons of water. A filter pump is included to help keep the water clean, and the pool can be set up in a matter of minutes. It's made from polyester and PVC for a durable finish, and comes in a choice of two colors. The pool has a wicker-style exterior, which means it can blend in with patio furniture and won't look out of place in the back yard. Adults can also use this pool thanks to its great size, and it's also perfect for siblings and friends to use together.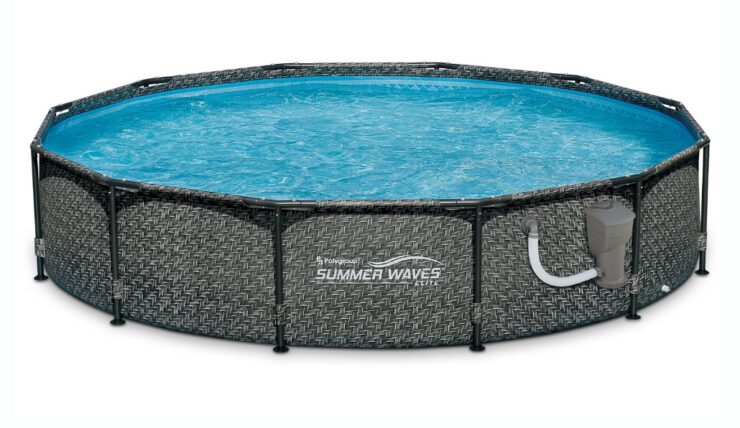 14. Intex 15 Foot Above Ground Pool
This hard plastic pool is very large so it's perfect for kids with lots of friends, or when mom and dad want to join in the fun too! It measures 15 feet across and has 4 feet deep, so it comes with a stepladder for easy access in and out of the pool. There's also a filter pump included, which can process 1000 gallons per hour. In fact, everything you need comes with this pool, as there's also a cleaning kit and a cover for the pool. So, this is a great starter kit for families looking for a full above ground pool bundle. The frame of the pool is made with strong steel tubing to ensure it holds up well even after repeated use.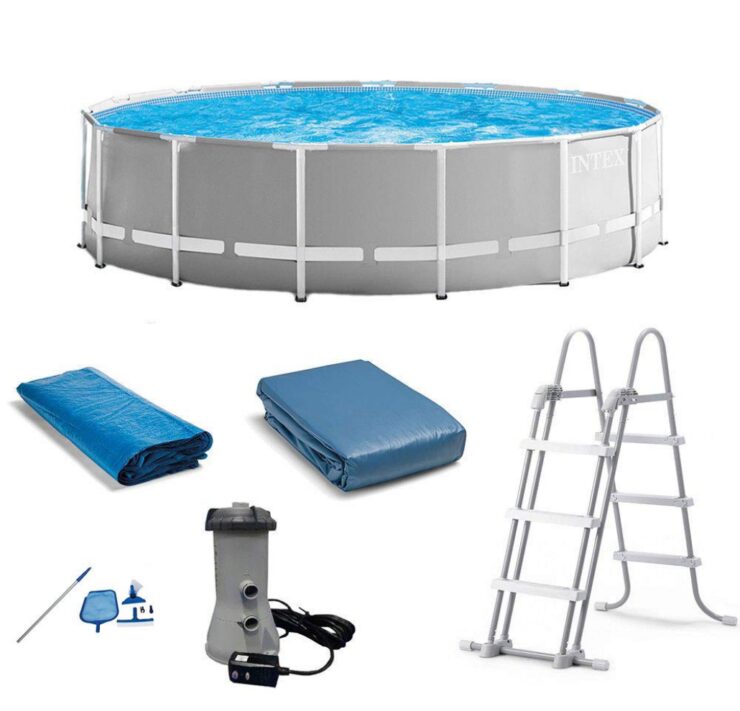 Overall Best Buy
If you are looking for the best kids pool, it's hard to look past the Banzai Hydro Blast Park. It has everything your child needs to keep them entertained all summer in the sun! They will simply love using the slides and playing the games, and of course having water fights using the cannons. If you prefer a simple above ground pool, the final item on this list, the Intex 15 foot pool is a good choice. It comes as a bundle with a filter, cleaning kit and cover, so it's perfect for starting out. It's also a great size for kids to play ball games and swim around in, and the whole family can join in too.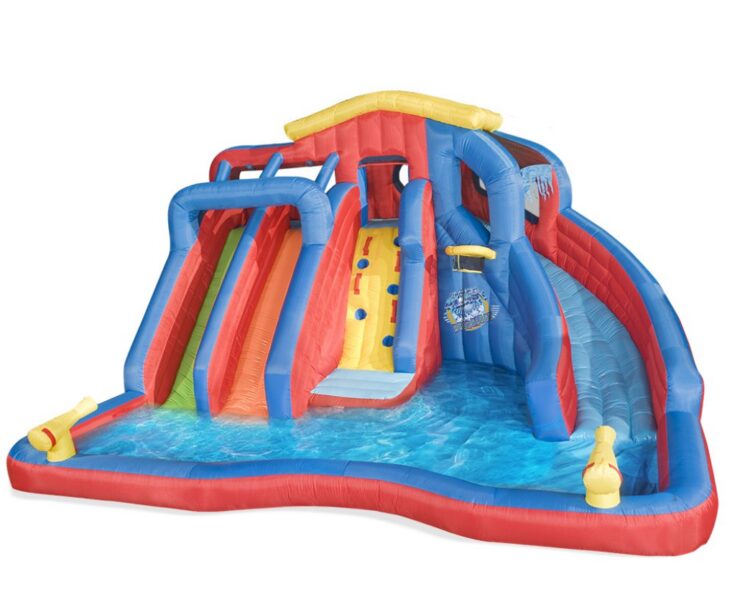 What are the Different Types of Kids Pool?
There are a few different styles of pool as seen above. The inflatable pool is one of the most common, and they are low-cost and easy to maintain. There's also pools with steel frames and PVC liners, which are usually larger, more durable and more expensive than the blow-up style. You can also find baby pools with covers, and water parks with slides and games for kids to enjoy. In fact, there is a pool to suit any yard and any budget.
Pool Safety for Kids

It's very important that children are always closely supervised when using the pool – kids can drown in even a tiny depth of water, and quickly too. Even if your child can swim, you should always be watching when they play in the water. You should also teach them to be sensible, whilst still having fun. For example, they must take care when jumping into the pool, and should not dive into shallow water. On the plastic-bottomed pools such as the water parks, they'll need to take care when running around as this material can be slippery. However, the main thing is to have fun! As long as kids use their common sense and are supervised, there should be no problems during their swim session.
How Do I Clean My Pool?

To keep your kid pool clean, you might wish to buy a filter pump. You should also keep the pool covered when it's not in use. You might like to buy a cleaning kit which comes with all the tools needed to remove leaves and debris from the pool. Chlorine tablets can also be used when the water will be kept in the pool for a while without being emptied between uses.