Advent calendars are a seasonal gifts for kids. Harry the much loved the famous wizard from one of the most well read book series is a worldwide brand that is enjoyed by people of all ages. These popular books and movies have provided many hours of entertainment for large numbers families, and they continue to bring families together today as new Potter fans are introduced to this phenomenon. These well known Hogwarts characters have become well loved family names. This magical series is ideal for both kids and adults to enjoy, so there is no limit to the fun that can be had when everyone gathers round to watch these fantastic movies.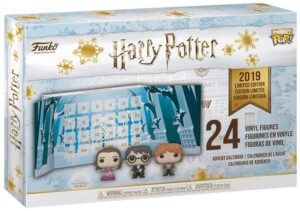 Link together the world of Hogwarts with Christmas and it makes the perfect collection of Christmas holiday countdowns, suitable for a wide variety of people. These calendars are superior to the traditional chocolate calendars that are available, as the gifts from this collection are high quality and long lasting so are ready to be enjoyed over a number of years. These are advent calendar countdown calendars with gifts behind every door that are made to last.
When considering an Christmas calendar as a gift for someone you should consider the age of the person that you are buying for. Most of these holiday calendars are not suitable for small children, often under the age of 3 but the box should be checked for each of the items to be sure of the minimum age. Some of these calendars are only suitable for older children and adults, so they should be kept out of the reach of small kids.
There are a number of different gifts that come with the Christmas advent countdowns, which may affect your decision when choosing which one you prefer. Some calendars come with official licenced gifts making the calendar high quality and ensuring that no one will be disappointed. The calendar may also be able to be added to existing toy collections, so are great if your child already loves these toys and owns this brand at home.
With the great variety of Potter themed holiday calendars available it can be hard to choose the ideal one. This review aims to take you through the top options and to help you make the decision so you pick your ideal calendar.
Top Harry Potter Advent Calendars 2023
1. Harry Potter Funko
If you are looking for a unique Christmas countdown that is different to the standard boring chocolate calendars then this Funko Calendar used to countdown Christmas is a top choice that will be enjoyed by every Potter fan, both young and old. Every day in December and the lead up to Christmas will bring a great surprise, with 24 exciting doors to open each with a different vinyl character inside. Each model represents a popular Hogwarts student, witch, wizard or beast, so everyones favorite character is sure to be included. Alongside the most popular title character, enjoy discovering the models of the best friends; Herminone Granger and Ron Weasley, alongside many more. There are small parts to the calendar so it is only suitable for kids over 36 months but it is great for older kids and even adults. Every Potter fan will love displaying these great figures and recreating their favorite movie scenes. This super calendar is a great novel way to countdown the days to Christmas and it makes a lovely gift that can be enjoyed for a long time.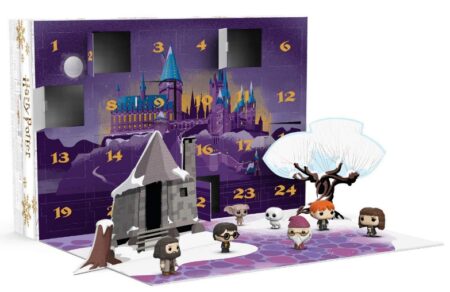 2. Harry Potter Holiday Advent Calendar by Funko
Every Potter fan needs a limited edition Pop Advent Holiday Calendar to really get Christmas started as soon as the 1st of December arrives. This great calendar is the perfect way for every Potter fan to countdown to Christmas with a different character behind each of the 24 doors. Your favorite character is sure to be present in this great collection. The long lasting vinyl figurines are ideal for both older kids and adults to enjoy, as the calendar is not suitable for children under the age of 3 years old. The calendar is based on the Yule Ball Christmas theme which is one of the popular story lines from the books, so each character featured in their dress robes, making these figures unique from any previous Hogwarts figurines that you may have already collected. Even Ron is present in his old fashioned dress robes, as seen in the movie. These mini figures make the perfect ornaments for producing displays, so visitors can admire them and they are also great for recreating your favorite scenes from Hogwarts, so will provide hours of fun for everyone. A special Funko advent countdown calendar that will appeal to everyone and brighten up the Christmas countdown.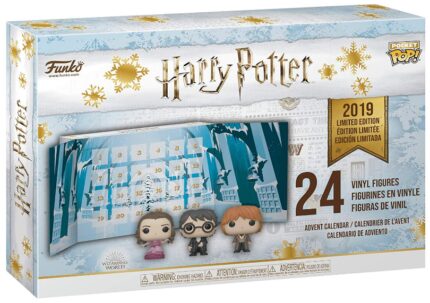 3. Harry Potter Christmas Activity Advent Calendar
Most advent countdown calendars that are made from chocolate only last a matter of seconds but this Christmas Activity Calendar Harry Potter fans will love will last for a long time. It is an officially licenced calendar so is the best quality available and you can be assured that it is 100% authentic. Suitable for everyone over 14 years old this exciting Christmas holiday 12 days count down reveals a piece of jewelry every day. Each jewelry item is based on popular items from the books and movies so you will be familiar with every gift. The jewelry is made from zinc alloy so is good quality and made to be used again and again. The jewelry is a standard size so will fit most people, meaning that everyone can enjoy this great Christmas holiday calendar. There is a great variety of jewelry included in the set with charms, rings, post earrings and necklaces, all ready to be worn as soon as the door is opened. Which one will be your favorite? Will it be the bolt lightening ring, the Hogwarts crest necklace, the pretty owl charm or the Deathly Hallows earrings? Great control will be needed to stop yourself from opening this calendar as soon as it arrives, as you will love every item behind each door.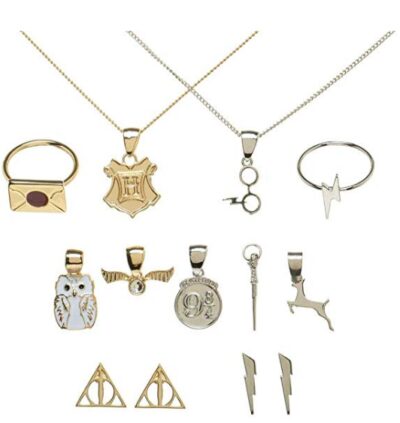 4. Lego Harry Potter Advent Calendar
This Lego Calendar to countdown Christmas makes the perfect choice of countdown for any Potter fan, young or old. This genuine Lego calendar comes with a special Lego surprise behind each of the 24 doors, so is ideal for every Lego lover. There will be great excitement every day in December as you look forward to opening the next Lego piece. You will not be disappointed with this Christmas holiday calendar as within the set there are 7 mini characters to collect, including everyones favorite wizard alongside his friends; Ron Weasley, Hermione Granger, Albus Dumbuldore, Professor Flitwick and more. On other days you will get popular items that you will be familiar with from the books, including; Hedwig, the Hogwarts Express train and the famous chess set. Each Lego piece can be combined together to recreate exciting Hogwarts scenes and for added excitement can be use with any other Lego set so the options for play are endless. Suitable for children over the age of 7 years old, this 305 piece set will be loved by kids and adults alike. This would make a lovely early Christmas gift that can be enjoyed for a long time after Christmas is over.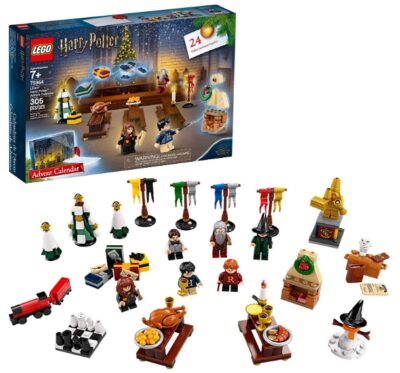 Best Overall Buy
The 305 piece Lego Advent Countdown Calendar is our best overall buy that all Hogwarts fans who love the books and movies will enjoy. It is a great value calendar as there is an exciting Lego gift behind every one of the 24 doors. Each of the mini Lego sets and characters included in the calendar can be combined together to recreate the Christmas at Hogwarts scene from the first book and movie. These Lego toys are very versatile and can be combined with any other Lego set, so the options for play are endless and it is a great way to encourage imaginative play in kids. While this great calendar is not suitable for little kids under the age of 7, older kids will love the Lego sets that comes with this countdown.  This Christmas calendar comes with 7 mini characters, each one is a well-loved character from the books that everyone will recognize and the other Lego gifts included with the calendar are popular items from the Great Hall. This lovely Lego Christmas calendar will be enjoyed by everyone and makes the ideal countdown to Christmas.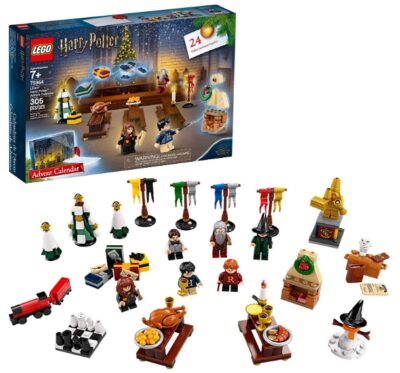 Best Budget Pick
Our best budget pick is this exciting Holiday Countdown Christmas Calendar, which comes with 24 days of lovely Hogwarts themed gifts. This Christmas calendar is the perfect way for every Potter fan to countdown the days until Christmas, as behind every door is a different exciting vinyl figure that can be used to recreate popular scenes from the much loved movies. Each character figure is a popular character from the books and movies that kids will love collecting. These figures are based on the popular scenes at Hogwarts during the Yule Ball so every character is dressed up in their dress robes, even Ron with his old fashioned robes. You will love the detail that has gone into each figure from this set. A great early Christmas gift idea that is suitable for kids over the age of 3. It will be hard to resist opening all of the doors as soon as you receive this lovely gift.  This limited edition calendar will be enjoyed by everyone and it will brighten up your Christmas countdown.