Family gifts that are suitable for everyone to share are the perfect way to bring whole families together. Many modern families have busy schedules, which means that they do not get much chance to spend quality time with each other. Sharing gifts are a good way for families to reconnect and enjoy participating in an activity together.
The best whole family gift ideas are those that are suitable for all to enjoy, from outdoor game sets to game consoles and exciting kitchen appliances. There are a great range of gifts available perfect for families with young kids and even gifts suitable for families that enjoy socializing with friends.
There are a wide range of fun gifts for families available for you to consider and this article will look at the best gifts for all the family and help you choose the ideal present.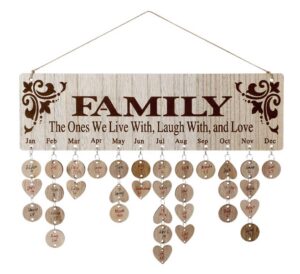 Considerations When Picking Gifts for Family
There are a number of things to consider when you are choosing gifts for a whole family.
Gifts exchange ideas will have a minimum age that the item is suitable for. It is important to check that your chosen gift is suitable for the youngest member of the family to make sure that everyone will be able to get involved. There is a good range of gifts for girls and boys that would make perfect family presents.
Sometimes you want to find gift exchange ideas for a large family and maybe 1 large gift to share together is better than buying individually, really depends on circumstance.
It can be useful to pick your gifts for the whole family to match their interests. If they enjoy being outside and are sporty then there are many suitable outdoor games and activities that are sure to be loved by all. Alternatively, if a family prefers indoor activities then there are a great range of suitable boy presents from gaming consoles to matching pajamas.
Top Family Gift Ideas
1. Family Birthday Decoration
If you are always forgetting important birthdays then this lovely Family Birthday Decoration set is ideal and a top personalized gift idea. This delightful wooden calendar comes with an attractive plaque that will look good on any wall. It is the perfect family gift for personalizing that comes with 50 wooden circles and 50 wooden hearts so the plaque can be decorated with everyones birthday. This Birthday Decoration set comes with everything you need to make this wall calendar, except for the pens to write each name. A lovely Christmas gift idea for family members to enjoy.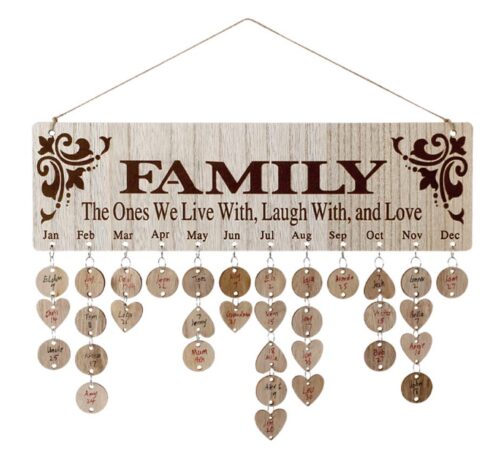 2. Family Race Games Set
If you are looking for fun outdoor activities to bring the everyone together then look no further than this great Family Game Set that comes with 3 fantastic racing games. These perfect host family present ideas include everything you need for your own family sports day. It also comes in a handy zip up bag, making setting up and tidying away quick and easy. For the sack race there are 4 durable sacks included that are suitable for children and adults to use. For a great pairs game there are 2 leg ties that make for an exciting 3 legged race. To finish the games there are 4 plastic egg and spoons for a thrilling egg and spoon race that will not leave you covered in egg but still provides all the fun and excitement. The perfect teenager gift outdoor game set for all family events.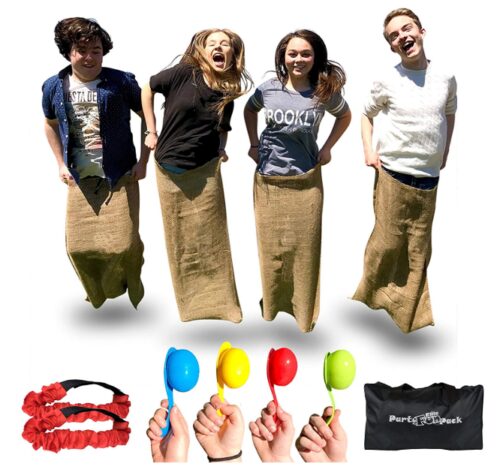 3. Watch Ya Mouth Family Game
A great family friendly game with a difference, the Watch Ya Mouth Game is a one of the top inexpensive Christmas gifts for the extended family. This fun board game is simple to play and there will be laughs all round as family members wear the mouthpieces while trying to say different phrases from the cards provided. All phrases in the game are suitable for families to play together. The game comes with 6 standard size mouthpieces to fit most ages and 4 smaller mouthpieces for younger players. Suitable for children over 8 years old, there is an unlimited number of players for this versatile game. With extra extension packs available containing thousands of additional phrases, these make perfect Christmas gifts for the family.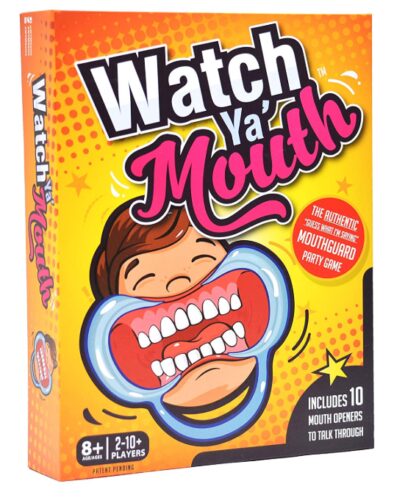 4. Monopoly Family Pajamas
These exciting Monopoly Pajamas are perfect for the family, including the dog to enjoy, even the dog. With a wide range of sizes there is a pair of pajamas for everyone, making neat family Christmas gifts. The pajama top has long sleeves and has been designed to be comfortable. The pants are long with an elasticated waist for the ideal fit. These adult pajamas are made from jersey cotton and the children's sets are made from polyester. These pajamas have lovely detail showing pictures from the much loved Monopoly game. Every family member will enjoy being brought together by this unique set and they are perfect family gift basket ideas.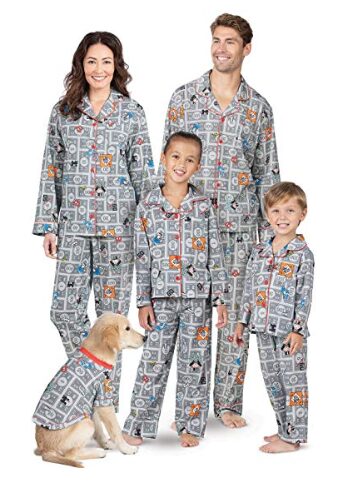 5. Family Tree Picture Frame
A beautiful way to display precious family memories with this Family Tree Picture Frame. This long lasting metal tree has been designed with lovely detail, making it the best of the family tree gift ideas. At 14 inches high it is the perfect size for displaying all of those special photos and would make a stunning center table piece that all visitors will admire. The set comes with 6 photo frames, great for a large family. This would make a good gift idea that will be used to treasure many happy memories.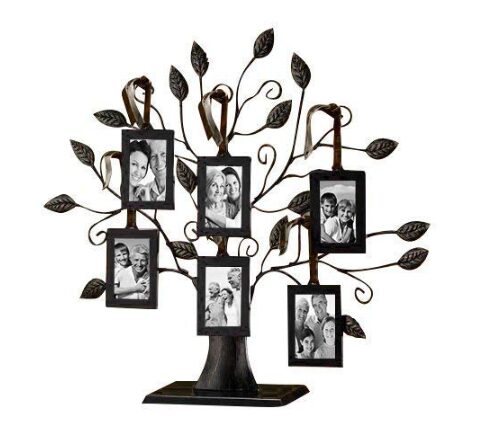 6. Electronic Smores Maker
This Electronic Smores Maker is the ideal gift idea for the most families to enjoy and is a treat that can be easily and safely made indoors with this handy electric flame less heater. This means no more worrying about keeping your kids safe around open fires outdoors. Just turn the heater on, by plugging it in and turning the switch on and when the heater is ready you can pick your favorite treat to cook. The 2 roasting forks provided keeps all fingers a safe distance from the heater. Use a mix of the traditional crackers, candy and marshmallows or mix it up by adding exciting new treats. This Smores Maker is one of the top gifts for to enjoy.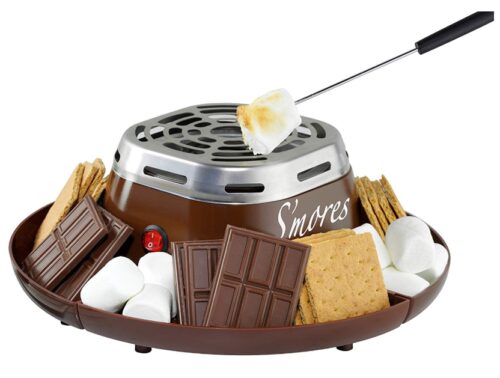 7. Pick Your Poison Family Card Game
A game for every occasion, this Pick your Poison Card Game is great to share with family members. The 'would you rather' game is easy to play with all players picking their preferred scenario from 2 card options. Tally up the scores to see which players agree with you. This game has a great number of possibilities with 300 cards in the set, you will never know which combinations are going to come up next. Find out how well the other players know you. This is a great family gift idea, perfect for the whole family to play while spending quality time together.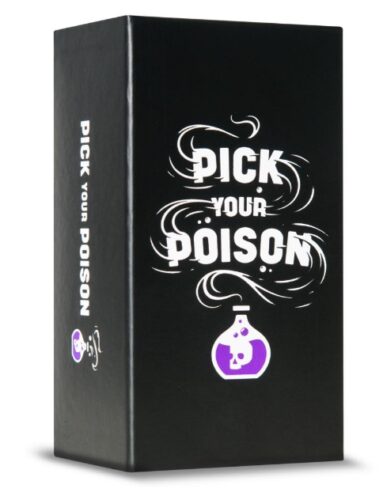 8. Apollo Walker Family Picnic Backpack
Do you enjoy taking your family to special places for memorable picnics? If you do then this Apollo Walker Picnic Backpack is one of the top ideal gifts for all the many family outings. This handy backpack comes with everything a 4 person family could need to have a great day including all cutlery, plates, napkins and cheese board with knife. There is plenty of storage with handy pouches for your chosen drink and the insulated pocket for storing food. This picnic backpack is a great size to fit in everything you could possibly need and it will be comfortable when worn with its soft padded straps. Sit together on the picnic rug provided and enjoy some quality family time together.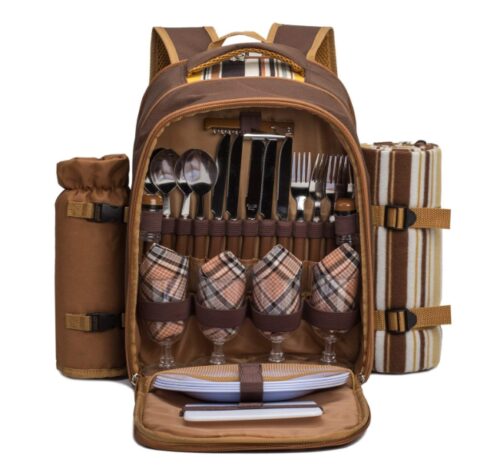 9. Hookey Ring Toss Game
As a top family reunion gift idea this Hookey Ring Toss Game will show everyones competitive streak. This is a great size 200mm thick wooden board that comes with all hooks, making it quick and easy to set up. The set is completed with 6 black rings and 6 red rings, everything you need to get started with this fun game. It is a great game for playing indoors, and makes a useful quick study break game or after school game. Alternatively, everyone can play together and set up a competitive match. You will have no worries of damaged walls from stray darts with this safe game. The young family members will enjoy playing Hookey Ring Toss together, but who can get the highest score?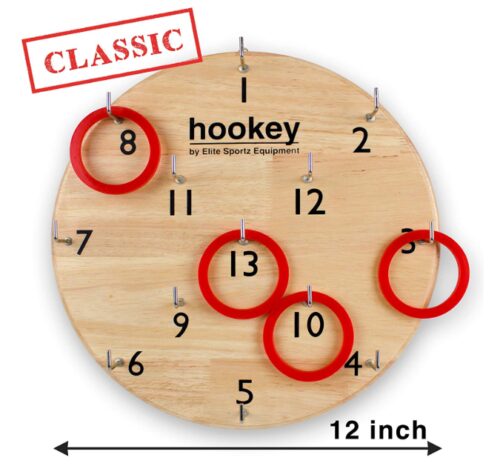 10. Sundome Four Person Tent
This Sundome Four Person Tent is perfect for family holidays. Spend quality family time together with this top of the range tent that will result in an enjoyable camping experience. It is easy to set up with a fibreglass frame, preventing any arguments while constructing the tent, which also comes with simple instructions that have been sewn into the bag for easy access. There is a D shaped door that is easy to use and handy fly covers for ultimate comfort. The 1000D polyethylene floor has welded seams to protect you from all weathers. This tent has great ventilation with mesh roof panels and a floor vent. The handy internal pocket is great for storing all belongings. A great free standing tent that makes one of many top cool gifts for the family.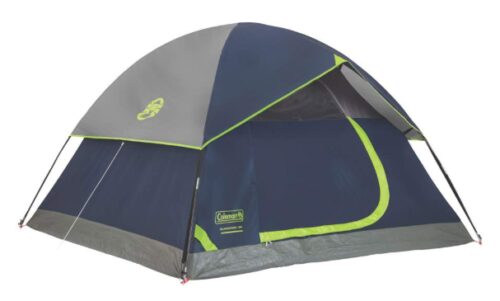 11. 22 Inch Kettle Grill
Enjoy good food together with this classic 22 inch kettle grill, which is the ultimate charcoal grill that has been built to last. With an easy to clean design it will always look as good as new and you can enjoy using this kettle grill over and over again. Get perfectly cooked food every time with the great heat retention from the porcelain enameled lid and the easy to use adjustable dampers which give excellent temperature control. This high quality kettle grill is great for outdoor cooking with fantastic results every time. Everyone will love this great gift idea.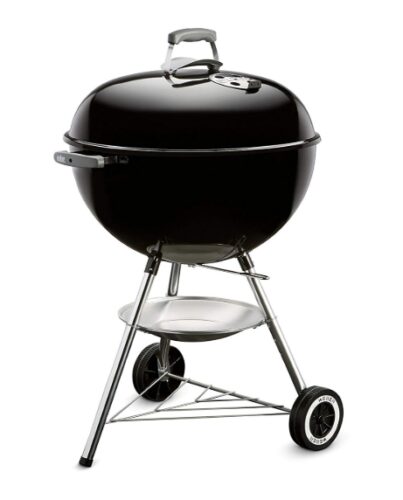 12. PlayStation 4 for Everyone to Play
The best gaming console available is this great PlayStation 4 Slim 1TB console. Entertain the kids with the latest PlayStation games, TV and music. With a great online gaming community there is something for everyone to enjoy, including all adults. This console has the latest technology with the function to play virtual reality games and take gaming to a new level. The 1TB hard drive is perfect for family use and this PlayStation 4 is the ideal excuse for quality family time together. This makes it the best family gift idea for Christmas and everyone will love this exciting PlayStation 4 with its slim and lightweight design.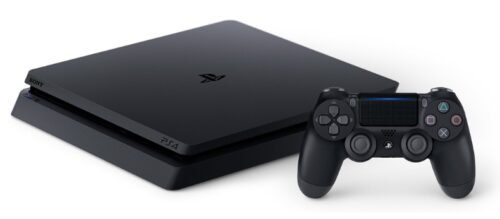 13. Cuisinart Snow Cone Maker
Every member of the family will love using this Cuisinart Snow Cone Maker to make snow cones and slushies, which is a great gift idea for Christmas. With simple to follow recipes included in the set you can get started with a variety of exciting ice drinks. There is no waiting involved with this Snow Cone Maker, just add ice and it will make enough snow ice to fill 4 to 5 cones in under a minute. For safety, the parts of the machine that are in contact with the ice are BPA free and the ice tray is easy to clean. A great lightweight Snow Cone Maker that is perfect for travelling, so can be taken to all parties and is one of many great gifts for the whole family.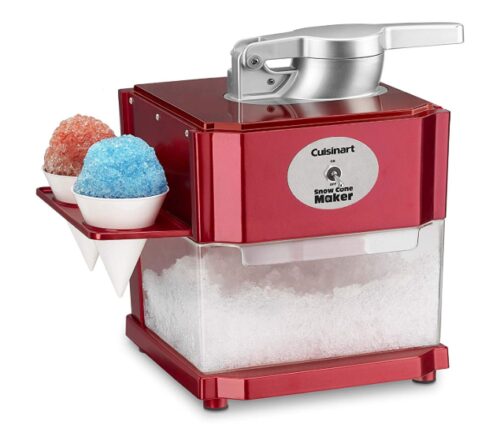 14. Tabletop Curling Set
Bring this exciting game into your home with this Tabletop Curling Set. This is a game for young and old family members to get involved with and between 2 to 8 players can play together for good quality family fun. The Curling Set mat rolls up small so the game can be easily stored between uses. There are 4 orange stones and 4 blue stones included in the set and these plastic stones are weighted with a marble to give these miniature replicas a realistic feel. The mat has a perfect slippy feel to really make the stones glide, just like the real game. A great game for adults and children to play that is one of the top family gift exchange ideas.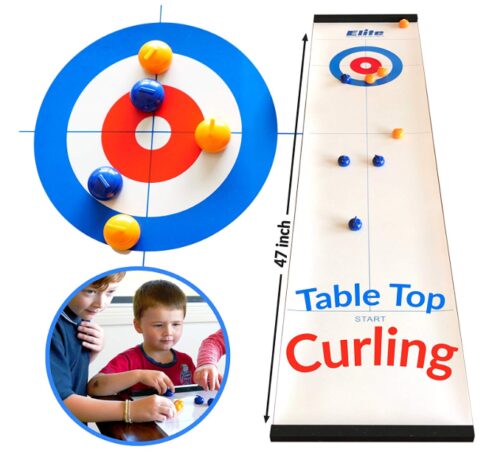 15. Instant Pot
The ideal kitchen appliance for any busy family, this Instant Pot is valuable at saving precious time when preparing meals so it makes one of the best gifts. The Instant Pot has many useful functions so that you will wonder how you managed without one. Whatever you are preparing the Instant Pot will have a use, whether it is as a steamer, rice cooker, slow cooker or much more. Quickly prepare lovely meals that are healthy and nutritious for your whole family, leaving you more time to spend with the important people. This kitchen appliance comes in 3 different sizes depending on the size of your family, so there is an Instant Pot suitable for everyone.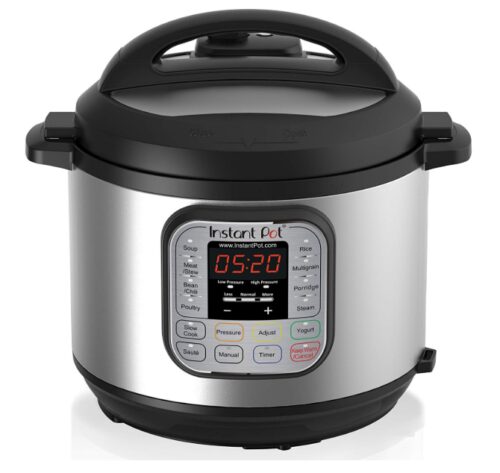 16. Giant Jenga Yard Game
A great variation of every families favorite game, this Giant Jenga Yard Game is perfect for families to get involved with. The set comes with 56 giant timbers with 2 extra timbers included for added height. Each timber has been beautifully made and once built the 19 rows will be 2.5 feet tall. By the end of the game the height can reach an impressive 5 feet. The game can be played either indoors or outdoors, so can be used anywhere and with a handy durable carry case to store the timbers, the game can be easily taken out and about. This is a great party game that everyone can join in with and are considered top Easter gifts for each member of the whole family.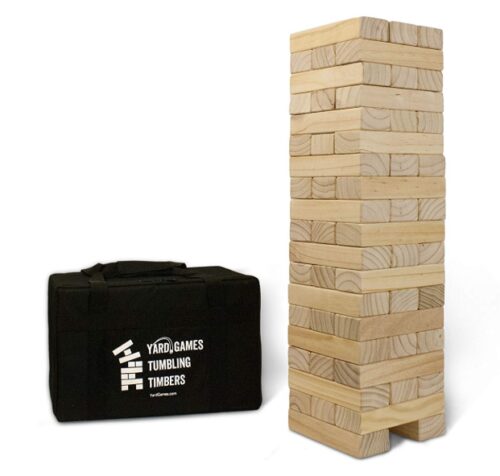 17. Spontuneous Game
A game with a difference this Spontuneous Game will be enjoyed by all music lovers. Will you be the first player to reach the end of the board by being able to singing songs containing the required trigger words? Can you remember at least 5 words from the song? A fun game that is suitable for either 4 to 10 players or small teams which can play together. Suitable for children over the age of 8, the whole family will be joining in. A great party game that is one of the top Christmas gift ideas, that also provides endless fun.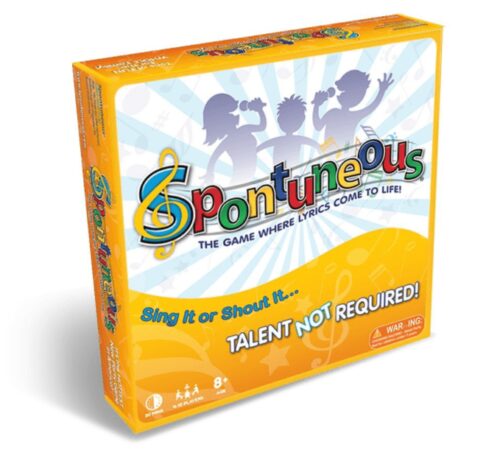 18. Giant Delux Rotating Scrabble
This Giant Deluxe Rotating Scrabble set is the perfect family game for everyone to play together. This special set has been produced with a lovely high quality finish and would make lovely joint family ideas. Each letter tile is 150% larger then the original size to go with the beautiful large wooden game which has a fantastic mahogany finish. There is a raised grid so that all of the tiles stay in place when the game is rotated between players. All pieces can be stored in the additional box provided to keep the game safe once you have finished playing it. All the family will love spending time together while playing this great Giant Scrabble Set.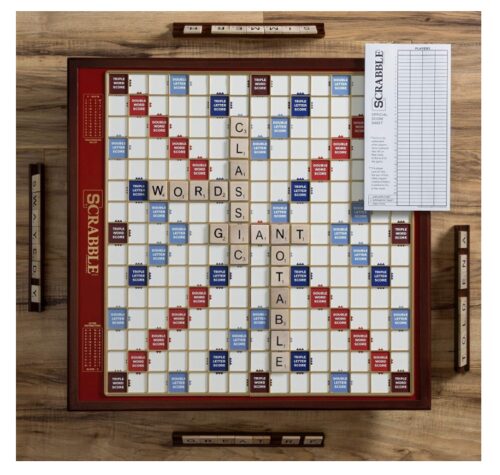 19. Backyard Golf Cornhole Game
If you are a sport loving family then this Backyard Golf Cornhole Game would be a unique family gift idea. Show off your competitive side as you play this great game that is a cross between golf and cornhole and is suitable for 2 to 4 players. Using the target and the artificial grass mat, set up a variety of holes and see who scores the most points for hitting the target hole but watch our for the sand and water hazards, hit them and they will lose you points. This set comes with everything you need to play this exciting game, except for the club. An easy to set up game that is lightweight so is perfect for transporting out and about.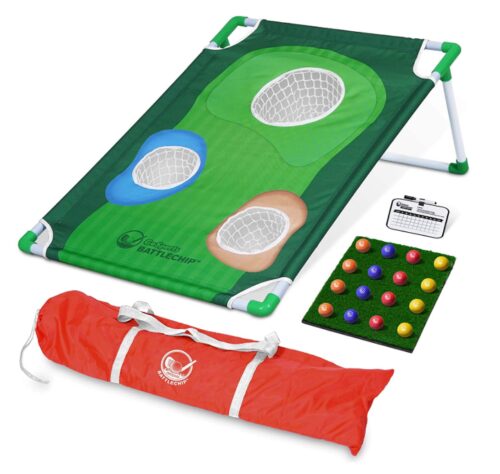 20. Family Croquet Set
Enjoy playing this classic lawn game with this great Croquet Set that comes with everything you need for up to 6 people to get started. The set comes with either a standard or deluxe option with the deluxe mallets having padded handles making them comfortable to hold and a heavier weighted ball. A handy carry case comes with the set making it easy to take out and about with you and provides handy storage for the set after use.   Encourage quality family time together by getting the whole family joining in with this fantastic pick, which is a great family game and gift idea.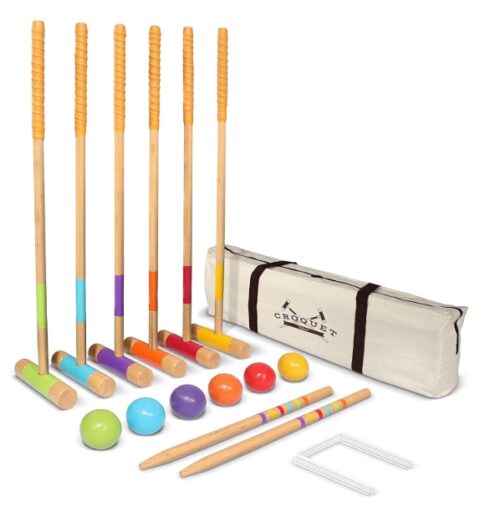 Best Overall Buy
Our best overall buy is this great PlayStation 4 Slim 1TB console that whole family will get involved with. There are fantastic PlayStation 4 games in the latest games releases and with exciting up to date technology this is the perfect option for all gaming families. This PlayStation 4 is also the ideal first gaming console for any family new to gaming and makes ideal electronic Christmas gift exchange ideas for a large family.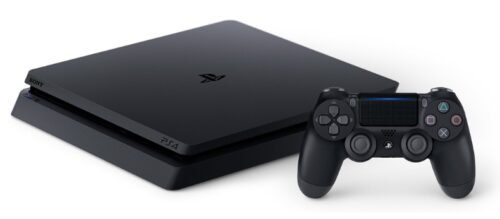 Best Budget Pick
The exciting game Watch Ya Mouth is our Best Budget Pick as it is a great game that will bring every family together with fun and laughter. Enjoy using the mouthpieces in the set while trying to say phrases and provide entertainment to everyone playing the game. With extension packs available there are endless possibilities for this game. As one of many family toys and gift ideas under $50, it is perfect for every budget.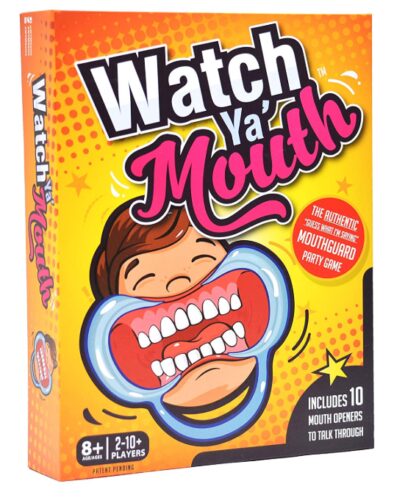 Gift Ideas For Family Who Has Everything
It can be difficult to decide on the best gifts for a whole family and kids that have everything but there are suitable options that will be ideal. Often a present that has a personal touch and appealing decoration will be a much loved present. For example the Family Calendar Decoration is unique, as well as having a lovely design.
Christmas Gifts and Ideas for the Whole Family on a Budget
There are special gifts out there, even if you have a limited budget. To help stretch your money further it may be an idea to buy one present that everyone can enjoy, instead of individual presents. There are also many homemade gift ideas to stretch the budget even further.
Gifts for Family Who Loves to Ski
Families that ski are often very active and enjoy outdoor sports. Cool gifts and skiing ideas for everyone to enjoy would include competitive games for outdoors that will get the family outside and active. Options that are lightweight and compact when stored may be preferable as they will be able to take the game out and about with them.
Presents for Family Who Live Far Away
When families live a long distance away from you then good gifts for those can be limited to what you can post or take with you when you visit. A gift that is small and compact will be ideal and there is plenty of variety to choose from. The Monopoly matching family pajamas would make a great gift that every family will enjoy.