There are so many possibilities out there when it comes to kids gift ideas, so picking something unique can be a challenge. That's why photo gifts for kids can be a great idea – children tend to have a load of toys already, so they are sure to love something they can treasure forever instead. There are many great photo gifts online, so here we have picked out ten of the best which are suitable for children. There is sure to be something here they will love, and each makes a special keepsake to be kept for years to come.
Considerations When Choosing Kids Photo Ideas
There are a few things worth keeping in mind when choosing one of these gift ideas. First, the age of the child will determine which gift is most suitable. We even have a photo album for babies, so there's something here for all ages! It's also a good idea to choose something from a well-known brand, or an item with good reviews from other parents. This will help ensure it is of good quality and will last well. It's also worth thinking about if there is anything the child needs- perhaps they have a lot of photos and need an album to store them. Or maybe they just need a frame or two for a special photograph. Or, maybe you would like something a little more unique – we have some customizable photo gifts which are ideal in this case!
10 Best Personalized Photo Gifts for kids
We will now present ten of our favorite kids photo gift ideas. We have a range of items including photo albums for all ages, dog tags, and more.
1. Vienrose Photo Album – 600 Photos

If you're buying for a child who has a lot of photographs to store, this huge album is a great choice. It comes with enough space to display 600 photos, 4″ x 6″ in size. There are pockets inside so the photos are easy to put in and take out. Six different colors of albums are available to choose from, and each has a crocodile-effect pattern. The cover of the album can also be customized with photographs of the child's choosing.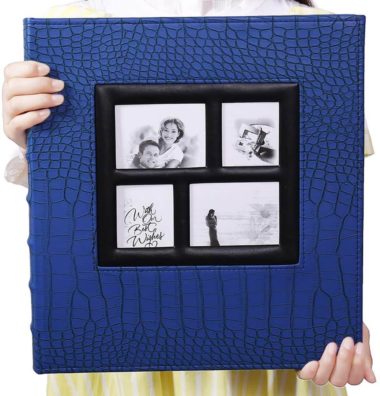 2. Personalized Moon Lamp

If you're looking for a really special gift, something personalized is always a great idea. That's why we love this moon nightlight, which can be customized with a photograph of your choosing. There are different sizes to choose from, and it's possible to also add text to the reverse of the lamp. It glows either white or yellow and also has different levels of brightness, making it an ideal nightlight. There is a wooden display stand included as well as a charging cable – charging takes around 2.5 hours, which gives up to 8 hours of running time.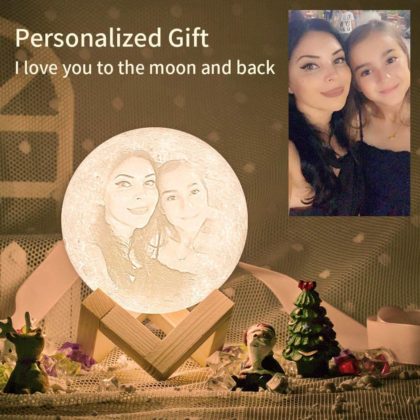 3. Magnetic Picture Frame

Kids love refrigerator magnets, and they also love to have their artwork displayed on the refrigerator. So, this is an excellent gift – their pictures and drawings can be placed inside this magnetic photo frame and stuck straight onto the refrigerator! There are four included in the set, and they each hold an 8″ x 10″ drawing or photograph. The artwork can be displayed in either a horizontal or vertical orientation. The frames are ideal for keeping the drawings in good condition and preventing them from getting dirty in the kitchen.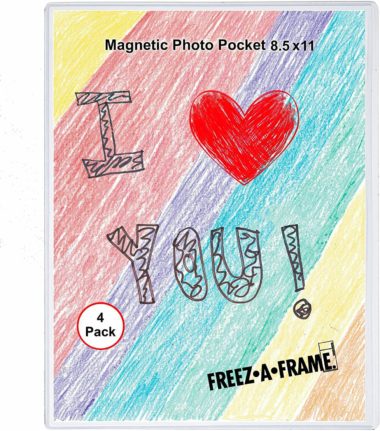 4. My First Family Album

It's never too early for babies to have their first photo album, and this one is perfectly safe for them and won't get damaged by some rough handling! It comes with a clip so it can easily be attached to a stroller, play gym, or car seat. There is a card for babies to have their own photograph and name included, and there are name tags to go with the other photos, too. The album holds 17 photos measuring 4″ x 6″, so there is space for all the family and pets to be included.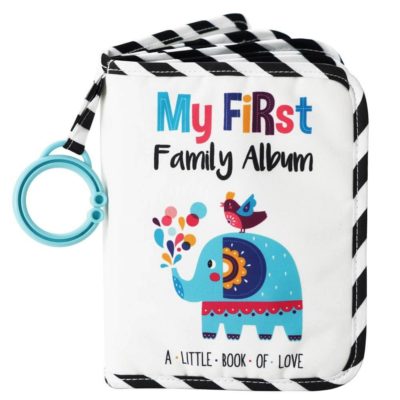 5. DIY Father's Day Crafts

Perhaps your child would like to make a personalized photo gift for someone special in their life instead? Then how about this lovely DIY Father's Day crafts kit? It comes with all the pieces needed to make some lovely homemade gifts for dad on this special day. One of these is a photo frame, which is perfect for displaying a lovely photo of dad and his child together. The craft is easy to assemble and holds a 3″ x 2″ photo when it is finished. It reads 'Dad, you're out of this world!', so it's sure to make him feel special! This is one of the best photo ideas for toddlers – the crafts are easy to make and will keep them entertained for a while, too.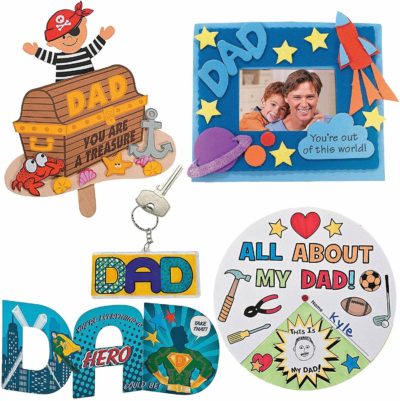 6. Personalized Photo Dog Tag

We've seen some lovely personalized gifts so far, and this one is one of the best. The dog tag necklace can be laser engraved with any photo and text of your choosing. The tag itself is made from stainless steel so it won't fade over time, or cause skin irritation. The photo is engraved with a high level of detail, meaning the finished product looks great. Kids will love being able to keep a photo of a special friend, family member, or perhaps a pet with them wherever they go. The chain is around 24 inches long, and it's possible to choose between a black or a blue tag, as well as having a photo on both sides if preferred.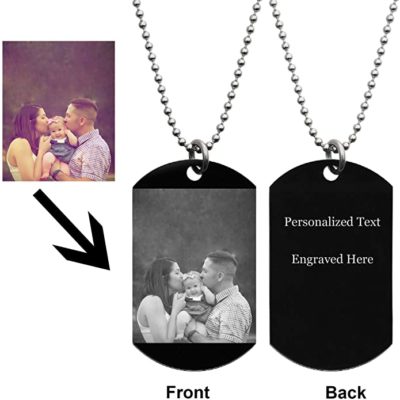 7. Decorate Your Own Frame Craft

If your child has a special photo they would like to display in their room, they need a great frame to go with it. They are sure to love making their own, so they can tailor it to their own tastes. Not to mention, making the frame is loads of fun and is sure to keep them entertained for a while, too. The frame is made from white wood and it comes with various supplies to decorate it – two sheets of transfer designs and glitter and foils to apply the transfers. The frame holds a photo of either 5″ x 7″, or 4″ x 6″ with the border.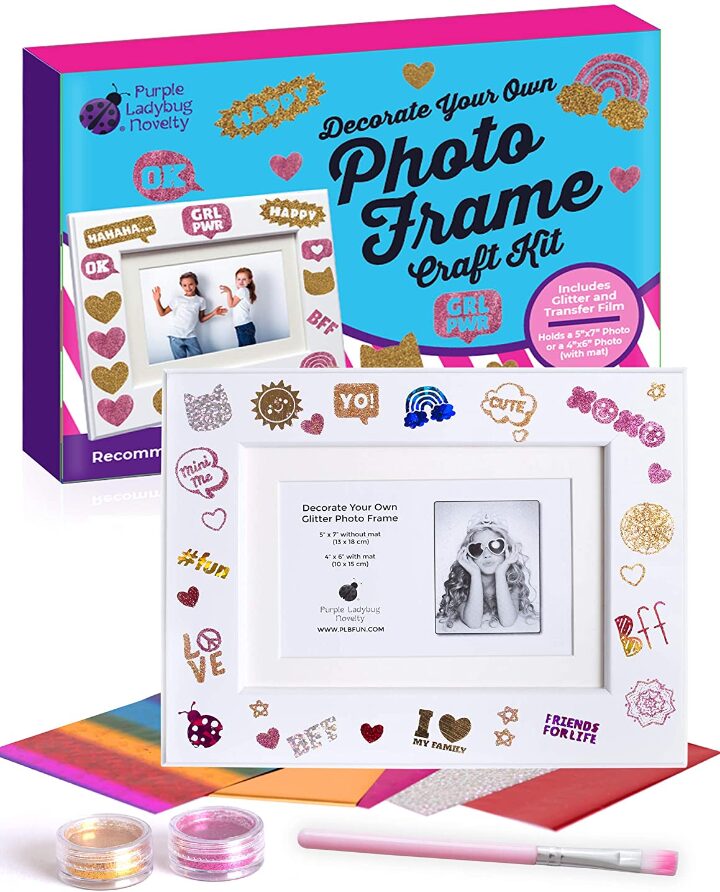 8. School Scrapbook

Adults know how quickly the school years fly by, and kids often don't believe it! They will be thankful for this scrapbook once they have finished school – they'll love to look back on all the fun times and special memories they have made. The book has pages dedicated to all years from preschool to 12th grade – 28 pages in all. There are 14 pockets for storing small items and papers, and each grade's page has space for a photograph. Kids will have great fun filling in the pages over time, and it's lovely to look back on every year.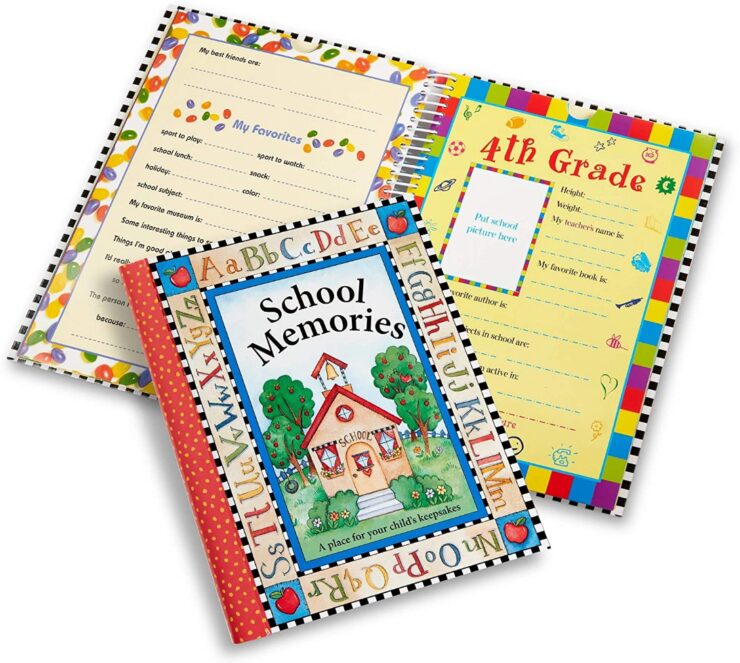 9. Lubber Magnetic Photo Frames

Next in our list of photo ideas for kids, we have a fun and colorful way for them to display their favorite photographs. The set comes with six frames in either 4″ x 6″ or 5″ x 7″ sizes, and each is a different, bright color. The frames are made from rubber and can easily stick to a locker, refrigerator, magnetic board, or any other magnetic surface around the house. They are really easy to use – there aren't pockets for the photos to go in, instead the frames are simply positioned over the photo to hold it in place.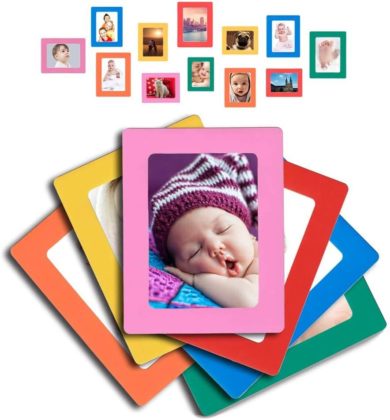 10. Jesus Loves Me Frame

Our final pick makes an excellent christening gift, a frame with 'Jesus loves me' on the bottom, and little hearts all around. There are other matching items available to make this a really special gift, such as a bank or a trinket box. Instead of a blue design, it's also possible to choose a pink one if buying for a girl. The frame is made from ceramic so it is long-lasting and will be treasured for many years to come, it's perfect for displaying a photo kids will want to look back on over the years.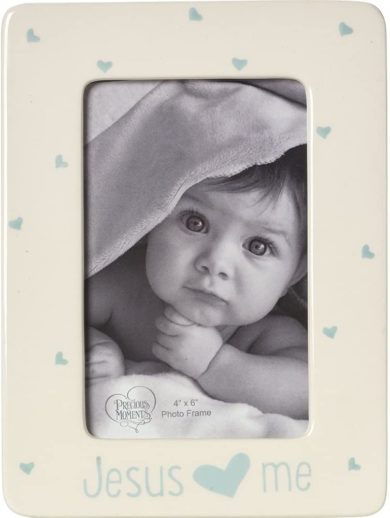 Best Gift Overall
After considering ten great options, we have picked out the one which stands out as the best of all. We love the school memory scrapbook most out of all the options, for many reasons. It makes a wonderful keepsake, and it's fun for parents and kids to fill in together. There are pages for each year of school, all the way up to 12th grade, and there are pockets so there's plenty of space to keep all their memories.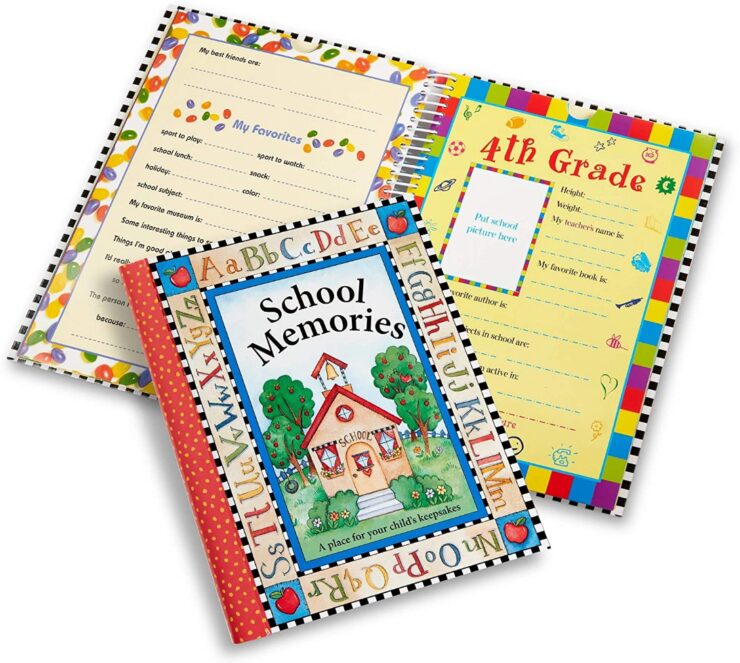 Best Budget Gift
If you are looking for a cheaper gift, but still want to give the best, we have another excellent pick lined up. We love the Purple Ladybug photo frame customization kit. It comes with everything your child needs to make their own frame to display their favorite photograph in their room. They will love using the foils and glitter to make the frame sparkle! It can be used for two different sizes of photographs depending on whether or not the border insert is used.