With the release of The Incredibles 2 fast approaching, there are more and more Incredibles toys and costumes being released. Here, we have compiled a list of some of the best Incredibles action figures, toys and more, to help you choose the perfect gifts for your little superhero!
The type of toy to choose really depends mostly on what your child is interested in. Figurines are ideal for children of any age and are especially popular with young boys. There are also costumes to fit a range of sizes from babies right up to 10 to 12 years old. Plush toys are a great alternative for those who are not keen on figurines – we have included a few here including one which talks!
Disney Pixar The Incredibles 7 Piece Figurine Playset
This 7 piece set of action figures is great for any young fan of The Incredibles. It comes with all the classic characters – the whole Parr family as well as Frozone and Syndrome.
Each figure comes standing on a plastic base, enabling the characters to stand alone on most surfaces. They are made of durable plastic, of the quality you would expect from Disney. They are ideal for children of any age and can stand up to some fairly rough play by youngsters.
The figurines are posed in classic superhero positions, making them ideal for children to act out their favorite scenes from the movie. They're also great for letting kids use their imagination to create new adventures of their own.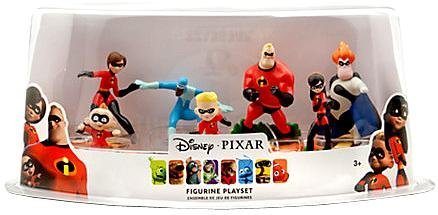 Pixar Violet and Dash
This set of 2 Incredibles action figures are great for children who love playing with superhero toys. It includes the Parr family's children Violet and Dash, who are both posed ready for action!
These Incredibles toys are great for playing action games, and Violet comes with a stand to allow her to stand up when not in use. They would also look great displayed in any young superhero fan's bedroom.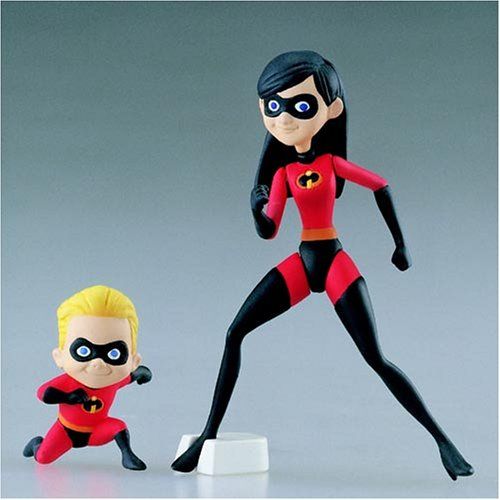 Mr Incredible Children's Costume
This superhero dressing up costume is ideal for events all year round – birthday parties, Halloween or just for playing around at home! It comes in a choice of several sizes, to fit children aged around 3 to 8 years old. The main body of the costume consists of one piece, and the mask is also included. Some black shoes or boots are all that is needed to complete the superhero look!
The Incredibles costume is officially licensed by Disney, so you can rest assured the materials are high quality. The costume is easy to wash and can even be tumble dried without ruining the fabric. Children will love dressing up in this costume at any opportunity they can get!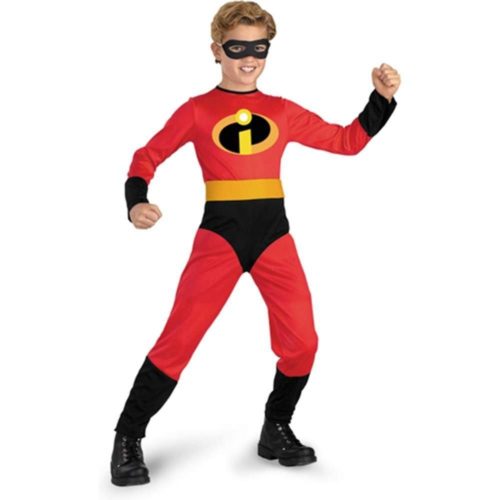 Disney Infinity Syndrome Figure
This Disney Infinity figure is compatible with all Infinity game platforms. Syndrome is the perfect villain to add to any young gamer's Infinity collection. Other incredibles characters are also available if your child would prefer to have someone else in their game. Violet, Dash, and Mrs Incredible are all available for sale too, and you can also get multipacks of villain figures if your child needs some bad guys too add to their game play!
The quality of these Disney Infinity figures is great, as you would expect from any original Disney product. They will last a lifetime, giving hours and hours of exciting game play. Infinity is the perfect game for any young Disney fan.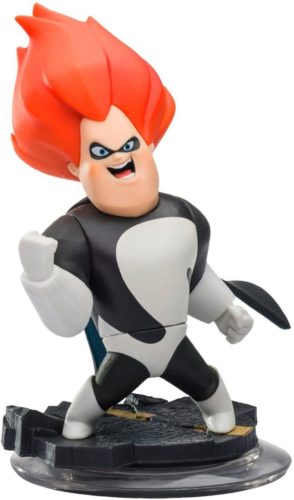 Mr Incredible Plush
This superhero plush toy is great for kids who are looking for a change from figurines. Mr Incredible stands at around 5 inches tall, making him the perfect size for young kids to cuddle up with, or for playing fun imaginative games.
The Disney Pixar plush is soft and cuddly, yet also strong enough to withstand lots of playtime. He looks just like the movie character, complete with his full superhero costume, including a mask. This cuddly toy is a nice change for kids who are bored with teddies and plush animals!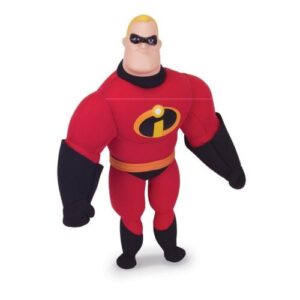 Disney Pixar Baby Jack-Jack Costume
This superhero fancy dress outfit would make a great costume for a baby's first Halloween! It comes in sizes 6 to 12 months or 12 to 18 months. The costume is made up of two parts – the bodysuit and the separate headpiece.
The Incredibles costume is suitable for hand washing only, so is ideal for wearing over other clothes. It features Velcro fastenings on the legs and back, making it easy to take on and off, and allows for easy diaper changes. The headpiece is also held on with Velcro, although not all babies will be happy to wear this! Overall the costume is great value for money, and would make a perfect addition to a matching family Halloween dress up!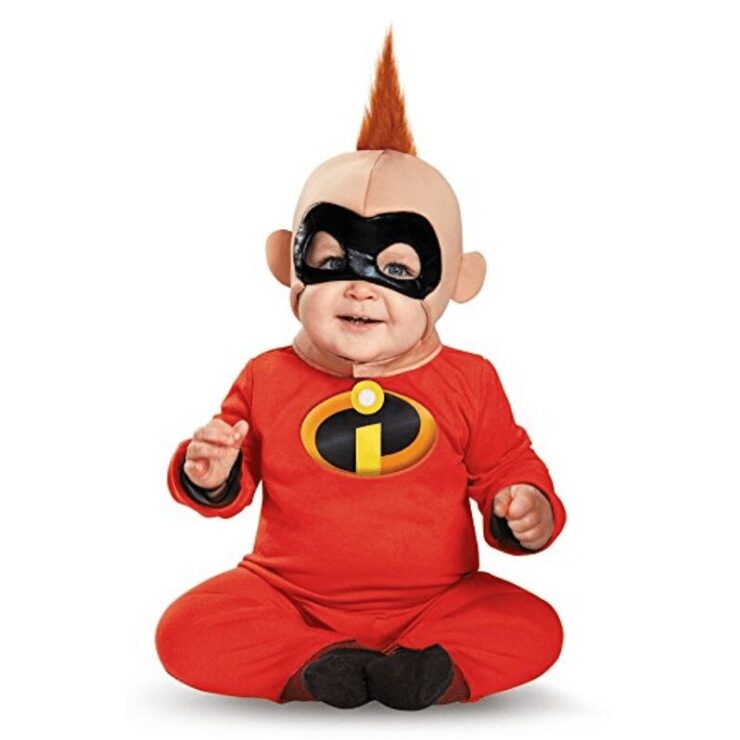 The Incredibles Action Figure – Poseable
This Mr Incredible action figure is highly poseable and comes with a display stand allowing him to stand in almost any position. The figure is perfect for both playing with and having on display. He stands at around 5 to 6 inches tall, so is ideal for use with other actions figures of the same scale.
Parts of the figure come off to allow the poses to be changed. There are two faces, each with different expressions, and two pairs of hands – one open and one in fists. Each of the joints is highly articulated too, for even more action possibilities. As a bonus, the figure also comes with Syndrome's robot.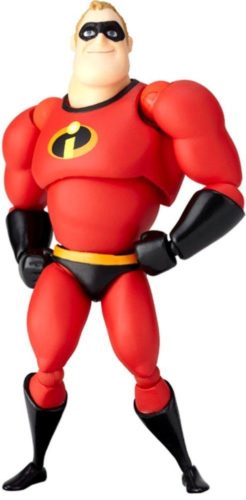 Disney Incredibles T Shirt
This Incredibles logo T shirt comes in a range of sizes so is ideal for kids of all ages. It is made from soft, 100% cotton. The shirt is officially licensed by Disney, so you can rest assured it is of the highest quality. Parents will love how easy it is to wash and care for – the color remains bright and bold even after machine washing.
The superhero shirt is great for dressing up when you don't need a full costume – it is much easier for playing around in. The shirt also comes in adult sizes – why not get matching ones for the whole family! They're perfect for Halloween, or for a Disney trip!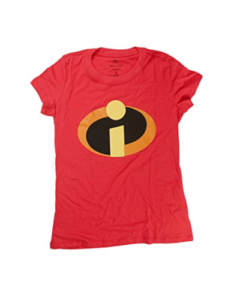 LEGO Disney Minifigures – Mr Incredible & Syndrome
These LEGO Disney minifigures are perfect for any young LEGO collector. Both characters are included, and each comes with their own accessory. They are the same scale as other standard LEGO, so can be used with any other playsets.
The minifigures are highly detailed and look just like the characters from the movie. Children will have hours of fun acting out favorite scenes from the movie, as well as creating their own adventures with other minifigure characters and sets.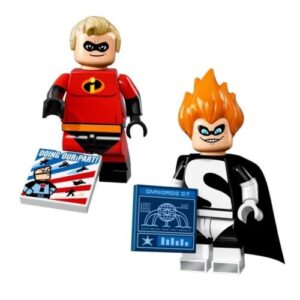 Dash Electronic Talking Plush
This Incredibles superhero plush has a push button in the middle, allowing him to speak phrases from the movie. Kids will love hearing their toy speak! He looks just like the real character from the movie, so is sure to be a hit with all kids who love Dash.
The Incredibles plush is a good size for cuddling or for playing with. It's soft yet also strong enough to hold its shape when being played with. The talking plush is great for children of all ages. It's ideal for those who are too young to enjoy action figures, although it is sure to be loved by older children who are fans of The Incredibles, too.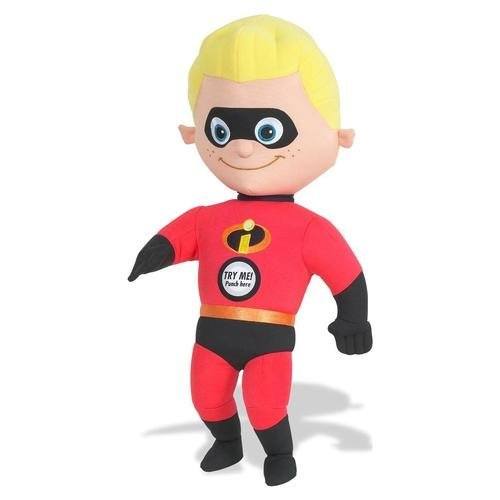 Overall Best Incredible Buy
The pack of 7 figures is one of the best toys for any young fan. This toy is great value for money, as they will be used and enjoyed for hours. All of the charcters are in this gift set which is great as kids can create all sorts of adventures using the figures. They are great quality and are sure to last for years. The figures would also be great for displaying, or even using as a cake topper for kids who can't get enough of the hero family!