Are you searching for new train sets for kids with table? One for the little ones to play with and is a great kids toy? With so many options, you may be left scratching your head wondering really which is the best value train set for money and the highest in quality. Below we've put together a complete list of the top train activity table for kids out there, from those suitable for toddlers to older children designs, we have something here for everyone. Before we dive into our list and present the best options to you, here are some considerations you should definitely keep in mind before buying!
Age
If you're buying a train table for a toddler you'll want to consider safety above all else. All tables should clearly display age suitability on the product's packaging, making it easy to choose the best product for your child. Lots of train centers contain small parts, so always consider age appropriateness above all else!
Budget
The budget always needs to be considered. Whether you're buying a Christmas or birthday present, finances always come into play. Set aside your budget before buying and assess the different options you have. Always shop around for the best deals and be sure to check online as well as in-store!
Difficulty
Train game sets generally take time to assemble. Be sure not to get your child a toy that is too challenging and will cause frustration. On the other hand, think about the pros of buying your child a toy they will assemble themselves and the skills they'll learn. Train games provide plenty of fun but also help to strengthen crucial developmental skills such as fine motor and hand-eye coordination.
Top Kids Train Table Sets in 2023
Now that we've informed about some of the key considerations to make when buying a kids table, we've got the best sets for you! We've carefully selected each product to offer options when it comes to age suitability, difficulty and more.
1. Transportation Station Train Set and Table by KidKraft
First up on our list is this awesome table for kids that cleverly combines a table with a spectacular train and a 58-piece set. This set comes with 2 tracks, a long, winding track that can be put together in an endless number of ways and a bonus plastic track attached that's attached to the base of the table. Featuring a moving crane that lifts and lowers cargo as well as an airplane, helicopter, 3 train cars, and a bulldozer, there's lots to keep little ones entertained with this deluxe airport with a runway, helipad and escalators!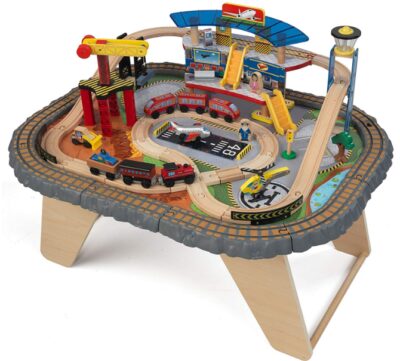 2. Kids Train Set Table by Conductor Carl
Wondering what the best options are, then this is one of our favorite? We have you covered with this mega 80 piece train set which includes a stand-alone table and themed play board too. Encouraging role-playing and problem-solving, children can learn as they play. The wooden track comes with single-piece construction eliminating the need for loose pegs. Safe for young children, it comes lead and phthalates free for peace of mind. What's more, is that this set is totally compatible with all Thomas Wooden Railway items. The high-quality track and cars are sure to last while providing hours of endless entertainment.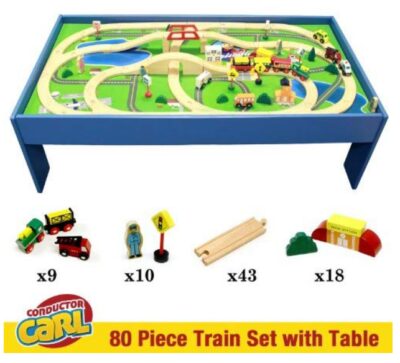 3. Construction Play Table with Storage Drawers by UTEX
Kids train activity tables really don't get much better than this. This kids play table is perfectly sized for toddlers and kids aged 3+. With a height that is convenient for little ones, they can access every component they need to while either kneeling or sitting on the floor. Made of double-sided playboard, the table is durable and converts from construction playtime table to a smooth surface table for creative playtime too. A spacious tabletop, it provides the perfect amount of space for lots of building fun. The construction panel is compatible with most major building bricks, making it a great addition to an already existing playset. And, when it's time to pack away, children can simply place items into a draw to start again with creating next time!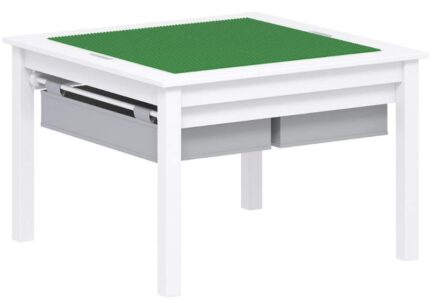 4. Wooden Play Table by KidKraft
For those looking for a train set with table for kids, consider this simple yet super entertaining design. With train tracks and a safe wooden composition making it both robust and great for toddlers, this playboard is great for arts too. This playset also comes with a handy storage compartment making it super easy to keep things tidy every time too. We love the natural finish of this product and think it's an ideal first train track playset for toddlers…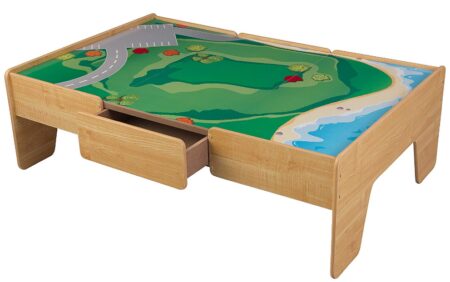 5. Train Track Set With Table by Zonxie
Made of beautiful beech MDF, this train activity is suitable for ages 3 years and above. The train track set is compatible with Thomas and Friends, Brio and other brand's wooden set making it a great extra addition to any child's train collection. Contributing to the promotion of creativity and imagination, children can develop their coordination abilities and motor skills with ease when interacting with the toy set. Thanks to the durable wooden composition, the set is sure to last and is easy to assemble and keep clean too.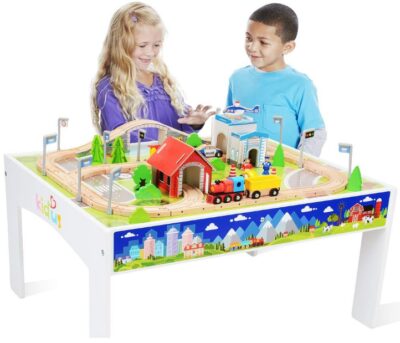 6. Activity Table With Board by YouHi
As one of the best choices out there when it comes to a train set with table for kids, this superset is the perfect size for children ages 3+. Standing at a suitable height, the table's sturdy structure of the wood makes it ideal for lots of playtimes. Kids will be able to let their imaginations run wild and it's big enough for multiple children to play at one time! It can be used for all-time favorite Lego building or put the cover on and use it as a space for learning. Designed with double storage, the edge of the table is perfectly adapted for little ones making it extra safe. Made of high-quality finished pine, it's super easy to clean and won't cause any harm to children thanks to its natural material.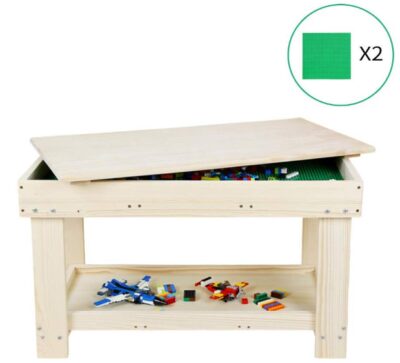 7. Top Activity Table and Train Set by KidKraft
A table with trains that ticks all the boxes: rounded corners for safety, a two-sided play surface and big enough for kids to play together! This set certainly deserves a place in our list and what's better is it comes with a smart, sturdy construction too. Arriving packaged with detailed, step-by-step assembly instructions the 200-piece set is also compatible with lego blocks and comes with a 30 piece set too for lots of choo-choo fun. With handy storage underneath, this set is as easy to tidy away as it is to assemble!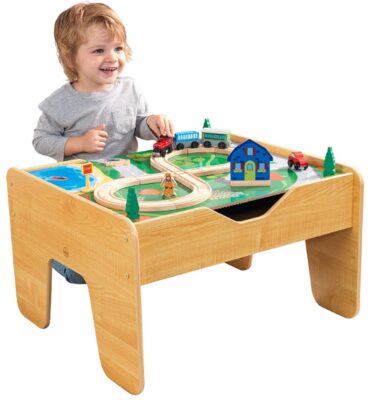 8. Espresso Activity Table by KidKraft
This wood train center table has rounded corners for safety and is beautifully illustrated with color for extra entertainment. With a durable play surface, it's large enough for kids to play together at one time too. Available with simple-to-follow instructions, unlike other similar products it won't take hours to assemble and can be used pretty much instantly! Its smart and sturdy construction makes it ideal for younger children. Compatible with much-loved lego products, parents have complete peace of mind knowing that the table is sure to tick boxes when it comes to quality on every level.

9. Wooden Railway Table by Melissa & Doug
All aboard for fun train play with this wooden train table … Including everything needed for budding train enthusiasts. The set includes a 6-piece freight train with cargo, a 4-piece passenger train, and a 3-piece flatbed truck with cargo. Suitable for children ages 3 years and above and composed of high-quality materials, the set is completely compatible with other wooden railway systems. Including 100 wooden track sections and supports as well as 30 train accessories for kids, the easy-to-follow instructions allow different track constructions to be made. Inspiring hours of hands-on play, this set is great for igniting imaginative playtime and is a great add on gift for an existing train track. Great wood table for kids!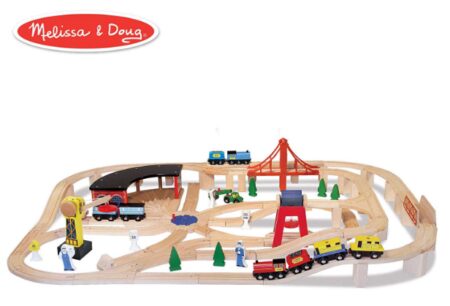 10. Activity Table With Train Set by Maxim Enterprise, Inc
This amazing table is designed to be ideal for playing with these train toy sets, blocks or anything else kids love! Including 50 pieces, the set comes with plenty of fun and, is compatible with Thomas and Friends wooden sets too. Coming with a handy storage bin for an easy clean-up and a simple storage solution, the set provides an easy surface that can be used for a wide variety of activities. Made of hardwood, it's robust and sturdy setting it apart when it comes to quality.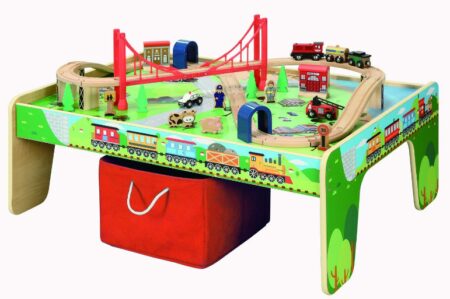 11. Train Table Toy by Simplay3
This 2019 National Parenting Product Award Winner is certainly worth considering if you're on the lookout for a train course with table for kids. The first side is a toy race car track with a number of built-in obstacles for toy cars and trucks. The other side of the table is a figure 8 toy train track with lake and quarry decal, giving your child 2 for 1 entertainment. Thanks to its lightweight design, the table can be carried with ease and it can be used on the go too.  With no assembly require and a  double wall plastic construction it's perfect for both indoor and outdoor play.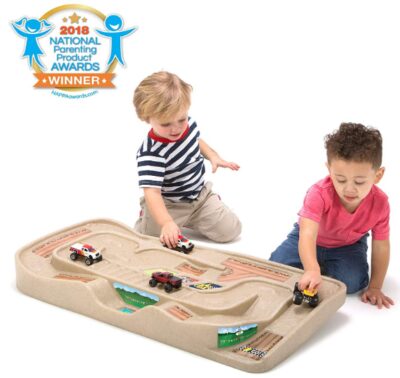 12. Express Wooden Set by KidKraft
79 colorful bright pieces make up this awesome kids train activity table and it comes with more than 13 feet of track! With a working drawbridge and a loading dock with a crane, the playset is one of the best out there. Its elevated airport and built-in storage bins bring it to the next level. A sturdy wood construction gives complete peace of mind knowing that money is returned with a quality product that will last for years to come. Packaged with easy to follow step-by-step instructions, the set is easy to assemble and perfect for hands-on learning.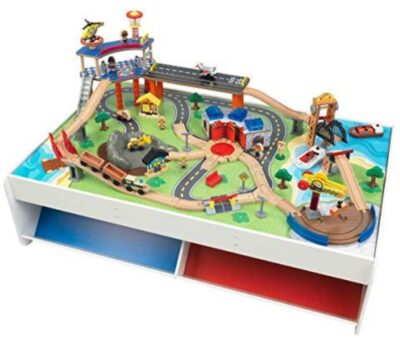 13. Deluxe Table Set by Hey! Play!
This wooden train set is made with durable, solid wood guaranteed to last for years. The set and table for kids comes with a handmade track and accessories for ultimate playtime fun. Each track and accessory is handmade and sanded to a smooth finish each with hand-painted detail. The set is fully customizable and provides hours of unique play. Tracks can easily be built on the removable playing surface or taken off to be put on the floor for more building space. Containing 27 different track pieces, and other accessories, there really is no limit to the ways your little conductor can build their very own train play set! With an old fashioned approach to play, the set includes a hand-painted wood table with 2pc removeable play surface and 75 accessories including 27 wooden tracks, 3 magnetized trains, vehicles, boats, train stations, buildings, street signs and much more!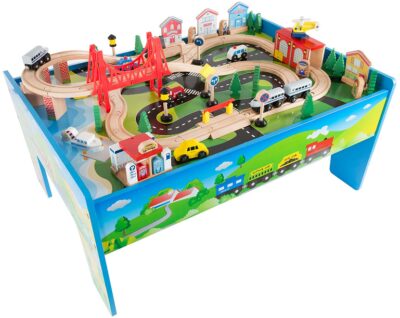 14. Metropolis Set and Table by Pidoko Kids
This mega 70 piece train table features an elevated track, suspension bridge overpass, three part train, railway crossings and lots of detailed scenery too! Invite all the children to play at once as it comes with plenty of space for lots of little hands. Compatible with all popular wooden railway train systems including Thomas the Tank Engine, Melissa and Doug, Chuggington, Brio Railway System, Orbrium train kit, and other major brands, this toy encourages endless imaginative play. Included in the set are 3 play people, 5 vehicles, 3 part cargo carriage train play course, traffic and road signs, buildings and multiple other accessories too. Made of high-quality wood, it's a set guaranteed to last plenty of playtime sessions.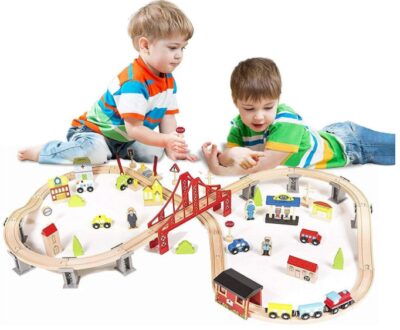 Now that we've presented our list of top train table sets of 2023, we've come to the section of our guide where we provide further considerations, a best overall pick and a budget buy too! We hope that you've found something suitable in our guide above
Best Overall Pick
Selected as our best overall product is this super 80 piece train set that comes with 43 quality wooden track pieces, 9 vehicles for play, 10 accessories and 18 other parts for creative and inventive playtime! Packed full to the brim with components and comprised of only high-quality products, we love this awesome Conductor Carl set. Painted to a beautiful finish, this table is eye-catching and sure to provide hours of fun for little ones. Get it out during outdoor or indoor play and let your child live out his or her own train conductor dreams.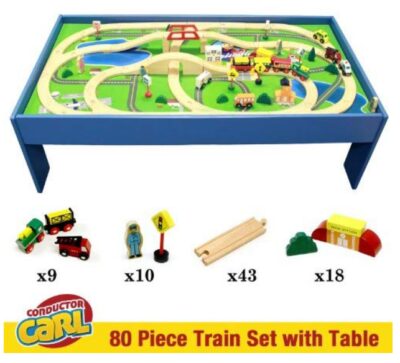 Best Budget Buy
Our best budget buy is this award-winning set, which is simple yet effective in design. With an extremely high-quality finish, it really doesn't get much better than this for those looking for a budget buy…This type of product comes in many different variations but this toy is perfect for toddlers and older children too. We love its minimalist style and the cars that come included are fantastic too!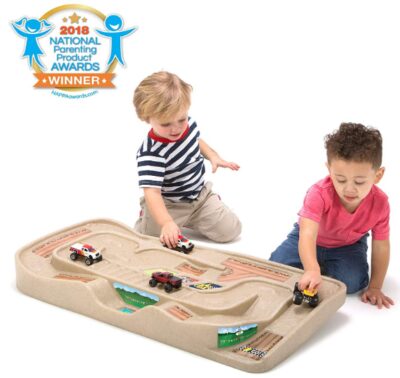 What do train tables for children teach?
Train tables for children not only provide lots of imaginative and creative play which is crucial for any child but they also help to strengthen important skills too. Fine motor skills are a huge part of a child's development and are used later in life to perform a variety of tasks. Children can improve these skills by interacting with any toys that promote a construction-like play. Through improving such skills, children can deal better with hands-on tasks that involve using small parts when interacting.
Train stuff also encourage spatial awareness as children assemble the tracks themselves. Doing so enables them to better navigate their daily environment with ease. They will have a better understanding of how to interact with various objects and, are less likely to bump into and knock things.
Are train sets safe for children?
These are safe for children of various ages, however, it's important as we set out at the beginning of this article to check on age suitability before buying any toy. The trainsets we've set out above are all predominantly composed of wood making them suitable for toddlers too. Be sure to supervise any young children when playing with toys that contain small parts, always.
More Great Articles and Train Related Reviews: