Choosing the best vitamins for kids is very important, especially if your child, like most, is a picky eater and objects to eating fruit and vegetables! There are so many different options out there all competing for the title of Best Vitamin Brands, so parents choosing between them face a difficult decision. We understand the importance of making the best choice for your child's health, which is why we have done some research and picked out the best kids vitamins on the market today. You will find our reviews of 10 of the best choices, as well as some helpful buying tips and FAQs to help you make the right choice for your child's needs.
But why is it important to give vitamins to your child? Every type of vitamin offers different benefits for children's health, and each is vital for their mental and physical development. Vitamins A and C are often not obtained in sufficient quantities through diet alone, especially for pickier kids. Vitamin D is also not found in many foods, so is often lacking in children and adults alike. Vitamin D is most commonly obtained through sunlight, but depending on where you live, it can be very difficult to get enough, particularly in winter or if a lot of time is spent indoors. I would always try to infuse good cooking as well as supplements and for more ideas on that, check out our kids cookbooks.
Different Types of Vitamins and Their Functions
Some of the vitamins your child needs in their diet or through supplements include:
Vitamin A – This helps the immune system and boosts eyesight in low light
B Vitamins – There are many different B vitamins, which offer benefits such as helping the nervous system, maintaining healthy eyes and skin, and forming hemoglobin to help oxygen be carried around the body.
Vitamin C – Keeps the skin healthy and aids with the healing of wounds.
Vitamin D – Builds strong teeth, bones, and muscles.
Vitamin E – Strengthens the immune system and keeps skin and eyes healthy.
Calcium – Maintains strong bones and teeth, and ensures blood clots normally.
Iodine – Iodine is used to make thyroid hormones to ensure a normal metabolic rate is maintained.
Iron – Essential for making red blood cells that are used to carry oxygen around the body.
So, all vitamins are needed to ensure your child's all-round development progresses as normal and for great supplements check out allmallshop.com. Deficiency in certain vitamins can lead to various health problems either now or in later life, so it's a very good idea to get your child in good habits to set them up for the future.
Considerations Choosing a Multivitamin for Kids
There are a few factors which much be considered in order to make the best choice when it comes to picking out a vitamin product. First, children's needs vary as they get older, so ensure the product you choose is suited to your child's age. This is usually made very clear on the packaging. You might also like to check the type of vitamin – tablets are not popular with younger children, and instead a chewable multivitamin is preferred. For most children, a good multivitamin is the best choice, but in certain cases, perhaps they need only one type of vitamin. So, think about the child's needs and choose accordingly.
10 Top Multivitamins for Kids
We will now present our top 10 picks – there is sure to be a product here to suit your child.
1. Flintstones Toddler Vitamins
Our first pick of the best kids multivitamin gummies is these ones specifically formulated for children aged 2 and 3 years of age. They contain 10 essential vitamins, with extra Vitamin C – as much as you can find in 4 oranges. There are 80 gummies included, and they are to be taken once a day with food, so this pack will last around three months. The toddler multivitamin is free from egg, dairy, and high fructose corn syrup, but does contain soy. They taste nice for young children, so it won't be a struggle to get them to take it.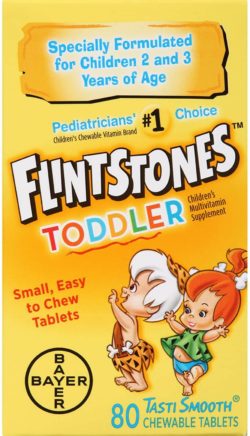 2. BabyVites Liquid 
If you are looking for the best liquid vitamins, this all-natural product from BabyVites is a great choice. They are sugar- and gluten-free, plant-based, and Kosher. The organic multivitamin drops are raspberry flavored and can be taken by mixing with a drink, so it's easy to get your child to take their vitamins. It contains Omega-3, so kids can take it without the unpleasant flavor associated with cod liver oil. The supplement has the daily recommended amount of Vitamin D and is suitable for children aged between 4 – 12 years old.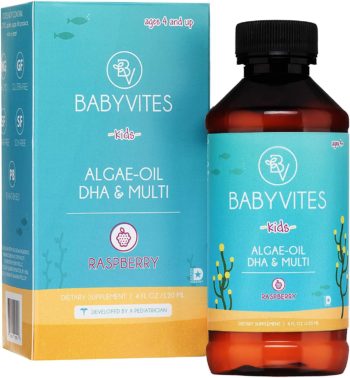 3. Just for Kids
The next best multivitamin for kids is this pack of 365 from Just for Kids. So, there are enough for kids to take one a day for a year! They are suitable from 4 years onwards and contain around the daily recommended amount of Vitamins A, C, D, E, B6, B12, iron, and more. The large pack size is excellent – parents won't need to worry about buying any more for a while. These vitamins are approved by kids and they won't protest when it comes to time to take them each day. This multivitamin with iron has everything your child needs to ensure they remain healthy in all ways.
4. Acerola Cherry Powder
Getting enough Vitamin C for kids from diet alone can be difficult sometimes, so this supplement powder is a great way to up their intake. The acerola powder can be made into smoothies or added to desserts to make it more palatable. It comes with a scoop to get the perfect dose every time too. It's said to be the most nutrient-dense food and is packed with antioxidants as well as Vitamin C. The powder is organic, vegan, gluten-free, and contains no preservatives, so you can rest assured this is great for your child.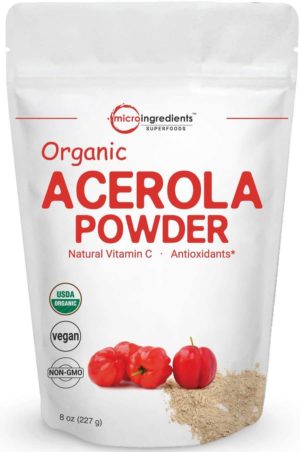 5. Zahler Concentration Powder
This natural multivitamin aims to improve concentration and mental performance in children. There are around 30 servings in the container, and the powder should be dissolved in a glass or water for consumption. It has a fruit punch flavor so kids are sure to enjoy taking this every day. The vitamins in this powder are B1, B2, B3, B6, B12, as well as calcium, magnesium, and zinc. This supplement is ideal for children diagnosed with ADHD, and can greatly help their academic success without the use of medications, which have the possibility to give nasty side effects. This supplement contains all natural vitamins, and can benefit all children.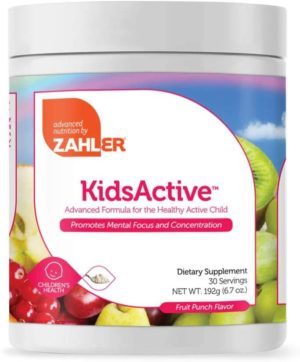 6. Vitamin C Capsules
Vitamin C offers many benefits and these capsules contain more than enough to give your child all they need. These are capsules, so they're best for kids who are old enough to be able to swallow them, and they are vegetarian and non-GMO. The main benefit of these capsules is promoting the production of collagen within the body, which in turn leads to healthy skin, hair, nails, and joints – so its importance at any age is clear. The Vitamin C in these capsules is obtained from natural sources, using extracts of rosehip and others.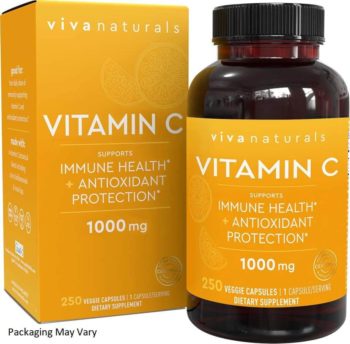 7. Forever Living Kids
Next of our best children's vitamins, we have these chewable multivitamins from Forever Living. They come in a pack size of either 120 or 240 tablets, and the vitamins in them are obtained from raw vegetables such as carrots and beets. They are easy and delicious for children to take, and are suitable for all ages, even for adults. The tablets don't contain preservatives or artificial colors, so parents can be sure they are giving their kids the very best.
8. Child Life Vitamin D3 Drops
These baby vitamins contain vitamin D3 which is crucial for developing a healthy immune system and strong bones. They are suitable from birth to 12 years old, with babies under 1 requiring one drop daily, whilst children over the age of 1 should take two drops. The drops are naturally berry-flavored, so kids are sure to enjoy taking them. They are gluten- and GMO-free and are designed to be easily absorbed. The full daily recommended amount of D3 is included in one dose, and there are 200 drops per bottle.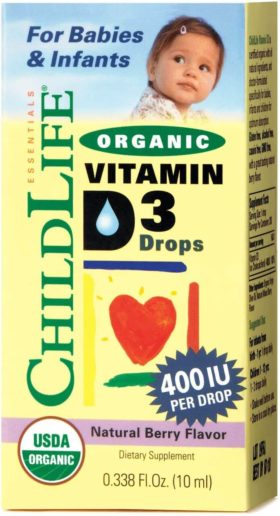 9. Genexa Calcium & Vitamin D3
These children's vitamins contain calcium and D3, which work together to promote the development of strong and healthy bones, essential in young children. They are suitable for ages 2 and above and come as mango and orange-flavored chewable tablets. They don't have artificial preservatives, colors or flavors, and are also organic and gluten- and GMO-free. The pack contains 60 chewable tablets, which should be taken once a day, so the pack gives a two-month supply.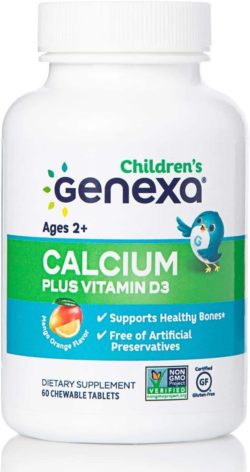 10. VegaVites Vitamin D3 Gummies
Our final pick of the best gummy vitamins are the VegaVites D3 gummies. They are ideal for boosting the immune system as well as the nervous system. Also, these supplements can help regulate children's sleeping patterns as well as their mood, to ensure their overall health and wellness is taken care of. These vitamins are halal, vegan, gelatin-free, soy-free, kosher, and don't contain high fructose corn syrup. They have a delicious fruity flavor, almost like candy, so kids are sure to look forward to taking their vitamin each day.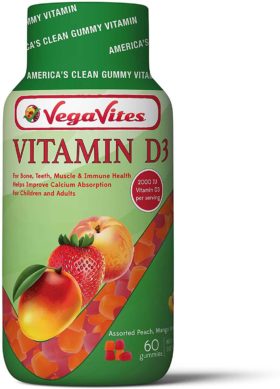 Our Best Buy
After looking at 10 great picks, it is time to pick out which is the best vitamin for child. The concentration powder is one of the best because it offers some great benefits to children. The range of B vitamins are excellent for helping improve mental function and aiding academic success, so they are perfect for school-aged children. The powder is easy to take in a glass of water and has a nice flavor to ensure kids don't mind taking it.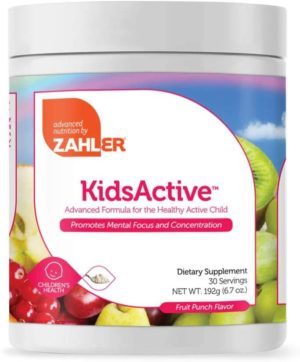 Best Vitamins for Kids Who Are Picky?
Most of the vitamins for kids come in yummy flavors which are designed to be palatable for young tastebuds. They are also in easy to swallow formats usually – chewable, gummies, or liquid drops which can be mixed with a drink. Look out for your child's favorite flavor and they are sure to have no problem taking their daily vitamins! The gummies are almost like candy, so they are sure to appeal to most kids. If your child doesn't like to chew or dislikes the texture, drops are ideal and can be added to water or juice so they aren't noticeable.
What Vitamins Are Good for Skin and Hair for Kids?
One of the main nutrients required for healthy hair is Folate. This is found in some foods naturally, as well as in the form of Folic acid in supplements. As well as keeping the hair healthy, folate also prevents anemia, so it is important for many functions and not just for having healthy hair.
In terms of healthy skin, a few vitamins are responsible for this. The main ones are Vitamin E, which can also help cuts heal faster, Vitamin C, which helps the body produce collagen for taut skin, and Vitamin A, which protects the skin from sun damage. It's never too early to start looking after the skin, and it's great to set your child up for healthy habits later in life.
Why Is It Important for Kids to Take Vitamins?
Many children are picky eaters, and don't eat a large variety of fruits and vegetables to provide them with their daily needs when it comes to vitamins. So, if they can't get their vitamins from their diet, supplements are an ideal alternative. Each vitamin and mineral is important for different things, they are all equally important. For example, growing kids require Vitamin D together with calcium for strong bones, whereas many others such as iron, iodine and Vitamins A, B12 and B6 are essential for brain development. So, ensuring your child has a sufficient intake of vitamins is clearly very important.