School lunches can get pretty expensive, not to mention the mediocre foods offered in the cafeteria. So, why not buy a lunch box? Whether your kid is heading back to school or you have grown tired of buying the expensive café food, a snack box makes the midday lunch a little tastier. Additionally, kids aged 3-10 are in their prime years of development hence, the need to ensure they eat healthy food. Light midday snacks deprive them of the essential nutrients required for the growth and development of the brain and muscles.
Luckily, kids lunch packs are not plain and boring as in the old days. They come in different colours, designs and styles to keep up with the growing flashy culture. Choices range from the traditional metal lunch containers with elaborate sections for different types of food to fancy Bento-style boxes in a range of colours. Bento lunch cases, for example, were designed on the premise that the separating foods into various sections provides greater control on the nutritional value of a child's lunch while letting parents create attractive food artwork.
Lunch boxes also make essential eco-friendly containers as parents get to pack all the food in one container. Apart from the plastic lunch boxes, there are reusable bags for snacks and sandwiches in many retailer stores. Both alternatives reduce waste significantly.
Find one that has Durability 
It is an essential consideration when buying lunch kits for school. You don't want to purchase luncheon box kits that need frequent replacement. Opt for ones that last long, keeping in mind that kids get to drop and throw them frequently. Hard lunch boxes, for example, have plastic or metal designs that retain the original shape even after years of use. You also need to look at the edges of the box. Containers with rubber edges protect the boxes from scratches when dropped. The plastic should be BPA-free to prevent chemicals from contaminating the food. These toxins are believed to cause various illnesses, including cancer. As such, it is important to choose types with BPA and phthalate-free. You can verify this information by looking at the pottery barn retro lunch bag reviews.
Leakproof Boxes are best
Ideally, the snack box should keep the food sealed and spill-free. As such, you should choose a container that contains the spills. This way, juices, stews or soups don't leak into other solid foods or seep into the kid's schoolwork when packed in the bag. Leak-proof lunch boxes also keep the food fresh until use. Bento-style lunch boxes are particularly useful as they leak-proof compartments that hold the food in separate sections. You also want to examine the lids to ensure they fit correctly and provide an airtight condition for the packed food as it also contributes to its freshness.
Easy to Clean 
Every parent wants an easy-to-clean box. You don't want to spend hours scrubbing off spilt or smelly one. Look for box types that have vinyl or plastic lining as they are easy to clean using wet wipes or a damp cloth. You should also consider a dishwasher-safe lunch box, which also eases the cleaning chore. If you are buying lunch boxes made of soft fabric, opt for machine washable kids lunchboxes. This way, you get to clean the box once or twice a week without using too much effort.
Easy to Handle and Use 
If you are looking for ease of use, opt for a structured lunch box. It ensures that whatever you pack won't get soaked or mixed, whether you are packing stew, salads, sandwiches or pasta. A box with several leak-proof compartments makes a great buy. It allows you to arrange all your kid's lunch packs easily without worry about spillage. This feature is especially useful for school-age children who tend to bang or throw their lunchboxes around. You also want a box that has handles. They should provide a comfortable grip for the child to and from school. While the best may have different handle designs, the bottom line is ease of use.
Size 
The lunch box should not be excessively big or heavy for your child. It should be full and comfortable without compromising the kid's nutritional needs. Think about the items you usually include in your child's lunch and ensure they fit in the lunch box. If you usually use plastic containers or flask to store the items, ensure there is space for them. A compartmentalised lunch box makes a great buy if you want to pack several things in one lunch bag. Most kids within ages 3-7 appreciate variety, especially if you are the kid that goes to great lengths to create food artwork. You should also ensure the lunch box fits your child's backpack or tote bag.
Design 
Kids love using things that they enjoy. You can buy a sandwich box that matches the rest of kid's gear or one that has their favourite superhero. Whether the child is interested in TV shows, princess stories or superhero cartoons, choosing a snack box that fits this profile makes his lunch snack even more interesting. You also need to consider the amount of space required for storage. Soft lunch boxes are incredibly compact when empty which makes it easy to store. Hard lunch boxes, on the other hand, make a great buy if looking for stackable lunch boxes for multiple kids.
6 Top Lunch Boxes for Kids and Toddlers 
When it comes to buying the perfect kids lunch box kit, parents are spoilt for choice. Gone are the days when Ziploc bags and brown bags were the only means of packing food. Today, manufacturers offer numerous lunch boxes that come in different sizes, shapes, colours and styles. The best part is that they are re-usable. They are affordable and provide the best way to pack lunch free of toxins. Additionally, the lunch bags are leak-proof, so you can easily pack both wet and dry foods. The best boxes are dishwasher and microwave safe for easy preparation of food, though some manufacturers recommend hand-washing the lunch cases. Here are our best picks:
1. PackIt Snack Box
The PackIt collection makes the best lunch boxes for middle schoolers. The lunchbox features a functional all-in-one design that keeps your food cold and fresh hence, great for packing fresh veggies, fruits and cheese and is excellent for kids with food allergies. It has a freezable gel built on to the walls of the bag, so you don't need to spend on ice or gel packs. A twelve-hour stay in a freezer activates the gel packs. Its top-load design allows you to pack flat containers easily while its collapsible design enables you to fold it neatly to the size of a notebook. The loop tab and handy hook allow compact storage.
PackIt features a buckle handle you can easily mount on your backpack, totes or sports bag for convenient travel to and from sports activities, schools or the daycare centre. It also fitted with a mesh pocket that holds an 8oz water bottle and a zip card for storing wipes or ID cards. This kids' meal box is made from non-toxic poly canvas that features a food-safe lining. PackIt products are PVC, phthalate, BPA and lead-free.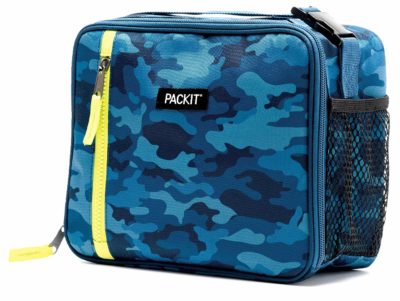 2. OmieBox Bento – Kids Lunch Tray Box
Parents looking for the best lunch bag for kindergarten should opt for the OmieBox Bento snack box. It has three compartments and is outfitted with a Thermos Insert that allows you to pack hot food and cold food at the same time. It is this feature that makes it ranks among the best childrens insulated meal boxes. The Thermos Insert is made up of an 18/8 stainless steel and a vacuum insulated jar that offers maximum thermal insulation. As such, you can pack hot soup, chilled grapes, snacks and juice boxes without using multiple containers. This way, kids get to enjoy more variety, which develops healthy eating habits. OmieBox has a built-in handle, so you don't need to stash it in a bag.
The thermos is shallow and has an easy-to-open design that allows kids to open the tea box independently. The rubber seals are removable, making it easy to hand-wash the compartments thoroughly. OmieBox seals are replaceable, so you don't have to do away with the box when they are worn out. Although OmieBox compartment lunch box is dishwasher-safe, the manufacturer recommends hand-washing all the parts to prolong its life and maintain the integrated vacuum-insulated jar. OmieBox Bento makes a great lunch box during after-school activities, back to school activities or summer camp activities.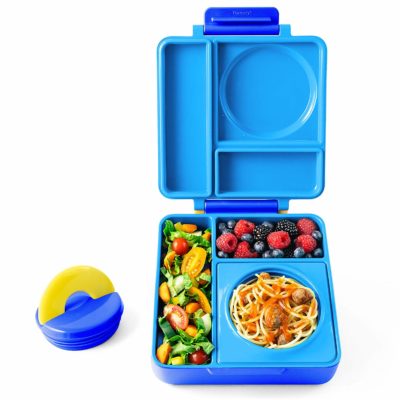 3. Bentgo Lunch Box for Children
If you are looking for school luncheon boxes with compartments, the Bentgo Sandwich Box for Children makes a great buy. It features a durable, colourful design suitable for kids aged 3-7 years; older kids have bigger appetites and might find this box a little small. It has five compartments for packing different foods, so you don't need to use multiple reusable preschool lunch containers. It has a compartment for veggies, fruits, an entrée, dip and a dessert. As such, you can pack half a sandwich in the largest chamber, Goldfish crackers, cut fruit and edamame in the other three small compartments.
This snack box also encourages parents to pack wholesome meals for their children. The compartments are sturdy enough to eat from. Its lid is fitted with seals for each compartment to keep food from spilling to the other sections when the box is closed. This feature is also great for kids who loathe mixing food. This easy to clean lunch box is microwave and dishwasher safe, but the outer shell should be hand washed to preserve its leak-proof feature and extend the life of the lunchbox. The package comes with a free eBook that offers up to 30 kid-friendly recipes and a user manual. Bentgo, the manufacturer, offers a two-year warranty.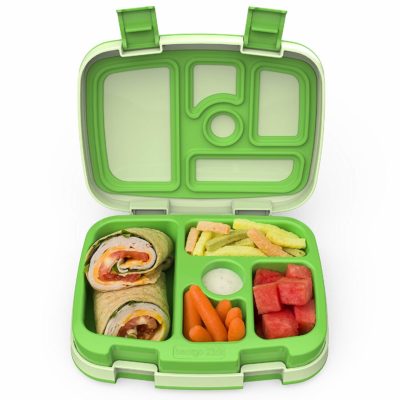 4. Bentgo Lunchbox Set
This five-compartment lunch box is perfect for kids on the go. The compartments allow for endless food combinations of nutritious meals. They are leak-proof, so you can pack both wet and dry foods without leaking into each other. Additionally, the compartments have different sizes, making the Bentgo lunch box perfect for carrying a light snack, e.g., half a sandwich with cheese, veggies, crackers and a sauce. The box also features a double construction with drop-proof, rubber coated edges suitable for kids aged 3-7 years. The lunchbox has a removable tray that allows you to mix and match up to three fun colours to match your child's preference. The material used to make this type is FDA-approved and BPA-free. Apart from box, you get Bentgo Kids eBook that has up to 30 recipes and fun lunch ideas, a user manual and a two-year warranty.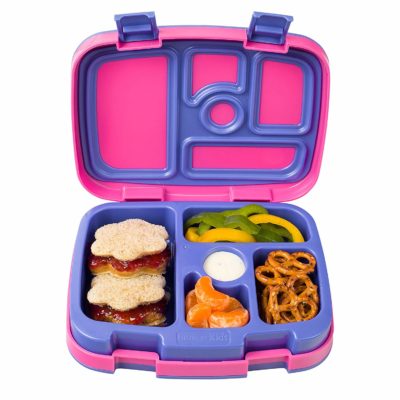 5. Wildkin's Awesome Lunch Bags for Toddlers
Your little one will love the vast variety of patterns that Wildkin's lunch bags offer. These include bold prints, pink, light blue, purple and camo colours for your little champ. Apart from the broad selection of colours, you will love the premium fabric used to make the lunch bag. This toddler lunch box is easy to clean and durable. In addition, it is insulated to help retain freshness and taste during hot and cold temperatures. Wildkin measures 9.75×3.25 inches, which is pretty spacious for carrying snacks, juice boxes and utensils. This size also makes it easy to pack in your little one's backpack.
This lunch box has a collapsible design for easy storage. Besides, the box is fitted with a zippered front pocket where you stash a surprise dessert and the inner elastic tabs to store ice packs or water bottles. The inner mesh pouch comes in handy when packing additional utensils or napkins. The are designed to match other Wildkin gear that includes sleeping bags, backpacks and duffel bags. This way, your little one will enjoy having matching gear on the go. Wildkin lunch boxes are BPA, Phthalate and PVC free.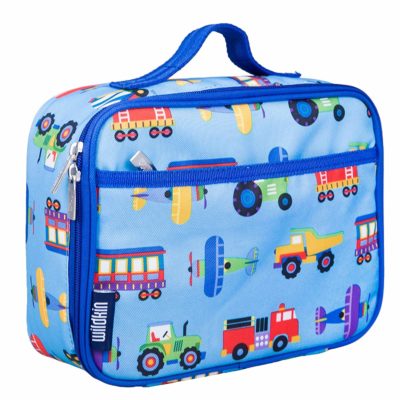 6. Personalized Kids Lunch Storage Box
Get your little champ ready for school or playdate with this beautiful personalised lunch box. Just as its name suggests, the bag allows you to insert the toddler's name (maximum of 12 characters). Kids love attention from their peers, and there isn't a better than a kid with lunchbox that has his name displayed. The insulated lunch bag comes fitted with a Velcro strap for holding a water bottle. Its interior has mesh pockets for storing utensils, small snacks and napkins. The size measures 10×7.5×3, which is pretty reasonable for kids aged three years and above. It's a magnetic snap, and drawstring closure allows your little one to operate it independently. This one is 100% cotton hence, machine washable.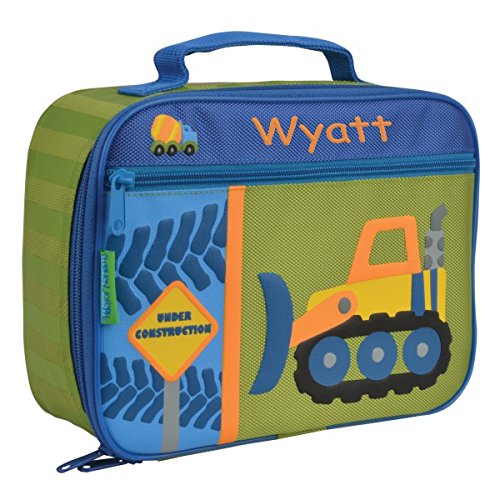 Our Top Lunch Box Pick in 2023: OmieBox Bento – Kids Lunch Tray Box
Every parent loves a kids box that keeps food warm for his or her little champ, and the OmieBox Bento does this perfectly. This bag's versatility and ease of cleaning make it our top pick for 2023. The built-in thermos food jar keeps entrees like soup warm until lunchtime, and most lunch box reviews stated it works perfectly. The double-walled compartments, leak-proof design and availability in five bright colours add to this bag's versatility.