Apart from some essential factors such as exercise and sleep, the best vitamins for teenage growth are very important for organs and cells to perform at a very high level.
Teenagers are developing at a very fast pace, and numerous things happen in their bodies on a daily basis, which is why sufficient nutrition bears huge importance in their lives.
It is imperative to understand the nutritional needs that teens require. They lead very busy and active lives in which they often skip a meal or eat something that does not hold enough nutritional value to pull them through the day.
A pack of vitamins will ensure that they will get everything they need, and in this article, we have picked some of the best vitamins for teenage growth in today's market.
List of Best Vitamins for Teenage Growth
1. SmartyPants Teen Guy Formula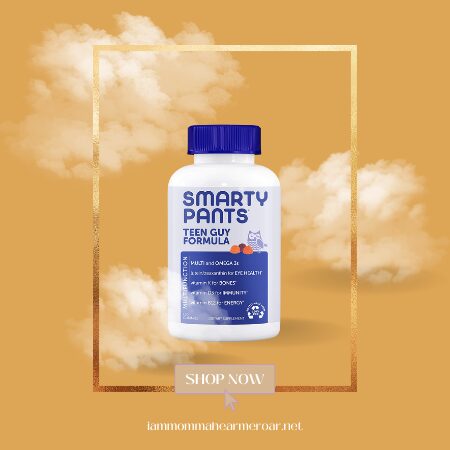 Coming from the SmartyPants store, this vitamin pack is available for teenage girls and boys and comes in a very generous pack of 120 delicious gummies with lemon-lime, cherry, and orange flavors.
This formula fills all the nutritional gaps that teenage boys and girls can have throughout their daily activities. It boasts numerous premium ingredients such as beta carotene, vitamin B6, vitamin K2, and choline.
SmartyPants vitamins feature 20 essential nutrients, including omega 3 EPA/DHA, lutein, vitamin D3, vitamin K, vitamin B12, and many more. These vitamins help you support eyesight, immunity, and bones and keep energy levels very high.
To get the best effect out of this product, teenagers should take the dose of 4 units daily, so the package provides a steady monthly supply. The gummies do not contain any synthetic colors, artificial flavors, milk, soy, eggs, peanuts, or any other allergens or harmful ingredients.
2. NuBest Tall 10+ – Advanced Growth Formula – Powerful Bone Strength Support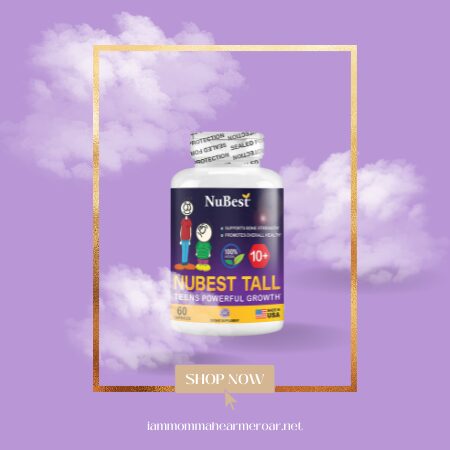 This advanced growth formula is available in packs of 60 capsules that are suited for children older than 10 years of age. These vitamins effectively strengthen the immune system and build body resistance for teens and older kids while helping their energy at a very high level throughout all daily routines.
NuBest Tall 10+ effectively blends Oriental and Western medicine in this product which stimulates the healthy bone structure and contributes to overall health and well-being. It contains calcium, collagen, vitamins, and minerals that add the necessary nutrition for teenage boys and girls.
This product will efficiently supplement calcium in the organism and help bones grow in both length and thickness. It also possesses advantages such as higher biological usability, and it absorbs at a very high rate.
Consuming these capsules is sadly not enough, so in order to get the best results, it should be paired with frequent exercise, quality nutrition, and the appropriate amount of sleep. The capsules also do not contain any GMOs; they are gluten-free and are made using only natural ingredients.
3. Maxi-Health Teen Multivitamin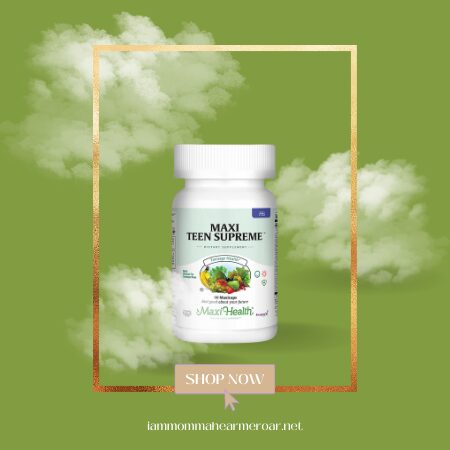 Maxi-Health multivitamin for teenagers is available in two packs – one containing 60 and the other containing 120 capsules. They come in the form of easy-to-swallow capsules and stimulate teenage growth while keeping the energy levels at a very high level.
Each capsule of this multivitamin holds 32 essential vitamins and minerals that are necessary for growing teen's nutrition. Every unit is rich in iron, magnesium, calcium, zinc, biotin, folate, and vitamins A, C, D3, B-Complex, and 5 super greens.
It is also rich in powerful antioxidants that cleanse the organism from impurities that come in fried foods, alcohol, tobacco, pesticides, and other pollutants you may encounter on a daily basis.
Maxi Teen Supreme is vegetarian and free of gluten and artificial flavors, colors, or preservatives. It also highly supports healthy muscle functions, focus, memory, bone growth, and overall well-being and health. Since the capsules contain enzymax, which is a very important enzyme that extracts benefits from food and multivitamins, it is safe to say it absorbs effectively.
4. NATURELO Whole Food Multivitamin for Teens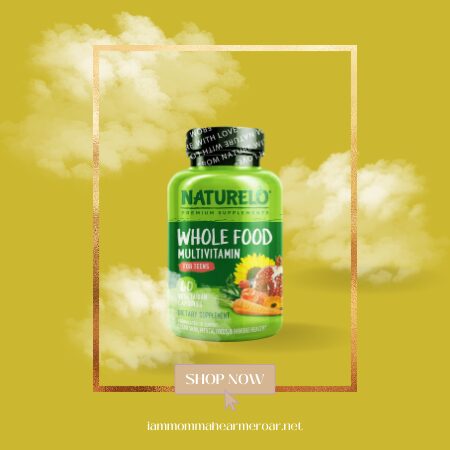 Naturelo Whole Food multivitamin is available in a pack of 60 GMO-free and vegan-friendly capsules and since it is recommended to take 2 daily, it provides you with a steady amount that is suitable for a month's use.
This product is suitable for teenagers between 12 and 18 years of age, and it supports the health of the immune system, vision, skin, hair while boosting energy levels. The formula is specifically designed for teenagers' unique nutritional needs throughout their daily routines.
Naturelo uses completely natural ingredients for vitamin and mineral sources. For example, vitamin E from sunflower, vitamin D3 from lichen, and calcium and magnesium from marine algae.
This multivitamin contains no GMOs and is free of common allergens such as gluten, dairy, or soy. It is an excellent solution if your teen does not eat enough veggies since it provides suitable supplementation and grants very high energy levels that they would otherwise severely lack.
5. Codeage Daily Teen Multivitamin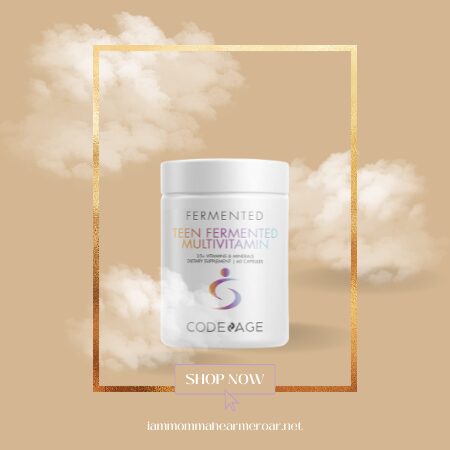 Coming from the Codeage store, this multivitamin for teenagers is available in bottles containing 60 capsules, enough for a monthly supply. Each capsule in the pack contains over 25 vitamins necessary for your teenager's overall health and well-being.
Codeage daily teen multivitamin features vitamins and minerals that are exclusively plant and vegan-based. These include vitamin A, vitamin C, vitamin D3, vitamin K2, methylated B-complex, and important minerals such as calcium, magnesium, potassium, zinc, selenium, omega 3, lutein, and many more.
The formula is also rich in fermented and organic fruits that are one of the main sources of nutrients in the multivitamin. These fermented supplements are also great sources of probiotics, enzymes, vitamins, and numerous antioxidants.
This vegan formula does not contain any GMOs, gluten, soy, milk, eggs, or any other allergens that can be harmful. The multivitamin absorbs pretty well and brings various benefits to teenagers and their growth and development.
6. OLLY Teen Girl Multi Gummy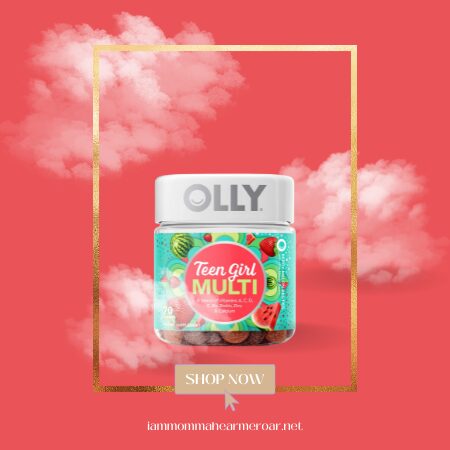 This multivitamin is coming from the Olly store, and it is available in a variety of flavors in bottles containing 70 delicious gummies. Each gummy contains a blend of nutrients and 15 essential vitamins and minerals for teenage girl growth.
To get the best results from this vitamin pack, teens should take up to two gummies daily with or without the meal. All gummies have flavors of berries and watermelons and are made without the use of any artificial colors, completely gluten-free.
Since these gummies can melt on the heat, make sure to stash them in a cold and dry place to preserve their integrity. The formula contains probiotics and antioxidants that hold huge value in getting rid of numerous impurities in your body.
The gummies are also very convenient for teenagers who hate swallowing capsules and tablets since they are very delicious, encouraging them to take daily doses.
7. One A Day Teen for Him Multivitamin Gummies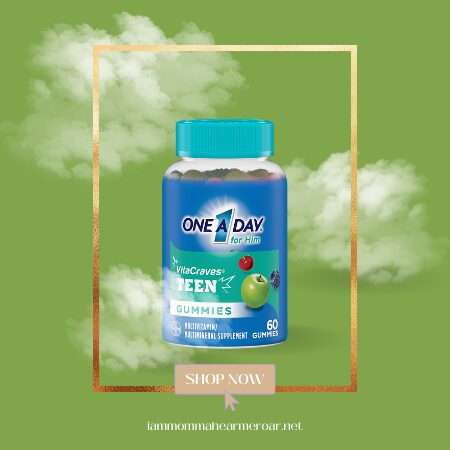 One A Day multivitamin for teenage growth comes in packs of 60 chewable gummies that have different fruit shapes. The gummies are delicious and perfect for teens who hate swallowing capsules, pills, or tablets.
One A Day includes 10 important nutrients that help teens' overall health and well-being. The formula contains essential vitamins such as A, C, E, and D, which are very important for bone growth support, immune system boost, and crucial for converting food into energy.
The recommended daily dose for teens is two units daily, so the bottle should provide you with a steady monthly supply. The vitamins absorb really fast in the organism, and you should notice effects after only a couple of weeks of use.
These vitamins are free of high fructose corn syrup, and gummies are very soft and do not have a sugary flavor, so daily consumption should not pose any problems.
8. GNC Milestones Teen Multivitamin for Boys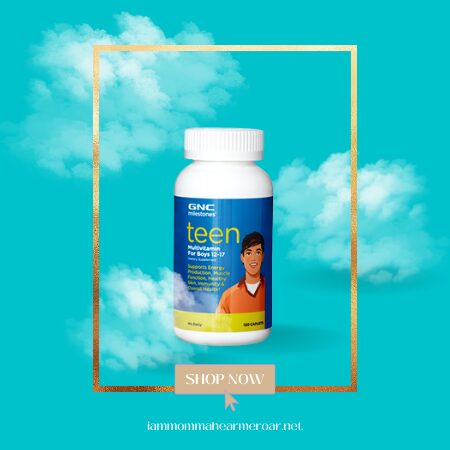 This multivitamin for teens is available in packs that contain 120 caplets, and you can purchase 1 pack or 2 or 4 packs with a discount, which should provide you with a steady supply. GNC Milestones is suitable for teenage boys between 12 and 17 years of age.
The formula is designed to bring teenagers numerous health benefits and contribute to their muscle functions, bone health, immune system boosting, and to raise their energy to the next level.
GNC Milestones teen multivitamin contains no dairy, artificial flavors and colors, or allergens that can be harmful. It features vitamins and minerals necessary for teen growth and development while helping them through their daily routines.
The caplets are easy to swallow, which should encourage teens to take their daily dose. The pack is pretty generous, so it should last for several months if you take 2 or 4 packs.
9. Grow Power – Powerful Growth Formula for Children (10+) and Teens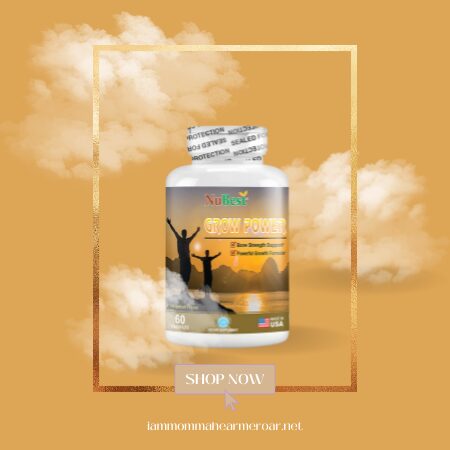 Grow Power is a vitamin formula for teens that is perfect if you want to save money since you can pick a pack of 2, 3, 6, or 12, which should ensure several months of supply. Each pack contains 60 capsules that have all the necessary vitamins and minerals for growth and development.
These capsules possess a great absorption capacity, so you should feel the difference in your energy levels and overall health very fast. They also contain calcium, vitamin D3, phosphorous, minerals, and other important nutrients.
Vitamin D3 ensures better absorption of calcium which is vital for healthy bone growth and structure. The capsules hold natural ingredients, and they are free of gluten, dairy, soy, antibiotics, preservatives, or any artificial colors and flavors.
10. NaturesPlus Power Teen for Him Chewable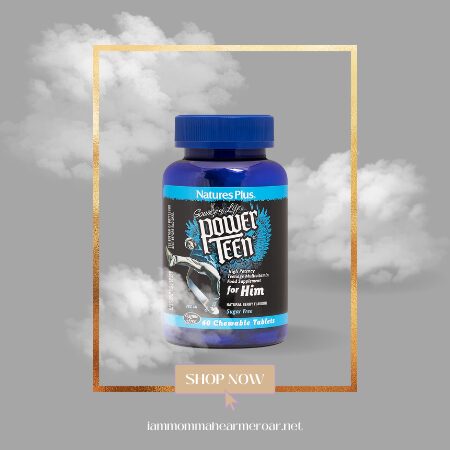 NaturesPlus pack of vitamins contains 60 chewable tablets that contain 13 vital vitamins for teenage boys, and it largely contributes to their overall health and well-being. Each tablet is formulated using nutrients and herbs that every teenage boy should consume on a daily basis.
Every serving is rich in valuable nutrients such as vitamin A, B12, C, D3, K2 and also includes an amino acid complex that stimulates muscle growth and boosts strength and endurance.
The tablets are chewable, tasty and berry flavored to ease the consumption for teenage boys. Every supplement in this bottle contains spirulina, carrot, spinach, and broccoli, and given the fact that all of these ingredients are natural and healthy, you should definitely give them a chance.
The formula absorbs pretty well, so your teen should feel the changes in energy levels and overall health and strength after just a couple of weeks of daily consumption.
How to Pick the Best Vitamins for Teenage Growth?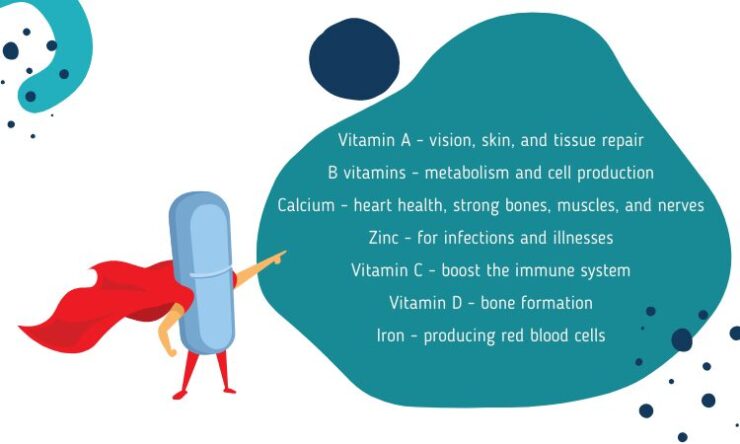 Since the market is flooded with vitamins and multivitamins from various manufacturers, purchasing the appropriate pack can be quite a challenging endeavor. We understand this, so we have put together a brief list of guidelines to help you get the best value for your money's worth.
Pay Attention to Labels
Reading labels bears huge importance since it informs you on what type of formula you are purchasing. It holds a list of minerals, vitamins, and other nutrients that each bottle contains, so you can purchase the product that will suit your needs.
Daily Value
To ensure that your teenager gets the right amount of nutrition, make sure to read what is the nutritive value of daily dosage. Avoid the supplements that offer anything less, so you can provide your teen with 100% healthy and sufficient daily vitamin and mineral input.
Consult With Your Healthcare Provider
Although daily consumption of vitamins, minerals, and other nutritive supplements is very important, you should also avoid taking too much of them. To get the right dosage of the right vitamins, make sure to consult with your healthcare provider before spending any money.
Check What Vitamins Can Provide You With
Each vitamin capsule, tablet, or gummy contains numerous benefits coming from different vitamins groups, so it is important to know what each of them does to utilize them the best way.
Vitamin A – Vital for vision, skin, and tissue repair
B vitamins – Helps metabolism and cell production
Calcium – Supports heart health, strong bones, muscles, and nerves
Zinc – Prevents infections and illnesses
Vitamin C – Helps boost the immune system
Vitamin D – Helps bone formation
Iron – Helps in producing red blood cells (very important since teens are at high risk of developing iron deficiencies)
Frequently Asked Questions
What vitamins are important for teenage growth?
Teenagers need to consume various vitamins daily, but vitamins E, C, D, and K2 are the most important. These ingredients are very common in multivitamin packs, and if provided in sufficient doses, they bring numerous benefits for growth and healthy development.
Can vitamins for teenage growth help in puberty?
Absolutely. This is the part of life when the teenage body goes through some rapid transformations and numerous changes, which is why providing bones, muscles, and brain with sufficient nutrition bears big significance.
Should teens take adult vitamins?
This largely depends on the complex blend of the vitamin and your teenager's needs for nutrition. One of the safest courses to take is to wait until your child is at least 12, or consult with your healthcare provider.
What vitamins are useful with teenage hormones?
You should go for vitamin C, which bears great importance in collagen formation and overall skin health, while vitamin E is excellent for antioxidant purposes. As far as balancing hormonal activity goes, you should go for vitamin B6.
Final Words
Teenagers are generally very active and spend a lot of energy, which is why getting them sufficient nutrients is often impossible through regular meals alone. This is when the vitamins for growth and development come into play, and picking the right ones is of the essence.
We hope our buying guide and the list will help you make an educated choice and pick the right product for your teenager. Remember to consult your healthcare provider before spending money because it is the safest and smartest path to purchasing the right product with the right vitamin dose.
If these weren't enough, check out some other vitamins from Amazon also: