The arrival of a baby in a home brings a matchless joy to the parents and family. Due to my obsession with the safety of my baby, I had to purchase the best baby monitor of 2023. I was confused between choosing Nanit Vs Owlet to check on my baby at different times of the day.
These baby monitors are famous for their innovativeness and tracking potential for additional factors like sleep pattern, breathing, heartbeat, and oxygen level.
If you have any of these two baby monitors, you can quickly check up on your baby from the distance through WiFi connectivity. However, preferring one baby monitor over the other can be confusing because both products are awesome in their performance.
Therefore, we have written this comparative review guide to help you in choosing the best baby monitor for your little angel. So, please keep reading to know the essential details that you need!
Nanit Vs Owlet: Which One Is The Best Baby Monitor Of 2023?
Brief Description
If you are constantly asking the question, 'which one is the best baby monitor of 2023 when comparing Nanit Vs Owlet?', then we have got the correct answer for you. Nanit and Owlet are the best choices because they have received great admiration from users.
However, you can opt for one product out of these two if you specify your preferences. For example, some mommies want to monitor the heartbeat and oxygen levels of their baby angels. They can opt for the Owlet baby monitor.
On the other hand, some mommies want to track the sleeping cycles and breathing aspects of their smaller babies. If you are one of them, then you should opt for the Nanit. With WiFi connectivity, you will love monitoring your infant's movements while they are inside the crib.
If you are still confused about the details concerning Nanit Vs Owlet, then sit back and relax because we will be exploring both in detail in the coming section.
Essential Details of the Nanit Plus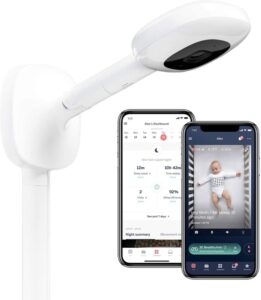 Nanit Plus is one of the most innovative baby monitors that you can mount on the wall to keep track of your baby wherever you are in the home through WiFi connectivity. When I purchased this fantastic baby monitor for my baby angel, I loved it for the range of connectivity options. It will give you an HD view as clear as crystals. Through this bird's eye view, you can easily see your baby's movements in the crib.
Another good news associated with the Nanit Plus is that it is compatible with many devices and systems. Therefore, if you have Android, iOS, or any other operating system, you will enjoy faster and smoother connectivity. Also, it gives you an option of two-way audio so that distance does not hinder you from talking to your baby.
Nanit Plus is also admirable for the reception of real-time audio. Also, you can change the sensitivity of the motion notifications at your convenience. The bonus point of the Nanit Plus is that it gives you the freedom to adjust the conditions of your baby's room, like temperature and humidity. So, you can make your baby's room as comfortable as you like.
Preference Factor of Nanit Plus
The most eminent thing for which parents prefer to purchase Nanit Plus is its guidance regarding baby's sleeping pattern and cycle through active tracking. All you have to do is install the latest version of the Nanit Plus, and you will get a clear picture of your baby's sleep routine.
To be more specific, Nanit Plus offers you sleep starts every morning for the previous night. In addition, there is also a highlight reel showing the time-lapse for your baby's sleep. With this feature, it is possible to see the entire sleep pattern of your baby within a few seconds. Well, that sounds amazing! In addition, the Nanit Plus app will give you the chance to meet the best pediatricians providing valuable suggestions regarding your baby's sleep.
Striking Features of the Nanit Plus
Let us tell you some of the best features of this baby monitor so that you can easily decide about opting for it. These features include:
Nanit Plus arrives with the complete set, including child unit, camera, stands, wall mount, and breathing wear. Therefore, you don't have to buy anything separately
With the two-way audio, you can hear the sounds of your little angel. Also, you can communicate with your baby from any corner of the home using WiFi connectivity
The interface of this baby monitor is very user-friendly, and all mommies will find it easy to use. All the things are steps, and you don't need prior expertise for it
Nanit Plus baby monitor is the smartest monitor offering night vision
You will be getting alerts for the movements and sounds
If your baby wears the Nanit Wear, then you will find it easier to track your baby for the breaths they are taking within one minute
There is a heat sensor that will follow the movement of your baby inside the crib during the night
Essential Details of the Owlet Smart Sock & Cam Baby Monitor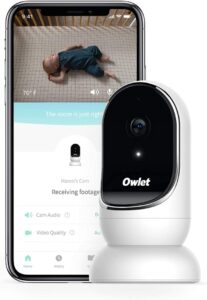 In our review guide on your question, 'which one is the best baby monitor of 2023 when comparing Nanit Vs Owlet', it's time to discuss Owlet Smart Sock & Cam Baby Monitor. The developer of this baby monitor Kurt Workman wanted to keep track of his baby's heartbeat and heart rate. Workmen's wife had congenital heart disease, so he feared that his baby might be at risk.
For this reason, he went on developing this most innovative baby monitor to reduce the risk factors through effective monitoring. Owlet is appreciable for its accurate information regarding your baby the health and heartbeat aspects for 24 hours.
This video monitor will enable you to check your baby anytime through the camera capturing your baby's movements. Therefore, your child will be safe if you opt for this amazingly responsive monitoring gadget.
Another good thing associated with the Owlet is that it will be giving you regular notifications about the basic heartbeat rate and breathing. It will make sure to inform you about the wellness of your baby's heart. If you want to get further details, you can download the Owlet app and enjoy checking the other relevant information.
Distinctive Features of the Owlet Baby Monitor
There are some features associated with the Owlet which you may not find in the conventional baby monitors. These include:
Owlet will send you light and audio notifications in case the heartbeat of your baby is not normal or if there are any fluctuations in the oxygen level
Thanks to the developers of the Owlet for choosing different lights for different functions like blue and red for showing heart rate and oxygen saturation
Another good news associated with the Owlet is that it is compatible with a wide range of operating systems and devices
You can talk to your baby and listen to their voice through a two-way talk feature
Real-time video streaming of your baby's movements on your smartphone
Owlet comes with the intelligent sock for checking the heartbeat and oxygen levels
Read also: Best Cat Proof Bassinet
FAQs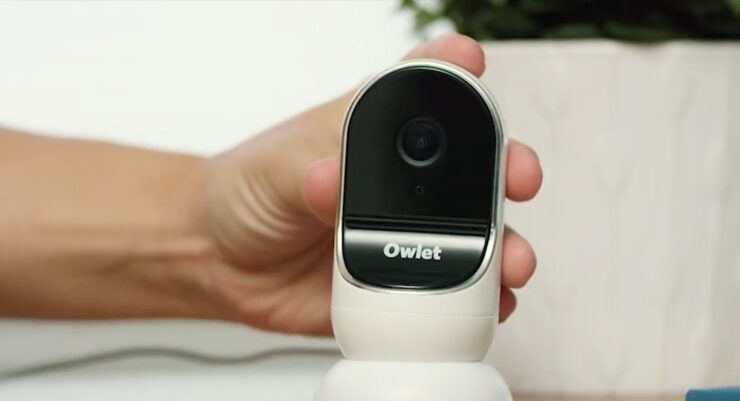 What are the significant reasons to choose Owlet?
There are different advantages associated with Owlet. Firstly, if you want to keep track of your baby's heartbeat and breathing, then you must go for it. The Smart sock is capable of monitoring your baby's movements without the utilization of the camera. This gadget is compact, lightweight, and comes with a space-saving design. Also, you don't have to pay any subscription or monthly fees for using the Owlet app.
Nanit Plus is preferable over other baby monitors for which reasons?
Nanit Plus has made a special place among other baby monitors because of its efficient and flawless functionality. This baby monitor will give you an in-depth analysis and information about your baby's sleep pattern. Also, it can track your baby's breathing. Nanit app works smoothly and is user-friendly. Unlike other baby monitors, including Owlet, Nanit gives you an option to change the conditions of your baby's room like temperature and humidity, etc.
Which one is the best baby monitor of 2023 when comparing Nanit Vs Owlet?
To be honest, both of these baby monitors are the perfect example of excellent functionality, smoother operation, and potential for tracking. The innovativeness of these two baby monitors will convince you once you use them. However, their tracking specifications are different. If you need to monitor the heart-related aspects, then go for Owlet. While if you want to check the sleep-related details, then you should opt for Nanit Plus.
Final Thoughts
With this section, we are concluding our review guide on your question, 'which one is the best baby monitor of 2023 when comparing Nanit Vs Owlet?' We hope you will have a clear picture of the specifications of both the monitors. Both of these monitors are eminent choices to go for the overall tracking of your baby. However, if you want to specifically track the sleep patterns, breathing rate, or heart-related aspects, you need to go for a specific monitor.
If you make the right choice, then either Nanit or Owlet will deliver the best performance and let you monitor your baby from a distance with WiFi connectivity. We would love to see your thoughts and experiences. Therefore, don't forget to share them with us in the comments section. Thank you!