Going on a trip with your little one can be a bit overwhelming.
Especially if it's your first time. You now have to take care of another soul aside from yourself.
The extra load in your luggage that comes with that cannot be ignored too.
And when you consider you need to ensure your baby sleep securely, away from home, you'll soon realize parenting isn't always a bed of roses.
You probably will do well to stay at home. But you just cannot escape some trips, especially if your sanity depends on it.
Or if you travel a lot, you need something that'll make life easier for you when your baby needs to sleep on the go.
Fortunately, there are a lot of monitors out there that help you achieve this. If you choose the right one, you can cut back the stress of monitoring a sleeping baby on the go.
Now that you know your baby can sleep soundly even on the go, here are some tips for choosing the best travel monitor.
---
How to Choose the Best Baby Monitor for Travel
---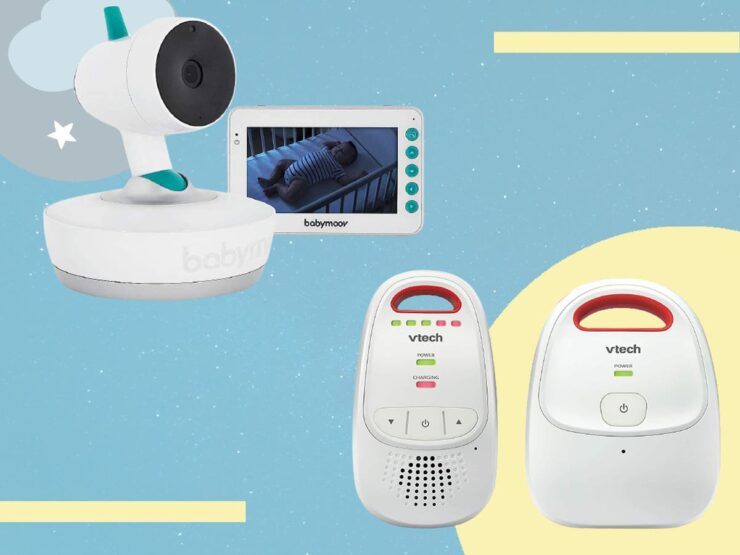 1. Pay attention to the size
There are a lot of monitors out there. Each with varying sizes and styles. Since you're looking to travel with you, you should look at portable ones.
If there is one thing that's most important in this article, it's this: "choose a lightweight monitor for your travels". This means you should avoid the heavy/large models like a plague.
They're very difficult to move around. A light monitor can slip into your travel bag with ease. And you can draw it out with one hand. It makes you look smart and cool on the go.
2. Battery life is also important
When you're away from home, you don't get to enjoy all the luxuries of being at home. Just as we get excited to see new places, so are the difficulties of maintaining our poise and status quo.
To ensure you get the most out of the monitor while in the west, go for something with a strong battery. If it's battery-powered, then better.
On another note, some parents have advised choosing an audio-only monitor. It's recommended as it's more energy efficient compared to the video monitor.
However, you don't have to settle for one over the other just because of that. If your true love is for the video monitor, go for it. Just make sure it won't disappoint when you most need it.
3. Don't forget the range
When traveling, there is a good probability you'll lodge in a hotel room on your way. And there is another chance you'll want a separate room for your baby if you don't mind the cost.
In that case, you want something that cuts across both rooms and not loose signals intermittently. This is even easier when you consider the fact that there are short, mid, and long-range monitors.
Just choose the latter and you'll be alright. If your mind can't decide, then choose one with a range of at least 500 feet.
4. Video vs Audio Monitor – Yet again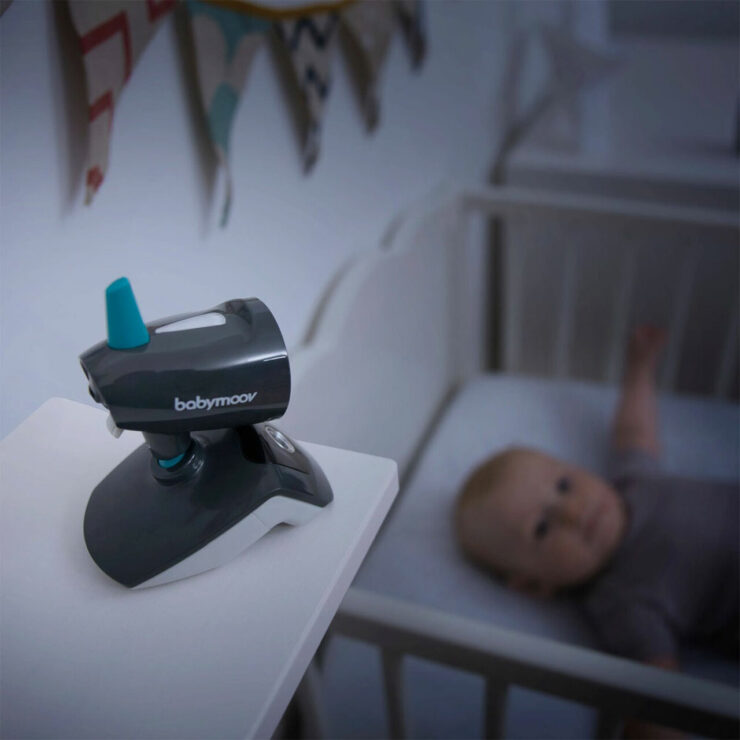 In this debate, I want to convince you to choose the video monitor against the audio monitor. No, I'm not trying to get you to spend an exorbitant amount on this toy.
I want you to get the best for your little, lovely baby. The first point is that you need to pay more attention to your baby when you're on a journey than at home. Right?
Some argue that the audio monitor is because it preserves battery life. Yes, that's right. But if you can afford a monitor with a camera, please go for it.
First (#1), you can see your baby's every movement and monitor it. See? Second (#2), you can keep a tab on your baby, even when they are in their own guest room.
Remember, you want to know when your baby wakes up. If at that moment, you're not around, be ready to receive a heavy protest.
The place will be strange to your baby but if you're around, he won't care too much. What can an audio baby monitor do? Tell me in the comments!
Good! At this stage, you're already pumped on what to look out for. You're not ready to choose one.
Let's have a rundown of the best travel baby monitors:
---
Best Baby Monitor for Travel in 2023 (Reviews & Ratings)
---
1. Evoz Vision Wi-Fi Video Baby Monitor

You need to be there when your baby needs you the most. The Evoz Vision Wi-Fi video monitor helps you do just that.
See, this is the video monitor I recommend you buy, that's if I was able to convince you in the preceding paragraphs. It comes with smart alert technology that keeps you on your toe when your baby calls for your attention.
You'll get SMS, email, or push notifications on your phone. And before that, you can watch how your baby's fairing. But that moment when your mind wanders away? Yes, the alert brings back that attention.
Having said that…why is this the best baby monitor for travel?
Library of parenting tips available at your fingertips
I've reviewed other units and not all have encompassing features like the Evoz Vision monitor. A distinctive initiative by the makers is the library of parenting advice makes the unit truly unique.
It's ladened with videos, tips, tricks, etc., all available on your mobile device. If you've been thinking about how the monitor helps you care for your baby, this is one.
You don't just keep an eye on your baby. You'll know what to do on every turn. Who says you can give your baby the love they deserve without stressing out yourself?
High definitive, smart camera
Now, another thing about this monitor is that it features not just an ordinary camera but a smart, high-definition camera.
Yes, the camera is loaded with IR LEDs and HD wide-angle lens that allows you to capture your baby in all their glory. Yes, you'll be aware of everything going on in your baby's room.
And that's not all.
More privacy
You can also control who sees and who does not see your baby, using the parenting unit and the wifi monitor app. What more can you ask for? Let me know in the comment!
---
2. Lollipop Baby Camera | Smart Baby Monitor

This is another monitor that puts indoor and outdoor monitoring side by side. You get an equal amount of control and functions using it home and abroad.
And why is it one of the best baby monitor for travel? Here is what it offers:
Stream live videos
One good feature is the video streaming capability, which is activated once your phone and the monitor are both connected to the same wifi.
Moreover, if you want, you can store all the videos on your phone. It's better there than in the cloud, which is also supported.
Once both devices (phone & monitor) are not connected, you'll still be able to access video and audio streaming using the AWS cloud function.
That means you'll be able to enjoy accessibility both indoor and outdoors. This is a great way of ensuring you get back to your baby when you're needed.
Privacy settings
To allay the fear of parents using wifi, the monitor comes with a privacy setting. In this mode, you can block out outdoor streaming and keep the indoor streaming active.
To enjoy maximum security, you can also block out some features like event video. All these create a safe environment where only you have access to your baby's video both when you're at home and out.
Simple installation procedure
The Lollipop baby camera and smart baby monitor also has one of the simplest and most flexible installation procedures I've seen on monitors.
And I've reviewed a ton of these items. So, how does that work? There are three different ways of installing it. It can go on the wall, table, and you can hang it on your baby's nursery furniture.
This flexibility allows you to install it in almost any area in the home. Put it in the right place, and you won't miss anything going on in your LO's nursery.
---
3. Philips AVENT DECT Baby Monitor

The Philips AVENT DECT baby monitor boasts of having up to 300 meters of range, which is a good range considering that 590ft is only 180 meters.
As you can see, this is the kind of baby monitor you want to have with you on your travels.
According to the manufacturer though, there are only 50 meters to use when indoors, which is still good.
One thing I like about this unit is flexibility. This is since the surrounding and other factors are a good determinant of a "suitable" operating range in a monitor.
Advanced DECT technology
Moreover, the Philips Avent monitor comes with DECT, which provides adequate security for all transmission between the monitor and other devices.
Thanks to this technology, you get data encryption for all your communication, so there is zero interference. And because of that, you have secure and private audio of your kid's voice that's only available to you.
Control level of the sound easily
In addition, you get an onscreen level of sound for the baby's room, even if you mute the parent unit.
The five sound-activated LEDs and variable volume control allow you to adjust the volume to your taste and see the current level it's at too.
---
4. Panasonic Video Baby Monitor

This is another great non-wifi baby monitor for your traveling. According to the manufacturer, this long-range monitor comes with up to 13 hours of standby.
This means the battery can last up to 13 hours when you're not using it.
But…what happens when you start using it?
You can enjoy up to 5 hours of power.
And you don't just get that clear and secure strength every parent wants. You'll also be able to enjoy the unprecedented performance from Panasonic.
With the ability to tilt, pan, and zoom, this model can offer you a good experience that's only possible from using a high-quality unit.
Let's look over more features:
Speak back to your little one
Lots of these nonwifi baby monitors offer you a way of talking back to your baby. And that feature is also present in this unit.
And with this, you'll get to enjoy two benefits.
First, you can hear your baby's voice clearly. It includes a noise reduction technology that clears white noise so you're hearing only your baby's voice.
Second, you can soothe your baby right from your room or while relaxing on the cushion. The monitor is able to reduce background interference, which makes this possible.
Longer and stronger signal
As a long-range video monitor, this unit provides one of the best signal strength you'll find on a baby monitor.
Why is this important?
Usually, if the strength of the signal is poor, you may miss some important information. For example, you might miss and alert when your baby's crying because the signal has dropped.
To ensure this doesn't happen, the manufacturer let's this come with a stronger and longer signal.
Smart sensor alerts keep you abreast of your baby's condition
The video monitor also comes with smart sensor alerts technology. And this is just like most high-end monitors that provide you complete information about your baby.
The monitor monitors the temperature of your baby's room. As well as motion and sound. If any of these is triggered, you'll get an immediate alert.
Want to be vigilant and be on top of everything happening in your baby's room? This is the feature that can make that possible.
There are many other monitors that have this same feature. But this one is a little different.
How?
The alert system is built into the video camera and the parent unit. This ensures that no sound, motion, or change in temperature is missed. Thus, giving you a rest of mind when your baby is asleep, alone in their room.
The advantage of this may not be immediately visible if you're in a small apartment.
But when you want to use the parent unit in the garden or want to do something around the house, you'll need a strong signal.
Also, if you stay in a large building while on the go, you need a long-range monitor so the signal doesn't drop at critical times.
So, if you want a durable unit that can work anywhere around your home or building you're staying, check this out.
---
5. Hello Baby Wireless Video Baby Monitor

One of the best selling baby monitors on the market is the Hello Baby Wireless Monitor. It's in the same class as the top-rated models in the industry.
One of the stunning features of the model is that it helps you keep an eye on your baby every time, anywhere.
So, if you're a travel junky, you can take is as a trustworthy companion.
Whether you're looking to monitor your baby during the day or when it's dark, this unit will be there for you. It comes with infrared LEDs that come up automatically once it becomes dark.
Thus, ensuring your baby doesn't sleep in total darkness. And the lighting isn't too sharp to disturb their sleep.
This is why it has won the heart of many moms. It simply makes them and their baby's life easier.
Want more? Here are a few more features on this unit:
Talkback feature allows you to comfort your baby
If not that this is important, this feature probably shouldn't be mentioned. You've seen it on other monitors. And know how important it is.
Yes, with this, you can comfort your baby when he/she cries.
And you don't have to go into their room to do this. You can communicate with your baby in the middle of a kitchen or household activity.
Handhold for easy use
Many baby monitors claim to be easy to use. But not all of them truly are. This unit is different. It's not just another one with dozens of marketing materials trying to convince you how easy it is to use.
Instead, it comes with a handheld that perfectly suitable for carrying the unit around. And it can offer you a comfortable viewing position once you set the monitor on it.
As you can see, it's quite easy to use this product, just as it's mentioned above.
Rechargeable batteries with a long lifespan
Aside from the other excellent features of this monitor, it comes with rechargeable batteries that, according to the manufacturer, can last for 8 hours.
Isn't that great?
This 950mAh battery can last you for the most part of the day when charged. Thus, monitoring your baby on the go doesn't get easier than this.
And because the unit supports up to 960 feet, you can move around the house without fearing signal drop.
With this, you can view and hear your baby anywhere. From the garden to the backyard, to the garage, you'll be able to see all that's happening to your baby.
---
6. VTech DM221 Audio Baby Monitor

The VTech DM221 audio baby monitor is one of the cheapest and good quality units out there. It comes with rechargeable batteries on the parent unit that you can enjoy for 18 hours on a single charge.
You're not always going to have the time to plug in the unit as a busy mommy so this is a good feature. The good battery definitely makes this monitor attractive.
It comes with a user manual that explains all the intricacies of operating the unit. Exploit it to the utmost!
The VTech DM221, like the Philips Avent monitor, also features the DECT technology. The technology not only ensures that all data transmission is secured but also eliminates annoying white noise.
This means your baby's voice is going to be direct and clear, enough to spur you into action in an oblivious state.
You'll also be able to enjoy the 5-level sound indicator on the monitor. It helps you control the level of sound so you can adjust it to your taste.
Finally, the iconic talk-back intercom on the monitor allows you and your baby to speak back at each other. Thus, allowing you to soothe your little one when he/she needs your calming presence.
---
Final Words
---
When you're selecting the best travel monitor, you need to consider quite a few points. Most of these have been discussed in the first part of this guide.
As a reminder, some of the most important are:
Quality sound
Pay attention to the quality of the sound. Pay attention to the quality of the sound! No that's no typo. Just to emphasize it, 'cause it's important for your baby's safety.
Remember you're more likely to be stressed when you're on the go than when you're in the comfort of your home.
Remember? Alright.
So, look at the reviews of the product with an eagle eye, so you can discern how others have found the quality of the audio. If it's super clear, you're good to go.
Good range
Yes, I've touched this before. If the monitor doesn't have a good range, don't bother. It'll only be good for a small apartment.
But a travel monitor?
Don't settle for anything less than 500 ft. Anything above that is good enough for those times you want to spend away from home.
Portability
Need I say more?
It is important for me to be able to carry it with one without getting hand fatigue too early. Yes, there is no point traveling with a large baby monitor when you can choose one that's compact. And easy to carry about.
Travel case, maybe?
If you can get a travel case too, that'll be good. You may not need it though, especially if you don't want to add to more weight to your luggage.
But if you like to keep the monitor in a safe place and make it easy to pack, a travel case is a nice addition.
Check out some other baby monitors from Amazon also: