What's a better way to welcome your baby than making a small, peaceful oasis inside your home while waiting for the big arrival? If you're expecting your baby delivery, then it's the right time to start thinking about the nursery decoration, toys and clothes.
The process of creating a living space for a new family member is itself beautiful and emotional but it has a practical purpose too, since it's the room in your home that you'll probably spend the most time in, for the first few years while your baby is growing up.
Having the right equipment and more importantly, making this room into a comfortable, safe and gorgeous nest is what you should aim for. It's also a great way to show your creativity and make the whole experience unforgettable.
Preparing the room, painting, decorating, drawing, purchasing items also has therapeutic benefits, since it engages you in a creative process, keeping your mind off of your worries and concerns about parenting. There's even a saying that the process of getting ready for the arrival of your most special person is one of the best parts of being pregnant!
We're sure you can't wait to get your baby home. That's why we made a list of all the things you should pay attention to.
Getting Your Baby Room Ready
1. The Colors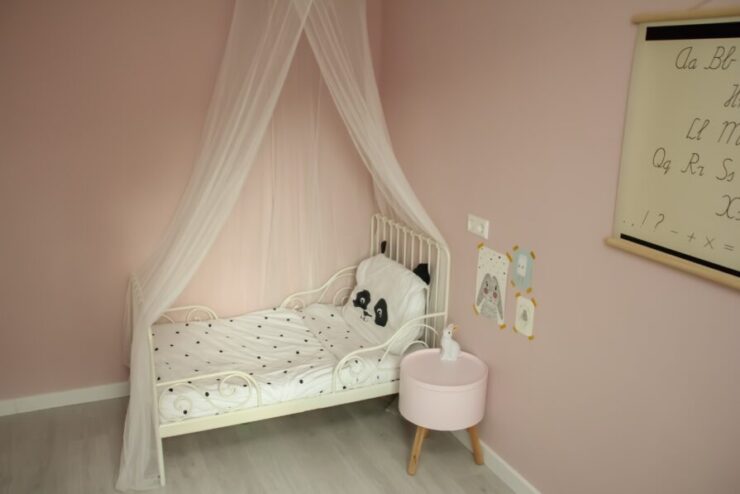 The first thing you should do when renovating a room in your house into a nursery is painting! Not only you should make your room clean and sterile, you also need to pay attention to the colors that surround your baby. You can go with soothing tones, such as light beige, yellow, cream or a simple white.
You can always repaint it when you find out what's your child's favorite color. For the first months of your baby's life, the natural and neutral surroundings are the best for them. If you don't want to repaint the room soon after, having neutral tones is also a great idea since it's classic and it can last, even to their teenage.
However, if you wanna have some fun with the colors, you can choose bright colors and combine them with wallpapers, stickers and prints of your favorite cartoon characters, or you can use nature wallpapers with eye-soothing scenery of forests, beaches or even stars. The good thing about the stickers is that they are easy to remove and replace, so you'll never get bored.
If you're not sure what to choose, it's always a great idea to search for inspiration on Pinterest or Instagram, using the right hashtags. Making a themed nursery, with murals on the walls, furniture, pillows and toys based on the movie you choose, is also a cool idea. Now you can show if you're a real fan of Lion King, Moanna, Frozen or any other children's movie.
2. The Furniture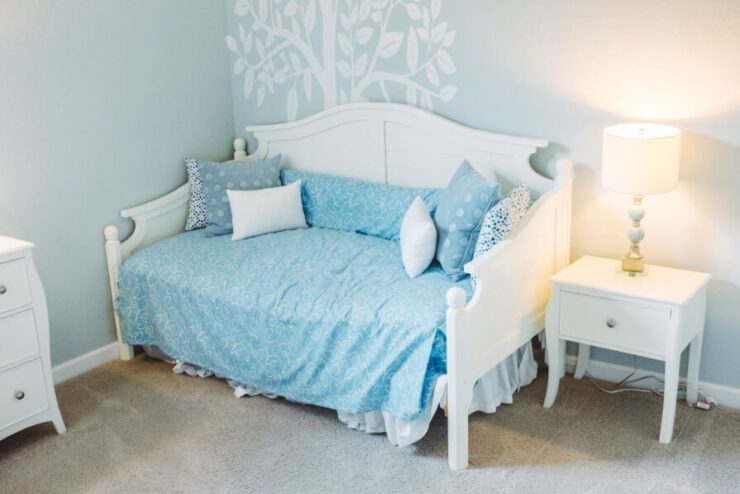 Speaking of essentials, the furniture takes a central place in your nursery, and your life as well. The reason behind this is both practical and aesthetical. Two things you should keep in mind are, what furniture style do you want in the baby's room, is it modern, classic or vintage, contemporary, etc and how you can ease everyday tasks for yourself.
Having these in mind, you should go with only what you really need, and what you find beautiful at the same time. Start with a crib.
This is the place where your baby will spend most of the time in the first years of life. This is the most important, central piece in your nursery. You should invest in a high-quality one, made of quality materials and make sure it's stable.
After you've chosen the perfect baby bed, you now have to find the right mattress, since it's extremely important for your baby's health and safety. You should go with a completely firm one, for your baby's spine and other bones development.
Having a tight-fitting bed is important for their safety. However, it doesn't mean you can't have some fun with choosing the bedding! Cute prints on the sheets, pillows with pictures, warm colorful blankets, crib skirts – the possibilities are endless and if you look at your crib as your palette, go for it and make it into a piece of art!
A changing table, a dresser and a lot of baskets is what you'll also need in the new life phase.
3. The lighting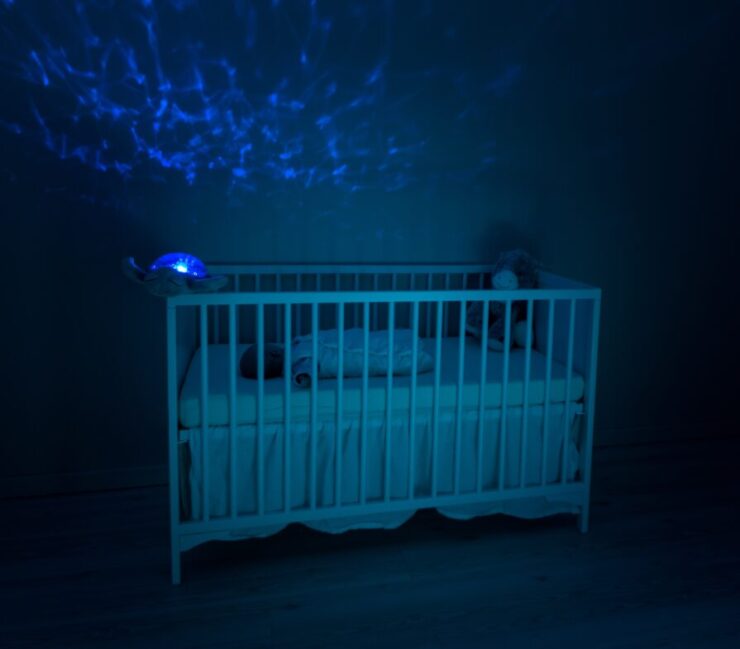 Never underestimate the power of darkening your room! It's hard for a newborn to fall asleep during the day if the room is completely flooded with light. That's where you'll need some extra help. Your best friends in this case are – curtains. Curtains are also a part of the decor, so you should dedicate some time to finding the ones that match your room's theme and colors.
They can be a great detail in the room, making it look bigger and more vibrant while matching with the bedding and other items in the nursery.
Blinds are also something worth considering if you don't want to have blackout curtains, or you can even go with both. You won't regret it! Even during the night, the street lights can intimidate your baby, and disrupt their sleep (and yours too!) so you'll most likely need something on your windows to darken your room and ensure your baby is getting enough sleep both during the night and the naps during the day.
When it comes to lighting, you should avoid certain sources of light such as exposed bulbs. Halogens are also not a great idea, since their light is too strong, and you should avoid that by all costs. Go with the soft glow and choose daylight or yellow colors instead of white to avoid overstimulation of your baby, and to create a cozy atmosphere for you and your baby to enjoy.
Also, consider buying a small and dimmed LED lamp, in case you need it.
4. Bonus tip: Don't forget the details
Maybe your newborn won't be aware of all the cute details you purchased or made for their room. However, you will. Having toys, nice flooring, wall stickers, comfortable pillows, soft blankets, layered lighting, baskets, a rocket chair. All of this is making the nursery a perfect place to bond with your baby.
If you're feeling comfortable and cozy spending time in it, then your baby will too. Hang ornaments and sleep catchers on the walls, print photos, make custom pillows with messages for your new loved one.
This way, you can make your nursery a place of your dreams. And your baby's too. Now, the only thing left for you to do, is creating beautiful memories.