Scooter luggage is a relatively new concept which is proving to be increasing popular. A cross between a suitcase and a scooter, they are an excellent way for kids to carry their own belongings when traveling. Many parents who have used such a piece of kit before have found them to be hugely practical in allowing them to no longer have to carry their child or their luggage through the airport.
They can be used by kids as young as 2 years old, and there are even some models available which can comfortably fit an adult. So long as your child knows how to use a scooter, they will be able to enjoy using a luggage scooter. Let's take a look at some things to consider when purchasing, then we'll get stuck into the reviews.
Considerations When Buying Kids Scooter Luggage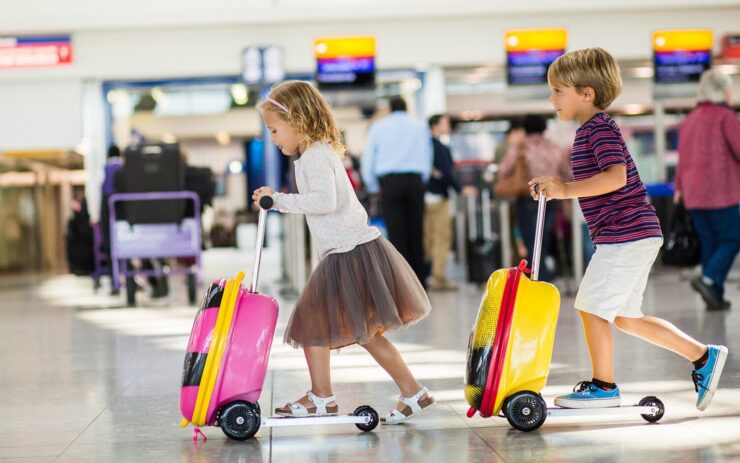 Not all luggage scooters are the same, so it's important to consider some key factors when choosing between the different options available. The first is the overall size of the scooter and the baggage compartment. The scooter should be able to adjust to the right height for your child to ride comfortably, and will also need to be strong enough to take their weight.
Also be sure to check the size of the luggage is sufficient for the types of trip you will be making. They don't hold huge amounts, but are ideal for using as cabin baggage.
Also look at how easy the piece is to use. Some have fixed scooter decks meaning they can't be folded up to use as a cabin bag. Other do fold, but be sure to check how easily this can be done. Also think about how safe it is for your child to ride – check how easy the brakes are to operate and if the steering is smooth.
Before buying your child a new scooter luggage, be sure they are ready for one. You don't want to risk them crashing into fellow passengers at the airport! Make sure they are old enough to listen to you carefully and stay within sight at all times. Whilst there are some models suitable for two year olds, this might be a little young to use one safely.
Top Pick in 2023
Below, you will find our reviews of the best scooter luggage available today. There are 10 to choose from, meaning you are sure to find just what you are looking for here.
1. ZincFlyte 15 Inch Luggage Scooter
ZincFlyte are one of the best scooter suitcase manufacturers, so what better way to kick-start our reviews? The case can hold 21 liters, which is sufficient for a few days' worth of travel essentials, or enough to keep your child occupied on a longer flight. It is compatible with most airlines' cabin bag size limits, so it is perfect for keeping overhead during a flight.
To steer the scooter, use the 'rock 'n roll' steering system – simply lean from side to side in order to turn. The scooter deck folds away when no longer in use, allowing the case to easily be stowed on board the plane. There is also a handlebar lock to prevent it from slipping out of place when being ridden. Inside the case, there's a zipped pocket and elasticated straps to make sure everything stays securely in place.
This scooter is aimed at kids between the ages of 2 – 4 years old, and can hold a maximum weight of 44 pounds. When closed, the case measures around 17 x 11 x 9 inches.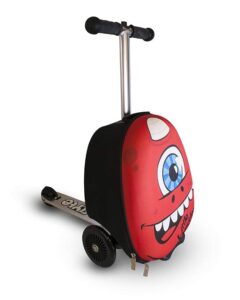 2. ZincFlyte 18 Inch Kids Luggage Scooter
This scooter case is the larger version of the 15-inch model found above. The 18-inch can be used by children between the ages of 4 – 8 years old, so it is perfect for upgrading once they have outgrown their smaller one. The maximum user weight is 110 pounds. The closed dimension of this luggage is around 19 x 13 x 10 inches, and the capacity is slightly larger at 25 liters.
In terms of features, the ZincFlyte scooter is very similar to it's smaller counterpart. The scooter deck folds away allowing the case to be stored overhead on an airplane. It also features their 'rock 'n roll' steering system for ease of use. The case comes in a range of cute and colorful designs to suit both boys and girls. Some of the options available include the monster, a doll or plain colors. There is something to suit all personalities!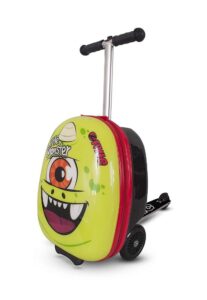 3. Micro Luggage 3.0
The Micro luggage scooter is an excellent pick for older kids and can even comfortably be used by adults. It offers an impressive 33 liters of storage, sufficient for 2 – 3 days worth of travel, so packing for your next short break will be a breeze. There is a compartment on the front to keep essentials handy and easy to access.
The Micro scooter is easy to ride and has smooth steering, which is operated by leaning either left or right. The scooter will fit in most airlines' overhead lockers once folded, but be sure to check with the airline before travel. Kids and teens will love cruising through the airport with this scooter – it is quick and maneuvers with ease to ensure you'll always arrive at the gate on time.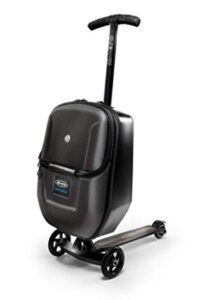 4. Sondre Scooter Luggage
This scooter suitcase is another one which is large enough for adults, meaning it's perfect for older children. It is very durable, yet also lightweight, featuring an aluminum frame. The interior of the bag has a unique design. There are three different layered compartments, so belongings can easily be organized however you like.
The luggage comes in a choice of six different colors, so your child can choose which they like best. There is a rear fender brake on the scooter for safety, and the deck is around 13.5 inches long making it comfortable for bigger kids to stand on. The dimensions of the suitcase when the deck is folded are approximately 24 x 15 x 10 inches, meaning there is plenty of storage space inside. This is one of the more pricey models available, but we reckon it's well worth it's price tag thanks to the high-quality construction. It's also one which will last for many years, even into adulthood.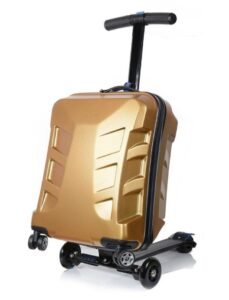 5. Foldable Scooter Luggage – 20 Inch
This is possibly the best scooter luggage for older children, as it is a great size both in terms of carrying your items and for riding as a scooter. It is designed to fit in the overhead storage compartment onboard an airplane, as it measures 23 x 15 x 13 inches. There are 6 nice colors to choose between, including the silver shown below and a trendy bright lime green.
Parents traveling with kids will save a load of time with this great scooter suitcase. It is quick and easy to maneuver, and the scooter deck will conveniently fold away when it's time to board the plane. Inside the bag, there are zippered compartments, elasticated straps to hold the items in place as well as different layers to keep the item well organized and easy to find.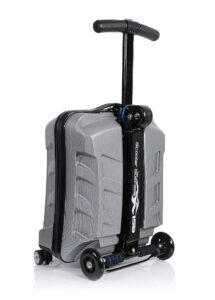 6. KingSo Scooter Suitcase
This simple yet stylish suitcase scooter is ideal for children and grown-ups alike. There are compartments inside to keep all items organized and packed neatly, so you can quickly and easily find what you are looking for. The case is sufficiently large enough to carry everything your child will need on a trip lasting a couple of days.
The item is great for using on a flight, as it can be folded up to a more compact size. There is a button on top of the scooter handle allowing it to be extended or retracted. Similarly, the scooter deck can easily be stowed away. On the scooter, there's a rear fender brake for controlling the speed easily.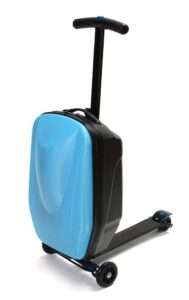 7. ZincFlyte 18 Inch Kids Scooter Suitcase
This scooter suitcase for kids offers a large 25 liter capacity which is ideal for short trips of around 2 or 3 days. It features a cute design which is sure to be loved by young girls especially. They are sure to get noticed in the airport riding this – everyone will be wondering where you got it from!
Kids will find it easy to learn how to ride this scooter, as it is also controlled by simply learning either left or right. There is also a small rear fender brake to keep the speed in check. The scooter deck can be folded up against the body of the case and locked in place to keep it secure. The height of the scooter handlebar is just under 30 inches and the overall length is around 24 inches. So, this scooter is suitable for kids weighing less than 110 pounds, and around 4 – 8 years in age.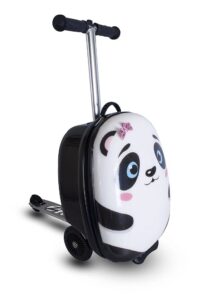 8. Peppa Pig Scootcase
This small kids scooter luggage measures 22 x 14 x 12 inches, making it the perfect size for using as a cabin bag when flying. The bag can be removed from the front of the scooter, so this product is actually 3-in-1! It can be used as a scooter alone, a carry case alone and of course as a luggage scooter. Inside the case, you'll find a separate compartment as well as straps to hold everything down when in transport.
If your little girl is a fan of Peppa Pig, this is undoubtedly the best suitcase scooter to go for. She will love to see Peppa on the front of the case and Suzy Sheep on the scooter deck. The height of the handle on the scooter can be adjusted to ensure your child always has a comfortable ride. It is steered by tilting from side to side, making it easy for children as young as 3 years old to master. The suitcase is made from durable materials, and can stand up to whatever your child can throw at it!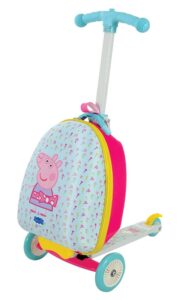 9. Ferrari Folding Scooter Suitcase
This scooter luggage has a 28 inch handle height and the luggage compartment measures 16 x 12.5 x 9 inches. So, it's perfect for a short trip or even for taking to school. The scooter deck is 11 inches long, and there's also a brake on the back wheel to easily control the speed. Inside the suitcase, you will find a compartment on the lid to keep some items separate. You'll also find the usual elasticated straps to keep everything secure within the case.
The case is licensed by Ferrari, so you can be sure it is made from the finest quality materials. The wide wheel base offers excellent stability when riding, and controlling the scooter by tilting from side to side is easy for kids to master. They will love zooming around the airport or train station, pretending they are driving their very own Ferrari!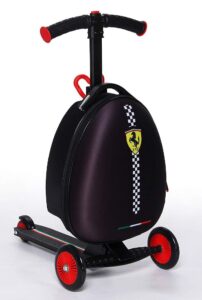 10. 20 inch Foldable Scooter Suitcase
This folding suitcase scooter is lightweight thanks to the aluminum body. This also means the case is durable, and can withstand extensive usage. Inside the case, there are straps to hold items securely down, and there are also many different compartments for easy organization. This item is just as suitable for kids as it is for adults, so you can be sure it will offer many years of use.
The case comes in either orange, blue or black, so kids can choose which they like most. It holds up to 35 liters, which is plenty space for everything a child needs on a short trip. The suitcase is waterproof and the wheels are made using long-lasting PU material to ensure they won't wear out anytime soon.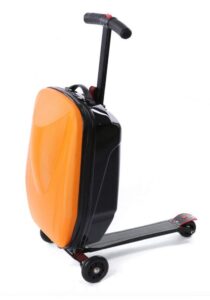 Overall Best Buy
You can find many great suitcase scooters on Amazon and other online retailers. Our personal favorites are those made by ZincFlyte – the one you should choose depends on the age and size of your child. They come in many great designs and patterns and two different sizes, so there is something to suit all kids between the ages of 2 – 8 years old, and weighing under 110 pounds.
Kids will find the Zinc Flyte scooter easy to ride, and they will absolutely love zooming about the airport on it! It's a great way for kids to take responsibility for their own luggage, and they won't complain they are tired from walking or carrying their bags. We, and so many other parents, love ZincFlyte's luggage scooters, so give one a try – we are confident you and your child will love it too!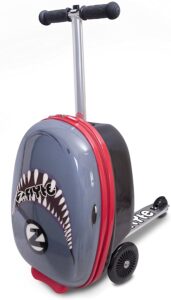 How Much can a Luggage Scooter Hold?

The capacity of each individual product is different, so check before purchasing to ensure it is large enough for your needs. Most of the popular models hold around 25 liters, which is sufficient for the essentials needed during a long flight, or clothes and a few small toys for a 2 or 3 day trip. Some models come with a zippered compartment on the lid to keep some items separate, and you will also likely find elasticated straps inside to keep items secure.
Can I Take My Scooter Suitcase on an Airplane?

Many are compatible with airline's standards on the size of bag which can be taken on board. All of the models we've looked at here are indeed designed to be used during air travel, as the scooter decks can fold so they are flat against the case, allowing it to be placed in an overhead locker. However, do double check with your airline to ensure the dimensions are fitting with what they allow.
What are the Benefits of a Luggage Scooter?

They can be really handy for kids to use when walking along the long corridors of the airport. They will have loads of fun and won't complain about all the walking or having to carry their luggage! It's ideal for when you have a lot of bags and cases to carry – leaving your hands free to carry your own luggage.
They offer all the fun of a traditional scooter, whilst also allowing your child to easily carry their belongs. This can be safer than having them ride a scooter with a large backpack on, as it won't be so heavy for them to carry. On some models, the scooter deck can be folded away. This means it can then be used as a typical suitcase with a pull along handle. Luggage scooters are really versatile and you are sure to find loads of uses for yours!
Don't miss some of these: