If your family love to travel around, you might be searching for the best kids travel toys to keep them entertained when on the go. Here, we have picked out 20 great toys and games which can keep the kids happy when they're stuck in the car or on a plane. But it's not just toys – we also have great travel gifts for kids such as neck pillows and even a globe for kids who love traveling the world! First, let's look at some ways to ensure you are picking the best gifts.
Considerations When Choosing Travel Toys for Kids
When choosing toys for kids to use when traveling, there are a few things which must be considered to ensure you pick something suitable. First, their age and abilities. Check with manufacturer guidelines to ensure the toy or gift is suitable for the child's age group, which will in turn help make sure it is safe for them to use. Also think about the type of journey the toy will be used on. If it will be used in the car, make sure the kids can keep hold of it easily whilst they're strapped in to their seat. For kids who will traveling by plane or train, it's a little easier as there's often a table which can be used to play with toys. However, it's important to consider fellow passengers and choose something which won't be too noisy or disruptive to them.
Best Travel Toys and Gifts for Kids 
We will now look at our pick of 20 of the best kids travel toys and gifts. There is something here for boys and girls of all ages, so you're sure to find something here they will love.
1. Dreamingbox Binoculars
First on our list of the best Christmas gift ideas for kids who travel is this colorful pair of binoculars. They have rubber eyepieces so they are comfortable to look through, and the grip is ergonomic to child's hands. The focus is adjustable and it can bring objects 100 yards away into focus. The binoculars are shock-proof, so they are suitable for clumsy kids! There are ten colors to choose from, so you can find something they will love.

2. Sling Backpack
Our next gift idea is this cool sling backpack, because traveling children need a way to carry their belongings! There are 14 different color options to choose from, and the backpack is super lightweight and easy to carry. It has four compartments so it's easy to keep everything organized inside. The backpack is water-resistant and the strap and rear panel are made from mesh which is breathable and comfortable.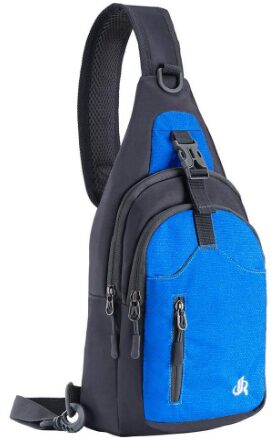 3. Nido Nest Travel Pillow
Neck pillows make very popular gifts for kids who like to travel, and this one comes in five different adorable designs. Parents will love the hidden zipper which allows the cover to easily be removed for washing. Inside the pillow are micro-beads which are supportive but also mold to the shape of the head and the seat. The pillow has a handy snapper at the bottom which allows it to easily be attached to a backpack or suitcase for convenient carrying.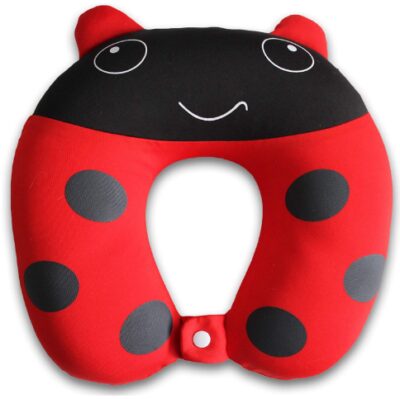 4. Disney Eye Found It Cards
If your kid is a fan of the original Eye Found It game, or simply likes travel games, they are sure to enjoy this. The game is suitable for kids aged 3 years and above, and for 2 or more players. It challenges kids to find objects hidden within bigger pictures, so it's perfect for keeping them occupied on a long journey. The game is ideal for improving matching and observation skills, as well as improving attention to detail.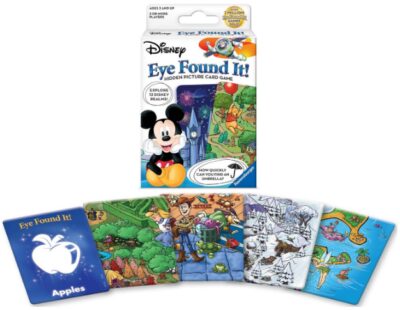 5. National Geographic Book of the World
Books are a great present to give to kids, and they can always be used to keep them entertained when traveling, or once you've arrived at your destination. National Geographic have some great books which are gifts for kids when you travel frequently, such as this book all about the world. It can help them learn about some of the wonderful destinations they might visit in their lifetime. Some of the things kids can learn about in this book include different cultures and landscapes, weather around the world and there are also fun activities for them to enjoy.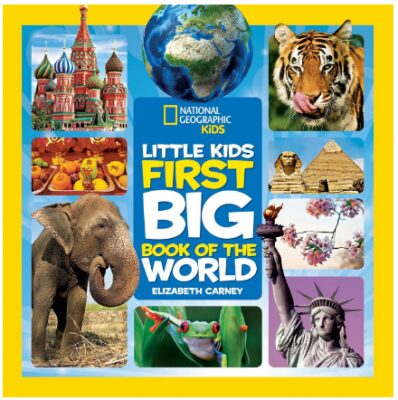 6. Clue Classic Game
Board games are good to play when traveling – they are perfect for keeping kids entertained once you've arrived at your destination. Clue is a classic game for kids aged 8 years old and above, and it is suitable for groups of 2 – 6 players. This game is just like the original, but comes with a new suspect, Dr Orchid. Players must move around the board and attempt to solve the murder mystery by correctly guessing who, what and where!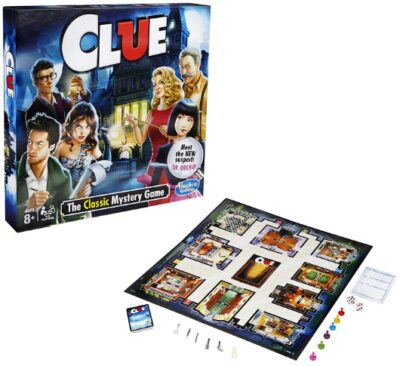 7. Our Moments Conversation Starters
Conversation cards make good travel toys for kids, as it gives them something to talk about along the journey. The cards are recommended for kids aged 6 years and above, and there are 100 cards in the pack. Parents can read the cards and listen to their responses, and in turn improve their relationship. The cards are printed on quality cardstock and come in a box so they are easily kept in the car or in a backpack.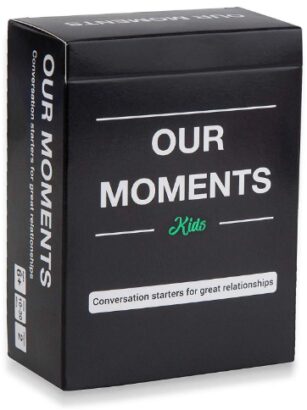 8. Travel Sized Spirograph
Spirograph is a very popular toy, but did you know it also comes in a travel edition? This set comes with ten pieces, and includes a built-in storage tray. There are six different wheels included as well as two pens and a pad to draw on. The set also comes with a design guide which is full of ideas and instructions on how to create awesome works of art. The toy is a great size for using on the go, whether it's in the car, on an airplane or even when visiting friends and family. The Spirograph set is suitable for kids over the age of 5 years old.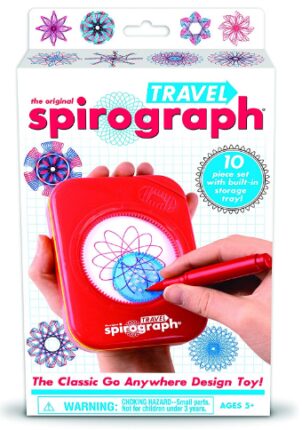 9. Sneaky Snacky Squirrel Game
When it comes to travel toys for little kids, board games are always a good pick. This one is suitable game for kids aged around 3 years old to around 6 years old and needs 2 – 4 players. It's great for practicing matching colors, as well as taking turns and waiting. The game also helps promote hand-eye coordination and strategic thinking skills. The game box is used as the board for the game, which is why it's ideal for travel – there's less chance of the pieces getting lost too.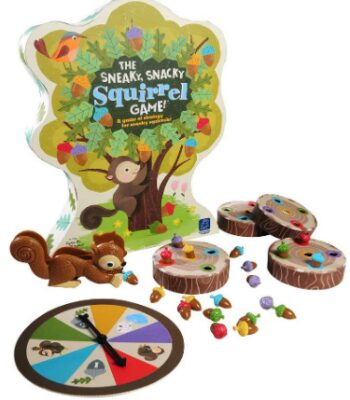 10. Travel Scope
Next up we have this travel sized kids telescope, an awesome gift for kids who love stars! The 70mm portable refactor telescope is perfect for beginner stargazers and is lightweight enough to travel with easily. The telescope is quick and easy to set up and it comes with a full-height tripod as well as a carry bag. You also get a free download of some great astronomy software. The telescope can be used for both day and night time viewing, so it's suitable no matter what your child is interested in looking at.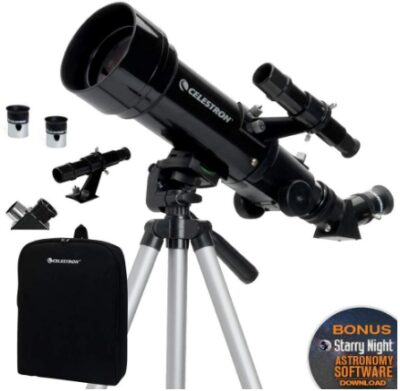 11. Magnetic Travel Chess
Magnetic mini board games make for some of the best gifts for kids who travel year round. This folding chess set is no exception! It comes with the same number of spaces on the board and all the same pieces as a full-sized chess set. The game pieces can be stored inside the folding board when not in use, and there's also a storage pouch included. The strength of the magnets is strong enough to hold the pieces in place yet not so strong they are difficult to move when it is your turn.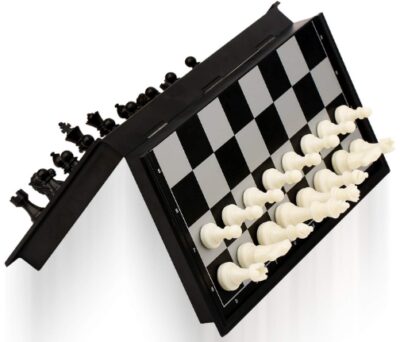 12. USA Toyz Constellation Globe
If your child is interested in geography and travel, they are sure to love a globe. This one is even better, as it lights up to show the constellations, and can also function as a nightlight! There are almost 90 constellations to discover, each labelled with its name. You can also download the compatible app to learn even more about the globe. The globe is a great size at 13.5″ tall and 9″ in diameter.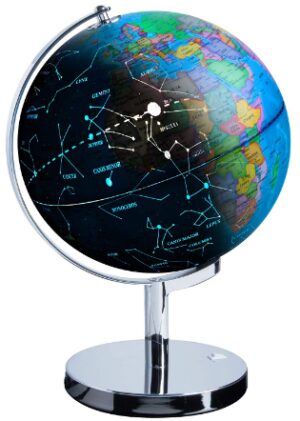 13. Ticket to Ride Game
Here we have another board game which is excellent for traveling families. This time it's Ticket to Ride from Days of Wonder. This game is for kids and adults aged 8 years and above, and it requires 2 – 5 players. Players have to race to be the first to build their railway lines to connect cities in North America. There are challenges to complete along the way to gain more points, and players have to build the best routes before their opponents can block them. The game lasts around an hour and is perfect for a family games night.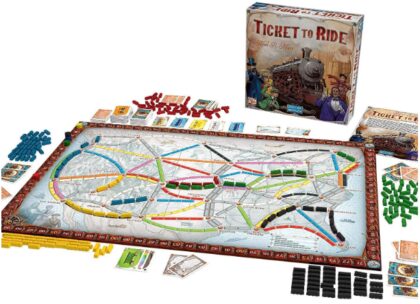 14. Magnetic Tiles
These magnetic building tiles make great travel gifts for kids 3 years and above. There are 30 pieces in the set, and they are small and lightweight, so perfect for traveling in the car or airplane. There's even a drawstring bag included to keep the pieces together when traveling. There are 16 squares and 14 triangles included, as well as a book full of ideas for what to build with them. Kids will have hours of fun making different 2D and 3D models with these pieces. They are easy to assemble and easy to dismantle when it's time to build something different. The magnetic building tiles are great for STEM learning skills too.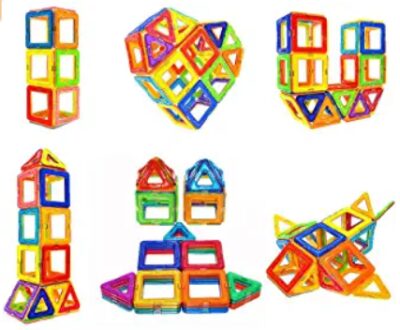 15. LCD Drawing Tablet
This cool drawing toy is sure to keep kids busy on a long journey, and is so much more convenient than bringing paper and pens, and less messy too! There are three color options to choose from, and each comes with a stylus to draw with. When kids want to draw another picture, they just have to press a button and it will be erased and ready to start again. The tablet is made from durable plastic and the screen is LCD, so it doesn't give harmful glare to the eyes. The drawing tablet is also magnetic on the back so the finished drawings can be hung on the refrigerator when not traveling.

16. Spot It Animals Game
Spot It is one of the best travel toys for kids! The game consists of a set of cards stored in a tin, so it's easy to pack and easy to use when in the car, or any other type of transport. The game is good for 2 – 6 players and there are 31 cards. Each card has six different animal pictures on it, and any two cards always have one matching pair of animals. So, the aim of the game is to find the two images which match. There are loads of different editions, not just animals. Some of the other options include Holidays, Camping and San Francisco.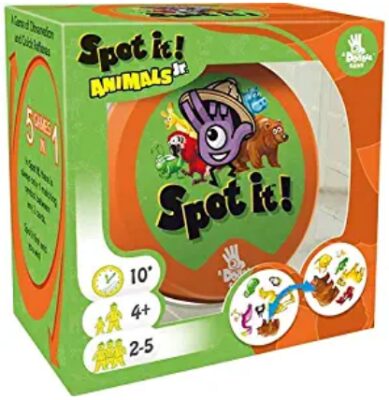 17. Kahootz Travel Fashion Plates
If your child loves to draw, they will love these fashion design plates. The set comes with 8 different fashion plates as well as paper, rubbing crayons, coloring crayons, and the drawing tablet. The pieces can all be stored inside the tray, so it is the perfect toy for use when traveling in the car. Nothing will get lost and it is a nice compact size for holding in the car. Kids will love coming up with different outfit combinations – it's great for encouraging their imagination.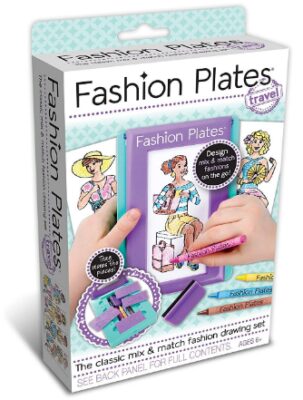 18. Minnie Mouse Luggage Tag
It you're looking for cute gifts for kids who travel a lot, a luggage tag with their favorite character is an excellent choice. This one has Minnie Mouse, so it's sure to make their luggage stand out! It also has an ID card insert to write the phone number and address, just in case the luggage gets lost when traveling. It has a strong strap to hold it securely in place on the handle of the bag.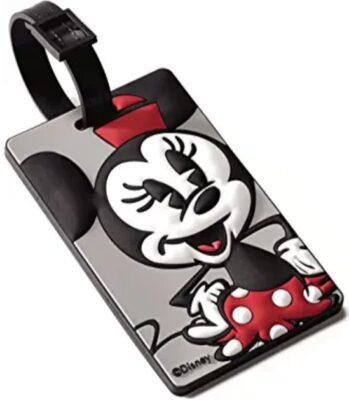 19. Rockland Owl Bag
A stylish bag is always a great gift idea for a child who travels often. This one has a colorful and cute owl design all over, and it's a great size for keeping a child's belongings handy. There are compartments on the sides and front of the bag, as well as shorter straps for carrying the bag and a longer shoulder strap. The shoulder strap is adjustable to ensure the perfect fit as your child grows. The bag is made from strong and durable polyester and comes in loads of colors and patterns, so you can find one your child will love the most.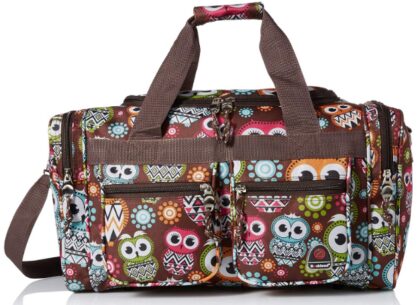 20. Encyclopedia of Marvel
Our final pick is another book to keep them entertained on a road trip. This time it's the Marvel Encyclopedia, which is packed full of facts about loads of favorite heroes, including Captain America and Iron Man as well as villains such as Kingpin. In fact, the book covers more than 1200 characters, and there's even a foreword from Stan Lee. The book is packed with comic book artwork across the 400+ pages. It's a must-have for any Marvel fan and is certain to make the journey pass more quickly!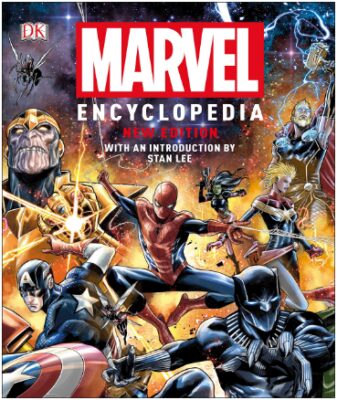 Best Buy
After reviewing 20 different options, it's time to decide which are the best gifts for kids when traveling. Our number one pick is the telescope. It is perfect for kids who love learning more about the world and it's a nice compact size for use when traveling. The quality is excellent and it's suitable for both day and night time use. The included accessories are excellent too – the tripod is great for keeping the telescope stable when using it.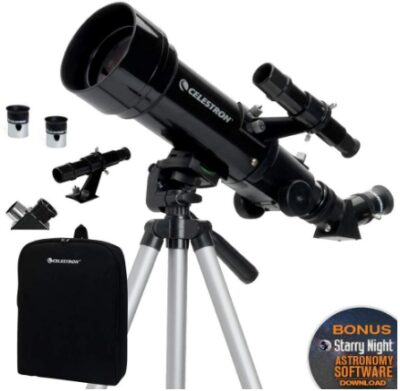 Best Budget Pick
If you're looking for something cheaper, we recommend the LCD drawing tablet. It's great for using on a journey of any kind, and can be used over and over again. It will appeal to a wide range of ages and comes in different color options to suit both boys and girls.

Best Christmas Gifts for Kids who Travel?
All of the gifts suggested above are suitable for giving at Christmas, or any other time of year. If the child is going to be taking a trip around Christmas, then a travel-related gift will be perfect. Or, if the kid doesn't know about the trip, the gift could be used as a nice clue to reveal the big surprise!
What Travel Toys Are Allowed While Onboard on Plane for Toddlers?
Most toys are allowed, but some are simply more practical than others. The toys should be small enough to fit easily in your bag, and remember you will also have to take essentials such as snacks, wipes, spare clothes, and everything else a toddler needs on a long journey! Older toddlers might enjoy electronics such as a tablet on which they can watch their favorite shows or perhaps play some educational games. But be sure to charge it fully before leaving! You should also take their favorite teddy or lovie in case they want a nap.
Sticker books are excellent, as are coloring and activity books. They can keep toddlers entertained for ages! Small puzzles are also ideal, or you can even choose a magnetic one to ensure the pieces won't get lost. Travel-sized board games are great, and can help keep mom and dad entertained too! Small action figures will keep kids entertained for a long time too, and are great for their imagination.