What better way to develop a kids interest in the world and travelling than by giving them a fun and exciting globe to explore. With many continents, countries and oceans to discover there is endless learning fun to be had from investigating any of our top recommended globes. These brilliant interactive globes are not only great teaching toys for kids but they are also a great addition for all kids bedrooms as a learning tool or even decorative feature. There is plenty of use to be had from any of the top 20 child globes.
When looking for the best globe for your child there is a wide range of options available so we are here to help you choose the best one. This guide will take you through the top 20 globes for kids, including the best interactive globe for kids and the best talking globe, so you can pick a trusted toy that has all of the features that you require.
Considerations when choosing Globes for Children
Age
There are globes available for a wide range of ages, from toddlers through to adults, so you should ensure that the globe you purchase is suitable for the age of the kid you are buying for. Toddler globes will often be simple in design with pieces that are safe for young kids. While older kids will love the great detail included on globes that are intended for older kids and adults.
Size of globe
World globes come in many different sizes from mini globes that fit inside your hand to large globes that can have up to a 12 inch diameter. The size of globe that you decide on may depend on how much room a kid has to display their globe and how much information you wish the globe to include.
Features
There are many great features that certain globes will include so you can be sure to find the ideal globe for every kid. The range starts with simple table top globes that are perfect for inquisitive kids who want to learn. These globes do not have any fancy functions but they are usually colorful and spin on their axis to enable the user to search for their favorite places. Other globes may have a night light function that can be great for kids to use at night time but also enable the globe to be used in the dark. There are even some globe models that have a dual function, as they are a normal globe during the day but for added excitement they show the star constellations during the night to ignite your kids interest in astronomy. Finally, you need to consider the great range of smart interactive world globes that include talking globes, which may even play videos and those that use an app to provide kids with more detailed information. Whichever globe you choose, kids are certain to love it.
20 Best Globes for Kids
1.  Waypoint Geographic Globe
The boundaries of certain countries has changed a lot over recent decades, so if you are looking for an accurate educational globe then this Waypoint Geographic Globe is perfect for all kids to use. This colorful attractive globe shows up to date geographical borders, so you can be sure that kids will be learning correct facts and with over 4000 names and points of interest there is endless information for kids to learn and investigate. There is a lot to like about this great decorative globe which includes many details of countries and oceans to provide a comprehensive all round geographical knowledge. The globe is the perfect size for kids to display as it has a 12 inch diameter and is easy to use with a smooth rotational spin. This is really is one of the latest globes for kids that is perfect for school work and great for inspiring kids to learn.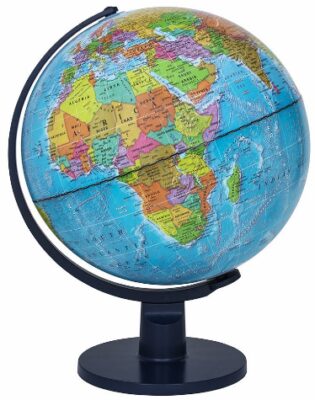 2. Little Experimenter Illuminated Globe
There are many children's globes to choose from but this brilliant Illuminated Globe by Little Experimenter has to be a top choice. It has an 8 inch diameter so is ideal for little kids hands to hold and is perfect for displaying in any kids bedroom. There is also great informative detail included on this kids world globe, from capitals and boundaries to deserts and oceans, so it is perfect for all young inquisitive minds. The highlight of this globe has to be the light up function that makes this globe prefect for use in the dark and also provides a great night time display. This is a top light up globe that all kids will enjoy learning from.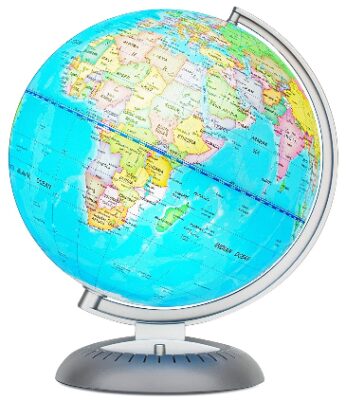 3. Shifu Interactive Globe
This Shifu Interactive Globe is the perfect kids learning globe, as kids can interact with the globe to discover facts and learn interesting information about various countries by using the convenient and free App. The globe is appealing to kids with its brightly colored designs and to be different from many of the other globes available there are no words or names on the globe. Instead kids can explore the globe by scanning a region of interest, where they can go on to learn fascinating information and with over 400 highlights and over a thousand facts there is endless learning opportunities. This practical 10 inch globe is the best interactive globe for kids that is perfect for developing every kids knowledge.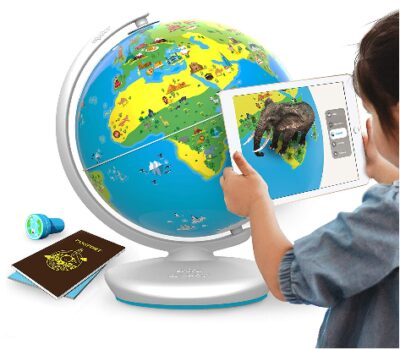 4. Learning Resources Puzzle Globe
If you are looking for the best first globes for toddlers then you should take a look at this fantastic Learning Globe. This bright and colorful globe is the perfect 3D globe jigsaw puzzle that is ideal for small hands to play with and explore. There are 6 large puzzle pieces for toddlers to investigate, with the Continents; Asia, Europe, Australia, Africa and North and South America represented and for completeness, Antarctica is found as part of the globe. As kids develop there are also 6 labels that can be matched with each puzzle piece, making this a great matching toy for young kids. This is the ideal interactive globe toy for kids over the age of 3 years old that is an amazing introduction to continents and geography.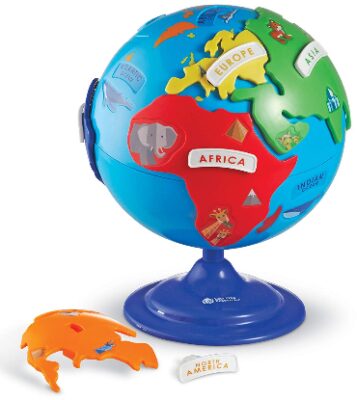 5. Exerz Antique Globe
There are many great globes for children that are perfect for developing their education but there are few that come in a handy compact size that are also beautifully designed and perfect for displaying. This is where the amazing Exerz Antique Globe fits in, as it comes in a cute mini size with a 10cm diameter and 13cm height, making it ideal for kids bedrooms. It also has a stunning antique design but has up to date information making it an ideal learning globe. Kids will love this wonderful glove that is easy to store, so it is certain to make a long lasting treasured gift.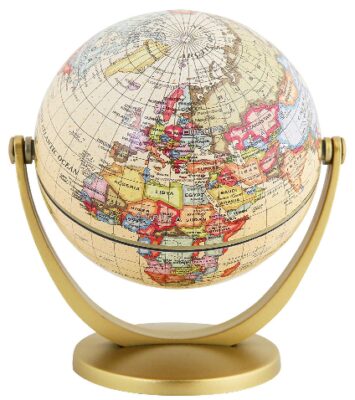 6. Ravensburger Puzzle Globe
All kids love jigsaw puzzles so they will find this 3D Ravensburger Puzzle Globe fascinating and fulfilling to complete. This 180 piece puzzle fits together perfectly to form a beautiful globe with stunning details and including animals from around the world to give the globe a lovely finish. Kids will love displaying their finished masterpiece for all to see and with a 20cm diameter it is a great size for all kids bedrooms. This is the best interactive globe for all kids between 7 to 12 years old that is also a great learning toy and you can be sure that all Ravensburger globes for kids are produced to the highest quality for long lasting use.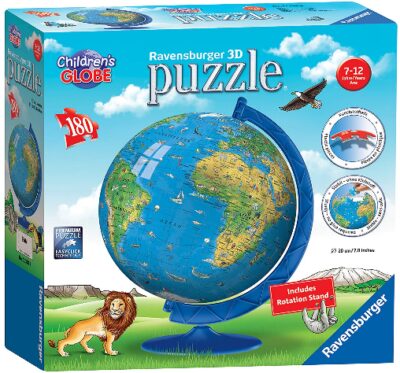 7. Golden Planet LED Globe
For a globe with some wonderful features you should take a look at this great Golden Planet LED Globe that is the perfect children's globe but will also make a great room decoration. During the daytime the 9 inch globe features countries, continents and oceans making it the best globe for children who want to learn. One of the amazing features of this globe is the exciting LED lamp within the globe which glows during the night to show 88 constellations of the night sky. This Golden Planet Globe also comes with a constellation guide to ignite interest in astronomy and help kids learn about the night sky. The globe also comes complete with a beautiful gold stand making this one of the smartest globes of the world available.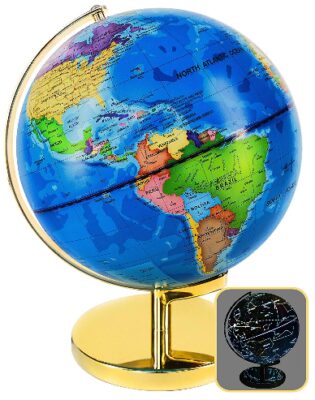 8. FUZADEL Levitating Globe
If you want to create an amazing feature in your house then this FUZADEL Levitating Globe is the perfect ornament to do this. The modern C-shaped magnet suspends the appealing mini 3 inch globe in mid-air, which kids will find fascinating. For an extra special touch the globe lights up and changes color so creates the perfect night light. There are many different world globes for kids to choose from but you will not find one that beats this globe for attracting your kids attention. For easy use the magnet connects to the mains power supply and there is no noise emitted making it perfect for use in every room. This really is one of the special kids interactive globes that is great for learning and also creates a lovely display.


9. Wild Wood World Globe
Every class room needs accurate and appealing teaching globes, making this Wild Wood World Globe the perfect choice for any kid who wants to learn about geography. There is great detail included on this wonderful globe, with over 2000 named labels, which includes; countries, states, oceans, deserts and mountain ranges, so is perfect for inquisitive kids. This is a globe that is perfect for use in the classroom or at home that both kids and adults will enjoy using and while this globe is not the most colorful it does have an incredible amount of detail included making it the best educational globe for kids.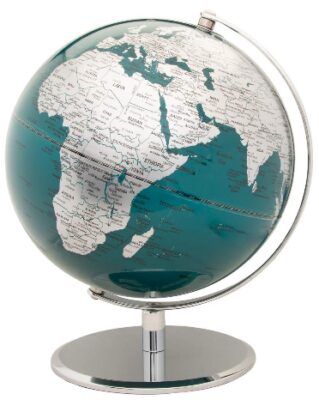 10. Floating Globe
The effect on a room that this stunning Floating Globe has is incredible, making it a perfect kid globe or even a lovely gift for adults. Just like magic the 8 inch globe can levitate between the magnetic C-shaped globe stand, which is electronically controlled for easy use. The globe itself is a lovely detailed colorful globe that is one of the best world globes for children and with an LED light in the stand that creates an extra special touch by lighting up the globe in the dark, this makes a wonderful globe to display. This is a great learning globe for children and also makes a lovely ornamental feature that adults will enjoy.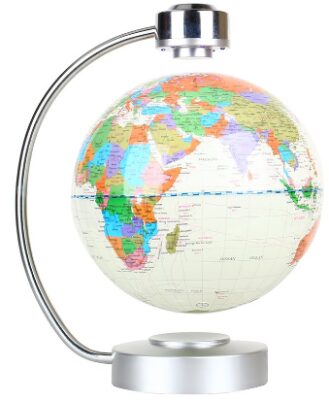 11. Oregon Scientific Smart Globe
This Oregon Scientific Smart Globe is a cool modern toy that is perfect for all kids over the age of 4 years old to use. It comes with the traditional globe sphere with the expected named details but in addition this fantastic toy comes with smart features that enables over 4000 facts to be discovered. This fantastic interactive globe for kids is the perfect educational tool for teaching kids geography, as well as being an appealing toy for all inquisitive kids. To work the smart functions then access to the app is required and allows games to played and endless information to be learnt. Kids can discover national anthems, currency and other exciting facts while playing with this brilliant learning globe with pen, which is easy and simple for all to use.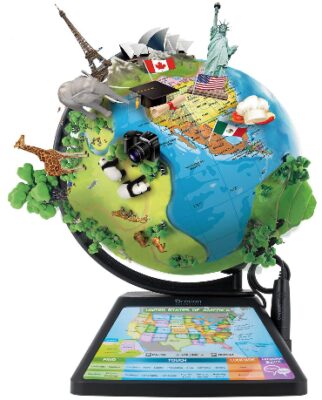 12. Tech Tools Interactive Globe
Everyone will love the amazing 2 in 1 day and night function that this great value Tech Tools Interactive Globe shows, with the colorful world globe that features during the day and the brilliant night sky constellations that shine during the night. The light emitted from the night globe is also perfect as a night light for any kids rooms so is great for kids who do not like the dark. The day globe also contains all named information about countries, continents, oceans and the equator making it the best kids educational globe for teaching. For convenient use the globe can use 4 C batteries or mains power, allowing it to be used in any location. This is a great interactive kids globe that is perfect for kids who love learning.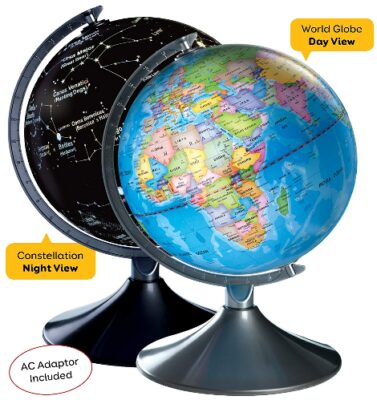 13. JARBO Illuminated Globe
If you are looking for a kid friendly world globe then this JARBO Illuminated Globe is the perfect option. Kids will love that this amazing globe has a different view during the day and night, with an informative world map showing during the day and the constellations of the night sky showing when the room goes dark. There are endless opportunities for kids to learn with this high quality wonderful 8 inch globe, which is easy to read and even comes with a magnifying glass, so the user can appreciate as much detail as possible from the map. This is one of the best interactive globes for kids that will be greatly enjoyed.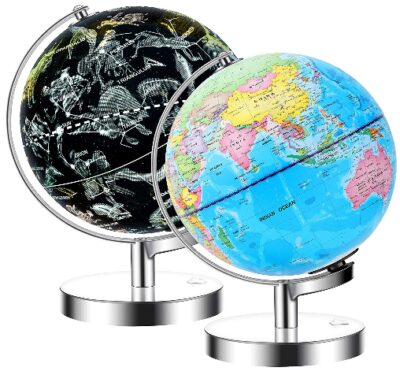 14. VTech Discovery Globe
This VTech Discovery Globe is a great learning globe for toddlers that they will find stimulating and exciting to play with. The globe is specifically aimed at 3 to 6 year olds, so it is simple to use with plenty of different activities to investigate. Kids can fly around the world to learn different facts about various countries where they will be introduced to foreign languages, animals, people and famous places. This light up musical globe is definitely one of the best interactive globes for young kids that is perfect for their development while also introducing them to the exciting subject of geography.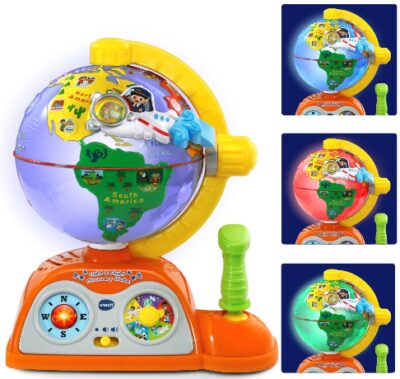 15. Oregon Scientific Discovery Globe
All kids will love this Oregon Scientific Discovery Globe with its smart technology, which provides an exceptional learning experience. The colorful globe has all of the usual named places but in addition also has numerous digital touch points, which kids can use to investigate a place further. This talking globe for kids has over 2000 facts to share about different national anthems and the history of countries, so is brilliant for curious kids. There are also 19 fun games included with this globe to ensure that kids get plenty of use from the smart toy. As one of the best portable interactive globes the use of batteries to power the globe means that the toy can be played with in any location.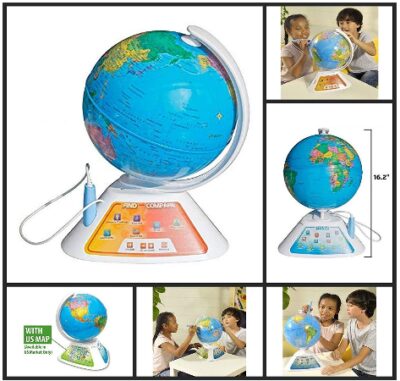 16. LeapFrog Magic Adventures Globe
Another fantastic talking world globe is this amazing LeapFrog Globe that is ideal for letting kids investigate other countries around the world. This smart globe includes a 2.7 inch LCD video screen where cool animations and BBC video clips can be played, allowing kids to discover new and exciting places from their room. Kids can interact with the globe using the stylus provided and there are also 3 interactive games for kids to join in with. The globe requires 4 AA batteries to work but this ensures that there are no wires for kids to deal with. This is one of the most exciting childrens world globes that is perfect for kids aged between 5 to 7 years old.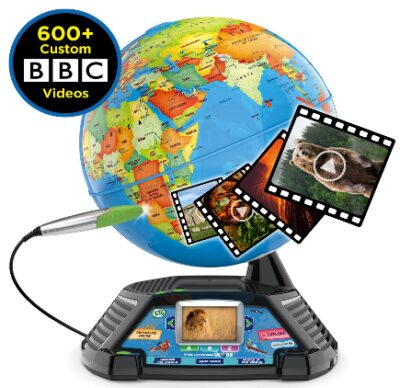 17. VIVREAL Smart Globe
Smart globes are the perfect way to introduce maps, geography and travelling to kids and this VIVREAL Smart Globe is one of the best choices available. This 9 inch globe has a number of exciting features such as a cool LED night light that kids will love to use in their bedrooms when it is dark and fantastic augmented reality that provide an exceptional learning experience. All you need is a smart device to download the app and then kids can learn thousands of fascinating facts about places across the word. Kids can discover different animals, dinosaurs and famous landmarks with this smart globe that is one of the best learning globes for teaching kids about the world.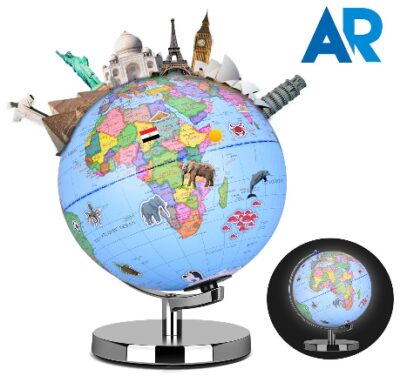 18. KingSo Bronze Globe
There are very few globes that are as beautiful as this KingSo Bronze Globe, so if you are looking for a childrens globe with fascinating detail then this is the option for you. With an easy to read map that has detailed names of countries, continents and oceans this globe is perfect for all kids wanting to learn about the world. The highlight of this lovely globe is the appealing antique finish that give this globe a wonderful feel. Unlike a true antique globe this one is lightweight and perfect for kids to use, so it makes a great addition to every kids room.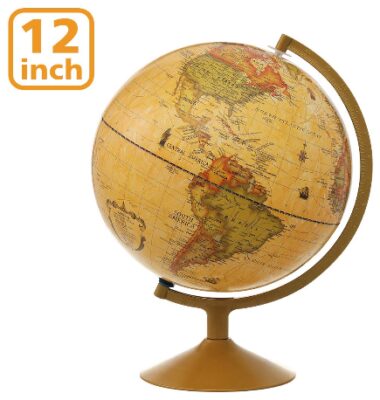 19. CYHO LED Desktop Globe
For a simple children's world globe that provides kids with an accurate world map then this lovely CYHO LED Desktop Globe is a great option. With an exciting 2 in 1 function this fantastic globe will be appealing to kids, as alongside the normal world map there is a great LED night light provided and once the room goes dark the map will change to show 88 night sky constellations. This makes this globe perfect for kids who are interested in exploring the world and those who love the night sky. This globe is also durable for kids to use with its handy metal stand. Kids will love using this straightforward globe for learning about new countries.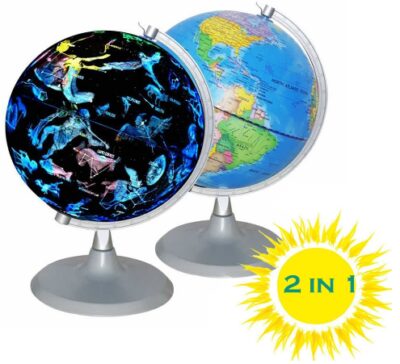 20. Exerz Safari Globe
If you are looking for a suitable child globe with a difference then you should consider this stunning Exerz Safari Globe which shows animals and sea creatures from across the globe. This is a beautiful globe full of color and detail, so you can be sure that kids will be fascinated. For easier viewing this globe has an LED light so the globe can be enjoyed at any time of day. This globe is also wire free as it uses 2 AA batteries, though these are not included with the set. As a simple globe to use, this is definitely the best globe for kids who love animals.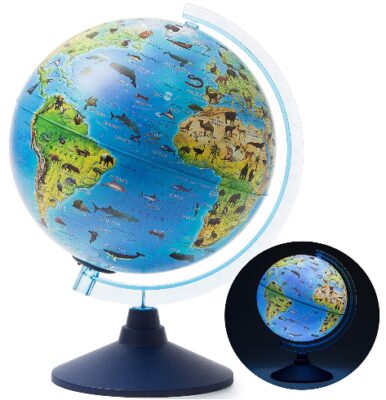 Best Overall Buy
Our best overall buy is the amazing LeapFrog Magic Adventures Globe, as it is the perfect globe for kids to use to discover other countries from around the world. Unique to this globe set is the brilliant 2.7 inch LCD video screen on the base of globe that can play animations and BBC video clips to bring other new and exciting places to life. For added fun the globe is interactive and kids can use to the stylus to discover new adventures. This is the perfect learning toy that every kid will love.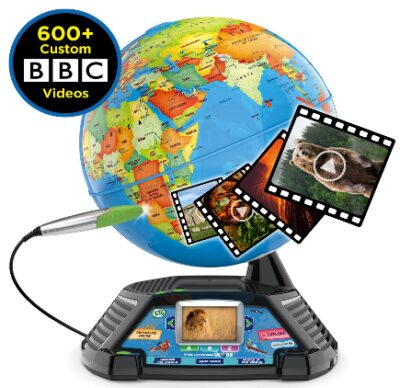 Best Budget Buy
The wonderful Learning Resources Puzzle Globe is our best budget buy as it is the perfect first globe for all young kids. The 6 large puzzle pieces, each representing a different continent, are perfect for small hands to hold and kids will love solving the puzzle to create a bright and colorful globe. As kids develop there are even name labels to be matched to the correct continent so this lovely globe is great for all learning fun.