Did you have a favourite toy growing up? Whatever it was, you loved it more than anything else in the world. Toys play a major role in the development of a child. They influence their education and improve the skills and abilities they need to prepare for life. Children learn by playing. Toys help children to interact with their surroundings. When playing with toys, children are engaged in physical activities. This helps in developing motor skills. When a baby learns to sit and crawl, toys encourage them to move. The physical activities help in improving coordination and balance. Toys will help kids develop emotionally. They express their emotions while playing. Apart from aiding in emotional and motor development, toys play a big role in the cognitive development of children. As parents and guardians, we want our children to be fully prepared for life. Getting a tool bench toy for your child can contribute to your child wellbeing.
Considerations when Choosing a Toy Tool Bench
You might notice your child takes an interest while working on your automobile at home. It means that they want to do what you are doing. As a parent, you should let your kid explore. However, letting your kid use your construction tools is neglectful as they can be dangerous. You can buy a kid workbench for your child.
When buying a kid tool bench toy, you should consider the age of your child. If they are too young, you can a toy bench is appropriate. As they get older, a kid wooden workbench is a great choice. The tools and benches for very young kids are made of plastic. Young kids should use tool benches made of moulded plastic as they are safe. You should also consider the height of your child. The bench should allow him/her to play without struggling. Tool benches can occupy lots of space. You should get a tool bench that will fit in your child's play area.
11 Top Kids Tool Bench Toys
1. Musical Learning Workbench Toy
This toy workbench helps children to learn how to use different tools. It is adorable, durable with bright colours. It has a chainsaw, electric drill, hammer, nails and a bench clamp. The tools have real tools sound. The hammer or the screwdriver can be used to screw open attachable nails. The nails make a sound effect when pounded. The chainsaw and electric drill are attached on the bench. The kid plays by pressing them down. When pressed down, they constantly light up and make sound effects. This is very eye catching to children. The bench clamp plays music when being adjusted. You can reduce or increase volume. It has brilliant ABC shapes to insert to matching holes. When inserted, they fall into the bottom drawer. A musical learning workbench toy is a great idea for Christmas or birthday presents. Its unique details are perfect for kids dreaming to be engineers. It will keep your kid active and entertained.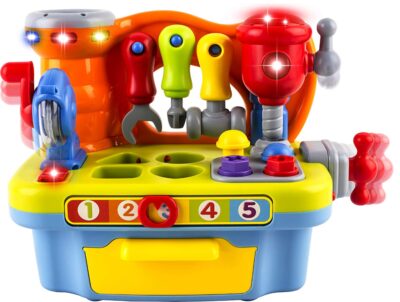 2. Black and Decker Junior Workshop
Weighing 8.82 pounds, this children's workbench is recommended for children over the age of 2 years and above. It has over 50 accessories. It is approximately 13 inches deep, 19n inches wide and 32 inches high. It has bonus flashlight, toolbox, 22 nuts, 5 nails, hand saw, 15 screws, drill press, accessory bin and much more. It resembles a real workbench. Flashlight and drill press are battery powered and they can bend into different positions. The workbench is designed to have enough space and room to store all its accessories. It has hooks to hook tools and many storage trays. The many accessories help to keep kids occupied. It gives kids experience as they pretend to work on projects. As they work, they feel like they are working with authentic tools. The workshop comes with everything your child needs to muster a pretend tool. Electronic sound and tool action make the pretend tool more realistic.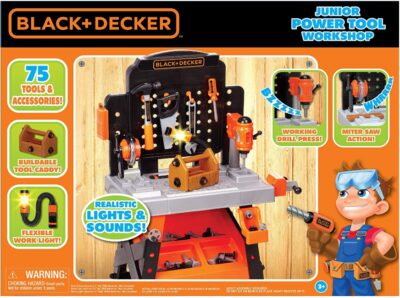 3. Step 2 Big Builders Workshop
This is a complete shop for a kid. They have all they need to be a carpenter, builder, craftsperson or woodworker. It has realistic power tools. When you purchase a Step 2 Big Builders Workshop, you get a workshop and a 45-piece accessory set with instructions. An electric play drill plays realistic sounds. It also has an inbuilt mechanical table saw. Kids have fun by building a birdhouse and painting it (changes colour when painted with water). The workbench has an overhead light. This type of kid's tool bench offers a large play space. Each of its kits has form plastic pieces resembling wood. Every kit has enough pieces to make a few different items. Multiple kids can work on their own projects simultaneously. This is a very engaging kid tool bench. It can play a significant role in developing the fine motor skills as they drill, hammer and saw. It provides ample space for storage. The workshop has bins, shelves, drawers, trays, pegboards and cabinets. Kids love how real this workshop is.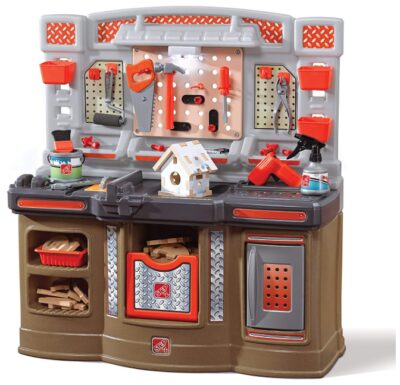 4. Step 2 Real Projects Toy Workshop with Tools
This is a plastic kids tool bench. It makes your little one feel like an engineer or a builder. It features 65 accessories. They thus offer long hours of realistic play helping him/her develop important abilities and skills. It is perfect for kids of the ages from 2 to 8 years old. Its building pieces have interlocking notches that make it easy to assemble. Construction bits have holes for screw and nuts. This set is diverse and can be challenging to use. It consists of woodworking plans for a birdhouse, aeroplane, tool caddy and a boat. It has working interchangeable drill bits and a battery powered drill with realistic sound. A Step 2 Real Projects Toy Workshop with Tools bench does not take up much space. This is a gift each parent should get his or her kid a Step 2 Real Projects Toy Workshop with Tools bench. This tools bench encourages creativity. They develop their imagination and enhance their motor skills with this bench as they work on different projects. It has ample storage space.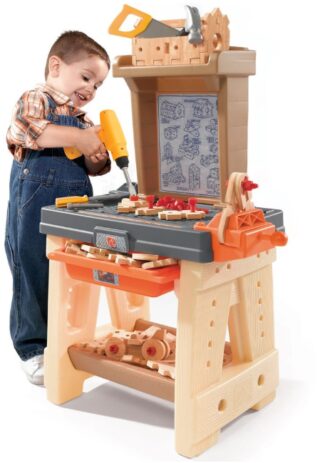 5. 68 Piece Workbench with Electric Drill
This kids tool benchplay set has an all-inclusive toolset with many realistic tools of varying sizes. Being portable, kids love bench tool. It is very easy to set it up. Each tool has its spot. It can be dissembled into a case. The 68 pieces will keep your kid occupied. They will have fun while developing. This bench helps enhance imagination and develop motor skills. The kid learns the importance of each tool helping him/her to learn and develop. It is a great bench for creative play outdoors and indoors. The quality is great as it is sturdy, durable and resistant to tear. It can withstand heavy use making it a great investment. It is a great gift to creative kids. It opens up imagination helping the little brain to develop.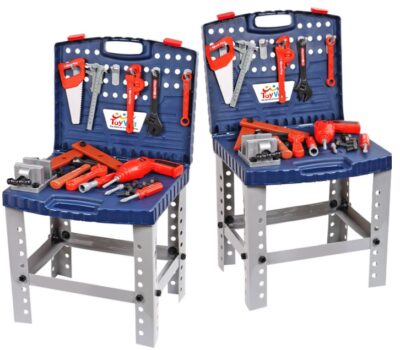 6. Boley Builders Construction Workbench
Boley Builders Construction Workbench comes with 88 pieces which include a drill, bolts, screwdriver, wrench and more. The child uses the tools to set up their work station. This bench helps a child learn about different tools while having fun. It helps develop motor skills. It gives a child a view of the real tools. Every tool works. The drill is realistic and has all the functions a real drill has including reverse and forward function. This workbench is child-friendly and always safe. Boley Toy Company prioritises on child safety. It is made of non-toxic lead-free material. The great thing Boley Builders Construction Workbench is that it doubles as a storage case. Everything can fit inside. This makes the case portable. Your child can be travelling with his/her Boley Builders Construction Workbench to different places. This gives you space to do something you have planned without the distractions of your child as this bench can keep them occupied for hours.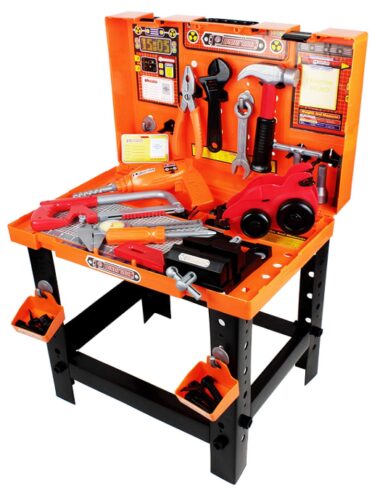 7. Bosch Jumbo Workbench
Bosch Jumbo Workbench comes with over 135 pieces. It has nuts, bolts, screwdriver, spanners, saw, drill and bits, belt sander and more. It helps your little one to learn more about the functions of each tool. It is a durable and well-constructed workbench. It has realistic sounds, which help to make it an interactive play toy. It involves a lot of movement that helps in refining the motor skills of your little love. Creative kids love this bench. It gives them a chance to be creative and innovative while working on their projects. This bench can help them to learn to fix real things at an early age. When a child acquires a skill, it triggers parts of the brain. The more skills they acquire, the easier the brain is able to learn. This bench can play a vital role in the cognitive development of your child. It is great for children of age 3 years and above although younger kids can use it.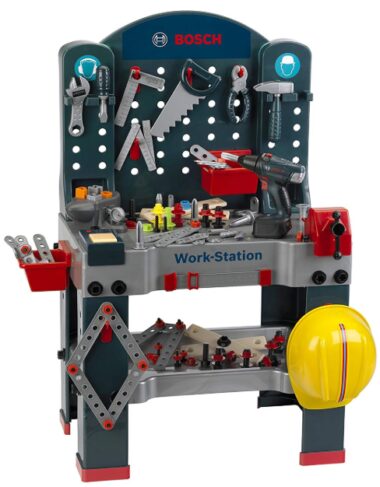 8. 120 Piece Tool Bench
120 Piece Bench set comes with many tools including a saw, hammer, electric drill, drill bits, spanners, nuts and more. It improves creativity and the over 100 pieces keep the child occupied for hours. Its powered pretend drill has realistic drilling noises. It is a great educational tool bench. Kids can mimic what they have seen their parents or other grown-ups do. It is of great quality. It is durable and can stay for years without fading as it is resistant to tear and wear. Siblings can pass it on to each other. It is also child-friendly and safe. PP material that makes the glass lens improves the safety of your lovely children. It has great storability. Everything fits into a case making it a portable child's workbench. It is a great Christmas or birthday gift to children.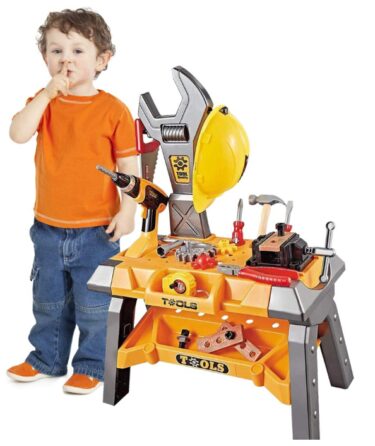 9. Melissa & Doug Wooden Project Workbench
This is a realistic toy construction set. It is made of high-quality wood making it durable. It is a safe tool bench for kids to work on. It comes with a functioning vise, wooden tools, tool rack and hardware. The imagination of your lovely child is freed as they can work on multiple projects. It is a real work station for crafts and hobbies. It has instructions for projects like putting up a robot and vehicles. It has a storage tray across the bottom to hold projects in place. It is a safe tool bench for kids. Being 20 inches tall, kids can comfortably work while standing.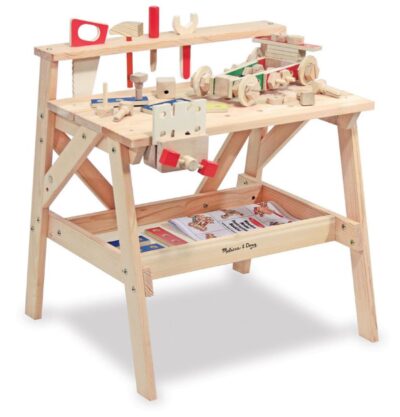 10. Hape Master Workbench
This bench gives your little one an opportunity to work at a professional-looking station. It has shelves to keep tool supplies within reach. Kids can fix build and rebuild. It comes with 32 pieces including a saw, wrench, vice, screwdriver, hammer, nuts, gears, bolts and more parts for building. It is suitable for kids of 3 years old and above. Its height is adjustable. This is a safe, durable with non-toxic finish bench. Kids can use it for years and can be passed on by siblings. This product won the medal of Kielce trade fairs, 2014 in Poland and 2013 in Canada. It helps develop building and engineering skills empowering kids imagination as they play. It helps a child develop problem-solving skills.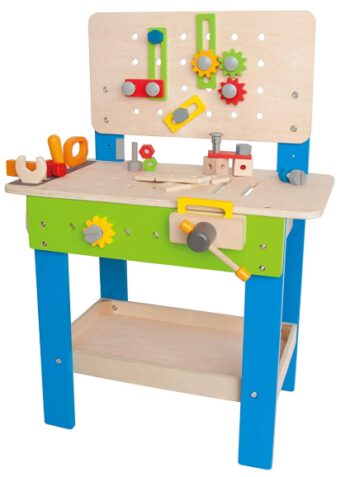 11. Little Tikes Construct 'n Learn Smart Workbench
Little Tikes Construct 'n Learn Smart Workbench comes with nine interactive tools and over 40 accessories. The tools include a tape measure, screwdriver, drill, level and hammer with sounds and tagged with nails, bolts, and project instructions. Kids can build 3 unique vehicles or create their own mash up for a different thing. Wireless technology allows chassis to communicate with an app to animate the vehicles the child creates. This is a suitable workbench for kids who have interests in cars and locomotives.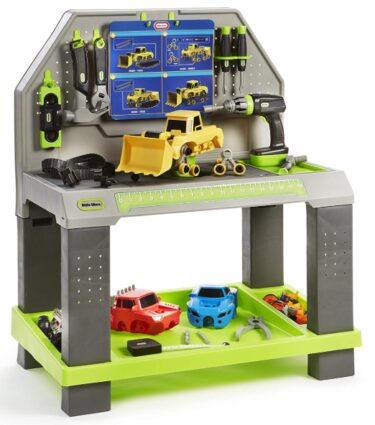 12. Step 2 Deluxe Workshop Playset
Children use tools to build their project. This workshop needs adult assembly. It provides a large play space. The little builder works with his/her hands. It has 2 drill bits, an electric drill, 8 nuts, 8 screws, pliers, adjustable wrench, saw, screwdriver, hammer and 17 wood-like pieces. This bench encourages creativity and play. Kids will feel like a designer or carpenter as they play. It is suitable for kids aged two years and above.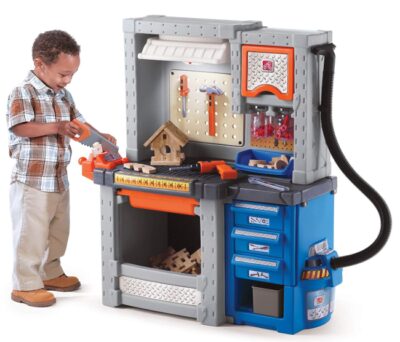 Overall Best Buy
Investing in the right workbench for your kid has many advantages. All the above children's tool benches are great. Settling for one can be difficult. However, the 120 piece set is one of the best buys. It comes with many features and being portable, your child can travel with it. Get your lovely son or daughter a Kids Tool Bench Toy and have them entertained for many years.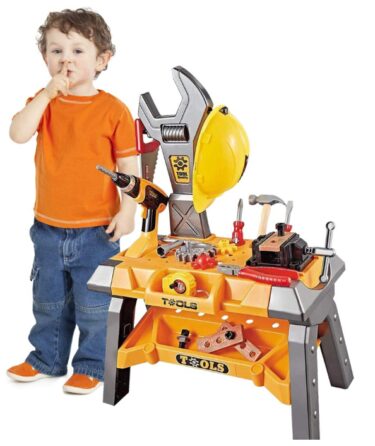 Factors Which Determined the Best Toddler Work Benches
The following factors can help determine the best toddler workbenches.
Safety – Safety should always be the first aspect to consider with all child-related products. When purchasing a kid workbench, make sure there are no metal saws or screw drives. You should check the tools. They should have blunts ends. Small parts are not great for toddlers as they can swallow them.
Toxin-free – Kids put things in their mouth often. You want a workbench made of materials that are toxic free.
Features – Kids can get bored quickly. Choose a workbench with many features to keep your child entertained. The more play pieces and accessories a bench has, the more fun it is.
Durability and storage – If your little one has a hammer, chances are that they will hit a lot on the workbench. Check the product reviews to learn on the durability of the workbench you are buying.
Workbenches can take up space. Before purchasing a workbench, decide where you are going to keep it.