Looking for the best stroller for your 6 month old baby? You're on the right page.
After reviewing a ton of baby strollers, I've come to realize that choosing for a particular age group can be quite tough. This isn't because there is a dearth of options. Rather it stems out of too many options.
If you're an experienced mom or have used one before, you probably know how many hours go into choosing the right one.
Even after spending a lot of time researching, you can still end up with a dud.
But it doesn't always have to be like that. You don't need to spend thousands of hours researching. And you don't need to settle for less.
So, in this article, you'll learn what's important when choosing a stroller for your 6-month-old kid. And also the best models to buy.
Top Picks for 2023
1. Summer Infant 3D Lite Convenience Stroller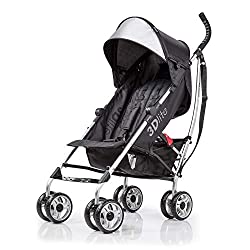 The Summer Infant 3D Lite Convenience Stroller has a light aluminum frame and a large seat for your child to feel comfortable.
It can recline in 4 different positions, for ultimate comfort for your child.
It's suitable for traveling and it's got good storage underneath.
It has an adjustable canopy that protects your child well from the sun. It's a safe and nice-looking stroller that's equipped with a safety harness.
The harness has padding and different height positions for your child to feel comfortable.
It has a weight of 15.87 pounds and can carry up to 50 pounds.
What we like:
One of the things I like about the stroller is the easy recline feature and the 5 point harness system.
If you're always on the go, you can lay the stroller back horizontally when it times for diaper changes. It also makes napping possible without having to take out your baby.
The seat is fully padded too, so your baby will always have a comfortable ride. As for the harness system, it adjusts to three positions and accommodates your baby at each growing stage.
Another great feature of the stroller is the compact, portable, frame-like fold. It's not just easy to pack up. But it bundles up nicely that you can carry it around in the subway or through the airport with all ease.
Finally, the stroller offers you plenty of storage. It has a super-size basket where you can put in your purses, cell phones, keys, diaper bags, and whole others. Now, you can focus on giving your baby a smooth, non-bumpy ride.
---
2. ZOE XL1 Best Lightweight Travel & Everyday Umbrella Stroller System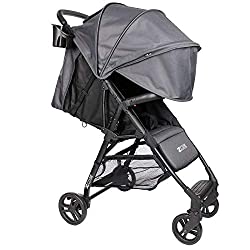 The ZOE XL1 Best Lightweight Umbrella Stroller is suitable both for traveling and everyday use.
A con is that you can't remove the shoulder straps as they're sewn in, but other than that we're satisfied.
It's gotten a canopy that protects your child well from the sun. It can recline a bit, but not all the way down to a lying down position.
The storage underneath is large. It weighs 11 pounds and when folded it's very small.
It can be used as carry-on luggage on planes due to its small size. It's easy to maneuver.
What we like:
It's lightweight. Without taking away from its sturdiness, this stroller weighs less than 11 pounds. While it doesn't pack up small like the Summer Infant Stroller, you'll enjoy being able to take it around easily. Even with that, it can fit any plane overhead compartment and can be filed up in the back of your car seat. This takes us to the second point.
It's easy to travel. The ergonomic handle is long while the wheels are oversized, making it a good stroller to roll about on any surface. Whether you're in the city or on the trail, the stroller will plod along smoothly.
It folds up just as nicely. I like baby products that can be handled with just one hand, especially when it comes to folding them up. The ZOE XL1 Best Lightweight Umbrella Stroller scores a good point here too. It comes with a self-lock and standing system that allows it to stand upright or close down easily. And the trigger button lets it unfold quickly.
It makes your baby comfortable. It doesn't matter how high the sun is or the temperature. The 4-panel canopy covers your child completely, providing a cool environment to relax and enjoy the ride with mom or dad.
---
3. Pockit Lightweight Stroller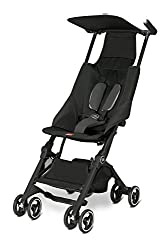 The Pockit Lightweight Stroller is the world's smallest folding stroller for children from 6 months and up.
It's good for traveling as it's very lightweight but still strong. It's gotten a special design and looks good.
It has an easy recline system, however not to a lying down position. The stroller is equipped with a safety harness with comfort pads.
A con is that it's a bit flimsy. It weighs only 9.5 pounds and can carry a weight of up to 55 pounds plus 11 pounds in the storage underneath.
When folded you can carry it in the attached handle.
What we like:
If you live and have to pass through rough streets, you need a strong stroller. And this one ticks that box. Aside from having a thick, sturdy frame to survive the rigors, the ergonomic handle gives you a firm grip so it doesn't escape your hold.
It folds up in a small package so you don't have to think too much about it when it's time for storage. And good enough, it's light that you can take it around easily.
The cover umbrella is also very good. It doesn't provide the same coverage as an umbrella stroller. But it's enough to get you going.
What to consider when choosing for your little one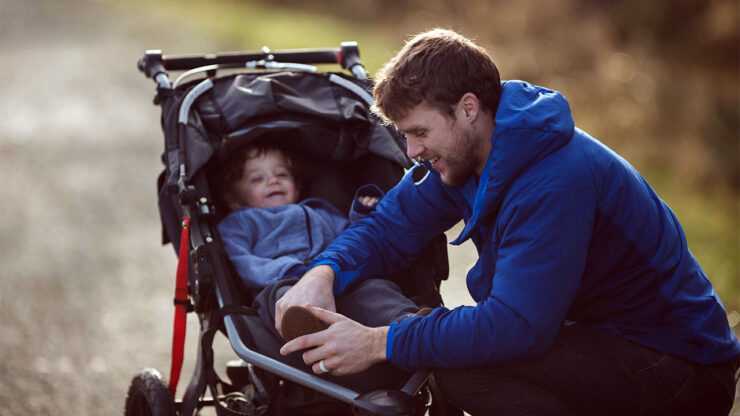 How do you intend to use it
First, when selecting a stroller, make sure to first decide how regular you'll be using it. And also if you're going to be traveling with it. If you don't need to use it regularly, you may not want to invest a lot.
However, if you like to take it with you everywhere and you travel a lot, be ready to pay more. This is the best way to get a quality one that'll serve your purpose.
Get your budget up
Second, set a budget and stick with it. While you'll find our recommendations close to what you're looking for, you may come across one that you like more. By all means, go with what suits you the most.
If you see a model that's cheaper or offer more feature for what you're paying, there is no reason why you should ignore it.
Don't ignore reviews
Finally, read reviews on the stroller before pulling out your wallet. You don't always have to rest your decision on them though.
But they can give you a blueprint of what you're likely to experience once you buy the stroller.
Now that we've cleared some of that, here is a rundown on the best ones right now:
Final Words
As you can see, choosing the best stroller for 6 month old baby isn't that complicated. It's not even your budget that's most important. What's most important is your baby's needs. And how you want to use it.
If you're selecting for travel purposes, you should be more inclined towards the lightweight models. Fortunately, all these strollers are lightweight. However, if you're going to mostly use it at home, then you should focus more on durability.
Aside from these two factors, you should consider your budget. Yes, it doesn't come first because many options may be out of your reach if you have a low budget.
But if you know what you're looking for as I said above, you won't have much problem. Finally, make sure you read the reviews on the particular model you want to buy.
This way, you can quickly discern the best one for you. And dismiss non-suitable models.
Related reviews:
Best Stroller Organizer for City Select
Best Double Stroller for Tall Toddler
Here are some other interesting models that you might like: