Finding the best baby doll stroller can be difficult and knowing what you're looking for can be tough. Although it isn't as hard as finding a real stroller for your child, finding the best quality toy stroller with so many on the market can be daunting. When looking for a stroller, as with any other child's toy, quality is an important consideration. As children are known to use and abuse their toys, finding a quality item that will hold up against being played with over a long period of time is paramount. Many kids toys can be easily broken, so it's always best to buy toys that have been tried and tested by others.
Considerations when Choosing a Baby Doll Stroller
Aside from the importance of choosing a quality stroller, there are other considerations when looking for a dolly stroller. For example, finding the correct size stroller for your child. Although they obviously won't be getting in the stroller, it is essential that they are able to reach the handle, and any other features that the toy has easily. Toy strollers are available for a variety of ages, so making sure you buy the right one is a good place to start.
Types of Doll Strollers
There are several types of toy strollers, for example, some strollers have more of a traditional pram design, and others are more modern looking. In addition to this, there are a number of strollers on the market that accommodate two dolls. Double strollers are fairly popular and can also vary in their design. Generally, this means either two seats next to each other, or two seats aligned with one in front of the other.
Single strollers still remain the most popular choice for several reasons. A single stroller is much easier to manoeuvre, which is particularly important for younger children without the strength and coordination needed for a double figure stroller. Furthermore, a single stroller is generally fairly simple to use and there are less components for children to break! A double is usually more suitable for older children. It is also worth considering whether you are looking for a folding stroller or not, which are both easier to store, or put in a vehicle.
The Reviews: Best Strollers for Dolls
BabyBoo Deluxe Stroller
The Babyboo Deluxe is a very versatile stroller for children aged 3 and up. It's a great toy for children of all ages but due to the height of the push handle, it probably best for children between 3 and 9. The stroller easily converts into both a sitting or laying position and allows the dolls to be sat facing your child, or facing forward. Another great feature about this stroller is the convenient diaper bag it includes. This is perfect for storing snacks, drinks, or other toys for your child when out and about. The stroller is lightweight at around 8 lbs, meaning it's easily maneuverable for smaller children. The Babyboo deluxe also conveniently folds for storage or for packing into the car.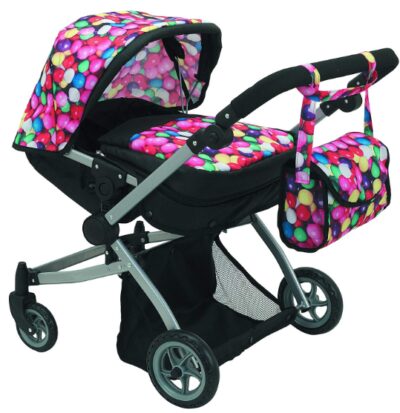 Mommy & Me Stroller
The Mommy & Me stroller is an ideal junior doll stroller for 2 year old children. Many toy strollers on the market cater for ages 3 and up, but this stroller is suited to those aged from 24 months. With a very modern design, it looks like a smaller version of a real stroller, making it good for children that want to feel grown up. The seat is adjustable and can be set to face forwards or back, or put into a laying position. In addition to this, the stroller also features a retractable hood to shelter the dolls from the rain! This is the best toy stroller for 2 year old toddlers – they will have years of fun with it as they get older too.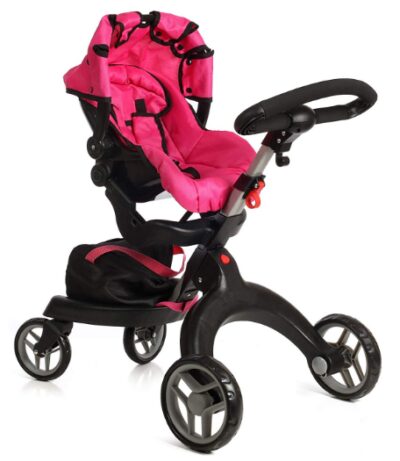 Precious Toys Foldable Stroller
The Precious Toys stroller is excellent for those on a budget. This is a no-fuss budget stroller that suffices in the transportation of a toy doll. With a seat belt to keep the doll secure, and a storage basket at the bottom, it's an excellent no-frills alternative. Another benefit is how compact it is, folding down easily.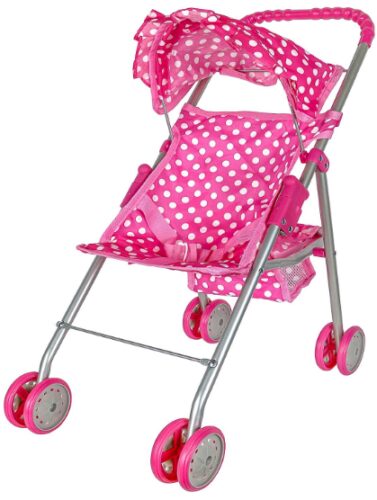 My First Doll Stroller
This stroller is another affordable alternative but with a prettier design. Standing at 20.5 inches, it's great for those aged 2 and up and is fantastic quality for the price. It features double wheels on all four legs which helps with stability, something that can be an issue with younger children. It also folds down for storage and includes a hood and under-seat storage basket. This is possibly the best stroller for toddlers who love playing with dolls and need a stylish stroller for them to ride around in.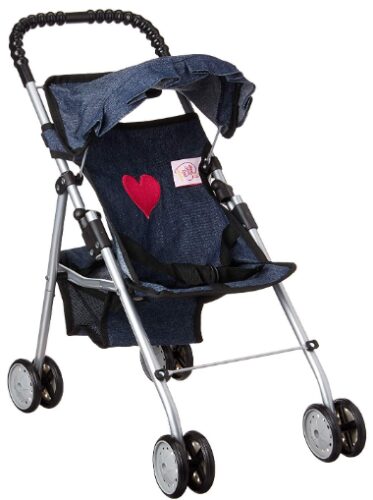 Exquisite Buggy with Basket
This infant doll stroller set is a good choice for anyone looking for an affordable foldable stroller that is suitable for younger children. Standing at 21.5 inches in height, and weighing less than 2lbs, it makes a perfect solution for children as young as 18 months. In addition to it's low price, the Exquisite Buggy Stroller also comes with a free toy bottle. This is a great toy stroller for 1 year old children – it makes an excellent first birthday gift!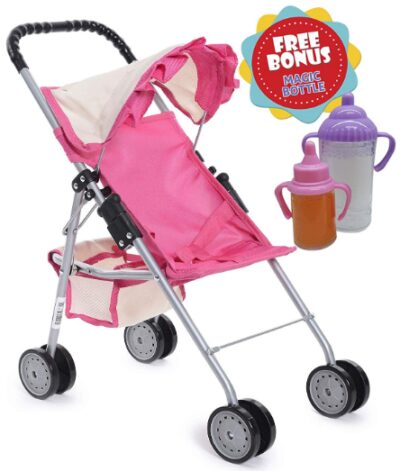 Precious Toys Jogger Stroller
The jogger stroller is an ideal solution for anybody on a budget that also wants a reliable and well built toy. It's also good for anybody with wooden floors that are prone to marking, as the wheels will not leave any marks. The jogger stroller can be assembled in minutes and also folds easily. This is an ideal newborn doll stroller for 1 year old toddlers thanks to the durable design.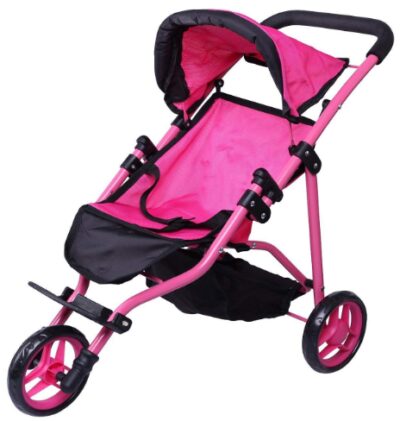 Baby Alive Classic Doll Pram
This classic pram from Baby Alive has a more traditional feel to it than many others on the market. It stands out with a number of features, like it's compact design, and also the fact that it features a retractable canopy and a removable carry cot that converts easily into a bed. This is a good stroller for any child that is also looking for a carrycot. This model stroller set is essentially two toys for the price of one. There is also ample room to carry shopping, snacks, toys, or anything else underneath.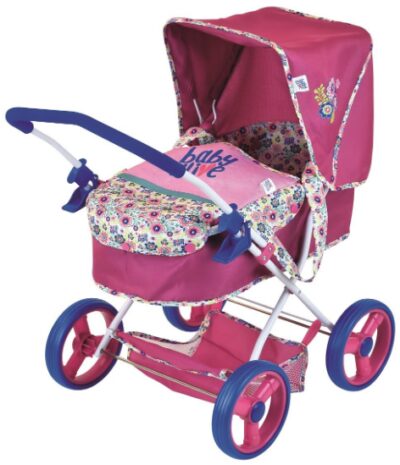 BabyBoo Doll Pram with Swiveling Wheels
This little stroller for 7 year old children offers a more luxurious feel with swiveling front wheels and a separate carriage bag for extra storage, perfect for snacks or treats. This pram is good for those looking for a more maneuverable stroller, which is an important factor when pushing a stroller in public areas. It also allows children to choose the position that they would like their doll to face, with either forward or backwards facing options, and it easily folds to a laying position.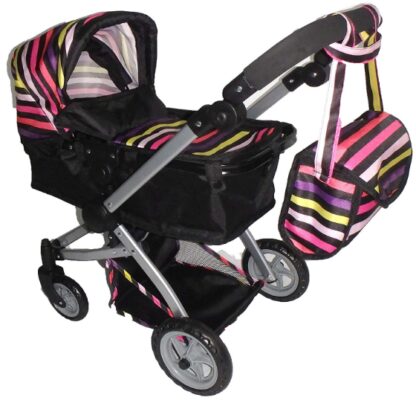 Joovy Toy Tandem Stroller
The Joovy stroller is a splendid solution for the child that has two dolls that they wish to transport. Although it's slightly more expensive than the single strollers available, it does have a host of extra features. Unlike others, the Joovy baby doll double stroller features a five point harness and a two position footrest, snack tray, and a car seat carrier system. The car seat carry system is a rare feature when it comes to toy strollers, as is the five point harness. Older kids will love this toy – it's the ideal baby doll stroller for 9 year old girls and younger.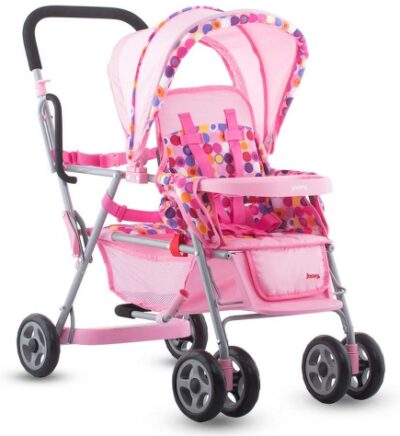 BabyBoo Twin Stroller
The Babyboo Twin stroller is great for any child that wants to transport their twin dolls around in style. With a number of impressive features such as a movable handle, easy folding body, and an option to zip off the stroller to make it appear like a pram, this toy is both affordable and well-made. The stroller uses a number of hard-wearing materials like leather and aluminium. For a double stroller, it's also very lightweight at only 7lbs, and the adjustable handle means it's perfect for children aged 3 and up. This is probably one of the lightest double strollers currently available with an adjustable handle.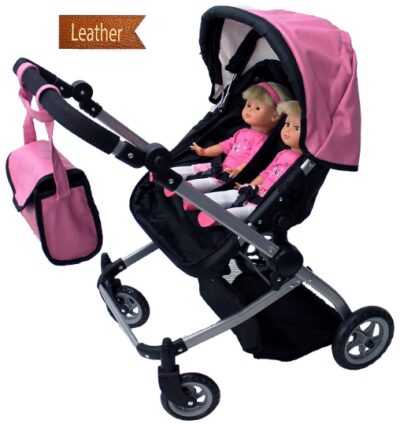 Adora Twin Jogger Stroller Toy
Adora's Zig Zag stroller is a double stroller for younger children that want to take two dolls out at a time. Possibly one of the lightest double toy strollers on the market, it boasts a weight of just over 5lbs. This makes it both easy to transport, and easy for most children to push around. The stroller is specifically designed to be gender neutral, meaning it's ideal for any child that wants to own a stroller. The Zig Zag also has a number of other features found on other toy strollers such as a folding design and storage compartment. However, unlike others, the handle height is set at 21.5 inches. This means that it may be worth measuring your child before purchasing it.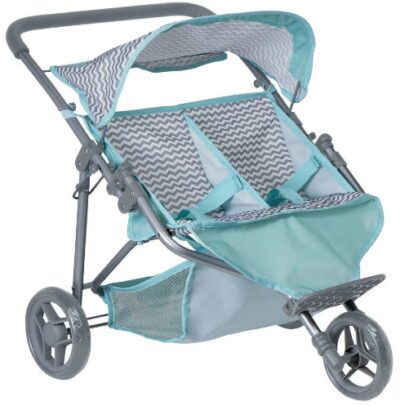 What are the Benefits of Playing with Doll Strollers?
It can be argued that there are a number of benefits of playing with strollers. Although some parents may be against the idea of children imitating parents, there are actually many reasons why this can be seen as a positive thing. For example, children learn from adults and feel a sense of achievement when they are able to accomplish "grown up" tasks. Playing with a toy stroller gives a child a feeling of responsibility and instils a nurturing quality that can have a positive impact in other areas of their lives. In addition to this, children are very imaginative and giving a child the freedom to be imaginative and play in the way that they want to is great for successful child development.
What Age is Best to Play with Dolls and Strollers?
Dolls and strollers are available for children of all ages. Although the best time for a child to own such a toy would generally be at the youngest 18 months for them to be able to move the stroller around successfully. Any age between 18 months and 10 years old is usually the best time to play with this type of toy, any child older than 10 would probably be too big to play with a toy stroller. With many strollers on the market however, most parents should be able to find the correct type of stroller to suit their child. However, It is important to take into account the size of the child and their strength and coordination before purchasing a toy like this.
Reasons We Choose These as the Top Toy Strollers
These strollers were chosen as the best as they all offer something different. The recommendations above take into account many factors that parents may be looking for in a toy stroller. The strollers above are suitable for a variety of different ages, and budgets.
Furthermore, each stroller we have chosen is a high quality toy made with durable materials that should last for a long time. These are all important aspects of finding the best toy stroller for your child. We also included several double strollers for those wanting to two dolls out at a time, and some basic, and some more luxurious strollers.
The list of strollers above should give you a good idea of which quality toy strollers are available, and help you to make the right choice for your child. Like most children's toys, finding the best can be difficult, for that reason, we have only chosen strollers to recommend that have been tried and tested and have been positively reviewed by other parents.
Our Top Pick – Best Toy Stroller

The Baby Alive stroller has got to be our best toy stroller, for a number of reasons. First, the fact that the toy is essentially two toys in one is a fantastic feature that not many other toy strollers have incorporated. Secondly the design of the pram is both simplistic but really does stand out and is likely to excite any child when they see it. The pram also has a good amount of storage space built into it for children to carry other toys in. Finally, this stroller is really good value for money. It offers features that are seen on other strollers that cost nearly double the price but is equally well built and has the added bonus of having a removable carry cot that also doubles up as a bed.