Potty training or toilet training can be a hard and challenging time for some kids and their parents. However, help is on hand with a great selection of toilet training dolls available that are ready to provide your child with the encouragement they need to succeed when learning to use the potty.
These doll sets can provide great rewards for your child every time they are successful, making the process positive and fun, and once your child has finished learning to use the potty they will still get much enjoyment from their doll.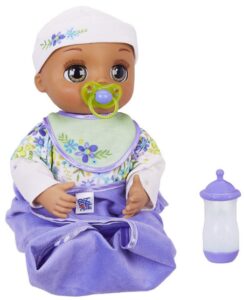 There are a wide variety of toilet training doll toys to choice from so this article will help you pick the best option for your child that they are sure to get much enjoyment from. With a variety of accessorizes included with each set there will be an ideal doll toy for every child.
Top Potty Training Dolls for Little Girls
1. Layette Baby Doll
This Newborn Layette Collection doll is one of the most life like toy babies available to buy that your little girl will adore playing with. With realistic detail this doll represents a newborn baby so is a great training doll baby for children that you are trying to prepare for the arrival of a sibling.
All girls will love the 8 piece set that comes with the doll, including; bodysuit, t-shirt, hat, booties, cloth diaper, diaper cover and hospital bracelet, so they can role play looking after a baby.  For easy dressing the arms and legs of the doll rotate which allows small children to play happily with this toy.
This 14 inch long doll is about 1 pound 5 ounces in weight so is ideal for children over the age of 2 years old. A lovely newborn doll set that will be the perfect gift for any little girl.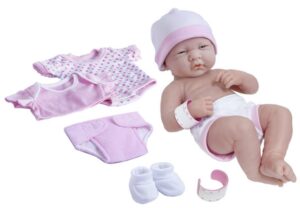 2. Baby Alive Doll with Blonde Hair
If you are looking for a great doll toy for helping potty train your kid then look no further than this Potty Dance Baby. This cute potty training baby alive dolls comes with everything needed for your child to start playing, including; bottle, potty, soap dispenser, hair comb, stickers and reward chart.
After giving the doll her bottle she will need to use the potty providing kids with a realistic potty experience. This baby potty training doll also says over 50 phrases and dances when you hold her hand, which all kids will love.
There is a mommy and daddy mode, making the doll suitable for both young girls and boys and with an English and Spanish mode this is a great toy for exposing your kid to other languages.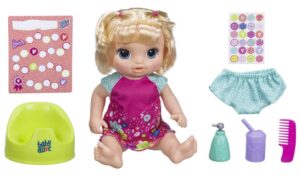 3. Soft Doll with Accessories
A lovely Lots To Cuddle Babies Doll by Designed by Berenguer with realistic features this doll has a life like appearance and with a soft plush body this doll is perfect for kids to cuddle.
This is one of the best baby training dolls as it comes with a bottle and pacifier so kids can get involved with looking after the doll baby and enjoy bottle feeding their toy. This large doll at 20 inches long is the perfect size for kids to play with and the vinyl arms, legs and head has cute dimples and wrinkles makes this doll appear like a real baby.
This doll comes with a matching pink cupcake sleep suit, hat and bib set which can be removed and washed for easy cleaning. This is the perfect gift for kids over the age of 2 that they will love spending many hours playing with.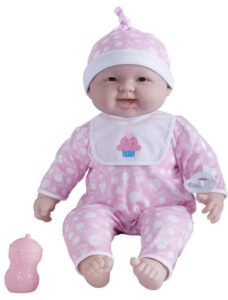 4. Cute Doll with Feeding Set by Dolls to Play
A lovely first baby toy doll set, this Baby Doll Feeding Set by Dolls To Play comes with the complete package to enable your child hours of fun imaginative role play. The 12 inch doll is the perfect size for young kids to carry and hug that also has great realistic features that kids will find appealing.
The Doll is weighted and has a soft body for the best play experience. Alongside the doll, the set comes with a carry bassinet, rubber bath duck, baby bottle, bib and clothes set with matching headband. Kids will enjoy dressing their doll, while also encouraging the development of their motor skills.
This baby toy doll is perfect for taking traveling and the handy bassinet can be used as a travel cot or carry basket. This is the best first toy baby set for young kids that is ideally followed with a doll potty training set.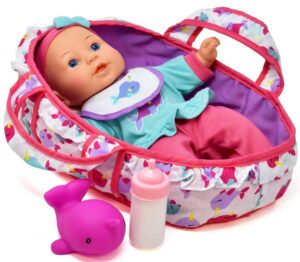 5. Black Baby Alive Doll
Another great potty training doll, this Potty Dance Baby Set comes with a cute doll with black curly hair. This doll will be appealing for young and older kids, as she talks and says over 50 phrases in both English and Spanish. Kids will be fascinated with this popular doll with potty set, as after the doll has had her bottle she will really use the potty. A great doll set that is a useful learning toy for any kid about to potty train.
This doll toy is suitable for both boys and girls as it has a mommy and daddy mode making it the perfect parents choice for 1 year old gifts. This set comes with doll, clothes set, bottle, potty, soap dispenser and stickers with reward chart, so has everything your child could need to enjoy this lovely toy.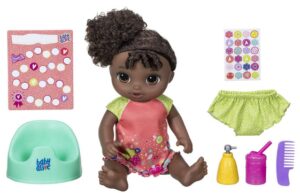 6. Potty Training Doll by Tot on the Pot
Potty train your kid in 3 days with this fabulous Potty Training With Tot On The Pot Set that makes the daunting task of training your kid to use a potty easy and simple. This is an essential set for every busy parent that has been voted the 2023 best toilet training product, so you can be assured of success.
The baby doll with potty chair set also comes with a parents guide, a fun kids book and 20 reward cards, everything you need to get started. With the option of a boy potty training doll instead of the girl doll this toy set is suitable for both boys and girls.
Kids will love the doll as they are soft and the perfect size for cuddling. Parents will find the training guide quick to read with plenty of tips that make learning to use the potty simple and fun.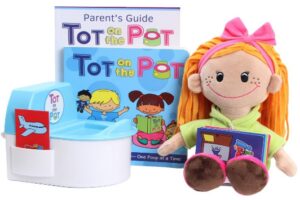 7. Brunette Doll Toy by Baby Alive
As one of the most realistic dolls for sale, this Real As Can Be Baby is a great option for kids who want an interactive doll. With over 80 baby sounds every kid will love the interactive play that this doll provides. This baby toy set comes with a pacifier and a bottle with milk that disappears, outfit, hat, bib and blanket. All kids will love the cute feeding sounds that the doll makes when she has her milk and the sweet noises she makes in response to kids talking to her.
This doll will also wiggle and turn her head for added excitement. This is a perfect first baby set to give kids the most realistic experience of looking after a baby that can be followed with a potty training Baby Alive set, when ready to teach your kid to use the potty.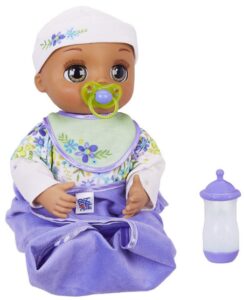 8. Doll Lily
This Super Snacks Snackin' Lily is a great Baby Alive go potty doll suitable for any child over 3 years old. Every child will love feeding Lily from the 2 cans of reusable baby food provided and once full Lily will poop, so will need her nappy changing. Snackin' Lily also comes with 2 diapers, an outfit, spoon, snack mold and bowl so children can make Lilys snacks using the fun shaped mold provided and then they can feed their doll with the special spoon.
Children will love caring for Lily and learning how to change her diaper, there are even refill diaper packs available to add to this set, so your child can play with this doll over and over again. This is the perfect doll for potty training children that everyone will love playing with, so makes an ideal gift.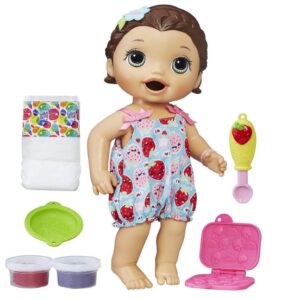 9. Pink Play Doll by JC Toys
This will be every little girls favorite doll toy as this La Baby Doll by JC Toys has been designed to be as real looking as possible. Made from a soft cushioned vinyl this doll is soft with a skin like feel and at 20 inches tall this lightweight doll is just like a real baby. La Baby Doll comes with a removable outfit, hat and pacifier making this a great gift set for every young girl over the age of 2 years old.
This doll is easy to keep clean as once the outfit has been removed the doll can be wiped clean. A great doll for imaginative play that can be combined with a doll toy that uses the potty once your child is ready to train to use the potty. All little girls will enjoy looking after their La Baby doll and it is sure to be their most loved toy.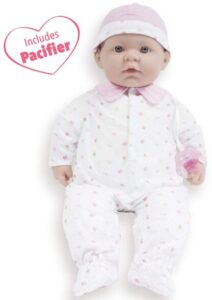 10. The Potty Doll by Little Mommy Princess
This Little Mommy Princess and The Potty Doll is a top of the range doll for any child that is learning how to toilet train. Little girls will love acting out role play with this lovely doll toy, which will encourage children to learn to use the potty and how to be clean afterwards. This little mommy potty doll set comes with a potty fit for a princess that has a pink quilted lid decorated with bow and handle that turns.
The little mommy princess potty doll also comes with a sparkly cup and hand sanitizer to provide hours of fun. The talking potty with its many fun phrases will be loved by all children and will help children toilet train in a stress free way. A great doll toy that will help your child learn and develop, that is also loved by all parents.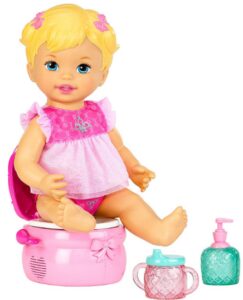 11. Doll and Stroller Playset by Barbie
An exciting collection of dolls by Barbie is this Barbie Skipper Babysitters Range. This lovely set comes with a Barbie Skipper doll, Baby doll and many fun accessorizes for their day out. There is a great stroller for baby doll that will bounce baby when moving and provide much excitement for all children playing with the set. Baby doll has a lovely teddy to cuddle and a bottle that she can hold while playing with her toy phone.
Barbie Skipper doll has a snack for baby and phone to go in her changing bag, ready for the days adventure. This lovely babysitters collection is part of a great range that includes Barbie Skipper with baby doll that goes potty, which can be added to your childs toy collection to provide hours of fun imaginative play. All young girls love Barbie and will enjoy this great collection of babysitting dolls.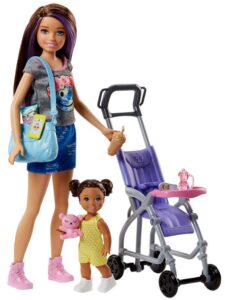 12. Pink Doll Gift Set
A sweet Berenguer Baby Doll by JC Toys that young girls will love playing with. This doll comes with many exciting accessorizes that will provide hours of fun, including a pink outfit with matching hat, extra outfit, shoes, bottle, plate with knife and fork, pacifier and rattle. Children will enjoy developing their role play skills with this cute vinyl doll that has lovely baby features on their head, arms and legs for a realistic baby appearance.
This doll also has a soft body for cuddling, which will make this doll baby a much loved toy. At 15 inches tall this doll is the perfect size for giving hugs and carrying even for young children, making this a suitable baby toy for all children over the age of 2 years old. A lovely toy doll set that comes in a beautiful gift box that ensures that this long lasting doll will be loved for years to come.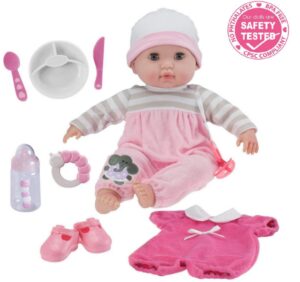 13. Purple Baby Cece Doll by Doc McStuffins
This Doc Mcstuffins Get Better Baby Cece Doll is the perfect baby toy set for every Disney Junior Doc Mcstuffins fan. Give baby Cece a health check with the exciting medical kit included with this doll. The lights and sound stethoscope plays baby Cece and Doc sounds, which your kid will love. The pacifier also acts as a thermometer for added excitement and there is an otoscope and bottle to ensure that your young girl can perform a thorough health check.
Baby Cece comes with a cute matching outfit to appeal to every child. There are other toys in the Doc Mcstuffin range that can be added to this special collection to give the ultimate imaginative role play experience. Suitable for children over the age of 3 years old, this great doll toy will make a lovely gift idea for all young girls.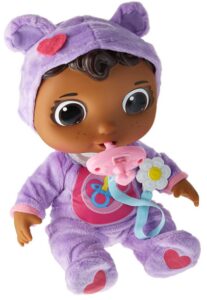 14. Doll Face Paint Fairy
A great doll toy for boys and girls this Face Paint Fairy Doll will provide endless hours of fun and excitement. Use the fairy dolls wand, filled with cold water, to reveal exciting face painting patterns and then just like magic they will disappear when a hot hand touches the face paint. Children will love playing reveal the face paint over and over again.
This doll comes with a dress, fairy wings and wand for added excitement as every little girl loves fairies. Feed baby with their bottle filled with water and the wet doll will soon need her diaper changing. This set comes with a bottle that can be filled with water, diaper, removable outfit and fairy accessorizes that every princess will love playing with. This baby alive that goes potty doll is great for letting young kids learn to role play.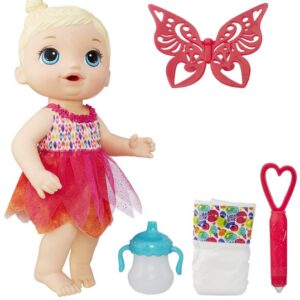 15. Brushy Baby Doll
A great doll set for every young girl is this lovely Brushy Brushy Baby Doll that kids will love playing with. This great set comes with a spinning toothbrush and tooth paste to help kids learn how to brush their teeth in a stress free way. The toothpaste has pretend toothpaste in the tube for added excitement and more realistic play.
Feed baby with her bottle and soon she will have a wet diaper that needs changing or use without the diaper for a baby alive toilet training doll that will help your young child learn about using a potty. Refill diapers are available to purchase separately so this doll can be played with over and over again. This cute set can be combined with a toy baby with toilet set for the ultimate training to use a potty experience for your child.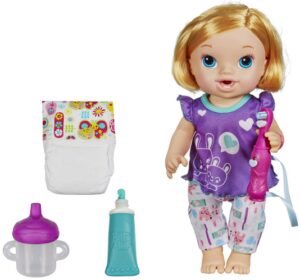 16. Dance Baby Doll
A great Potty Dance Baby set that is great for all young girls to play with. An exciting interactive baby doll toy that speaks in English and Spanish for added learning opportunities for your child. With a mommy and daddy mode this toy is suitable for boys and girls to play with. Once you have fed baby she will need to use the potty and this set comes with a baby potty chair so your child can learn about toilet training.
There are exciting stickers that come with this set to teach your child about rewards for their behaviour. This beautiful brown haired baby alive dolly potty training set also comes with a soap dispenser and comb, so your child can brush baby's soft hair again and again. A lovely doll toy that would make a great gift for every young child.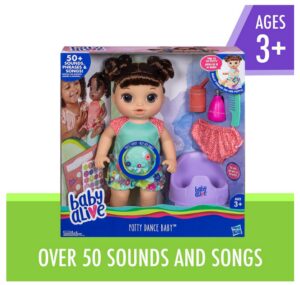 17. Plush Doll Set
If you are looking for a potty training boy doll then this Once A Potty Plush Doll Set with Mini Potty is the perfect option. This lovely soft cuddly boy potty doll is appealing to all young children so will be played with for hours. This set is part of a toilet training series, so there are other products that can be added to this doll set to help with toilet training your child in a calm and easy way.
This potty training boy doll has a removable diaper for realistic play and the potty doll boy is surface washable, so he is easy to keep clean, ready for a long duration of use that will last for years after your child has learnt to use the potty. This is a lovely gift set that will be appealing to young boys and loved by all kids.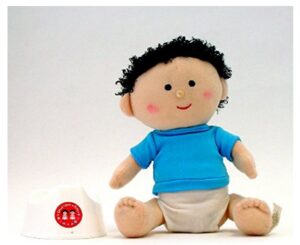 18. Baby Newborn Doll
This La Newborn Diaper Baby Gift Set is a lovely doll set that all little girls, over the age of 2, will love playing with. This 10 piece set is perfect for your kid to take out and about with them, so the fun will never stop. There is an appealing pink diaper changing bag included with the set, that is perfect for holding all the accessorizes provided.
With 2 diapers included your kid will love learning how to change a baby diaper along with having much fun and excitement. Along with feeding equipment, rattle, birth certificate and more there is endless enjoyment to be had with this set. This doll has fantastic life like features with wrinkles over skin and a soft vinyl finish. Suitable for use in water, this doll can go anywhere with your child for unlimited fun.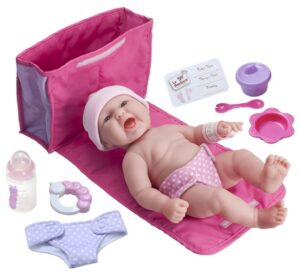 19. Doll in High Chair
This Assorted Mini Doll Set is a great collection of 8 attractive dolls for young children to play with. Each doll comes with a different accessory, so this is the perfect toy for sharing with friends. At 5 inches tall these dolls are great for taking out and about, so the fun never stops, but big enough so they suitable for children over the age of 3 to play with.
These fantastic dolls come with a crib, stroller, swing, bath, high chair, potty and exersaucer so there are many imaginative games that your child will enjoy playing. Role play is important for the development of all young children and this is the ideal baby toy set for encouraging this.
All dolls have moving arms and legs so they can move positions for added excitement, and each toy can be undressed and redressed, for additional fun that also encourages the development of young kids motor skills.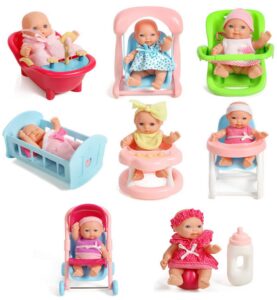 20. Doll Baby Go Bye Bye
An exciting interactive baby doll by Baby Alive Baby Go Bye Bye that young girls will get much enjoyment from. This clever doll has over 25 sounds and can crawl and move in response to your child interacting with her. Take the baby out on adventures with the exciting baby carrier, or feed baby and change her wet diaper. Other refill diapers are available to buy, so they can be added to the set.
Baby comes with a lovely outfit and she will enjoy playing with her rattle. The hair brush included allows young children to practice their hair styling skills along with enjoying brushing the dolls lovely soft black hair. This doll set is another great example of a high quality toy doll, so you will not be disappointed with your choice and your child will get much use from this toy.

Best Overall Pick
Our best overall pick is the Super Snacks Snackin' Lily. Kids can enjoy preparing cute snacks for Lily before feeding her with the great feeding toys provided. Once Lily is full she will dirty her diaper so kids will enjoy learning to change Lily's diaper. A great set for teaching your kid about caring for young babies and with reusable food this is a toy that will be loved for years.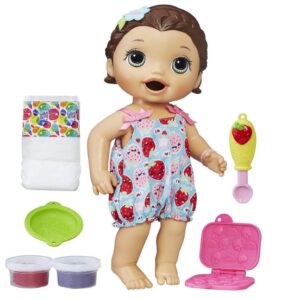 Best Budget Buy
The Potty Training With Tot On The Pot Set is our best product pick because it is comes with everything all parents will need to make toilet training simple and straight forward for every child. This lovely set comes with a great book for kids that along with the doll and mini potty will encourage learning and lead your child to success. All parents love this set for the great advice and the attractive toy doll included.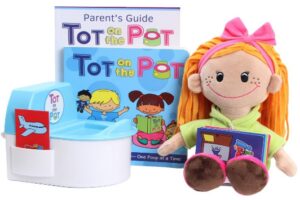 Here are some other great picks for you: