Getting the best stroller organizer for Uppababy Vista & Cruz may be a little difficult. Except you've been buying these things for a while. Why?
Because there are literally dozens of organizers out there to sift through. And there is none that's specifically designed to go on the Uppababy Vista stroller. Even as an experienced mom, you may have to spend hours researching before deciding on one.
And what if you're buying for the first time? Perhaps you won't know where to start, right? Fortunately, you don't have to worry. All of that work has been done for you.
All you have to do is pick one of the reviewed items below as all of them are suitable for your Uppababy Vista stroller.
---
Best Stroller Organizer for Uppababy Vista (Reviews and Ratings)
---
1. UPPAbaby Carry-All Parent Organizer

As you can see, the UPPAbaby Carry-All Parent Organizer is from the manufacturer of your stroller.
This means you'll get a perfect fit. There isn't much to say about this without exaggerating. So, this review may be shorter than the others below.
Snug fit
The first thing you'll notice about this organizer is that it'll have a snug fit on your Uppababy Vista stroller.
It'll wrap around either side of the handle, sporting a look as though it's part of the stroller.
And it's so compact it won't come in your way no matter how fast you're moving. Of course, that might be affected by the number of items you put on it.
Adequate pocket and jackets for storage
The UPPAbaby Carry-All Parent Organizer comes with two pockets on the front. Here, you can keep your keys, mobile phones, and smaller items.
On the back, there is a zippered pocket that can hold items you want to keep private. As for the cup holder, it's located on the bottom of the organizer.
It expands too, so you can fit in standard-sized cups. One area where this organizer beats the others is the capability to take on huge bottles like the blender bottle pro.
You can fit up to 3 large cups or baby bottles like this. And even with that, it still doesn't take up as much space.
Moreover, it's a universal stroller organizer. It can go with any single stroller, aside from the UppaBaby Vista.
Downside but not a deal-breaker
One of the downsides of the UPPAbaby Carry-All Parent Organizer is that you may not be able to recline it when it's in the lower position, compared to others like the Ethan & Emma Baby Stroller Organizer and Diono Buggy Buddy Stroller Organizer.
If you're having a hard time reclining it, you can get around that by pulling it up to the upper area. If you can lift it up a bit to the high level of the handle, recline it should become easier.
---
2. Ethan & Emma Baby Stroller Organizer with Cup Holders

As the story goes, Ethan & Emma are both husband and wife. After going through several models on the market, they can't seem to find what they like.
And they thought, why can't they make their own stroller organizer?
One that's simple and get the job done, and possibly even help other mothers who are facing the same problem.
And that's how this model was born.
This means you're dealing with parents just like you who understand your pain points and what you might want in a stroller organizer.
It's made from high-quality materials
The stroller is made of high-quality fabric, with adequate storage for your convenience. It features different pocket sizes to put your phone, drinks and a few other things you can do without on when on the go.
The first one is a front mesh pocket where you can fit in any iPhone model, Samsung Galaxy, and similar high-end smartphones.
There is also a zippered wallet that you can zip off after dropping your items into it.
If you need to leave your stroller outside when going into a store, you could take it out and keep your cash or credit card in there and keep it with you.
There is also a magnetic closure on the main compartment that allows you to open the jacket and store items without making any sound so you don't wake up a sleeping baby.
Very suitable for the UppaBaby Vista
The size of the stroller is 13″ x 3.9″ x 6.5″, which is quite suitable for the UppaBaby Vista. Especially the 2015 version, which is 18″. The organizer can fit well so there shouldn't be any drink spillage.
As long as it isn't too big or too small for your stroller, it should hold everything so securely so nothing falls out when you're on the move.
You should note here that it might not fit some other types of strollers. But there are multiple people who've tried it on the Vista 2015 and don't have any problem with it.
Designed for a busy mom
One thing that's likable about this unit is that it suits a chic's busy life.
When you keep things clean and rightfully organized, you feel more fulfilled. And this is something that can easily escape a busy mom.
Remember that when you're carting your baby around, you need a lot of items, many of which won't fit into your stroller.
Think of diapers, drinks, snacks, books, keys, sippy cups, toys, etc. All of these things are going to take some space. But having them in an easy-to-find spot can make your life easier.
That's what the Ethan & Emma Baby Stroller Organizer is designed for.
---
3. Diono Buggy Buddy Stroller Organizer

This is one of the most popular stroller organizers on the market. And it's down to its excellent performance.
Not only does it come with nice features, but it is also very durable. This is why most mommies prefer it over the others.
Just as it can be used with almost all strollers out there, the Diono Buggy Stroller Organizer is a good fit for the Uppababy Vista.
It comes with an adjustable strap that'll attach nicely to your stroller.
Thus, giving you the opportunity to access everything you need, right away. Saving you time and effort in the process.
Strong and well constructed
The Diono Buggy Stroller Organizer is designed to withstand heavy usage too. This so you can use it for a longer time and get good value for your money.
Moreover, it's leak-free.
This is a good thing if you don't like to go out without snacks and drinks. When a liquid pours into it from your drink, it doesn't get inside the stroller.
Preventing such messy occurrence means you spend less time cleaning. Another advantage is that it doesn't stain your baby, which is common with any spill.
In addition to that, it's waterproofed so you can use it on a rainy day, keeping your items safe from the raindrops.
Provides an encompassing storage space
Again, the Diono Buggy Stroller Organizer allows you to take almost everything you'll need when you need to stroll or have a casual walk with your baby. Some of these things will ordinarily not fit in your stroller.
Moreover, it's lightweight and well designed. As long as you don't drop anything too heavy in it, it shouldn't weigh down your stroller.
It's versatile
While you can definitely use it with the Uppababy Vista stroller, this organizer also fits the City Select, Infant 3D Lite and other umbrella strollers.
This is possible, thanks to the Velcro strap that you can adjust easily so it fits your stroller.
It's lightweight
Aside from the air-light weight, the organizer is equally sturdy and good for its price. It has a metal frame in the top and bottom, which keeps it secured and not floppy once you attach it to your stroller.
Downsides but not deal-breaker
The downside of this organizer borders on the cup holder, with a few complaints from moms. Although it's stretchy, elastic and will take different cup sizes, it may not be strong enough.
They're made from neoprene and canvas, with little slots that may not hold standard cups very well. You may have to force it into the holder and ensure it's tight enough so it doesn't fall out.
Another thing to be aware of is Velcro. It's not very strong but can serve you well if you're not putting heavy items into it.
---
4. Britax Stroller Organizer with Cup Holders

Although the first three organizers are the most suitable for your stroller, you may want to compare it with others.
Whether you're looking for price changes or performance, the Britax Stroller Organizer is also a suitable model for your stroller.
A unique approach in design
This stroller organizer has a little design change, compared to the other models we've reviewed in this article.
While it has three pockets like many of the other models, these are all located outside the unit. All of these are beside the bag and are of the same sizes.
This placement makes them even easier to access. You can easily drop items like your keys, phones, keep a watchful eye on them and retrieve them easily.
Magnetic closure for silent opening and closing
Like the other strollers, the Britax Stroller Organizer has a center compartment with adjacent magnetic closure. With this, you can keep your baby's snacks, diapers, and similar items.
Two insulated cup holders will take the drinking bottles. And the beauty of the cup holders is that both pockets are they come with warm/cold properties so you can keep your drinks cool or warm.
It can fold up with your Vista stroller
Another advantage of this organizer is that you can collapse it along with the stroller.
You don't have to remove it, which takes out a lot of time and effort you'd otherwise have spent detaching it from your City Select.
Thus, making storing you and your baby's item extremely easy.
Whether you're running errands or just want to take long strolls with your baby, the Britax Stroller Organizer can be a good companion in both cases.
---
Choosing the right stroller for you and your baby
You probably know the best stroller for Uppababy Vista by now. And you're ready to choose one that'll suit you and your baby's need.
But before that, here are some of the things you should keep in mind when purchasing a stroller organizer for your UppaBaby Vista:
---
Features to Consider When Selecting an Organizer
---
1. The compartments
In order words, you should look at the number of sections the organizer comes with. Are they big enough? Are they too small? And will they really serve your purpose?
If you need to go with lots of items for each trip, you may need something with more spacious sections. In that case, a portable or compact organizer may not work out well for you.
But if you only need a few items like a baby bottle, keys, sippy cups, etc., you'd probably do well with a lightweight organizer. This will lighten the weight on the stroller and let you move freely.
2. Cup holders are important too
Some parents buy an addy for their stroller for the main purpose of storing bottles in them. If you're one such parent, you'll need to pay more attention to this feature.
Some stroller organizers will come with three, which is enough for any trip. You may find a lower number on some models too.
If you have to drink a lot of water on the way and your baby still feeds from the bottle, you know you need an organizer with the maximum cup holders.
3. Fabric makeup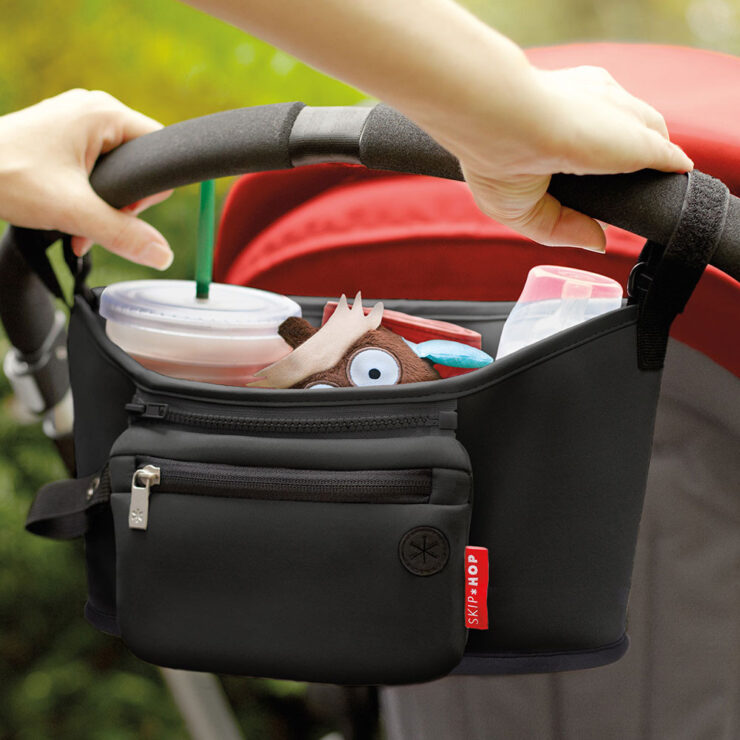 There are many fake stroller organizers out there. And some are even expensive. Therefore, you have to be careful what kind of stroller you settle for.
To get the best, you'll have to read some more reviews to get the experience of others on the material. Most moms will reveal how durable the material is and if it's strong enough to not be destroyed by simple spills.
Remember you may not have the chance to feel the fabric before ordering. So, you should ensure you understand the kind of materials used for the organizer.
And that it'll last longer. If you're going to be using the organizer heavily, look for something that can take a beating.
4. Durability also matters
When you're buying an accessory for your baby stroller, the vital thing you'll want to consider is durability. This will directly affect the value you gain from the item relative to your money.
All stroller organizers are made differently. Some are durability while others are fragile. It's your job to separate the sturdy from the dozens of others.
Fortunately, this article makes that easy for you. We've selected only the best so you can get the best from your investment.
5. Lightweight and durable velcro
A simple and light organizer can make your life easier. Fortunately, a lot of them are not heavy. Unless of course, you drop heavy items on them.
However, that doesn't mean all of them to have the same weight. Some are actually more compact and lighter than others. If you don't want to add weight to your stroller, you should look out for these.
Take a look at some other models available on the market:
Related reviews:
Best Stroller for 6-Month-Old Baby stroller
Best Double Stroller for Tall Toddler