Being the parents of three kids by now, we have experienced the number of baby products in the six years of parenthood. Baby strollers are one such unique product. We heard other parents asking which stroller is best when considering UPPAbaby Vista vs Cruz to procure in 2023.
The UPPAbaby Vista vs Cruz comparison reflects the durability, effective functioning, and ease of operation of both strollers since they come from the same brand. Both of these strollers are best in their ways, but there are some potential differences too.
If you are also in the procedure of procuring the baby strollers from UPPAbaby and are confused about the decision of the final product, then there are no worries. We have gathered the knowledge from our experience, reviews from the more significant number of users, and results of the tests for writing this comparative review guide for you.
Therefore, all you have to do is to read this blog. By the end, you will gain a crystal clear image of the features, and thus it will be easy to decide the type of stroller you need.
UPPAbaby Vista vs Cruz Comparison: Which One is Better?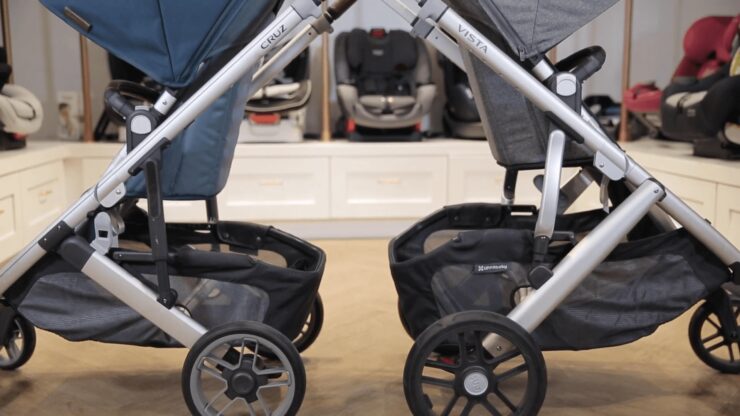 Brief Comparative Description
When it comes to comparing Vista vs Cruz, you will be glad to know that the manufacturer of both strollers is a well-known and same brand, i.e., UPPAbaby.
These baby strollers have excelled over the other strollers in the market because of their matchless premium quality construction and durability. In terms of physical looks, you will see a considerable similarity between Vista and Cruz because they are products of the same brand.
Also, the seat and type of frame are approximately identical. Despite these similarities, some factors differentiate these two baby strollers. UPPAbaby Vista vs Cruz comparison shows that you can decide for either of these strollers by considering your family goals.
By this, we mean that if you intend to grow your family to two babies, then perhaps you need a stroller that can support two babies at a time. In easy words, you should go for convertible strollers like UPPAbaby Vista. Vista can convert from single-mode to double stroller when your second baby angel arrives in this world. In contrast to this, Cruz can accommodate only one baby.
If you wish to use it for the second baby simultaneously, you need to add a ride-along board coming from UPPAbaby. This accessory is referred to as PiggyBack. In the light of this brief comparative account, we must state that UPPAbaby Vista is more significant in size and contains an oversized basket. It has bigger wheels than UPPAbaby Cruz. The manufacturers have also included the bassinet, and you can easily manage your second baby inside it.
On the other hand, some parents might prefer Cruz because it is a lightweight stroller with a compact design. Also, the UPPAbaby Cruz price is considerably lesser compared with the cost of the Vista. If you are still confused about finalizing your purchase, the coming sections will help you because they comprise the advantages and disadvantages of both strollers.
UPPAbaby Vista Stroller
UPPAbaby Vista Stroller has made a significant place in the hearts of the parents because of its durable construction and long lifespan. However, the most distinctive feature of this stroller is that it is suitable for larger families who want to accommodate two babies inside a stroller simultaneously.
I have been using it for many years, and I must admire the craftsmanship of UPPAbaby manufacturers because I could not see any signs of wear and tear.
Advantages of UPPAbaby Vista Stroller
Although, I have been using it frequently. Let us discuss some of the best features and advantages associated with this stroller. These features are highlighted as follows:
UPPAbaby Vista is an exclusive stroller that offers you a second seat so that your second baby can use it. Therefore, upon the arrival of the second baby, you don't have to purchase a separate stroller.
Thanks to the UPPAbaby manufacturers for making this stroller with the improved all-wheel suspension. The wheels are larger ones, and thus you will enjoy excellent motion no matter how rough terrains you are moving on. Your babies will enjoy this super-smooth ride.
In UPPAbaby Vista, you have the freedom to adopt varied seating configurations. These configurations include infant car seats referred to as the UPPAbaby MESA and two bassinets. Also, there are two stroller seats.
If you plan to use the stroller for overnight sleep, the good news is that bassinet offers you safety and comfort. Also, the manufacturers have designed it with enough ventilation to impart enhanced comfort.
This storage basket of the UPPAbaby Vista is larger when compared with the Cruz or other strollers. So, you will be enjoying vast storage space and freedom to take anything with you.
Disadvantages of UPPAbaby Vista Stroller
After explaining the advantages of the Vista, it's time to look into some issues associated with it. They include:
UPPAbaby Vista is a costly stroller, but if you think of purchasing another stroller for your baby, then the higher cost of this stroller is justified.
While purchasing this stroller, you should keep in mind that it is a heavy stroller exceeding Cruz in weight about 1.5 pounds and width up to 3 inches.
When you are purchasing this stroller, the manufacturers have included a bassinet worth $199.99. This bassinet will be useless if your babies are older.
UPPAbaby Cruz Stroller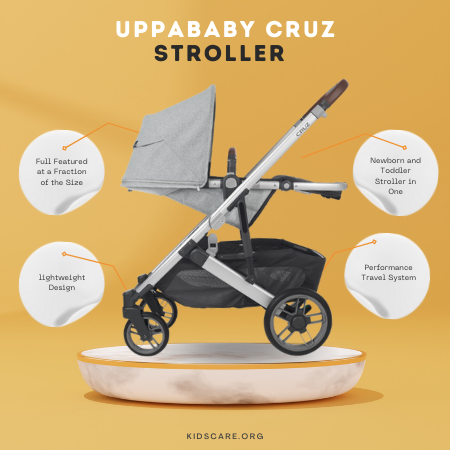 In the UPPAbaby Vista vs Cruz comparison, it's time to discuss some aspects of the UPPAbaby Cruz. This stroller is the top choice for parents with one baby. In simple words, you can say Cruz is the smaller version of the Vista.
However, this stroller is famous for its matchless durability, smoother operation, and easiest movement despite its smaller size. Let us throw some light on the advantages and disadvantages of the stroller.
Strength Factors of UPPAbaby Cruz Stroller
UPPAbbay Cruz is the most lightweight and compact stroller that you can opt for your baby. To be more specific about its weight, it is lighter when compared with Vista, up to 1.5 pounds.
In addition to weight, the compactness of the Cruz is shown by the narrower built. In comparison with the Vista, this stroller is 3 inches narrow. Therefore, you can easily lift it for placing inside or taking out from your car.
This stroller is highly economical for the parents of one baby because it is $280 lesser when compared with the UPPAbaby Vista.
In case if you want to continue with the same stroller for your second baby, you have the freedom to do so because the manufacturers are offering you UPPAbaby Piggyback board.
Drawbacks of UPPAbaby Cruz Stroller
UPPAbbay Cruz is an excellent choice to go for, but unfortunately, it is not capable of accommodating a second seat when compared with the UPPAbaby Vista.
The wheels of the UPPAbaby Cruz are smaller. That is why you may find the stroller challenging to move on rough terrains.
The manufacturers have not included the bassinet in the package. In case you want to have it, then you need to purchase it separately.
FAQs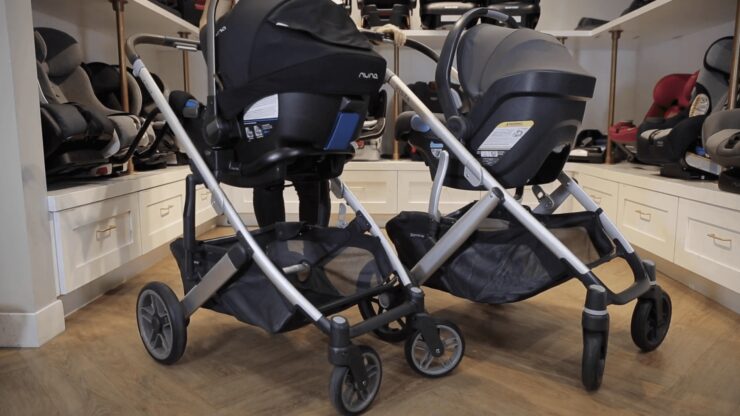 Which one is better to purchase in 2023 between UPPAbaby Vista vs Cruz strollers?
UPPAbaby Vista and Cruz comparison show that both are premium quality strollers that you can purchase for your baby. You may opt for any of them because they offer durability, smoother operation, and ease of use. However, if you have more than one kid, we strongly suggest you go for UPPAbaby Vista. The reason is that it is a convertible stroller that can accommodate two babies at a time. At the same time, Cruz is devoid of this feature.
What are the main advantages of UPPAbaby Cruz?
There are different advantages associated with the UPPAbaby Cruz. However, some of the most eminent ones are the durability and high-grade materials used for making it. In addition, this stroller has an elegant, lightweight, and compact design with beautiful colors. Also, you will love this stroller for easier attachment of the bassinet so that your newborn can enjoy absolute comfort and ventilation.
Are there any drawbacks associated with the UPPAbaby Vista?
The advantages of the UPPAbaby Vista are numerous. However, there are some issues that you need to keep in mind while purchasing this stroller. Since this stroller is a larger one so ultimately, it is heavier. Therefore shifting it to your home or car can be pretty annoying. Due to extended design, you may face handling issues, mainly if you are present with your babies in a crowded place. This premium-grade stroller is costly, so you need to be clear about your budget before finalizing the purchase.
Final Thoughts
With this section, we are here to conclude our short review guide on the UPPAbaby Vista vs Cruz comparison. We hope we have clearly defined the advantages and disadvantages associated with both strollers.
From the review guide, it is pretty clear that both strollers are best in their place. However, your need for space and budget considerations will finalize your selection.
After reading this review guide, if any questions pop up in your mind, we strongly suggest you share them in the comments sections. We will be glad to reply to your queries. Also, you may share your worthy experiences with us. Thank you!
Read Also: Best Stroller Organizer for Uppababy Vista & Cruz
Before you go, take a look at all available UPPAbaby strollers on the market: