When you're looking for the best baby wash for eczema, you should consider certain things before choosing.
When the majority of these things are present in a wash, then it's a good option.
Don't base your decision purely on what the manufacturers say about their product. Instead, you should have a yardstick to measure their product against.
What are those yardsticks?
1. Beware of harmful ingredients
One of the most important things to consider when choosing a wash for your baby is the age of the baby. Usually, baby skin is very soft. For that, it does not retain moisture like an adult's body.
What does this mean? And why should you be concerned?
This means you should be careful of which wash you use on your baby's skin. Some washes contain ingredients that are harsh. And not suitable to use on a baby's body.
Therefore, you should only look for those that are free from harmful materials, chemicals, and similar items that can be harmful to your baby.
2. Not all baby washes are good
There are thousands of baby washes out there. But choosing one can be quite tricky. A baby suffering from dry, itchy, red skin needs a bath soap that's not only mild but also suitable for that age.
Therefore, you should do more than just look at the names of baby washes. You want to read the different reviews on each product and what others are saying about it.
The price of the product often affects quality.
However, when you already know what you're looking for, it's easy to choose one. The first thing is to have a budget. It could be a maximum or minimum of what you want to spend.
After that, you'll need to consider some things like the quality of the product, the manufacturer, etc.
These are some of the things you'll need to check when getting a wash for your baby. And not doing this may mean buyer remorse later on.
3. Check the ingredients
After checking the price and you're okay with it, the next thing you should be concerned with is the contents of the wash. Since you're dealing with skin rash and skin that can easily be irritated, you need a product that's mild.
Even some products contain healthy ingredients like oatmeal, cucumber, aloe vera, and similar items that have healing properties. These are the types you should be going after.
You should first research and see that those things in it won't harm the soft baby skin.
After knowing all these, you are probably thinking, "so which one is the best baby wash for eczema?"
Here are some of the best ones that we recommend you go for:
---
Best Baby Wash for Eczema in 2023 – A Guide for Busy Moms
---
1. Mustela Foam Shampoo for Newborns


There are many shampoos out there. However, the Mustela Foam Shampoo for Newborns is different in that it comes with a lot of nice benefits.
It's a gentle, tear-free shampoo that's furnished with Avocado Perseose.
This ingredient is responsible for reducing cradle cap flakes or prevent it if your baby doesn't have yet. It also contains some other formulas like BHA and Salicylic Acid that can help with your baby's condition.
This uniquely formulated hypoallergenic shampoo has been specially made to reduce and prevent cradle cap in babies.
It contains all-natural plant-based ingredients including Avocado Perseose and Climbazole. Both these ingredients are helpful in reducing the cradle cap.
The shampoo is not only meant for newborns but can also be used for toddlers.
It has been found to be safe for daily use as it is free from all harmful chemicals, such as paraben, phthalate, and phenoxyethanol.
---
2. California Baby Tea Tree and Lavender Shampoo & Bodywash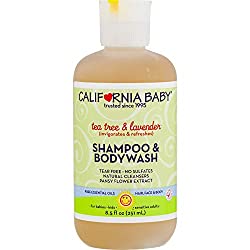 This GMO and sulfate-free body wash has been formulated for sensitive skin and is perfect for babies. It has a very soothing fragrance of lavender and tea tree.
All-natural ingredients make it even more desirable because it does not contain any irritating substances or harmful chemicals.
The product can be used by the whole family as it is mild, gentle and very soothing. It is especially recommended for people with eczema and other skin disorders.
The product is safe and is also good for reducing or curing cradle cap and dandruff.
---
3. Puracy Natural Baby Shampoo & Bodywash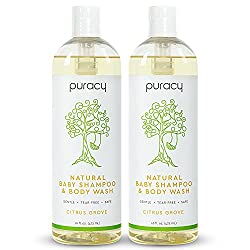 If you want a tear-free solution for your baby's bath that contains absolutely no allergens or irritants, this body wash is the answer. Its pH-balanced formula is unique and purifying.
The product contains no eye-numbing ingredients and is therefore ideal for newborns. It contains sea salt and safe vegetable-based moisturizers to keep the baby's skin hydrated and soft.
One of its unique features is that it has been formulated by doctors and is considered a cruelty-free product as it has never been tested on animals.
The product effectively helps with cradle cap and other skin issues common in babies.
---
4. Burt's Bees Shampoo & Wash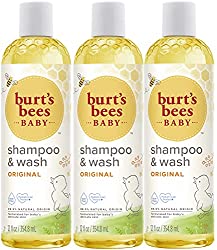 This shampoo & wash is a complete bath solution for babies and newborns as it has been specially formulated for delicate skin. It does not contain any harmful chemicals nor any irritating substances.
The product has been found to be good for many skin conditions including eczema. It contains soy proteins so it might not be suitable for everyone.
People with soy allergies are advised to test it on their skin before using it. The product does not contain petrolatum or SLS, which are normally added to cleansing and skincare products.
---
Final Words
---
Mothers look for the gentlest baby wash available on the market that would not only ensure a tear-free bath but also protect the baby's skin from rashes and irritation.
The most effective baby wash products are the ones that are completely soap-free and contain only natural ingredients.
Make sure you buy something that is newborn safe so that you can use it without worrying about getting your baby's skin affected.
The product must also be lightly scented or have no fragrance at all. It is advisable to read the ingredients before buying any product to see if it contains anything your baby might be allergic to.
Related reviews:
Best Baby Shampoo for Hair Growth
Take a look at these washes for Eczema from Amazon also: