Babies are prone to developing certain skin rashes as a result of them wearing diapers, with minor rashes being very common in all babies. The signs associated with these rashes are often painful and distressing for baby so when choosing a diaper cream parents want one that will instantly soothe the symptoms and work quickly to help the skin heal. There are a large range of creams designed for using during diaper changes that are available to choose from. They all aim to prevent rashes from developing and enable any signs to be quickly treated if they do occur.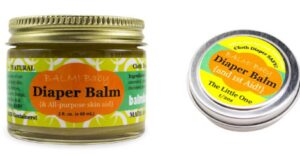 Considerations When Choosing the Best Cream
Parents will often ask what's best for diaper rash treatment as they want to use a product that is effective and safe for baby. Many diaper products
contain natural ingredients so that you can be sure there are no nasty chemicals in the cream and if you are looking for organic or vegan products then there are some great options available. When choosing a diaper cream you should also consider your baby's skin type as there are some great quality baby creams suitable for sensitive skin.
To help you choose the best cream for you and your baby you should consider what type of cream you would find easiest to apply. There are a number of creams in either tubes or pots, with some being a thicker consistency than others. If you prefer to use a bottle there is even the option to use a spray cream, which may make diaper changes less messy.
There are a wide range of different baby creams available so it can be overwhelming when trying to choose the ideal product for your baby. This guide will take you through the best diaper rash ointment and creams that are available for you to choose from so that you can find a baby cream that will suit your baby.
Top Diaper Rash Cream
Now we've looked at the different factors which should be considered when choosing between the different options, let's review some of the best out there!
1. Weleda Calendula
If you are looking to find a natural diaper rash cream that works then Weleda have a fantastic Calendula Cream that will not only protect your baby from developing nasty rashes but will also help to sooth any existing redness and inflammation. The cream itself does not contain any nasty products but instead prides itself on using natural ingredients that will protect the skin against moisture to leave your babies skin healthy and smooth.
This lovely cream is plant rich and uses the flower Calendula to calm skin alongside Chamomile extracts, Sweet Almond and Sesame Oil. Lanolin and pharmaceutical grade Zinc Oxide is also used to help the cream provide a barrier against the development of sore skin. This is a popular cream with parents and its top quality ingredients have produced a cream that really works.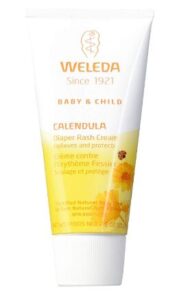 2. A+D Diaper Ointment
Parents will often spend a large amount of time searching for a diaper ointment that works and keeps baby's skin rash free. This A+D Original Diaper Ointment promises to treat and prevent rashes caused by using diapers, making it great option for parents. It is easy to apply, with no applicators required, so is a great ointment for taking out and about and is convenient for use at home during diaper changing time.
The A+D Ointment diaper rash protection is provided by the Lanolin and Petrolatum combination and with no dyes, parabens or phthalates you can be sure that it is safe to use on your baby's skin. This great ointment also has a dual purpose as it can be used for the whole family to protect the skin from minor injuries and chapped or cracked skin making it the perfect ointment to have to hand at all times. This is the best ointment for diaper rashes prevention so is essential for every parent to use.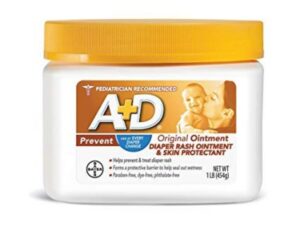 3. Desitin Rapid Relief
Looking for the best diaper cream to treat and protect your baby's skin does not have to be difficult as Desitin have produced a Rapid Relief Cream that will start soothing sore and red skin instantly from the first application. This rash cream is Zinc Oxide based, which forms a barrier layer between the skin and diaper to protect the skin from further damage, while at the same time letting the skin heal naturally. You can be assured that this hypoallergenic cream is safe to use on your baby as it is free from parabens, dyes and phthalates along with being fragrance free. This gentle cream is perfect for daily use and will help protect your baby from developing any sore rashes.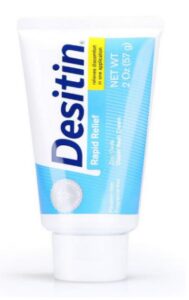 4. Boogie Bottoms Spray
Often diaper skin rash cream can be messy to use, especially with a wriggly baby. However Boogie Bottoms Diaper Spray is a great innovative design that makes diaper changing easy and mess free, even when out and about. The handy spray bottle means that you can get even coverage of the baby rash lotion and with no need to rub in there is no mess involved. This Zinc Oxide and Dimethicone spray is a great skin protectant, so can be used to treat and protect against rashes and will form a barrier to keep wetness away from the skin. There are no fragrances, parabens or dyes included in this baby product, so you can be sure that it is safe to use on your baby at every diaper change.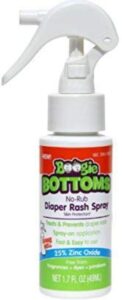 5. Badger Balm
Babies have very delicate skin, so many parents only like to use natural products on them where possible to help protect their skin. This Badger Balm Cream is perfect for babies as it is 100% natural and contains ingredients to soothe and calm inflamed skin. This hypoallergenic cream uses Zinc Oxide to protect the skin against rashes and soreness that may caused from using diapers and it can also be used as a rash treatment making it popular with parents. The additional ingredients of Beeswax, Calendula and Sunflower are perfect for soothing and calming sore skin. The cream is also 95% organic making it one of the best organic rash cream products available to buy.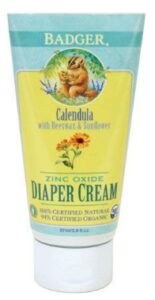 6. Pinxav Pack of 3
For the best diaper rash cream that you can buy you should consider the Pinxav Diaper Cream. This fantastic cream is Zinc Oxide based and it is great for using to treat or to prevent baby rashes. It works by calming red and inflamed skin so along with the combination of other ingredients such as; Aloe, Eucalyptol and Oil of Clove it will keep skin healthy and rash free so is the perfect cream for baby rash prevention. This is an essential cream to keep in the house and changing bag as it is perfect for use on insect bites, chaffing, skin irritations and will also protect against sunburn, making this a great value multipurpose cream that the whole family can use.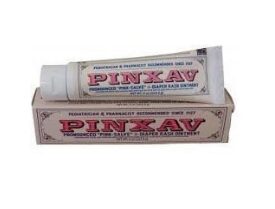 7. Cetaphil Baby
The use of baby cream for rash protection is essential as most babies suffer from diaper skin rashes at some point during their time in diapers. Cetaphil Baby Cream is a fantastic Zinc Oxide based cream that is perfect for use during every diaper change. It is easy to apply and spread, so you can quickly ensure that any vulnerable skin is protected, even if your baby is wriggly. Parents can be reassured that there are no parabens, colorants or mineral oil within this product, so it is safe for delicate skin. With the additional ingredients of organic calendula and vitamin B5 and E, you can be sure that this baby diaper rashes cream is soothing, as well as being perfect for protecting your baby's skin from wetness which makes it ideal for preventing skin rashes.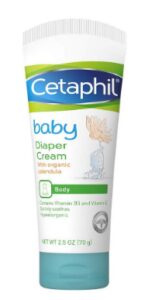 8. Baby Butz
Rashes that result from the use of diapers can cause uncomfortable and distressing signs in babies so this fast acting Baby Butz Cream is an essential baby product to have close by. As one of the best rash creams for babies, Baby Butz can resolve signs of rashes within 4 hours, giving an amazingly quick improvement. The cream is a natural Zinc Oxide based treatment that is also perfect for protecting against any future signs of skin rashes. It is free from fragrances, chemicals and alcohol ensuring that it is safe for use on your baby. As it is hypoallergenic and only contains simple natural ingredients it is often the perfect choice for any babies who have sensitive skin.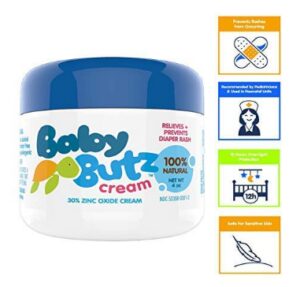 9. Balmex
This Balmex Cream is a great nappy rash cream that is ideal for every parent to use. It can be used to treat any sore rashes, as well as being perfect for use as a protectant. This cream will form a barrier on the skin to protect it from wetness and chaffing, which will help to prevent any rashes from appearing. You will start to see the benefits quickly, so by the first diaper change there will be a reduction in your baby's signs.  This is an 11.3% Zinc Oxide cream that is quick and gentle to apply and easy to remove at the next diaper change. Balmex have produced a top quality diaper cream that all parents will find useful.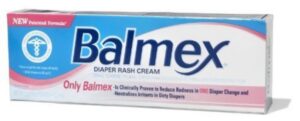 10. Seventh Generation
As a natural and gentle diaper cream this Seventh Generation Cream is perfect for use on your baby. This baby skin rash cream is naturally plant based with Coconut oil, Zinc Oxide, Sunflower seed oil, Rosemary leaf oil and Candelilla wax which creates the perfect soothing combination and barrier against moisture.
It can be used to provide daily protection for your baby against rashes and chaffed skin, making it an essential cream to take everywhere with you and it is the ideal size to be kept in your changing bag. This cream can be applied liberally every time your baby needs changing into a fresh diaper, so it is the only diaper cream that you will need to buy. This great value hypoallergenic cream has been shown to be gentle on baby's skin so you can trust this product to be reliable.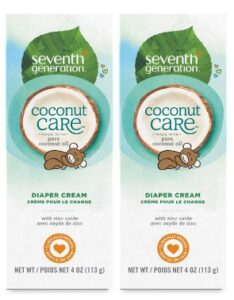 11. Mustela 1, 2, 3
When deciding which is the best cream or ointment for diaper rash you will want to choose a product that is gentle and safe for your baby's skin. Mustela have a great 1,2,3 Cream that protects and treats any rashes caused by diapers that your baby may develop, so this is a great option for all parents. This rash cream for baby is 98% natural and it uses Zinc Oxide as its active ingredient so it will form a protective barrier over your baby's skin. The creams plant based ingredients form the ideal combination to repair sore and irritated skin, soothe painful skin and also prevent rashes from occurring in the future. This cream can be applied every time you change your baby's diaper and as it is easy to apply and wipe off it is perfect for busy families.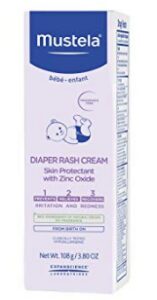 12. Triple Paste Wash
Most baby cream products require you to clean the skin before you can use any baby rash ointment or cream on your baby. This Triple Paste Gentle Wash is the perfect wash to use on any sensitive or delicate skin before applying various creams. It is also perfect for adding to baby's bath water or even using as a soap or shampoo, as it is gentle and tear free. For babies that are suffering with rashes this great wash is soothing and will help to calm any redness and inflammation, making it the perfect baby wash to use before applying any creams as it will start healing the skin.
For a baby without any rashes this wash is a great preventative to help stop your baby developing sore skin in the future. Any older kids with sensitive skin will also enjoy using this gentle wash so it will quickly become a household favorite.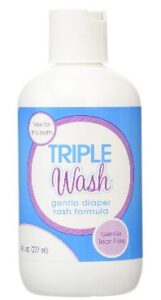 13. Balm!
For any parents that are looking for an environmentally friendly diaper rash ointment do not need to look any further than this lovely BALM Baby Diaper Balm, as it comes in packaging that is plastic free. The balm itself is multipurpose, so is great against diaper skin rashes, cuts, burns and dry skin. The options for the use of this balm are endless and it is perfect for the whole family to use.
For added appeal, if you use cloth diapers then this is the ideal balm for you as BALM Baby is cloth diaper friendly. The balm uses natural ingredients which are great to use on baby's delicate skin and it is also suitable for vegans and is cruelty free, so there is no need to feel guilty about buying this great diaper balm.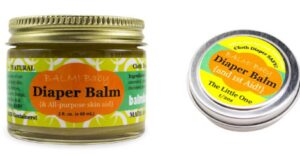 14. Ruby's Lube
Ruby's Lube is a great multipurpose barrier cream that is ideal for use as a diaper cream or even as an anti-chaff cream for sportsmen and women. This top cream was created by a sportsman who won multiple Ironman challenges, so this cream has been made to perform and really does do what the packaging says. The natural ingredients; olive oil, beeswax, calendula, lemongrass and benzoin will prevent friction and form a barrier against moisture, so is ideal to use to protect baby's skin between diaper changes. For additional benefits this cream can be used by the whole family for dried skin or to soothe sore muscles, so every family should have a bottle of Ruby's Lube in their home.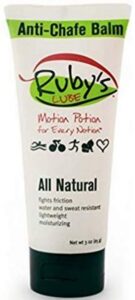 15. Z-Bum
For a reliable daily diaper cream a good choice would be this Z-Bum Daily Moisturizing Cream. It is particularly good for babies with sensitive skin and is the top diaper rash cream for eczema sufferers, dry skin, dermatitis or minor cuts. This cream is also great for relieving the inflammation and discomfort from any rashes that are caused by diapers. As a natural and hypoallergenic cream with Zinc as its active ingredient it will work quickly to treat rashes while also providing barrier protection to prevent any re-occurrence of any rashes caused by diapers. For parents peace of mind this cream has no toxins, parabens or nasty chemicals, so you can be sure that it is safe to use on your baby's delicate skin.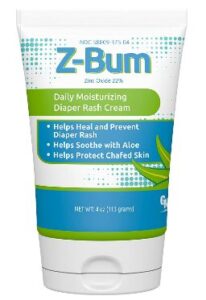 16. Young Living Seedings
This Young Living Seedlings Baby Cream is a great all round cream that is perfect to use during diaper changes. With a lovely lavender fragrance this thick cream is easy to apply and will rub in evenly. It is a suitable baby cream for rashes as it treats them and prevents any re-occurrences, as regular use of this cream will speed up the healing of any rashes caused by diapers and provide a great barrier to keep out wetness. This cream is 100% natural and gentle for all babies, so is perfect to use on delicate skin. There are no nasty chemicals, parabens or animal derived ingredients in the cream so it is a top choice for all parents.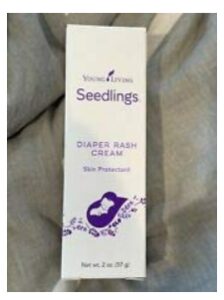 17. Live Clean Baby
If you are looking for a top cream for diaper rashes then this Live Clean Baby Cream is the perfect choice. It is a Zinc Oxide cream that also contains organic Lavender, Aloe and Chamomile, so is soothing for baby and great for treating the signs associated with diaper skin rashes. There are no nasty chemicals found in this cream as it is free from parabens and sulfates, so is ideal for sensitive skin. This ethical cream is 100% plant based, suitable for vegetarians and has not been tested on animals so is great for parents looking for a cruelty free cream. This cream can be used daily and will provide skin protection against any further nasty rashes.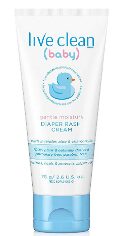 18. Aquaphor Baby Healing Cream
This Aquaphor Baby Healing Cream is a lovely gentle Zinc 3 in 1 cream that protects baby's skin between Diaper changes. It soothes sore and inflamed skin while treating any rashes and once the skin has healed it is a great cream for preventing any future re-occurrences. For any babies with sensitive skin this cream is ideal as it is hypoallergenic and paraben and fragrance free, so you can be sure there are no harsh ingredients. Parents will find this cream easy to apply and remove, making diaper changes quick and simple, so it is an essential cream to have both at home and in the diaper changing bag.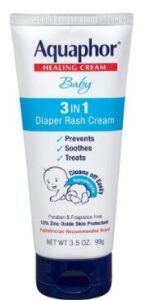 19. Mama Nature Tiny Troubles
There are a large range of baby rash ointments available but Tiny Troubles Natural Intensive Healing Salve by Mama Nature of London is a top choice for all babies. This salve is organic and natural and it contains a lovely combination of calendula, almond oil, coconut oil, beeswax and essential oils. If your baby has a skin rash caused by diapers then this great salve will protect the skin by repelling wetness making it is perfect for using daily to keep baby's skin healthy. This salve is also great for the whole family as it can be used to treat dry skin, cracked and chapped skin, burns, blisters and wounds, so is ideal for keeping close by at all times.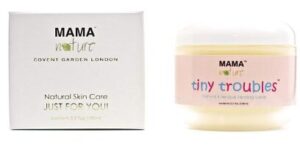 20. Lustine Eryplast E45
For a general cream suitable to use on baby you will find Lutsine Eryplast Diaper Cream is a great all round cream that can be used from birth. This cream is one of the best for treatment and protection caused by diaper rashes, as it is moisturizing and great for skin health. Every skin type can use this hypoallergenic cream as it is suitable for sensitive skin and can be used daily as part of your diaper changing routine. The active ingredients in this cream soothe inflammation and treat redness, so it is perfect for relieving sore skin. This cream is not only limited to use on baby as it is perfect for anyone with sensitive skin to use, so is popular with the elderly.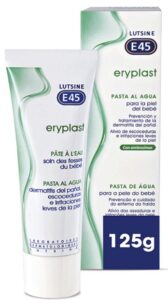 Best Overall Pick
BALM Baby Diaper Balm is our best overall pick as it is perfect for use on every baby, including those that wear cloth diapers. This diaper balm is natural and suitable for vegans so you can be sure that it is safe for baby and that there are no nasty ingredients. It is also a great balm for the whole family to use on minor cuts, burns, chapped and dried skin but the highlight of this balm is that it is fantastic for treating and preventing diaper skin rashes. With its environmentally friendly packaging there are no disadvantages to this balm and every parent should try this product to prevent any rashes that are caused by diapers.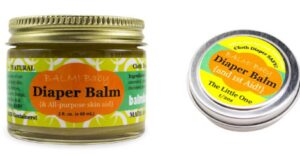 Best Budget Buy
Our best budget buy is the Boogie Bottoms Diaper Spray due its innovative spray bottle design that allows an even application of the cream, perfect for if your baby is wriggly. This diaper spray is handy for taking out and about as well as being an essential item for your changing station, as it is perfect for treating rashes and preventing skin problems from developing. The spray contains Zinc and Dimethicone which are great ingredients for protecting the skin. Parents can also be assured that there are no nasty chemicals in this diaper spray making it perfect to use on baby.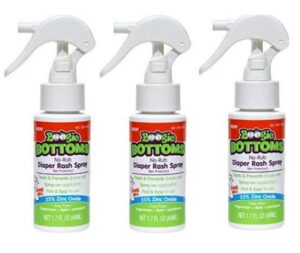 Check out more Related Articles