When it comes to diapers, they're not only used for babies and toddlers but night time diapers can also help children to reduce bed wetting and build their confidence over time to use the toilet before bed and when waking up. For those with young babies, you'll want to make sure you're stocked up with a trusty diaper that works for your child. Here we've selected a wide range of these products to help you choose the best type for your child. Considering age ranges, trusted brands, budgets and much more, below we've put together a selection of perfect overnight diapers for babies, toddlers and older children.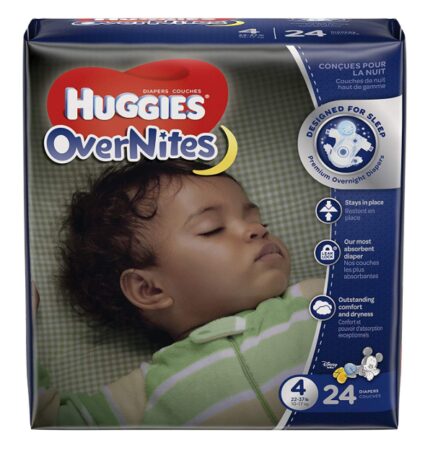 How to Choose Overnight Diapers?
While it may be easy to head out to the shop and swiftly pick up overnight newborn diapers, when it comes to night diapers there is a range of factors you'll want to take into consideration. Firstly, everyday diapers differ greatly form overnight ones in the sense that they're generally composed differently to provide longer protection. Comfort is vital for the baby, toddler or child wearing the product and this should be considered second to protection. Big brands such as Huggies and Pampers are trusted when it comes to these two factors and we've included some of their products in our guide below.
You'll want to consider budget and age-range too. Even if you have a lower-end budget, you can still get your hands on some of the best overnight diapers size 3. We've tried to include options for all types of budgets below so you should find a great product suitable for your kid. Diapers come in various sizes to reflect different age-ranges. And, when selecting the correct type of diapers for your child you should be mindful of this. Oversized diapers can result in discomfort and chafing against the skin and if too small they can prevent breathability resulting in rashes. Always choose the correct size for your child and if in doubt get a diaper that is slightly larger.
Another factor to take into consideration when choosing a night time diaper for your child is how long they'll be wearing it. Most baby and toddler diapers provide up to 12 hours of support against bedtime accidents, meaning you won't have to worry about leakage or rashes developing. To be sure of this, however, always check the packaging and guidelines provided.
19 Top Overnight Diapers in 2023
Now we know how to choose between different types of diapers, let's move on to review some of the best options out there. You are sure to find something to keep your baby or child dry and comfortable all night long.
1. Sposie Booster
Sposie booster pads guarantee satisfaction when it comes to diaper leaks. As one of the top parents choice for nighttime diapers, they are 100% Hypoallergenic and have been pediatrician and dermatologist tested. Helping to reduce skin discomfort and irritation which can be caused by excessive wetness, these branded pads are one of the top products out there! If you're searching for night time diapers that fit well with other diaper brands and sizes, look no further. They can be used overnight and for extended use situations such as naps and long car trips. Kids won't have to worry about any more nighttime leaks with these awesome booster pads…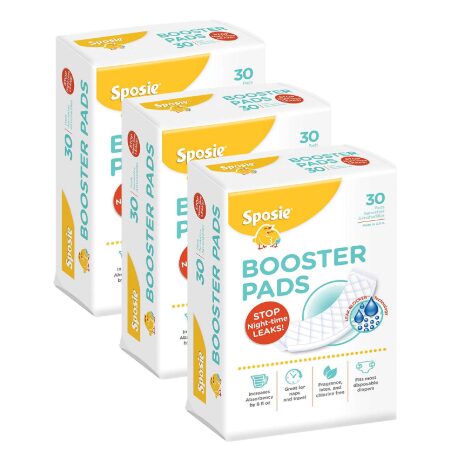 2. Earths Best TenderCare
Earths Best Tenderccare diapers are one of the top choices when it comes to best diapers for toddlers, Breathable, comfortable and trusted by parents worldwide, they're great for helping to reduce bedtime accidents. Inside this box of size 6 products are 72 chlorine-free diapers suitable for babies up to 35 pounds. The fragrance free diapers won't cause any irritation and they come available in 7 different sizes. With a moisture barrier cuff and breathable sides, say goodbye to leaks at nighttime while keeping your little one comfortable and dry.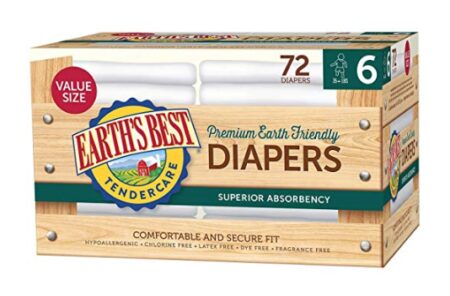 3. Bambo Nature Friendly Diapers
For those looking for the best overnight diapers for heavy wetters, these Bambo Nature products are classic, eco-friendly and composed of ultra-absorbent fabrics to minimize the risks of allergy and diaper rash. Designed for overnight use, you'll fin 30 diapers in this pack in size 4 which supports a weight of up to 39lbs. As one of the most comfortable diaper products out there, Bambo Nature uses a plush, super-soft nonwoven back sheet to effectively protect baby's delicate skin.  As one of the most trusted diapers for a toddler, this flexible product comes with a stretchy waistband and late-free cuffs to help with movement.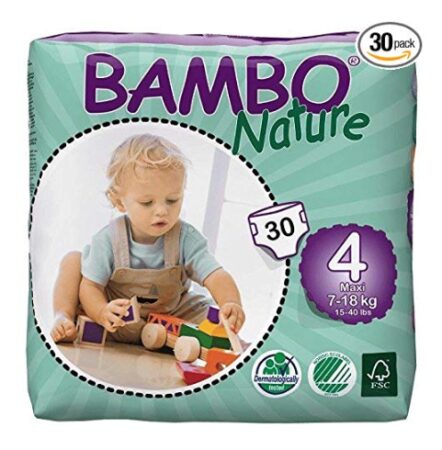 4. Amazon Diapers
If you're keen on snapping up a bargain, with this product you'll get four packs of thirty-one soft, absorbent diapers in a cute bear print, suitable for both boys and girls. As one of the best diapers for tummy sleepers, they're super comfy and hypoallergenic with stretchy sides. Providing up to 12 hours of leakage protection, they come with a handy indicator which shows when they need to be changed. In size 5, they're suitable for babies that are 27+ lbs.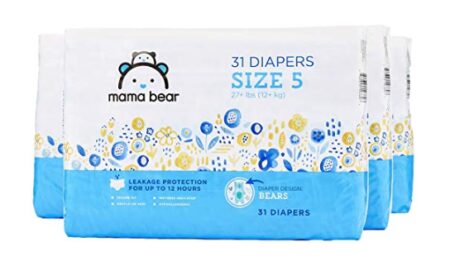 5. Pampers Pure Protection
Pampers is one of the leading trusted brands for parents and if you're looking to buy pampers overnight diapers these products could be the perfect option for you. Designed especially for babies, these hypoallergenic diapers are free from chlorine and bleaching for reassurance. In size 2, they support babies up to 18lbs and ensure maximum comfort thanks to their cotton-enriched composition. They come with an adorable rabbit print which makes them a lovely choice for either boys or girls. The pack contains 104 diapers, making this product excellent value for money too.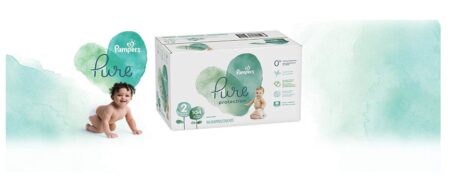 6. Earth Eden Diapers
Providing up to 12 hours of superior leakage protection, these clinically tested diapers are gentle on baby's skin and free from lotions, latex, fragrance, and chlorine bleaching. Thanks to their breathable outer cover, they are designed to help keep baby's skin dry while a cotton-enhanced composition is used to enhance a dryness layer and hypoallergenic inner liner for guaranteed comfort. This product comes with fit-grip technology which provides great fit each time and a soft, stretchable waistbands support an active baby. Available in size 6, they are ideal for babies up to 35lbs.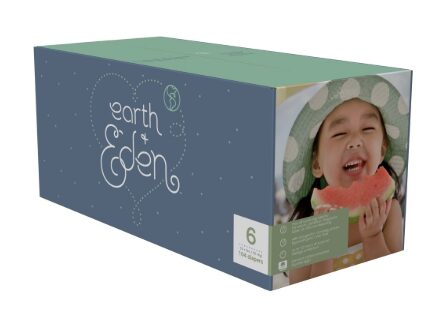 7. Huggies Little Movers
Huggies is one of the leading brands globally when it comes to child's products and, these diapers are just another example of a great product by Huggies. Little Movers Slip-On Diaper Pants come in size 6 which fits early exploring babies over 35 lb. The Huggies overnight diapers come with a pre-fastened design with a diaper on the inside and pant on the outside with a slim, trim fit. They are great for both standing up or lying down and ensure comfortable movement, always. With leak lock technology they ensure up to 12 hours of protection and come with a fun Mickey Mouse design making them great for both boys and girls.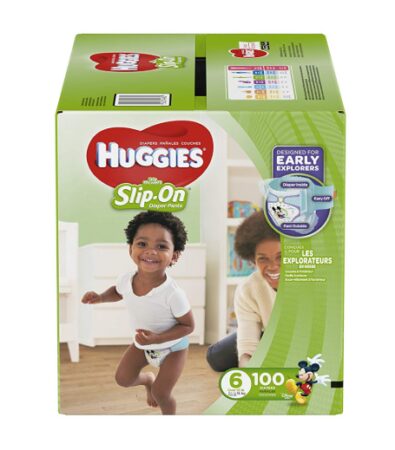 8. GoodNites Boys Bedtime Pants
Looking for the best diapers for a boy? Goodnites stand as the number 1 NightTime protection brand and has successfully helped millions of kids worldwide manage their bed wetting habits. They come with a guaranteed dryness composition and a comfortable fit in a variety of sizes from XS (28-45 lbs) to L-XL (60-125+lbs). Inside the box are 44 pants, making them excellent value for money and they come with a popular Marvel pattern giving your child the support from their favorite superhero!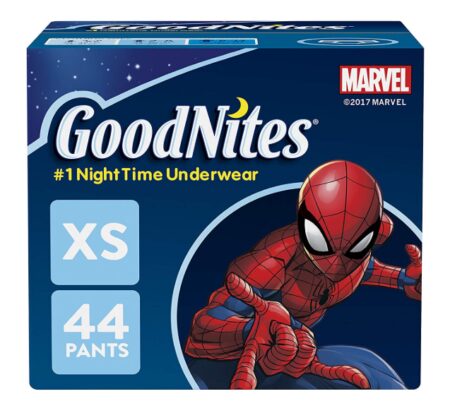 9. Tranquility OverNight Disposable Diapers
These tranquility diapers offer complete tranquility for toddlers who suffer from bedtime wetting. With a powerful absorbent structure, they can be pulled-on comfortably and help bring about uninterrupted sleep making them great for everyday use at home or long travel. Tear-away side seams make them easy to remove and they come in six convenient sizes including small, medium, large, X-large (XL), and 2X-large (XXL). If you're looking for a product that guarantees comfort, breathability, and a snug fit, these are a great option. They come with inner leg cuffs to channel fluids to the core and are free from latex to prevent any allergies from occurring.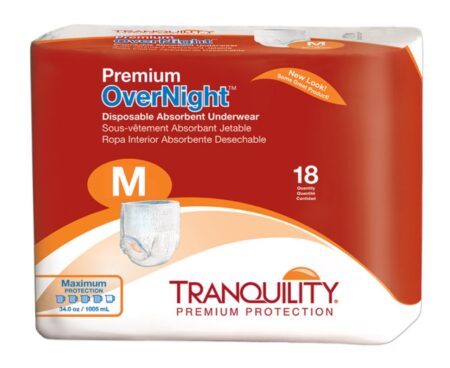 10. Honest Overnight Diapers
Honest diapers are everything you could need from a diaper and more. With advanced leak protection, a secure fit, softness, and comfort – they guarantee a happy baby throughout the night time. Their ultra-thin core technology uses fast absorption to bring about 20% more capacity for overnight comfort and performance, without the need for extra bulk. As one of the safest overnight diapers for toddlers, their secure-fitting moisture barrier cuffs will help to prevent leakage and blowouts. Designed using an ultra-soft plant-based (PLA) inner and outer layer they are gentle on the skin and free from latex, synthetic fragrances or lotions.

11. Huggies OverNites
As Huggies most absorbent diapers, this product comes with Double Leak Guard for up to 12 hours of protection. The snug fit waistband and double grip strips ensure a secure fit every time and they come with a built-in wetness indicator stripe that changes color when a diaper is wet to indicate it's time for a change! A number one bestseller, they're trusted by parents worldwide and come available in different sizes for versatility including size 3 (16-28 lb.), size 4 (22-37 lb.), size 5 (27+ lb.) and size 6 (35+ lb.). Inside this pack, you'll find 24 diapers especially designed for sleep.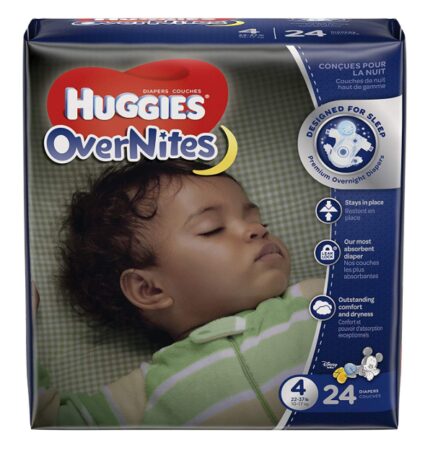 12. Huggies Little Snugglers
Huggies Little Snugglers are a great option for any parent that wants to help their child tackle their bed wetting habit. Great value for money, there are 96 diapers in this pack all of which protect the baby's skin by pulling the mess away when needed. Hypoallergenic, soft and breathable, these diapers allow your baby's skin to breathe and stay comfortable, clean and healthy. The Huggie's leak lock system guarantees the elimination of leaks for up to 12 hours of long-lasting protection and they come with a super handy wetness indicator which changes color when it's time for a change. Free from latex, parabens, lotions and chlorine bleaching, these diapers are another Huggies product that is guaranteed to provide satisfaction all-round.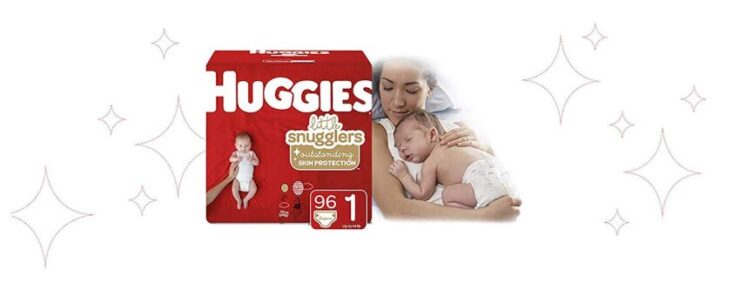 13. Huggies Pull Ups Night Time Pants
These nighttime diapers are one of the best out there providing overnight protection and excellent absorption. Designed for overnight protection, they fit as snugly as underwear and help to teach toddlers the concept of going to the toilet thanks to their pull-on design. With a fun Disney graphic, parents will easily know when to change baby's pull-up as it fades when wet. Easy-open sides make them super comfortable and make changing a breeze. Available in sizes 2T-3T (18-34 lb.) and 3T-4T (32-40 lb.). As one of the best diapers for toddlers out there, you're guaranteed to have a happy baby every bedtime with the introduction of this product.


14. Pampers Training Pants
Searching for a trusted brand and diaper pants that are quality? If so, why not try these Pampers training pants for your little one? With a 360º stretchy waistband which gives an underwear-like fit, they're easy for toddlers to pull up and down and come with extra absorb channels which provide excellent protection against leaks both during the day and night. Composed of super soft cotton-like material, they won't cause any rubbing or rashes. The easy-tear sides designed to help make removal easy and they come with a cute Thomas The Tank Engine design making them one of the best diapers for boys out there. In the pack, you'll find 56 diapers making them great value for money too!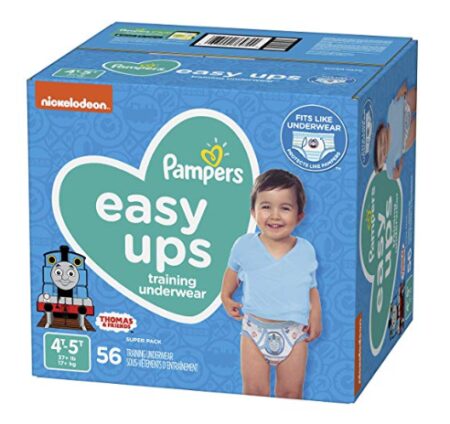 15. GoodNites Bedwetting Underwear for Girls
Bedwetting can be an embarrassing habit, especially for older girls. If you're hoping to find a product to help with this, these Goodnites bedwetting pants may just do the trick. A popular brand, Goodnites make discreet products that help little ones from a young age to older children too. Having helped over 10 million kids worldwide tackle the habit, this overnight underwear will keep your child dry and is 40% more absorbent vs leading 4T-5T training pant. With odor-absorbing technology, these pants eradicate embarrassment and make going to bed a more relaxing activity. Available in clothing sizes 8-14, they're suitable for girls of various different weights and sizes.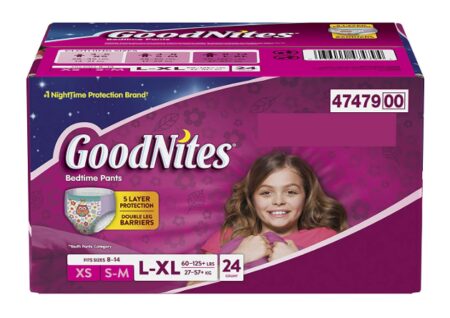 16. GoodNites Boys Underwear
There is such a thing as a cool designed bed wetting product and these Goodnites boys underwear is proof of just that! Helping to keep bedding dry and reduce any embarrassment associated with the habit, these pants absorb up to 40% more than other similar products. Offering outstanding protection in any sleeping position they're made especially for kids aged 4 and up and clothing sizes 4-14. In this pack, you'll find 27 sets of pants that will ensure a great night's sleep for the boy who needs them.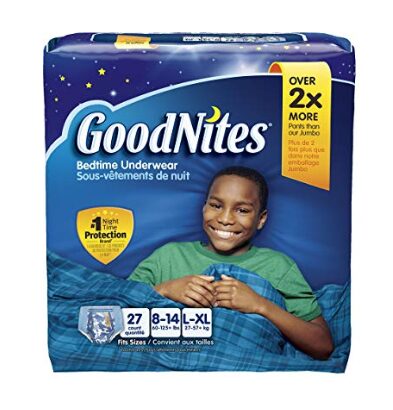 17. Pampers Swaddlers
Looking for a mega-pack of night diapers for babies? In this Pampers set, there are 88 products, making them a great option when it comes to value. 2x softer than an average diaper and with up to 12 hours of protection, these swaddler pants are trusted by parents worldwide. They help prevent wetness and mess and have built-in air channels which allow breathability for maximum dryness and comfort. With an indication strip, you'll know exactly when to change baby's diaper too!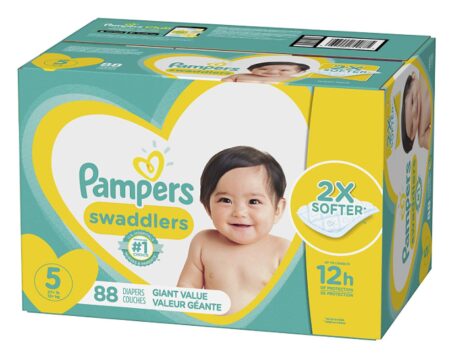 18. GoodNites Overnight Underwear Elena of Avalor
Even princesses need diapers, sometimes! These Goodnites branded Elena Avalor pants are great for little girls who have a bed-wetting habit. The underwear is guaranteed to keep your little one dry overnight and will cut out any wetness and discomfort caused. Easy to pull on and take off, they are a great alternative to other pants out there as they provide 40% more protection than other similar products. Available in various sizes: XS (28-45 lb.), S-M (38-65 lb.), L-XL (60-125+lb.), they're sure to bring about a better night's sleep!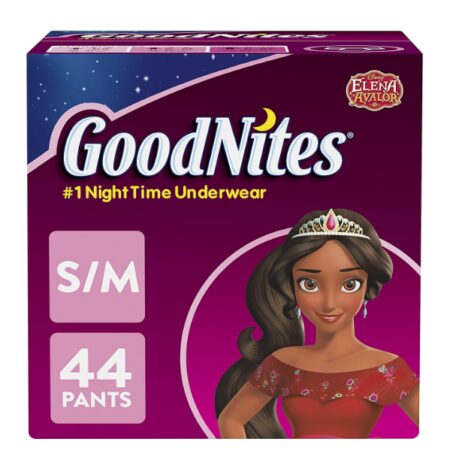 19. Huggies Snug Diapers

Offering up to 12 hours of protection, these Huggies diapers come with a cute Mickey Mouse design and fit babies from 8 to 14 lb. Their trusted leak lock system ensures maximum dryness and a handy wetness indicator is great for knowing when a baby needs to be changed. With four layers of protection, these pants are designed to absorb moisture quickly and come with a comfortable quilted liner roo. Inside the box you'll find 112 snug & dry diapers, making them great for if you're looking to stock up!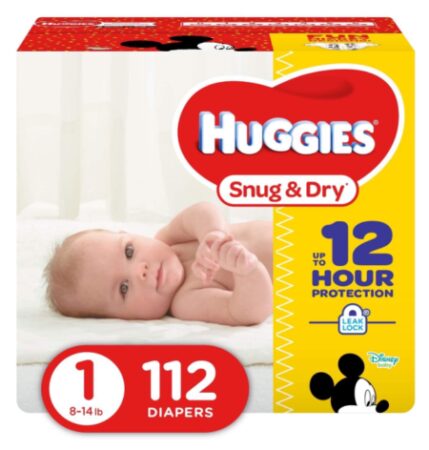 Best Buy Overall
Wondering what are the top overnight diapers? As you can see from the range of products above there are various different designs and types all of which depending on the age of a child and their needs. For babies, you'll want a product that provides maximum support all of the time. We've therefore selected the Huggies Overnites pants as the best buy overall. They're great for helping little ones to have a comfortable night's sleep and are designed to be soft and kind to baby's skin. Designed to stay in place, they are the brand's most absorbent diaper and come with a cute Mickey Mouse design making them perfect for either boys or girls.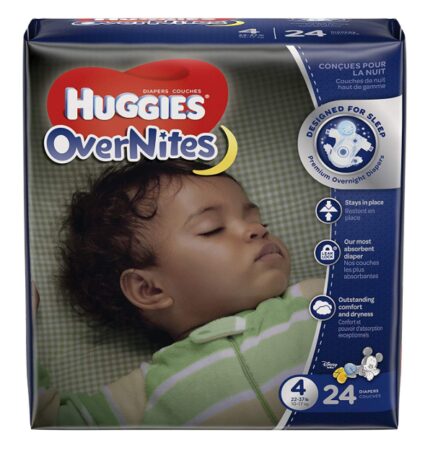 Best Budget Pick
When it comes to working out which diapers are the best, sometimes it simply comes down to budget. If that's the case for you – we have you covered with our best budget pick! Offering outstanding value for money, these Pampers swaddlers are designed by a trusted brand and are 2x softer than comparable diaper products. They offer up to 12 hours of protection meaning that you can rest easy knowing your baby or toddler is dry and comfortable while they're sleeping away. This box contains 88 diapers meaning you can stock up and provide your child with a good night's sleep, every night.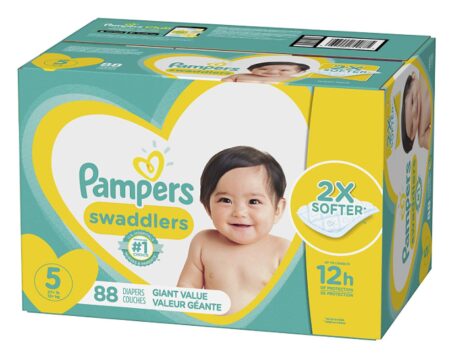 What are the Best Overnight Diapers for Toddlers?
If you're looking to buy nighttime diapers for a toddler, you may be left wondering which option really is best. It can be difficult to pick apart the different features to ensure your child has a good night's sleep when it comes to bedwetting. With that said, the best type of diaper for a toddler with overnight use in mind are the pull-up types which also promote part of a toilet routine with the way in which they are worn.
There are lots of products above to choose from that feature this type of design, all of which are focused on providing maximum comfort too. Whether you're buying for a toddler girl or boy, we'd recommend choosing a trusted brand that has good reviews. Pampers and Huggies are two brands that are trusted by parents worldwide making them popular choices when it comes to diaper products. For fussy toddlers, there is a range of products that also feature cool designs such as Mickey Mouse and other characters from popular series.
What are the Best Overnight Cloth Diapers?
Cloth diapers are a great natural alternative to branded diapers that you can buy in supermarkets and, they're better for the environment. If you're looking for an overnight cloth diaper, however, there are a few things you'll want to keep in mind. Most parents worry about the level of absorption protection that cloth diapers offered VS traditional shop-bought products. The good news is that there are various cloth diapers that will keep your baby comfortable and dry!
You can add doublers to a cloth diaper if you are concerned about leakage, however like that of the products listed above they too will provide up to 12 hours of protection in some cases. Hemp and bamboo are two popular materials for cloth diapers this is because they are tightly knit making them super absorbent at the same time. A microfiber insert or cotton prefold can be used which are easily rinseable and offer breathability at the same time.
Conclusion
It's not always strictly babies that require night time diapers, that's why so many brands have designed comfortable pants for children of older ages too to wear during sleep. Bedwetting is common amongst many children and it is a habit but one that can be shed with time. It's important to provide your child with support both emotionally and with the relevant products and, diapers can do just that.
Available in a range of styles, you're sure to find a  comfortable product for your child to wear during their nighttime sleep or day time naps. Most of the products above provide up to 12 hours of support which make them fantastic ways in which to help build confidence when it comes to shedding a bedwetting habit.
Check out more related articles: