Every parent has to take care of the dirty diaper and like most parents I know they want to make sure their child has the best on the market because all that mess can get irritable and sore. The average child soils at up to ten times a day, so having the right diaper can make all the difference to their well-being.
Most moms and dads share this responsibility of diaper changing, it's no easy task, and finding the best disposable diapers for newborns will make the labor-some task a little less time-consuming, because when you're going through a couple hundred diapers in the first month alone it makes sense to get the right diaper for the job.
This review will look into the best diapers that are disposable, for sensitive skin, easy to use and making the messy job a little less hassle. I have put together my top 3 diapers to make sure you get your child the best care both in terms of comfort, ease of use and overall superior quality.
Considerations When Choosing the Right Diaper for your Baby
Choosing your diaper is confusing and there is a lot of noise out there screaming about which is best, but in my view their needs be a little more clarity for those mothers feeling overwhelmed with decision making, so baring this in mind I decided to find the top 10 baby diaper brands and whittle it down to just a few of my favorite, but here are some considerations to factor in before deciding.
How Many Diapers Will You Need – Newborn babies soil loads and some parents, new to parenting, find it astonishing just how much, but most probably you already know this, however maybe you didn't realize just how much you can save by buying in bulk and saving a small fortune, which is always good, plus you won't run out of diapers which saves time and money. The maximum newborn soils up to 10-12 times a day, so making sure your fully stocked will ensure some peace of mind.
Best Diaper Size – Size range varies and there are loads of charts to highlight the difference between age/size, so make sure you check before finally deciding. Newborn size is usually ideal for up to 7-8 kg and 1-2 months in age.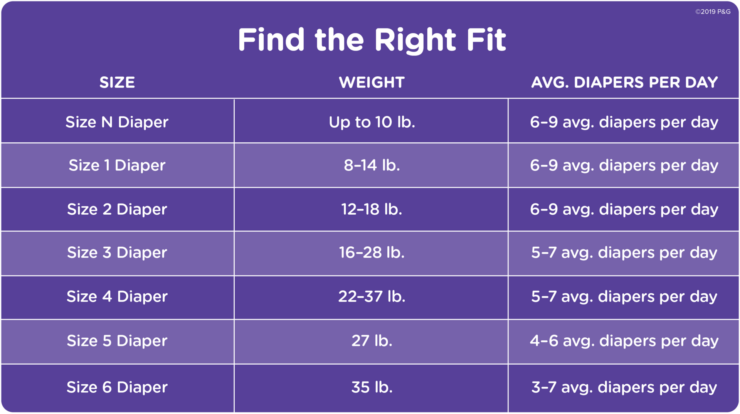 Right Price for Budget – Each brand of diaper has different prices and the general rule is the more environmentally friendly the more expensive, simply because of the materials used in manufacturing. HOWEVER…buy in bulk reduces this to make it affordable for those worried about getting the balance of doing the right thing and price.
Heavy or light Absorption – Some babies are heavy wetters and need the right diaper to accommodate, so although this might take some time to figure out it is good to be aware of this.
Environmentally Friendly – Some prefer and others less so, but go with whatever suits and both choices will be fine..
Other Factors – Having a diaper disposable items list can sometimes help with finding the right amount of healthy bowel movements occurring with your child, because sometimes constipation has been known to cause serious problems and can be an early warning.
Top Picks & Reviews
1. Aleva Naturals Bamboo Baby Diapers
This diaper is made for a baby's comfort and moms ease of us and to ensure a reduction in the allergy-sensitive babies. This will help those mothers who have sensitive little ones and need the utmost care or just indulgence.
These are environmentally friendly diapers and make the disposable part less damaging and as the growing trend of health-conscious mothers arrives the demand seems to be on the increase for them. Personally, I think this is a great concept and makes for sustainability in things that are disposable more accessible for parents.
These are super-absorbent and will last for overnight use, but also ideal for daytime and day trips.
There is a limited amount of chemicals being used in this compared to others and for those mothers concerned about the overabundant use of them can rest assured that they are not in this diaper.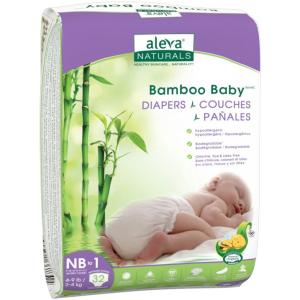 2. Pampers Infant Snug Diapers
Pampers is virtually a household name throughout the world and has been in the business of making diapers for babies since I can remember and this has caused them to get pretty good at it too.
This diaper is for newborn babies and made from a highly disposable material, which is ideal at such times when a baby is going through 200+ diapers per month. The good news is that the channels extra are extra absorbent and will ensure to distribute moisture for up to 12 hrs.
The U.S.A mainly use these diapers for their ability to be easily disposed of, price and functionality. This is an indication to the high standard of disposable diaper pampers are offering here. There is an awesome indicator that tells you to need to change and is a unique and awesome feature.
There are many medical disposable products out on the market, but having a diaper that can be environmentally friendly is important and pampers do their best to ensure they maintain high standards to last the test of time.
This pampers diaper is highly absorbent and makes for maximum comfort when in the early stages of soiling. The lining of the diaper misses the umbilical to ensure comfort and space to heal.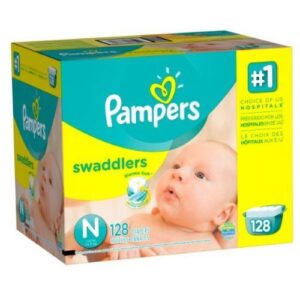 3. Huggies Newborn Snug & Dry Diapers
This snug diaper is designed for newborns and can fit 6 – 9 pounds up into the 12-14 region, but it depends on your individual child.
I think these diapers are awesome and offer an easy to use and dispose of design, with the triple layer of protection any wetness won't leak out. However, when the diaper is done, simply slip off and wrap up and then into the bin it goes, which is super quick, easy to dispose of and gives you more time to focus on getting the next diaper on.
With 12 hours of protection, this diaper can help with eliminating those odors and keep your baby get back to comfort. Both diapers in this review have similar time with protection
These have been medically proven to be safe to dispose of and can be easily
Huggies have been around for a while, similar to pampers and offer a similar tight snuggles fit. The elastic around the waist is easy to use, easy to take off and makes traveling super-easy.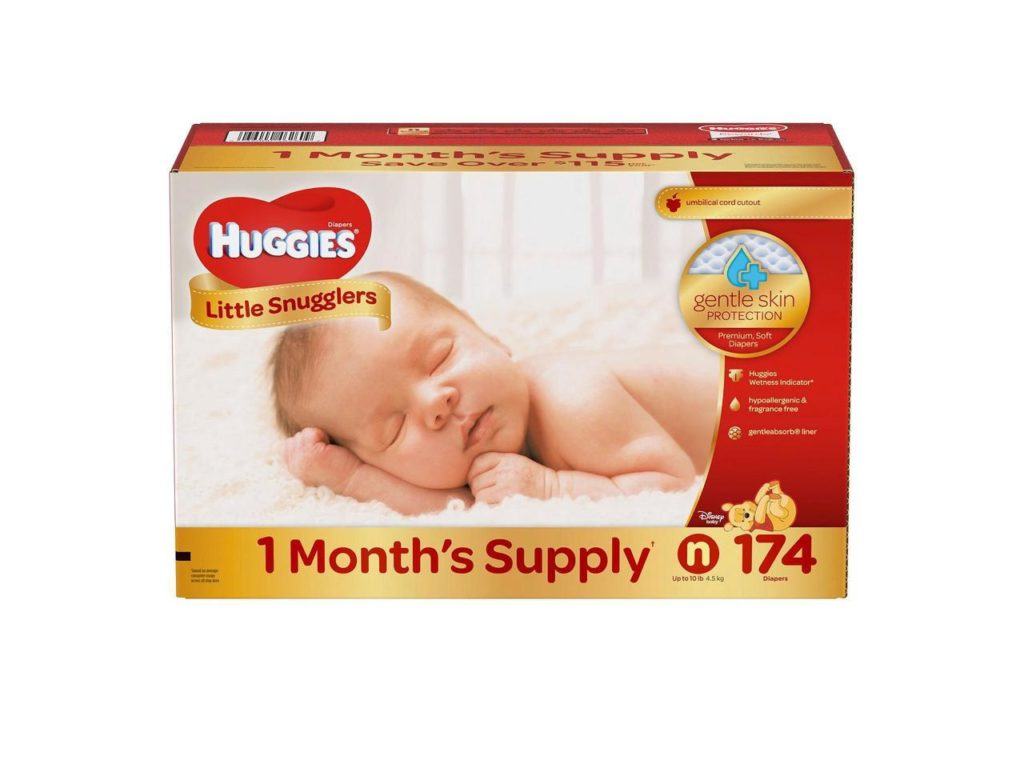 4. Andy Pandy Diapers
These diapers for sensitive skin are perfect for babies who suffer from diaper rash. They can help parents save money,  as they are less likely to leak meaning you won't use as many, and there will be less laundry. Parents will also save money on ointments, as baby will be much less likely to suffer from rashes.
The bamboo diapers are super-soft and can help regulate temperature so your baby's bottom doesn't get too warm when wearing the diaper for long periods. The diapers are environmentally friendly too – bamboo is a renewable resource which grows quickly and without the use of harsh chemicals.
The diapers come in sizes small-large, meaning they can be used by babies weighing as little as 6 pounds. They also have a wetness indicator – a yellow line which turns to blue when the diaper is wet. This means you can quickly and easily see when your baby needs to be changed.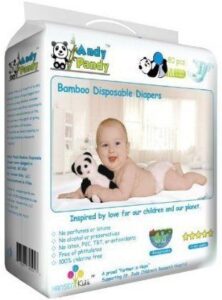 5. Luvs Newborn Diapers
This huge box of Luvs Ultra Leakguard diapers offers excellent value for money. They are super soft for newborn baby's delicate skin and will ensure your baby feels dry and comfortable whilst wearing the diapers.
Luvs newborn feature a wide fastening area, and tabs which can be refastened to ensure the perfect fit every time. The Leakguard core is highly absorbent, to ensure no leaks, day or night.
Luvs overnight diapers are great for keeping baby dry and comfortable all night long. If you do start to experience leakage at nighttime, it's a good idea to try the next size up for night use only, whilst continuing to use the smaller size during the day.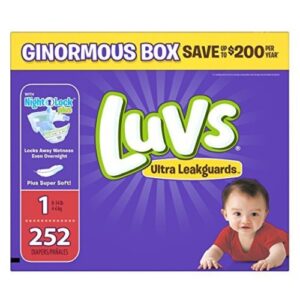 6. Seventh Generation Diapers
The 7th generation diapers feature an ultra-absorbent core, perfect for sensitive newborn skin. The diapers are hypoallergenic and fragrance-free, and the core is produced without the use of chlorine bleach.
Seventh generation newborn diapers are ideal for containing leaks. They have double leg cuffs and a flexible waistband to ensure a perfect fit with minimal leakage. The sizes from newborn – 2 have a quilted liner to help protect young babies' skin. The diapers are ideal for environmentally conscious parents – they are made from sustainably sourced materials.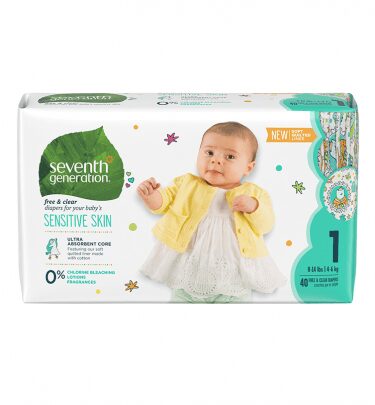 7. Honest Company Disposable Diapers
Honest newborn diapers are suitable for babies weighing up to 10 pounds. They feature a super-absorbent core to keep baby clean and dry all day or night. The core is made up from pulp harvested from sustainable forests, making these diapers a great choice for those who are concerned about the environmental impact of disposable diapers.
Honest Company newborn diapers are soft on baby's skin, making them ideal for sensitive newborns. They have secure-fitting cuffs to help prevent any leaks or blowouts, meaning you will save time on laundry and diaper changes, and have more time to spend having fun with your baby.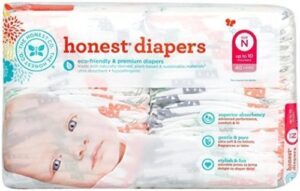 8. Babyganics Newborn Diapers

Babyganics diapers come with a wetness indicator, so you can see at a glance whether or not it's time for a change. They also feature soft and stretchy sides to ensure newborns are comfortable when wearing the diapers for long periods.
Babyganics diapers size 1 can be used by newborn babies weighing between 8-14 pounds. Babyganics overnight diapers are perfect for keeping your baby dry and comfortable all night long. They are designed to fit perfectly and offer high levels of absorbency.
Babyganics ultra-absorbent disposable diapers are environmentally friendly and are great for newborn babies' delicate skin. There are no petroleum-based lotions, dyes or scents in the diapers, nor do they contain any chlorine. They are also not tested on animals, making them a perfect choice for parents who care about protecting animals too
.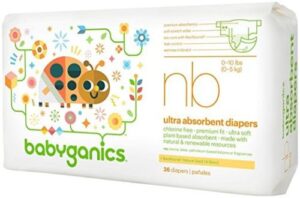 Best Overall Pick
The one in my mind that stands the test of time as being the one that will ensure your child's happiness both in the immediate comfort, but also the long-term is the "Pampers Infant Snug Diapers". I say this because it offers all the same comfort as the others diapers but includes a sustainable element, comfort, and reliability.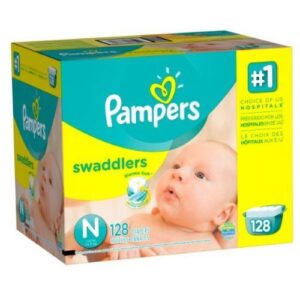 Find out which are the best selling diapers for infants on Amazon right now: