Toys and play time are important for the development of all toddlers when they are 15 months old, as well as being great for providing kids with entertainment. At this age many toddlers have begun to take their first steps or are nearly ready to become mobile, so toys that enable kids to be active and to improve their balance are ideal. Some toys will even provide support to help kids learn to walk making them suitable for pre-walking kids. Toddlers go through many different growing stages when they are 15 months old, so toys that are appropriate for this age are also perfect for encouraging the development of hand eye coordination and motor skills, which are all essential skills for kids to learn. This is a great age for you to interact with your toddler through play so you want to ensure that you have provided them with suitable toys that they will enjoy, enabling you to make the most of the time that you spend with them.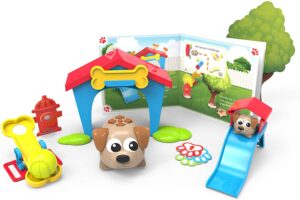 There are a large range of toys that have been produced for toddlers to use, so it can be difficult to decide on the best toys for young boys and girls to play with. When making your decision you should look for toys that are brightly colored and appealing for young kids, to ensure that they get plenty of use from it. The toy should also be durable, as toddlers can be rough when playing and you want to ensure that they are safe for them to play with. If you want to take the chosen toy travelling with you then you should ensure that they are an appropriate size and are easy to carry, so they can be conveniently transported when needed.
Top Toys for 15 Month Old 
This guide will take you through the best toys for toddlers who are 15 months old so that you can make the perfect choice for your toddler.
1. Fisher-Price Animal Farm Playset
Every toddler will enjoy playing with this with Caring for Animals Farm Playset by Fisher-Price as it has exciting activities to complete and fun sensory sounds to listen to. This is every babies ideal first farm set as babies will love interacting with the Farmer Jed figure and playing with the pig, chicken, horse, and cow with her calf. Many 15 month old baby toys will be played with once before being discarded for something else but this amazing Fisher-Price set will not be one of these toys. Babies will get plenty of use from this long lasting toy that is perfect for all toddler play. While playing with this great farm set kids can put the cow and calf to bed at night, hatch the chicks through one press of a discovery button, listen to songs and animal noises and turn the silo to collect corn for the animals feed, providing endless fun. All toddlers will love this toy, which is full of discovery and perfect for their development.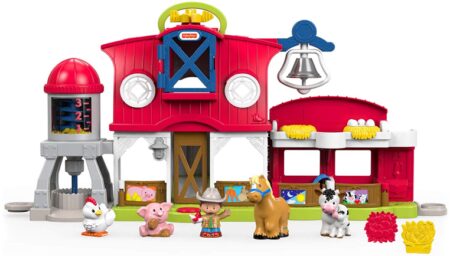 2. VTech Flashlight
There are many good learning toys for 15 month old toddlers but this VTech Spin and Learn Color Flashlight is one of the top education toys for young kids. This flashlight has an appealing bright yellow color that both boys and girls will love. Toddlers will also enjoy the wide range of functions that this flashlight offers, so there are plenty of activities to keep your toddler occupied. With 5 different rotating rainbow colors for toddlers to enjoy, along with songs, numbers and animal sounds this will quickly become every young kids favorite toy. The flashlight requires 2 AAA batteries, which are included in the set so this great toy is ready to be played with straight away. There is an auto turn off function which switches the toy off after 45 seconds of inactivity, perfect for preserving battery life. VTech are a popular toy manufacturer and their high quality toys are enjoyed by all toddlers and this fantastic flashlight is no exception.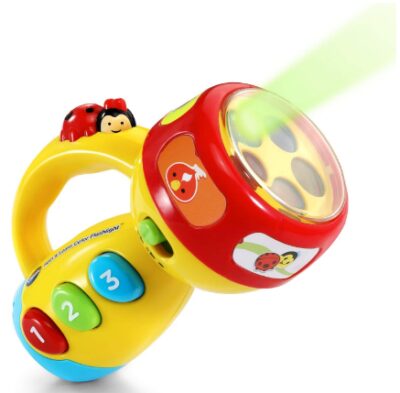 3. Dimpl Fat Brain Toys
For an appealing interactive toy that toddlers will spend hours playing with you should look no further than this great Fat Brain Toys Dimpl Baby Toy that is perfect for occupying every baby. This sensory bubble toy is even one of the best toys to distract toddlers during appointments making it a toy that every parent should have. This bubble toy is made from food grade silicone so you can be sure that is safe for young kids to play with and chew on, as all toddlers will enjoy tasting every toy. For added safety this toy is also BPA free so you can be sure that your toddler will not come into contact with any nasty materials. This is the ideal toy for encouraging toddlers to develop their motor skills and they will love holding this toy and pressing at each of the fun bubbles. This toy may have a simple design but it is perfect for keeping all toddlers busy.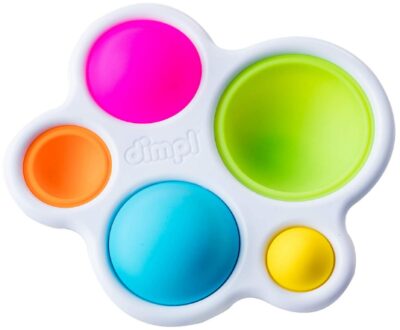 4. Keys for Toddlers
Every toddler loves playing with keys and their parents keys are often used as a chew toy and rattle, making it easy to misplace your important keys. However, this fantastic Fun Keys Toy for Toddlers makes the perfect toy to ensure that all parents can get their car keys back while guaranteeing that toddlers are still entertained. This key ring and keys set comes with 3 keys and an exciting interactive key ring with flashlight and sounds. You can be sure that this great key set is safe for your young kid as it is BPA and phthalates free, as well as being made from non-toxic materials, so toddlers can chew on these keys as much as they like. There are 2 AAA batteries included with this toy so it can be played with as soon as the packaging is opened, ensuring there are no disappointed kids. When looking for toys for their toddler boys and girls then these Fun Keys are top of every parents list.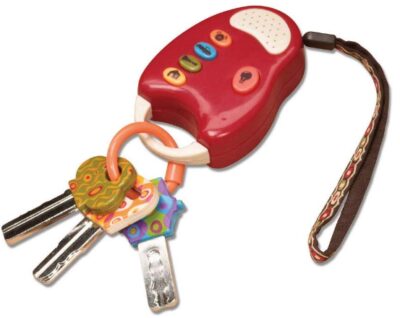 5. Melissa & Doug Toddlers Jumbo Animal Puzzle
Melissa and Doug are a leading kids toy brand that is much loved by parents for their well designed toys and this Large Farm Puzzle is no exception. Kids will love playing with this delightful puzzle that is one of the top 15 month old toys, so you can be certain that your toddler will get a lot of use from this toy. Toddlers will enjoy the bright farm animal puzzle pieces that match with the animal picture underneath, which helps kids place each piece. There are even large puzzle handles to ensure that small hands can pick up each puzzle piece easily. This wooden puzzle makes a fun toy for all toddlers that is great for their motor skills as well as introducing kids to farm animals and the sturdy design of this puzzle ensures that this toy has been made to last. This lovely puzzle toy is perfect for all young kids to enjoy and it will provide them with entertainment while they match the correct shapes to the puzzle board.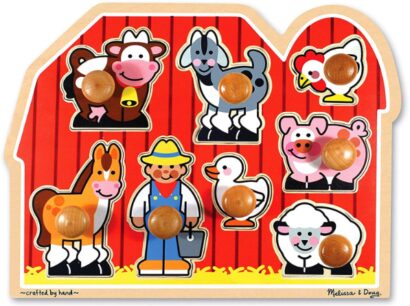 6. LeapFrog Toddler Tablet
Toddlers love mimicking their parents so they will love this Leapfrog My First Learning Tablet which allows them to play and learn in a safe environment. Leapfrog are a leading producer of learning toys for 15 month old toddlers so can be relied on to produce high quality toys. This great tablet will be a favorite with toddlers as it has all of the functions of a real tablet with a home button and apps for kids to activate but comes with none of the online risk that a real tablet brings. While playing with this tablet toddlers will be introduced to letters, numbers, colors, animals, shapes and much more, ensuring that this lovely toy provides endless learning opportunities. Young kids will have hours of fun playing with this appealing tablet while enjoying unlimited lights and sound displays. This is a perfect gift idea for every toddler.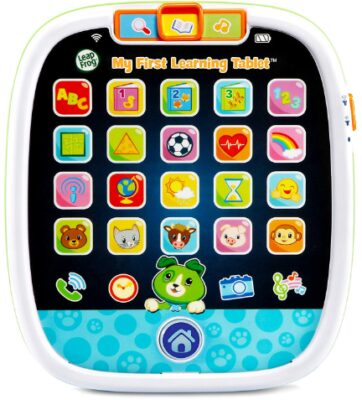 7. Fisher Price First Steps Walker
Toddlers are going through a period of great development and parents want toys that will support this development to give their kids the best start in life. Fisher-Price have a Brilliant Basics Stroll-Along Walker that is ideal for helping toddlers learn how to walk, while also providing stimulating toys and music to provide multiple play options. Girls will love to take their dolls or teddies for a ride in this appealing pink and white stroller, that is sturdy for babies first steps but also great for walking toddlers to play with too. There are great toys on the front of the stroller that younger pre-walking babies will love to sit down and play with so it will provide hours of entertainment for your little one. A great stimulating walker that is one of the top toys for all young girls and will make a lovely gift idea for every toddler.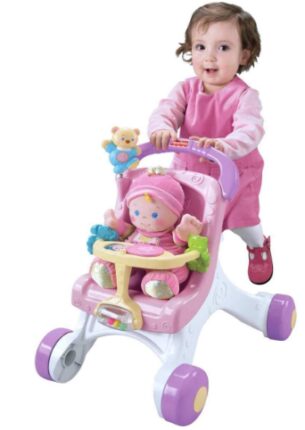 8. Kiddieland Disney Ride On Toy Car
All toddlers love ride on toys as they can get their first taste of independence, so this cute My First Minnie Ride On Toy by Kiddieland is the perfect toy for all young kids who have just learnt to walk. Little girls will enjoy this pink, purple and white Minnie ride on toy with appealing Disney graphics that will be recognized and loved by all young kids. This fantastic ride on toy is sturdy for unbalanced toddlers as well as also having a selection of activity toys including; a tumble roller, ignition key, clock face and peek-a-boo window for exciting entertainment for every young kid. For a realistic driving experience the steering wheel turns and the horn beeps, which kids will love. This is one of the top ride on toys for every young girl and is a great gift idea that every toddler is sure to get plenty of enjoyment from.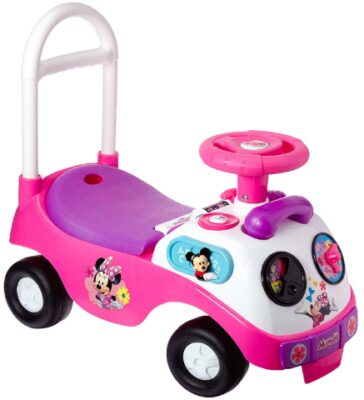 9. Fisher-Price Learning Chair
This is another great toy from Fisher-Price that is the perfect solution for finding a suitable chair for your toddler when at home. This Laugh and Learn Smart Stages Chair is much more then just a seat for your toddler but also provides them with a great learning experience. This great interactive chair has 3 educational levels that you can either set manually or can be left to change automatically after inputting your kids age. When playing with this chair all kids will enjoy over 50 songs, tunes and phrases while also learning about colors, shapes, numbers and words. In addition, this lovely chair also provides entertaining activity toys for your toddler to play with including; a flashing remote control, flip book and lifting chair seat. The brightly colored yellow chair will attract the attention of all young kids and keep them occupied for hours. For all parents who are searching for 15 month old learning toys this Fisher-Price Smart Chair is the perfect option.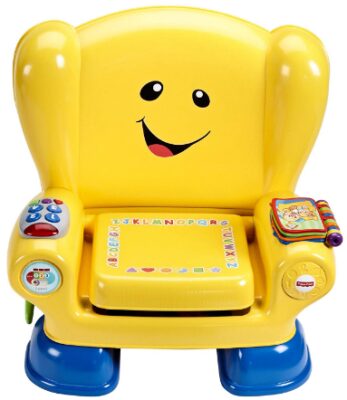 10. First Blocks by Fisher-Price
This Fisher-Price Baby's First Blocks Toy is an essential toy that every toddler should have the opportunity to play with. Kids love sorting shapes so they will especially enjoy matching up each of the 10 colorful blocks with the brightly colored bucket provided. There are 5 different shape options for toddlers to choose from so the toy is simple enough for young kids to play but also stimulating so that it will provide hours of fun. This toy also provides a great introduction to shapes and colors for your toddler giving them a great educational start. The plastic shapes are durable and easy to wipe clean making it one of the best outdoor toys for 15 month old girls and boys to play with. The bucket also has a handy carry handle so it is the perfect toy for taking out and about. This is a great shape sorting game that kids will enjoy playing over and over again.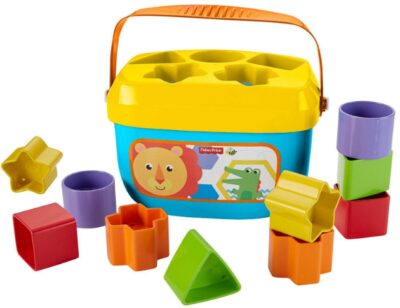 11. Musical Keyboard Playmat
When looking for a great activity toy for your toddler that will encourage movement you should consider this M Sanmersen Piano Mat. This is the perfect gift idea for all older toddlers who have learnt to walk and the fantastic sounds will encourage kids to sing and dance along while also developing their motor skills. Alongside the 8 great piano keys that kids will love to bounce on, this attractive piano mat will also teach kids about animals and colors for a great learning experience. When not in use this piano mat will roll up small, so it is easy to store until it is next needed and is also perfect for travelling with as it is easy to carry. For this piano mat to work 2 AA batteries are required and this clever mat will preserve important battery life as it also has a shutdown function if the mat has not been used in 2 minutes. A great toy for young kids that they will love sharing with their friends.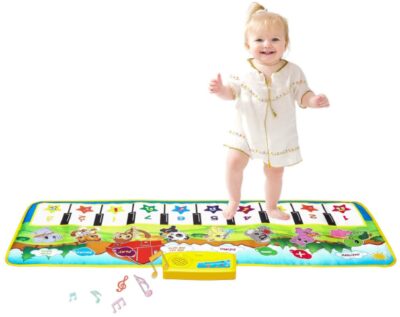 12. VTech Drop & Go Dump Truck
VTech have produced a number of great 15 month old boy toys that are prefect for every toddlers development and learning and this lovely Drop and Dump Truck will not disappoint. Toddlers will love to count the brightly colored rocks into the bucket on the back of the truck before enjoying pushing and pulling the appealing truck. This is the perfect toy for introducing numbers as well as encouraging your toddler to move around and develop their balance. For additional fun there are 3 brightly colored buttons that will play songs and phrases and teach tools and colors that will occupy all toddlers for hours. Once your toddler has finished moving their truck around they can use the hinges on the back of the truck to empty their load before starting the loading process again. This toy requires 2 AAA batteries with demo batteries included to allow all toddlers to start enjoying their toy straight away. This VTech Truck will make a lovely gift idea for all young boys.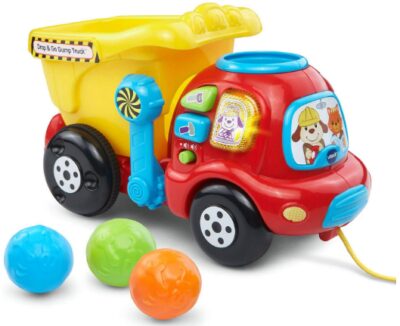 13. Piggy Bank by Fisher Price
This Fisher-Price Laugh and Learn Smart Stages Piggy Bank is a clever toddler toy that can be set at either stage 1 or 2 to provide age appropriate learning for all kids. This smart technology means that kids will get plenty of use out this great toy as it will grow with them as they develop. As toddlers get older the stage 2 setting will expand on songs, counting and colors by introducing kids to different Spanish words and encouraging kids to perform different actions. The lovely toy also comes with 10 brightly colored coins that will teach kids about counting and animals as they place the coins inside the piggy bank. For continuous play the coins can be removed from the piggy bank so that the fun can start again. With over 40 songs and phrases to enjoy there is endless fun to be had from playing with this fantastic toy and both boys and girls will love exploring this great Smart Stages Piggy Bank.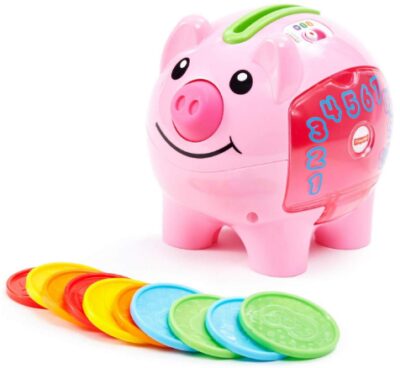 14. Ball Drop Swirling Tower
If you are looking for a toy that will occupy your active toddler for more than a few minutes then look no further than this great 5 Layer Ball Drop and Roll Swirling Tower by Cool Toys. This toy has a simple design, with the ball traveling around each layer before dropping down to the layer below but kids will be mesmerized by the route that each ball takes before it reaches the bottom. All toddlers will want to repeat this exciting game over and over again. For added excitement each clear ball contains a different colored shape with multicolored beads inside giving fantastic added effects to the rolling experience. There is no BPA found in the high quality PVC used to make this toy, so you can be sure that it is safe for kids to play with and that they will not be exposed to any dangerous materials. For convenience the tower is easy to assemble and take apart for compact storage and it also makes the toy great for traveling. All toddlers will love playing with this fascinating toy over and over again.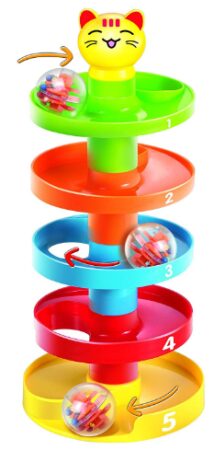 15. Bubbles Square by Buckle Toys
There are only a few toddler toys that are suitable to use both around the home and while travelling, so this makes this Buckle Toy Bubbles Square an essential toy for every toddler that is great for keeping them occupied while confined to their stroller and also while waiting for appointments. At 6.5 inches square this lovely toy can be attached to the stroller or easily carried in your bag, so you will always have it to hand when needed. Toddlers will love the buckles that they can learn to fasten and undo which will also encourage them to develop their fine motor skills. There is also an easy glide zip pocket that is perfect for toddlers to play with. Kids will find the character face on one side of the square friendly and appealing so this will quickly become your toddlers favorite toy. On the other side of the toy there are numbered flaps that are great for introducing counting with a different animal underneath each one. This is the perfect toy for every busy toddler that is ideal for keeping them still so you will not want to be without this special toy.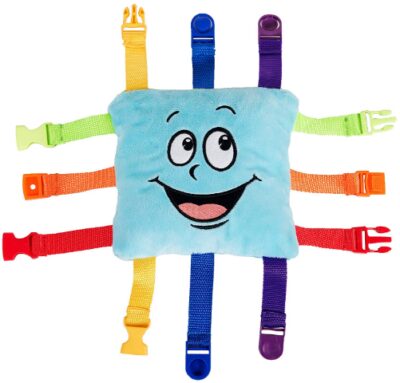 Best Overall Pick
This Laugh and Learn Smart Stages Chair is our best overall pick as it is a great functional chair that all toddlers will love to sit on as well being a fantastic educational toy. This Smart Stages chair has 3 different learning settings that will be chosen depending on your kids age, so this toy will grow with your toddler. Kids will love playing with the activity toys that are included with the chair while also enjoying over 50 songs, tunes and phrases. This is the perfect educational toy for all toddlers that will introduce them to a variety of topics including; numbers, words, colors and shapes, so this is an amazing toy for occupying toddlers.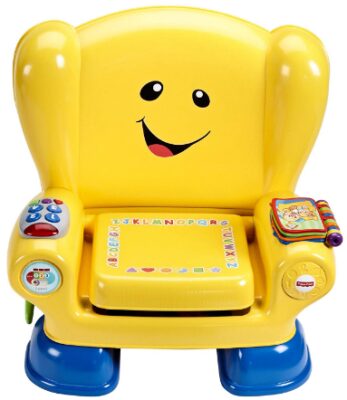 Best Product Buy
Our best product buy is the Laugh and Learn Smart Stages Piggy Bank as it is the ideal toy for all toddlers to play with. There are 2 educational levels that this toy can be set at depending on your toddlers age, so it will be a much loved toy that lasts a long time. This brightly colored piggy bank comes with 10 coins that can be used to introduce your toddler to numbers and animals and once all of the coins have been slotted into the piggy bank the coins can be easily removed so that the fun can start again. This lovely piggy bank will quickly become your toddlers favorite toy.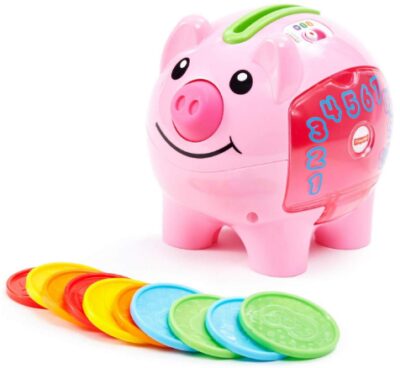 Baby Toys Reviews