Young babies are developing quickly and their early experiences can be important for their development throughout their life. 10 month old toys are an important part of how children at this age learn, play being the most effective way for children to learn something new. For each stage of a babies development there are different toys that are suitable for that age, so many parents often ask, what toys are good for babies that are 10 months old?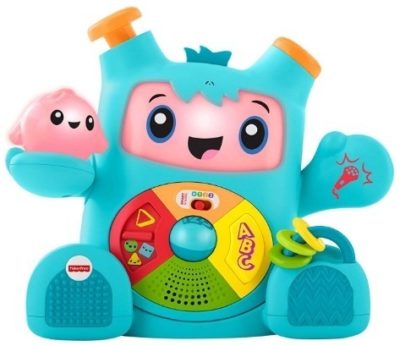 With a wide range of toys on offer from simple wooden toys through to interactive activity centers, it can be difficult to choose age appropriate toys for 10 months old kids, especially when trying to pick a long lasting toy that will grow with your child. This guide will take you through the best baby toys available to buy and answer everyones top question – what are the most popular 10 month old baby toys?
35 Top Toys for 10 month old baby
1. 3 In 1 Activity Turtle Gym by Infantino
If you are looking for a great toy that will grow with your baby then look no further than this Infantino 3 in 1 Activity Turtle Gym, which also includes 40 colorful lightweight balls. Suitable for use from birth, this makes a perfect gift for baby at 10 months old. For the younger baby the lie down gym is perfect for encouraging tracking of objects as they enjoy watching the brightly colored sea pal toys. As your baby learns to sit there are great mesh sides that can be added to make a fun ball pit.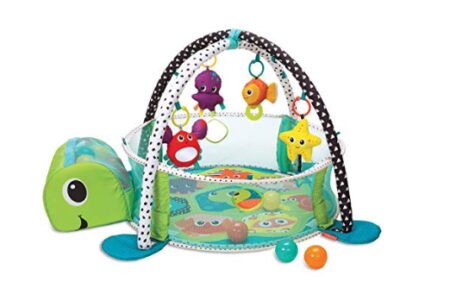 2. Wooden Zoo Activity Cube
A toy that every toddler will love playing with, this Wooden Zoo Activity Cube will provide hours of entertainment. There are 5 exciting sides of fun, with activities for a baby to do that will aid the development of fine motor skills including, puzzles, doors to open and bead mazes to follow. This durable brightly colored wooden zoo themed toy will stand up to all childs play and last for many years to come.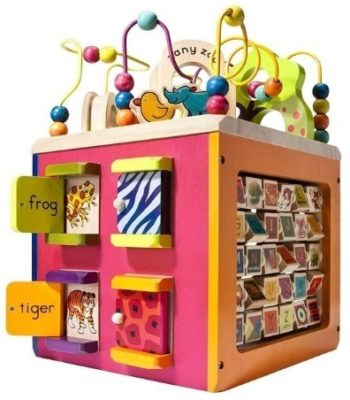 3. Colorful Activity Baby Center
This 3 in 1 Colorful Activity Baby Center is a great toy for keeping baby entertained and it can be adjusted as baby grows and develops. Every child will enjoy the bright lights and funny sounds along with exploring the 15 different activities. This is an lovely baby gift for all parents that should be included with the essential baby stuff for babies that are 10 months old.  There is a spin round seat for younger babies that can be adjusted to the height of your child and once your child is walking the seat can be removed, providing a long lasting fun activity table.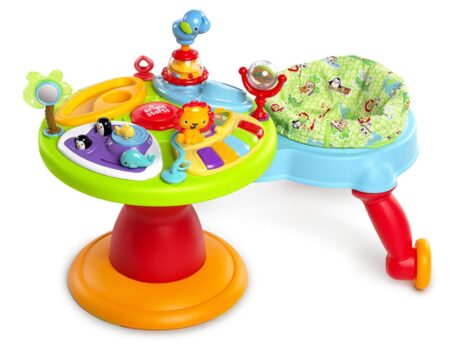 4. Pop Up Toy Activity by Playskool
This Playskool Pop Up Activity Toy is a great toy for a baby that is 10 months old, which will encourage development and learning through play. Introduce your baby to exciting new shapes, colors and animals with this peek-a-boo pop up toy with easy to open and shut doors. Your child will learn different motor skills with the push, pull and twist switches that trigger the different animals to pop up. This is the perfect toy for little hands to play with that will provide hours of fun.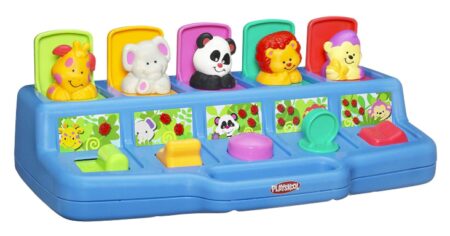 5. Yellow Giraffe Spining
Another great toy by the popular toy manufacturer Playskool, this Yellow Giraffe Spinning toy is perfect for entertaining your ten month old baby. Simply press the giraffes head and watch the colorful ball pop and spin. Young children will love watching the balls move and enjoy repeating the game. A fascinating game that will be a favorite with all toddlers and will be played over and over again.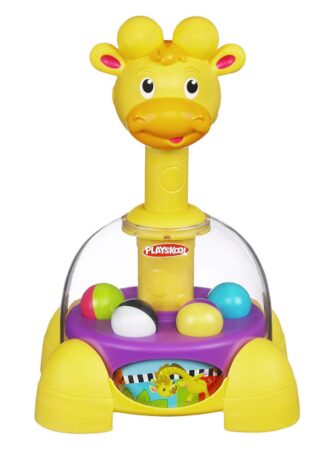 6. Educational with Music Cube Center
If you are looking for the best educational toy for a 10 month old girl then this WolVol Musical Activity Cube is the perfect option. With 15 different activities included there is always something new for your baby to explore. It is a great sensory toy with its bright colors, fun lights and sounds and has also been designed to aid the development of your childs motor skills. This durable activity cube makes a lovely gift idea for a young baby.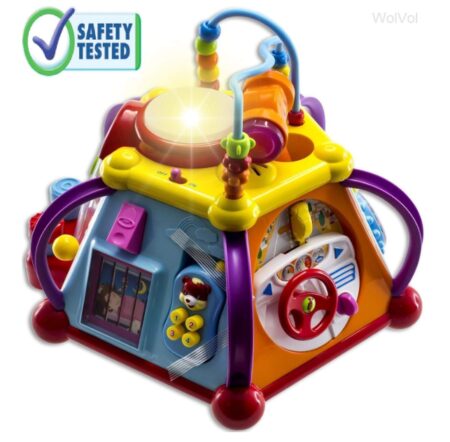 7. Eggs Matching
An exciting Hide and Squeak Eggs toy by Tomy, everyones favorite toy producer. This is one of the best toys for all 10 months old that will provide hours of fun. These durable plastic eggs can be opened to reveal a cute chirping chick inside, with each chick a different appealing color. This toy will encourage your child to match colors and identify shapes and makes a great learning toy for all young babies.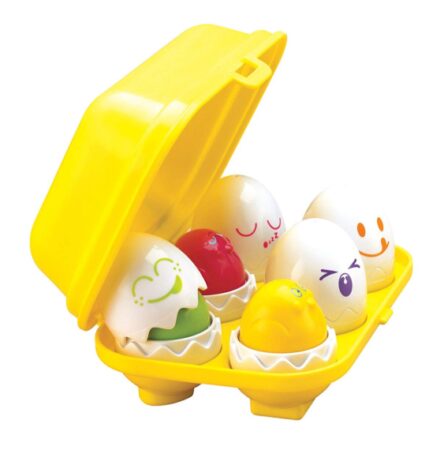 8. Discover Colorful Book By VTech
This VTech Rhyme and Discover Book is the perfect first nursery rhyme book for your baby. There are 7 classic nursery rhymes for your child to discover with 3 fun light up characters to share the journey with. A great durable book with easy to turn pages that is a great introduction to language and reading. This parent friendly book has a volume button for quiet play and a shut off button to preserve battery life when not in use.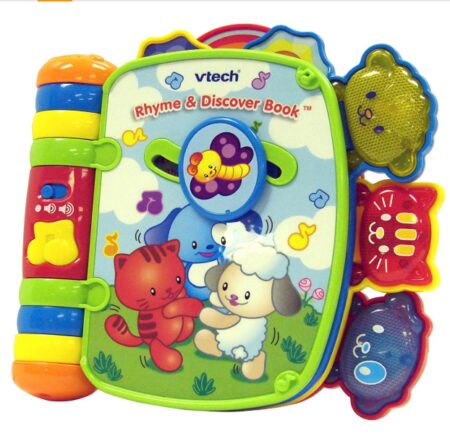 9. Rattle Car by Bright Starts
A great first car toy for your baby at 10 months, this Bright Start Rattle Car is perfect for small children. A durable toy that is BPA free and will provide hours of entertainment with its various exciting colors. Each wheel contains an additional surprise with its sensory beads producing a fun rattle sound. Every surface is suitable for teething so it is a safe toy for your young baby and with its simple shapes it is easy for small hands to handle.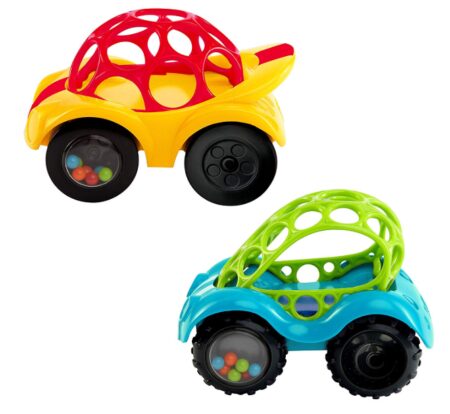 10. Green Dragon Teether and Toothbrush
This Dragon Teether and Toothbrush is ideal for a baby at 10 months old that they will enjoy chewing on when teething. A carefully designed toy that is easy for little hands to hold and safe for babies. This appealing teether is dishwasher safe so is easy to keep clean and is made from non-toxic materials giving all parents piece of mind that this is a good quality product. Perfect for soothing sore gums, as it can be frozen for additional relief. Every baby needs one of these great teethers.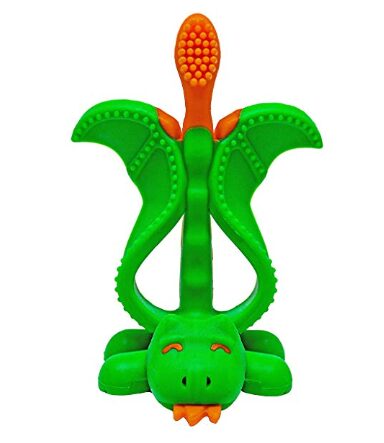 11. VTech Monkey Beats Colorful Drum
A great first activity toy for your baby, this VTech Monkey Beats Colorful Drum is ideal for teaching cause and effect. The animated monkey will move and hit the drum alongside your baby for additional excitement. With 2 different play modes including learning and music, this toy will provide hours of fun. There are over 70 songs and phrases included so this toy will never get boring. Introduce your baby to colors, animals and sounds with this exciting interactive toy.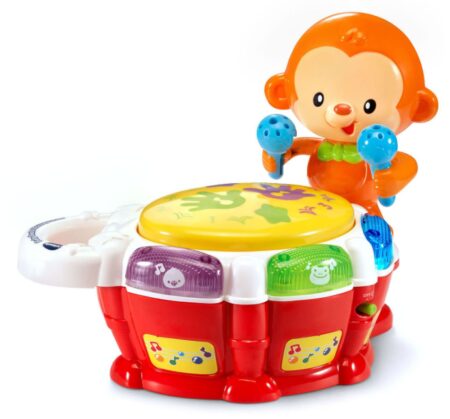 12. Rattles And Teethers Pack by iPlay iLearn
A great value toy set, this Rattles and Teethers Pack by iPlay, iLearn includes 10 different toys all safe for a young baby to play with. Each toy encourages motor skill development and make great sensory toys with different sounds, colors and textures. Each toy is durable for long lasting play and is BPA free so is safe for all babies. With the great variety of toys included this set will provide endless fun for your baby.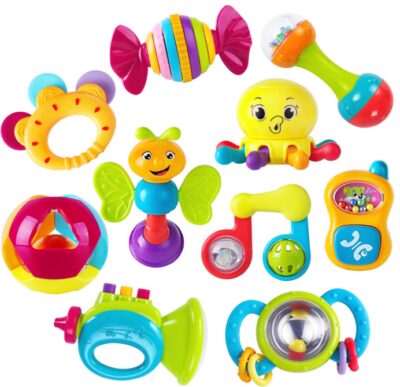 13. Smart Ride On Red Car
This Smart Ride On Red Car by Fisher-Price is an exciting 3 in 1 toy that is one of the best gifts for young baby boys and girls. For young babies the car makes the perfect bouncer that can then progress into your baby's first walker. The car also turns into a brilliant ride on toy so the options for fun are endless. With the bright interactive dashboard your baby will love playing with their Smart Ride toy.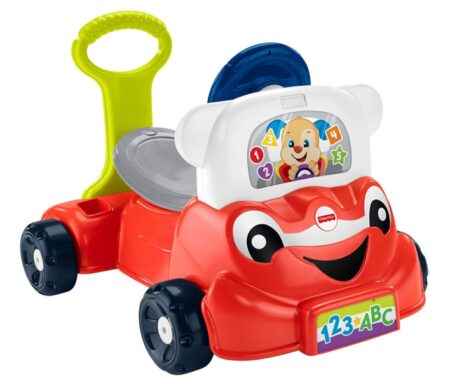 14. Strolling Telephone by Fisher-Price
Another great toy by everyones favorite toy producer Fisher-Price. This Strolling Telephone Toy is a classic toy that every baby should have. With ringing sounds and numbers to dial every child will love playing with this charming telephone. It is perfect for encouraging imaginative play and babies will spend hours talking on their telephone. A great gift to mark your special baby's 10 month old milestones that they will continue to enjoy playing with as they get older.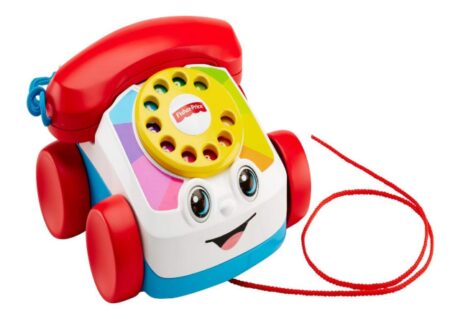 15. Suction Grip with Theeters
This Grapple Suction Grip Toy Holder is perfect to combat the toy throwing stage and save every parent from the repetitive game of picking the toy up off the floor. The toy holder comes with a strong suction grip that can be used on any smooth surface so is perfect for high chairs. There are 3 tethers to hold 3 toys so all of your baby's favorite toys can be attached. Every new parent will love the time saved by using the Grapple.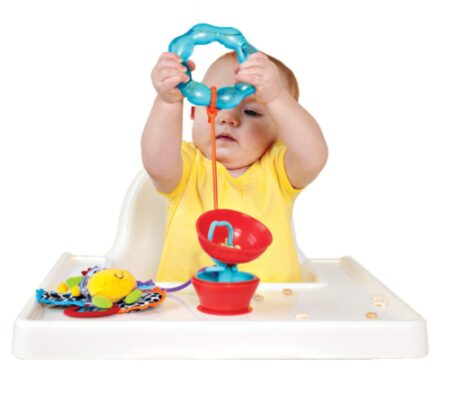 16. Remote with Lights by LeapFrog
If you are looking for a toy for a baby that loves playing with remotes then this Scout's Remote with Lights Toy by LeapFrog will be sure to become a favorite. With over 65 songs and responses this toy will keep your toddler occupied for hours. There are plenty of bright lights, shapes and numbers for your baby to explore making it one of the best things to entertain baby in their crib.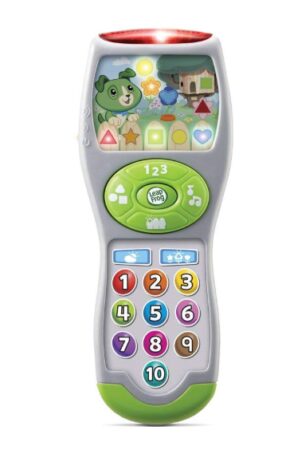 17. Baby Blue Bicycle
The Baby Blue Bicycle by Ancaixin is every babies perfect first balance bike. Designed especially for babies who are just learning to walk, this bicycle is ideal for building up leg strength and developing balance early on. With limited steering, to prevent falling off and wheels that are safe for little feet this bicycle is one of the best gifts for 10 month old boys. The comfy seat is suitable for a long duration of use making this bicycle great value.

18. Tent with Large Tunnel by UTEX
If you have an active toddler who loves to explore then this Tent with Large Tunnel by UTEX is the ideal toy for them. The set comes with a square tent, tepee tent and a large tunnel that can be used to connect the tents together, making a great play area. This durable tunnel set makes a perfect ball pit area or maze providing hours of fun. A lovely toy set that is ideal for young babies who are learning to crawl and walk.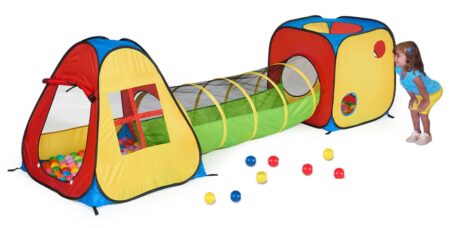 19. Deluxe Educational Workshop
When choosing toys and items for baby boys this Deluxe Educational Workshop should be top of your list. There are a great number of activities that this workbench toy includes; from counting numbers to sorting shapes and with exciting songs played for each activity there is fun to be had by everyone. This is the perfect educational toy for developing fine motor skills so it is the ideal gift for toddlers that they will love playing with.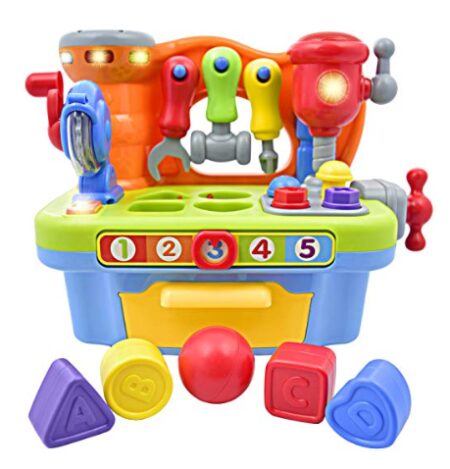 20. Shape Sorter by Melissa & Doug
This exciting Shape Sorter is by everyones favorite toy producer Melissa and Doug, who are known for always producing top of the range childrens toys. A great game for toddlers that is compact and suitable for travelling. This 2 in 1 game set comes with a padded case that has 9 shape sorting blocks on one side and exciting crinkly flaps on the other side. Toddlers will have endless fun playing with this great value Shape Sorter toy.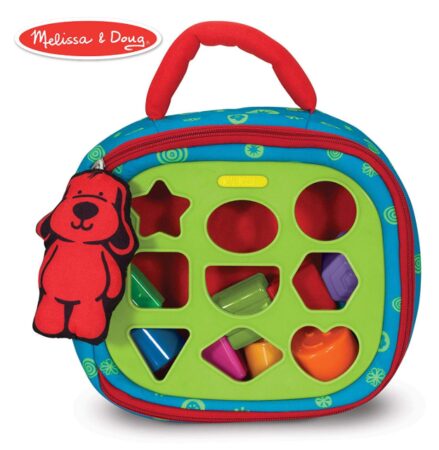 21. Fishbowl with Lights
A fun toy by Fisher-Price, this Fishbowl and Lights toy will be enjoyed by all toddlers. The fish bowl has a wobbly base for added excitement and also comes with 5 brightly colored aquatic animals, which can all be stored inside the bowl. Every time baby removes or adds an animal to the bowl there will be a light show and appealing songs played. The bowl also has 3 buttons that can be pressed so baby can learn the alphabet, count and discover shapes. This toy has many great activities for baby girls and boys.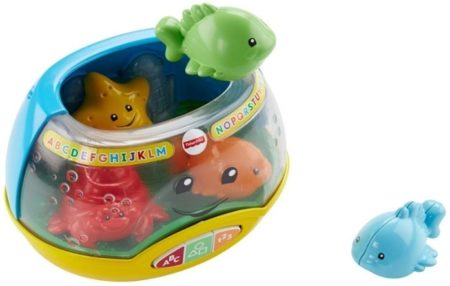 22. Wooden Walker with Orange Fox Blocks by COSSY
This Wooden Walker with Orange Fox Blocks is a great first baby walker by Cossy. It is make from sustainable wood and has non-toxic paint, making it safe for young babies and the rubber trimmed wheels will protect your floors. There are 34 brightly colored blocks included to encourage your toddler to build and develop their motor skills. The handle on this great walker can also be reversed for babies who are learning to walk to make it more stable.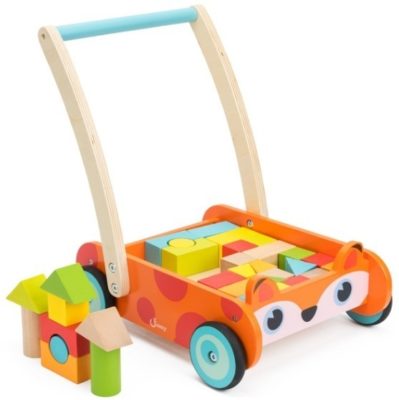 23. White Mini Piano with Microphone
The ideal first musical instrument for any young baby is this White Mini Piano with Microphone. Its small size is perfect for little hands and the high quality finish is attractive for future music stars. This 24 key piano and microphone set also comes with 8 percussion instrument sounds, 22 demo songs and a record function providing exciting musical activities for 10 month old baby girls. A great piano toy that will be a much loved gift.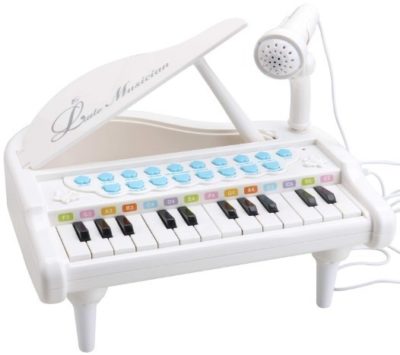 24. Baby Octopus Float with Canopy
This Baby Octopus Float with Canopy is an essential product for every parent that wants to take their baby swimming. A great first baby float that has dual inflation chambers and an inner spring for increased stability. There is a fun octopus included with the set that rotates 360 degrees and can hold the exciting baby toys that also come with the float. This is the ideal float set to help gain all babies confidence when first introduced to the water.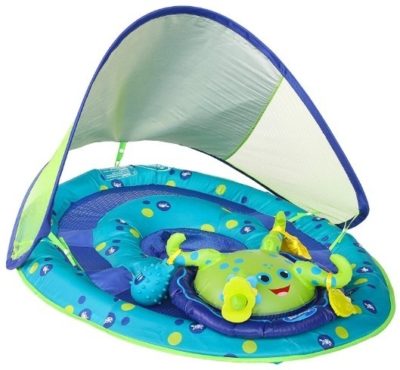 25. Baby Laptop
Get your baby ready to enjoy learning with this fun Baby Laptop by VTech. This is an ideal first laptop toy for every toddler, as it has 9 chunky and easy to operate keys that make the toy look like a real laptop. With over 90 songs and sounds included your baby will love playing with this toy and with 3 different play modes there is plenty of fun to be had. An appealing baby toy that every toddler will love.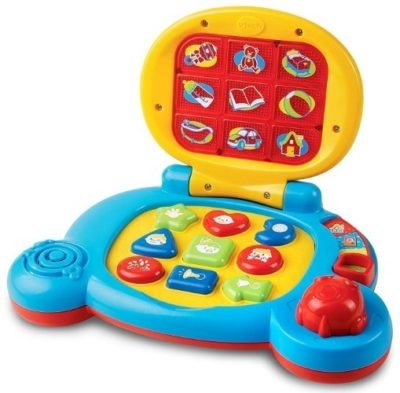 26. Pink Cookie Teether
Make teething a more pleasant experience for you and your baby with this Pink Cookie Teether as it will help to relieve sore and painful gums. This teether is not only practical for baby to chew on but also has a lovely appealing design. With a pacifier clip this teether can be safely secured onto your baby's clothing to prevent it from being dropped or lost. A top quality item that is made from BPA free silicone making it the prefect teether for all babies.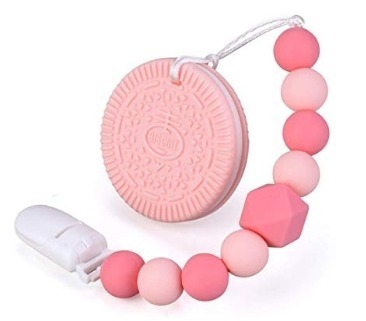 27. Green Turtle Percussion Set by Infantino
This Green Turtle Percussion Set by Infantino is a great set to introduce all babies to music. There are 8 percussion toys included that are easy for babies to hold and play with. Babies will enjoy exploring many exciting sounds from bells to maracas. Once your baby has finished playing, all of the toys can be stored neatly inside the drum.  A great practical music set that is educational and fun.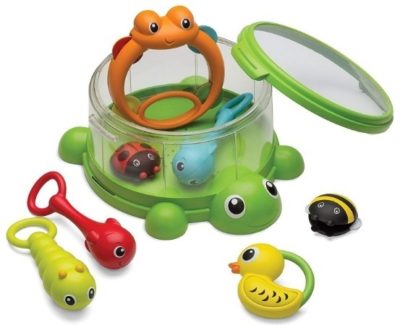 28. Orange PipSquigz Loops
A sensory toy that is sure to become your baby's favorite toy, this Orange PipSqigz Loops by Fat Brain Toys are a simple but entertaining toy to keep your baby occupied. The suction cups on the end of the toy will stick to many surfaces and when removed it will make an exciting pop sound that babies will love. The toy is made from BPA free silicone making it safe for babies to chew so it will quickly become your baby's favorite teether.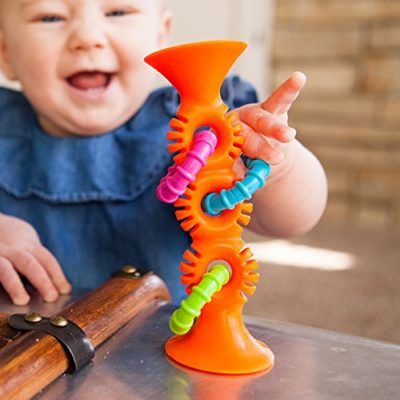 29. Walker with Activity Musical Center
If you are looking for a toy for babies 10 months old then you will not be disappointed with the 3 in 1 Walker With Activity Musical Center by iPlay iLearn. This toy starts as a fun interactive activity center that encourages babies development. It can then be adapted into a stable walker, with 2 speed settings, once your baby is trying to walk. Finally the toy can be adjusted to make a fun drawing table, providing hours of entertainment. A great value toy with endless possibilities.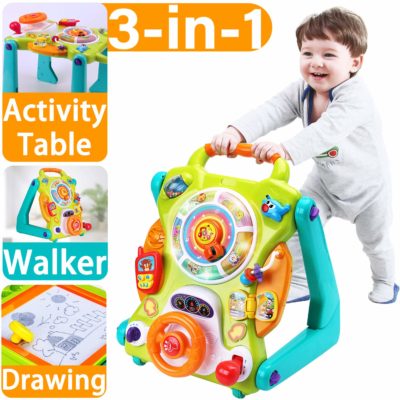 30. Baby Activity Table
This Bright Starts Activity Table is a great toy suitable for every baby. With its exciting jungle theme there are many activities for your baby to explore. The toy can be played with on the floor or made into a table so is suitable for young babies as well as toddlers that are mobile. From rolling balls to noisy piano keys this is a brilliant toy to entertain your baby. With over 60 songs and sounds in 4 different languages this educational toy will introduce your child into the exciting world of learning.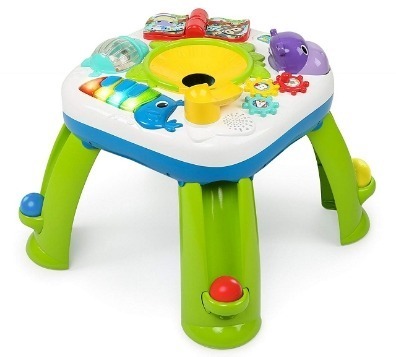 31. Instructional Car Carrier
Another exciting toy by VTech is this Pull and Learn Car Carrier. It is one of the best baby toys for all 10 months old  who love cars. This electronic toy set comes with a car carrier that can be pulled along, 3 colorful cars and 3 cute animal characters. There is also a CB radio that can be removed allowing interaction with the car carrier and an exciting introduction to colors, numbers and music, making this a great toy for learning.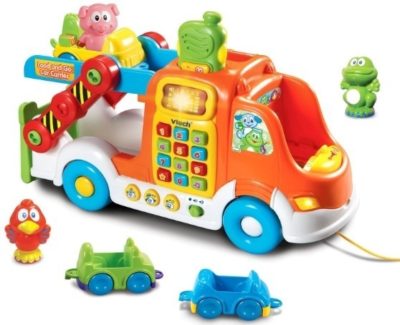 32. Creeping Yellow Worm by Coolecool
The perfect toy for encouraging crawling is this Creeping Yellow Worm by Coolecool. When the worms back is pressed this will result in the worm crawling away, encouraging baby to chase it and to help your baby learn cause and effect. The wheels also contain bright beads that babies will enjoy tracking as they turn and with attractive flashing lights and 6 fun songs included this appealing toy will be loved by every baby.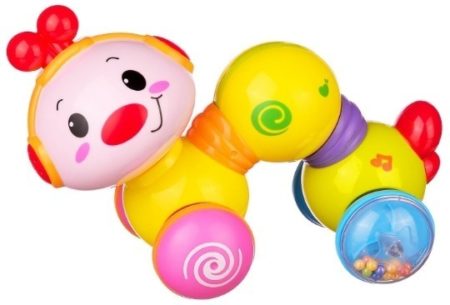 33. Learning Green Chair
This Learning Green Chair by Fisher-Price is the best of the boy 10 month old educational toys and is a great activity chair for toddlers to enjoy exploring. The chair is the perfect size for toddlers to enjoy sitting at and the set comes with an interactive book, musical crayons and light up lamp for added excitement. A fun educational toy that toddlers will spend hours playing with, while also being introduced to the alphabet, numbers, colors and much more.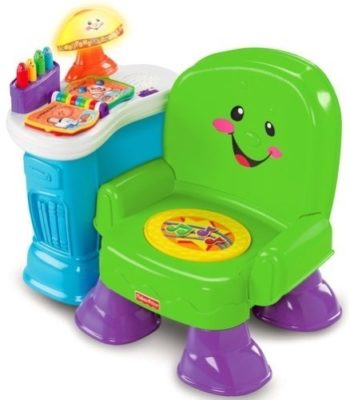 34. Musical Rockit with Glow
One of the top of the range educational toys and cool picks for 10 month old baby boys and girls is this Musical Rockit with Glow Toy by Fisher-Price. With over 100 songs and sounds to be enjoyed this toy will quickly become your toddlers favorite. The textured feet, shape slider and alphabet toggle will encourage your baby to start learning and for added excitement Glow will light up and play music when touched. A toy that will develop with your baby as there are 3 level settings that can adjusted as your baby grows.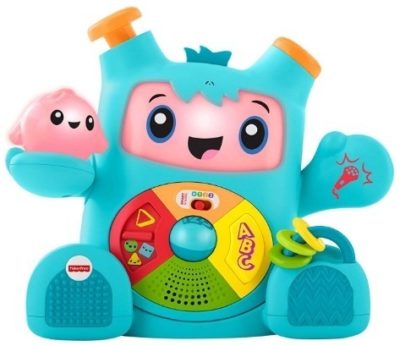 35. Classic Wooden Pounding Toy
A fun Classic Wooden Pounding Toy by Melissa and Doug that all babies will enjoy playing. This simple toy is a favorite with young children as they learn hand eye co-ordination and develop their motor skills. This durable wooden toy has brightly colored pegs that will introduce babies to different colors. A great toy that will entertain all babies for hours as they enjoy exploring the non-removable pegs.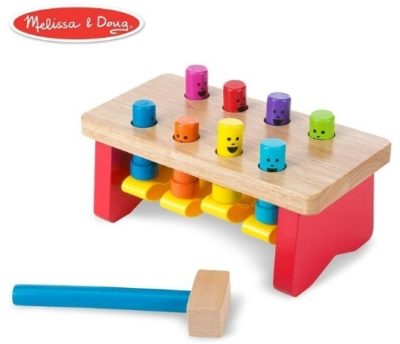 Best Overall Pick
Our best overall pick is the VTech Pull and Learn Car Carrier. This toy is a great option for all toddlers as they can pull the car carrier along, play with the 3 cars and animal characters included in the set or investigate the electronic remote for educational learning. There are hours of fun to be had playing with this brilliant toy.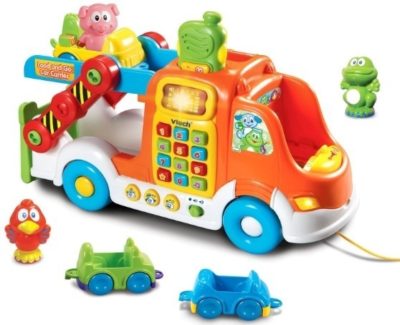 Best Product Buy
The Activity Turtle Gym by Infantino is our best product buy as it can be adapted to your baby's needs as they grow. Starting as an exciting lie down gym for young babies, this toy progress to form a great ball pit for mobile toddlers. With sea pal toys and 40 colored balls included, this set has everything you need to occupy your baby.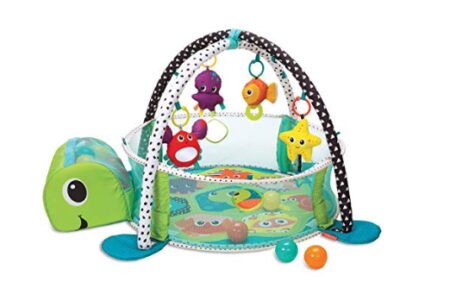 Toys for Babies Aged 1 to 10 months old