Whether it is that back to school time of the year or even if your child just loves art, crafts and all things stationery, you will want to make sure you buy a pencil case for kids that ticks all the boxes. Depending on the age of the child, you might want to get a larger soft case for kids or perhaps an easy zipper pencil bag.
Some parents want a pencil pouch for girls that has their favorite character on the front, or perhaps a case for boys might be in their favorite color. Whatever your pencils need a case can help and this helpful guide will walk you though all the types and designs that are available on the market.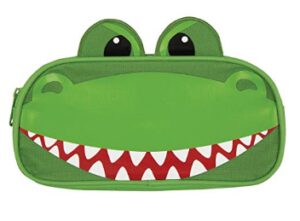 Considerations When Selecting a Kids Pencil Holder
So what do you need to consider when buying the best pencil case that you can find? There is more than you realize to think about. A kids school case has to be durable and one that will last them throughout the school year. The last thing a parent wants to do is have to purchase a second case when they've broken the first one.
A case for junior kids might not need to be particularly large, so size is also a consideration. Making sure it is the right size for them to manage and not so big that they will put too much inside. Materials are also something to think about. You might prefer a leather kids case, or perhaps a wooden one or even a plastic one.
Kids sometimes want a hard case or a soft case. There is so much choice so it is important to really shop around before you buy.
Top Picks in 2023
1. Colorful
 Case with Holder Slot
This is an amazing pencil organizer. A really cool holding case that holds a huge amount of stationery and supplies. It boasts multi-levels of pouches, sections and compartments and can hold around 200 pencils or markers. It is made of really durable polyester material so it will last a long time with your child in school.
It is designed to be easy to insert and remove pens or pencils with helpful elasticated bands that are stretchy and easy to access. It can hold any type of stationery, even pastels, oils or paint brushes too. The makers offer a 30 day guarantee to give you a full refund if you're not happy with the purchase.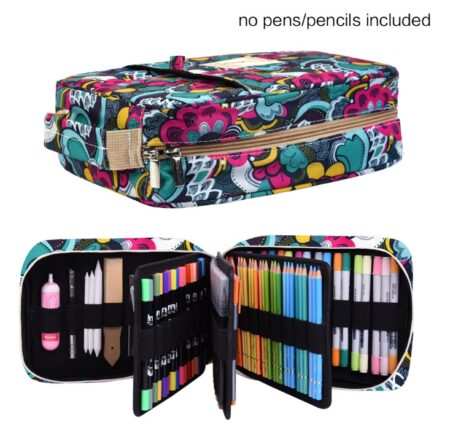 2.
Vaultz Supply Box for Pencils 
This cute pink box is a fabulous choice for stationery , or it can even be used as an iPad case or to keep other keepsakes, valuables or important treasured items inside. Within, it has a helpful mesh style pocket as well as a pencil band that is made of stretchy elastic so little hands can get items in and out easily.
To make it durable and strong, it is reinforced with chrome edging around the corners so it won't easily get battered or bashed. Children will just love the fact that it is lockable so they can keep their items safe and sound. Another really good idea for this case is to keep medicine inside, especially if your child needs medication during school hours and wants to keep it safe but for it to look cool and stylish. Its a win-win.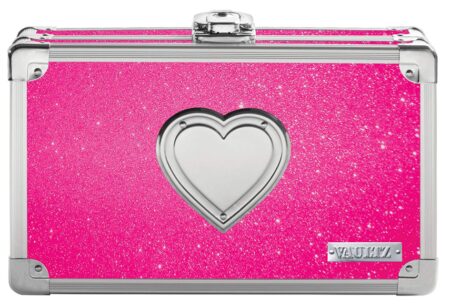 3. Blue Monster Pencil Pouch by ZIPIT
What kid doesn't want a monster pouch? Bright, zany and cheerful this will really excite and entertain your child while also being a really useful item for school. There is one enormous zipper that stretches the entire way around the case and it is made from polyester so it will withstand lots of tough days in school without any wear and tear.
Another great feature (especially for parents) is that it is machine washable so when it comes home covered in pen ink and pencil filings, it can be thrown in the machine again and again.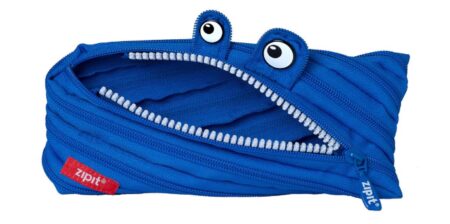 4. Purple Pencil Bag by BTSKY
Available in eight lovely colors this bag is a great choice for all ages. It can hold seventy two pencils and has those helpful elasticated holders so it is easy to insert and remove items as and when you need them. There are three flaps that have double sides so there is no end to the amount of stationery that this case can hold.
There is even a little helpful interior pouch that holds a cell phone or erasers or small blocks of sticky notes. This is a really versatile case.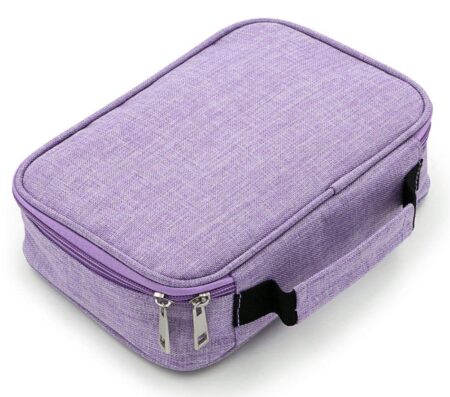 5. Black Pencil Box Case by ZIPIT
A really fun case for boys pencils, this one is sure to raise some laughs. But it is also a really roomy case, holding up to sixty pens or pencils. You can really fit a lot into it, even scissors or small notebooks. It has durable material that will have longevity while your child carries it to school each day.
It has the helpful feature of being completely washable in the machine on a gentle cycle so if it gets stained it can easily be fixed. The quirky, zany cartoon design really appeals to kids so it is bound to be a popular choice.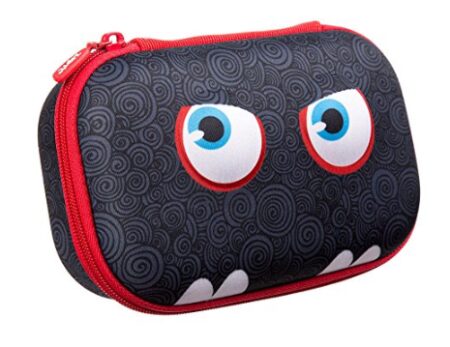 6. Large Blue Pencil Holder by Homecube
This is a well designed zipper pouch for holding pens. It comes in four lovely colors and has load of great areas to keep and store all your items for school. There is a central pouch that allows you to quickly get hold of everything that you need. You can store pens, pencils or even paintbrushes inside.
There is a mesh section that has a zipper which means it is easily opened but also you can quickly at a glance take a look to see what you have inside. The makers say that it can hold over forty pens and you can also hold larger more bulky items such as a small stapler or scissors. It is made from canvas so it is really strong, sturdy and durable.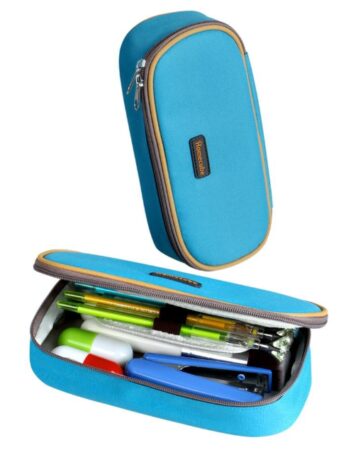 7. Cute Cat Pencil Case Bag by iSuperb
What a cute case! The cartoon cat motif makes this a really desirable pouch for children to bring to school. But not only that, it has lots of other really good features. Because it is made of canvas it is really easy to clean and can be washed if it gets stained.
It can be used two ways, horizontally as a traditional case or it can be used standing up like a pencil pot as it has a telescopic design that helps it turn into a pencil holder.  You just gently push both sides downwards to make it stand up. It will make it a really popular design and it can also hold a good amount of stationery as well.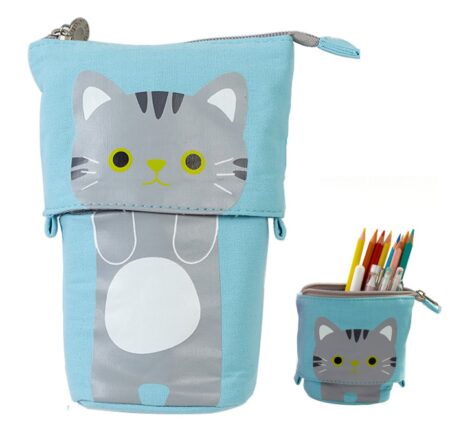 8. Large Pencil Storage Bag by EASTHILL
Available in green, blue or pink this large bag is a great choice if you're looking for a larger soft pencil pick case for kids. It has great flexibility for when you need to find something during class, because it can be opened from the top or the side zipper, making it a really clever design. It has a very large capacity, holding up to fifty pencils or pens as well as other stationery items.
It is even big enough to be used for makeup or medication depending on your needs. Made from linen, it is a different material to other pencil cases so it has more of a special, unique style to it. There are even velcro pockets inside to keep everything easily accessed but also safe from getting bashed about inside the case.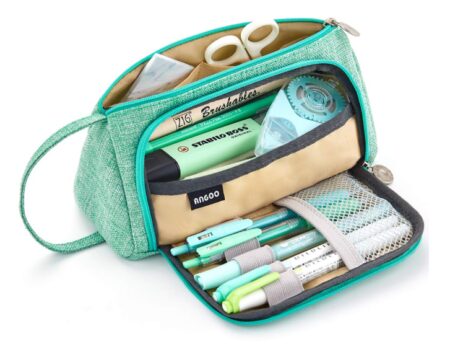 9. Anti shock Unicorn Stationery Box by iDelta
Who doesn't love a unicorn? This cute pencil case pouch is a great choice for children, especially little girls. It is made from very safe material, so parents can be reassured that the case is safe for use at home and in school. Within the case are three separate compartments so you can separate your items according to category and find them easily when you need them.
The zipper helpfully opens the case completely widely so you can access things and see them easily, too. An added bonus for this case is that it come with four lovely pens for your child to enjoy scribbling with for hours on end.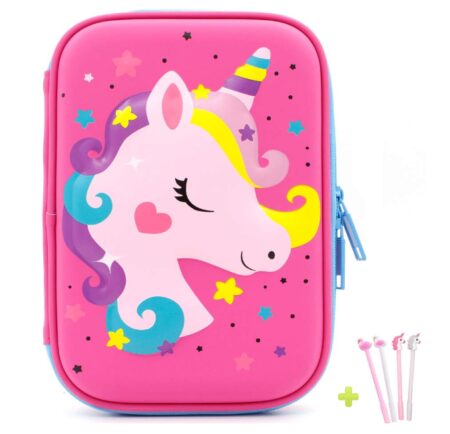 10.
Oxford Fabric Pencil Organizer by
E4go
This case is an Aladdin's Cave of treasures, there are just so many places that you can store all your stationery items. It comes with the case itself, a stencil ruler and a package box, so it would make a great gift for someone who loves stationery or if they are going back to school. This is a pencil case from amazon sell on their website so it can be delivered to your door.
The mesh zipper sections can store paper clips, headphones or other small items. The case is big enough to hold an iPhone also, so any tweens or teens that are cellphone mad will have somewhere safe to keep it stored. The exterior is made of Oxford Fabric 600D which is of excellent quality and very durable. This case also comes with a refund guarantee.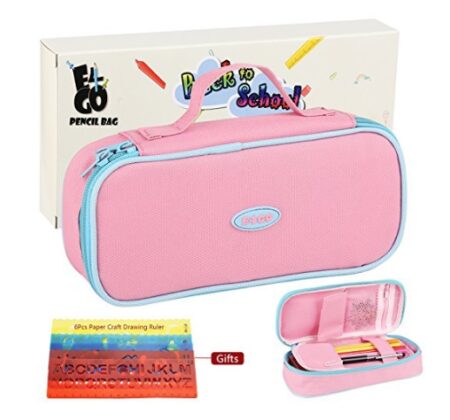 11. Owl Face Pencil Storage Box by JUNIN
This cute owl themed zippered pouch for kids is bound to be popular with children. It isn't too large for them to handle easily in school but it is still big enough to include all that they need for class. The case opens fully all the way round and opens flat on the table so you can easily see what is inside.
There are two layers of pouches for storing of pencils and pens and a slot on the inside of the casing also for several pens. It comes in three colors so there is plenty of choice and because of its reinforced design it won't easily be damaged and the contents inside will be safe and secure.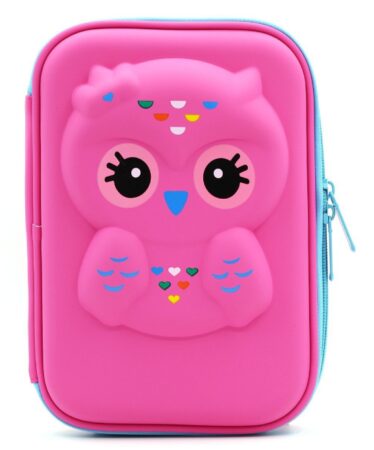 12. Jumbo Pencil Storage Bag by ZIPIT
They weren't kidding when they called this one Jumbo! It's a serious piece of kit and probably best bought for a child who really loves stationery or has need of carrying larger stationery items to school with them, such as a scientific calculator or a stapler.
It comes in six varied and bright zany patterns and has a helpful handle to carry it around on the way to school. It fits over one hundred pens or pencils and has a protective casing made of polyester so it won't crack or break when it is being used for years on end. Another great bonus is that it can even be washed, which isn't typical of larger cases.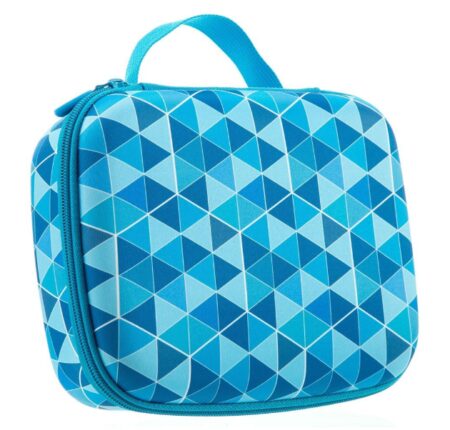 14. Jumbo Camouflage Pouch by ZIPIT
Another over sized pouch that is really useful. It is made of one large long zipper that opens all the way around. What is particularly good about this is that this means you can open it really wide and see what you're looking for without any hassle.
It is made of polyester which makes it really sturdy and durable and will last a long time regardless of how badly it is treated! Another useful feature is that it can be machine washed easily and it will come back to life again each time. Because of its size it can be used to store larger items like a cellphone or larger stationery items.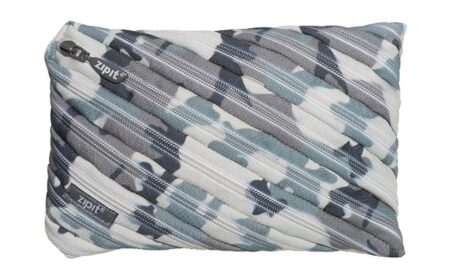 15. Avengers Tin Case for Pencils
A really popular case for boys of course has to be this Avengers tin case. Because it is made of tin it is one of the best pencil case for kids around, as it won't easily be damaged, broken or stained.
The imposing and exciting figures of The Hulk, Captain America, Iron Man and Thor – all Marvel legends in their own right, come together on the front of this brightly colored case. It holds a reasonable amount of pencils or pens and has a clasp closure for security as well as a hinge opening so it can be opened easily to see what is inside.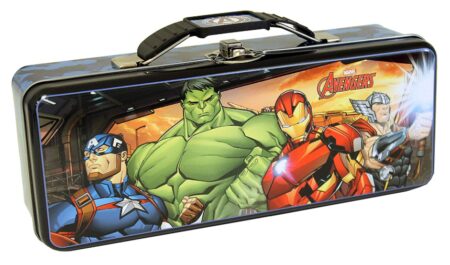 16. Animal School Pouch
A ladybird, a cat, a shark…and many others. This pencil case is available in a wide range of colors and designs in cheerful animal characters to delight and amuse. At the same time though, it is a really useful pencil case and can hold lots of necessities for school. The case has three dimensional elements to add extra fun.
You can store everything that you need for school, pencils, pens, rulers, erasers, sharpeners so there is so much you can keep inside. It is made from polyester so it will last for a long time and will always be durable and secure. It closes easily with a zipper closure so it can be accessed quickly.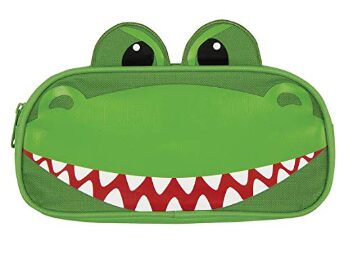 Top Pick
We felt this amazing case was more than just a simple pencil pouch it was an entire organizer that kept everything that was vital to a student or artist in one handy place. The fact that it could hold up to 200 pens or pencils meant that it would be hard to run out of room and that it would therefore last a long time before needing to be replaced.
The various elasticated bands inside would be easy for children to access their stationery with very little hassle. We also really liked the zany and bright design of the durable fabric and the fact that it comes with a money back guarantee.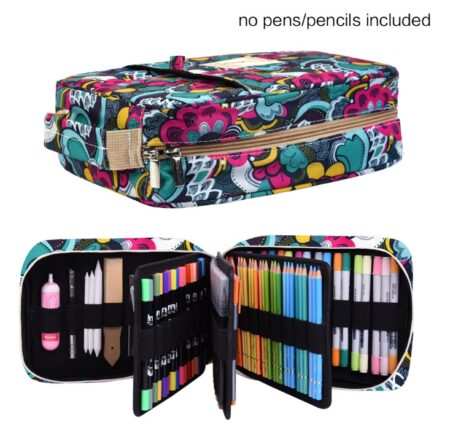 Best Budget Buy
If you're looking for a budget buy then we felt this case was a great option. It just had so many features in the design that made it not only attractive but useful and durable, too. It had a multi-use feel.
Small enough to put inside a backpack and to hold pencils, pens and other stationery, but also versatile enough that you could put your valuables inside, cash, iPad or iPod, medication, cellphone or other special treasures. The best part of the whole design was the locking feature, which would be really popular with kids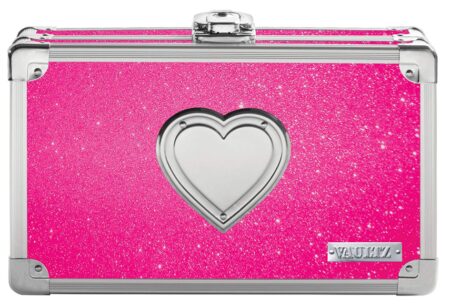 FAQ
How to Make a Pencil DIY Case?
If you're a crafty type and love to make your own things, then it is easier than you think to make your own pencil holder. It can even be really fun and you can get the kids involved in helping out!
You'll need a few things to do this; some cotton quilting for the lining, some cotton fabric for the outside (choose a mid or heavy weight cotton as it is more durable and holds its shape better). You will also need pins, scissors, a zipper, a vanishing pen, sewing machine, a craft ruler and a good quality pair of pinking shears.
Firstly, make sure the zipper is closed. Then put your lining material down on your work surface. Make sure this is 'right side up', especially if that fabric has a design or motif on it. Lay the zipper on top of it and make sure they are lined up correctly at the edge.
Then get your outside fabric but make sure this time that it is 'wrong side up' – don't worry, it will right itself at the end of the project. Pin all the edges together to make sure they don't slip.
Then, it is time to use your sewing machine. Line up the foot of your machine so that the left side is true against the zipper. Using a back stitch, go along the edge until a couple of inches towards the end. Take the work out, remove the pins from the bottom and lift up the outside layer of cotton. Undo the zipper. Then re-pin and do the other side.
The next step is to pin the edges that are opposite the zipper side together. Make sure they are pinned to the lining. Then sew along this edge with a quarter inch allowance for a seam. Feel free to cut off the extra seam if you want to, to prevent fraying.
Then make sure the case is pressed flat so that the zipper is above the seam at the bottom, and undo it about halfway. Sew across this with back stitching – don't worry about sewing over the zipper, this is deliberate. Do this on both ends and turn the pouch inside out and it will be finished!
How to Organize your Pencil Bag
This might sound like a silly thing, but there are ways of organizing a case to make it even easier to sort and find things that you need in a hurry, especially during a class test, exam or a busy lesson or lecture. A good tip is to get a case that has sections within it, so that you can sort and separate your stationery by type and you will be able to find items more easily.
Another tip is to use elastic bands to hold 'like' items together so you can group pencils, pens, highlighters and so on. Another important point is to sort through your case at least once a week. It can quickly get filled with leftover sharpener filings, random sticky notes or even paper clips and before long it is a crazy mess.
What to Put in a Pencil Pouch?
Depending on your age, there can be certain items that are more important than others to have in a case. Of course the basic item that almost everyone needs is a set of pencils. You can get mechanical ones, specially shaped ones for handwriting or basic wooden pencils also. So what else? Well, you'll need a sharpener too – best to get one that catches the filings so you can limit any mess.
Then you'll need pens – some people prefer ballpoint pens, others like roller-ball or gel pens or you could even splash out on a fountain pen or scented pens! Highlighters are also good items to have to hand as well as sticky notes or index cards for studying. Other useful things to consider getting are; glue stick, correction tape, scissors, a ruler and a calculator.
Take a look at these awesome models available on Amazon: