As we're sure all parents of teenagers know, eleven year old boys can be a bit of a challenge when it comes to finding the right gift. On the one hand, they are so close to being teens, and they often want to be considered and treated as adults. On the other, as they are still in elementary school, they are definitely much closer to children than teens, and can still lack in maturity. On top of that, their world of memes, Youtubers and Minecraft make it very difficult for parents to know what is cool these days. In fact, we think that buying gifts for boys of all ages has never been more difficult.
If you've got a relative or child's birthday or other occasion coming up, we're here to help you out with our massive list of 39 of the best gifts for eleven yr old boys. We've got all sorts of cool ideas to cover boys of all kinds and different personalities, including electronics, sports equipment, board games and more.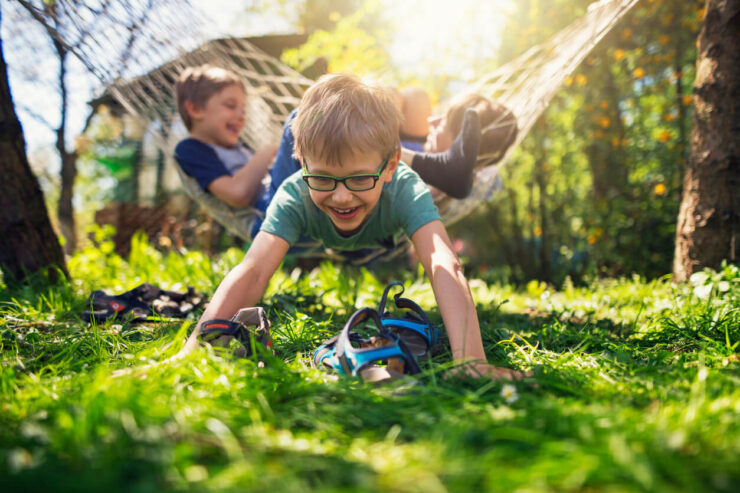 Considerations when choosing a present 
Boys aged 11 are not youths and can be a hard age group to buy gifts for. They are so close to being teenagers, but they are still not quite there yet, and even the difference in maturity between an 11 and a 12 years old can be quite a lot.
On the other hand, their intelligence and concentration is much higher than younger children, and they really need engaging toys and games in order to hold their attention. Still, 11 yr old boys often show quite childish behavior and can get very frustrated if things are too difficult. So if we can find something engaging but not too difficult, and something that ties into his interests, we're on the right track.
The cool thing about buying for this age group is that they can often handle more of a challenge than when they were a few years younger, so they can handle more complicated toys, such as electronics kits or robot building kits can also be wonderful for boys who like technology and constructing things
Gift for Boys and girls of this age can be obvious if they are big on a sport or hobby, so if you know what they're into you can get a gift to go along with that, for example. a soccer kit or a skateboard.
We also often see in boys of this age that creativity and artistic talent really blossoms, so if you have a child who likes art, a cool camera or a set of paints and brushes may be the right gift for them.
39 Gift Ideas and Toys for 11 year old Boys
Every boy at eleven wants the latest toys and games for his birthday and from STEM toys to RC drones there is something in this review for all interests and new hobbies.
1. Sanrock X105W Drone
This impressive drone is one of the best gadgets for 11 year olds on the market, and is sure to make any boy's birthday a memorable one! With an excellent quality 1080P HD camera, it's easy to record great quality videos, and even watch live feed on a cell phone!
The drone is incredibly simple to operate, so even beginners will be able to perform fun 360 flips and rolls in the sky! An added gravity sensor and sturdy landing gear will keep everything safe, so this excellent gift will last for years to come! It's also a great way to encourage your 11 yr old to get outside, and is sure to provide fun for all the family!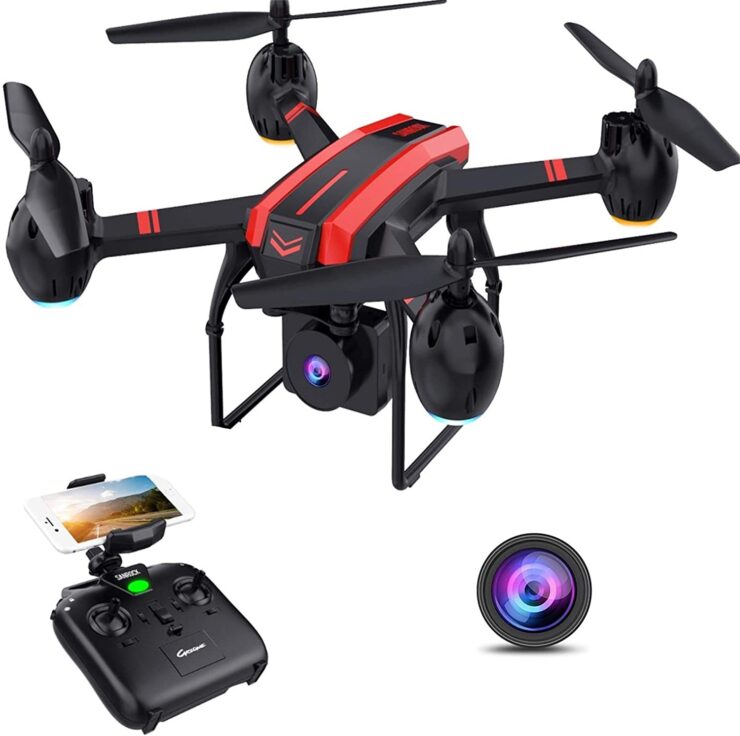 2. Nintendo Switch
As one of the newest and most exciting consoles on the market, a Nintendo Switch is a perfect 11th birthday or holiday gift. The innovative JoyCon controllers make the Switch a really unique option, as your son can choose between gaming on the go or at home. The impressive battery life makes this an ideal option for travelling, as your 11 yr old is guaranteed hours of fun!
The HD rumble effects provide a highly immersive experience, and multiplayer options mean that it's a great choice for gaming with friends. Nintendo also carries hundreds of unique games that are optimized for the Switch. You can find some fun new releases, as well as rediscover some old favorites, too.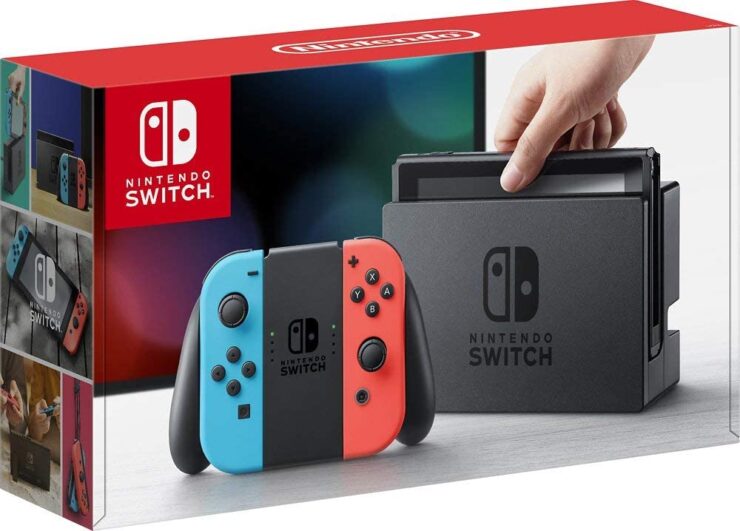 3. Elenco Snap Circuits
This snap circuit set is the perfect gift for any 11 yr old who adores science. The kit includes everything you'll need to make over 100 different projects without the use of tools or other supplies. Simply snap the colorful pieces together to light up a bulb, power a siren, and much more!
This is the perfect way to develop critical thinking skills, and it also gets your 11 yr old to learn while having fun! With over 30 different parts, the possibilities really are endless, and the only limit is your imagination!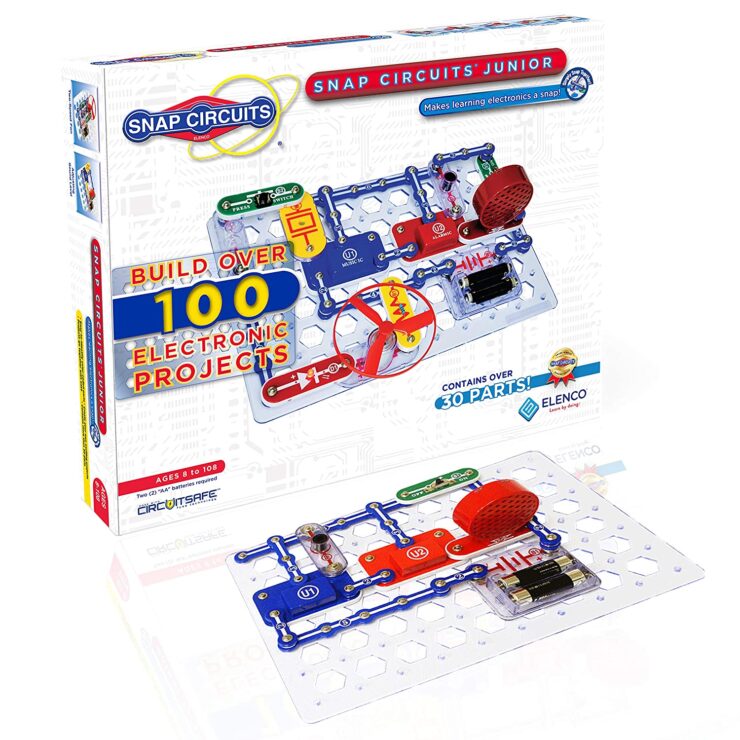 4. Capture the Flag
This amazing Capture the Flag kit is an excellent gift for any boy who enjoys getting outside! It brings an exciting new twist to a classic game, and your son is sure to love playing glow-in-the-dark games with his friends! The set includes over 25 lights and team markers that can last up to 12 hours – so nothing will stop the fun!
With over 12 different ways to play, this is sure to appeal to players of all ages, so it's a great way to have fun as a family! It's also a great option for birthday parties and school vacations, too!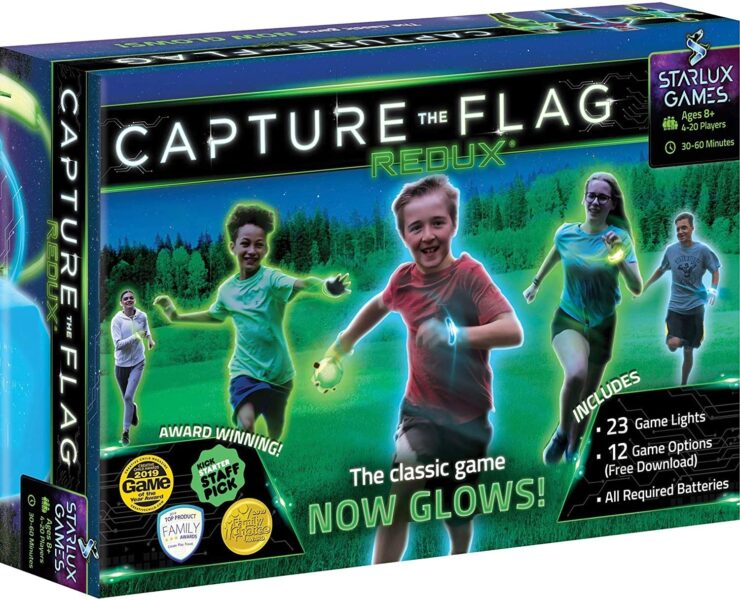 5. Comic Book Making Kit
If your son is a budding artist, then why not let him make his own comic book? This incredible set provides everything your child needs to make an 18 page comic, with colorful markers, page templates, and advice on how to write a great story.
Simply fill in the comic's pages and send them off in the pre-paid envelope, and you'll be sent back a professionally printed comic book with all your drawings inside!
This is an excellent way to encourage your son to get creative, and he's sure to treasure his comic book keepsake for years to come!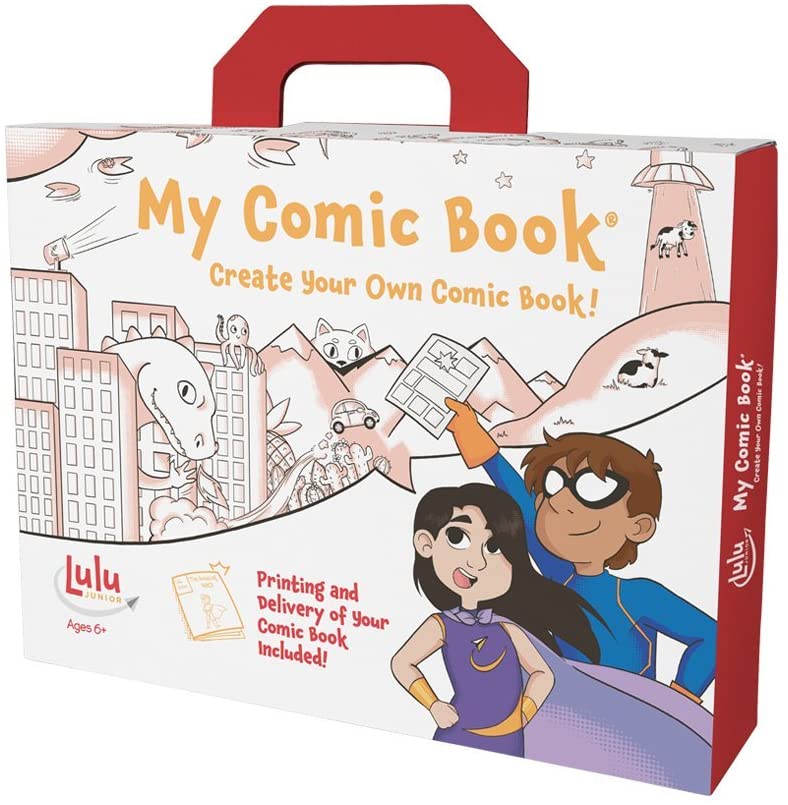 6. Crystal Growing Science Set
A crystal growing kit is an ideal gift for boys who love science, or enjoying making projects! This handy set comes with everything you'll need to grow fantastic crystals at home, and even includes a display case to show off what you've made!
With enough supplies to grow 3 lots of crystals, this is a great gift that your son can use again and again! It's a perfect way to keep him entertained during school vacations, and even makes a great sleepover activity, too!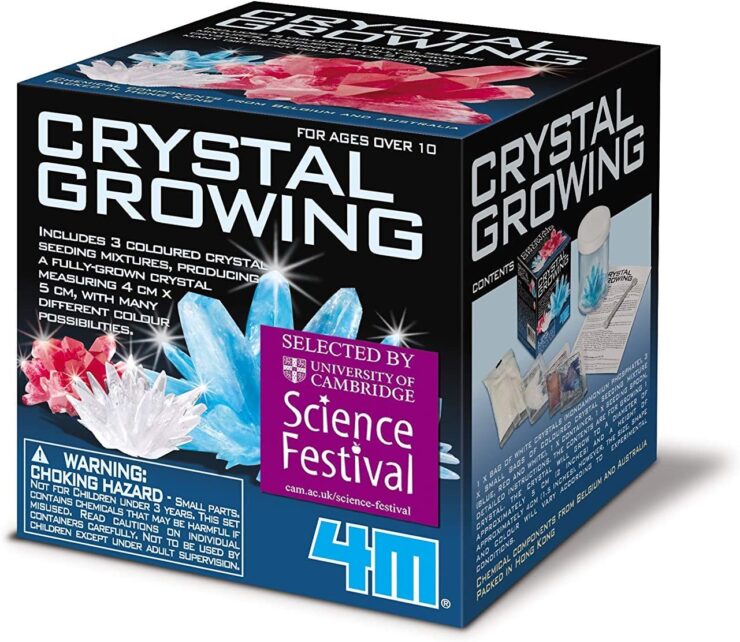 7. Faux Bow 3 Archery Set
This bow is a great idea for older boys who love to be outdoors pretending to be Rambo. The Faux bow can flying a fast top speeds and will entertain for hours without being dangerous.
The arrows themselves are easy to load and fire without being sore on the fingers like it is with real archery. There are 6 arrows in total and they conveniently sit on top of the bow tip.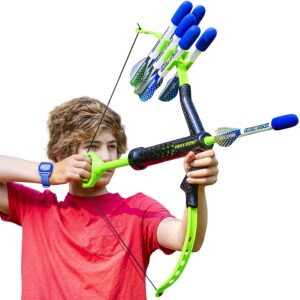 8. Electric Razor GoKart
Are you looking for a present for an eleven yr old thrill seeker who adores racing? If so, this awesome Electric GoKart will be the envy of all his friends.
From fun zones to pro tracks, this cool racer is slick, well balanced and easy to use, and your lad will be pulling crazy drifts and 180 spins before you know it. With speeds of up to 12 miles per hour, it is fast enough to feel great but not too fast to be dangerous. And as the go kart is made by the excellent people at Razor, you can be sure that this has been built to the highest standard and subject to rigorous safety testing.
We also really love that this cart is electric, so no need for fuel or any of the problems it brings. Also, your son will get a whopping 40 minutes of run time out of a single full battery charge. This is an amazing gift for an eleven yr old boy who enjoys racing and gokarts. Make sure he wears pads and a helmet though.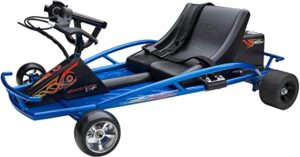 9. Pool Table
Perfect for rainy days and cold winter evenings, this small pool table will give hours and hours of joy and fun games to your son. Also long as you've got a flat surface to put it on, this comes with everything you need, including balls and cue, right out the case, and your boy will be having his friends over to play with him in no time.
We really love mini pool tables for a boy as the game is really easy to pick up, but hard to master. Its also fun for casual games and more intense matches, and even playing on your own can be fun. Finally, its a very social game, so it will be a wonderful gift for a sociable boy. Just be warned; it might make him the most popular kid in his class.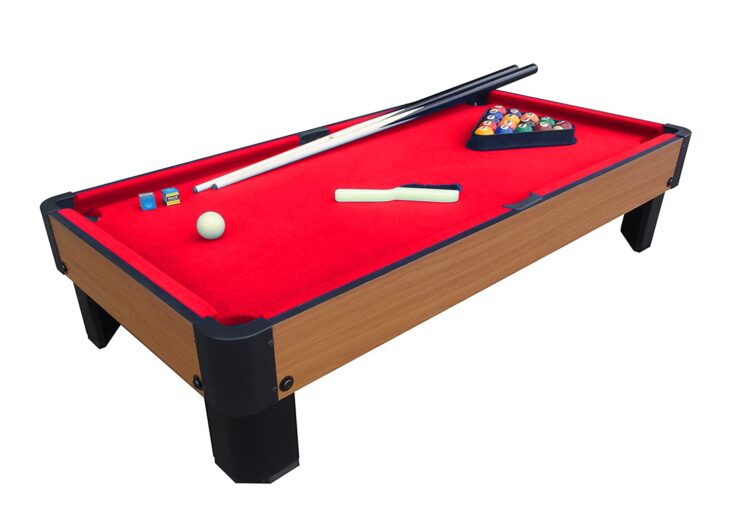 10. Basketball Hoops – Great Gift for Boy who Love Outdoors
There's nothing quite like shooting some hoops, but it's not always possible for kids to get outside to the basketball court. So if your son adores the game, why not think about getting him a cool indoor set of hoops?
This will be a great gift for kids who are seriously into basketball and want to practice indoors too or who just wants to casually shoot some hoops from time to time.
This awesome set also comes with 4 balls, a pump, and an LED Scoreboard, so it'll be great for having some competitions between siblings or friends.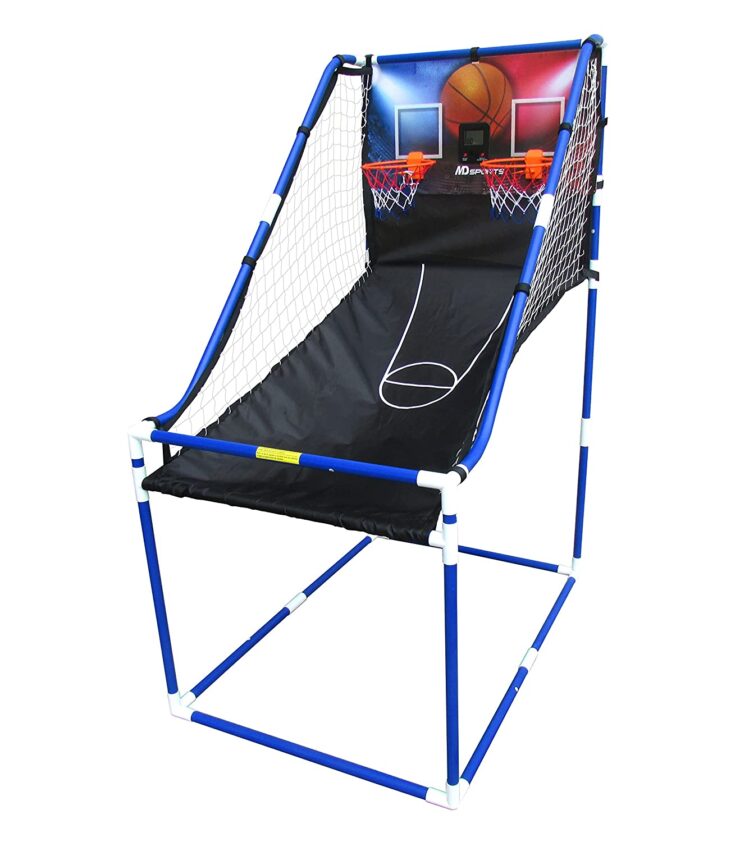 11. Franklin Hockey Goal Set
Looking for something for a hockey fanatic? This mini hockey net will be an amazing gift for a soon to be eleven boy who adores the Red Wings or the NY Rangers.
These Fully collapsible 28"w x 20"h x 20"d Goals come fully assembled and can be set up in a matter of seconds, and it is fine for both indoor and outdoor use. Everything also folds down into its convenient carry bag for easy transport or storage.
While there are a lot of Hockey goals out there, we recommend this set as it comes with 2 goals and 6 sticks in the box, so your son can play with his siblings or his friends without having to buy more.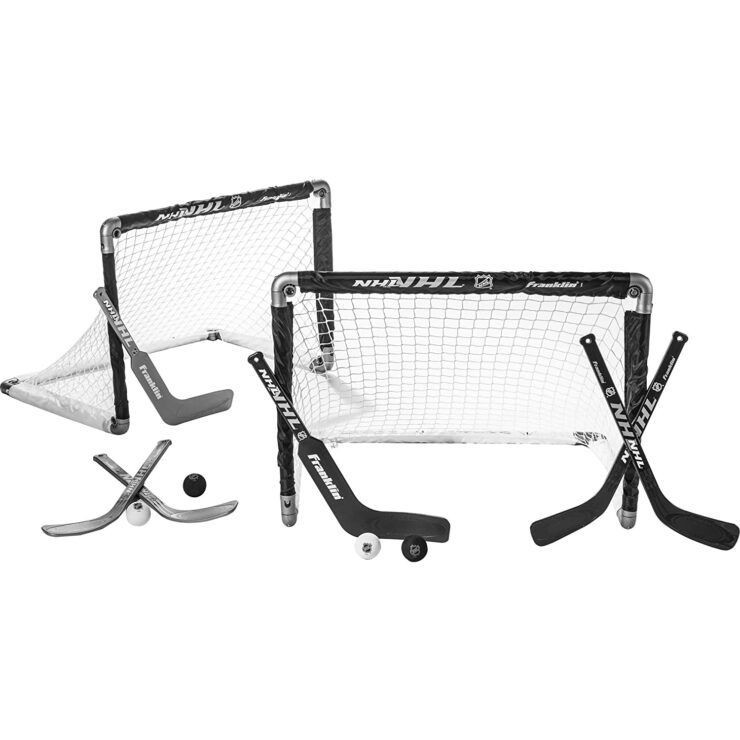 12. Nerf Gun
There's something just ridiculously fun about shooting other kids with soft bullets, so every little boy should have a good Nerf gun at some point in their lives. This nerf mega blaster comes with 6 safe foam darts, and it can fire them up to 90 feet away. So whether your son just wants to get some target practice or take on his friends, he'll do so in style with this. Also, as it's from Nerf, you can be sure that it has been properly safety tested.
Nerf guns really are just great fun, and thankfully the foam bullets mean that they're pretty much harmless. Make sure your boys are ready for the next Nerf war with this amazing toy gun.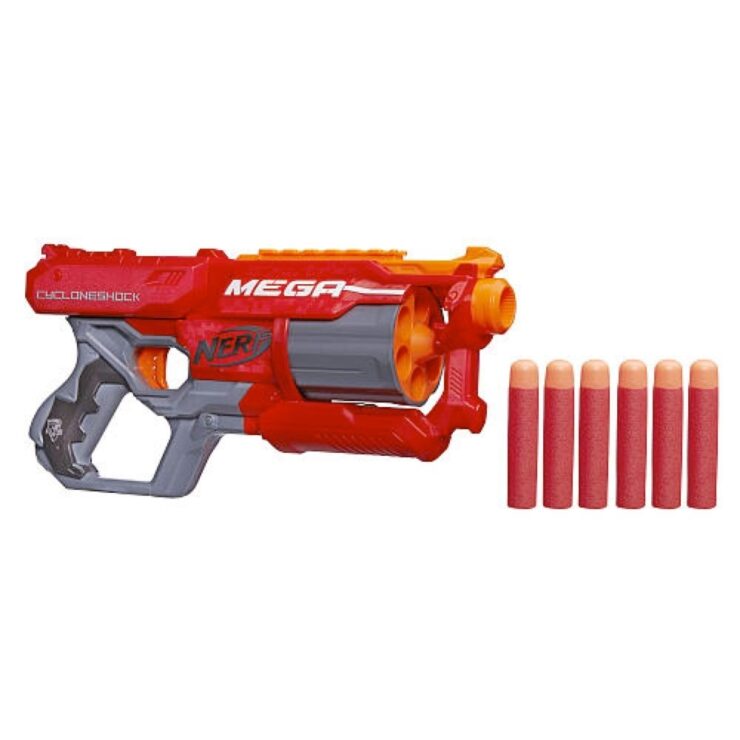 13. Relay Smartphone
If your 11 year old is yearning for some freedom, Relay is the perfect gift. With 4G LTE and GPS tracking, you can easily keep track of him, even if he's outside playing with friends or at an after-school activity. It's screen-free, meaning he won't have access to any inappropriate content, but can still listen to his favorite music and even hear his words translated into 13 different languages!
You can contact your kid's Relay via the free cell phone app for parents, which also has parental controls for features, approved contacts, and more. Relay is the perfect birthday or holiday gift for independent kids.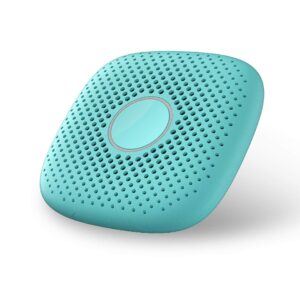 14. Nerf Bow
This amazing bow and soft arrows might be the only thing cooler than a Nerf gun. With the Nerf mega thunder bow, your kids will have all kinds of fun and shenanigans, from having huge Nerf warms with his friends, to hitting targets and perhaps even using it to prank his siblings. At least the foam arrows won't hurt anyone, right?
This Nerf bow and arrow work just the same as a real bow, and it makes a cool alternative to a proper archery set which might be too dangerous for little boy. It also lets them load up 5 arrows at once and fire them in succession, just like Legolas in the Lord of the Rings films.


15. WowWee Chip Robot Dog
For some families, a real dog just inst practical. You might not have the space, or maybe no one is around enough to take care of it properly. Or perhaps you just don't like the smell or the thought of cleaning up the poop? Whatever the reason, a robot puppy might be the ideal pet for your son if you don't want a a live one.
This cool robot dog shows his emotions and reacts to you by barking and wagging his tail. You can even set him on guard duty or exploration modes. Best of all, he never needs to be fed or bathed, and thankfully he won't leave robot poop on the floor or chew your furniture!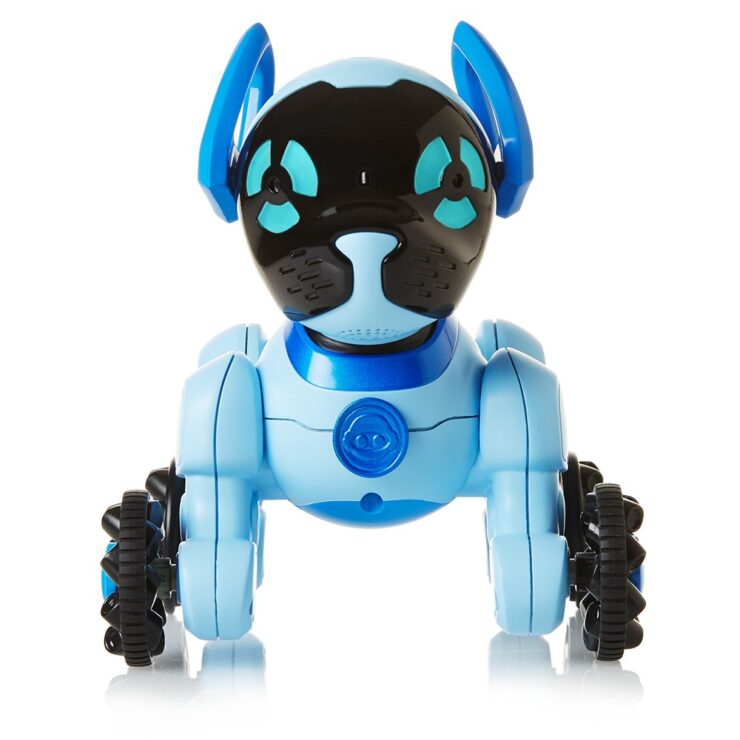 16. Jimu Robot Building Kit
Does your son love technology? Is he up for a bit of a challenge? But it doesn't just stop with building. By downloading the official app, your son can then code intrusions for the robot and learn to control it. This app even lets your son share his designs with other Jimu users, so he'll never grow tired of this cool kit.
This is an amazing STEM gift an will provide hours and hours of educational fun as your child learns to build lots of different robots and code instructions for them, Just make sure that you have an Android or iOS device that can run the JIMU app.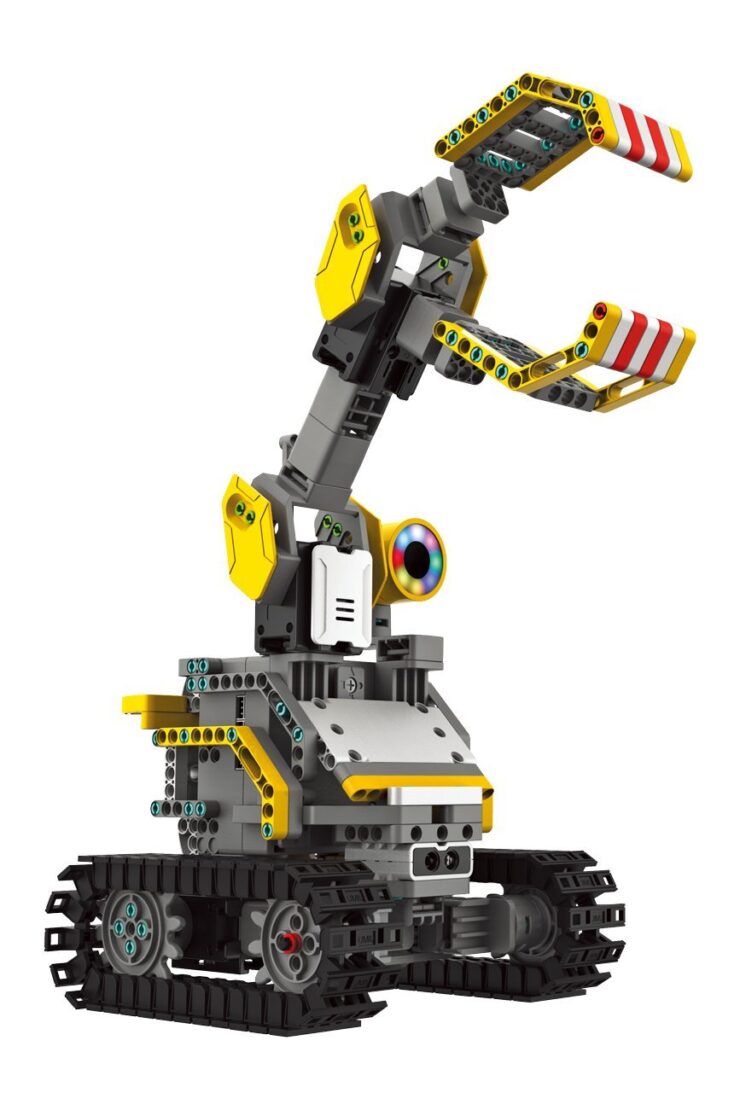 17. Dinosaur Model – Gift for Boys who Love Puzzles
If you want to get your son something educational that will test his skills, this dinosaur model will definitely keep him occupied. It has 51 bone pieces that snap together to form a true-to-scale, 36-inch-long accurate T Rex skeleton. Not only will he have a blast putting the model together, but afterward it will be a very cool decoration for his bedroom.
This will be an excellent gift for eleven yr old boys who are interested in history and like putting puzzles together.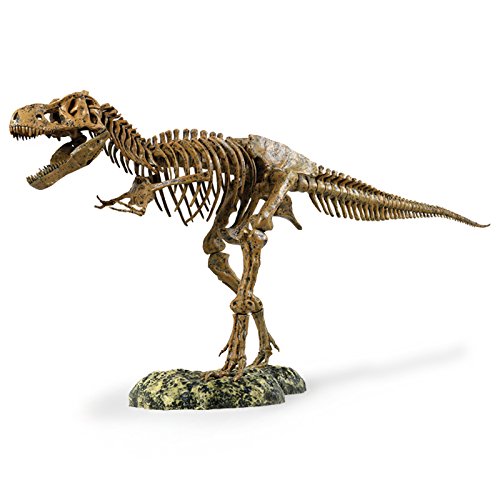 18. Uno – Card Game Gift Idea for Boys Who Love Card Games
Sometimes the classics really are the best! Uno has been keeping kids and adults entertained for decades, so if your boy doesn't have a set, his next birthday or Christmas might be the perfect opportunity to get him one.
For those who don't know, Uno is a relatively simple but very addictive card game that's easy to pick up and lots of laughs for the whole family. It's also the USA's number one card game, and it can be a great way to get digital children who spend all their time on screens and apps to socialize and communicate more.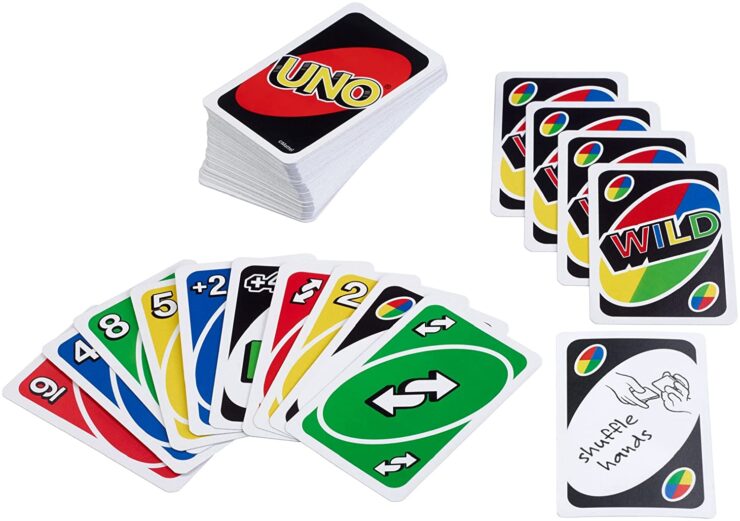 19. Othello Board Game
They say it takes a minute to learn how to play it, but a life time to master. Othello is a classic board game for two players that really hits that sweet spot between being fun and simple to get started with but also being very challenging and having a lot of strategy once you get good at it. It is kind of similar to checkers and chess, in a way.
This cool little kit is compact and portable, meaning your kid can take it everywhere with them. It's great for entertaining kids on long car journeys. This will make an amazing gift for 11 years old boys who like puzzles, problems solving and board games.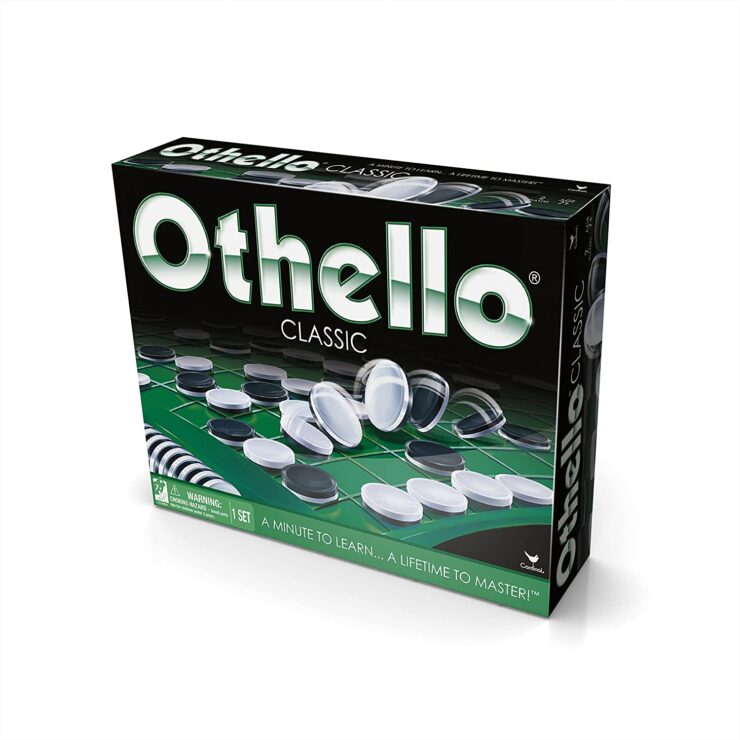 20. Gravity Maze Marble Run Game
Marble runs are classic kids toys, and this cool set will see you boy making up to 60 challenging from beginner to expert that become increasingly difficult as they play through all the designs in the instructions. They'll really have to put all their engineering and science skills to the test in order to get to the end.
This awesome marble run is a great educational toy, giving your kids a little bit of a science lesson without them even realizing it. This set has also won several awards, including the prestigious Toy of the Year Award in the Specialty Category, from the Toy Industry Association, Parents Choice Gold Award, and more.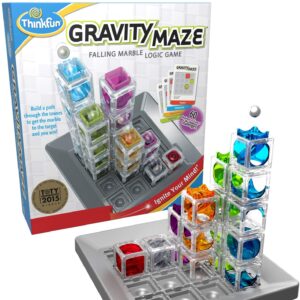 21. Stomp Rocket Toy – Gift for Outdoor Fun
We often complain that young boys spend too much time in front of the TV or computer screen, so lets get them something that will see them playing outside again! Stomp rockets are great for that, as they are very exciting to use and 100% kid powered!
This set has been specially designed for older kids, and it can fly almost 400 feet into the air. That's almost longer than a football field! So your 11 yr old lad is bound to have a really good time shooting these rockets up into the sky. Just make sure that he uses it responsibly. This box includes a stomp launcher and 6 rockets with flame stickers to apply.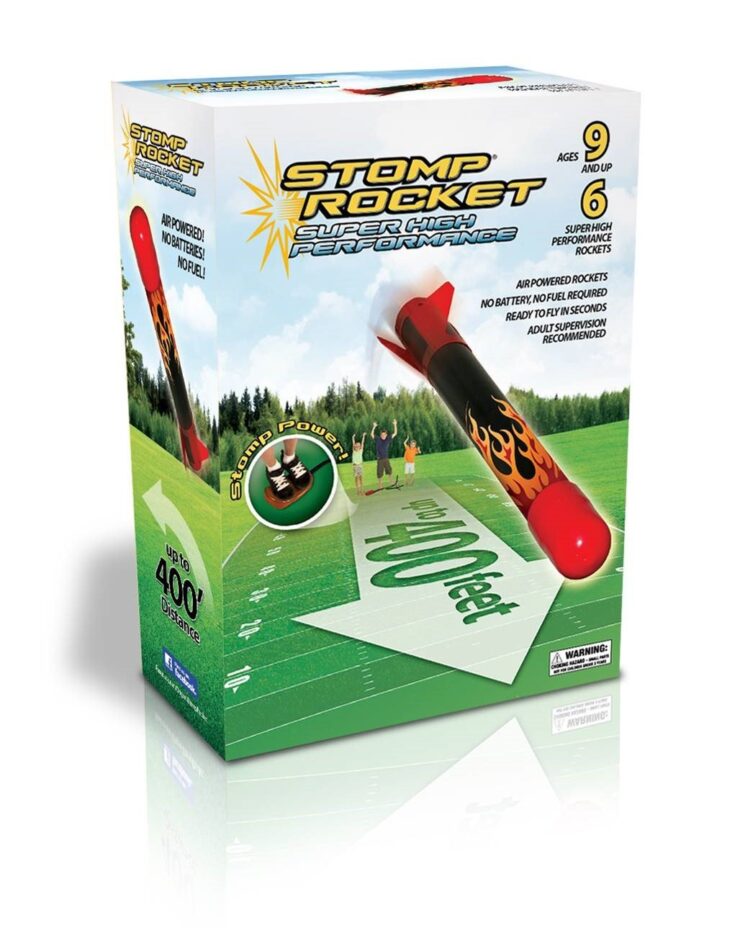 22. Rubik's Cube – Toy that an 11 year old will spend hour playing
The old classic of 70s nostalgia that never goes out of style. The famous Rubik's cube is a wonderful present for an eleven yr old boy who really enjoys puzzles and problem solving. Twist, turn, rotate and try every different combination you can until you've made sure that each side of the cube is only showing one color of squares.
This will keep him occupied for hours and hours and he struggles to find the secret to solving its mystery. Just make sure he doesn't cheat and look it up online.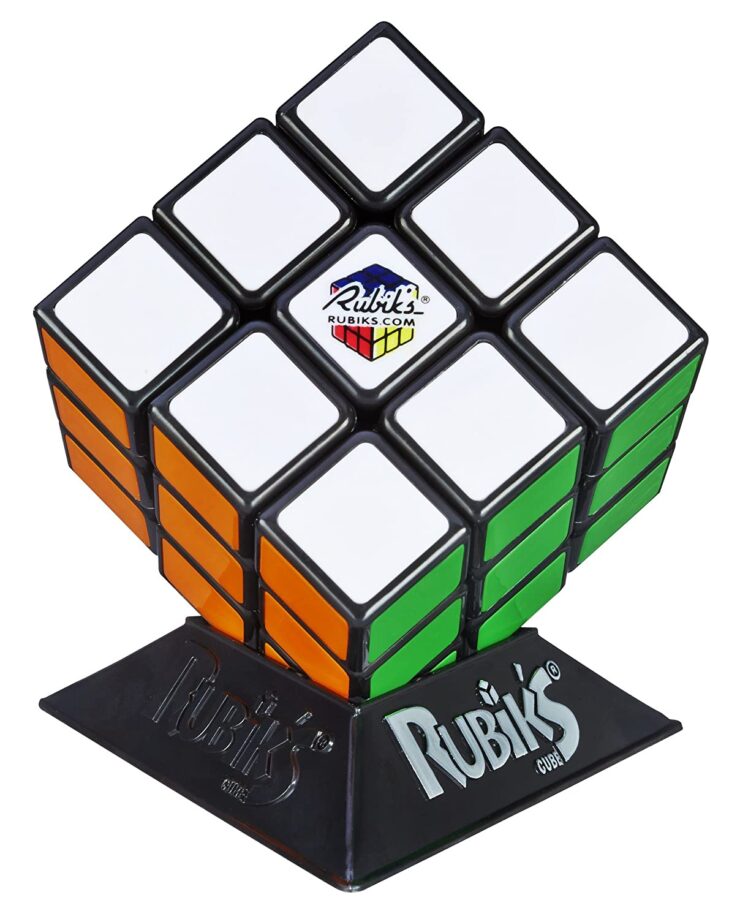 23. Youth Baseball Glove – Awesome Gift for a Sporty boy
Is your 11 year old boy a huge Baseball enthusiast? IS his old glove looking a bit worn and tattered? Then it might be time for him to get an upgrade.
This top quality kids baseball glove has PowerClose construction which makes catching easy and a power lock closure for maximum fit and performance, so your son can always catch properly and safely.
If you've got a Red Sox or Yankees fan in the house, look into getting him one of these.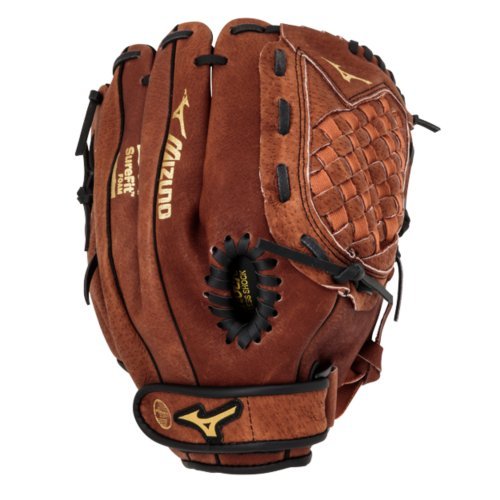 24. Art Set – Creative Gift Idea for a Boy into Art and Drawing
Eleven years old is often the age when many kids artistic talents really flourish, and if you have a boy who adores painting or drawing, why not help him to really develop his talents further his this amazing 142 piece art set?
In this stylish wooden case, he will find pencils, crayons pastels and watercolor paints that will allow him to unlock his inner art master. Best of all, everything comes organized in the case so you don't need to worry about mess or storage.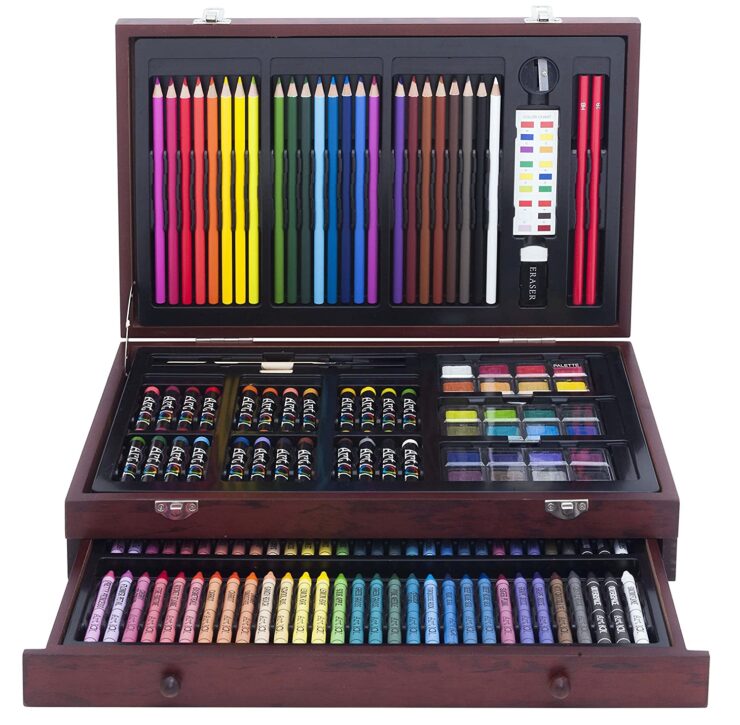 25. Percy Jackson Boxed Set
It seems that Harry Potter is not the only child adventurer that has been capturing the hearts of children all over the world! This boxed set includes all the 5 best selling Percy Jackson books, which follows a young hero on a series of thrilling adventures of the Greek Gods of Olympus.
These are perfect novels for young boys as they are full of excitement, adventure and magic, and we're sure that once your eleven year old picks the first one up, it'll be hard for him to put them down until he's read all five. If you've got a young boy who enjoys reading or perhaps a young boy who should read more, this Percy Jackson boxed set might be just right for him.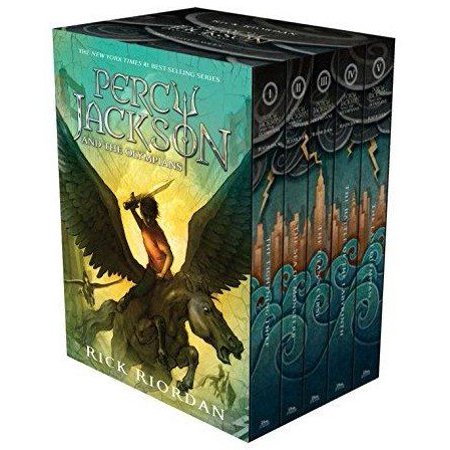 26. Silly Joke Book – Cool Gift for funny boys who love jokes
Another classic gift that always seems to go down well, sometimes kids just want to have fun, so if you've got an eleven year old lad who loves humor, pranks and making his friends laugh, he will love this awesome joke book.
Best of all, this book has cartoons that act as visual aids to every joke, just in case someone doesn't get it. Just be warned though that these jokes are very, very silly, and the family might be falling around with laughter once your boy gets his hands on this.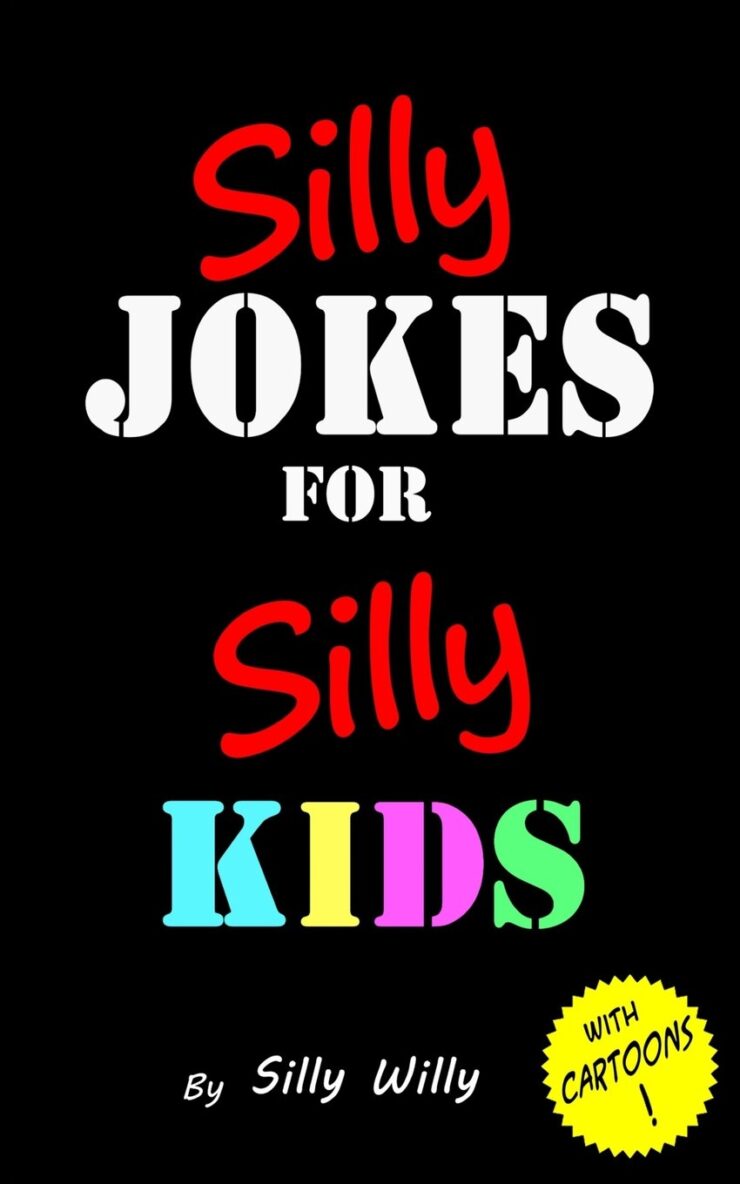 27. A Wrinkle In Time – Book gift Idea
Parents and teachers often complain that kids these days don't read enough, but perhaps they just need access to more books and stories? If you've got a young boy who is looking for a good read, A Wrinkle in Time ins a wonderful and exciting story that sees 3 teens getting sucked into a time traveling adventure whilst trying to find a lost father.
Written by award winning author Madeleine L'Engle, your kid will have a hard time putting this down once he really gets into it.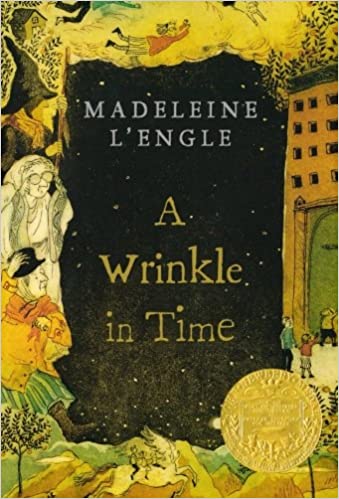 28. Watch Ya Mouth Game
What started off as an internet phenomenon has now become a best selling competitive card game that kids and adults love. Watch Your Mouth is simple enough, your team has to read out phrases and saying from the cards they draw, and the rest of your teammates have to guess what it is. The problem is that everyone is wearing dental mouth guards that making talking really difficult, and the game becomes hilarious with all the mispronunciations and struggles the speak properly.
You'll be pleased to know that the Watch Ya Mouth mouth guards have been made to fit the proper safety standards, and they can be put in the dishwasher or sterilized in boiling water the old fashioned way.
This is a fantastic party game that will really spice up a boys birthday party!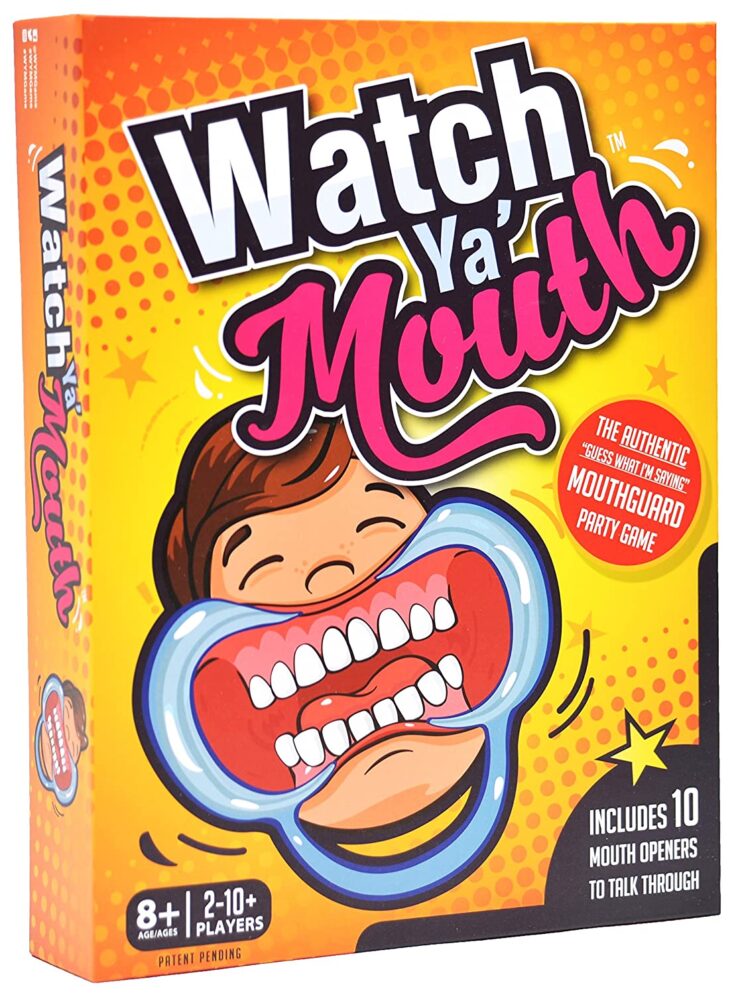 29. Despicable Me DVD Boxed Set
When a super villain who's awful at his job and his army of super cute minions end up adopting three young girls, what could possibly go wrong? The Despicable Me movies were all box office smashes, and are great fun for both adults and children with their combinations of wacky humor, sci-fi hi-jinks and moral lessons underneath. Let your kids follow Gru and his little yellow friends in this awesome boxed set that not only has all 3 Despicable Me films as well as lots of extras including commentary and deleted scenes.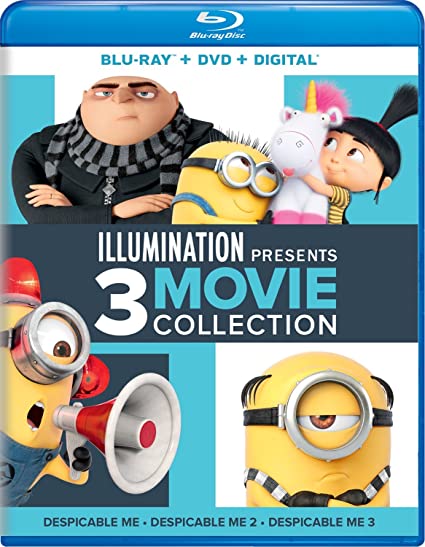 30. Kids Known Skateboard
Many boys around eleven are big into cycling, skating and other extreme sports. If you're looking for a gift for a boy who adores the outdoors and is a bit of a thrill seeker, he might like a youth board like this one.
Known makes great skateboards that are somewhere between novice and professional levels, and this board has been specially designed with younger and less experienced riders in mind. Best of all this cool beginner skateboard comes in a range of different color varieties, including blue, green and pink.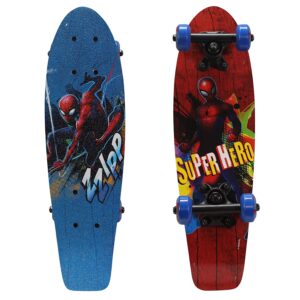 31. Light Up Frisbee
Great fun for beaches, parks and just about anywhere else, Frisbees have been keeping kids and adults fit and in the fresh air for generations now. If your boy likes to go to the park with his friends, or maybe he needs a bit of encouragement to begin exercising more than this cool Frisbee might do the trick.
These Light Up Frisbees have LED lights that can be turned on, and we recommend them as your kids playing with them when the sun goes down and they're a lot easier to find in the dark.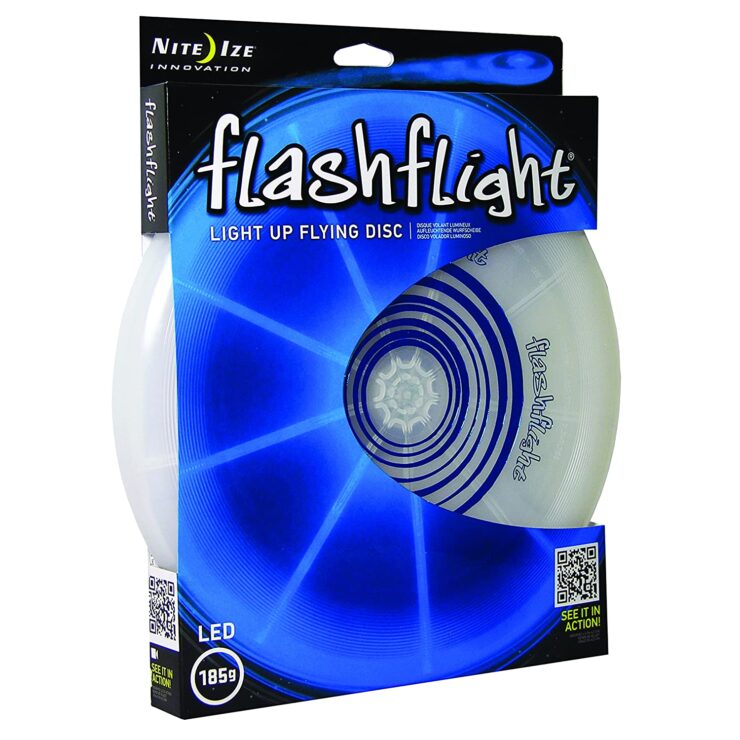 32. Pickleball Paddle Set
Its good to get older boy something that they can play with inside and out, and if your looking for something for a sporty or competitive little guy, this set of classic pickleball paddles and balls can be lots of fun for him and his friends. They can take them anywhere, and use them in the park or in the house. This will also be great for tennis and table tennis fans.
As safety is always a parents number one concern, you'll be happy to know that each paddle has a wrist strap and wrapped perforated cushion grips for comfort and performance, and is made of high-quality wood to give the balls a lot of bounce when hit. The balls are lightweight and soft enough that they won't damage walls and furniture.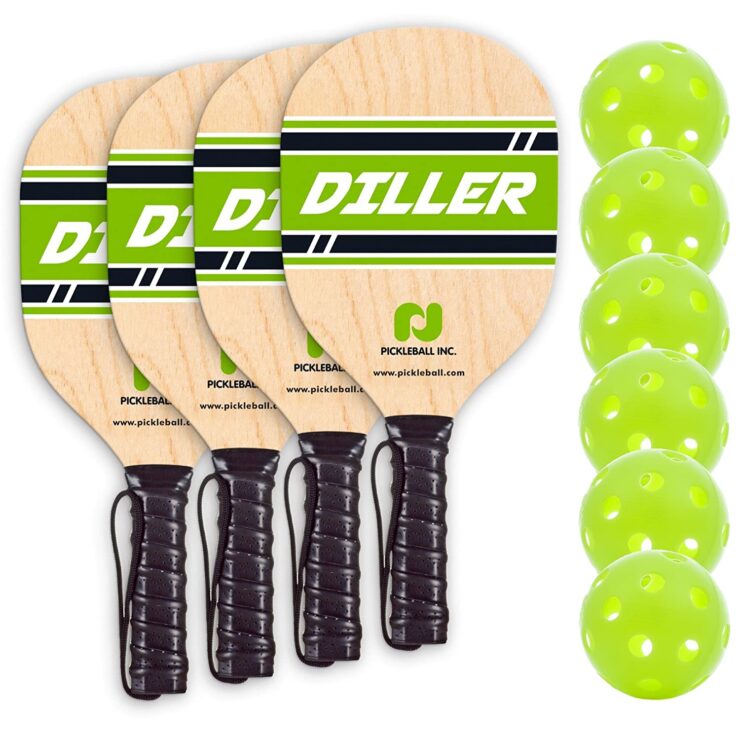 33. Magic 8 Ball
Ah, the old classic magic 8 ball. Why make any decisions when a toy can do it for you? These classic gifts are really fun novelty gifts that will be just perfect for a boy. Ask the ball a question, turn it upside down and wait for the answer to come. sometimes its positive ("It is certain"), sometimes negative ("Don't count on it") to neutral ("Ask again later").
This magic 8 ball can also be a really fun thing for your son to use with his friends, and they often find really creative ways of including it in other games.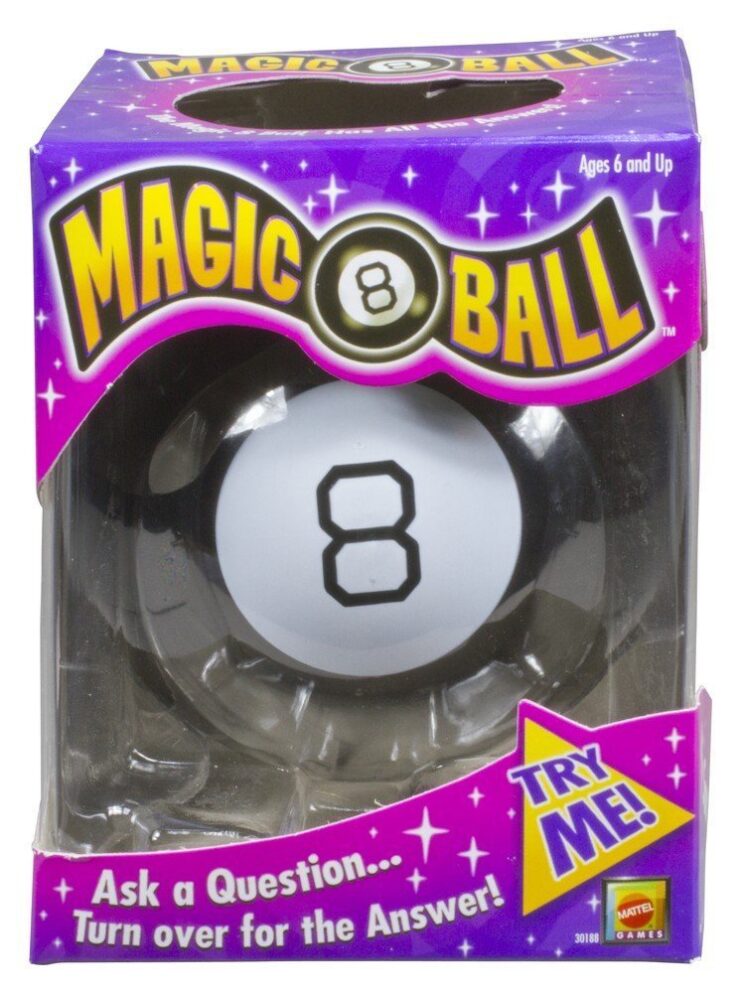 34. Fidget Spinners
We have to be honest with you here folks. As both parents and simply as human beings, here we literally have no idea why these Fidget Spinners are so incredibly popular. Is it a Youtube or a meme thing? Maybe it is best that we don't know…
Well, they appear to be harmless and children really love them so they can be great budget gifts for a boy.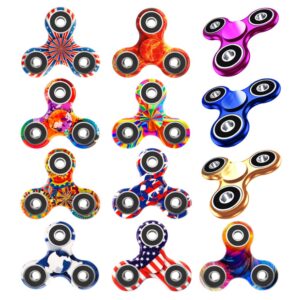 35. Smart Circuits Kids Electronics Set
Little boys who are potential mad scientists and into technology will instantly fall in love with this challenging and complex kids electronics set. It comes with loads of gadgets and includes push button modules, jumper wires, giving them almost limitless possibilities. They will learn about real electronic systems were such as modular systems and microprocessors, making this a great STEM gift.
The good thing is that you don't need to be an expert on electronics to use this, as it comes with easy to follow instructions. Once they've completed everything in the book, they can start making their own custom inventions!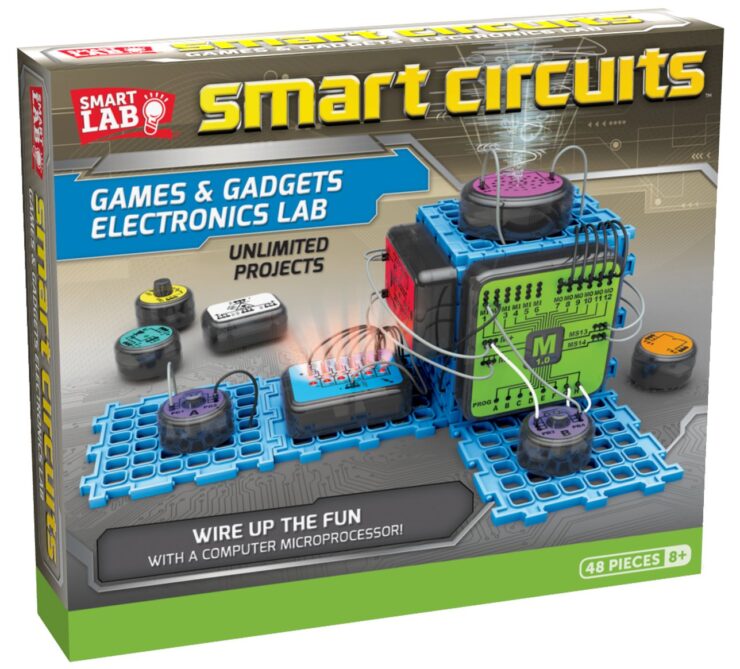 36. Emoji Golf Balls
Looking to buy something for a little boy who likes golf? These super cute emoji golf balls will make a great novelty gift, and he'll definitely want to show all his friends down at the golf club.
Coming with 14 Deluxe Emoji golf balls, 10 golfing tees, and 1 divot tool, these are actually very good quality golfing accessories, despite the cute emoji styles, so they are quite practical as well as a little bit silly.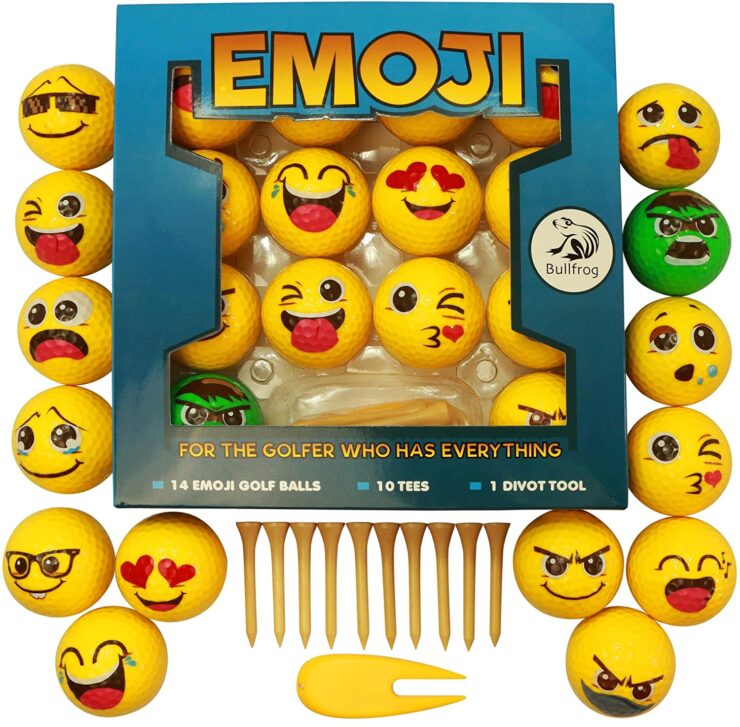 37. Drawing Tablet
Whether they want it for help with school work, drawing art projects or even just for something to doodle on, these Newyes robot pads are brilliant for kids and a perfect way to save on wasting paper.
With cool LED screens, great power saving and a clean slate at the touch of a button,  Also, you might be doing the environment a favor by using one, as a Newyes writing tablet can be erased over 100,000 times over the life of the tablet. That's a lot of trees that are being saved.  This will be a great present for a boy who likes drawing and is eco conscious.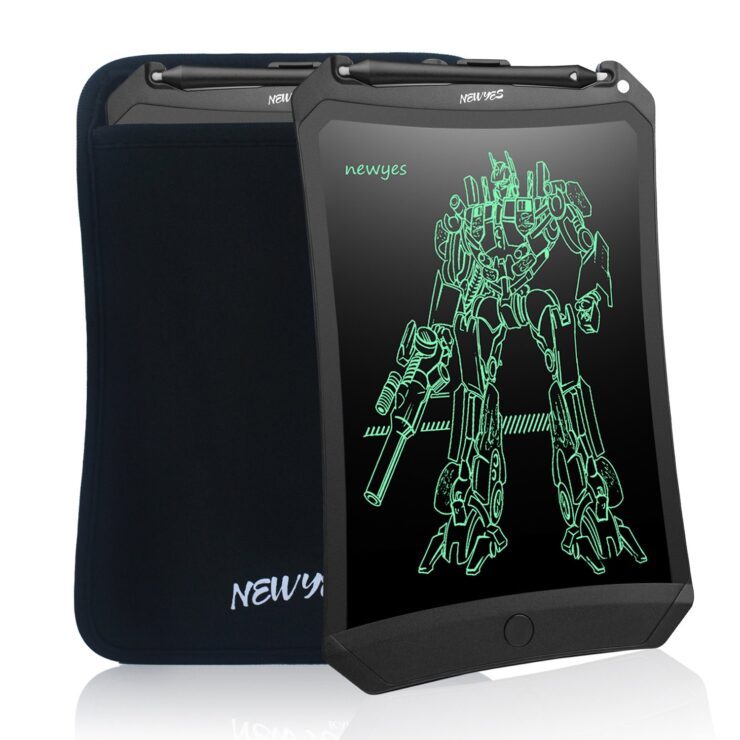 38. Handheld Game Console w/152 Games
Some little boys can be quite serious gamers, but they can't take their consoles with them everywhere. If you know a little gamer who travels a lot or maybe has a long ride to school every morning, they might really appreciate this super cute hand held video game system.
This 2.5 system is very portable and compact, easily sliding into a back pack or large pocket. We also can't belive that it has 152 games hidden in such a small little thing, including 8 bit classics like Donkey Kong, Mario and Tetris. You can even plug it into a TV and display the game on the big screen too if you want.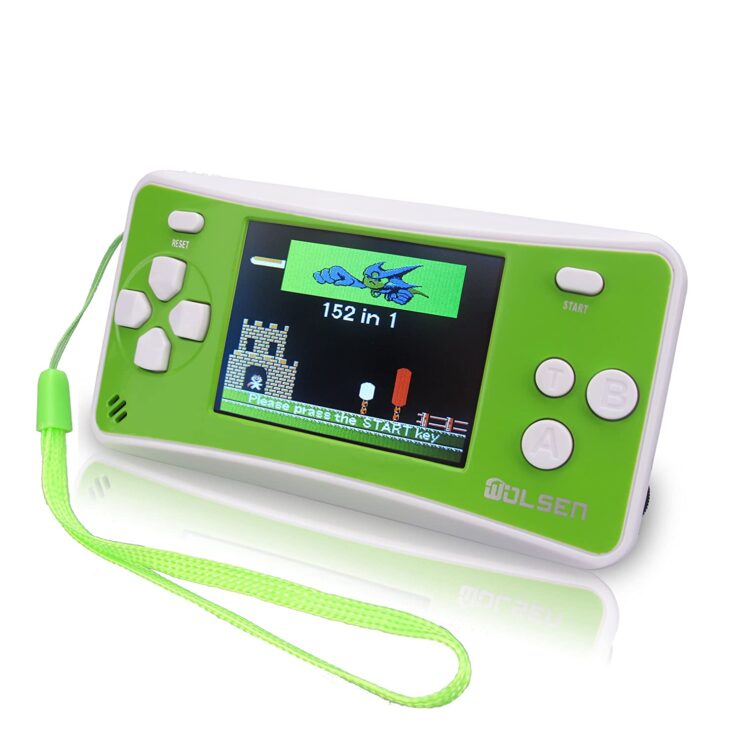 39. Vtech Smart Watch for Kids
Back in my day, we were over the moon if our watches could just tell the right time and the alarms actually woke us up in time for school. These days, it seems there's no end to what a kids smart watch can do.
Photographs? Video Camera? Customizable watch faces? Games? This awesome Vtech Kidizoom Smartwatch does it all.
Best of all, this is splash and sweat proof, so most normal play with it on should be fine, although it shouldn't be submerged or taken in the shower.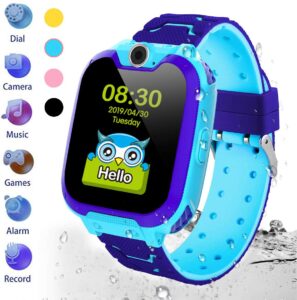 40. KNex Building Set
It can sometimes be hard finding building sets for 11 year old kids, as at this age, the Lego just isn't going to cut it anymore. They need something more complex and more challenging. So if you're looking for a present for a boy of this age who loves constructing and building, this amazing set will be up to the task.
With this 850+ piece set, you kids only limit is their imaginations. If they need a little assistance with getting started though, there is an instructional booklet included, which shows builders how to create 100 unique models with its helpful illustrations.
This will be a wonderful gift for an eleven years old boy who enjoys building things and is interested in engineering.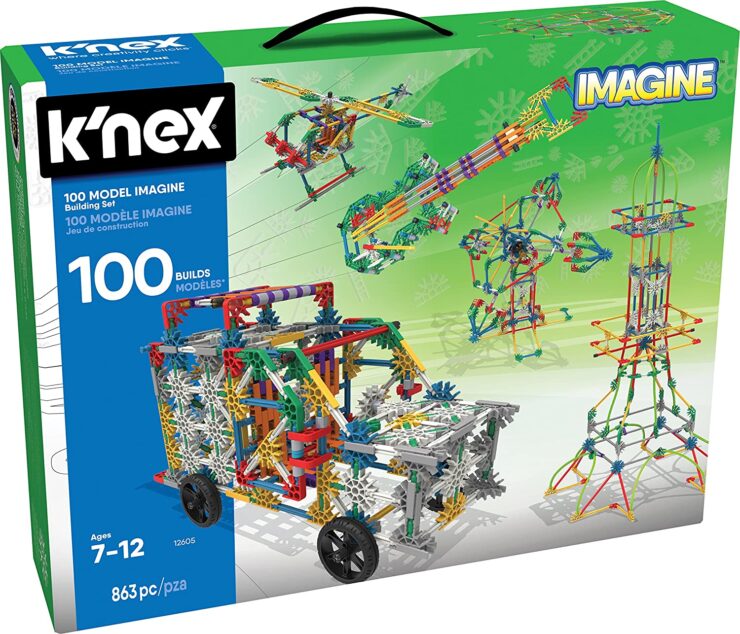 41. Microscope For Kids
This gift is perfect for an 11 year old boy who adores chemistry and biology. The microscope offers five magnification settings. . It can also be used with its included power adapter or batteries.
This is going to be a great educational toy for boys interested in science. Best of all, it comes with a book giving an introduction to microscopes and containing lots of experiments and activities.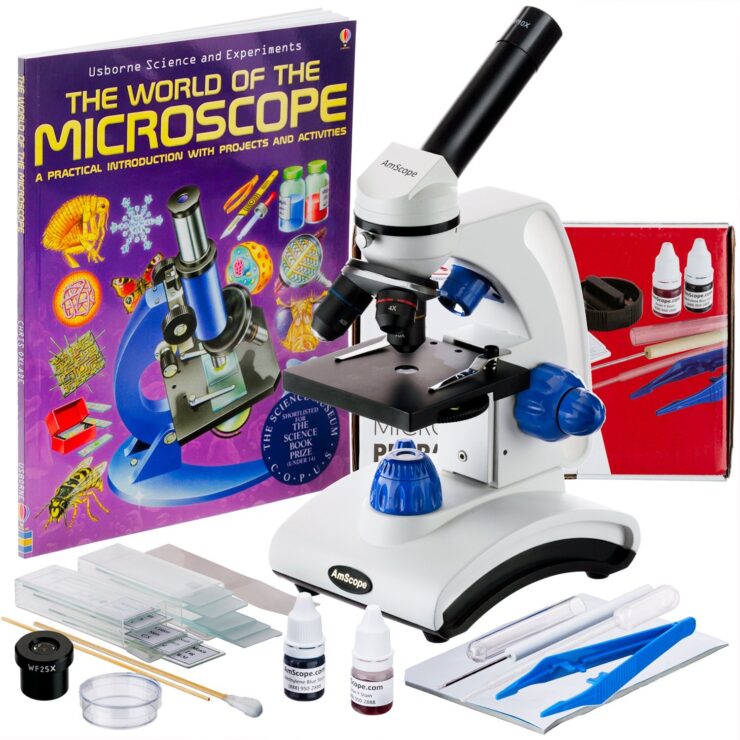 42. Kids Science Set
Anyone who ever said that science is boring is someone who definitely never had a science set when they were younger. This cool little bag full of science is perfect for 11 year old boys, as it comes with around 70 experiments to keep them occupied for a long time. Lots of them are quite witty, such as experiments investigating why diapers are so absorbent, as well as making goo and other weird stuff that boys will like.
Although it can be quite funny, this is not a novelty gift, and the experiments will teach your kid a lot about science, chemistry and different reactions in a refreshingly fun way.

43. Coco DVD
Its only just came out and people are already calling it the best animated film of the year! Coco is another wonderful movie from those incredibly talented people at Disney Pixar who just can't stop putting out good films.
Following the adventures of Miguel and his tricky friend Hector, the movie sees them exploring their Mexican heritage and traditions on the world famous Dia de los Muerto, a Mexican festival similar in some ways to Halloween. It is not only an entertaining and heartwarming story for kids and adults but its also a nice view into a culture we don't often see very much of, so it has some good educational value too.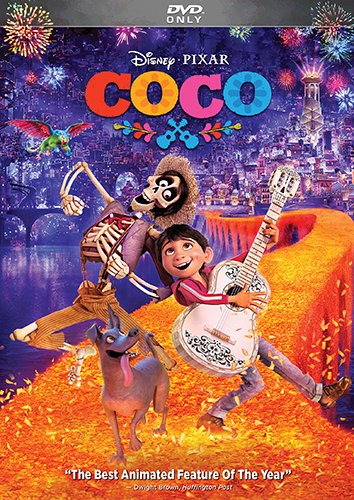 44. Weather Station Set
Eleven years old is an age where children's global consciousness starts to rise, and they are ready to start learning about the environment and the need for clean renewable energy. This awesome weather station kit will do just that, providing them with some cool experiments and a lot to think about.
This contains a full set of basic tools to observe and record climate conditions around the house. They'll learn how to recycle plastic bottles to maker terrariums and then use them to study the greenhouse effect on plants.
We really love this little science set as it is different, interesting, and it will get our kids to think about the affect humans are having on theworld. It is also small enough to fit on their desk, so storage won't be a problem.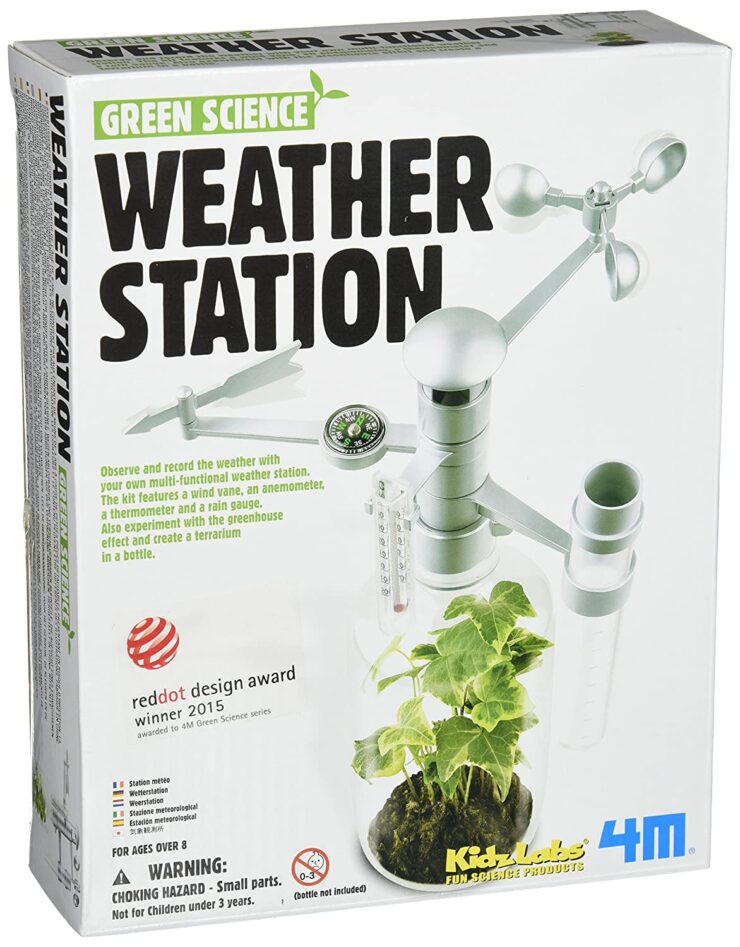 45. Risk – The Board Game
The classic game of world domination is perfect for an boy aged eleven. Its not too complicated, but can be very competitive and there is a lot of room for strategy and trying to outsmart the other players. This version of the Risk game guide lays out 4 different ways to play: Secret Mission, Classic, Risk for 2 Players, and Capital, so it'll keep your little general and his friends happy for hours and hours.
In the game, each player takes command of an army, and the aim of the game is to strategically conquer the world.  We all love a good game of Risk, and this is something that your boy can play with family or friends. Just be warned, though. Sometimes games can go on for hours and hours.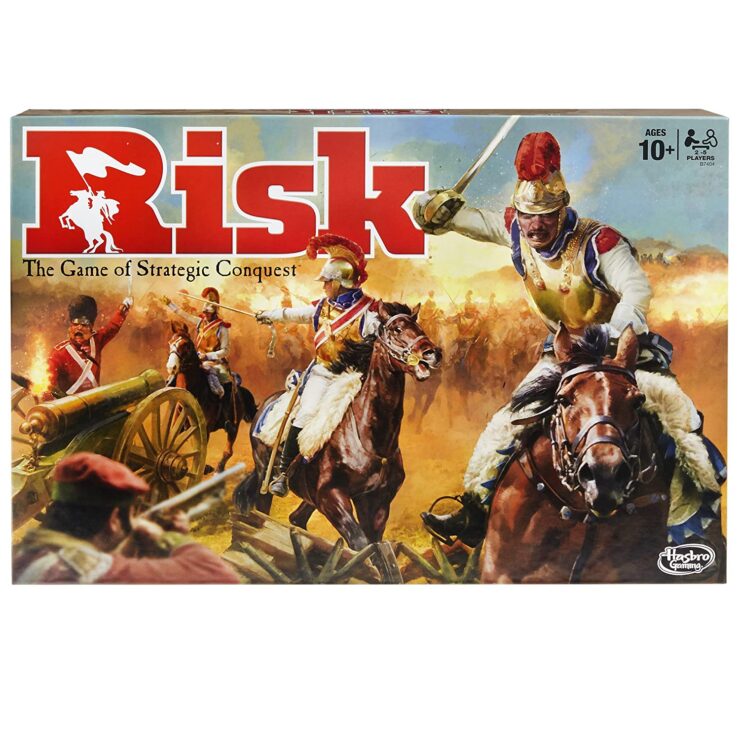 46. Gaming Chair
What young video game lover would not adore this fantastic gaming chair from GTRACING? With a strong metal frame, thick padded back and seat, and artificial leather cover, this chair's ergonomic design will ensure your kid is comfortable while playing their favorite video game. The gaming chair reclines between three modes: 90 degree upright, 130 degree reclined, and 170 degree resting to ensure comfort whatever the activity. In a stylish red and black design, it is covered in PU leather that is wipe clean. This model features adjustable armrests for maximum comfort and removable headrest and lumbar/waist rest so your little gamer can customize the chair to their own preference. The materials are high quality and durable, and the heavy duty casters ensure stability and smooth rolling.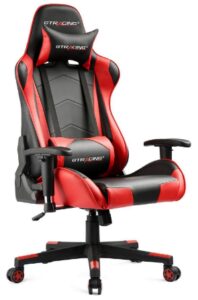 47. Watermelon Pool Ball
Add some extra fun to pool time with this cool watermelon ball, a great present for your 11 year old. Perfect for endless fun in the pool, lake, or swimming pond, this watermelon shaped ball can be played with underwater as it has near neutral buoyancy. Simply fill it up with water using the garden hose attachment and your kid can dribble, pass, kick, and bounce the ball up to 10 feet under the water! This unique pool ball is sure to impress any kid. It is designed to look and feel like a watermelon and even floats like one. Perfect for pool parties, your child will love playing a wide variety of games underwater, like Watermelon Ball, a high intensity team game combining aspects of football, basketball, and rugby.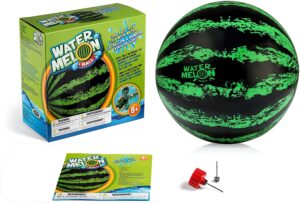 48. 3D Printing Pen
This gift is perfect if you're looking for something truly unique, check out this 3D printing pen by MIIW. Your kid is sure to love doodling and watching as the pen prints their unique creations. The 3D drawing pen uses PCL filament made from renewable plant materials, which means that it is non toxic, environmentally friendly, and will not smell bad. The low melting point temperature makes it safe for kids to use, without risk of burning or injury. The pen features a built in aviation ceramics nozzle and offers a seriously fun experience that is totally safe for users. Your kid will be amazed as their doodles are printed with the pen's nozzle, allowing them to create in a wide range of colors and designs.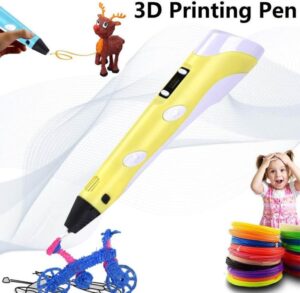 49. Razor Lux Scooter
Scooters are extremely popular among kids at the moment and they make fantastic gifts and toys for 11 year old boys. A good scooter can provide hours of fun and encourages kids to be active outdoors, which helps them to maintain a healthy lifestyle. The Razor A5 Lux Scooter is a kick scooter model in a deluxe size, with tons of features that kids will love to explore. The aircraft grade aluminum T tube and deck are lightweight but strong, supporting weights up to 220lbs. The scooter features extra large urethane wheels, making it super smooth to ride. The handlebars adjust easily to ensure a perfect fit as your child grows. The A5 Lux is designed by pro scooter riders and even folds up for compact storage.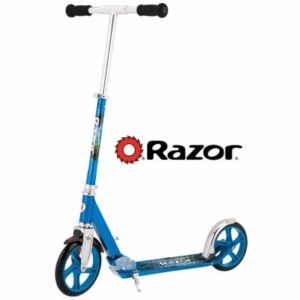 50. 26 Inch Hyper Shocker Bike
At this age, many kids are starting to gain more independence, like walking or cycling to and from school. This 26 Inch Speed Bike from Hyper Shocker will offer your kid a cool ride wherever they are going. It features 18 speeds with easy to use twist grip shifting and linear pull front and back brakes, making it easy to control either on road or off road. The bike is Shimano equipped and has a suspension steel frame with a suspension fork. It is comfortable for your kid to ride, with a deluxe padded seat, yet is full of powerful features. The alloy quick release seat clamp makes it easy to adjust the seat as your child grows, ensuring the right fit at every stage.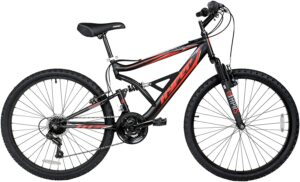 Our Best Buy 
We have presented this selection of excellent gifts for eleven yr olds and we will now choose our pick for the best buy. We have selected the Razor A5 Scooter, as it is a super cool gift for any kid and is sure to impress. It has a sleek design, has been designed and tested by the pro riders at Razor, and is built to last. The many features designed for performance are sure to impress your kid as they ride around on this cool scooter.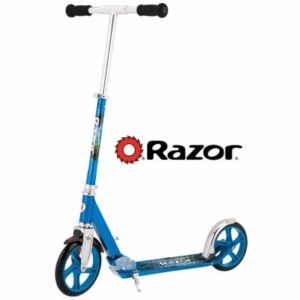 Christmas Gifts for an 11 Year Old Boy  
Thereare so many ideas available and parents of course want to select an amazing gift to delight their kid on Christmas morning. Selecting a gift that fits with your child's interests is the best way if you are unsure what to buy. You could look at a stunt scooter or skateboard, video game accessory, or gadget. For a gaming fan, this Playstation 4 Edition of Jurassic World Evolution is sure to amaze come Christmas Day. Within the game, your kid can bioengineer dinosaurs that think and feel, and watch them react to the world of the Muertes archipelago.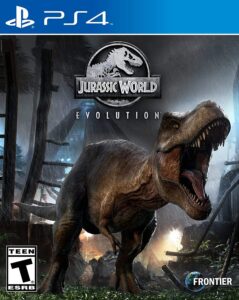 Best Birthday Gifts for 11 Year Old Boys
Choosing a birthday gift for this age can be difficult, as the kids' interests can vary widely and change frequently! Some classic choices that often please are technology based kits, STEM toys or stylish clothing. This birthday hooded sweater is made from heavyweight cotton so looks cool and is comfortable for your child. Custom printed with the recipient's birth year, it makes a fun birthday gift they are sure to love. There is even a choice of colors so you can pick which one your child would like the most.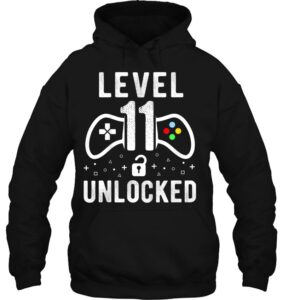 Top Rated Toys and Gifts for 11 Year Olds
With kids' toys being such a huge market, there are new options available all the time. It can be difficult to keep up with what is the latest most popular item! There is always a new video game, book, or movie on the market as well as the latest most popular toy or gadget. This Magnetic Sculpture Set from truwire makes a unique and fun gift for any eleven yr old. It looks great and brightens up a kid's room or desk while boosting brain power and stimulating cognitive function. Playing with the sculptures can also be a good stress reliever for your kid, and the parts are made from non toxic material so you can be sure it is child safe.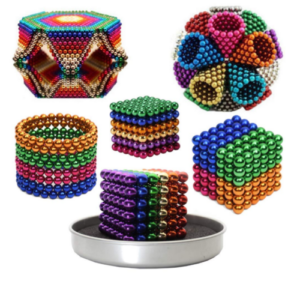 For some more gift ideas watch the following video: